10 Best Things to Do in Hobart, Tasmania
Destguides may receive commissions from purchases made through affiliate links in this article.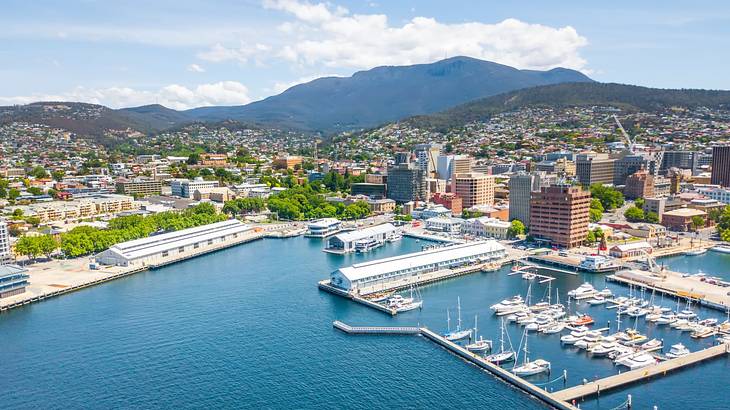 Being a resident of Victoria (the closest state to Tasmania) has meant that I have visited Hobart in Tasmania increasingly as I have gotten older. Tasmanian wine, landscapes, and art galleries appeal to many, mostly travellers whose search for the finer things in life increases with age.
A short flight from Melbourne, Victoria (only 50 minutes in the air), and you will touch down at the small airport in Hobart. Below, you will find my list of the 10 best things to do in Hobart, Tasmania.
10 Best Activities to Do in Hobart, Tasmania
Hobart Things to Do Video
Check out our highlights video of Hobart things to do.
Hobart Things to Do Map
A map of Hobart. Use the map to explore all the things to do.
Wine, Cheese and Produce
Every year, the Taste of Tasmania is held in Hobart, on the waterfront at Salamanca. Offering an incredible array of local, gourmet produce, fresh food and wine, 'The Taste' is an event not to be missed.
The festival has grown since its conception in 1988. From initially 22 stalls over two days to one of the biggest wine and food festivals in the state of Tasmania, it is held at the beginning of every new year (please check their website for updates).
In addition to the Taste of Tasmania, here are some other food produce and wine sellers to try:
WINERIES
PRODUCE
Salamanca Market
To say the Salamanca Market is big is an understatement. On my last visit to Hobart, a stroll to the markets was met with endless lines of stalls, including all you could imagine. Everything from vintage items and jewellery to woodcrafts and coffee can be found in the vibrant 170 stalls.
Held every Saturday, Salamanca Market is one of Australia's most-loved outdoor markets. If you are a market lover, put aside adequate time to be able to explore most of the massive variety of stalls!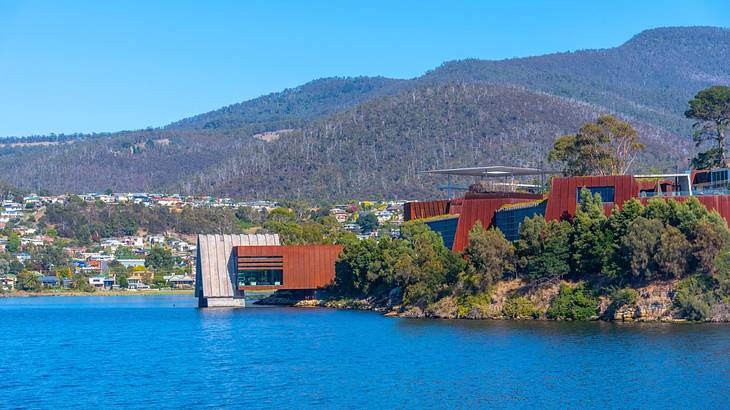 MONA Museum
The Museum of Old and New Art (MONA) is situated in Hobart on the Berriedale peninsula. It is a huge, privately-funded museum that showcases contemporary, modern, and ancient art, and it is owned by David Walsh.
MONA is best accessed by the equally enthralling MONA Ferry. Complete with fake cows and bar service, taking the MONA Ferry across the water from Salamanca is a must for the full MONA experience.
Entering the art gallery, you are greeted by friendly staff who are all experienced in providing the required information with a laugh to ensure you enjoy your time at MONA. Exhibitions change seasonally, so do keep that in mind.
One thing I wish I knew before I visited was the extent of incredible artwork alongside picturesque dining and bar areas that exist here. Having known this, I would have spent more time on the grounds!
Tasmanian Museum & Art Gallery
The Tasmanian Museum & Art Gallery (TMAG) is not only a museum and art gallery but also a herbarium. It is located at Dunn Place in Hobart. Collections of fine art, old fossils, and a photographic collection dating back to 1849 to the present day are but a few of the many collections here.
The TMAG's mission is to collect and maintain their collection and provide knowledge on Tasmania's culture and history. If you are an art lover, ensure to include the TMAG on your Hobart to-do list. Make sure to allow enough time to view the full collection!
Hike Mount Wellington/Kunanyi
The Kunanyi trail is the most popular hike on Mount Wellington in Hobart, Tasmania. The mountain is known to the original indigenous Tasmanians as Kunanyi, who have revived the name today, resulting in the mountain now possessing the dual title of Mount Wellington/Kunanyi.
Before visiting Mount Wellington/Kunanyi, be sure to do some research online about the history of the area. Generally, researching indigenous culture and travel tips before visiting historical sites is the way to go to help you properly understand Australian history.
Located in the southeast of Hobart, at 1,271 metres above sea level, Mount Wellington is often covered in snow, or at the very least, is frosty. If planning to hike Mount Wellington/Kunanyi, ensure to always prepare for cold conditions as there are usually icy winds throughout the year.
Moreover, the weather on the summit can include anything from rain to clear skies, sun to snow, icy winds and hail, or all in one day.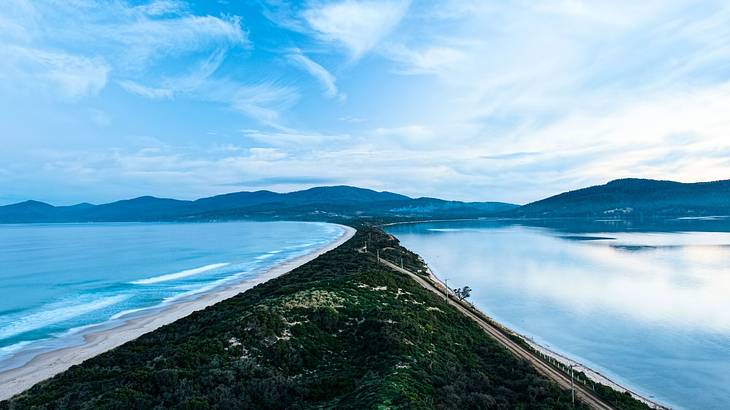 Bruny Island
Bruny Island is a 362-square-km island off the southeast coast of Tasmania. It is known as a wild, untouched island that includes activities like cliff-top trails and things to do near the water, such as lying by the beach. Foodies and beach-loving Hobart locals often head to Bruny for short mini-breaks.
Bruny Island is also on many interstate and international travellers' Australia road trip itineraries for the same reason. The coastal wilderness and accessibility draw nature and produce lovers from far and wide, too.
The ferry to Bruny Island departs from the town of Kettering, which is approximately 40 minutes south of Hobart.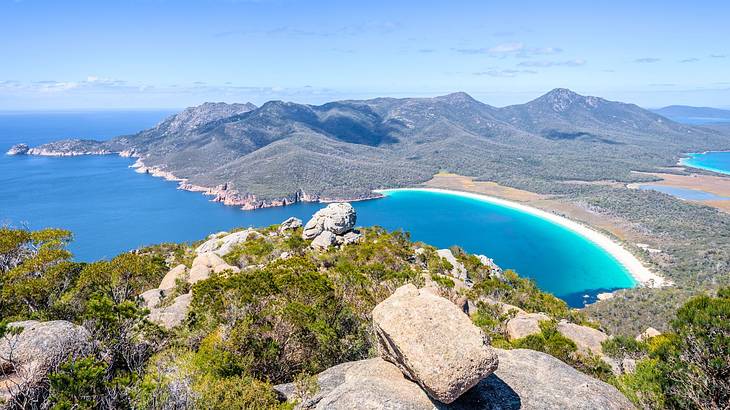 Wineglass Bay
Wineglass Bay is known as a breathtaking location, drawing photographers and travellers from near and far. Situated two and a half hours north of Hobart, the bay area of Wineglass Bay and its surroundings are part of the Freycinet Peninsula on Tasmania's east coast.
Top activities here include rock climbing, mountain biking, scuba diving, kayaking, and fishing. Stunning sunsets also provide the ideal place to relax with your newest vacation book and take in the view. Wineglass Bay is a definite must if you are venturing north from Hobart.
North Hobart
North Hobart is the place to be if you're searching for a café experience while visiting Hobart. The relaxed area is a short cab ride from the CBD of Hobart and has many cafes and even a brewery to choose from. Many offer brunch or lunch and showcase the local produce in fine form.
These are some of the top eateries to try:
BRUNCH
BARS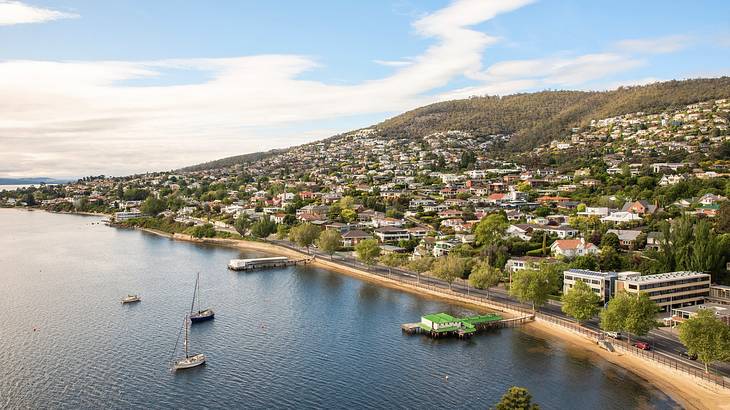 Sandy Bay
Three kilometres south of Hobart's Central Business District is the suburb of Sandy Bay. Many homes here are close to the water, possessing sought-after views of the Marina and Mount Wellington while still being an accessible location close to the CBD of Hobart.
This is also where the Wrest Point Casino, Yacht Club, and popular cafes and restaurants are located, also drawing locals and their dogs to stroll along the beach. There is plenty of free parking, but get in quickly when the sun is out!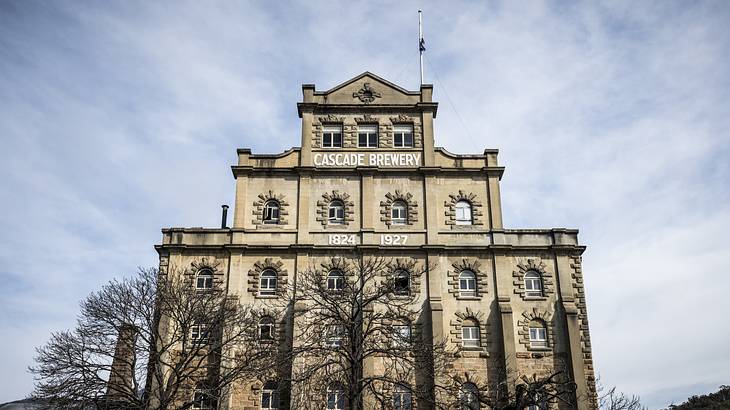 Cascade Brewery
The Cascade Brewery in South Hobart was opened in 1824, and it is the oldest functioning brewery in Australia. Located at the bottom of Mount Wellington, the brewery tours include history, recipes, and large amounts of taste testing.
If a brewery tour isn't for you, relax and sample the Mercury ciders or Cascade beers, or have some lunch and wander around the heritage gardens. Cascade Brewery also provides homebrew and non-alcoholic beverages.
In Conclusion
I'd always heard that Hobart was pretty, but I never really understood why until I visited the city and saw the accessibility of everything, the laid back atmosphere and the historical and artistic community.
Hobart, Tasmania is perfect for the beginning of a road trip or a mini getaway from the mainland of Australia. Tasmania is also full of interesting Australian landmarks to visit, such as the Port Arthur Historic Site.
I would recommend staying in accommodation in South Hobart or high up in one of the hilly suburbs for exceptional sunset views of the harbour and beyond. Ideal seasons to visit are January (Australian summer) for the Taste of Tasmania festival or mid-winter for the Dark Mofo festival (organised by MONA) and winter trekking on Mount Wellington.
And don't forget to pack your most giant winter jacket and plenty of layers if you visit between June - August!
Give us feedback about this article
Read more articles about Australia:
More articles about things to do:
---
---
Want to keep exploring?
Subscribe for discounts on tickets and hotels and our latest guides.
Thank you for subscribing
We will be in touch soon with discounts on tickets and hotels and our latest guides.
Want to keep exploring?
Subscribe for discounts on tickets and hotels and our latest guides.
Thank you for subscribing
We will be in touch soon with discounts on tickets and hotels and our latest guides.
Related Articles