45 Famous Landmarks in Austria Not to Miss
Destguides may receive commissions from purchases made through affiliate links in this article.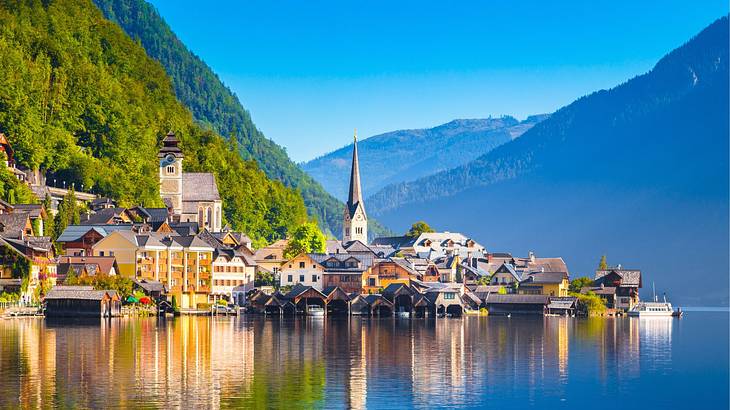 Located in Central Europe within the Eastern Alps, Austria is a beautiful destination that has to be on your travel bucket list! Visitors will discover no shortage of famous landmarks in Austria, which range from natural landmarks to renowned buildings and historical sites.
Notable Austrian landmarks include the scenic Grossglockner High Alpine Road, Fortress Hohensalzburg, and the iconic Café Central. Want to find out more about all the things to see in this European country? Keep reading for 45 of the most famous landmarks of Austria!
45 Famous Austrian Landmarks
Famous Landmarks of Austraia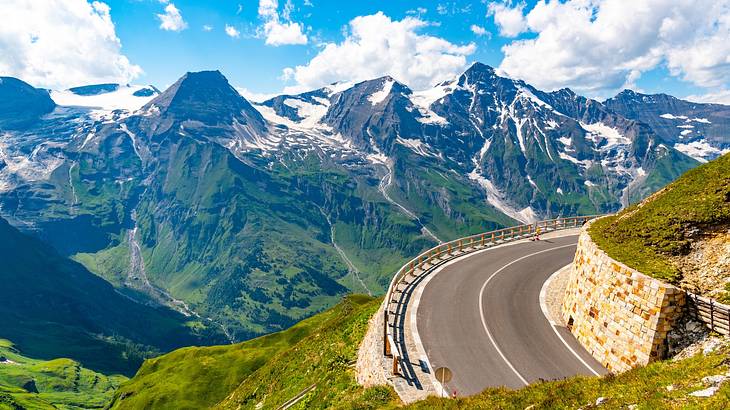 Grossglockner High Alpine Road
The Grossglockner High Alpine Road is Austria's highest surfaced mountain pass road. It runs from Bruck in Salzburg to Heiligenblut in Carinthia. The road also passes through Fuscher Törl and Hochtor Pass, which sit at 2,428 metres and 2,540 metres above sea level, respectively.
As you may expect, driving along this road offers breathtaking views of the surrounding valleys and snow-covered mountains. When driving, you can stop to hike alpine trails, and there is an observation tower, visitors centre, and restaurants to visit at the highest points.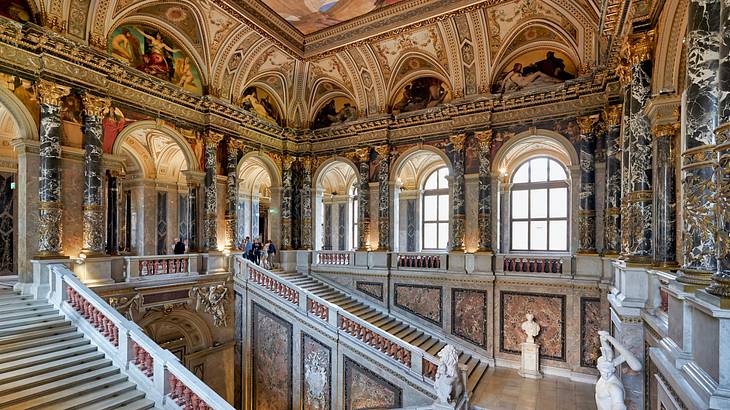 Kunsthistorisches Museum
Kunsthistorisches Museum is a famous art museum in Vienna. The museum was opened by Emperor Franz Joseph I in 1891 and now has a fascinating collection.
Pieces to see include those related to the House of Austria (Habsburgs) and renowned artworks like The Four Seasons by Giuseppe Arcimboldo.
There are also Ancient Greek and Roman antiquities and an Ancient Egyptian collection, among many other amazing artefacts and artworks.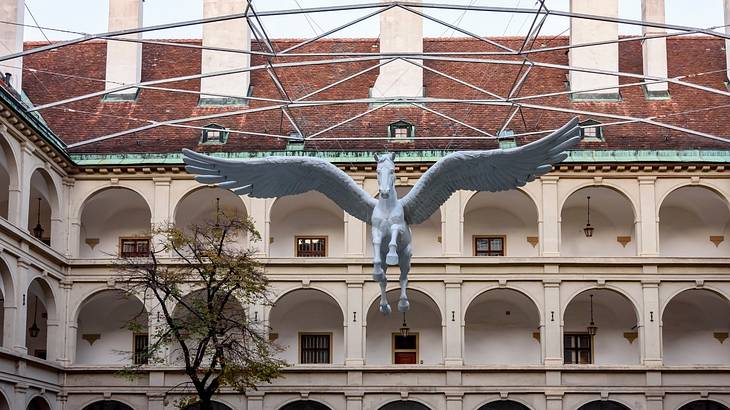 Spanish Riding School
Founded in 1735, the Spanish Riding School is a unique landmark dedicated to the preservation of classical dressage and the training of Lipizzaner horses, a breed developed in the Habsburg Empire. The school in Vienna notably hosts dressage performances for tourists, generally at Hofburg Imperial Palace.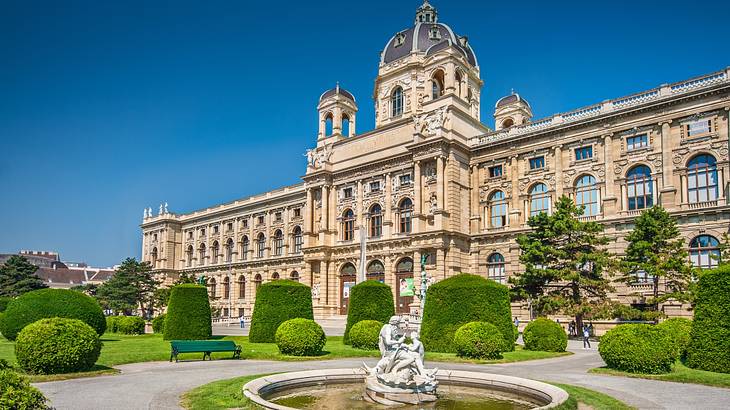 Museum of Natural History Vienna
Naturhistorisches Museum, or the Museum of Natural History Vienna, is a world-renowned natural history museum and a top tourist attraction in the Austrian capital.
Founded in 1889, the Beaux-Arts museum building is also beautiful, featuring ceiling frescoes, ornate carvings, large windows, and grand staircases.
Topics covered include palaeontology, anthropology, mineralogy, and petrography. The mezzanine area is also covered with around 100 oil paintings.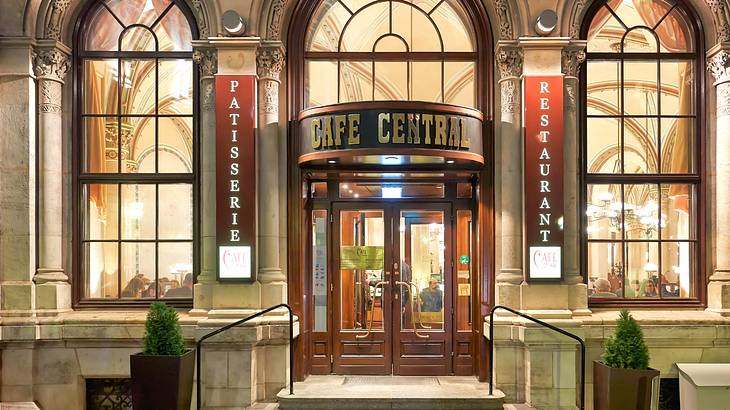 Café Central
Café Central is a famous cafe located in Vienna. This long-standing cafe dates to 1876 and is known for its traditional Viennese dishes. Many notable figures have dined at the cafe across its long history, including poets, novelists, and doctors.
Today, it is a popular tourist spot that is well worth visiting. You can order main courses, delicious Viennese coffee, and an array of patisserie items and other sweets.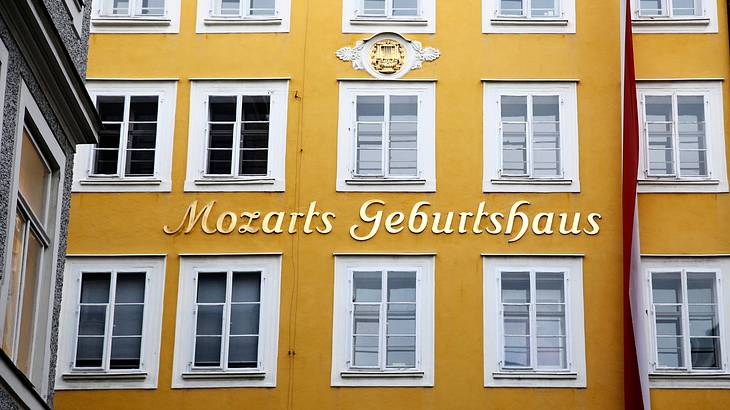 Mozart's Birthplace
If you are a classical music fan, one of the historical landmarks in Austria you must visit is Mozart's Birthplace. Located in Salzburg, the renowned composer was born in the home in 1756.
Today, the house, which was constructed in the 12th century, features a museum that covers three floors. You can learn more about Mozart's childhood and his career during a trip to the museum.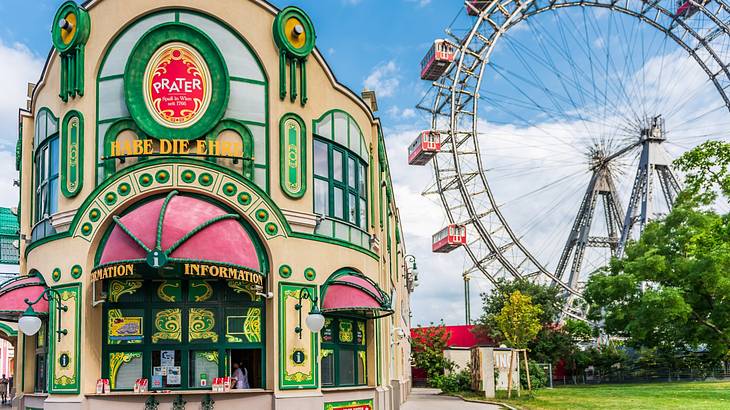 Prater Amusement Park
Also known as Wurstelprater, Prater Amusement Park in Vienna is one of the oldest in Austria, having opened in 1766. It features many fun rides and carnival attractions, including the Viennese Giant Ferris Wheel.
After enjoying the amusements, you can get theme park snacks like ice cream or cotton candy. There are also sit-down restaurants and bars, and a Christmas market is held during the holidays.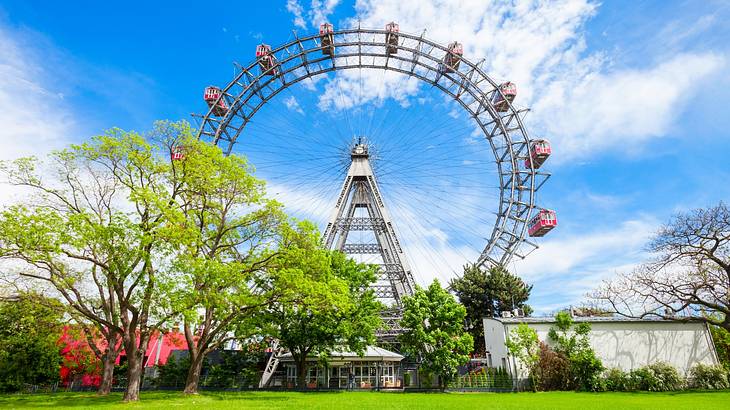 Viennese Giant Ferris Wheel
While you may think that the Viennese Giant Ferris Wheel, also known as Wiener Riesenrad, was constructed recently, it actually dates to 1897.
The almost 65-metre-tall wheel sits at the entrance of the Prater amusement park in Leopoldstadt, Vienna. Visitors can ride the Ferris wheel and take in views over Vienna.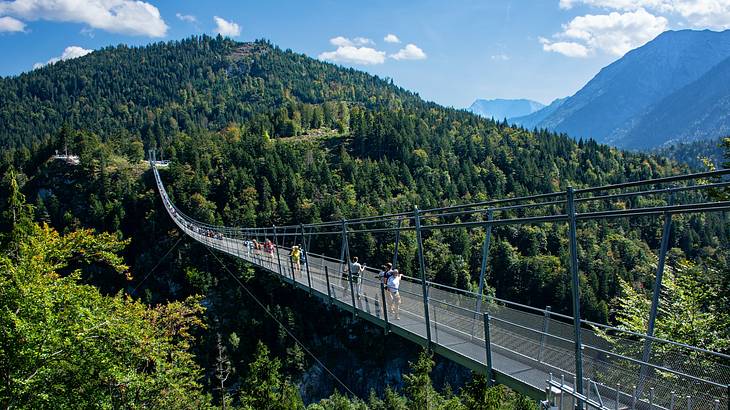 Highline179
Highline179 is a bridge located in Reutte on the Austria and Bavaria border. Sitting at a height of 144 metres above the ground, the 403 metres long suspension bridge connects Ehrenberg Castle with Fort Claudia. Walking across the bridge offers magical views, especially in the winter when the castle and forest are covered in snow.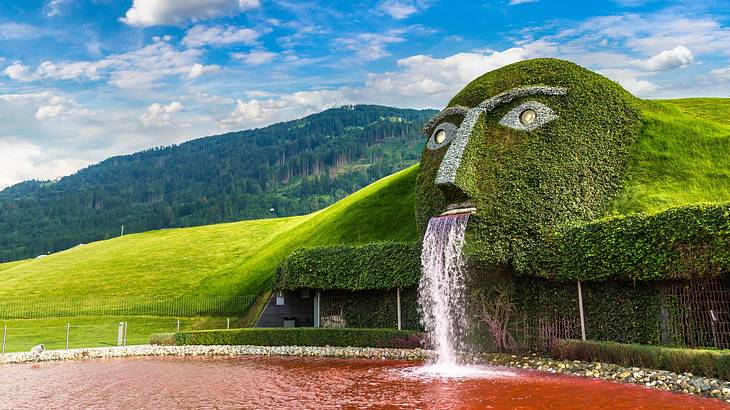 Swarovski Kristallwelten
Swarovski Kristallwelten was created for the world-renowned crystal brand by André Heller in 1995. It sits in Watten, where the company was founded and is still headquartered. This attraction has a park, an art museum, a restaurant, and beautiful gardens. There is also a Swarovski if you want to splurge.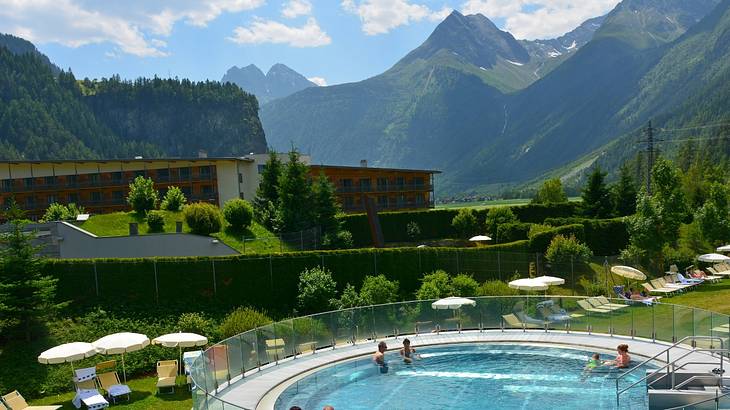 Aqua Dome Hotel
The Aqua Dome Hotel is one of the most unique places to stay in Austria. Located in Oberlängenfeld, the hotel is known for its Spa 3000, which has outdoor thermal pools surrounded by mountains.
You can also enjoy indoor pools, saunas, and spa treatments. After a relaxing spa session, the hotel has bars and restaurants to unwind at and trendy alpine-style rooms.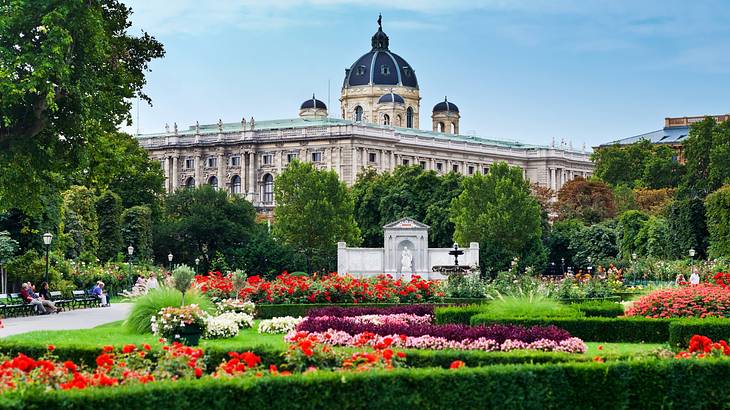 Volksgarten
Volksgarten is a beautiful public park in Vienna that was designed in the early 1820s by Ludwig Remy. It sits on the grounds of Hofburg Palace and was constructed atop the ruins of a city that was destroyed by Napoleon in 1809.
Those that explore the park today will see charming buildings, monuments, fountains, and pretty manicured gardens. Volksgarten is especially well-known for its rose gardens which feature 3,000 rose bushes and 400 varieties of roses.
Famous Buildings in Austria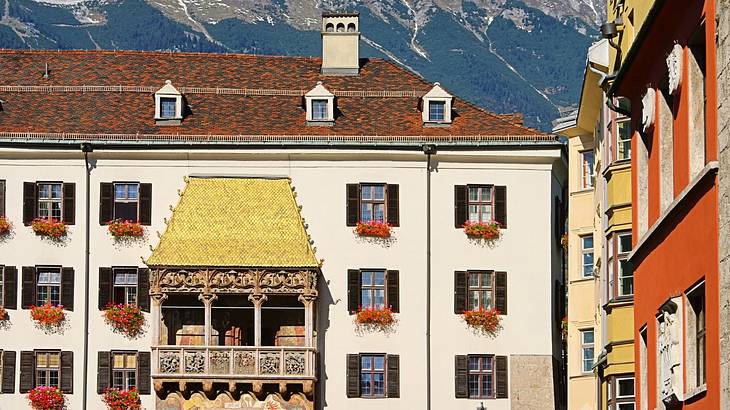 Goldenes Dachl
Goldenes Dachl, or Golden Roof, is located in Innsbruck and is often considered the most well-known landmark in the city. This structure was completed in 1500 for Emperor Maximilian I and features 2,657 fire-gilded copper tiles on the roof, hence the name 'Golden Roof.'
Visitors to Innsbruck can't miss seeing the unique building, which is the city's most photographed attraction. You can also head inside to look around the Golden Roof Museum (Museum Goldenes Dachl).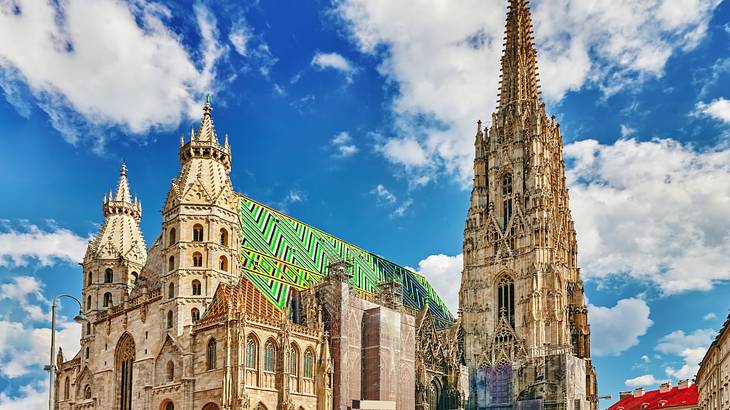 St. Stephen's Cathedral
St. Stephen's Cathedral is a Roman Catholic cathedral in Vienna. The church features Gothic and Romanesque architectural styles and has a brightly coloured mosaic roof.
The cathedral seen today took around 400 years to complete, finally opening in 1578. Interestingly, the site is thought to have been used as a church or other religious site since the 4th century as excavations in 2000 unearthed graves dated to that period.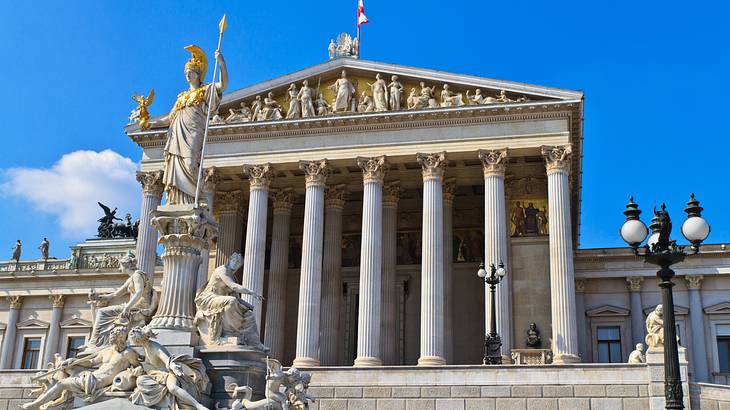 Austrian Parliament
The Austrian Parliament building is the most important political building in the country. Located in the capital city of Vienna, the Neo-classical building opened in 1883 and has been the place of many significant political events throughout its around 140-year history. Visitors can take guided tours to view the architecture and learn about Austrian politics.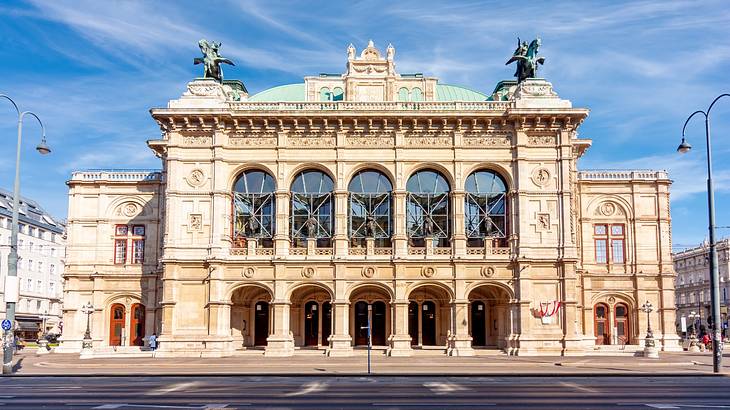 Vienna State Opera House
One of the must-visit Austria points of interest for those that like performing arts is the Vienna State Opera House. Opened in 1869, the Renaissance Revival building has a capacity of just over 1,700 and was one of the first large buildings on the Vienna Ring Road.
At the venue, you can see many types of performances, from classical music shows to ballets and, of course, operas. Tours of the opera house are also offered.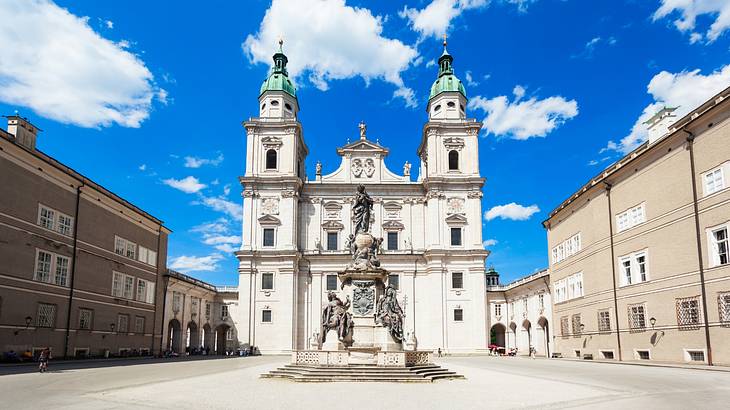 Salzburg Cathedral
Salzburg Cathedral is another beautiful cathedral to see in Austria. This Roman Catholic church was founded in 774 AD. The building seen today was completed in 1614 and was designed in a Baroque style.
The church's bells are one of the most notable features, with seven across two towers. These bells all have names as well, including Salvator and Barbara! If you want to be able to admire the cathedral every day during your trip, Altstadt is the best place to stay in Salzburg, with most accommodation options being within walking distance of the famous landmark.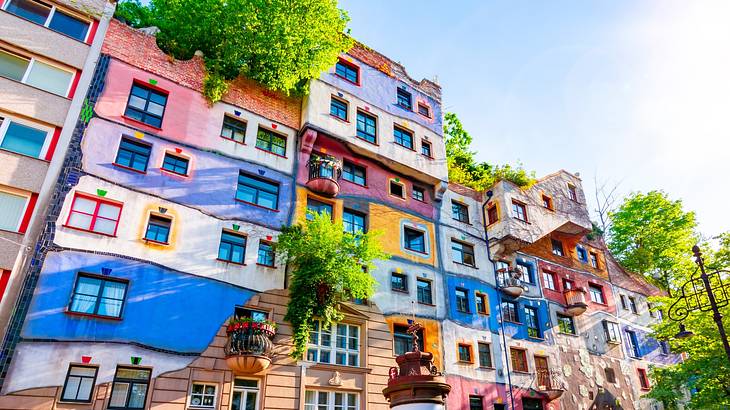 Hundertwasser House
One of the most interesting apartment buildings in Vienna is Hundertwasser House. This unique building was constructed by artist Friedensreich Hundertwasser and was completed in 1985. Inside are 53 apartments, as well as four offices and communal terraces.
The unique thing about the apartment is that it features many colours on the exterior, somewhat resembling a painting. There are also 250 trees in the design, which appear as though they are growing out of the building.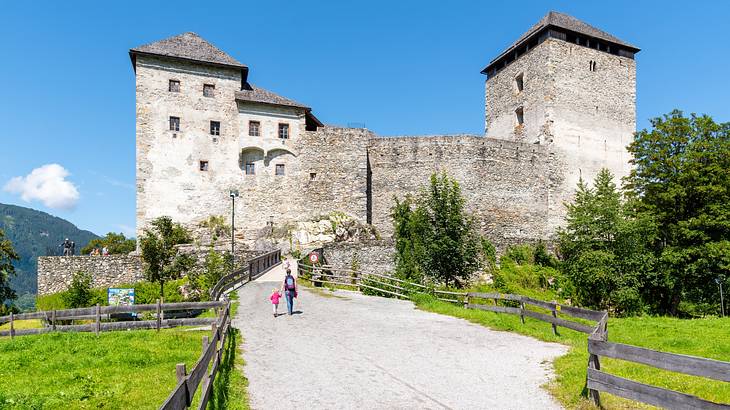 Burg Kaprun
Located in Kaprun, about an hour and a half from central Salzburg, Burg Kaprun is a 12th-century castle surrounded by mountains and forest. Its current layout and design were completed between 1580 and 1600 after a fire destroyed much of the original castle.
The castle was renovated again in the 1980s and now hosts events, like festivals in the courtyard. It can also be rented for private events.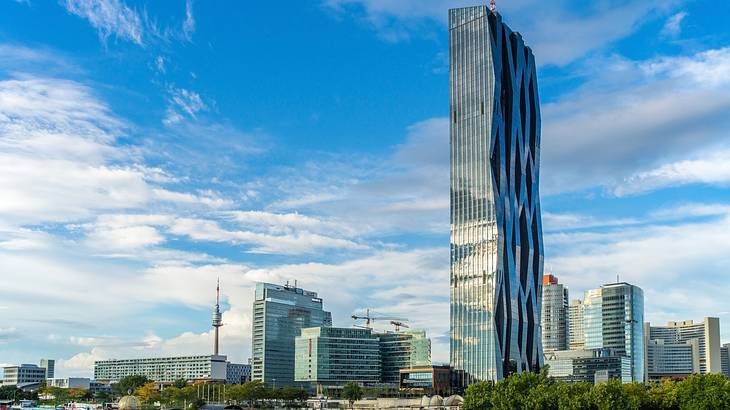 DC Tower 1
As the tallest building in the country, DC Tower 1 has to be on a list of Austrian landmarks! This vast skyscraper stands at 220 metres tall and is found in Vienna.
The '1' in the name is used as a second tower, DC Tower 2, will be completed at a later date. DC Tower 1 was finished in 2013 and houses offices and a viewing deck and restaurant on floor 57 of 60.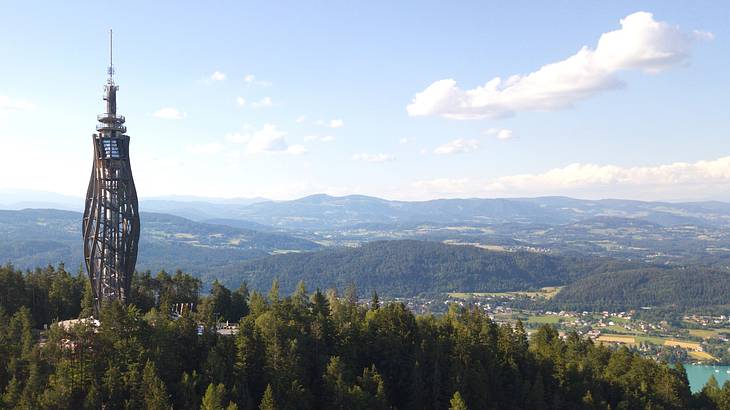 Pyramidenkogel Tower
Pyramidenkogel Tower sits on Pyramidenkogel Mountain and was initially constructed in 1968. This 54-metre tall tower was demolished in 2012 and replaced with the current structure that opened in 2013 and stands at 100 metres tall.
Visitors can go up in the tower to an observation deck that offers breathtaking views over the mountainous surroundings. Pyramidenkogel Tower is notably the tallest wooden observation tower in the world.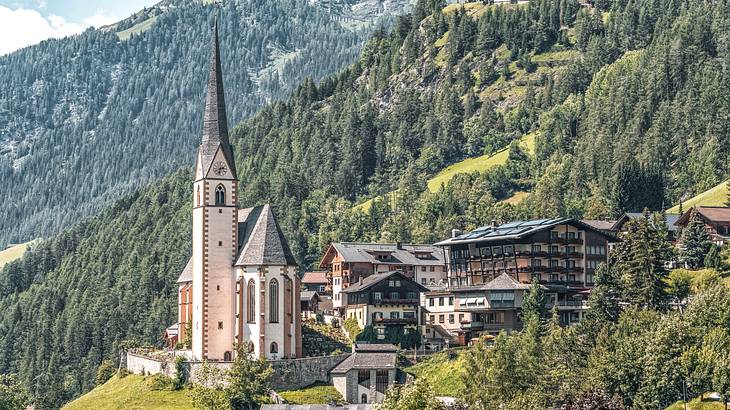 St Vincent Church
St Vincent Church sits in scenic surroundings next to Grossglockner in Heiligenblut am Großglockner. It is thought that a vial of the blood of Jesus was brought to the area around the church, and due to this, it is an important pilgrimage destination.
Others visit the 15th-century church to admire the architecture and the pretty scene of the building and its tall steeple surrounded by mountains.
Historic Landmarks in Austria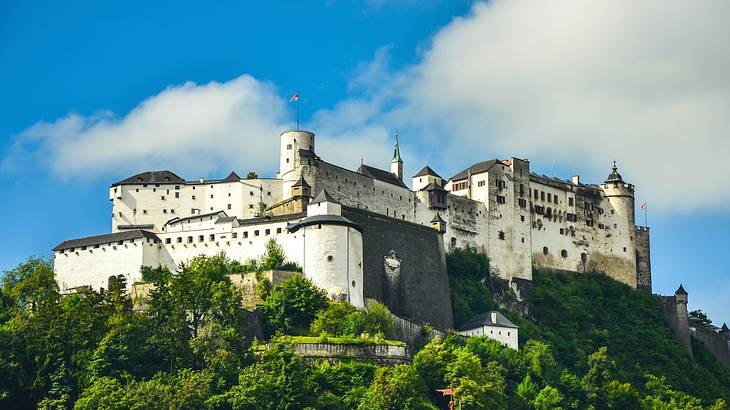 Fortress Hohensalzburg
Construction of Fortress Hohensalzburg in Salzburg began in 1017. The building was expanded several times over the following centuries, with major additions in the 1400s and 1500s. Fortress Hohensalzburg was also refurbished in the 1800s.
Initially built to protect the city, the fort has also been used as a prison and the home of artist Arno Lehmann. Today, the castle is a popular tourist attraction that can be reached using the Festungsbahn funicular railway that opened in 1892.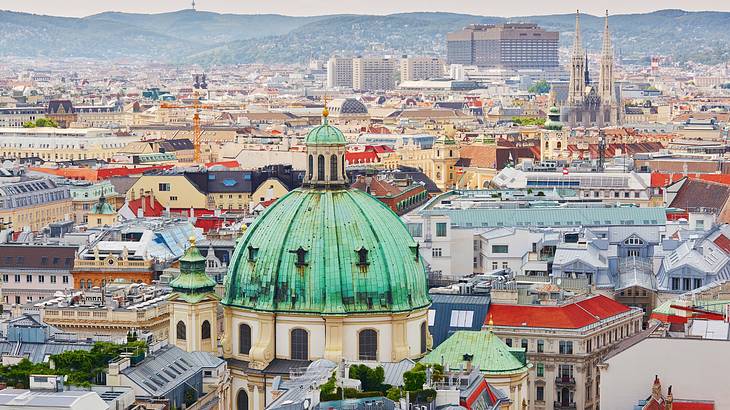 Historic Centre of Vienna
The Historic Centre of Vienna is a UNESCO World Heritage Site that sits in the centre of the Austrian capital city. This area is notable as it features many historical buildings, including Baroque castles.
As you wander around the historic city centre, you can admire the architecture, which covers many architectural styles and eras. Don't forget to snap lots of pictures of the beautiful buildings and gardens!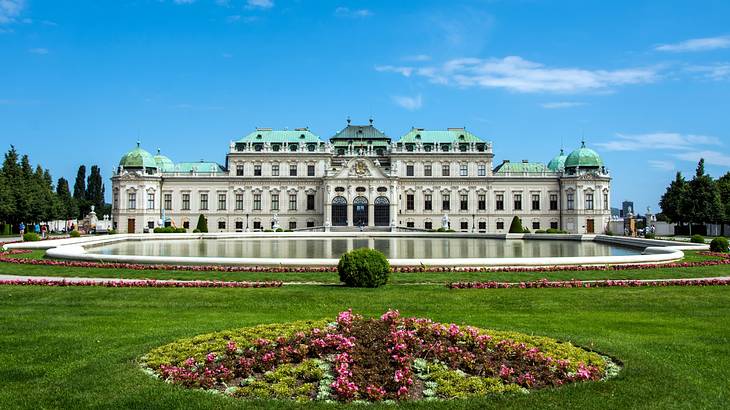 Belvedere Palace
Located in Vienna, Belvedere Palace is one of the most well-known landmarks in Austria. The complex features two Baroque Palaces as well as the Orangery, Palace Stables, and a park.
Commission of the palace occurred at the end of the 1600s, with construction commencing around 1712. It is thought that the two palaces were completed by 1723.
Notably, Emperor Franz Joseph I moved his heir Franz Ferdinand into the palace at the end of the 1800s. Today, the palace has a museum and visitors can explore the complex and its beautiful gardens.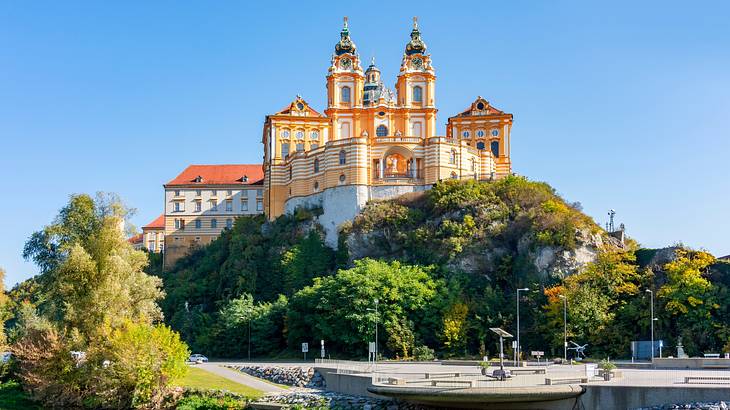 Melk Abbey
Melk Abbey is located in Melk, Austria, and opened in 1089. The abbey you see today was constructed between 1702 and 1736 in a Baroque style. Some notable features include a library with medieval and musical manuscripts and frescoes designed by Johann Michael Rottmayr.
A school, which is still open today, is also located in the abbey, and it survived many conflicts, including the Napoleonic Wars and WWII.
Those that visit the part of the abbey open to the public can admire the world-renowned architecture and learn more about the rich history of the landmark, which covers almost one thousand years.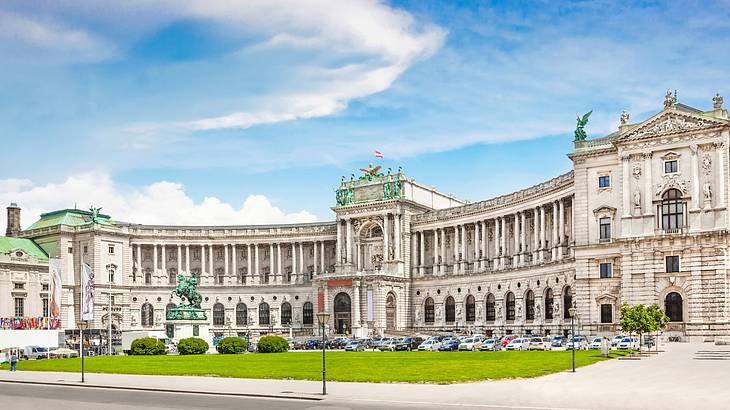 Hofburg Imperial Palace
Hofburg Imperial Palace is another stunning palace structure in Austria. Located in Vienna, the palace was constructed in the 13th century and served as the imperial winter residence.
Additions have been made to the palace complex since its initial construction, and today, the building has three museums and an art gallery. When in the city, a trip to Hofburg Imperial Palace has to be on your Vienna itinerary!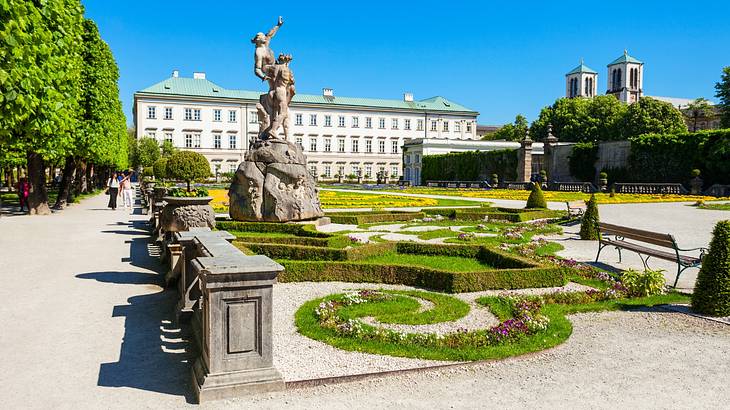 Mirabell Palace
Mirabell Palace, or Schloss Mirabell, is a Baroque palace with beautiful gardens in Salzburg. Dating back to the start of the 1600s, the palace was constructed for Prince-Archbishop Wolf Dietrich Raitenau. The palace and gardens are open to the public for no admission fee. Notable sites to see include a grand staircase and Marble Hall.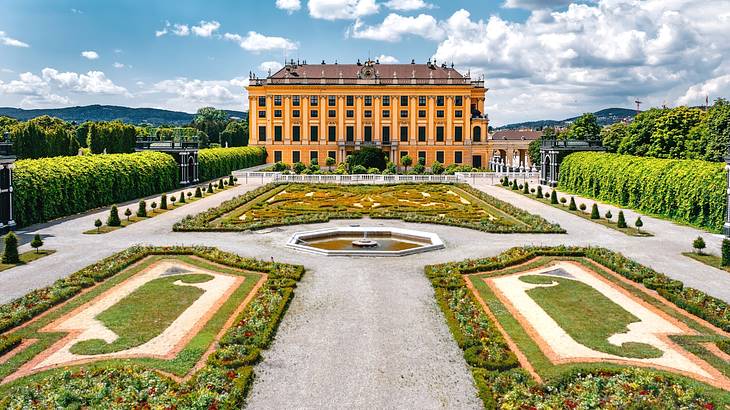 Schönbrunn Palace
Schönbrunn Palace is one of the most famous landmarks in Europe. This Baroque palace was notably the birthplace of Franz Joseph I and this residence is also where he died in 1916.
It has been used as a summer residence by Habsburg rulers as well and was added to the World Heritage List in 1996. The gardens are also vast, featuring many different landscaping styles, statues, and fountains. Visitors today can explore the gardens and residence, which houses a museum.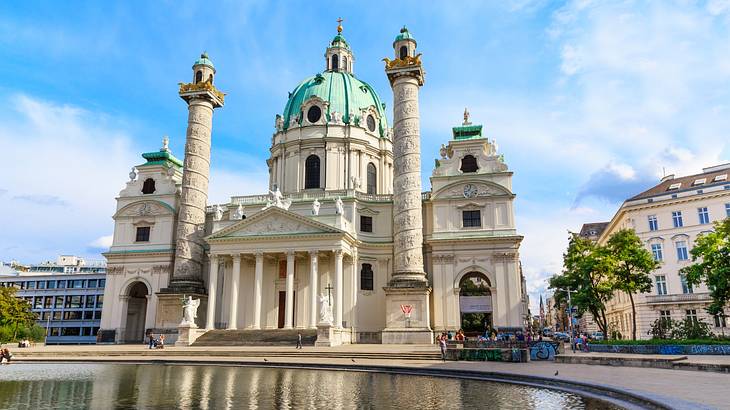 Karlskirche
Rektoratskirche St. Karl Borromäus, more commonly known as Karlskirche, is a Baroque church in Karlsplatz, Vienna. The church was commissioned in 1713 by Charles VI, Holy Roman Emperor, who wanted a church to honour Charles Borromeo.
The church opened in 1737 and is known for its beautiful interior frescoes. If you like seeing stunning pieces of architecture, be sure to visit Karlskirche!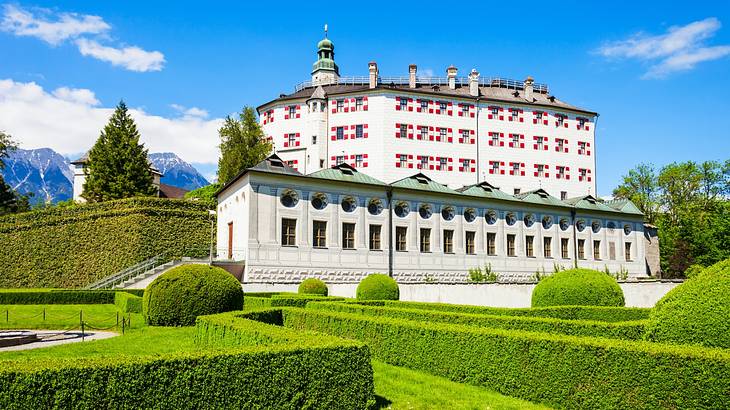 Ambras Castle
Innsbruck is known for its winter sports, but the city also has some historical landmarks, like Ambras Castle. Constructed in 1563 at the request of Archduke Ferdinand II, it was lived in on and off across the next few centuries.
The castle was taken over by the Kunsthistorisches Museum in 1950 and today has art exhibits, and visitors can tour the stunning 16th-century structure.
Natural Landmarks in Austria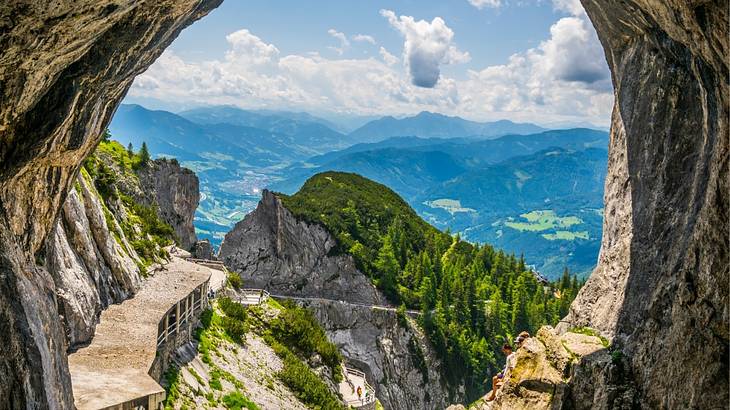 Eisriesenwelt
Eisriesenwelt in Werfen is a limestone and ice cave that is found within Hochkogel mountain, which is part of the Alps. This natural landmark is the largest ice cave in the world and is a breathtaking sight to see.
Interestingly, the cave also holds the ashes of Alexander von Mörk, a speleologist who explored the cave in 1912 but died in 1914 during World War I.
Visitors can go to the cave between May and the end of October. You can take guided tours, and there is a cable car to make reaching the cave easy.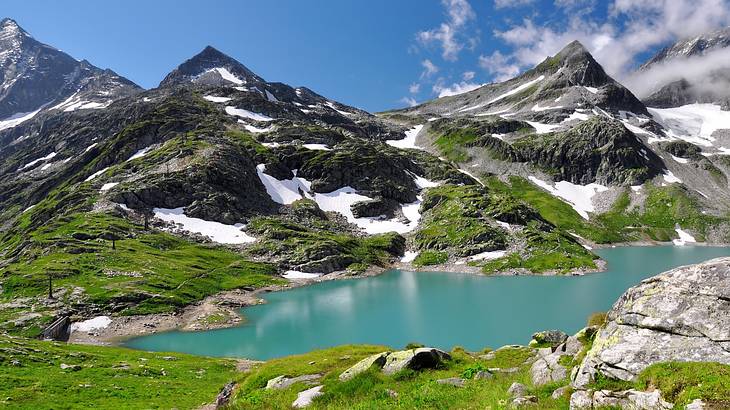 Hohe Tauern National Park
Hohe Tauern National Park is one of many stunning national parks in Austria. The park covers the High Tauern mountain range and is an ideal place to hike in the warmer months and enjoy snow sports like skiing in the winter. No matter when you visit, you will be able to take in beautiful alpine views.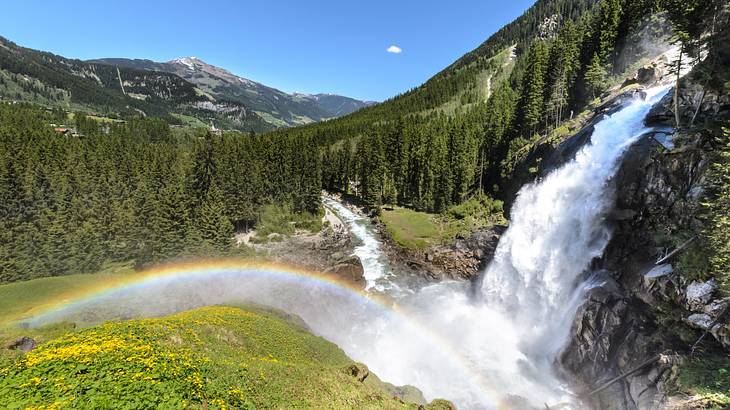 Krimml Waterfalls
Krimml Waterfalls are situated on the Krimmler Ache river within High Tauern National Park. This set of waterfalls is the highest in Austria, with the highest point sitting at 1,470 metres above sea level. When in the park, you can hike the waterfall trail, which has a few waterfall observation decks along the way.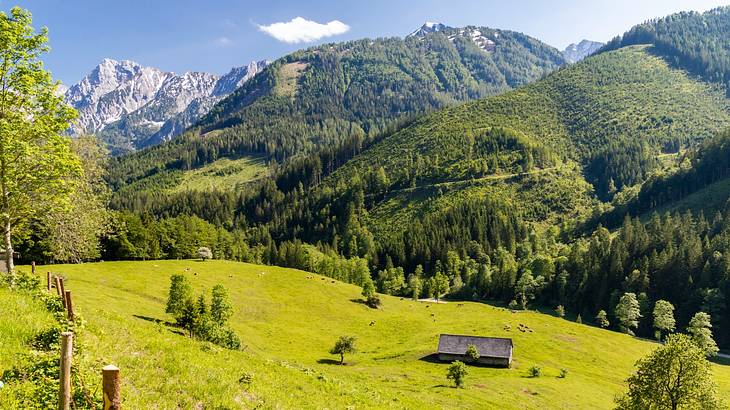 Kalkalpen National Park
Kalkalpen National Park is another of the famous places in Austria that allows you to enjoy the country's natural scenery. This national park is located in Molln within the Northern Limestone Alps mountain range and covers just over 208 square kilometres.
Visitors to the park can follow various trails and discover the many ancient beech forests located within the park's boundaries. Notably, Kalkalpen National Park has Central Europe's largest forested area and Austria's largest karst region.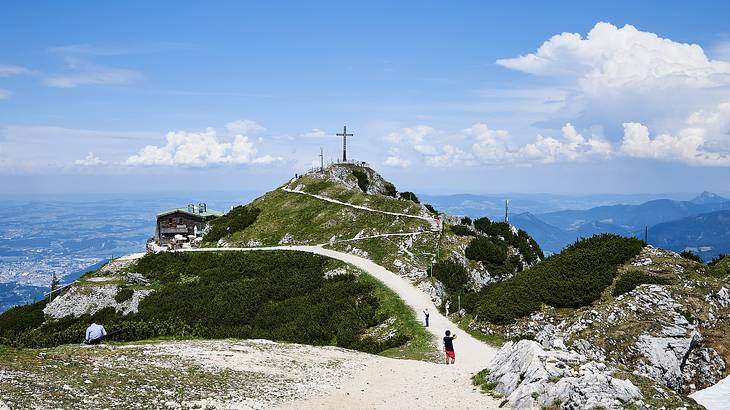 Untersberg
Austria has many natural landmarks to see, including Untersberg on Austria's border with Germany. This mastiff of the Berchtesgaden Alps is known for its lopsided peak that you may have seen at the start and end of the movie The Sound of Music.
Untersberg is popular with hikers and snow sports enthusiasts. You can also take a cable car up the mountain, which offers excellent views.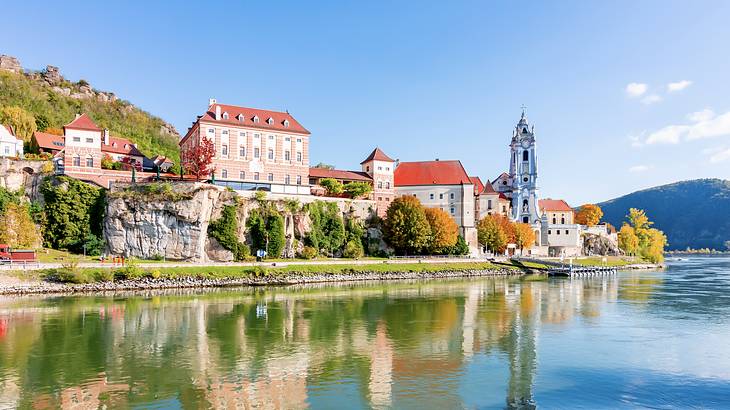 Wachau Valley
Wachau Valley is a beautiful region located west of Vienna near the Danube River. The area is characterized by rolling hills and dense forests and has many vineyards and some historical structures like fortresses.
The valley also has a link to Richard the Lionheart, who was imprisoned in a castle in Dürnstein, which overlooks Wachau Valley. Melk Abbey is located nearby as well.
Whether you want to see historical landmarks, visit wineries, or go on nature walks, Wachau Valley makes an excellent day trip destination from Vienna.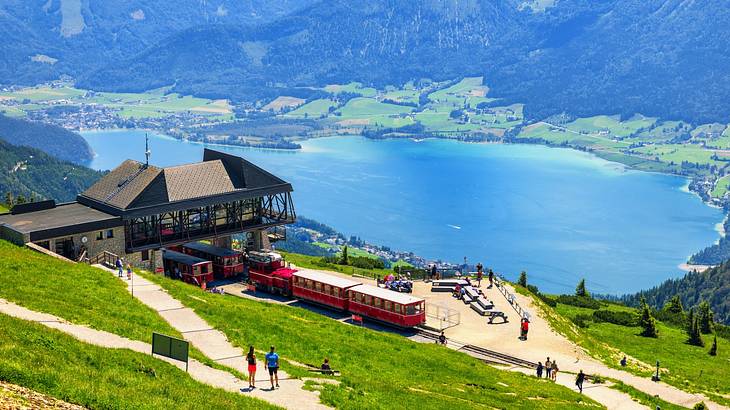 Schafberg Mountain
Schafberg Mountain is one of the most well-known mountains in the Northern Limestone Alps. The 1,783-metre-tall mountain offers stunning vistas of Wolfgangsee Lake.
In the summer, the Schafbergbahn rack railway operates, taking visitors to the mountain summit to enjoy the view.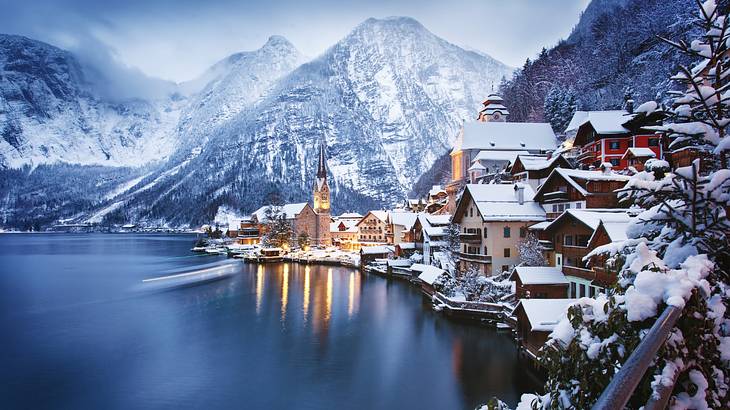 Austrian Alps
Also called the Central Eastern Alps, the Austrian Alps comprise the part of the Alps mountain range found in Austria and part of Switzerland, Italy, Slovenia, and Liechtenstein.
The range's tallest mountain is Grossglockner at 3,798 metres tall, and there are 13 other mountains in the range that are over 3,000 metres tall. There are many hiking trails and viewing platforms in the Austrian Alps that allow you to take in the beautiful alpine vistas.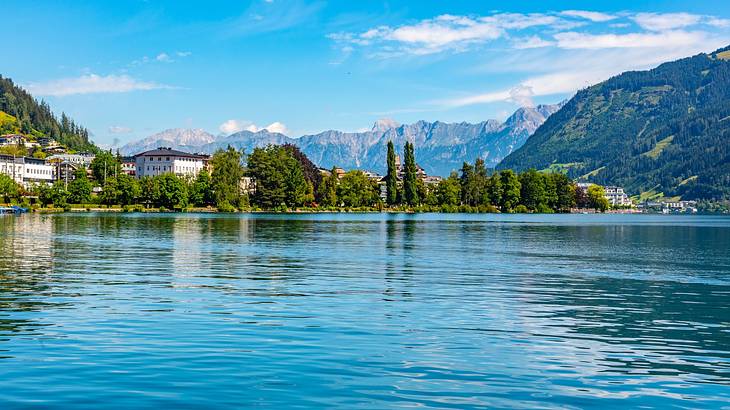 Lake Zell
Lake Zell is a natural landmark within the Austrian Alps. This freshwater lake is one of the main features of the alpine city of Zell am See. In the summer, locals and tourists head to the lake to boat. In the winter, when it freezes over, it is safely used for winter sports like ice skating. You can also see the lake from the surrounding ski trails.
Famous Monuments in Austria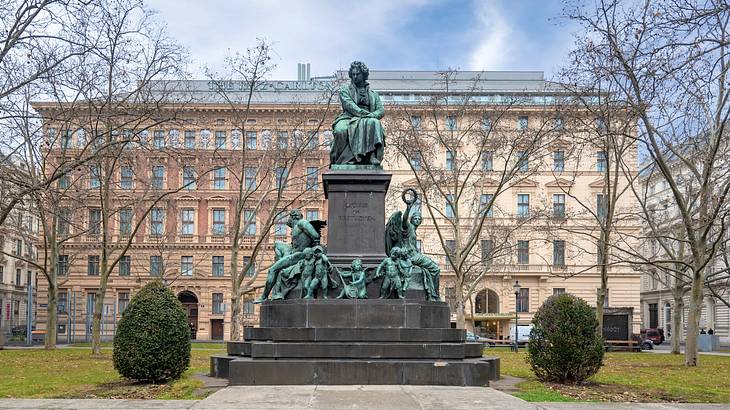 Beethoven Monument
The Beethoven Monument is one of the most iconic Austria monuments. While Beethoven was German, he lived in Austria and died in Vienna in 1827. The statue of Beethoven is located in Vienna within Beethoven Park and was unveiled in 1845.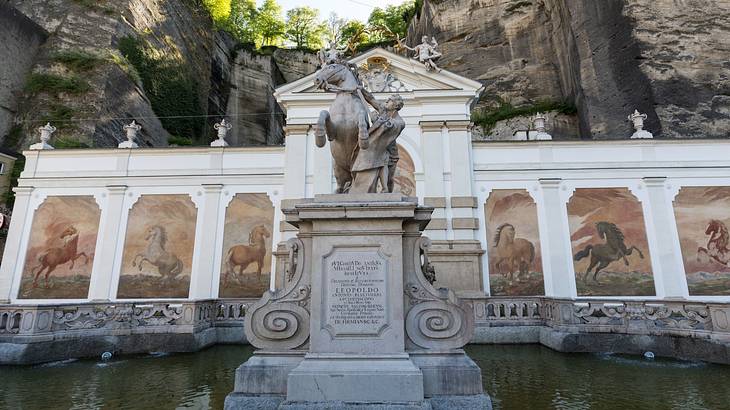 Pferdeschwemme
Pferdeschwemme in Salzburg is a fascinating monument that includes a sculpture of a horse and horse tamer next to a pond. Also known as the Horse Pond, this landmark was constructed in the 1600s and sits in Herbert von Karajan Square.
In the 17th century, horses would be paraded and washed in the horse bath structure. Today, it is a unique monument that is well worth seeing.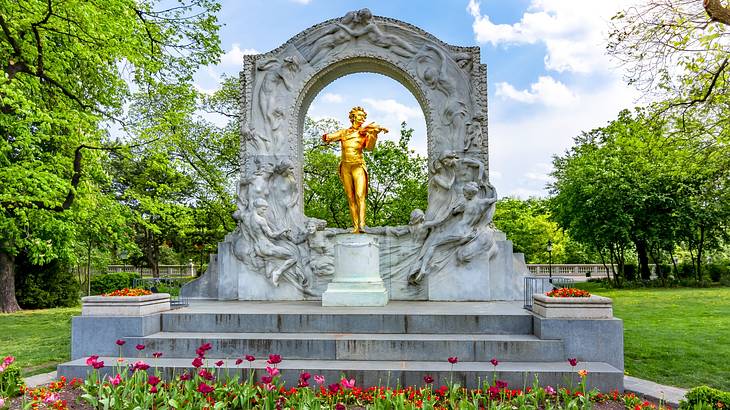 Johann Strauss Monument
Located in Stadtpark, Vienna, the Johann Strauß Monument, or Johann Strauss Statue, is another renowned statue to see when exploring the Austrian capital.
The golden statue of the Austrian composer playing the violin opened in 1921 after being commissioned 18 years earlier in 1903. This is one of Vienna's most photographed landmarks, and visiting while walking around the park can't be missed!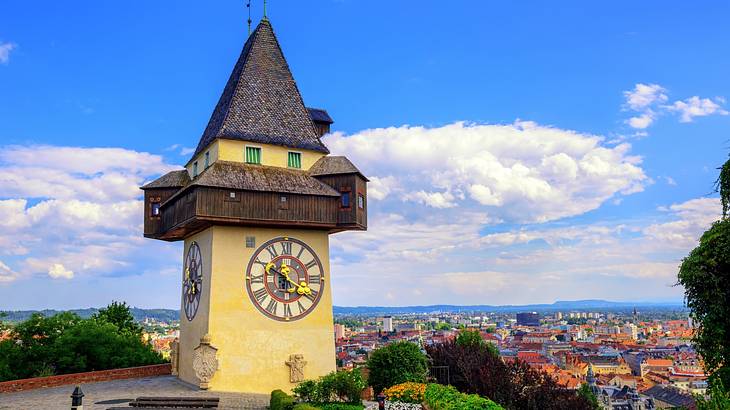 Graz Clock Tower
Another must-see landmark in Austria is Graz Clock Tower, also called Uhrturm. The tower dates to the 13th century and sits on Schlossberg, a 473-metre-high hill in Graz. The medieval tower was updated in 1560.
After viewing the fascinating clock tower, you can take in views across the city and explore the surrounding park. You can also stop at a cafe near Graz Clock Tower, which offers beautiful views over Old Town Graz.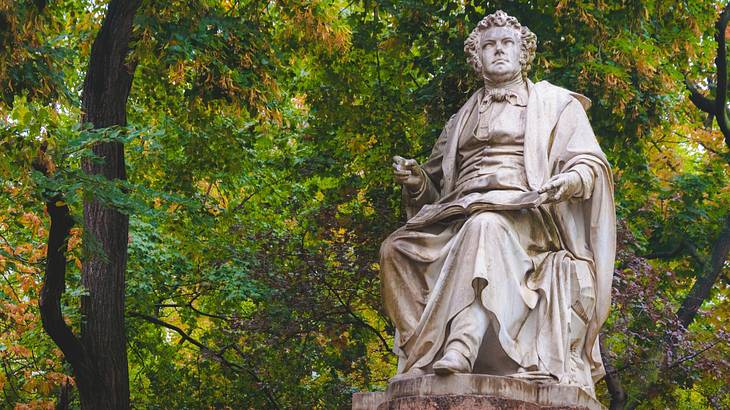 Schubert Monument
Another statue of a composer to see in Stadtpark is the Schubert Monument. Opened in 1872, the monument honours Franz Schubert and features a stone statue of him on a pedestal. It was created by Carl Kundmann, a renowned Austrian sculptor.
In Conclusion
If you want to discover some of the best landmarks in Europe, a trip to Austria is a must! There are an array of Austria landmarks and attractions to discover, from natural landmarks like the Austrian Alps to historical sites and famous buildings, such as Salzburg Cathedral. No matter what part of the country you visit, you'll find no shortage of renowned landmarks to check out.
---
---
Want to keep exploring?
Subscribe for discounts on tickets and hotels and our latest guides.
Thank you for subscribing
We will be in touch soon with discounts on tickets and hotels and our latest guides.
Want to keep exploring?
Subscribe for discounts on tickets and hotels and our latest guides.
Thank you for subscribing
We will be in touch soon with discounts on tickets and hotels and our latest guides.
Related Articles