The Best 2 Days in Vienna Itinerary
Destguides may receive commissions from purchases made through affiliate links in this article.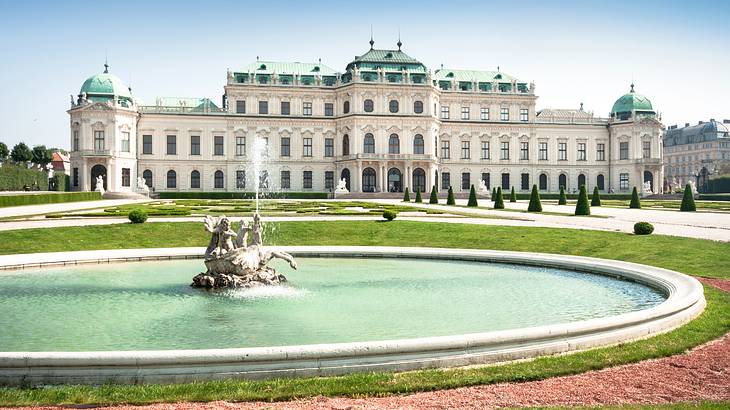 Vienna is one of the best cities to visit in Europe and has to be on your travel bucket list! It's a must-visit destination for travellers interested in music, art, and the grandeur of Baroque architecture.
If you're planning a quick trip to the city, this 2 days in Vienna itinerary will show you how to experience everything the culturally-rich capital of Austria has to offer.
From visiting the breathtaking Schönbrunn Palace to viewing the unique Hundertwasser House and enjoying a show at the Vienna State Opera House, you'll be amazed by all there is to see and do in only 48 hours.
Difficult as it may be to condense the vibrance of this incredible destination into such a short trip, 2 days is enough to see the best of Vienna. To help you plan your adventure, keep reading for an in-depth Vienna travel guide.
Vienna 2 Day Itinerary
Vienna 2-Day Itinerary Video
Check out our highlights video of the stops covered in this Vienna itinerary.
Vienna 2-Day Itinerary Map
A map of Vienna. Use the map to explore all the days and stops.
Historical Sites and Impressive Palaces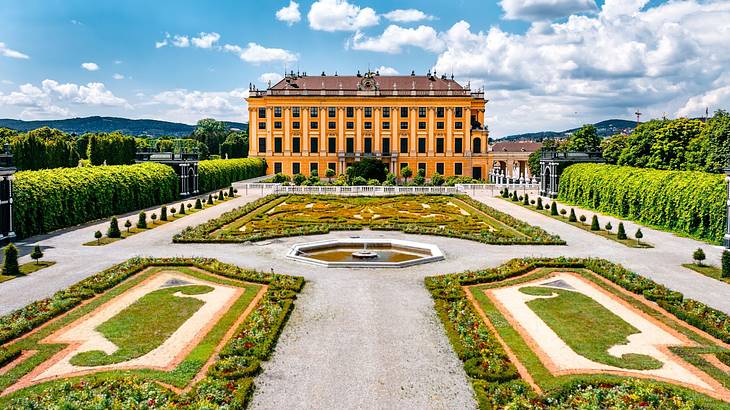 The first day of your two days in Vienna itinerary will begin at Schönbrunn Palace and Gardens, where you can tour the Neoclassical-style building. Next, you'll go to another palace, Belvedere Palace, before visiting Hundertwasser House, a contemporary architectural building.
Your next stop is an amusement park, where you can ride the Viennese Giant Ferris Wheel! After, head to the Spanish Riding School and the impressive Hofburg Palace and Sisi Museum Hofburg Wien before finishing at the renowned Cafe Museum for dinner.
Throughout the day, you'll also notice Vienna's street-style dining scene and coffee-house culture. Feel free to stop anywhere that takes your fancy for lunch or great coffee.
For free entry to several attractions and unlimited rides on the hop-on hop-off busses, also consider purchasing a 2-day Vienna PASS in advance.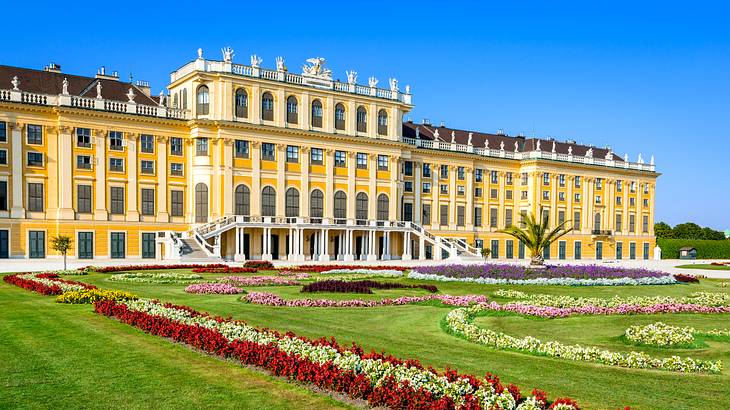 Schönbrunn Palace and Gardens
The Schönbrunn Palace and its gardens are a UNESCO World Heritage Site and one of Europe's most famous landmarks. The palace is also the most-visited attraction in Vienna, and for good reason. It is beautiful!
The first buildings on the grounds date back to the 1500s, and the Neoclassical-style palace, as it stands today, was built in the mid-1700s during the reign of Empress Maria Theresa.
Self-guided tours are available, which take you through the interior and allow you to admire the many staterooms and Baroque artworks. You will need at least two to three hours to wander around the palace and grounds as they cover a vast area.
Alternatively, one of the top Vienna travel tips relating to this landmark is to purchase a Schönbrunn Palace and Gardens skip-the-line ticket with a guided tour in advance. With this option, you won't have to waste time waiting in line and will get to learn about the property with a knowledgable guide.
If you don't want to spend money on a tour, you can roam the grounds for free and walk up to the Gloriette, which is where you'll have a fantastic view of the palace below.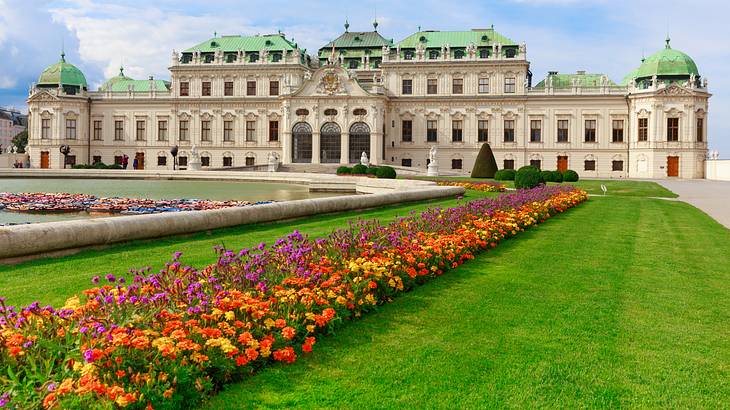 Belvedere Palace
Belvedere Palace is one of the most interesting places to visit in Vienna. The museum consists of two palaces, the Lower and Upper Belvedere, which are linked by a serene garden lined with art sculptures and water features.
These buildings are some of the best examples of Baroque architecture in Vienna. The Upper Belvedere houses a variety of artworks from famous artists like Van Gogh, Renoir, and Monet. In the Lower Belvedere area, you can view a collection of art from many periods, including works that date back to the Middle Ages.
The two palaces each have an entry fee, but the gardens are free of charge. The gardens are also the perfect place to explore if you need to take a quick break to recharge before continuing your busy day of sightseeing in Vienna.
If you're interested in learning about the history of this landmark, consider taking a Belvedere Palace small group history tour. Those wanting to look around alone can still purchase Belvedere Palace entry tickets in advance.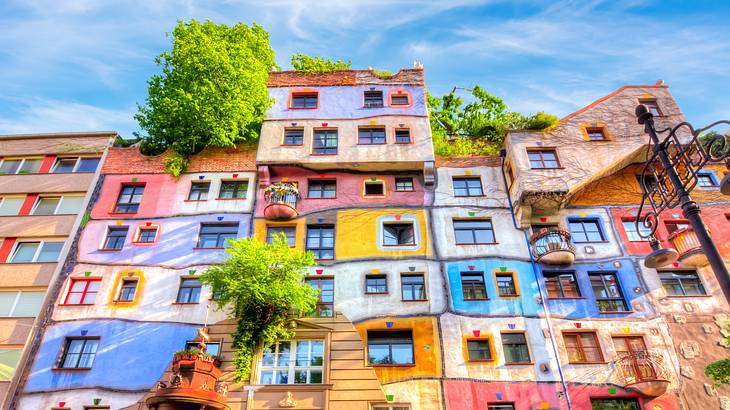 Hundertwasser House
If you like taking fantastic photos on vacation, one of the top things to do in Vienna, Austria, is going to Hundertwasser House to snap some pictures.
This cultural landmark is a vibrantly colourful Expressionist-style house. It was designed by and named after the well-known Austrian artist and architect Friedensreich Hundertwasser.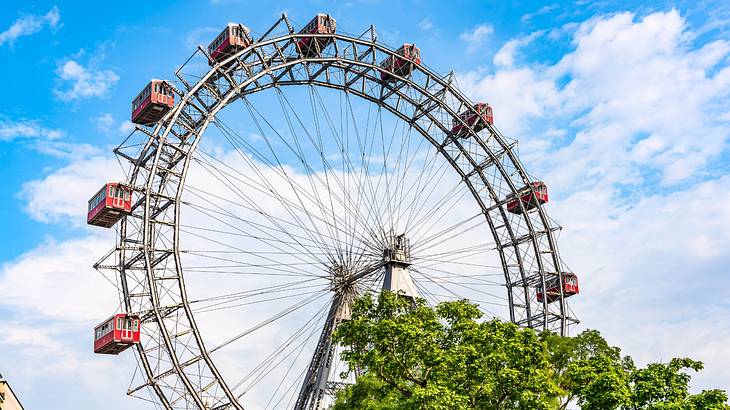 Viennese Giant Ferris Wheel
If you want a break from historical and cultural sites, you can switch things up with a visit to Prater Park. This iconic amusement park notably houses Vienna's famous Giant Ferris Wheel. The wheel was built in the 1890s and was the largest Ferris wheel in the world until 1985.
The Viennese Giant Ferris Wheel is the best (and most fun) way to get a view of the city in all its glory. If you're travelling with kids, this is also one of the most family-friendly activities to enjoy in Vienna. To ensure you get to ride the wheel, book Viennese Giant Ferris Wheel tickets in advance.
If you're looking for something out of the ordinary to do, you can even have drinks and a meal in the Ferris wheel cars! Vouchers for this type of experience are available on the attraction website.
Prater Park also has a lot of food stalls selling all kinds of treats, and there are other amusements to check out if you have time after your Ferris wheel ride.
Spanish Riding School
The Spanish Riding School is one of Vienna's more unusual tourist attractions. Dedicated to preserving Lipizzaner horse training and classic dressage, the riding school is a unique and memorable place to visit. If you're in the city in the summer, you can even watch the Piber Meets Vienna show.
However, the winter season also has entertainment options with daily morning shows where you can watch the horses in action. Accompanied by classical Viennese music, these performances reflect the local culture and history. The production is an experience you won't forget and has to be included when exploring Vienna in 48 hours!
Visitors can additionally take an informative Spanish Riding School tour. On this one-hour tour, you'll learn about the riding school's history and get to go to some "behind-the-scenes" areas.
You can also purchase tickets in advance to watch a horse training session. If your tour is early in the day or later in the afternoon, simply move this activity around in your itinerary.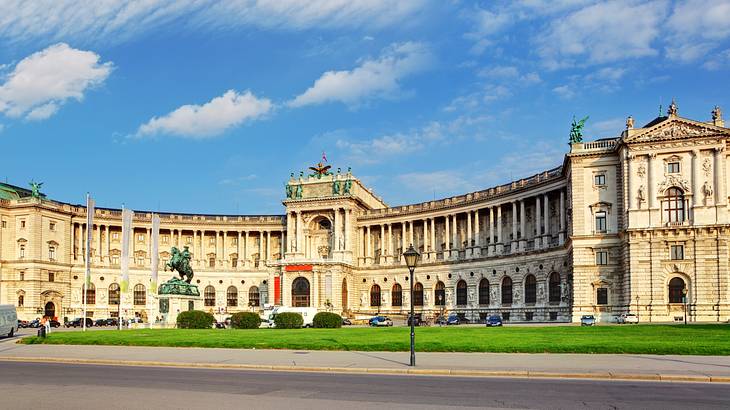 Hofburg Palace and Sisi Museum Hofburg Wien
If you're up for exploring more palaces, then add a trip to Hofburg Palace to your to-do list. This 13th-century palace is the former Imperial Palace and holds valuable information about Vienna's imperial history. Interestingly, it's now also the home and office of the President of Austria.
Despite being home to the president, parts of the building are open to the public and house museums, like the Sisi Museum Hofburg Wien. This fascinating attraction is dedicated to Empress Elisabeth, nicknamed Sisi, an unconventional 19th-century empress.
Tourists that want to learn about this empress' life can join a Hofburg Palace and Empress Elisabeth tour, which takes you around the palace and some other landmarks related to the royal figure. At Hofburg Palace, you can also tour the Imperial Apartments and view the Silver Collection, complete with Imperial cutlery, porcelain, and crockery.
Cafe Museum
If you want an authentic Viennese dining experience, head to Cafe Museum for dinner. Located in Innere Stadt, Vienna's old town, this restaurant has a long history in the city. It opened in 1899 and soon became a popular meetup spot for creatives.
The restaurant has been redesigned a couple of times since its opening over a century ago, but its cozy and welcoming interior has remained the same through the decades. You can try classic Viennese dishes here, like Wiener schnitzel and goulash.
Cafe Museum is an excellent spot for dinner because it's right in the middle of all the action. It's notably just a stone's throw away from the alluring Naschmarkt, where you could head before or after dinner to browse the many interesting stalls.
More Historical Sights and Vienna's Music Culture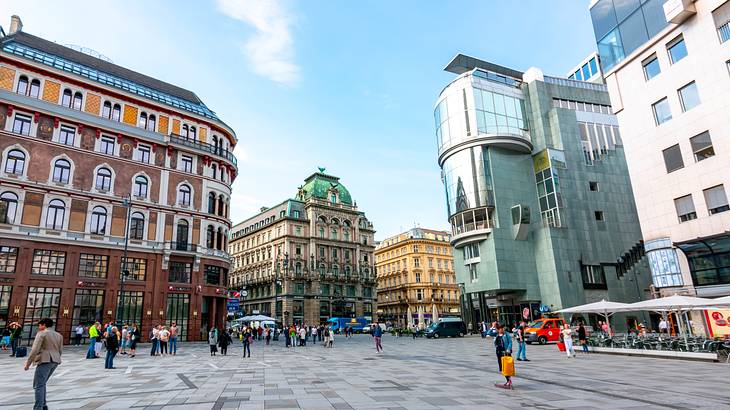 The second day of your 48 hours in Vienna, Austria, will begin by visiting St. Stephen's Cathedral and going up Stephansdom North Tower to take in the views over the city.
After admiring the vistas, you can learn about the legendary composer Motzart at Mozarthaus before going on a relaxing cruise on the Danube River.
Later in the day, you can visit a unique and more modern attraction, Time Travel Vienna. While here, you can enjoy interactive exhibits relating to Vienna's history and significant events.
You'll then be going to two top museums. The first is the Museum of Natural History Vienna, which has world-renowned science and natural history exhibits.
The second museum to visit is Kunsthistorisches Museum Wien, which houses a vast art collection and is one of the largest art museums in Austria.
Your evening will then be spent at the Vienna State Opera House, watching a fantastic performance; the ideal way to end your busy and exciting trip to Vienna!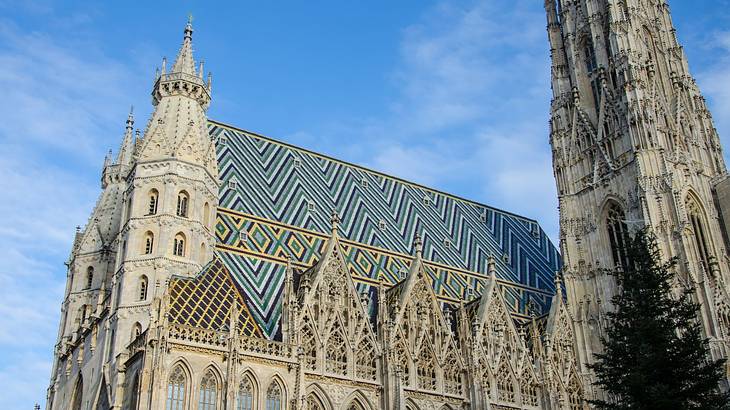 St. Stephen's Cathedral and the Stephansdom North Tower
Your first stop of the day is the impressive St. Stephen's Cathedral (Stephansdom Cathedral), which is the Roman Catholic mother church and seat of Vienna's Archbishop.
It's also home to Stephansdom Nordturm, a tower with a lift that takes you to the top of the cathedral, where you can enjoy views over the city. You'll additionally get to admire the colourful roof tiles that this cathedral is famous for.
This landmark will notably interest history enthusiasts as it has a long history. Construction of the cathedral began centuries ago, in 1137.
It was completed in 1578, but the unearthing of graves in 2000 suggests the grounds have been used as a religious site since the 4th century! The beautiful Romanesque and Gothic design will appeal to architecture lovers as well.
Entrance to the cathedral is free, and the tower can be climbed for a small entrance fee. Due to the excellent panoramic view of Vienna from the top, it's definitely worth paying the admission fee. If you visit only the free areas of the church, the walk-through shouldn't last more than half an hour.
Visitors can even take a St. Stephen's Cathedral guided tour, which offers information on the history of the building and takes you to areas not generally open to the public, like the catacombs. You can additionally return in the evening to attend a memorable classical concert at St. Stephen's Cathedral .
After exploring the church, take a quick walk around Stephansplatz Square, which surrounds St. Stephen's Cathedral, before heading to your next stop.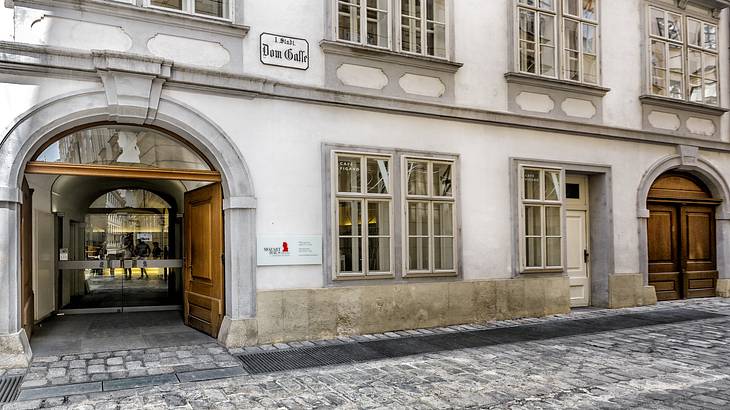 Mozarthaus
Mozarthaus is one of the can't-miss landmarks for those wondering what to see in Vienna in two days. This beautiful building has been restored to its original 18th-century architecture and formerly housed the apartment of renowned classical musician Mozart.
Each floor has a different theme or exhibition, taking you on a trip through the centuries that show how the city and its art and music scene have evolved over the years.
You can buy Mozarthaus tickets with an audio guide in advance, which is recommended as this attraction is popular and gets busy. For a more memorable experience, you can also get tickets to a classical concert at Mozarthaus.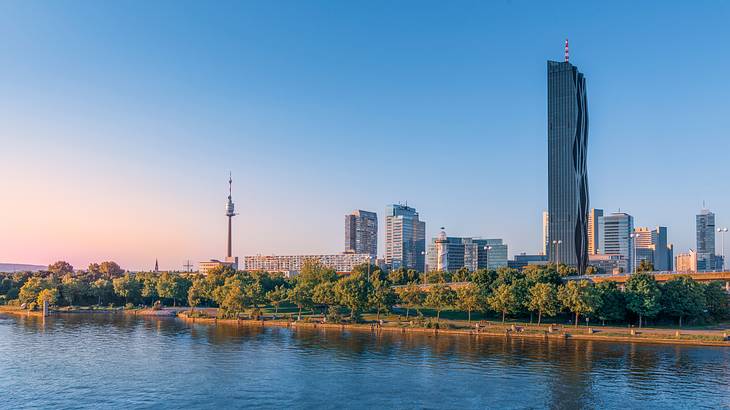 Danube River Cruise
If you want to do something a little unique on your Vienna vacation, taking a Danube River cruise can't be missed. The Danube River is probably one of the first things that come to mind when you think of Vienna. The river runs across the upper part of the city, and then continues to cross through Bratislava, Budapest, and Belgrade.
A river cruise allows you to see the city from a different point of view. Depending on the type of journey you take, you should receive a pair of headphones for an audio tour as well. You will hear interesting stories about Vienna and its relation to the river as you pass by iconic buildings and structures along the way.
You can book various types of Danube River cruises, from sightseeing tours to longer rides that include lunch or dinner and live entertainment.
Time Travel Vienna
Time Travel Vienna is an interactive experience that uses multimedia exhibitions and special effects to take you on a trip through Vienna's history. Best of all, this activity only lasts an hour, so it fits perfectly into a day packed with sightseeing!
Things to learn about include the history of the Austrian royal family and Austria during World War II. To ensure you don't lose any time unnecessarily by waiting in line, buy Time Travel Vienna admission tickets before you arrive.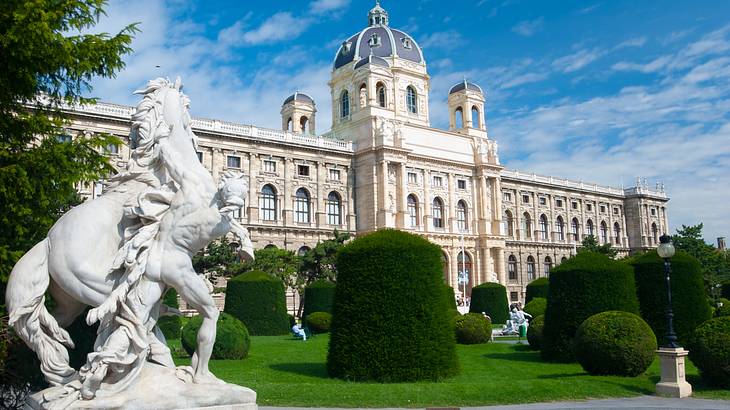 Museum of Natural History Vienna
The Natural History Museum Vienna hosts a collection of fossils and other fascinating natural history and science exhibits. It's often considered one of the world's most important natural history museums!
Additionally, this Austrian landmark is housed in a stunning Renaissance building and features breathtaking interior design elements, like ornately painted ceilings.
Topics covered here include paleontology, earth sciences, human sciences, and much more. There's also a collection of over 100,000 objects and artifacts across 39 exhibition rooms.
If you're running short on time, feel free to omit this museum or the next, or rearrange the itinerary as necessary to suit your preferences and schedule.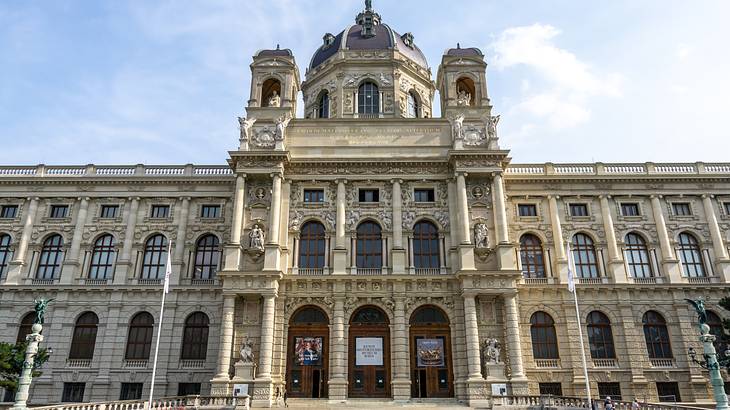 Kunsthistorisches Museum Wien
If you're planning a weekend in Vienna and want to see the most famous cultural attractions, a trip to Kunsthistorisches Museum Wien must be on your to-do list!
Founded in 1889, this museum of art history is now one of the most-visited museums in the city, welcoming almost two million people annually. It's also the largest art museum in Austria.
While exploring the gallery, you can view works by an array of renowned artists, with numerous artworks dating back to the 15th and 16th centuries. Royal artifacts and Ancient Egyptian art are also on display.
During a visit, you can additionally marvel at the breathtaking internal and external architecture and design. To avoid waiting in line, buy your Kunsthistorisches Museum admission ticket before you arrive.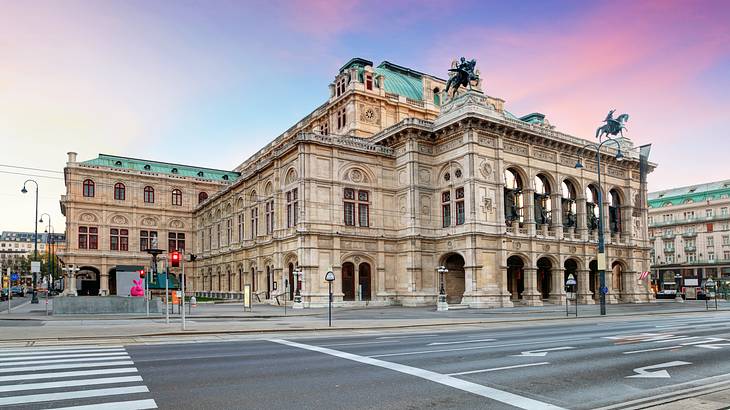 Vienna State Opera House
Watching a performance at the Vienna State Opera House is another event that you can't miss out on, and ending your Vienna trip by attending a show is an excellent idea.
Even the State Opera House building, which dates to 1869, has a fascinating history. You can learn more about this landmark by attending a guided tour during the day. The guided tours allow you to get a look behind the scenes at how the Vienna State Opera House runs.
If you're going to attend an evening show, getting tickets for the Mozart concert is recommended. This event features a range of classical artists performing works by Mozart, as well as pieces by other musicians and composers, like Strauss.
However, there are many other shows on as well; just check the Opera House website for a schedule. No matter what you see, you'll have a fantastic time getting dressed up and going to the Vienna State Opera House!
In Conclusion
If you've been wondering what to do in Vienna, Austria, in just 48 hours, this itinerary should have given you a good idea of everything you can see in the city in two days. Of course, you can rearrange this itinerary as needed and remove stops that may not be of interest or that you've visited before.
In addition, you may want to go to Vienna Old Town and check out some other top landmarks, like the Austrian National Library, Vienna City Hall, and the Imperial Treasury Vienna.
If you have some more time to explore the surrounding area, you could also consider taking one of the many day trips from Vienna, like a trip to Bratislava or Prague.
No matter what landmarks and attractions you visit, you're guaranteed to have an excellent time exploring the diverse and unique European city of Vienna!
---
---
Want to keep exploring?
Subscribe for discounts on tickets and hotels and our latest guides.
Thank you for subscribing
We will be in touch soon with discounts on tickets and hotels and our latest guides.
Want to keep exploring?
Subscribe for discounts on tickets and hotels and our latest guides.
Thank you for subscribing
We will be in touch soon with discounts on tickets and hotels and our latest guides.
Related Articles