30 Best Things to Do in Phnom Penh, Cambodia
Destguides may receive commissions from purchases made through affiliate links in this article.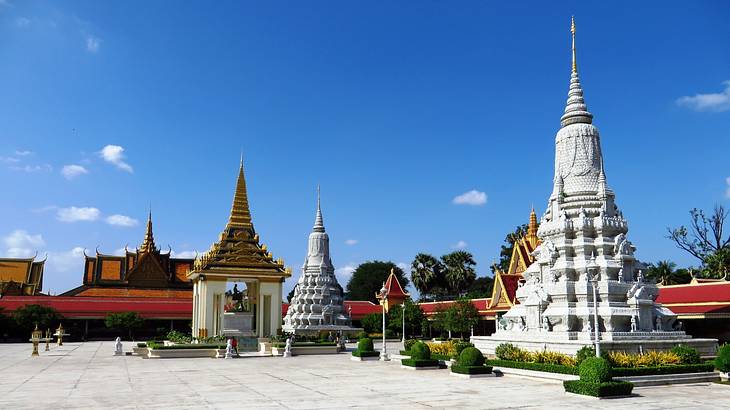 Phnom Penh is the bustling capital city of Cambodia. While many people flock to Siem Reap and Angkor Wat when visiting Cambodia, a trip to Phnom Penh has to be on your bucket list as well!
During a visit, you will find no shortage of interesting attractions to visit. Just a few of the best things to do in Phnom Penh, Cambodia, include exploring the city's many markets, visiting the National Museum of Cambodia, and relaxing with drinks at the stylish Elephant Bar. Keep reading to discover all the top things to do in Cambodia's capital!
30 Best Places to Visit in Phnom Penh, Cambodia
Top Things to Do in Phnom Penh, Cambodia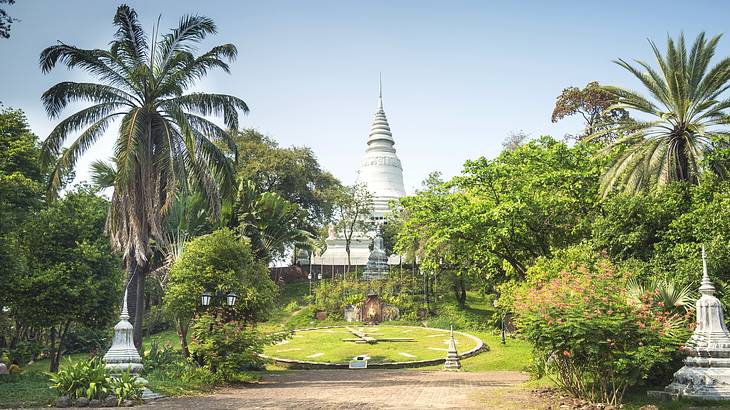 Visit Wat Phnom
Legend has it that the Mekong River washed some four Buddha statues in a large tree ashore. When Lady Penh discovered these statues, she erected a temple for them on a hill, in this case, Wat Phnom. The name Phnom Penh also means the 'Hill of the Penh', which was in honour of this legendary lady.
Today, the temple is thought of as being part of the Khmer National identity. People often visit Wat Phnom to take photos of this picturesque Buddhist Temple and to offer prayers to it. You can also wander around the scenic gardens that surround the temple.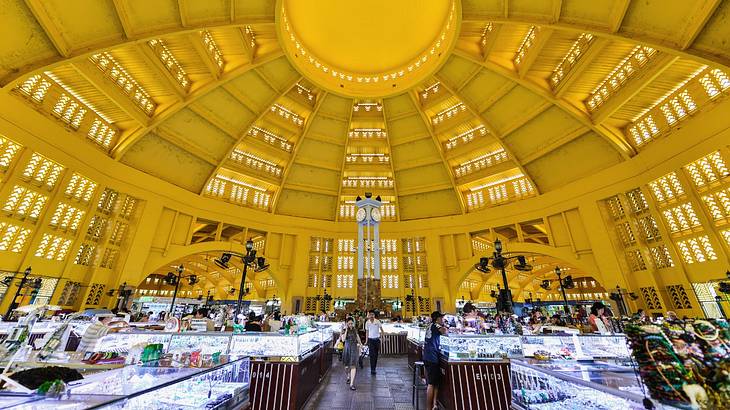 Shop at the Central Market
Phsar Thmei, the Central Market, was built in 1937 and is one of the biggest markets in Asia. It's also one of the most atmospheric attractions in Phnom Penh! Inside, you will find countless stalls and alleyways to look around. It is also an excellent place to go to get your fix of Cambodian treats and products.
Not hungry or don't feel like shopping? No problem! You can still head inside to appreciate the impressive golden dome and architecture that the market is known for. This is also a great place to experience the daily hustle of Phnom Penh.
You could also book a Phnom Penh market tour, which will take you to Central Market - Phsar Thmei, the Russian Market, and Old Market with a guide.
Learn to cook Khmer dishes at a cooking class
After tasting many amazing dishes in Phnom Penh, why not learn to make some of them yourself? You can do just that by taking a Khmer cooking class!
During the half-day class, which you can take in the morning or afternoon, you will get ingredients at local markets before heading to the kitchen. You will then cook traditional dishes, including fish amok and spring rolls.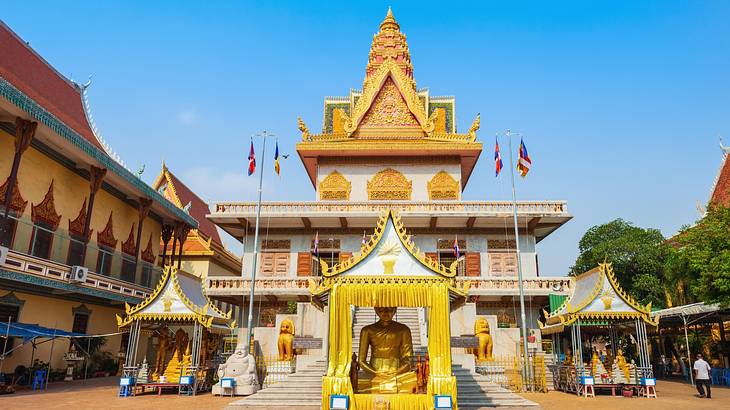 Explore Wat Ounalom
Along the famed Sisowath Quay, a riverfront promenade, you will find Wat Ounalom. Also known as Wat Ounalom Monastery and Ounalom Pagoda, Cambodia's Mohanikay order is situated here and is considered the city's most important temple.
During a visit, you can stop to admire the intricate details of Wat Ounalom and take a quick break from the busy city. You might also see some monks on the property or nearby streets, so be sure to say hello!
Some things you should be aware of when interacting with monks is, first and foremost, to show respect. You show respect by keeping your hands to yourself, which includes not pointing at them rudely.
Also, ensure you cover yourself in appropriate dress and remember to take off your shoes and hat when entering the temple. Don't forget to snap photos of this beautiful temple as you look around as well!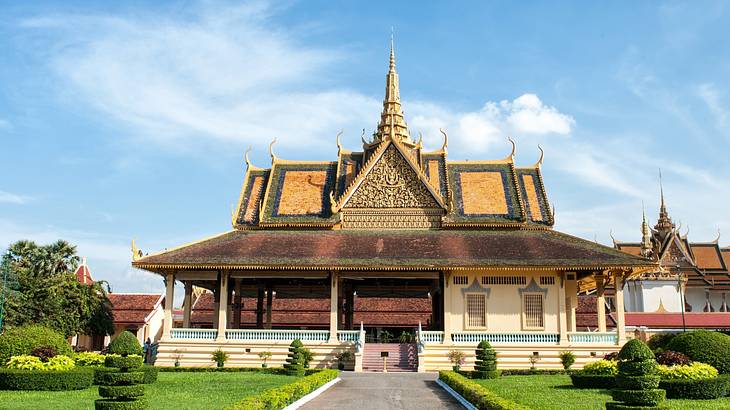 Tour The Royal Palace
The Royal Palace is a grand complex that sits on top of a citadel and serves as the royal residence for the King of Cambodia. Construction of the palace began in 1866 when King Norodom relocated the capital of Cambodia from Oudong to Phnom Penh.
There are five main buildings housed within the complex. These structures include the Silver Pagoda, the Khemarin Palace, the Throne Hall, the Moonlight Pavilion, and the private Inner Court.
The Royal Palace is an excellent Phnom Penh attraction to visit to get your Cambodian and Khmer architectural fix! Do note that visitors must wear modest clothes, such as pants that cover their knees at least.
Dine at Khema Restaurant
Khema Restaurant is a popular fine dining spot with a few locations in Phnom Penh. Dining at the eatery at least once is recommended.
Diners can order a range of contemporary dishes, like green mango and prawn salad, steak tartare, and lobster bisque. For dessert, treats like profiteroles and chocolate fondant are available.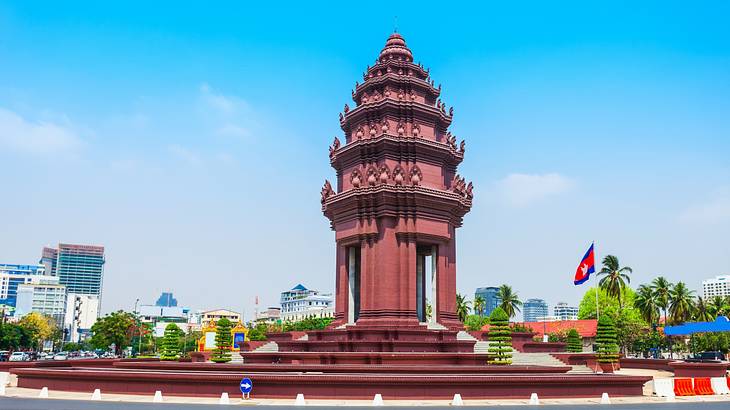 View the Independence Monument
The Independence Monument is a famous Asian landmark that was constructed in 1958 and features a lotus-shaped stupa. It marks Cambodia's independence from France in 1953.
While there isn't much to do around the monument, visiting it has to be on your to-do list. You can snap some photos of this historic structure before moving on to your next stop. This is also an excellent spot to visit at night because of the scenic lights that surround it.
Relax with a massage at the Bodia Spa
When in Southeast Asia, do not miss out on the opportunity to have an excellent massage! At the Bodia Spa, you will be able to choose from a variety of massages. Treatment options include foot massages, Swedish massages, and an Asian acupressure massage.
Aside from massages, facials and other relaxing treatments are also available here. Getting a massage or any other spa treatment is an ideal way to unwind after spending all day walking around Phnom Penh!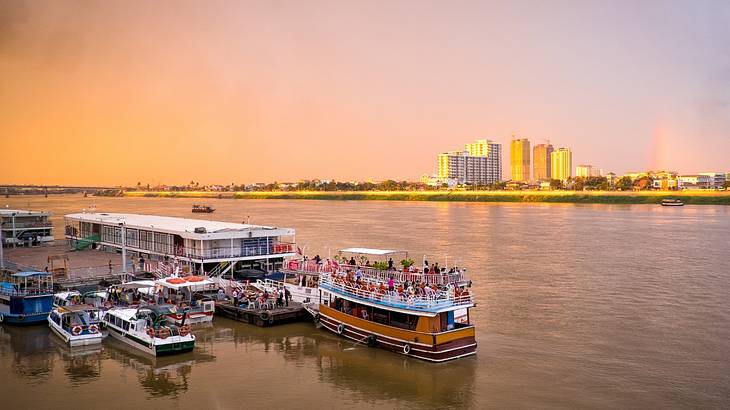 Indulge in a sunset Mekong River cruise
Going on a sunset cruise on the Mekong River is a memorable activity. On a Mekong River cruise, you'll get to see many landmarks and admire views as the sun goes down.
You'll also sail along some other rivers, like the Four Faces River. As you take in the views, you can enjoy drinks, including beer and soft drinks. If you have been wondering what to do in Phnom Penh in the evening, going on a sunset Mekong River cruise has to be on your bucket list!
Watch a performance at Cambodian Living Arts
Cambodian Living Arts is an arts centre that hosts an array of events. At the venue, you can see fantastic traditional dance performances with stunning costumes. There are also other performances to see, and festivals and workshops are hosted at Cambodian Living Arts.
Experience a lunch or dinner Cambo Cruise
Whether for lunch or dinner, don't miss a boat ride on the Mekong River aboard a distinctly Cambodian vessel. With Cambo Cruise, you will depart from Phnom Penh Floating Port and can opt for a lunch or sunset cruise. You can also go on a cruise that takes you to Silk Island.
As you sail along, you can enjoy a delicious buffet meal with traditional dishes that feature local ingredients. Drinks are also available, including a full bar, and you can listen to Cambodian music during the journey. The ride can last up to four hours long and is an excellent way to relax and unwind on your last day in the city.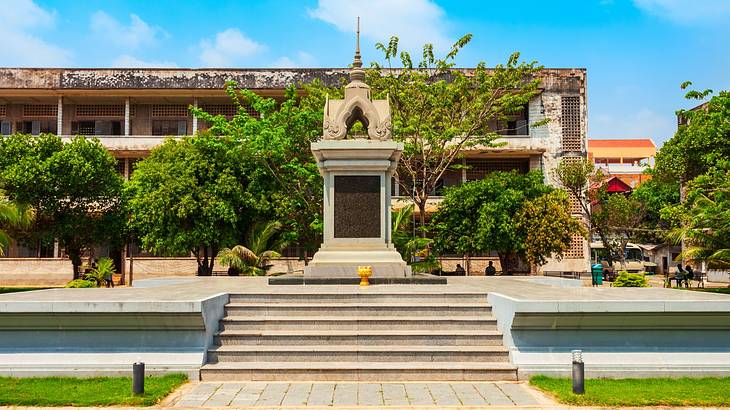 Go to the Tuol Sleng Genocide Museum
Tuol Sleng Genocide Museum is a sombre but important place to visit in Phnom Penh. The building that the famous landmark is housed in used to be a high school. However, the Khmer Rouge government turned it into an S-21 Prison and a torture centre from 1975 until 1979, when the regime fell.
This site is one of the many torture chambers that were sadly used to kill almost 2 million Cambodians during the Khmer Rouge period. At the museum, you can learn more about those that were held at the prison.
The events that took place inside were well-documented, leaving an array of information about the former prisoners. Things to see include photographs, notebooks, and letters written by inmates.
Wander around The Russian Market
The Russian Market is another of the bustling marketplaces to visit in Phnom Penh. This market features a range of vendors, from those selling souvenirs and clothing to delicious fresh Khmer coffee. Prices are said to be cheaper than the Central Market, but you can still haggle with the stall owners!
At the market, you can also find many food stalls, making it the ideal place to visit for dinner. You can affordably hop from stall to stall, trying a multitude of local dishes. Do note that it does get quite hot here, so wear light and comfortable clothing.
Get street food at the Phnom Penh Night Market
You can experience Phnom Penh after hours by going to the city's vibrant Phnom Penh Night Market. While many of the same goods and eats are offered at the Central Market, this nightly fanfare provides its own unique taste of Phnom Penh.
This market is an especially great place for a late-night food crawl. Those on the hunt for authentic Cambodian street food will also find no shortage of vendors they want to check out.
Just a few of the items to try include meat skewers of all kinds, from beef to liver, crab curry, and Cambodian amok. Heading to the Night Market is also a great idea if you're travelling in Cambodia on a budget, as the dishes are affordable.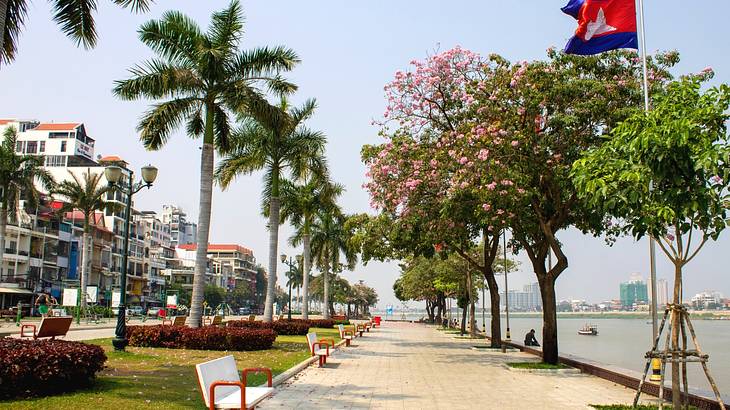 Wander along the Sisowath Quay Boardwalk
After some sightseeing, head down to Sisowath Quay to take a relaxing walk along the boardwalk. The around three-kilometre walkway sits next to the water and is lined on the other side with shops, bars, and restaurants.
As you wander along, you can admire the views and stop for a drink or meal or to do some shopping at unique independent shops.
Go to the Daughters of Cambodia Visitor Centre
The Daughters of Cambodia Visitor Centre is a unique attraction in Phnom Penh that you must visit. The goal of this business is to empower victims of sex trafficking and teach them skills that allow them to make income.
At the centre, you can learn more about the women who work there and the endemic of sex trafficking. You can then get refreshments at the cafe and buy some handmade pieces, like clothing and jewellery.
Unwind at Bliss Spa Cambodia
Another of the top spas in Phnom Penh is Bliss Spa Cambodia. Treatments to choose from here include body scrubs, massages, facials, and body wraps.
You can also get manicures, and there are spa packages for those that want to enjoy a few different treatments. These packages include a couples spa experience and a girls' night package, which comes with bottles of wine and canapes.
Sip cocktails at Elephant Bar
If you're looking for some early evening refreshments, heading over to the Elephant Bar in the Raffles Hotel is a must! The stylish bar has great happy hour offers and an extensive cocktail list.
One of the most famous drinks at Elephant Bar is the Femme Fatale. This signature drink was specially made for Jackie Kennedy when she visited Cambodia in 1967.
The Raffles Hotel's famous Singapore Sling is also on the menu. You can even be a bit adventurous and try something new during your visit, like munching on fried crickets while sipping your elegant signature drink!
Experience the ultimate Phnom Penh food tour
You can find lots of excellent food tours in the city, but if you want to maximize the number of dishes you try, taking the ultimate Phnom Penh evening food tour is a must!
During this four-hour experience, you will taste around 20 different dishes at seven different stops. Your guide will also offer more info on local cuisine. Places to visit include Kandal Market, The Russian Market, and a popular Phnom Penh restaurant.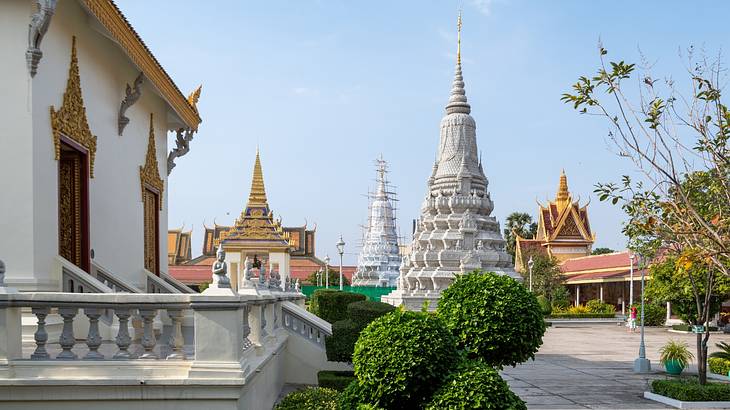 Snap photos at the Silver Pagoda
The Silver Pagoda is located on the south side of the Royal Palace. It is also known as the Temple of the Emerald-Crystal Buddha (Preah Vihear Preah Keo Morakot). The building was completed in the 19th century and is now an iconic tourist attraction.
This pagoda houses many Buddha statues made with precious stones and minerals. The most famous Buddhas located here are the Emerald Buddha and the Gold Maitreya Buddha. Shortly before the Khmer rouge regime, the King also commissioned the pagoda to be inlaid with silver tiles, though only part of the tiled area is accessible to the public.
Visitors to the temple can view the Buddhas and wander around the grounds surrounding the pagoda. Don't forget to take lots of photos here to remember your visit!
Admire artworks on a street art tour
You may not think that Phnom Penh has a very big street art scene. However, you can actually discover many amazing murals when exploring the city.
To make finding these artworks easy, book a Phnom Penh street art tour. Your guide will take you to around 40 stunning murals and Factory Phnom Penh, an open-air art space. You will also grab breakfast at Boeng Keng Kang Market.
Say "Hi" to rescue animals at the Wildlife Alliance
The Wildlife Alliance is definitely one of the best Phnom Penh attractions for animal lovers. The wildlife centre isn't a zoo, but instead, a conservation centre focused on conservation and wildlife rescue and rehabilitation.
Visitors to the centre will start a tour at a local market, buying produce for the animals! You can then head back to the Wildlife Alliance to see the animals and feed them some of the food you picked up. Of course, you will also learn more about the conservation efforts of the Wildlife Alliance and how you can help the cause.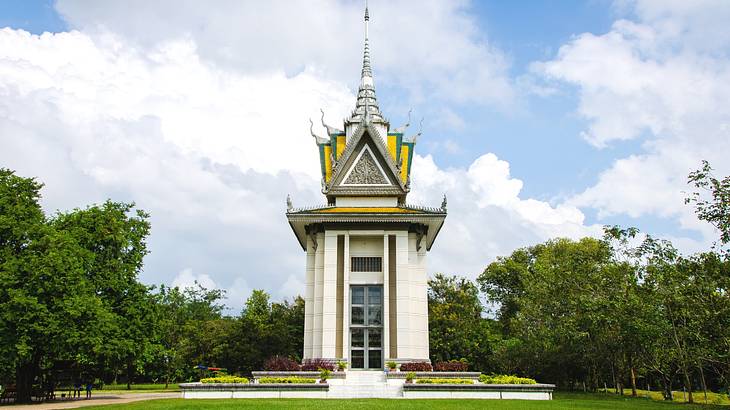 Visit the Killing Fields
Another sombre but important landmark in Phnom Penh is the Choeung Ek Genocidal Center, also known as the Killing Fields. This site is where victims of the Khmer Rouge were killed and buried between 1975 and 1979.
At the Choeung Ek Genocidal Center, you can learn more about the history of the site and the stories of some of the victims. If interested in finding out more about the landmark, take a Killing Fields tour with a knowledgable guide. You also get taken to the Toul Sleng Genocide Museum during this excursion.
Purchase some unique items at Olympic Market
Olympic Market is a bustling marketplace that focuses on fabric, clothing, and accessories. As you wander around, you will get to take in the busy atmosphere and brightly coloured clothing and textiles that adorn the market stalls. You can also find some unique accessories to take home, and there are a few food stalls.
Hang out at Sora Skybar
Sora Skybar at the Rosewood Hotel is one of the best bars in the city. This sophisticated spot features a luxurious bar and a rooftop deck, offering stunning views over Phnom Penh. There's even a whiskey library, and live music acts are often hosted.
To drink, you can choose from an extensive cocktail list, including a unique eco-conscious cocktail menu. There are also many whiskeys on offer, and you can opt for a whiskey flight if you can't decide what to try.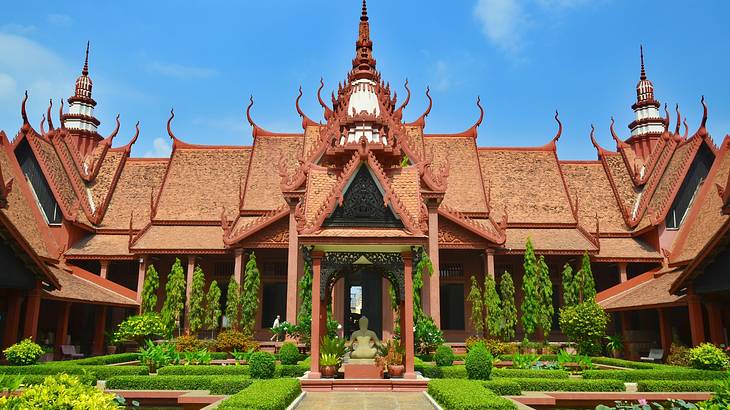 See history exhibits at the National Museum of Cambodia
The National Museum of Cambodia is the largest museum in Cambodia. It is home to a vast collection of traditional Khmer art and artefacts, a testament to the grandeur of the once-powerful Khmer empire.
The museum itself is strikingly designed with Khmer aesthetic in mind. You most likely won't need more than two hours here, especially if you visited Angkor Wat in Siem Reap before heading to Phnom Penh as it covers quite a bit of the same information.
Those looking to learn more about the attraction may want to book a guided tour. This tour includes the National Museum of Cambodia as well as other landmarks, like the Royal Palace and the Russian Market.
Grab a beer at Hops Brewery and Craft Beer Garden
With four locations in and around central Phnom Penh, Hops Brewery and Craft Beer Garden is the ideal place to stop for a beer or two.
You can choose from many craft beers, and flights are available if you want to try multiple brews. Some German-inspired food dishes are also available, and as the name suggests, there is lots of outdoor seating.
Best Day Trips from Phnom Penh, Cambodia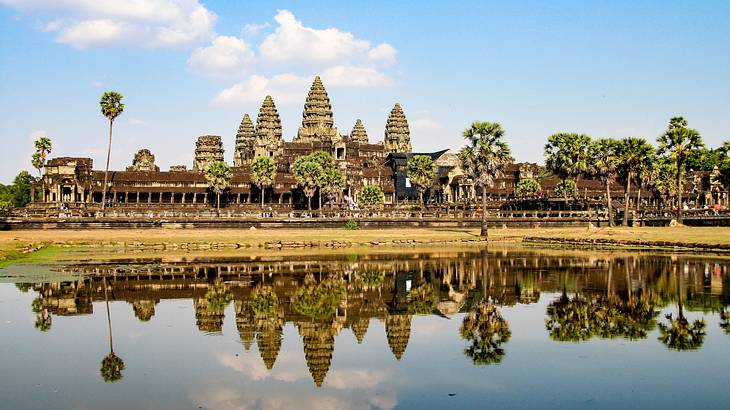 Organize a trip to Siem Reap
Siem Reap is another popular destination in Cambodia that is approximately five hours from Phnom Penh. If you want to plan a multi-day getaway from Phnom Penh, a three-day trip to Siem Reap is an excellent idea!
Things to do in Siem Reap include visiting Phnom Kulen National Park and exploring Angkor National Museum. Of course, going to the world-renowned landmark Angkor Wat has to be on your to-do list as well.
Spend a day on Koh Chen Island
Koh Chen Island is situated about 40 minutes from Phnom Penh and is a scenic place to spend the day. You can easily reach the island by joining a Koh Chen Island cruise and day tour.
You will reach the island on a boat, and your guide will then take you around a local village. After exploring, you can stop for a delicious lunch and take a tuk-tuk ride through the Oudong Mountains.
Plan a trip to Koh Dach Island
Koh Dach Island (Silk Island) is just off the Phnom Penh mainland. During a visit, you will learn about the silk-making process and be able to buy silk souvenirs if you want.
You can get here by riding a ferry across the Tonle Sap River and then hailing a tuk-tuk to get to the silk-weaving factories. There is also a silk-weaving village nearby. Alternatively, you could book a half-day guided tour of Koh Dach Island from Phnom Penh.
This tour includes transport, entry to a silk farm, and morning tea. No matter how you explore, escaping the hustle and bustle of Phnom Penh and learning about the silk industry will be a fun experience.
In Conclusion
Phnom Penh is a vibrant and unique destination with many top tourist attractions. Visitors can see stunning temples, look around fascinating museums, and shop at bustling markets for food, souvenirs, and more.
You can also experience a cruise on the Mekong River and visit Silk Island. Whatever you end up doing, you'll have a blast!
Give us feedback about this article
Read more articles about Cambodia:
More articles about things to do:
---
---
Want to keep exploring?
Subscribe for discounts on tickets and hotels and our latest guides.
Thank you for subscribing
We will be in touch soon with discounts on tickets and hotels and our latest guides.
Want to keep exploring?
Subscribe for discounts on tickets and hotels and our latest guides.
Thank you for subscribing
We will be in touch soon with discounts on tickets and hotels and our latest guides.
Related Articles