The 21 Best Places to Camp in Kelowna
Destguides may receive commissions from purchases made through affiliate links in this article.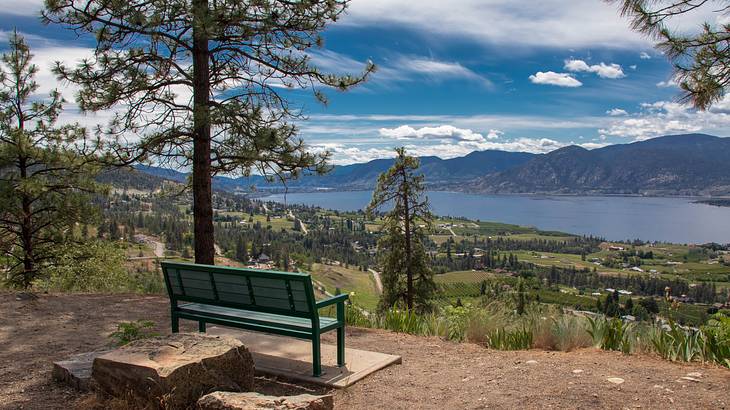 Kelowna is a relaxed city in British Columbia's wine and lake country on Canada's West Coast. Surrounded by beautiful lakes and forests and numerous attractions, such as the many wineries in Kelowna, it is an excellent place to visit. This is especially true for a weekend getaway from Vancouver.
Deciding where to stay, however, can be difficult. Many visitors choose to camp, but where exactly can you find the best campgrounds in Kelowna?
Whether you're looking for an RV hookup or a campsite with tenting, there is a range of sites in the greater Kelowna area. I've compiled what I think are the 21 best places to camp in Kelowna to meet a variety of needs.
From luxury glamping to central RV drive-thrus and rustic camping in Kelowna, you're sure to find the best campground for your trip.
21 Best Campgrounds in Kelowna
Apple Valley Orchard & RV Park
This west Kelowna campground is nestled within multiple parks, including Knox Mountain Park and Stephens Coyote Ridge Regional Park. If you stay here, you'll benefit from beautiful views of Lake Okanagan and Glenmore Valley too.
Despite its tranquil location, it's just 10 minutes from Downtown Kelowna. Apple Valley Orchard is also Kelowna's premier agri-tourism destination. If you stay here, you'll find seasonal fruit growing between the RV sites, all of which you can pick.
The campsite is family-oriented and also pet friendly. Free high-speed wifi, coin laundry, and washrooms and showers are offered. There's also a kids play area if travelling with younger children.
Fintry Estate and Provincial Park
Enjoy lakefront Kelowna camping and a stunning waterfall at Fintry Estate and Provincial Park. Found on the northwest side of Okanagan Lake, this campground favors tenting but does have some RV hookups.
The campground is kid-friendly, with a playground on-site, and pet-friendly as long as dogs are on a leash. Campfires are also allowed in your camping area, and firewood is available for purchase. Although a little distance from Kelowna, there are many activities close to the site.
Killiney beach is accessible from the campsite. Relax on the beach or try canoeing or waterskiing. Shorts Creek Trail is also close by, a great hiking option. If you want to camp in nature, Fintry Estate is a good choice.
Bear Creek Provincial Park Campground
A 20-minute drive from Downtown Kelowna, this campground is found in Bear Creek Provincial Park, west of Okanagan Lake. It's one of the best campsites in Kelowna for lakeside and creekside camping.
RV hookup and tenting are offered at this family-friendly campground that's also pet friendly. Those intending on beach days will enjoy the surrounding sandy beaches. Hikers will also be glad to know that they will find a range of trails and canyons here.
This spot is extremely popular during the summer months, so I recommend making a reservation early.
Canyon Farms RV Park
Canyon Farms is an agri-tourism farm in East Kelowna. This small acreage RV park will give you a taste of country life.
Fruits and berries, vegetables, and free-range eggs can all be purchased at this functioning farm. There is also a beautiful collection of Dahlias to enjoy. Canyon Farms is pet friendly and provides wifi and laundry services.
The farm is close to both Gallagher's Canyon and Myra Canyon. It's also a few minutes from Canyon Regional Park. Head here to join the Mission Creek Greenway, a park featuring a range of plant life, and Layer Cake Mountain. This is definitely a campsite to stay at for nature and hiking lovers.
Orchard Hill Park
This small scale campsite is one of the best campgrounds in Kelowna for RV campers. As an agri-tourism park, it's located on a 13-acre apple, vegetable, and walnut farm complete with resident farm animals!
Produce is also available for purchase, and wifi, cable TV, and coin laundry are offered. The park is 100% pet friendly with plenty of space for dogs to run around and play.
This location offers campers a peaceful farm setting while still being just a 15-minute drive from Downtown Kelowna. Orchard Hill is, however, more adult and teen-oriented, preferring visitors of 13 years and older.
Macdonald Acres
Macdonald acres, east of Kelowna, is the perfect site for people looking for a more glamorous camping experience. Luxury canvas bell tents are offered for rent for "glamping" Kelowna style.
Each tent has a queen bed, cozy blankets, and kitchen items. Ideal for those who want to enjoy the lake and mountain views and starry night sky with a little style. The bell tents at Macdonald Acres are perfect for first-time campers too.
Full RV hook-up is also offered at this family-run (and pet friendly) holiday park. Downtown Kelowna is a 20-minute drive away, or stay in the area and visit Kempf Orchards or the Okanagan Koi and Water Gardens.
Farming Karma RV Park
Farming Karma is a small nine lot RV park located on the edge of Graystokes Provincial Park, east of Kelowna. Surrounded by cherry orchards, it's the perfect park for those in search of a quaint place to stay.
If travelling with kids, they'll enjoy the onsite play area, rock climbing wall, and three-hole frisbee golf. There's even a bird sanctuary. Dogs will also be spoiled with a dog park and wash station - very convenient after hikes and beach days!
Along with the RV park, Farming Karma makes their own apple soda. It's available for tasting at the park along with apple ice pops and cherry gelato made from the orchard's fruits.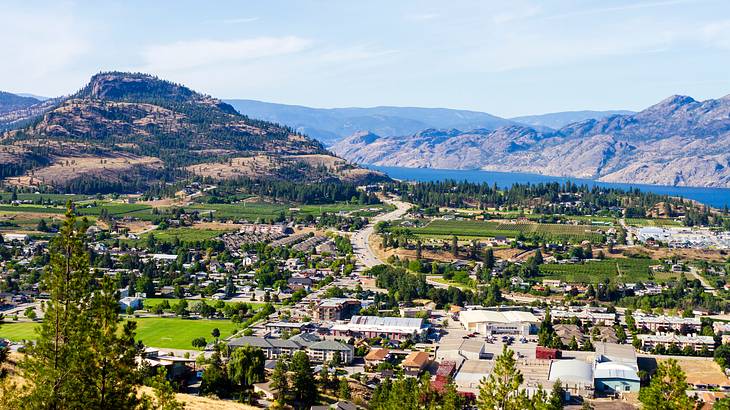 Peach Orchard Campground
Peach Orchard is found in scenic Summerland, just a few blocks from Lake Okanagan. Although a 40-minute drive from Downtown Kelowna, it's a good choice for individuals looking to visit the lake and hike in the surrounding parks.
Families will find the short distances to beaches, playgrounds, and a water spray park convenient. The campground itself also has a tennis court and arcade. Dogs are welcome at the campsite, and a dog beach is nearby.
One hundred and twenty-one camping sites are available with 72 serviced with water and power, and 49 with just water. Set up your spot in grassy and shaded areas near the tranquil Aeneas Creek.
West Eagle Campground
West Eagle is a great choice for wine lovers looking to visit the wineries of the Westside wine trail. Each winery stop is under a 10-minute drive away, as is Downtown Kelowna.
Nature and golf lovers will favor this campground too. The site is just 3km from Okanagan Lake. West Eagle also runs the Two Eagles Golf Course and Academy, found 1km from the campground.
They welcome adults and children as well as small pets. A store and playground are on-site, and RV hookup and tenting sites are available. Whatever you plan to do on your trip, this is one of the best campgrounds in Kelowna for easy access to popular attractions.
Hiawatha RV Park
Hiawatha is directly opposite the beach in south Kelowna and just a 10-minute drive from Downtown Kelowna. It's a great spot for individuals seeking to explore Kelowna's beaches, downtown, and surrounding wineries.
The family-oriented campground offers full-service RV sites and non-serviced tenting spots. Wifi, coin laundry, hot showers, and an outdoor pool and hot tub are available. Children and teens will also enjoy the onsite playground and game room with a pool table and arcade games. BBQs and fire pits can be rented, and there is a general store.
Ideally located near beaches, trails, and restaurants, it's perfect for families and those not wanting to drive far to attractions.
Todd's RV and Camping
Found in Peachland, on the edge of multiple provincial parks and Okanagan Lake, Todd's is the perfect family camping spot. The site offers full RV hookup and tenting. Amenities such as a children's playground, volleyball pit, and camp store for essentials are on-site.
Once you're settled in, head into Peachland for a range of fun family activities. This includes horse riding and the tallest zip-line in North America!
There is also a variety of trails in the area, and water activities are offered on the lake. Todd's is a good option for families wanting to spend a weekend by the water.
Heartland Family Campground
Heartland campground is found in 178 acres of scenic countryside, east of Kelowna. Surrounded by forest and wildlife, including mule deer, it's a quiet and peaceful campsite.
Tent camping and RV sites are available, and as the name suggests, it's family (and pet) friendly. Free wifi is offered, and sites have fire pits. Showers are available for 3 CAD each.
Complete with a playground, hiking trails, and one of the best outdoor concert venues in Kelowna, Heartland has something for everyone. Heartland even offers equestrian camping for horse lovers. Enjoy the campground and amenities with space on your campsite for your horse companion!
Okanagan Lake Provincial Park Campground
The Okanagan Lake Provincial Park offers the best campground for those wanting to get back to the basics. As it's a BC provincial park, amenities are limited. Each campsite has a fire-pit, and there is one set of showers.
Despite the lack of amenities, its location on the edge of the lake surrounded by pine forest is worth it. Campers will enjoy a range of water sport activities here, and boat launches can be found in the park. Feel free to bring your pet along too, allowed in the park on a leash.
Located between Peachland and Summerland, it's a 30-minute drive to Downtown Kelowna if you need a break from nature!
Willow Creek Campground
Willow Creek is a conveniently located family camping option. Just a half a block from Gyro Beach, there is also a range of shops and restaurants nearby. Downtown Kelowna is a 6-minute drive, or take the bus from outside the campground.
Its central location means surrounding attractions like parks and wineries are easily accessible. The campground offers tenting with power, water, or full service at varying rates. RV hookup is also available. Small pets are allowed in the RV area only for a daily fee of 3 CAD.
It is quite a basic campground, but if you're planning a full day of activities, it's a good choice.
Kelowna Urban Farm and RV Park
-If you're after a more high-end RV park, Kelowna Urban Farm is for you. Fully serviced drive-thru RV stalls are available, along with wifi and onsite bathrooms and laundry. They also have a tennis court, but remember to bring your own equipment. Well behaved pets are welcome to accompany you.
As a functioning farm, free-range eggs, vegetables, and honey are all available to guests. You might even see chickens that call the farm home - a fun addition for people looking for a quaint countryside experience.
If in Kelowna to play golf, Kelowna Urban Farm is an excellent place to stay. Multiple golf courses surround the park. Those visiting for the wineries will benefit from staying at this location too. Popular wineries like The Vibrant Vine are nearby with the Westside and Lake Country wine trails a short drive away.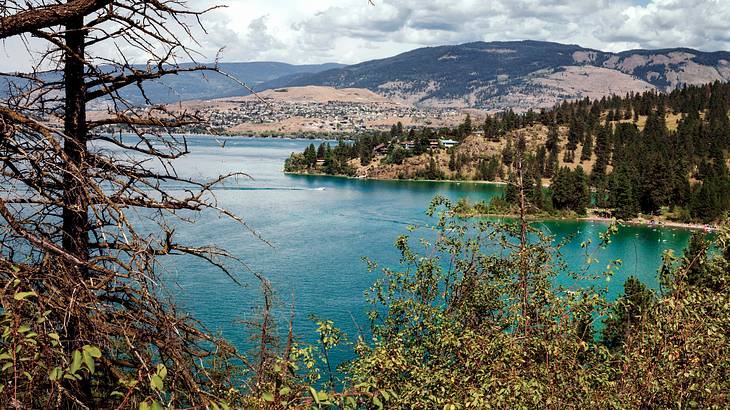 Wood Lake Terrace RV and Campground
This Lake Country RV and tenting site is great for people looking to stay a little outside of central Kelowna. Directly on Wood Lake, the campground is surrounded by forest and offers great lake and valley views.
Locally grown fruit and vegetables are available, and a cherry orchard is next door. Each camp and RV site comes with a picnic table and fire pit with showers and washrooms on site. A coin-operated laundry can also be found here, and pets are welcome.
The campground is close to Kalamalka Lake and Cougar Canyon Ecological Reserve. Perfect for those on the lookout for nearby outdoor activities. It is also just a 20 to 30-minute drive to Downtown Kelowna and surrounding attractions.
Holiday Park RV Resort
Found on Duck Lake, Holiday Park Resort is a popular choice for fully serviced RV hookups. Being a "resort", visitors can make use of pools and hot tubs and a recreation centre with gym and sauna.
There is a library and games room as well, perfect for occupying kids. Tennis and basketball courts and onsite golf are also available. Pets are allowed if on a leash, and the resort benefits from 24-hour security.
The lake country location makes accessing attractions easy too. Head north to Wood Lake and Kangaroo Creek Farm. Or, drive just 20 minutes south to be in Downtown Kelowna. Wineries and golf courses are accessible within 10 to 30-minute drives as well. If traveling with family, Holiday Park Resort is a top choice.
Scenic View RV Park
Scenic View is a small and peaceful RV park about 10 minutes from Downtown Kelowna. Nestled among the orchards in Glenmore Valley, you'll experience beautiful country views and rural quietness.
Free wifi is offered, and Cable TV connection is 2 CAD a day. Pets are welcomed, and there is coin laundry on site. There are no washrooms; so make sure your RV or campervan includes a bathroom.
Along with being close to downtown, Scenic View is close to popular wineries, golf courses, and hiking trails. It's a good spot for those visiting Kelowna to enjoy stunning views and peace and quiet.
Raven's Nest RV
Located in the Okanagan Valley, and only 10 to 15 minutes from downtown Kelowna, Raven's Nest RV is a full-service RV campground with over 80 sites available.
The grounds are quite new and well maintained. Tenting is not allowed here as Raven's Nest caters to RV owners only. Basic amenities like laundry, washrooms, and coin showers are available. Every site comes with basic cable and WiFi access.
Because of the location, it is quite easy to travel into Kelowna and the surrounding lake and parklands to find things to do.
Klub Kalamalka
Perfectly located close to Lake Frontage, Klub Kalamalka is a family-owned and operated RV campground. The campground is 4 kilometers from Vernon, which offers many fun things to do, and about 30 km from Kelowna. They have campsites located right along the water, which provides guests with a beautiful view of the lake.
RV sites have water and electricity as well as access to washroom facilities with free hot showers, laundry rooms, firewood, and a day lodge.
Visitors to Klub Kalamalka can take advantage of all the activities the local area has to offer. Surrounding Lake Kalamalka is many hiking trails, water sports, wine tours, golf courses, zip line courses, and biking trails.
Kekuli Bay Provincial Park Campground
Located along Kalamalka Lake in Kekuli Bay is the Kekuli Bay Provincial Park Campground. The campground is newly developed and has been designed to offer shade and privacy for its various sites. All campsites have great views of the lake.
Available at the campground is a boat launch, drinking water taps, some electrical hookups, picnic areas, flush toilets (and some pit-based toilets), and showers.
The campground is located along the Okanagan Rail Trail, which has made it a very popular campsite for mountain bike enthusiasts.
In Summary
Kelowna is a great place to visit, and camping can help you appreciate the area's natural beauty. No matter what type of camping you prefer, hopefully, you found the perfect campground choice for your upcoming Kelowna trip!
Give us feedback about this article
For more interesting articles about Canada, read:
For some great articles about campgrounds, check out:
For visual stories related to this article, take a look at:
---
---
Want to keep exploring?
Subscribe for discounts on tickets and hotels and our latest guides.
Thank you for subscribing
We will be in touch soon with discounts on tickets and hotels and our latest guides.
Want to keep exploring?
Subscribe for discounts on tickets and hotels and our latest guides.
Thank you for subscribing
We will be in touch soon with discounts on tickets and hotels and our latest guides.
Related articles