30 Best Okanagan Wineries - The Ultimate Guide for Wine Lovers
Destguides may receive commissions from purchases made through affiliate links in this article.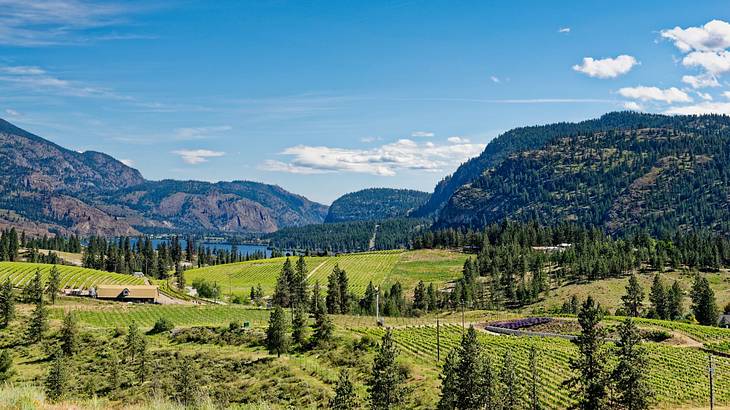 Canada probably isn't the first country you think of when it comes to wine production. But British Columbia's Okanagan Valley, and Kelowna in particular, is actually the heart of winemaking in Canada. There are over 120 wineries in the area, so choosing which to visit can be tricky.
To help you decide which to visit, this list of the best Okanagan wineries covers the top 30 in the area. A useful map of Okanagan wineries is included below too.
The ultimate way to tour the best wineries in the Okanagan Valley is with a wine tour service. Some of these companies already have the winery stops chosen, but many will drive you to the locations you prefer as well. If you plan to drive yourself with a designated driver, some vineyards are only a short drive apart.
Most Okanagan Valley wineries offer tastings for under 10 CAD that are dropped with a purchase. And let's be honest, you'll probably be buying some bottles to take home!
Visiting an Okanagan winery is also one of the best things to do in British Columbia. So grab a drink (or a glass of wine) and prepare for a list of Okanagan BC wineries that will leave you inspired for your next road trip to Kelowna from Vancouver, or just thirsty for another round of drinks (either is ok)!
30 Best Wineries in the Okanagan, BC
Tantalus Vineyards, Kelowna
You'll experience some of the best single-vineyard wines in the region at this southeast Kelowna vineyard. Tantalus is the oldest continuously producing vineyard in British Columbia.
All its grapes are sustainably grown, and their Rieslings are some of the best in Canada. Tantalus is also known for its high-quality Pinot Noirs and Chardonnays.
Try all they have to offer in their gallery-style tasting room, complete with art by Canadian artists. Sip on four wine samples for 4 CAD, with the fee waived with a purchase.
CedarCreek Estate Winery, Kelowna
CedarCreek's 50-acre estate features organic, single-vineyard wines from 30-year-old vines. In fact, their Pinot Noirs are made from some of the oldest vines in British Columbia. Located on the shores of Lake Okanagan, you can enjoy award-winning Okanagan wine with beautiful lake views.
Tastings are 5 CAD for five samples, which is disregarded with a purchase. Pinot Noir lovers can even try CedarCreek's entire range for 22 CAD with their Silk & Stone experience. If you're in the mood for a snack, try their Home Block Restaurant with Canadian cuisine and perfect wine pairings.
The Vibrant Vine Winery, Kelowna
Frequently featured as a top winery experience, Vibrant Vine is a quirky winery not to be missed. Taste their perfectly-crafted wines in any of their nine tasting bars before relaxing in their two lounges.
Along with high-quality wines, you'll find a range of fantastic art on display at Vibrant Vine. This artistic vibe is also translated into the wine bottle designs. The bright patterned logos make each bottle an excellent gift or a showy display item in your wine collection.
They even have two outdoor stages that host over 100 events during the summer, a perfect and relaxed place to chill out and enjoy great wine and entertainment!
The Hatch, West Kelowna
The Hatch is a must-visit on both the Westside Wine Trail and in Kelowna in general. Head here for a super relaxed, modern, and fun hipster atmosphere. And, of course, incredible wine!
Choose from a vibrant range of reds, whites, roses, and sparkling wines. Tastings are 5 CAD for five samples, dropped with a purchase. Each bottle features a unique label, including octopus, narwhal, and dinosaur designs.
Pick up a bottle for your next dinner party or get-together as a great conversation starter. Finish your visit relaxing on their patio with a glass of wine or even a beer if you want a little change.
The View Winery and Vineyard, Kelowna
Fruity wines and handcrafted apple ciders are the stars of the show at The View Winery. Housed in a 1920s apple-packing house, The View promises an "authentic Okanagan experience." Sample crisp and fruity whites, spicy reds, and delicious ciders from The View's Wards Cidery.
Although close to Downtown Kelowna, the rolling vines and orchards surrounding the estate make you feel like you're deep in the countryside. Try a flight of five tastings of wine or cider for 5 CAD. All tasting fees are removed with the purchase of a bottle of wine, two bottles of cider, or a six-pack of cider.
Sandhill Wines, Kelowna
Centrally located in Downtown Kelowna, Sandhill is a must-visit on your Kelowna wine tour. Tastings are available in the Urban Tasting room and include wines from their limited Small Lots Program. These exclusive wines are not usually offered outside the winery, so try them while you can.
Tastings are 10 CAD for Sandhill wines and 4 CAD for their sister Calona Vineyards wines. Along with the standard tastings, they offer a 'Blind Tasting Experience' for 15 CAD. This unique 45-minute experience will test your wine knowledge and focus your senses.
Alternatively, the Beyond The Glass Experience virtually transports you to their vineyards, allowing for a greater understanding of their wine-making process. Of course, it comes with samples to taste!
Summerhill Pyramid Winery, Kelowna
As one of the only wineries in Kelowna, BC, with a biodynamic vineyard, Summerhill Pyramid prides itself on delicious organic wines. Reds, whites, roses, and Canadian ice wine are all available for tasting and purchase here. Bubbly lovers will also be glad to hear that Summerhill Pyramid is a premier producer of sparkling wines too.
For a more in-depth experience, try their Pyramid Experience Tour, which includes a tour of the vineyard, a visit to the winery's geometric wine cellar, and a tasting of four wines. After trying Summerhill Pyramid's wines, visit the Summerhill Organic Bistro for internationally inspired organic cuisine.
Ancient Hill Winery, Kelowna
Surrounded by horse ranches, Ancient Hill is a boutique winery in rural North Kelowna. Specializing in European-style wines, they only use grapes from their vineyard with a focus on small lots. Interestingly, their production facility is built into the hillside, which helps keep production temperatures constant all year.
Visit their tasting rooms to try their wide range of Okanagan wines. Then, choose a bottle of your favourite to enjoy in their picnic area with panoramic views of the surrounding valley. Food is not served here, but they welcome you to bring your own picnic to accompany your wine.
Hester Creek Estate Winery, Oliver
Located in Oliver in the Okanagan wine country, Hester Creek Estate Winery makes premium old vine wines. This winery has a great selection of reds and whites plus rose and sparkling varieties, and guests can find their favourite types by participating in a complimentary tasting.
Having enjoyed Hester Creek's wines, you can dine at their Italian-inspired restaurant, Terrafina. With patio seating available, you'll be able to relax over your meal with views of rolling vineyards and Golden Mile Bench.
Of course, be sure to order a glass or bottle of wine to accompany the meal. The winery also hosts barbecues and live music in the summer. If you're looking for a place to stay in the Okanagan, Hester Creek additionally has Mediterranean-style villas to rent.
Volcanic Hills Estate Winery, West Kelowna
Located on Mount Boucherie, a 60-million-year-old dormant volcano, Volcanic Hills is aptly named! The winery's grapes are grown in the mountain's fertile volcanic soils, including their Gewürztraminer grapes, which were planted in 1978.
All wines are BC VQA certified, and you will discover a delightful range of reds, whites, and roses. They also have sparkling and ice wines.
Volcanic Hills takes its name one step further with a variety of volcanic-themed blends. These include Eruption, Lava, and Magma, all of which they assure are "erupting with flavour!"
Take a tour or taste their wines for 10 CAD for five samples, waived with a purchase. Finish your visit with a snack at their Blu Saffron Bistro.
Grizzli Winery, West Kelowna
Kelowna is actually the native Okanagan name for grizzly bear. Although a Tuscan-inspired winery, Grizzli takes its name from this translation and North America's native brown bears. Even their logo features a brown bear and the Canadian maple leaf.
As one of Canada's largest boutique wineries, you'll find a range of BC VQA wines and ice wines. Grizzli uses traditional and modern winemaking techniques to produce these world-class wines, with all grapes harvested by hand.
Explore the award-winning designed winery and vineyard with a tour. Or, attend one of their many events and workshops, such as the annual ice wine festival or art and wine workshop.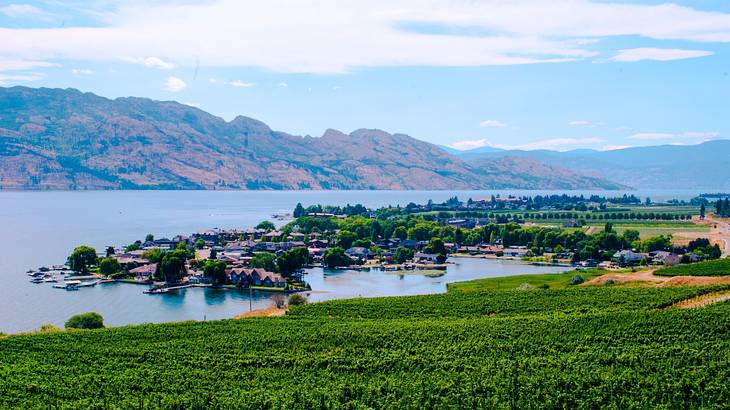 Quails' Gate, West Kelowna
Quails' Gate Winery has some of the best views, wines, and food in Kelowna. Start by tasting their renowned wines in indoor or outdoor tasting rooms, looking out onto the lake and vineyard. Tastings start at 10 CAD for four samples, dropped with purchases.
Quails' Gate is one of the best wineries for lunch in Kelowna, so stopping here for something to eat as well is recommended. The Old Vines restaurant has been featured as one of the 100 best in Canada. Enjoy locally sourced farm-to-table cuisine on their peaceful patio with the perfect Kelowna wine pairings to drink.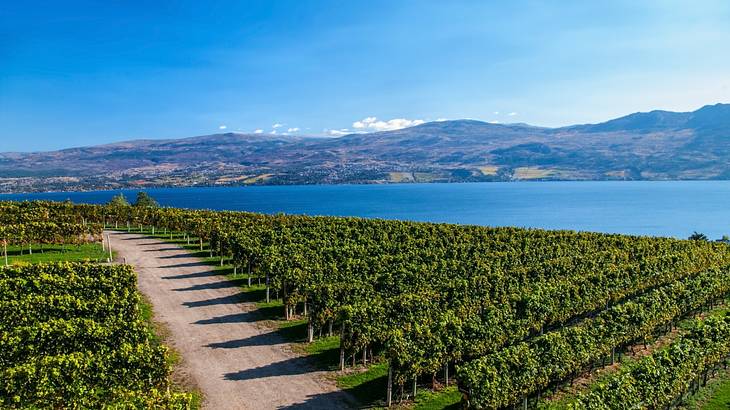 Mission Hill Family Estate Winery, West Kelowna
Mission Hill is an architecturally stunning winery and part of the Westside Wine Trail. The winery promotes experiences to its customers that encompass all that wine country has to offer. Try their affordable A Taste of the Okanagan experience that offers seated wine tasting for 25 CAD per person.
Alternatively, opt for the Lasting Legacy experience. This wine tour includes a guided vineyard tour plus lunch and wine tasting. You can experience all this beautiful estate winery has to offer for 175 CAD per person. They even have guided sommelier experiences!
Finish off your visit to Mission Hill Winery by grabbing something to eat at their Terrace Restaurant while overlooking the lake and vineyards.
Gray Monk Estate Winery, Lake Country
Gray Monk is a beautiful estate winery housed on 75 acres of vineyard that overlooks Okanagan Lake. The winery is named after the Gray Monk grape used to make their famous Pinot Gris. In fact, they are the first winery to have planted Pinot Gris grapes in British Columbia.
As "home of the Pinot Gris," Gray Monk offers tastings of their acclaimed variety plus other whites and reds. Tastings are 5 CAD, waived with a purchase.
Visit The Lookout Restaurant for brunch, lunch, or dinner. Enjoy seasonal dishes made with local ingredients accompanied by any of their wines, a cocktail, or frozen rose.
Indigenous World Winery, West Kelowna
Established in 2016, Indigenous World Winery is the first 100% indigenous-owned winery in British Columbia. Visitors can taste Indigenous World's world-class VQA wines in the modernly-designed tasting room.
The facility also has a native-themed gift shop for some unique souvenir shopping. Grab a bottle of your favourite wine to enjoy in their picnic area with beautiful Lake Okanagan views. Located near downtown, this easy-to-access, one-of-a-kind estate is a must-visit winery in Kelowna.
Mt. Boucherie Estate Winery, West Kelowna
Mt. Boucherie Estate is named after the extinct Mt. Boucherie volcano, a geological Canadian landmark in West Kelowna. This Westside Wine Trail stop is also home to some of the oldest estate vines in the Okanagan. On arrival, you can taste award-winning whites, reds, and ice wines for 8 CAD per person.
Blind Tiger Vineyards, Lake Country
This Lake Country vineyard mixes delicious Okanagan wine with sweeping lake views and tasty Italian food. At Blind Tiger, you'll find certified organic wine and the Okanagan's best woodfire pizza. Enjoy the two on their Italian-style garden patio as you take in the scenery.
Along with the great wine and food, their bottle designs are very unique. The designs include bottles with the trademark blind tiger logo, a charming vintage design, and their fun "Giggle Water" design for sparkling varieties.
Take your choice of Riesling, Gewürztraminer, Pinot Noir, and Chardonnay. They even have Canadian ice wine, a perfect souvenir for those visiting from abroad. Blind Tiger should definitely be top of your list of Okanagan wineries to visit!
50th Parallel Estate Winery, Lake Country
As one of the most cosmopolitan wineries in the Okanagan, 50th Parallel is recommended for lovers of modern architecture and great wine. This uniquely-designed winery features floor-to-ceiling glass windows throughout and a modern tasting room.
Pinot Noir is a leading variety at 50th Parallel, making up 40% of the estate vineyard plating - one to try for sure. You can also taste Riesling, Pinot Gris, and Gewurztraminer here.
Tastings are 10 CAD, and the fee is dismissed with purchases. After tasting, you're sure to find one (or more!) bottle you'll want to take home. They also offer experiences that include tours and more in-depth explanations of the wines being served.
This includes their Mini Grape to Glass experience for 25 CAD per person and their Grape to Glass experience for 45 CAD per person. Finish this luxury visit with lunch or dinner at 50th Parallel's Block One restaurant.
Arrowleaf Cellars, Lake Country
This family-owned and operated estate is named after the Okanagan Sunflower, also known as Arrowleaf Balsamroot. Visit the winery, housed in 16 acres of vineyards in Lake Country, for delicious wines and food to accompany.
Arrowleaf prides itself on producing the highest quality terroir-driven wines. From Pinot Noir, Merlot, and Pinot Gris to Zweigelt and Petite Arvine, sample them all in their contemporary tasting room. Tastings are 5 CAD, which is dropped with purchases.
Be sure to get something to eat here too. Arrowleaf specializes in French-style pastries, including their signature cream puffs.
Sumac Ridge Estate Winery, Summerland
Sumac Ridge is one of the first operating estate wineries in British Columbia. Today, it is home to three brands: Sumac Ridge Private Reserve, Steller's Jay Wines, and Black Sage Vineyard. This is a very popular winery in Okanagan wine country amongst both locals and visitors.
Try their crisp and delicious reds and whites for 8 CAD, or taste a premium flight for 15 CAD. As the fee is disregarded with a $50 purchase, picking up a few bottles to take home is recommended.
Be sure to check their website before your visit to see if one of their unique events is running. These include food and wine pairing tasting events and even a relaxed workout class followed by breakfast and mimosas!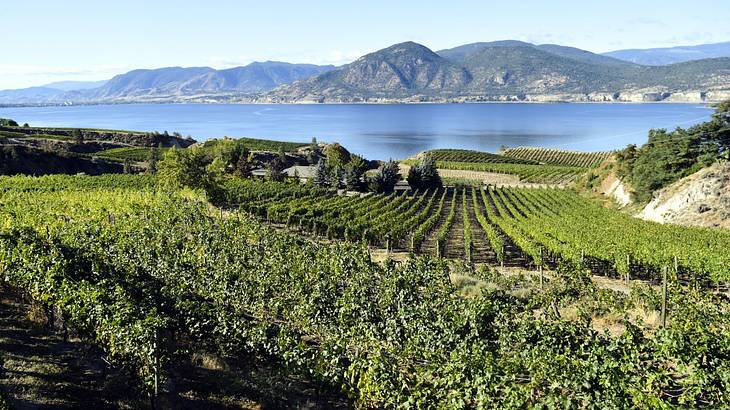 Lake Breeze Vineyards Tasting Room, Naramata
Lake Breeze is a charming European-style winery overlooking Lake Okanagan. This quaint winery is well worth a visit while in the Okanagan wine country!
Lake Breeze has three lines to try: The Lake Breeze line, the Cellar Series, and the MacIntyre Heritage Reserve line. Varieties across these lines include Sauvignon Blanc, Chardonnay, Pinot Noir, and Rose.
Before buying, you can participate in a tasting in the tasting room or the courtyard. Tastings are by reservation only, so be sure to book in advance.
Once you've sampled their wines, you can enjoy a meal at Lake Breeze's Patio Restaurant. This relaxed restaurant serves seasonally inspired dishes accompanied by Lake Breeze wines.
The winery also has a farmstead area with vegetable and herb gardens, a greenhouse, and animal pastures.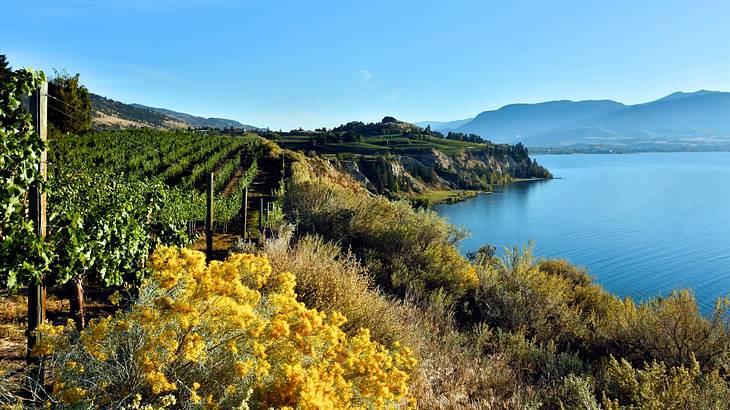 Bench 1775 Winery, Penticton
Bench 1775 is one of the Naramata Bench wineries and is found between Naramata and Penticton. The winery is located on a 30-acre property on the edge of Lake Okanagan.
Bench 1775 has a wide range of wines to try. This includes over nine varieties of white and 16 varieties of red. They also offer rose and a vast selection of Canadian ice wine.
This winery has a tasting room for guests, but you must book in advance. Tastings are 10 CAD for 4 to 5 samples, and that fee is waived with a purchase.
Poplar Grove Winery, Penticton
Poplar Grove Winery is a boutique Okanagan Valley winery. This location provides visitors with delicious wines and scenic views of the surrounding lakes and hills.
There are six wines available to try here, including a Pinot Gris, Cabernet Franc, and "The Legacy," a signature Bordeaux blend. If you're unsure what to try, tastings are available for a 5 CAD per person tasting fee. Do be aware that tastings are by appointment only.
Having sampled Poplar Grove's wines, stop for lunch, brunch, or dinner at their restaurant. Here you can enjoy small plates and snacks made with local ingredients and, of course, paired with one of their wines.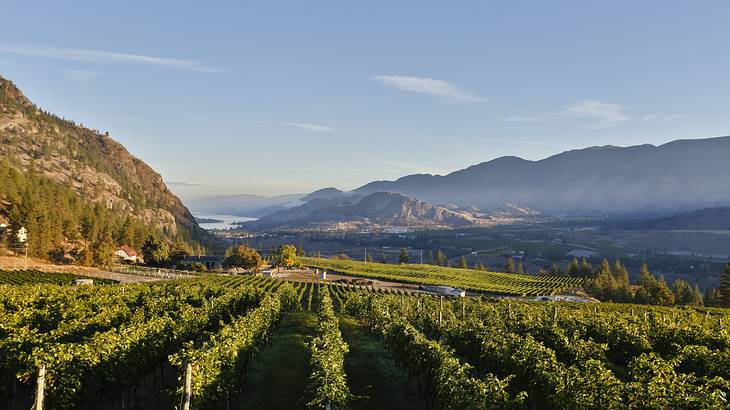 Noble Ridge Vineyard & Winery, Okanagan Falls
Noble Ridge Vineyard is a high-quality winery in Okanagan Falls, offering a friendly atmosphere. This vineyard produces a vast selection of wines, from many reds and whites to sparkling varieties and ports.
Tastings are on offer and cost 10 CAD per person for five samples. Alternatively, you can try their 60-minute tasting in the VIP Tasting Lounge for 25 CAD per person. Once you are finished in the tasting rooms, venture outside to the scenic picnic area. You are welcome to bring your own food to enjoy here. Alternatively, you can buy charcuterie from the Noble Fridge shop.
Sitting outside and appreciating the views with a picnic and a bottle of Noble Ridge wine is a great way to spend the afternoon! This vineyard also hosts various events, such as multi-course dinners and grape harvesting activities.
Burrowing Owl Estate Winery, Oliver
Located between Oliver and Osoyoos, this estate winery is named after the birds that inhabit the vineyard and the surrounding area. Wildlife lovers will spot a range of creatures on their visit, including the winery's namesake Burrowing Owl.
You'll also find a delightful selection of reds, whites, and fortified port-style wine to sample. Tastings are 5 CAD per person. While the fee isn't taken away with a purchase of wine, it is given to the Burrowing Owl Conservation Society, which has been set up to help conserve the at-risk Burrowing Owls of BC.
Finish off your time here with a bite at the Sonora Room Restaurant. You can even stay at the winery's Guest House, and don't forget to say hi to Rusty and Karma, Burrowing Owl's resident dogs!
Painted Rock Estate Winery, Penticton
Painted Rock is another excellent Penticton winery. This modern family-owned estate follows a philosophy of making wines for friends and family to enjoy.
When visiting, tastings are available at 10 CAD per person. This fee is waived with a purchase. Wines to try include a good selection of reds as well as rose and chardonnay.
Having selected your favourite wine, head out to the patio lounge and grassy picnic area. Here you can savour a glass or bottle of wine and take in views of Skaha Lake. If visiting with your dogs, they're welcome to join you on the patio.
River Stone Estate Winery, Oliver
With a farmhouse-style tasting room, this Okanagan Valley winery is located on a sprawling estate that the vineyard's owners call home. River Stone specializes in Bordeaux varieties, growing five types, including Merlot and Petit Verdot.
They also feature two types of whites, Pinot Gris and Gewurztraminer, and a Malbec Rose. Try their offerings as you overlook the surrounding vines and garden. If you are charmed by the quaint setting, you can even stay at the River Stone Cottage.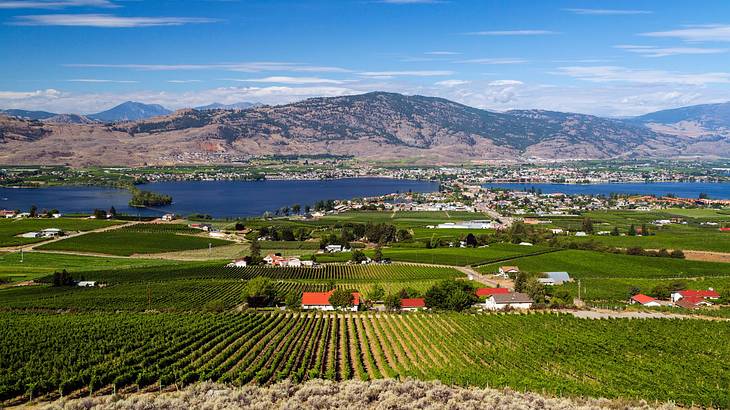 Moon Curser Vineyards, Osoyoos
Moon Curser Vineyards is a highly recommended winery in Osoyoos in the Okanagan. This winery has a vast selection of reds and whites. This includes a Cabernet Sauvignon, a Malbec, and Frizzante, among others. Tastings are available and cost 15 CAD per person for five samples.
Having chosen your favourite wine, you can relax with a glass on the patio. Here you can enjoy views of the Okanagan Valley and Osoyoos Lake. This winery is also dog-friendly, but pets must be kept outside the tasting room.
Black Hills Estate Winery, Oliver
Black Hills Estate Winery is found in the middle of Canada's only desert within the Okanagan Valley appellation. This winery focuses on using sustainable farming practices to grow high-quality grapes.
If you want to try some of Black Hill's wines, tasting flights start from 15 CAD per person for four samples. Whites are available, but this winery is best known for its reds. Those on offer include Cabernet Sauvignon, Cabernet Franc, and Merlot.
Once you've finished your tasting (and probably purchased some bottles), stop for something to eat at the Vineyard Kitchen restaurant. Dishes on offer include snacks like olives, charcuterie boards, and flatbread pizzas.
NK'MIP Cellars, Osoyoos
This Indigenous-owned winery expresses its culture in everything they do. Not only will you find internationally award-winning wines here, but also local Indigenous artisan merchandise and food and wine-related products.
With their extensive collection, it can be challenging to know what to buy. But not to worry, NK'MIP offers a range of tasting options. Start by trying four wines for 8 CAD in their tasting room (dropped with a purchase).
You can also try their Enhanced tasting for 15 CAD, which includes additional samples and snacks to pair with the wines. Be sure to sample their acclaimed Riesling Icewine too!
In Conclusion
With over 200 vineyards and 120 wineries in the Okanagan, these are just are few of the best. But hopefully, this list of Okanagan and Kelowna wineries has given you some good options to plan out your Okanagan winery tour!
No matter which Okanagan wineries you decide to visit in the end, or however long you spend in the Okanagan, you're sure to be trying some of the best wines you've ever had. Add in the mesmerizing countryside and lake views, and relaxing beaches, and going to the Okanagan is one of the top weekend trips to do in British Columbia!
Give us feedback about this article
More articles about British Columbia:
Read more articles about Canada:
---
---
Want to keep exploring?
Subscribe for discounts on tickets and hotels and our latest guides.
Thank you for subscribing
We will be in touch soon with discounts on tickets and hotels and our latest guides.
Want to keep exploring?
Subscribe for discounts on tickets and hotels and our latest guides.
Thank you for subscribing
We will be in touch soon with discounts on tickets and hotels and our latest guides.
Related Articles