Plan Your Tofino Camping Trip With These Top 12 Tofino Campsites
Destguides may receive commissions from purchases made through affiliate links in this article.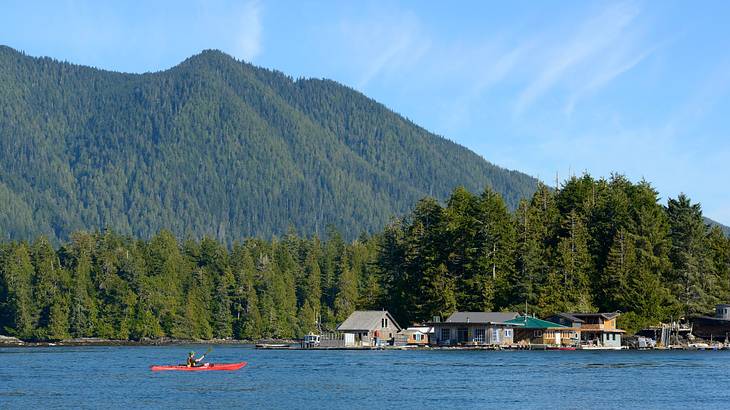 Tofino is a small town located on Vancouver Island in the Canadian province of British Columbia. It's known for beautiful beaches and scenic nature trails. Tofino is also regarded as a great surfing location, with whale watching and winter storm watching being other popular activities.
Although a relatively small area, there are lots of accommodation options, with camping a popular choice for many visitors. If you're planning a Tofino camping trip, you won't be short of campground options, no matter your camping style and budget.
Many locations offer both tenting and RV hook-ups. You can also stay at more unique Tofino campsites, such as those providing rental of yurts or glamping domes! Campsites also vary from being entirely in the wilderness with few amenities to being in resort-style settings. No matter what type of camper you are, keep reading to find your ideal Tofino campsite.
12 Best Campsites in Tofino BC
Tofino Campgrounds Video
Check out our highlights video of Tofino campgrounds.
Tofino Campgrounds Map
A map of Tofino. Use the map to explore all the campgrounds.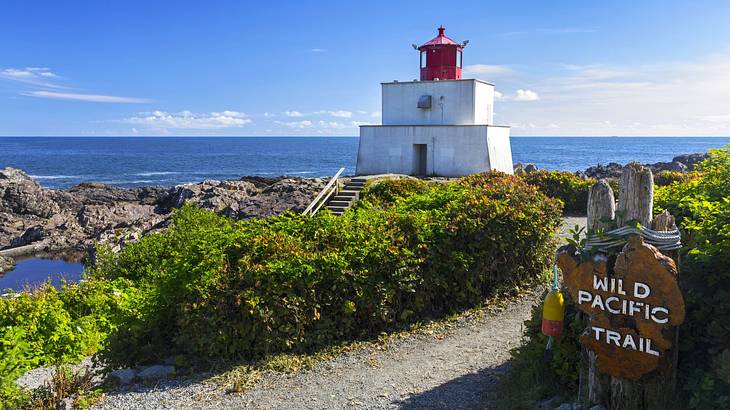 Ucluelet Campground
Ucluelet Campground is a beautiful harborfront campsite with scenic ocean and mountain views. The campground is a 40-minute drive from Tofino and is an excellent spot for nature lovers. It's also just a 20-minute drive to Long Beach in Pacific Rim National Park.
The campground has 125 sites spread over 15 acres. They welcome tenting and RVs with full-service hookup available. You'll also have access to on-site washrooms, and each campsite has a picnic table and fire pit.
If you're looking for complete seclusion, try a forest site. These semi-private campsites are each surrounded by forest. Pets are welcome, but dogs must be kept on leash. Cats and other pets need to stay in vehicles.
Mussel Beach Campground
Mussel Beach is a good choice for wilderness camping around Tofino. This location offers walk-in or drive-in tent camping. No RV hook-ups are available, although RVs are welcome if you don't need hook-up.
Being a wilderness campsite, there's no electricity, running water (remember to bring your own), or places to put trash. There are bathrooms, but they're very basic and use rainwater. Despite the lack of amenities, you'll get to enjoy fantastic scenery on the drive to this campground and at the site itself.
If you want to try wilderness camping but aren't sure about tenting, Mussel Beach does have glamping huts too. While these also don't have electricity or running water, they have beds and are more sheltered. These glamping huts are an excellent option for first-time wilderness campers.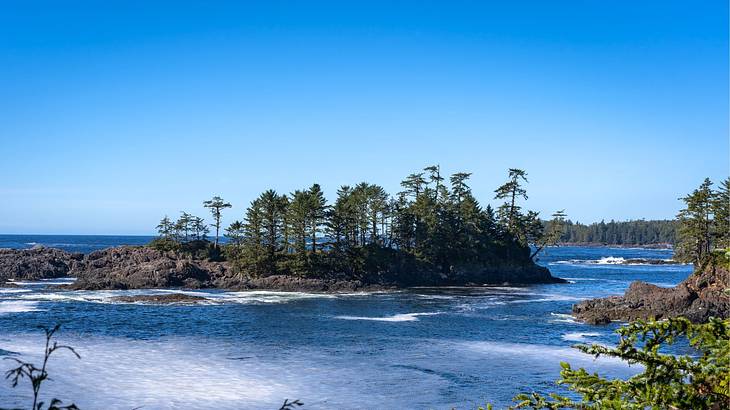 Wild Pacific Camp
Wild Pacific Camp is an RV-only campsite in Ucluelet. RV sites are fully serviced, and the campground is open year-round. Each site is private, with trees surrounding it, and some places have lake views too. Wild Pacific is pet friendly as long as pets are well-behaved.
The campsite is ideally located close to the Wild Pacific Trail and the Ucluelet Lighthouse Loop. Terrace Beach is also close by, and it's just a short drive or 20-minute walk into Ucluelet itself. There's additionally a boat launch near the campsite for those wanting to get out on the water.
Wild Pacific Camp is an excellent option for RV campers looking to explore the area's natural surroundings and the town of Ucluelet.
Wya Point Resort Campground
This remote campground will allow you to enjoy the surrounding dark sand beaches and tranquil forests. Wya Point is a perfect camping spot for those looking for a quiet place to enjoy Tofino's natural scenery.
The campground also accommodates a range of visitors. You can choose from traditional tent camping sites or RV hook-up spots, both with fire pits and picnic tables. If you're bringing a tent, you have the choice of oceanfront or woodland campsites.
Alternatively, you can rent a lodge or yurt for a more hotel-style Tofino experience. Amenities include fireplaces, queen beds, decks with barbeques, and private beach access.
Any place you stay at this resort is dog and cat friendly. There is a pet fee, and a maximum of two pets are allowed per booked spot. Nonetheless, no matter which Tofino accommodation you choose, you'll be able to enjoy incredible views and a relaxing vibe at this peaceful campsite.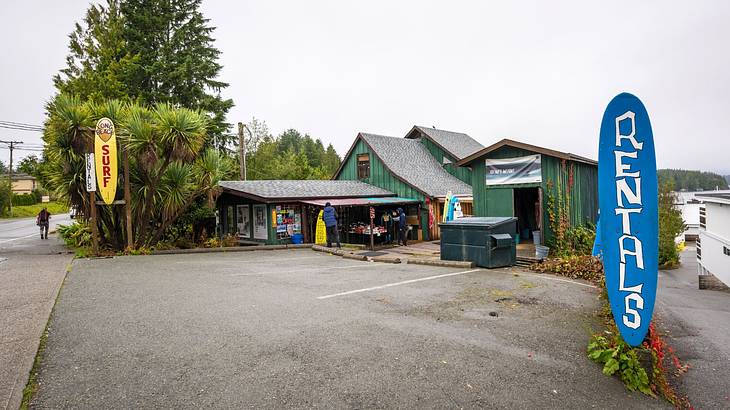 Surf Junction Campground
If you're in the Tofino area to surf, Surf Junction Campground is a great place to stay. Located near Pacific Rim National Park, it's just a five-minute drive to Long Beach.
This quirky and artistic campground offers private camping sites in a woodland setting. Each campsite has a picnic table and fire pit with both tent camping and RV hook-ups available. There are on-site washrooms with showers and a hot tub and sauna for guests to enjoy.
If you need supplies, a camp store sells firewood, groceries, surf wax, and more. There isn't wifi here, but the internet can be accessed at the camp office if needed. The campground additionally has a surf school. Beginners can take lessons, and rentals of surfboards and wetsuits are offered.
Green Point Campground
Green Point is located in the beautiful Pacific Rim National Park and is one of the best campgrounds near Tofino. While it's quite a basic and rural campground, Green Point is a scenic and tranquil spot. This location offers some of the best camping in Tofino for those wanting to be in nature.
Each campsite comes with a picnic table and fire pit, and there are washrooms located around the park. Campsites can accommodate two tents, an RV, or one tent and one RV. Pets are allowed, but dogs must be kept on their leash.
This location has been a family-favorite camping spot on Vancouver Island since 1962. If you're looking for a simple and quiet place to set up camp while enjoying Pacific Rim National Park, this is the place for you.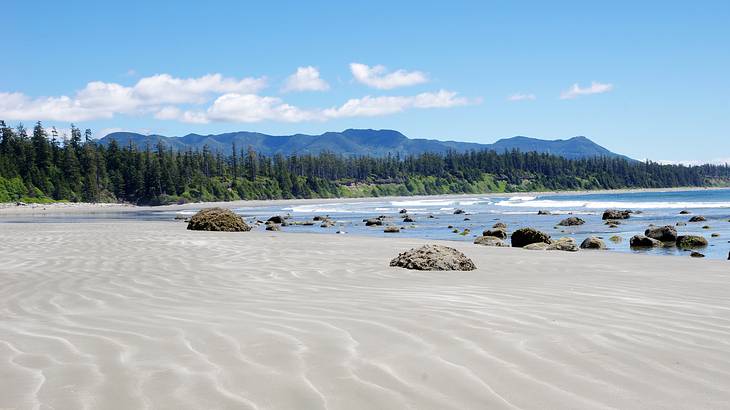 Long Beach Golf Course and Campground
Long Beach Golf Course and Campground is a great family-friendly campsite in the Tofino area. As the name suggests, it's also an excellent place to stay for visitors wanting to play golf during their trip.
This campsite is surrounded by British Columbian rainforest. It's just a short walk or two-minute drive to Long Beach and the National Park Reserve. Tent camping and full-service RV hook-ups are available.
Each campsite includes a fire pit and a picnic table. Bathrooms are found around the campground, and dogs are allowed for a small daily fee. Additionally, a restaurant on the campsite serves food from Tacofino, a well-known Tofino-founded taco restaurant.
If you plan to golf, there's a driving range and a 36-hole golf course. An 18-hole, mini-golf course is also on-site for those traveling with children or for adult guests looking for a fun activity!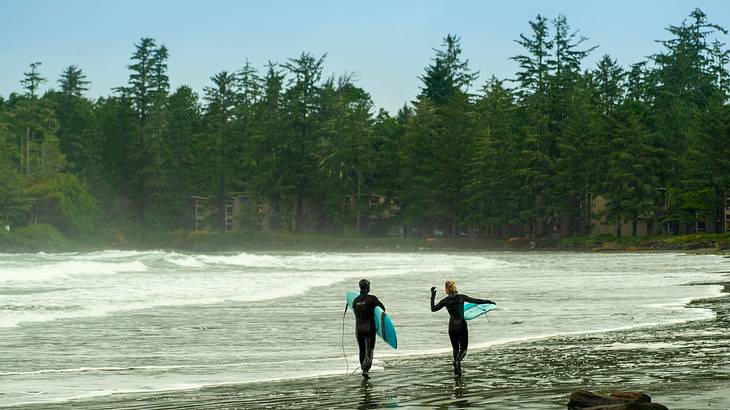 Surf Grove Campground
Surf Grove is another fantastic surf-friendly campground located at Cox Bay. This campground offers tenting and full-service RV hook-ups. They also give the option of renting an RV if you don't have your own.
The campsite is pet friendly but has a 20 CAD pet fee. Surf Grove is also very child friendly. Board games and scavenger hunts are offered to keep kids occupied during the evenings or rainy days. Additionally, a camp store sells camping essentials like firewood, ice, and S'mores supplies!
Being a surf-themed camp in a famous surfing town, there's also an onsite surf shack. Here, you can rent surfboards and wetsuits and sign up for lessons. You can additionally book their Camping and Surf Package. This package offers three hours of surf lessons, plus board and wetsuit rental, along with your campsite spot.
Crystal Cove Beach Resort
Crystal Cove Beach Resort is a popular family-friendly site for those camping around Tofino. It's also a great spot for groups of friends on a weekend getaway from Vancouver or Victoria. This oceanfront resort is just steps from MacKenzie Beach and is a short drive from Tofino.
Tenting isn't offered here, but RV hookup is available, and you can rent an RV if needed. In place of tent camping, you can stay in cozy and rustic log cabins. These well-equipped cabins are perfect for those who want to experience staying in nature with more amenities than you would get when tenting. It's also a good choice for those visiting during times when rain is likely.
Each cabin includes a fireplace, a fully-equipped kitchen, and a lounge with a TV. Bedrooms have twin and queen beds, with either en-suite or shared bathrooms. Some cabins also have hot tubs and barbecues. Free wifi is accessible in each cabin. Pets are welcome for a fee and will be treated to towels, blankets, and food and water dishes.
The resort also features a playground and a coffee shop. If you want to travel light or are short on time, a cabin stocking service is offered. Simply provide your shopping list in advance, and staff will purchase your items, stocking them in your cabin ready for your arrival.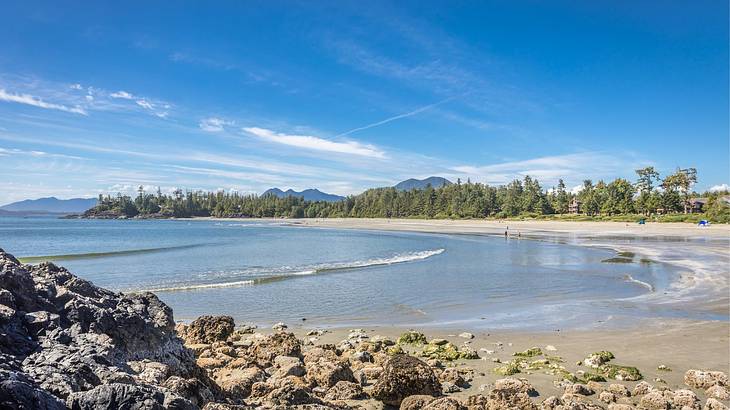 Bella Pacifica Campground
Bella Pacifica is a quiet campground located in a scenic oceanfront wilderness setting. The campground has access to MacKenzie Beach, and there are many hiking trails and lakes in the area.
Campers can choose an oceanfront campsite or one located further in the forest. Campsites are well spaced out for lots of privacy. RV hookup is also available here. Each campsite has a picnic table and firepit with firewood available at the camp office. Bella Pacifica is dog friendly, and you'll also have access to wifi, onsite washrooms, and a laundry facility.
Bella Pacifica is a more basic campground, but the location is perfect for enjoying views of the Pacific Ocean and exploring MacKenzie Beach. It's also just a 30 to 40-minute drive to Downtown Tofino.
WildPod Glamping
WildPod Glamping is a unique and luxurious campsite in Tofino. Instead of tents, campers will get to stay in one of six glamping domes. These feature hotel amenities and clear windows, allowing you to enjoy the views of Clayoquot Sound.
Each dome is furnished with a queen bed, kitchenette, dining table, fireplace, and ensuite bathroom. Domes are accessorized with cozy blankets and pillows and have wifi. They also have a deck, perfect for sitting outside and enjoying the view with a glass of wine! You may even see whales in Clayoquot Sound and can participate in storm-watching during the winter.
Another great thing about WildPod is that it feels as though you're in a secluded area. However, you're just a short drive from Downtown Tofino. This allows you a peaceful place to stay with easy access to restaurants, bars, shops, and other attractions.
Wild Pod is one of the more expensive Tofino campgrounds, with rates between 165 CAD and 465 CAD a night. However, if you're willing to spend a little more, it's an amazing and unique experience. To make your stay even more special, you can also request that extras, like champagne and chocolates, are in your glamping dome on arrival.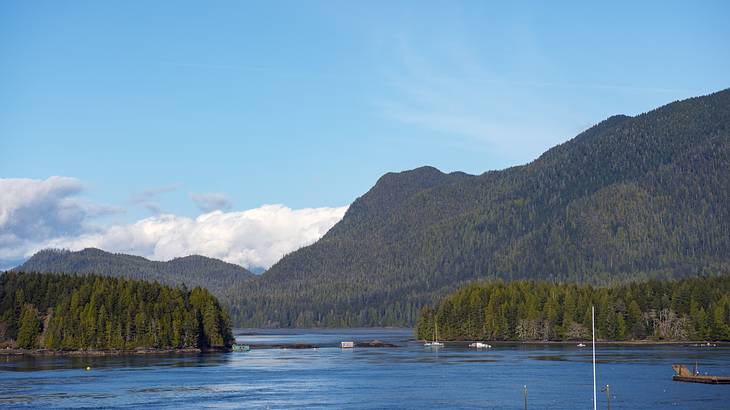 Lone Cone Campground
Lone Cone Campground is an isolated campsite on Meares Island. There's no vehicle access, so visitors must take a water taxi to get to the campground. Campers get a free round trip with a booking (for arrival and departure), but you must pay to use the water taxi for any other trips to and from the island.
Lone Cone features 25 camping sites. Seventeen of these are bring-your-own sites, while eight are set up with a tent, sleeping bags, and an air mattress. As there's no road access, this campsite isn't RV friendly. Lone Cone also has a hostel with private rooms and dorm rooms.
The campsite is close to white sandy beaches and many hiking trails. The Lone Cone Trail is a popular one and will take you to the summit of Lone Cone Mountain. This area is also a supposed Sasquatch habitat!
In Conclusion
Tofino is a wonderful place to visit for tourists and locals looking for a great staycation spot. With the area's temperate climate and stunning natural scenery, camping is highly recommended.
Luckily, there are lots of excellent campgrounds in Tofino, BC, with accommodation types for a variety of campers. Whether you want wilderness camping, family-friendly campsites, or luxurious glamping, hopefully, this list of top Tofino campsites has helped you find the perfect camping accommodation.
Give us feedback about this article
More articles about British Columbia:
Read more articles about Canada:
More articles about campgrounds:
---
---
Want to keep exploring?
Subscribe for discounts on tickets and hotels and our latest guides.
Thank you for subscribing
We will be in touch soon with discounts on tickets and hotels and our latest guides.
Want to keep exploring?
Subscribe for discounts on tickets and hotels and our latest guides.
Thank you for subscribing
We will be in touch soon with discounts on tickets and hotels and our latest guides.
Related Articles