The Best 4 Day Vancouver Itinerary by a Local
Destguides may receive commissions from purchases made through affiliate links in this article.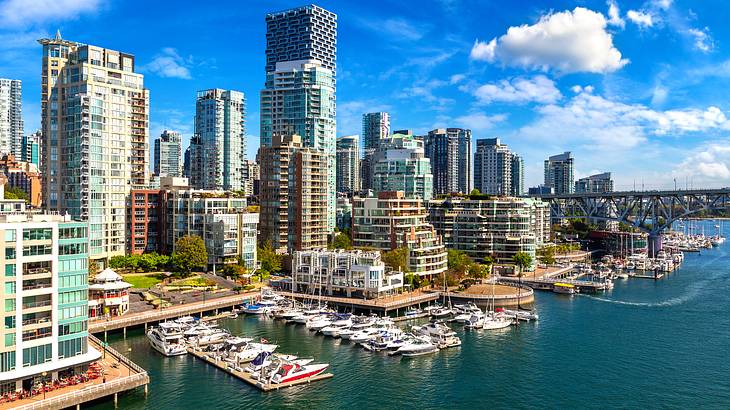 Located on Canada's West Coast, Vancouver is the largest city in the province of British Columbia and is a popular vacation spot in North America. While you may think that four days in Vancouver is not enough time, don't worry! This 4 day Vancouver itinerary will ensure you see all the city offers.
Vancouver is a diverse and multicultural city made unique by its surrounding scenery of the Pacific Ocean, sandy beaches, snow-capped mountains, urban rainforest, and happening nightlife.
Once you begin exploring, you'll encounter everything this city is known for. The friendly locals, green space, beautiful and historic architecture, famous landmarks, and memorable attractions and experiences all combine to make it one of the world's most walkable cities.
While the area you will cover is quite large, you can get around mainly on foot or by bike (you can rent bikes and helmets at various locations throughout the city). For the few attractions further afield, shuttles or public transport can be used.
You can pick up a Compass Card at a Skytrain station to use the public transit system, which includes the buses, the SeaBus, and the SkyTrain.
If you have more than a few days in Vancouver, consider also taking a short trip from Vancouver to places like Victoria on Vancouver Island or Whistler. So, don't believe you can see all of Vancouver in four days? Keep reading to find out how you can!
4 day itinerary
Average of 6 stops per day
4 Days in Vancouver Itinerary
Explore Downtown Vancouver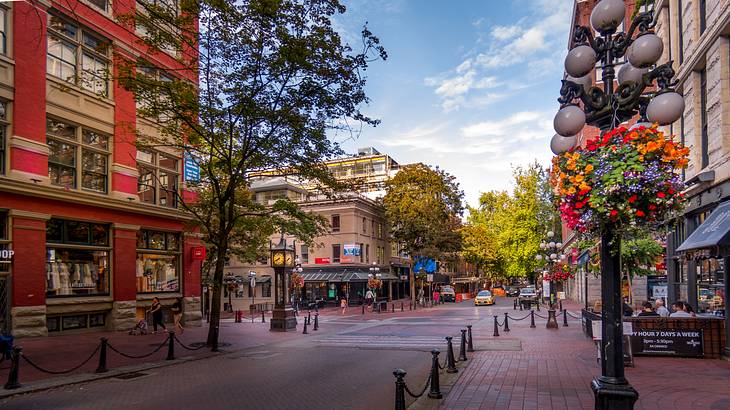 Your Vancouver travel itinerary starts with you exploring the most popular spots in Downtown Vancouver. Begin the day at the Vancouver Art Gallery and immerse yourself in the range of artworks. Next, head up the Vancouver Lookout to enjoy 360 views of the city's unique surroundings.
After enjoying the views, walk to Gastown to check out the independent shops that line its cobbled streets. About a 10-minute walk from Gastown, you'll find yourself in Vancouver's Chinatown and the Sun Yat-Sen Chinese Classical Garden. Finish the day by returning to your favourite area for dinner and drinks.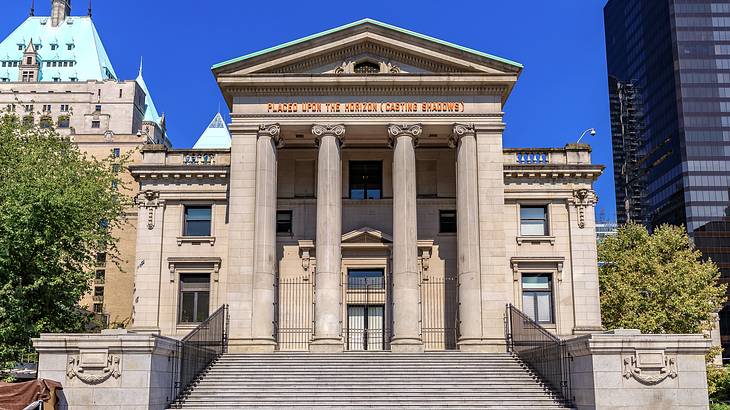 Vancouver Art Gallery
Housed in the former provincial courthouse, the Vancouver Art Gallery is the largest gallery in western Canada and the fifth largest in Canada. Inside, you'll find a range of contemporary art from Canadian and international artists as well as First Nations and Asian Art. Along with the permanent exhibits, the gallery features interesting temporary exhibitions. Visit the gallery's website for what is on during your stay.
Once you've completed the gallery tour, stop by the gift shop to get contemporary art-inspired cards and gifts. They also have a great selection of coffee table books to browse through. Booking your Vancouver Art Gallery tickets in advance is highly recommended.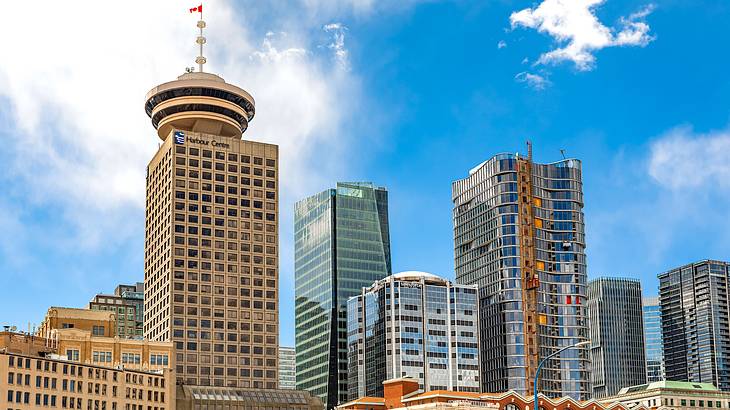 Vancouver Lookout
Going to the top of the Vancouver Lookout is the perfect way to see the city from one of the best viewpoints, especially with a date!
Travel to the top in less than a minute to take advantage of the 360-degree view. Vancouver's landscape of city, sea, and snow-capped mountains is unique from the ground, but up high, it's something else!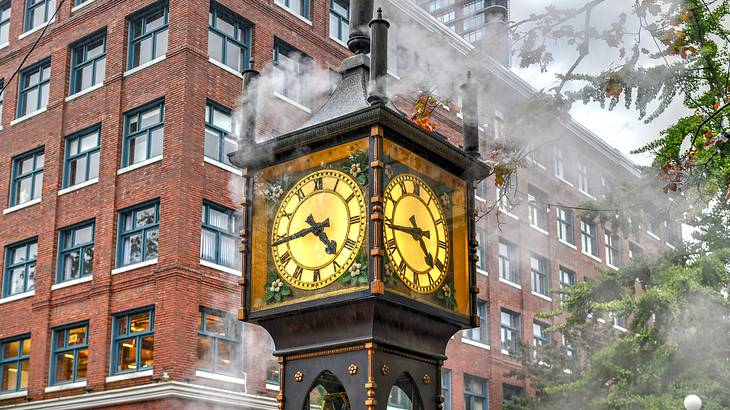 Gastown and Steam Clock
While Gastown is slightly touristy, it's a highly recommended and popular place to visit in Vancouver! With old-fashioned gas lamps lining the cobbled streets and historic architecture, you'll fall in love with Gastown.
Gastown is also home to the Gastown Steam Clock. As the world's first steam-powered clock, it has been in Gastown since 1977. Be sure to wait to see its iconic steam whistle, which goes off every 15 minutes.
Continue to the end of Gastown's Water Street to see Hotel Europe. This heritage building is designed to resemble New York's Flatiron Building and has been in Gastown since the early 1900s.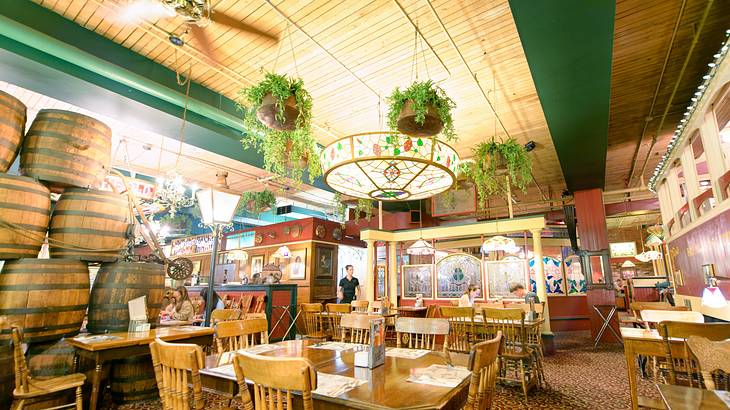 The Old Spaghetti Factory
If you're in the mood for something to eat, Gastown has many delicious options, but The Old Spaghetti Factory is somewhat of a Gastown icon. With tasty and affordable pasta dishes, it's an obvious stop for a mid-day refuel.
Don't, however, assume a quiet lunch! It's rumoured that a host of ghosts haunts the location. Sure, they serve some of the best ravioli in the city, but is it worth having an unexpected plus one? From experience, I say it is! Other great eating spots include the Water Street Cafe and SteamWorks Brewpub.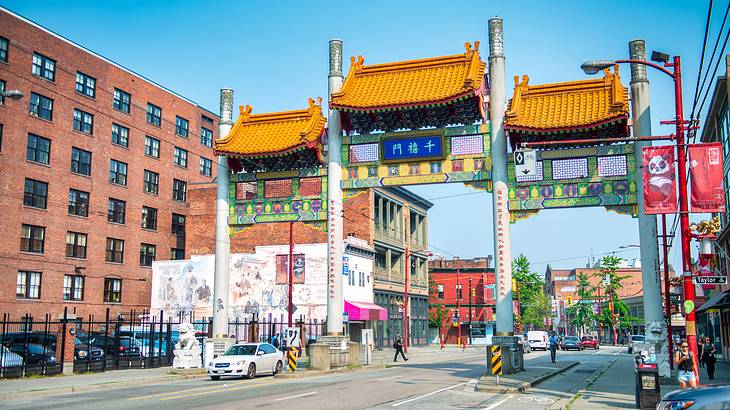 Chinatown
If you're a frequent traveller, you might be wondering, "Do I really need to see another city's Chinatown?" Well, in Vancouver, the answer is an absolute yes!
Vancouver's Chinatown is the biggest in Canada and has even been declared a National Historic Site, making it one of the can't-miss places to visit in Vancouver! Established in the 1890s, walking through Chinatown, you'll encounter unique shops and the Dr. Sun Yat Sen Chinese Classical Garden.
If you're in the mood for coffee and cuteness, an optional stop is the Vancouver Cat Cafe. Located in Chinatown's International Village Mall, you'll find cat-themed drinks (cat-puccino anyone?) and feline friends to hang out with.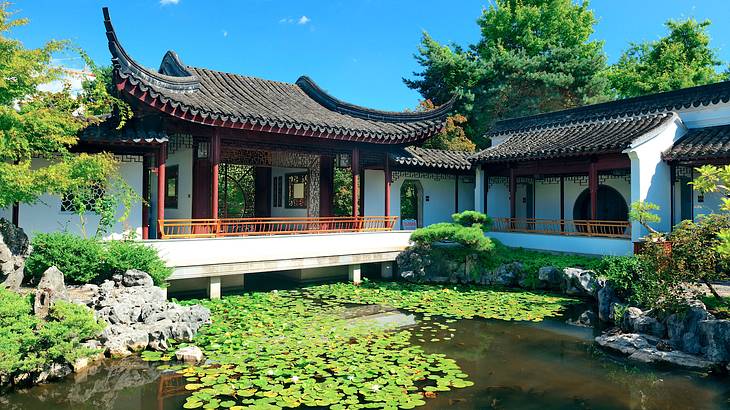 Dr. Sun Yat-Sen Chinese Classical Garden
This oriental oasis in the heart of Chinatown's Sun Yat-Sen Park will transport you right out of the city. A representative of the Ming Dynasty-era tradition, the garden features Chinese architecture, tranquil ponds, and exotic flowers. Add some pics to your socials, and your friends will be asking when you decided to vacation in China over Canada!
Bao Bei Chinese Brasserie
Asian food lovers will find a multitude of options to please them in Chinatown! I recommend Bao Bei Chinese Brasserie. Instead of the large portions, you usually get at Chinese restaurants, at Bao Bei, you can indulge on small dishes and modern cocktails. Alternatively, try the trendy Keefer Bar, which serves Asian fusion plates and Instagram-worthy cocktails.
Gardens, Granville Island, and Gastronomy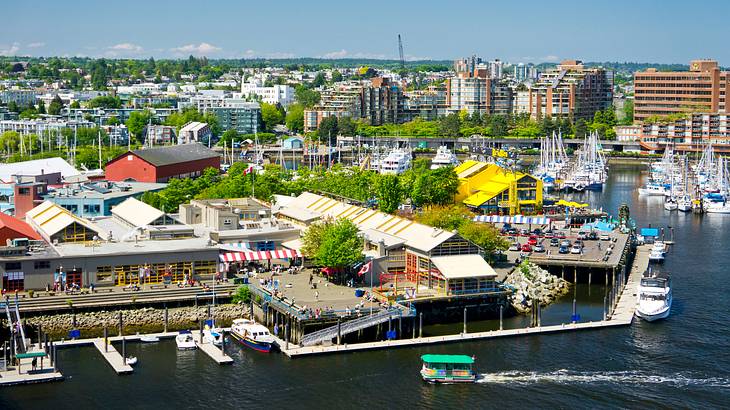 Pull out that Compass Card; it's time to leave downtown! First, you'll hop on the Skytrain to head to the VanDusen Botanical Garden. Then, continue to Queen Elizabeth Park and the Bloedel Conservatory.
Next up on your Vancouver 4 day itinerary is a visit to Granville Island Public Market. Here, you'll discover craft and culinary finds, including some of the freshest ingredients in Vancouver, plus artisan jewellery, souvenirs, and more! Lastly, return downtown and walk through the beautiful David Lam Park to eventually end up in trendy Yaletown.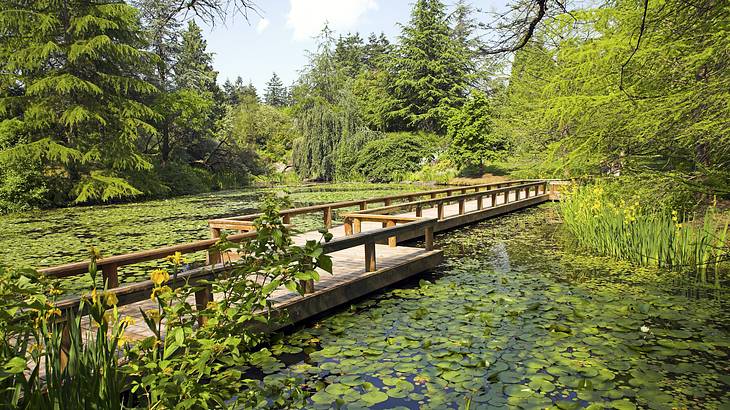 VanDusen Botanical Garden
This 55-acre botanical oasis is about 30 minutes outside Downtown Vancouver, but you'll feel like you're a million miles away from the city. The Garden is home to over 7,500 plant species, tranquil lakes, and unique architecture.
There's even an Elizabethan hedge maze to explore and garden-side cafes to relax at and enjoy the view. Utilize the Garden's Bloom Calendar to see what will be in bloom during your visit. You can see the Garden yourself or take a guided tour.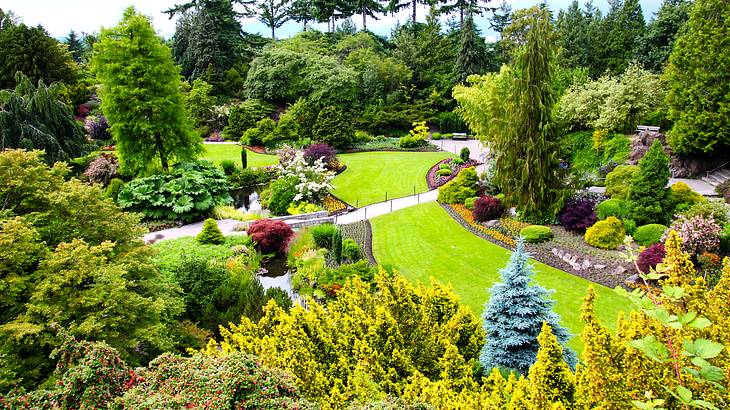 Bloedel Conservatory and Queen Elizabeth Park
This tropical paradise is located in Queen Elizabeth Park, about a 10 to 15-minute walk from VanDusen Garden. The temperate conservatory is home to various tropical birds, plants, and other exotic creatures.
While in the park, also head to the lookout located atop Vancouver's highest point for sensational city views. You could even grab lunch at the renowned Seasons in the Park restaurant. However, based on your next stop, I would recommend just getting a drink or returning for dinner.
Granville Island Public Market
Granville Island is a fun thing to do in Vancouver, Canada, as you can get items here you cannot get anywhere else. This includes souvenirs, first nations art, unique jewellery, and even witches' brooms!
Begin exploring by wandering around the shops and visiting some of Granville Island's unique attractions, such as the Houseboats and Giants' Silo Mural. Next, head to the Central Public Market. At the large indoor market, you can purchase meals, snacks, and high-quality ingredients from a range of long-time vendors.
I recommend picking up some snacks or meals for a well-deserved picnic stop. Settle down in the inside or outside eating areas, or pack up your goodies and take the Aquabus back Downtown. If you're travelling with children, Granville Island also has a Kids' Market with a play area, toy and clothing shops, and an arcade.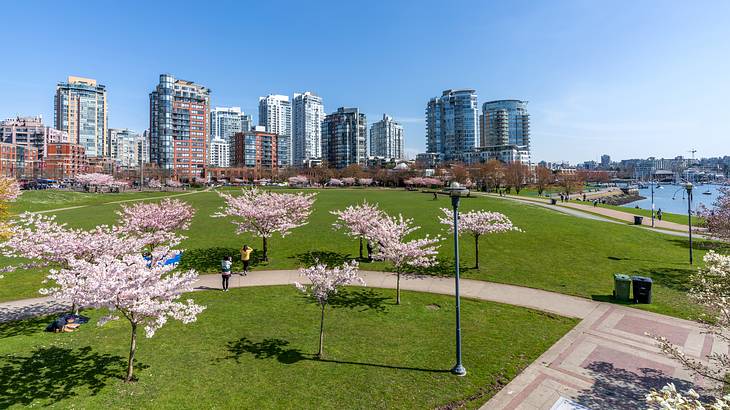 David Lam Park
Directly across from Granville Island Public Market is David Lam Park. Take the Aquabus across False Creek to reach it from the market. Here, you can relax with your picnic and walk around to the end of the Seawall or into Yaletown. While in the park, you'll enjoy harbour views, lush green space, and pretty flower gardens.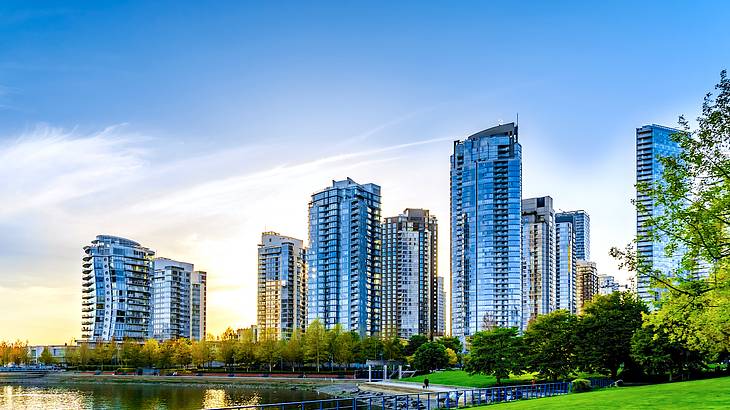 Yaletown
Heritage meets hip and luxurious style in Vancouver's Yaletown. Formerly an industrial area, Yaletown's warehouses, and industrial buildings have been transformed into high-end boutiques and trendy restaurants and bars. Exploring this bustling area is definitely one of the most fun things to do in Vancouver, Canada!
Start by visiting any of the fashion and decor shops that catch your eye. Then, choose one of the many bars to stop at for a drink or two. Attending a happy hour is also a fun thing to do, and Yaletown has some of the best deals in the city. From about 3 PM to 5 PM, most Yaletown bars have special deals on drinks and snacks.
The Flying Pig
This Canadian cuisine restaurant is a favourite among locals for brunch, lunch, and dinner. While the name may suggest a pork-heavy menu, you can actually get a range of meat, fish, and vegetarian options.
Inspired by the fresh ingredients available on Canada's West Coast, you won't be disappointed by whichever dish you choose. Like most Yaletown bars and restaurants, they have a daily happy hour, but their weekend brunch is Vancouverite recommended if you aren't in the mood for dinner.
A Day by the Water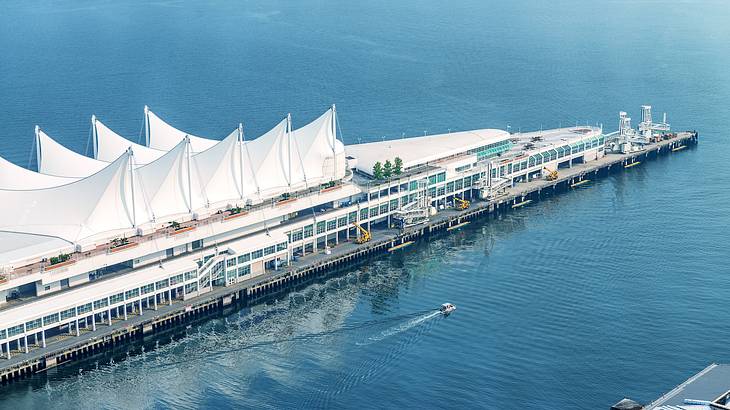 Your third day in Vancouver will begin at Canada Place, an iconic sailboat-inspired building near the harbour. Make a quick stop at FlyOver Canada, then walk around the Seawall to Coal Harbour.
After a quick stop at Coal Harbour, continue around the Seawall to Stanley Park (or hop on the bus if you prefer). At Stanley Park, whether you keep walking the Seawall or veer off onto one of the park's trails, you'll find amazing views and cultural Canadian landmarks.
Having walked through the park, you'll end up at the four beaches that run parallel to the park and Downtown. Finally, end the day's activities in quaint Kitsilano, which is a short bus or boat ride across the water.
Canada Place and Coal Harbour
Canada Place, next to the Burrard Inlet, is designed to resemble the ships in the harbour. At Canada Place, visit FlyOver Canada, a ten-minute simulation that "flies" you over Canada's most historic locations. To make admission easy, book your FlyOver Canada Immersive VR Ride before you arrive.
Next, walk around the seawall from Canada Place to Coal Harbour. On the way, you'll additionally come across the Digital Orca. This lego-style killer whale structure was installed in 2009 and is a great photo-op. Then, continue walking around the waterfront to Stanley Park or hop on the bus that will take you straight to the park's entrance.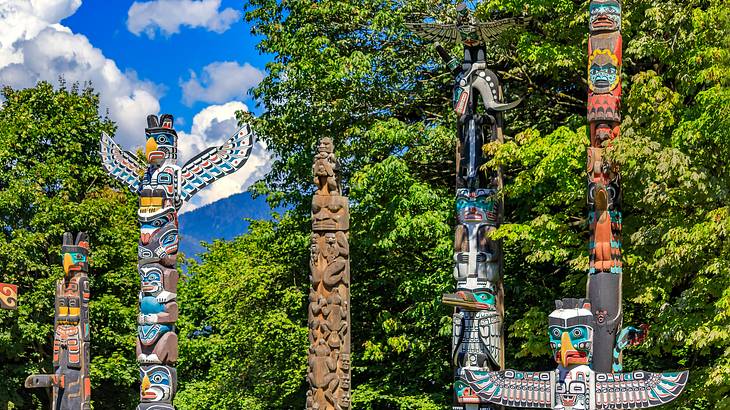 Stanley Park and Totem Poles
No Vancouver 4 day trip itinerary would be complete without a trip to Stanley Park - a famous landmark in North America. Vancouver's largest urban park (which is a rainforest!) will provide you with forest, ocean and city views. It's also home to a range of cultural landmarks and wildlife.
You can either follow a variety of trails that will lead you through the park or choose to walk or bike part of the 9km Seawall that wraps around the park.
The First Nations Totem Poles are also a must-see and one of Vancouver's most-visited attractions. Located at Brockton Point, they were added in the 1920s, but some of the poles may have been carved in the 1880s.
Some other sites of interest to see include Brockton Point Lighthouse, the Rose Gardens, Lost Lagoon, Beaver Lake, and Prospect Point. If you're visiting the park with kids, or the weather's bad, the Vancouver Aquarium within the park is a worthwhile stop too.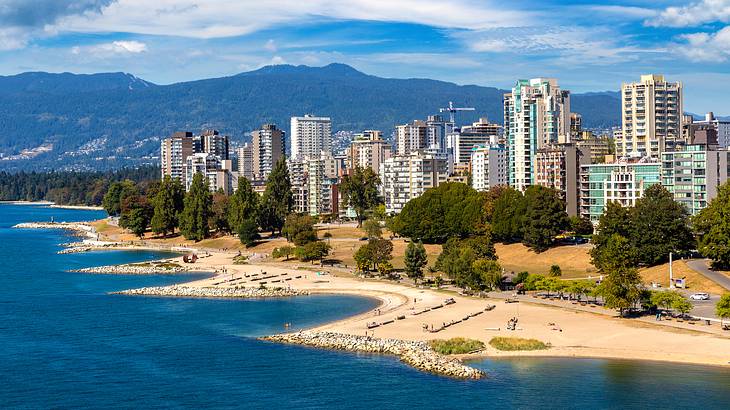 English Bay Beach and Surrounding Beaches
As one of the four main beaches along the Seawall, English Bay Beach is one of the most popular. Relax and enjoy the ocean and mountain views while resting on one of the tree trunks placed along the beach.
Also, check out the A-maze-ing Laughter sculpture close to the beach. The animated bronze statues will be an interesting addition to your vacation photos!
Along with English Bay Beach, Sunset Beach, Second Beach and Third Beach are additional popular spots.
Head to Third Beach for a quieter and more relaxed beach day. That is unless you're visiting on a summertime Tuesday night when Third Beach hosts an impromptu drum circle. Arrive between 6 PM and 9 PM to dance and listen to music provided by the Vancouver residents.
Second Beach features another sandy beach, a public pool, and food outlets. A fun thing to do in Vancouver if visiting in July or August is attending Second Beach's outdoor movies on Tuesday nights.
While the movies start at sundown (around 9 pm), I recommend arriving earlier to get a good spot. While you wait, enjoy the sunset and get dinner from one of the onsite food trucks.
Sunset Beach is the closest to Downtown. It's an ideal place to relax with a book, swim, and, as the name suggests, watch the sunset. You can also view the Engagement sculpture here. The two 30ft high engagement rings were installed as part of a global series in 2005.
Cactus Club Cafe
Vancouver's popular Cactus Club Cafe has a fantastic beachfront location at English Bay for drinks and a meal. This is a busy location, so I recommend booking online or reserving a spot with the hostess and returning.
If the weather is good, make sure to ask for a patio spot; enjoying one of their signature cocktails while looking out at the ocean and mountains is well worth the wait! Hook Seabar, across the street from the beach, is another excellent location for quality cocktails and fantastic seafood.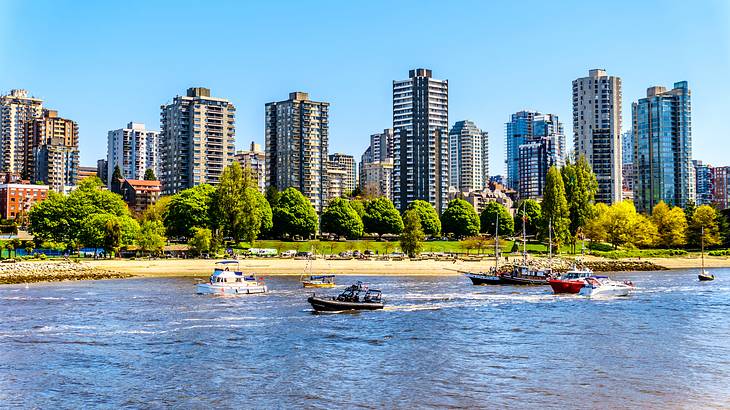 Kitsilano
Located across the water from Downtown Vancouver, Kitsilano is a peaceful and quirky neighbourhood. Kits Beach is a favourite for relaxing, enjoying barbeques, and playing beach games in the summer.
If you aren't in a beach mood, head to West 4th and the surrounding blocks for some retail therapy. Along with interesting independent stores, such as those selling crystals, you'll find more well-known brands like Lululemon and Urban Outfitters.
Another recommended stop for your Vancouver travel itinerary is the Museum of Vancouver, Canada's premier civic history museum. The Vancouver Maritime Museum is also suggested for history enthusiasts.
Trattoria Kitsilano
Enjoy authentic southern-Italian cuisine at Trattoria Kitsilano. This vibrant and casual spot is a great place to grab some dinner before heading back Downtown. Choose from delicious pizza, antipasto, pasta, and meat and fish dishes.
Prices per dish are often under 20 CAD each, and they also boast a wine list with over 50 local and international wine choices. If you are not in the mood for Italian, check out Fable Kitchen, which serves contemporary Canadian cuisine.
Thrilling Heights and Magnificent Views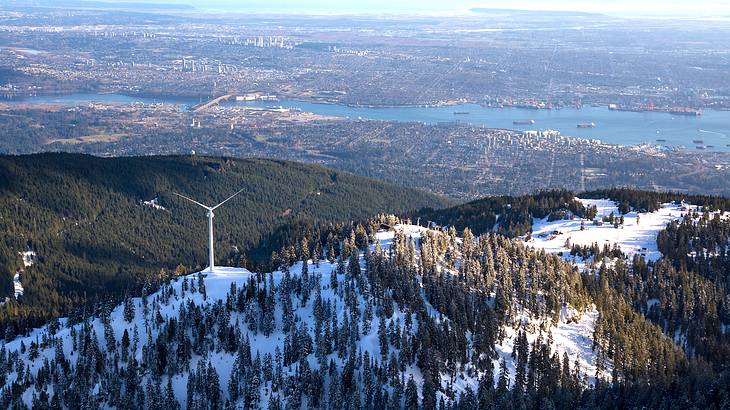 Get ready to explore! Your last day's stops will take you high above Vancouver and will see you encountering adrenaline-inducing experiences, magnificent views, and Canadian bears!
You'll start the day by venturing to North Vancouver for Grouse Mountain. In the summer, you can get a free shuttle from Canada Place to Grouse Mountain.
For the rest of the year, take the Seabus to Lonsdale Quay and then the number 236 bus. Once at Grouse, no matter which way you choose to reach the peak, you're sure to encounter amazing views and local wildlife.
Next, you'll get on the connector shuttle from Grouse to Capilano Suspension Bridge Park. Experience the thrill of walking across this 450ft long bridge, then move on to the Treetops Adventure or Cliff Walk. Finally, head to the Cliff House Restaurant for a relaxing lunch. End the day by heading back Downtown for some shopping and dinner.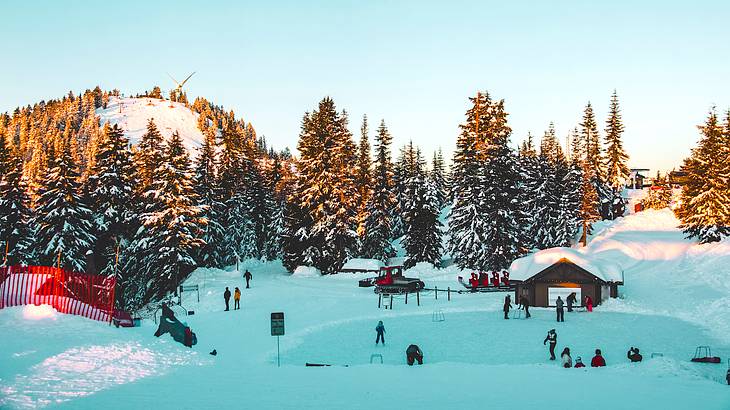 Grouse Mountain
Located on Vancouver's North Shore, Grouse Mountain rises 1,250 meters above Vancouver. To get to the peak, take an 8-minute ride on the Skyride gondola. While travelling up the mountain, you'll get a great view of the Burrard Inlet and the surrounding alpine forest. You can purchase your admission ticket here.
Thrill-seekers may prefer the Skyride Surf Adventure. Available in the summer months, ride on the gondola's roof instead of inside. You'll also be accompanied by a guide who will point out surrounding areas of interest.
Alternatively, get to the top by tackling the Grouse Grind. Nicknamed "Mother Nature's Stairmaster," this intense workout takes about 90 minutes and will see you climb an 850-meter elevation.
You can also follow mountain biking and hiking trails at Grouse, and those after an extra thrill can zipline through the alpine trees! If visiting Vancouver in the late fall, winter, or spring, Grouse is a great place to undertake some snow sports. You can purchase a pass and equipment to ski or snowboard between November and May.
Don't forget to see the mountain's two resident bears at the Grouse Mountain Grizzly Bear Habitat. See if you can spot them in their enclosed area or watch with a snack from the Grizzly Lookout Cafe.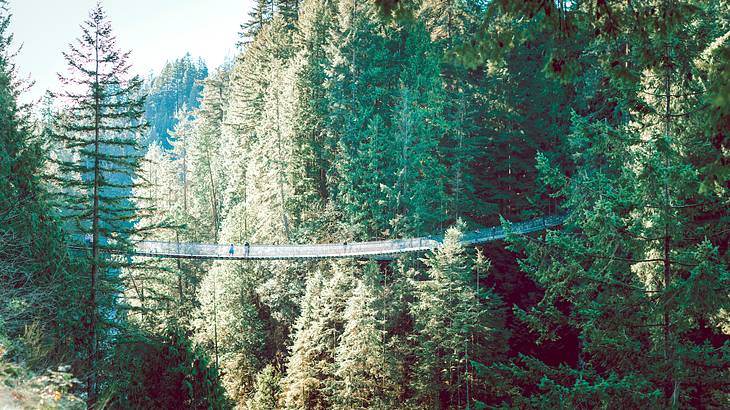 Capilano Suspension Bridge
The Capilano Suspension Bridge allows you to experience breathtaking natural views with a little adrenaline kick. Venturing across the 450ft long bridge, suspended at 230ft above the canyon and river below, you'll be surrounded by fantastic forest views.
With your entrance fee (which you can book here, you'll also have access to the Treetops Adventure and Cliff Walk. If you're brave enough to tackle them, you'll experience even more of the forest scenery from up high.
If visiting between the end of November and the end of January, consider exploring the park at night. During this period, the park hosts the Canyon of Lights event. The bridge and other attractions throughout the park are illuminated by hundreds of festive lights, making them even more magical.
Cliff House Restaurant and Bar
Overlooking the Capilano Canyon and suspension bridge, this casual spot offers delicious Canadian dishes and great views. The West Coast-inspired dishes use fresh and local ingredients. A vast range of BC craft beers and wines are also available.
During colder periods, they even have a campfire on the patio. Grab a blanket and snuggle up with some hot chocolate or mulled wine.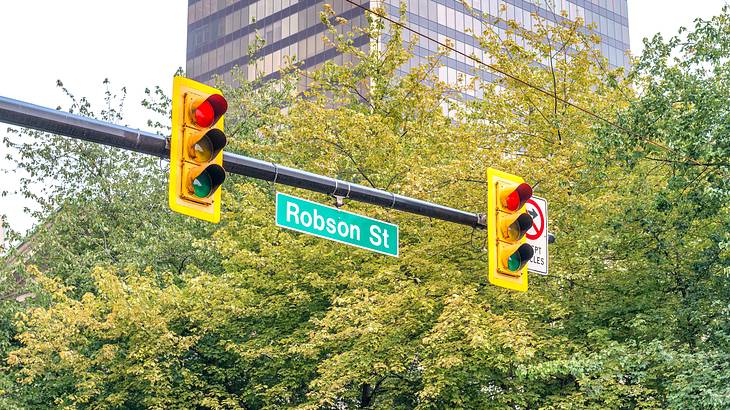 Robson Street and Pacific Centre
Back Downtown, finish your last day in Vancouver with a relaxing bit of shopping on Robson Street and at the CF Pacific Centre shopping mall.
Robson Street is home to souvenir shops, fashion stores like J.Crew and Vancouver's own Aritzia, and confectionery stores, including Laudree and the highly recommended Rocky Mountain Chocolate Shop.
The Pacific Centre, about a ten-minute walk from the start of the shops on Robson Street, has chain and luxury stores. High-end department stores Nordstrom and Holt Renfrew can be found in the mall, along with Aldo, H&M, Apple, and many more.
Joe Forte's Seafood & Chop House
This legendary Vancouver dining spot may be a little high in the price range, but it's worth it. At this San Francisco styled seafood grill, you can try the best oysters in Vancouver, luxurious seafood towers, and perfectly cooked steak.
Accompany your meal with one of over 300 wine choices from their well-curated wine list. The relaxed and high-class atmosphere, award-winning food, and impeccable service make it the perfect place for your last dinner in the city.
In Summary
You should now have no problem deciding how to spend four days in Vancouver to ensure you see all the city is famous for. You'll go from visiting downtown hotspots to chilling on Vancouver's many beaches and exploring the renowned Stanley Park.
With the addition of adrenaline-pumping experiences to your 4-day Vancouver trip itinerary, relax journeying through Vancouver's many gardens, and tasty food stops galore - I guarantee this will be one of your best vacations yet!
Give us feedback about this article
Learn more about Vancouver:
More articles about British Columbia:
Read more articles about Canada:
More visual stories related to this article:
---
---
Want to keep exploring?
Subscribe for discounts on tickets and hotels and our latest guides.
Thank you for subscribing
We will be in touch soon with discounts on tickets and hotels and our latest guides.
Want to keep exploring?
Subscribe for discounts on tickets and hotels and our latest guides.
Thank you for subscribing
We will be in touch soon with discounts on tickets and hotels and our latest guides.
Related articles