The Best Breakfast & Brunch in Victoria, BC - Top 16 Restaurants
Destguides may receive commissions from purchases made through affiliate links in this article.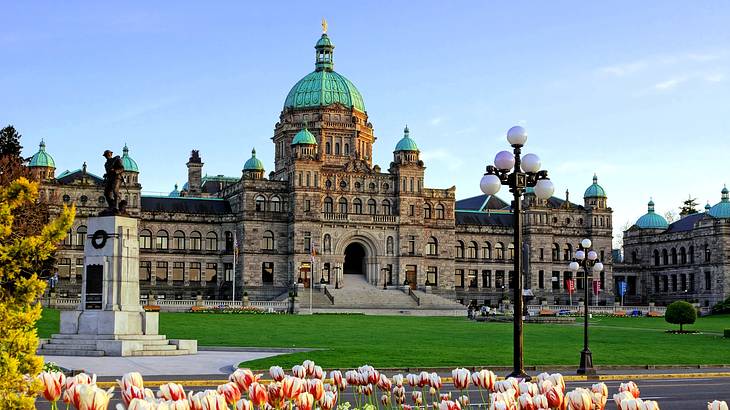 Victoria, located on British Columbia's Vancouver Island, is a great city to visit and explore, especially on a weekend trip from Vancouver. During a visit, going for brunch at least once is recommended.
Weekend brunch is a favorite activity among both locals and tourists. It's an excellent way to spend a lazy Saturday or Sunday relaxing with friends and enjoying fantastic food and drinks.
As it is a popular pastime, lots of Victoria restaurants offer wonderful brunch options. You can enjoy all types of dishes in a range of restaurant settings, from luxurious hotels to cute and cozy cafes. To help with your quest for the perfect brunch, check out these 16 restaurants that serve the best brunch in Victoria, BC!
The Best Breakfast in Victoria BC
Jam Cafe
Jam Cafe is a popular all-day breakfast spot in Downtown Victoria. Their Herald Street location opened in 2012 and was so popular that they opened additional restaurants in Downtown Vancouver and Kitsilano.
Their menu is heavily inspired by Southern recipes. You'll be able to enjoy classics, like homemade cornbread, chicken and waffles, and buttermilk biscuits. You'll also find traditional breakfast treats, such as French toast, parfait, and a range of egg dishes.
Jam Cafe's yummy dishes are served in a rustic dining space. It's a great brunch spot in Victoria for those looking to hang out in a cozy restaurant with comfort food and friendly staff. There can be long line-ups on the weekend, but it's worth the wait!
Floyd's Diner
If you see a hot pink building in Victoria, it means you've discovered Floyd's Diner! Floyd's has been a landmark in Victoria for 15 years. This American diner-style restaurant offers a friendly atmosphere that everyone will enjoy.
Floyd's Diner is best known for The Mahoney. If you request this, you'll be served a unique dish that the chefs create on the spot. There's another catch to this mystery dish; you can flip a coin to either get it for free or pay double.
Floyd's also serves classic brunch and breakfast dishes if you're not in the mood for a surprise dish. Popular choices are their French toast and various preparations of the eggs benedict. Finish your meal with a milkshake topped with whipped cream and cherries or a heavily garnished Caesar!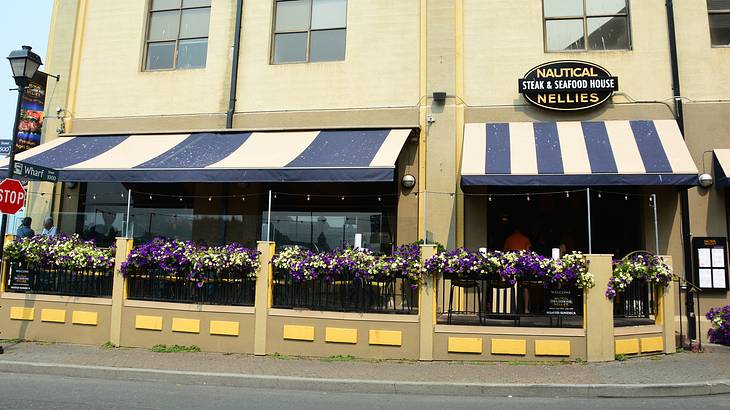 Nautical Nellies
Nautical Nellies is well-known for its high-quality seafood dishes. They have recently also started serving weekend brunch at their Inner Harbour location. Nautical Nellies is quickly becoming one of the best places to have brunch in Victoria!
Like with their dinner and lunch menus, seafood dishes feature heavily in their brunch offerings. The lobster benny is one of their most recommended dishes. Diners can also try the stuffed French toast, frittata, and fluffy buttermilk pancakes, among other delights.
The Ruby
The Ruby offers innovative homestyle breakfast cuisine. Menu items include breakfast tacos, sweet and savory waffles, and smoked brisket. The smoked salmon eggs benedict is also highly regarded, or try their quirky mac and cheese eggs benedict.
Another fun menu feature is The Player's Delight. You and your brunch date can choose a breakfast option each and will also be served sweet waffles. Additionally, you'll get a bottle of Pol Roger Brut Champagne, all for 200 CAD. If you don't want to spend that much, switch champagne for prosecco by ordering The Fugazi for 90 CAD.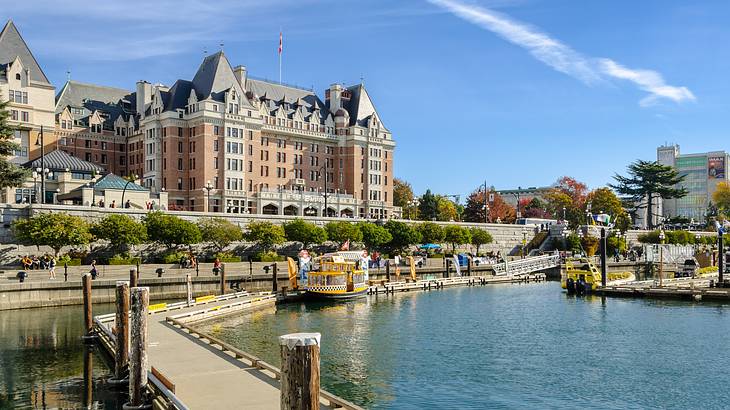 The Courtney Room
This is an excellent spot if you're looking for a more sophisticated place to have brunch in Victoria. The Courtney Room is an extension of the stylish Magnolia Hotel & Spa, located close to the Inner Harbour. The Courtney Room was even named one of the top 100 restaurants in Canada, so you know you'll have a great experience!
If you decide to brunch here, you'll be served modern Pacific Northwestern cuisine. Some specialties include crab eggs benedict, truffle frittata, and smoked salmon toast. Sharing plate options and an oyster bar are also on offer. Complement your meal with a unique craft cocktail.
John's Place
John's Place has been one of the best brunch spots in Victoria for over 35 years. It can definitely call itself a local favorite and has even been featured on The Food Network.
This well-known restaurant makes a lot of its ingredients from scratch. This includes a famous cream cheese syrup, the perfect accompaniment to Belgian waffles!
The eggs benedict is another bestseller, and John's has some of the best French toast in Victoria. The stuffed French toast with ricotta and blueberry coulis is particularly recommended. If you want something sweet after a savory breakfast, try the Mile High Apple Pie with granola topping.
Nourish Kitchen & Cafe
Enjoy brunch in a super cozy and homey cafe by visiting Nourish. Housed in an 1800s Victorian-style home turned restaurant, this spot offers healthy artisan brunch delights.
Choose from a selection of egg preparations accompanied by meat or veggie protein, toast, and vegetables. If you're looking for something sweet, try the Sleeping Beauty Pancakes. These oatmeal pancakes are topped with fruit compote and lemon cream for a unique spin on the breakfast favorite.
No matter what you order, all ingredients are farm fresh and locally sourced. In addition, you can add a brunch cocktail (or two!) to your meal or choose from a vast selection of teas and other non-alcoholic beverages.
Fuego Old Town Eatery
Fuego Old Town Eatery is a laid-back, Mexican-inspired brunch spot in Market Square. They offer a wide range of Mexican-style breakfast and brunch options.
The menu items include chorizo eggs benny, chilaquiles, and breakfast burritos. Those with a sweet tooth will enjoy their Carmalita dish, as it features fruits wrapped in a tortilla and topped with cinnamon, sugar, and yogurt. They also have a choice of sweet churro or mango pancakes.
If you're leaning more toward the lunch part of brunch, you can order tacos, enchiladas, or quesadillas. Everything at Fuego is made from scratch, including their homemade habanero hot sauce. Add a Michelada or Horchata Latte to your meal, and chill out in this cozy, cantina-style spot.
Blue Fox Cafe
Blue Fox promotes itself as "Victoria's first and foremost all-day breakfast." As such, it's one of the most popular breakfast spots in Victoria and a local favorite.
The menu is extensive, so be prepared to take your time deciding what to order! All the breakfast classics are available, including over 10 eggs benny preparations. Blue Fox also makes many of their sauces and condiments in-house, including their popular jams that are made fresh daily.
One of the most renowned dishes is their Migas & Amigos with scrambled eggs, corn tortillas, avocado, house-made salsa, spicy chorizo, and potatoes. Vegetarians can also enjoy the meal by substituting the chorizo for grilled banana.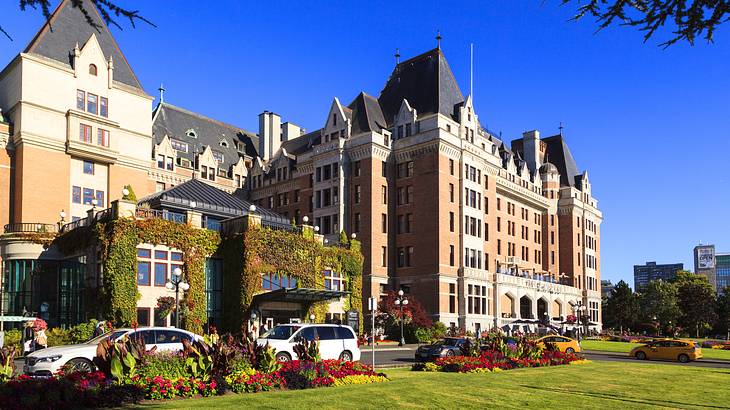 Q At The Empress
This sophisticated brunch and breakfast spot is found in the over 100-year-old Fairmont Empress Hotel. Here, you'll find unique takes on classic farm-to-table breakfast dishes. Popular savory dishes include PNW Benedict made with Dungeness crab, pulled pork benedict, and chicken and waffles.
Sweet options include coconut chia pudding and smoothie bowls garnished with watermelon popsicles. Be sure to also try the Q Signature Mimosa. Instead of the traditional orange or grapefruit juice, it's made with gooseberries and lemon verbena from their rooftop garden.
Classic mimosas plus coffee, a selection of teas, and homemade hot chocolate can also be ordered. Q at the Empress is a great place to start the day with high-quality cuisine in a stylish setting.
The Village Restaurant
The Village is a relaxed chain serving all-day breakfast. It's perfect for lazy brunching with friends and is very family-friendly. This eatery offers a range of choices from pancakes or oatmeal to egg dishes and latkes. Alternatively, try their famous breakfast sandwiches or a granola bowl. Complete your meal with a Caesar or artisan coffee.
The Village uses only locally-sourced ingredients, and they have five locations across Victoria. If exploring Downtown Victoria, visit the Cook Street one. All locations are popular, so be prepared to wait in line or make a reservation for a table before 10 AM.
Bard & Banker
Bard & Banker is a popular public house-style restaurant housed in an 1800s Bank of British Columbia building. Besides being a great dinner and drinks spot, Bard & Banker serves some of the best breakfast in Victoria.
Breakfast is offered every day from 8 AM to 2 PM. Lovers of sweet breakfast dishes will be spoiled for choice. Choose from peanut butter and banana crepes, brioche and hazelnut praline French toast, or cream cheese cinnamon buns.
If you prefer savory, they offer classic dishes like eggs benedict or omelets. Alternatively, try their Wild West Waffle with BBQ baked beans and smoked brisket or their breakfast grilled cheese with bacon. Be sure to also sip on one of their signature cocktails!
Crust Bakery
A great place to grab a quick bite in Victoria is Crust Bakery. While it might not be the most appropriate place for a sit-down breakfast due to limited seating, it's a cute little bakery that makes everything they sell from scratch with fresh local ingredients.
You will be spoilt for choice as they offer everything from pretty pastries and buttery croissants to healthy wholemeal loaves and tasty garlic-rosemary focaccias (a popular choice!) There are several gluten-free products as well as vegetarian options, perfect to suit any traveler's taste.
Whatever you choose, it will be delicious and will give you plenty of energy to explore Victoria! Crust Bakery is open seven days a week in Downtown Victoria on Fort Street.
Vista 18 Westcoast Grill
Located in the Chateau Victoria Hotel, Vista 18 is Victoria's only "rooftop" restaurant. They also offer a great brunch experience!
Fresh and local produce is used to create a range of delicious breakfast dishes. The crab eggs benny is highly recommended, or try the bacon and scallop version. Other options include buttermilk pancakes, French toast with brie, a breakfast burrito, and more.
If you can't decide what you want, there's a brunch buffet option. Enjoy your meal with a mimosa or their Royal Elephant cocktail made with prosecco, raspberry liquor, and raspberry pearls. Coffee, teas, juices, and smoothies are also available.
On top of their tasty breakfast dishes, the views are unbeatable. Vista 18 is on the 18th floor of the hotel, meaning you can enjoy views of the Inner Harbour and the Olympic Mountains from up high.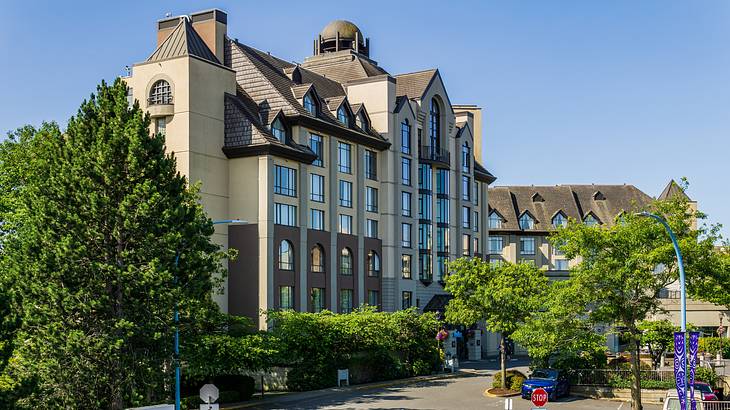 Lure Restaurant & Bar
Lure Restaurant & Bar is found in the Delta Marriott, just steps from the Inner Harbour. Not only will you enjoy a delicious brunch, but you'll also get amazing views. They even have a waterfront patio, a great place to enjoy brunch on a warm day.
Lure's brunch favorites include candied salmon and dill omelet, pulled pork and black bean huevos, and French toast with lavender yogurt. Along with breakfast dishes, you can choose from a range of savory sharing plates.
Finish your meal with one of their sweet treats, such as goat cheese cheesecake or monkey bread with chocolate Kahlua dip. Mimosas, sangria, and Caesars can be enjoyed, too. Or choose from a selection of teas, coffees, smoothies, and juices.
If you're feeling a little rough from the night before, try The Morning After Caesar. You'll get a double Caesar topped with four meatballs, four garlic prawns, and a jumbo pickle. It's sure to make you feel better instantly!
Cora
Cora is an all-day breakfast chain that has been popular across Canada for over 10 years. Their downtown location is, therefore, a fantastic choice for brunch in Victoria.
They have a vast menu of delicious and healthy breakfast options. Savory options include multiple preparations of savory crepes and eggs, including omelets and eggs benedict.
Sweet dishes include an array of pancakes, waffles, sweet crepes, fruit and granola, and more! Complement your meal with a specialty coffee or fresh fruit smoothie. With so many choices, everyone will find something to enjoy. Cora is a good choice for a quick bite to eat and is very family-friendly.
In Conclusion
There definitely isn't a shortage of fantastic brunch options in Victoria. You're guaranteed to find something for all tastes and styles in this charming city, from casual and laid-back spots to more high-end dining experiences.
Lovers of classic breakfast dishes are also covered, as are those looking for more innovative (and Instagram-worthy) brunch dishes. There is a brunch spot for everyone, and hopefully, this list of the best brunch in Victoria helped you discover your dream breakfast place!
---
---
Want to keep exploring?
Subscribe for discounts on tickets and hotels and our latest guides.
Thank you for subscribing
We will be in touch soon with discounts on tickets and hotels and our latest guides.
Want to keep exploring?
Subscribe for discounts on tickets and hotels and our latest guides.
Thank you for subscribing
We will be in touch soon with discounts on tickets and hotels and our latest guides.
Related Articles