21 Top Party Cities in Canada - Canada Nightlife
Destguides may receive commissions from purchases made through affiliate links in this article.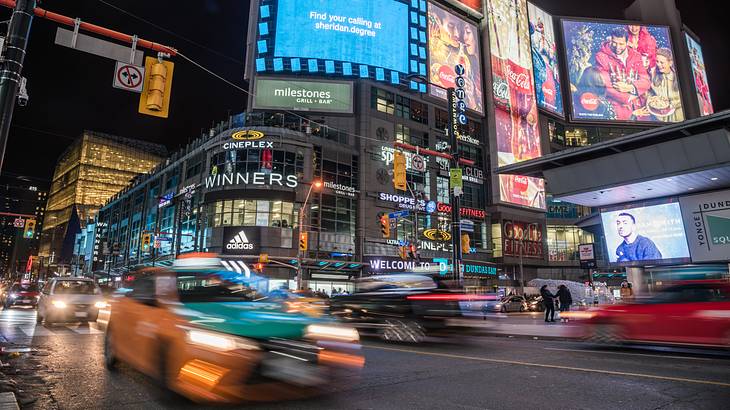 Canada is home to a lot of amazing cities with unique scenery and cultures. You can find a range of reasons to visit Canada's many cities, and their vibrant nightlife is just one of those reasons.
Six of Canada's major cities, such as Toronto and Vancouver, each have a population of over one million people and are home to some of the best nightclubs in Canada. But beyond those, there are several other party cities in Canada that are less well-known but definitely still worth a visit.
After exploring the natural wonders of the cities that make up this stunning country, you have to explore their clubs, bars, and other nightlife activities! Keep reading to discover all the fun there is to have in the 21 top party cities in Canada.
21 Best Party Cities in Canada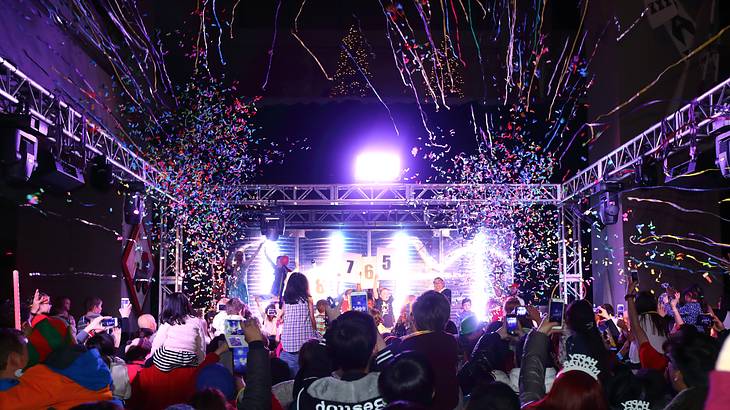 Calgary, Alberta
As one of Alberta's largest cities, Calgary in winter or summer is a must-visit spot for partying in Canada. You'll find a range of nighttime hangouts from pubs to sports bars and nightclubs.
Commonwealth Bar & Stage is a super popular choice for drinks and dancing. This vintage-industrial club is found in a two-story warehouse. It has 4 bars and features a range of music, including DJs and live shows.
Habitat Living Sound is another good choice if you're looking to go dancing. This Dj owned and operated boutique electronic club is always busy on the weekends and mid-week and, of course, has live DJ sets.
Don't forget to also drive from Calgary to Banff to explore beautiful Banff National Park for some hiking, as it's not even a two-hour drive!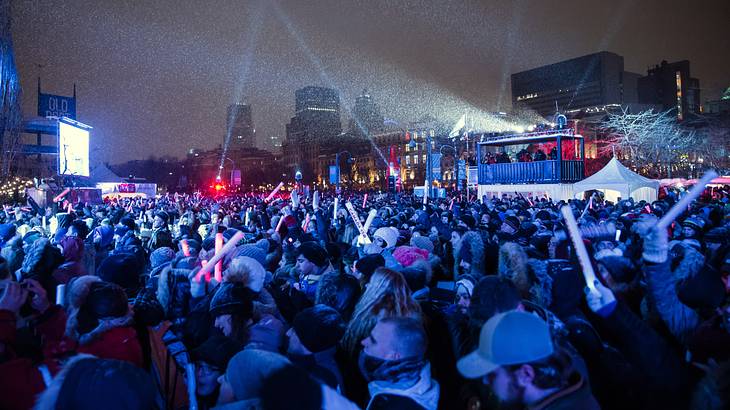 Montreal, Quebec
Montreal is often thought of as the best party city in Canada. Located on the east coast in the province of Quebec, this European-style city is full of clubs, bars, and other nightlife spots.
New City Gas has been a favourite Montreal nightlife spot for years. This converted industrial building hosts many world-renowned DJs and has an outdoor bar and patio area in the summer.
Candi Bar is another super fun spot. This candy-themed bar is decorated with bright neon colours and features a range of candy-inspired drinks. Other popular locations include Flyjin and Soubois.
In the summer, check out Terrace Bonsecours. You can dine and drink cocktails or sangria on the terrace, located close to the city's harbor, and then head downstairs to their club to party all night.
For a much more laid-back vibe, hit up Cafe Campus. This well-liked college-style bar has fantastic drinks deals and 90s music nights. If you want to stay out until the morning, go to Stereo when the rest of the clubs are closing. This after-hours bar stays open until 10 am on weekends.
Montreal also hosts a range of seasonal events. Every weekend during the summer, Parc Jean-Drapeau hosts Piknic Electronik, an outdoor electronic music festival. Lastly, if you want to party all day, a visit to Beach Club is a must. This cool open-air club hosts globally recognized DJs and has pools and multiple bars.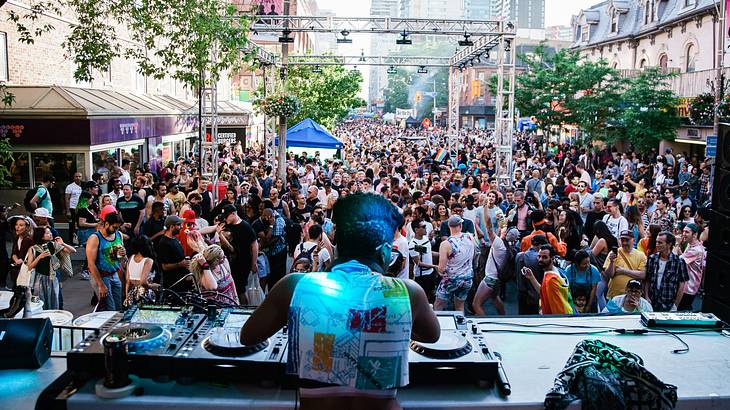 Toronto, Ontario
As one of the biggest and most well-known cities in Canada, it's not surprising that Toronto's nightlife is vibrant! There is a whole range of party and nightlife options across the city, as well as many fun things to do in Toronto. A few days in Toronto is just enough time to explore all that the city has to offer.
Lula Lounge in the west end is the perfect place to party if you like Latin dancing and/or jazz. The lounge hosts salsa nights and classes on the weekend, as well as Jazz nights on Fridays. If you need a hangover cure on Sunday, head back to Lula for their Cuban-style brunch.
Cake Bar is also a fun nightclub option. They have fantastic music, a fun atmosphere, and cheap drinks. Bottle service is available too for 100 CAD. For a chill night out, visit Snakes and Lattes, which has 1,000 games to play. Add in a fully stocked bar with mixed drinks, cocktails, boozy coffee, and more, and you may end up having a crazier night than expected.
SPIN Toronto, a ping pong bar, has a similar chill but could get wild vibe. The bar features 12 ping pong tables and serves alcoholic drinks and street food-style snacks. As you can see, there's definitely no shortage of things to do on a fun night out in Toronto.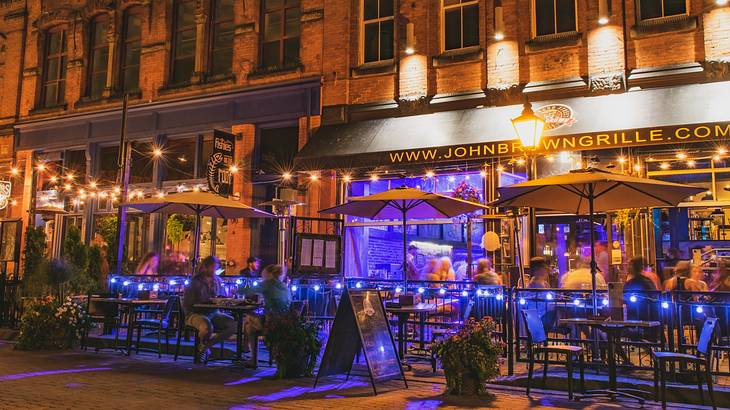 Charlottetown, Prince Edward Island
Charlottetown, the capital of PEI, is known for being a quaint town in Canada's eastern Maritimes. But it also has several nightlife options and a year-round bar scene. While you won't find large nightclubs, you'll discover pubs, beer gardens, and craft beer taprooms.
If visiting for the first time, Hunter's Ale House is an excellent place to start. This local favourite has two outdoor patios, live music, and tasty food and drinks. Their drinks menu alone includes a vast range of beers and wines, or choose from one of six fun martini preparations!
Peake's Quay is another highly recommended location, especially if visiting Charlottetown in the summer. This harbor-front bar and restaurant offers a lobster dinner plus many more fresh seafood dishes.
There's also live entertainment each night or just relax on their patio (the largest outdoor patio in PEI) with a cocktail or sangria watching the sunset over the harbor.
Beer enthusiasts will want to spend the night at Craft Beer Corner. They serve over 24 types of craft beer, including those from PEI craft breweries. If some in your group don't want a beer, they also serve cocktails and freshly brewed kombucha. Accompany your drinks with homemade hand pies for a chill night out.
Other recommended venues include Sugar Skull Cantina for tacos and tequila or Dooly's Bar to play pool, watch the game, and share a pitcher.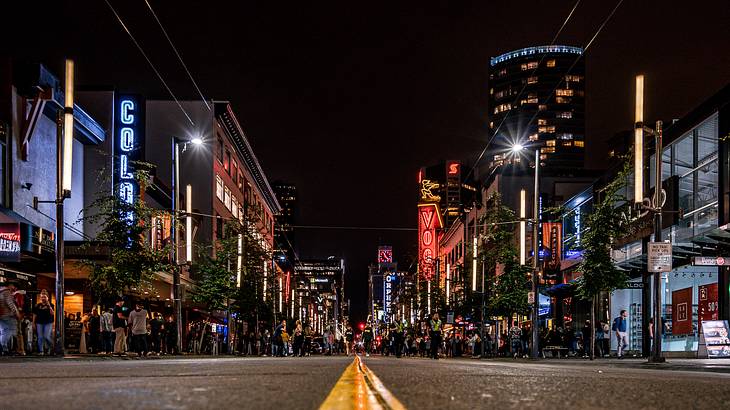 Vancouver, British Columbia
Vancouver is a beautiful suburban city in British Columbia. While activities like hiking spots with fantastic views and spending time at the beach are popular, Vancouverites also love going out at night, whether with friends or on a date, so there are lots of party options.
Granville Street is the area to go to for clubbing, while Gastown, Commercial Drive, and the West End all have a range of bars, clubs, and other nightlife venues. If you're looking for clubs, The Roxy is a popular choice.
The Lamplighter also offers a club vibe on weekends with billiards, arcade games, and patio seating for those who don't feel like dancing. Red Room is another well-known spot but be prepared to wait in line or sign up to the guest list in advance.
Another recommended spot is Cambie Bar, the longest-serving bar in Vancouver. It's a go-to choice for younger tourists and locals looking for good music and cheap drinks.
If you love interesting cocktails, a visit to Shameful Tiki Room is a must. They have a long list of tiki-inspired drinks and cocktail bowls for sharing. Another cool, but less well-known spot, is Key Party.
If you find yourself in front of an accountant's office when you arrive, you haven't got the wrong address! This vintage-style bar is hidden behind this fake office. Once inside, you'll get delicious drinks and photo ops with the bar's stunning background.
Other recommended spots include Keefer Bar, Hello Goodbye, and The Diamond. Vancouver also has concert venues like Commodore Ballroom and many craft breweries to spend the night at.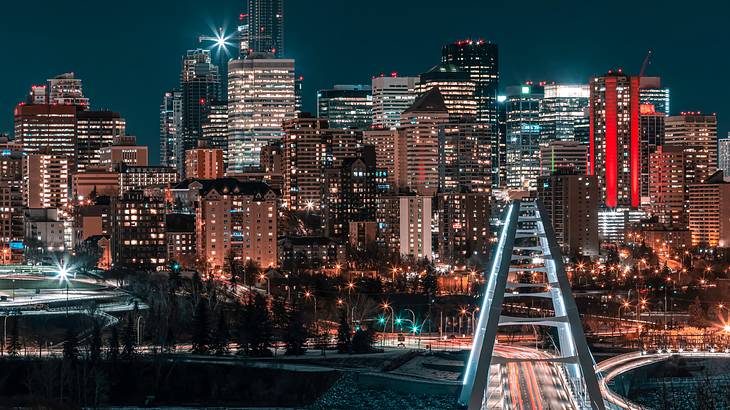 Edmonton, Alberta
Alberta's capital of Edmonton definitely has a nightlife activity for everyone! Whether you want a sophisticated night out, to listen to live music, party until after hours, or anything in between, you'll find an option here.
Those after some luxurious cocktails should visit Bar Clementine. This bar has a French art nouveau vibe and serves a selection of both innovative and classic cocktails. Accompany with a charcuterie board or other snacks like steak tartare or fresh oysters for a relaxed and luxurious night out.
To continue with your night, head over to El Cortez. This tequila cellar and cantina allows you to choose from a long list of high-quality tequila. Alternatively, check out The Station for live music or Rec Room for live music plus pool, arcade games, and ping pong.
Finally, if you want to keep on partying late into the night, you'll want to go to Y Afterhours. This club covers three floors and is open on weekends from 1 am to 8 am (entry ends at 5 am.) A different activity for horror fans is to visit the Deadmonton Haunted House. This experience is open from September through November from 6 pm to midnight.
There are two haunted houses to choose from (or do both!) - an Area 51-themed experience and a Rise of the Dead-themed experience. It's a fun and unique activity to add to your Edmonton night out.
Fredericton, New Brunswick
New Brunswick's capital of Fredericton offers some more novel nightlife activities. While you will find bars and clubs here, there's also a lot more to choose from.
Unplugged Board Game Cafe is a fun and laid-back choice. Admission is just 5 CAD, and you can stay as long as you like. Choose from a wide variety of games (they have over 700 options) and accompany your game with sweet and savory sharing snacks and soft or alcoholic drinks. Unplugged also has escape rooms.
If you're looking for music and dancing, Twenty/20 Club is a popular spot. Open Thursday through Sunday, they have live DJs each night and happy hour drink deals every day.
Other nighttime activities include Under the Stars outdoor movie nights on Saturday and Sunday and Haunted Hikes that take you through haunted areas of downtown. Or why not catch a performance at the Fredericton Playhouse? They host theatre productions as well as dance shows and concerts.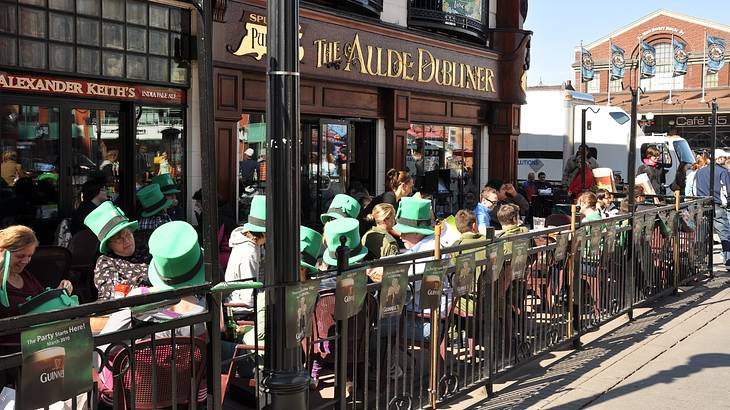 Ottawa, Ontario
While Canada's capital city of Ottawa has a strong political history, it's also one of the best cities in Canada to visit for a fun night out. Ottawa is home to many bars, pubs, and nightclubs to please all visitors.
A fun place to try in Ottawa is Mulligans Golf Bar. This location has golf simulators, and once you've played a round, you can get tacos, steak, and beer to enjoy.
Another excellent spot is The Loft Board Game Lounge. This board game bar is split into two levels, with a total of 1,200 board games and 1,000 video games to choose from. They also have "game gurus" to help you choose the best game for your group. Accompany your game with beer, cocktails, and pub-style food.
If you're looking for a club, City at Night is one of the best clubs in Ottawa. You'll find popular DJs or live bands depending on the night you go, and they serve great beer and ale.
Kingston, Ontario
While most people think of Toronto or Ottawa for both visiting and nightlife activities in Ontario, the province has many smaller cities worth visiting, including Kingston. This friendly city has a lot of pub and bar options to choose from. Or, why not select a few and do your own pub crawl?
The Mansion is one of the most popular nightlife locations in Kingston. This bar has a friendly atmosphere, and you can enjoy live music and beer on tap. The Mansion also has two outdoor patios, which feature a beach volleyball court and a Tiki bar. It's a terrific spot for a low-key night out and the perfect place to meet the locals.
The Toucan is a relaxed Irish pub that's been in Kingston since 1978. They specialize in Guinness but also have a selection of other beers and ales, plus wine and liquor. In addition, the Toucan often has live music and sports to enjoy with your drink and conversation. Food is also available, and they have a beer and wings combo, great for if you're spending the night watching the game!
BLU Martini is another cool spot in Kingston and is just a short walk from the downtown waterfront. They have live music plus food and drinks to enjoy inside or on their patio - the perfect combination for a memorable night out.
Hamilton, Ontario
Hamilton, located on Lake Ontario, is another well-rated nightlife spot in Ontario, located about 45 minutes outside of Toronto. If you're after a relaxed night out, try Uno Mas Bar. Choose from a range of yummy tequila cocktails, beers, or tequila shots, and accompany with sharing plates, charcuterie boards, or tacos.
If you want something a little more fast-paced, head to the Arcade. As the name suggests, this is a vintage arcade-style bar with games to choose from, such as Ms. Pac-Man and pinball. Arcade also has live music sets, drinks deals, and tasty food. Another highly recommended bar is Bar Sazerac, a cozy New Orleans-style bar with delicious cocktails.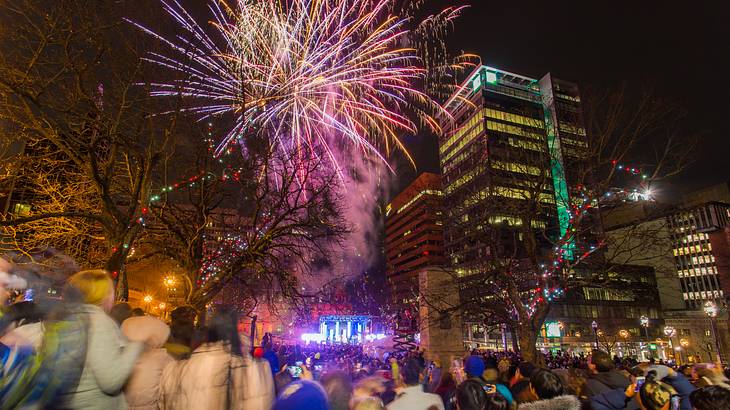 Halifax, Nova Scotia
Halifax actually has the most pubs per capita in Canada, meaning you're guaranteed to find a drinking spot you'll love. A great way to explore the province is by doing a road trip.
Start your night out at Lower Deck. This waterfront bar is a Halifax establishment. They've been hosting live music and serving fantastic local beer since 1974. It's definitely one to check out!
Another popular option is The Dome. This 12,000 square foot "bar hopping location" has four bars, all of which are open late until 3.30 am. They also have resident DJs, and the fun and busy dance floors are even decorated with dance boxes and poles!
Alternatively, spend the night at the waterfront Casino Nova Scotia. You can try your luck at the slot machines or tables or check out a live music show.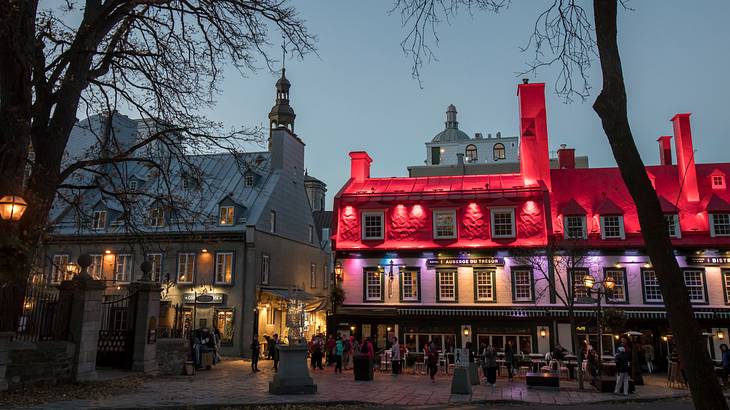 Quebec City, Quebec
Although Montreal is a must-visit for partying in Quebec, the province's capital of Quebec City, is not to be missed either. The city has some of the best nightclubs in Quebec, as well as many bars and restaurants.
Le Sacrilege has been in Quebec City for over 20 years and is very popular among locals and tourists, making it an excellent place to start your night out. They serve micro-brewery beers along with pub-style food and charcuterie boards.
The interior of Le Sacrilege is just as appealing as the cuisine and ambiance, with church pews and mosaic-top tables decorating the room. There's also a charming patio with tall trees and atmospheric fairy lights.
La Ninkasi is another recommended location. This chill spot has lots of drinks to choose from and nightly activities, including pub quizzes and karaoke. They also have billiards and TVs with hockey games. You can also try Quebec's national dish of poutine here.
For clubbing, there are lots of choices too. Le Dagobert is one of the most popular night clubs in Quebec City. The club is spread over multiple floors, with different types of music on each floor. They even have foam and fog machines!
A night out in Quebec City wouldn't be complete without a visit to the Ice Hotel. While you can stay at the hotel, constructed entirely of ice, you can also just stop by the bar for a drink. All drinks are served in glasses made from ice too. It's a unique place to visit for drinks and fantastic photo ops. Just don't forget your coat!
Victoria, British Columbia
Victoria is the quaint and charming provincial capital of British Columbia. It's located on Vancouver Island and is a must-visit for any road trip across Western Canada.
Victoria has a whole range of activities, including fabulous brunch spots and various nightlife options, and is a popular weekend getaway from Vancouver.
Yates Street is an excellent area to visit to find bars and clubs. Some well-known places include Yates Street Taphouse, The Sticky Wicket, a bar/nightclub open until late, and its neighbouring bar Big Bad Johns.
This iconic spot is known for the very unique interior of peanut shells on the floor and bras hanging from the ceiling. While it sounds quite strange, it's a popular spot with locals and worth a visit! Other popular places to go include Upstairs Bar and Darcy's Pub, located below the club Upstairs.
A fun and different nighttime activity in Victoria is taking part in a Pedal Pub Crawl. Unlike a regular pub crawl, you and your fellow pub crawlers will pedal a bike bar through Victoria's downtown area to get to each stop. You can take a private tour if there are eight in your group or join a public tour to meet some new people!
Regina, Saskatchewan
Regina, the capital of Saskatchewan, has some great laid-back nightlife venues. No matter where you choose to go, you'll have a fabulous time and are sure to mix with the locals.
Habano's Regina is a well-known Latino-style bar. They have Latino music as well as live music, hip-hop, and country music nights. They also have other events such as ladies' nights and an always friendly party atmosphere.
O'Hanlon's Bar is another local favourite. This Irish bar serves traditional pub drinks like a selection of beers and ales. They also have more modern beers such as apricot sour and pineapple brews. Either go for just drinks or add food, including pub classics like fish and chips, burgers, and pizza.
If you're after dancing and drinks, try The Lot. This lounge offers delicious cocktails and great vibes. They have drinks offers from Thursday through Saturday, as well as live DJs and frequent themed nights.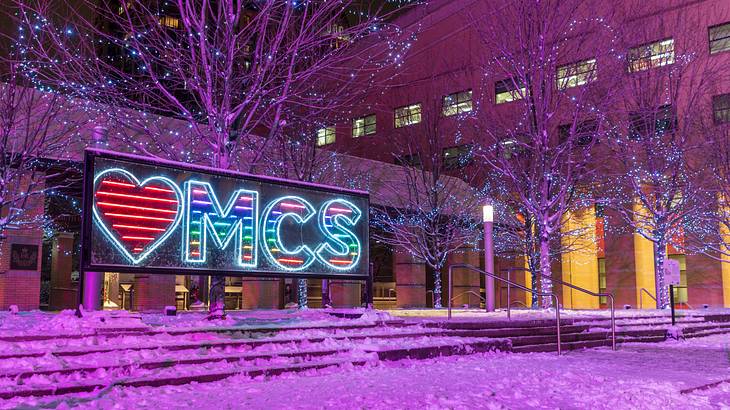 Mississauga, Ontario
Mississauga is located close to Toronto and is another good city if you're looking for fun nightlife in Ontario. Here you'll find a vast selection of bars as well as lounges and nightclubs.
Door FiftyFive is a cozy southern-inspired bar. The bar has a vintage industrial vibe with decor including whiskey barrels and Edison light bulbs. Along with southern-style dishes like chicken and waffles, and blackened shrimp, you can get both classic and more modern cocktails. If you want a more traditional drink, choose from a selection of whiskey, bourbon, beer, or wine.
For dancing, head to Sugar Daddy's. This Mississauga hotspot has two separate rooms with dance floors, and music includes hip-hop, reggae, and dance. Bottle service is offered.
Windsor, Ontario
Windsor is another choice for nightlife in Ontario. Located in the southwest of the province, you'll find a selection of high-end clubs and fun bars.
Tequila Bob's is an entertaining place to start and is a local favourite. This bar has a vast selection of tequila and a fantastic happy hour on weekends. It's a laid-back place to dance and grab some drinks.
Treehouse Bar and Grill is another fun bar in Windsor. They serve mini pitchers as well as mixed drinks and bottles. If you want to eat, they have an extensive bar-style menu with everything under ten CAD. On weekends there's also a DJ playing until 2 AM.
If you're after a more glamorous night out, head to the Ariius Nightclub and Ultra Lounge at the Caesars Windsor Hotel and Casino. The club has DJs every weekend and a range of drinks from liquor to champagne with bottle service available.
Caesars also houses four other lounges, a sports bar, and of course, has gambling options if you want to extend your night out.
Sudbury, Ontario
Sudbury is one of the less well-known cities in Ontario, but this old mining town has a lot to offer, including a great nightlife scene.
For cocktails, The Alibi Room is recommended. They have a long cocktail list that you can enjoy with live music. They also have DJs on weekends and a patio for relaxing outside. The Alibi Room does have a dress code to adhere to, so be sure to check that before you visit.
If you're in the mood to dance, head to SRO Nightclub and Lounge. This New York-style lounge has fantastic music, a happy hour from 10 pm to midnight, and chill vibes. Coyotes Lounge and Nightclub is also popular if you want to check out a few clubs.
If you want to spend the night partying and watching the game, visit Eddie's Restaurant and Sports Bar. They have classic sports bar food and drink like wings and pitchers and multiple TVs, so you don't miss the action.
St. John's, Newfoundland and Labrador
St. John's is a quiet town in the day but becomes one of the best party cities in Canada come night. If looking for the best bars and clubs, George Street and the surrounding downtown area is where you need to be.
If looking for a nightclub, Elixir Bar and Lounge is a good spot. They have DJs every weekend and cheap drinks. This includes 3 CAD pints and 3 for 10 CAD shots.
Another super fun venue is Karaoke Kops, which was voted the best karaoke bar in St. Johns, and for good reason. They have state-of-the-art karaoke equipment. Pair that with excellent drinks, and whether you sing or not, you'll have a great time.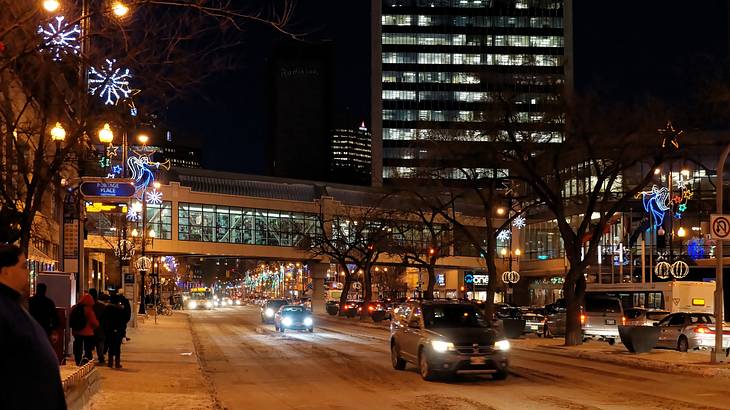 Winnipeg, Manitoba
Winnipeg has lots to offer, including an exciting nightlife scene. There's something for everyone in Winnipeg, no matter how you like to spend your nights out.
A super unique activity is to visit Activate Games. This experience allows you and your friends to become real players in video game scenarios.
Instead of using virtual reality to place you in the game, you actually complete challenges in "real life" with a tracking system keeping the score. If this appeals to you, there are also many escape rooms to try in Winnipeg, including Get Out! Escape Rooms and Codebreakers Escape Rooms.
If country music is more your style, you have to visit Cowboy's Winnipeg. Known as the home of country music in Winnipeg, this two-story club has stages for live music and a warm atmosphere.
For a more sophisticated experience, try the Palm Lounge located in the 100-year-old Fort Garry Hotel. Along with high-quality dining and drinks, they have nightly live jazz and piano shows.
Saskatoon, Saskatchewan
Saskatoon is the largest city in Saskatchewan and has a host of great party and nightlife choices. Six Twelve Lounge is a popular option for those after drinks and snacks in a sophisticated and relaxed atmosphere. This "upbeat urban spot" features classic and crafted cocktails and wines chosen by sommeliers.
You can also choose from several food options, including snacks like olives or oysters and sharing platters. It's the perfect place to spend the night with friends and good drinks!
If you want something more active, head to Hunter's Eastview Bowl. These adult-focused bowling lanes offer a range of food from classics like nachos to noodle bowls and banh mi sandwiches. Add drinks and late-night closing of the lanes, and you'll have a fantastic and nostalgic night of bowling.
Sports lovers in Saskatoon will want to spend at least one night at Red Zone Premium Sports Bar. The bar features over 55 HDTVs showing all types of sports, from NHL and NFL to UFC and international soccer.
You can hang out in a booth, on their patio, or in one of many La-Z-Boy chairs. As you watch the game, you can also enjoy a range of food and drinks in all seating areas.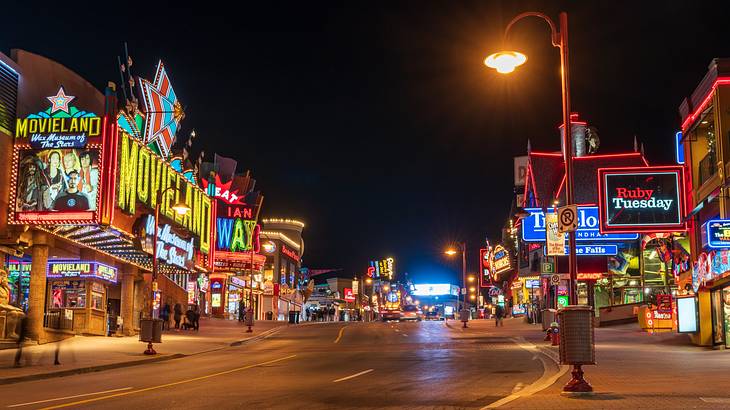 Niagara Falls, Ontario
Niagara Falls is one of the most amazing things to see in Canada and even in the world. But, if you're here to see the falls, don't leave once night falls. This popular tourist attraction is somewhat of a mini Vegas at night, with many clubs, bars, and casinos.
The Hard Rock Night Club is a must-visit if you're wanting to go clubbing in Niagara. The club has a retro meets modern design and even features the world's largest electronic disco ball. Here you can dance and drink while enjoying the breathtaking view of Niagara Falls.
The Beer Garden Karaoke Patio is a more chilled out option. You can participate or just watch the performances on the patio's stage while enjoying drinks from the Tiki Bar.
Niagara also has two casinos to visit, Casino Niagara and Fallsview Casino Resort. If you don't feel like gambling or want a break, hanging out at R5 Lounge at Fallsview is recommended. Enjoy crafted cocktails in the plush seating area of this modern lounge while admiring the falls.
In Summary
Canada is an amazing place to explore, and along with its natural beauty, historic Canadian landmarks, and friendly locals, boasts many renowned nightlife locations.
If you're looking to have a memorable night out, no matter where you are in the country, these 21 party cities in Canada won't disappoint.
---
---
Want to keep exploring?
Subscribe for discounts on tickets and hotels and our latest guides.
Thank you for subscribing
We will be in touch soon with discounts on tickets and hotels and our latest guides.
Want to keep exploring?
Subscribe for discounts on tickets and hotels and our latest guides.
Thank you for subscribing
We will be in touch soon with discounts on tickets and hotels and our latest guides.
Related Articles