34 Best Things to Do in Medellin, Colombia
Destguides may receive commissions from purchases made through affiliate links in this article.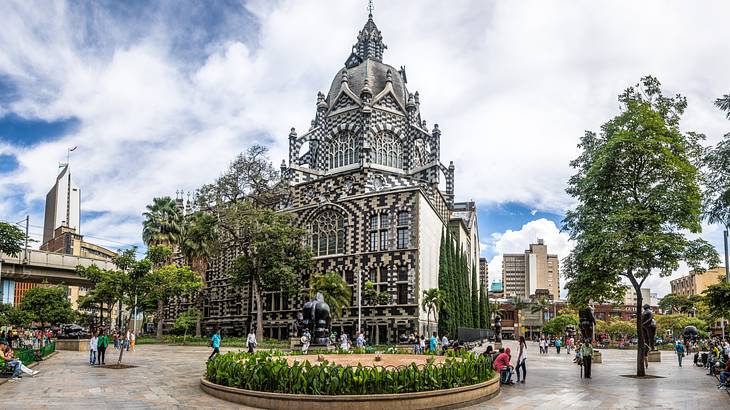 Medellin is one of the largest cities in Colombia and an interesting place to visit in South America. Once dubbed one of the most dangerous cities in the world, it has turned a new leaf. And for that reason alone, it's worth a short stop on any Colombia itinerary!
The city has many attractions, from museums to parks and botanical gardens. Of course, you can also find numerous spots serving traditional Colombian food and coffee.
A few of the best things to do in Medellin, Colombia, include seeing works by artists from Latin America at Museo de Antioquia, going on a coffee farm tour, and wandering around the pretty Jardín Botánico de Medellín.
You could also plan a day trip to nearby Guatapé, another beautiful small town. Keep reading to discover all the things to do in and around Medellin!
34 Top Things to Do in Medellin, Colombia
Medellin, Colombia, Things to Do
Learn new things at Parque Explora
Parque Explora is a fun attraction for all ages. This interactive science museum has exhibits on ecology and animal habitats, music, space exploration, and much more. There's also a planetarium, an area with exhibits designed for kids, and an aquarium.
Eat your way around Medellin on a food tour
Medellin is considered one of the best places to stay in Colombia because it has an array of amazing eateries to check out. With so many options, it can be challenging to decide where to visit. If you're looking for the best food spots in the city, going on a Medellin food tour is a must!
On this four-hour private tour, you'll be taken by a local guide to multiple eateries where you can try things like arepas, empanadas, and tropical fruits. You'll also get to taste a traditional Colombian spirit, among many other drinks and dishes.
Bike around downtown
A great way to explore bustling downtown is by biking around on a Medellin sightseeing tour. Once you've met up with your guide, you'll cycle to various landmarks and attractions.
Places to see include Parque Ciudad del Rio, Plaza Botero, and Plaza Mayor. E-bikes and helmets are provided, as are water, coffee, and snacks like fresh fruit.
Go on a half-day coffee tour in Sabaneta
Colombia is known for its incredible coffee, and one of the fun things to do in Medellin, Colombia, for coffee lovers is going on a Colombia coffee tour. This half-day trip lets you have a similar experience to one you might have in the Coffee Triangle region of Colombia, but at half the cost and time!
The tour allows you to learn about the coffee production process and try coffee samples at a local family's coffee farm in Sabaneta. You can also purchase some coffee beans or ground coffee to take home here. Make sure to bring cash with you!
We really enjoyed this experience and loved learning about the coffee process firsthand, as we didn't realize how intensive it was. The local family who operates the farm is also lovely, and 100% of the proceeds from purchases at the farm go directly to them as there is no middle person.
Money saving hack: You can save more money by booking directly with Medellin Day Trips, especially if there are two or more of you in a group!
Take a free walking tour around El Centro
With so many places to see in Medellin, Colombia, deciding where to go can be confusing. Taking a free walking tour with a local tour guide from Real City Tours is a good idea for those on a budget who still want to go sightseeing.
On the three-and-a-half-hour tour, you'll visit a few landmarks and attractions, and your local guide can tell you more about Medellin's history and culture.
If you want to explore El Centro, it's best done with Real City Tours when you first arrive to get a feel for the area. We enjoyed the tour!
Visit the Museo Casa de la Memoria
Another interesting museum to visit is Museo Casa de la Memoria, or Memory House Museum. This museum covers Colombian wars and other armed conflicts. As you look around, you can learn more about Colombia's history and see many artifacts.
Travel tips: Most of the exhibits are in Spanish, so having a good level of Spanish or being prepared to use a translation app as you look around is required. It is also recommended to visit this museum before doing a Comuna 13 tour.
Experience a Comuna 13 graffiti and street food tour
Comuna 13 is a neighbourhood in Medellin with a rich history. Exploring this area on a guided tour is a must, with many options available.
A great choice is a graffiti and street food tour of Comuna 13. Your guide will tell you more about the area and take you to the best murals before stopping at some street food carts for snacks like empanadas.
If you'd rather try a free tour, you can check out Zippy Tour's Comuna 13 tour, which costs nothing but a tip is recommended. Zippy Tour came highly recommended by Real City Tours in Medellin as locals run it.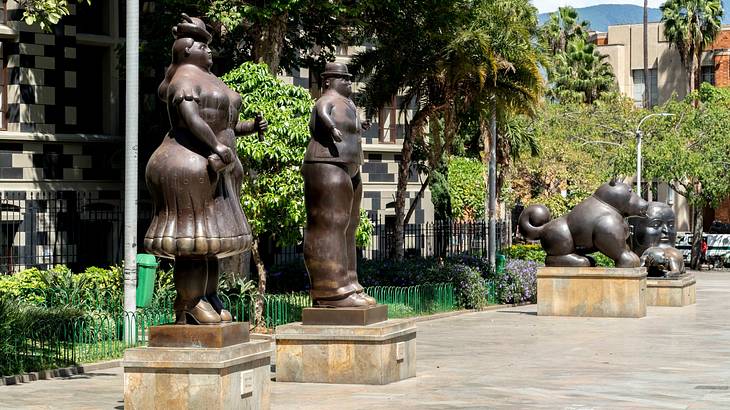 Snap photos of the statues at Plaza Botero
Plaza Botero is a famous square in Medellin that features the Rafael Uribe Uribe Palace of Culture and the Museum of Antioquia.
As you look around, you'll see numerous modern art statues by renowned Colombian artist Fernando Botero. Taking some photos of these unique plump artworks is a must! There are also some food carts selling traditional Colombian street foods.
Admire artworks at Museo de Antioquia
If you're an art enthusiast, make sure to plan a trip to the Museum of Antioquia. The museum features works by Colombian and other Latin American artists, including pieces by Fernando Botero and Pedro Nel Gómez.
As you explore the museum's three floors, you can learn more about the featured artists via informational plaques. You can book your skip-the-line ticket to the Museum of Antioquia in advance to save time.
Unwind with a spa treatment
One of the best Medellin activities for those looking to relax after a busy day or more of sightseeing is booking a spa trip. At the spa, you can enjoy a deep relaxation massage before heading to spa pools and hot tubs set in a tropical jungle-style setting. The experience lasts around three hours and is sure to leave you relaxed and rejuvenated!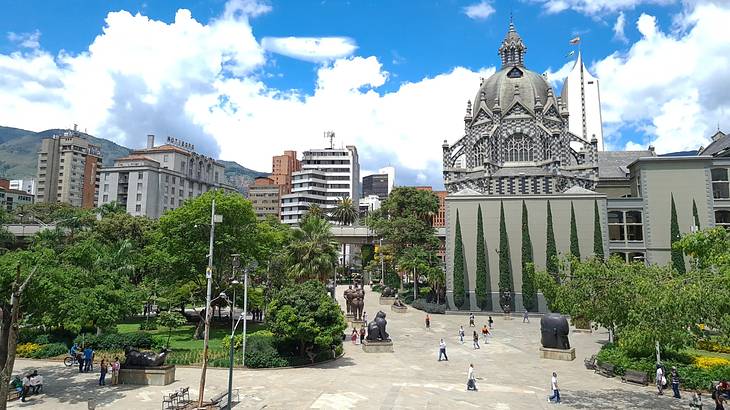 Look around Palacio de la Cultura Rafael Uribe Uribe
Palacio de la Cultura Rafael Uribe Uribe, or the Rafael Uribe Uribe Palace of Culture, is a Gothic Revival building that houses exhibits and hosts cultural events, like concerts.
Admission is free and allows you to view the current exhibits and go to a rooftop observation deck that offers stunning views over Plaza Botero. During a visit, you can also admire the beautiful interior and exterior architecture.
Ride ATVs through the mountains
Adventure activity enthusiasts will definitely want to book an ATV tour through the mountains around Medellin! This private half-day tour takes you to three different mountains, where you can explore an array of scenic off-road trails. Lunch at a local farm and transport to and from Medellin is also included.
Stroll around Jardín Botánico de Medellín
The Botanical Garden of Medellin, also known as the Joaquin Antonio Uribe Botanical Garden of Medellín, is one of the many can't-miss Medellin attractions! The beautiful 14-hectare garden features over 4,500 flowers, as well as several other plants and trees.
You can also see lots of birds as you explore, with around 139 bird species having been spotted in the gardens. One of the most notable features of the garden is Orchideorama, which has a large collection of orchids.
There's additionally a butterfly house and cactus garden, among many other themed gardens. Most importantly, though, it's a free attraction, so there is no reason not to go!
Travel tip: It's a great place to bring a book or a picnic to escape the chaos of Medellin city for a few hours, but make sure to bring mosquito repellent.
Take in the views from the Medellín Metrocable
Interestingly, Medellin is one of the only cities in the world to use cable cars as a means of public transport. The cable cars allow the Comunas built into the mountainsides easier access to the metro and city centre.
When in the city, riding the Medellín Metrocable is a thing you should do. One of the best places to catch a cable car is at Acevedo Station, and you can then ride across to Parque Arvi. During the ride, you'll be able to take in amazing views across the city!
Shop at Plaza Minorista Market
Plaza Minorista Market, also known as Plaza Minorista José María Villa, is one of the best attractions in Medellin, Colombia, to explore. The indoor shopping market features numerous vendors selling all kinds of products, like produce and other food items, as well as souvenirs.
Purchasing some fresh fruit and fruit juice here is highly recommended! Even if you don't buy anything else, wandering around this bustling marketplace and snapping some pictures is a fun thing to do.
Spend some time at Pueblito Paisa
Pueblito Paisa is a replica of a traditional Colombian town with shops and restaurants and excellent views over the city. You can take public transport to Pueblito Paisa or bike from central Medellin.
We walked up the hillside, which we enjoyed as there are various short paths amongst the lush greenery to the top. Once you arrive, you can explore the local businesses and purchase some unique craft items and other souvenirs.
Wander through Parques del Río Medellín
Parques del Río Medellín is a pretty park to walk or bike through. There are paths through gardens and along a river, with many places to sit on the grass. It is not a big park, so maybe bring a book to read. In the evening, you can also see some colourful light displays.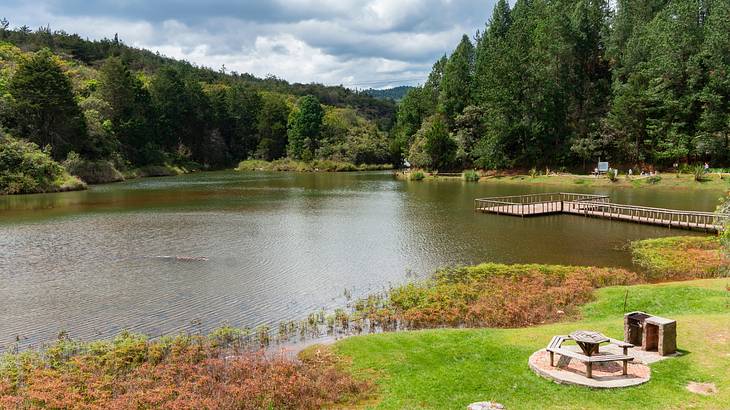 Explore Parque Arví
Parque Arví is a beautiful ecological nature preserve that also features an ancient archeological site. The park is located around an hour from downtown and can be reached via metro and cable car.
At the park, you can hike or bike along various trails that feature many plants, flowers, and trees. You'll also see an array of wildlife, including several bird species.
Travel tip: The trails are not always well-marked here, so you might be best off going with someone who knows the park well or finding a guide.
Learn to salsa dance
If you're interested in Salsa dancing while in Medellin, going to Dancefree is a great idea! The venue offers private and group classes with instruction in English and Spanish. You can also learn bachata and merengue, and online classes are offered if you want to keep practicing after your vacation.
Best Restaurants in Medellin
Have breakfast at Crepes & Waffles Laureles
If you're looking for a breakfast spot, Crepes & Waffles Laureles is recommended. As the name suggests, you can order many types of crepe and waffle dishes, including sweet and savoury options.
Other menu items include acai bowls and fruit with yogurt and granola. In addition, you can accompany your meal with fresh fruit juice, like mango or strawberry juice.
Grab breakfast at Café Revolución
Another excellent place for breakfast in Medellin is Café Revolución. The cafe opens at 7.30 AM but stays open through 7 PM most days, meaning you can stop in for food and coffee whenever you feel like it!
Menu options include baked goods like homemade banana bread, delicious bagels, and French toast. Drinks include hot and iced coffee, plus tea and fruit smoothies.
Have brunch at Hija Mía Coffee
Hija Mía Coffee is a friendly cafe that's a must-visit to get some coffee or stop for brunch. Food options include smoothie bowls, waffles, and bagels with various fillings. To accompany your meal, you can order coffee drinks made using Colombian coffee. Other beverages are also available.
Travel tip: This cafe is relatively small and works best for dining only as opposed to a coffee shop you could work in for a few hours.
Get coffee at Urbania Café
Another great coffee shop to visit in Medellin is Urbania Café. You can find multiple locations around the city, including outside Museo de Antioquia. The menu includes hot and cold coffee drinks, like cold brews, macchiato, and flat white.
You can also get non-caffeinated drinks like chai lattes, smoothies, and juice. Baked goods, like croissants, are available as well.
Have dinner at Taco Veg
Taco Veg is a must-visit spot if you're looking for a plant-based eatery! The restaurant is the only vegan taqueria in Medellin and is located in the El Poblado neighbourhood. Menu options include various types of tacos as well as nachos, burritos, and more. You can also get beers and mixed drinks here, like micheladas.
Eat at SMASH Avocaderia Laureles
Another of the best places to visit in Medellin, Colombia, for a meal is SMASH Avocaderia Laureles. It was our go-to when we lived in Laureles for two months!
SMASH serves affordable dishes all day, from breakfast to dinner. Meals to try include avocado or chocolate protein pancakes (a favourite!), smoothie bowls, and toast with many toppings. You can also get coffee, smoothies, or fresh juice with your meal.
Have lunch or dinner at Full Arabe
Full Arabe serves Lebanese cuisine and is open for lunch and dinner. You can choose from various dishes, including falafel plates, shawarmas, and dolmades. You can also order fresh juices to accompany your meal. We ate here a few times, and the falafel platter is to die for!
Try Vietnamese food at District 1
District 1 is another excellent restaurant serving authentic Vietnamese food. Dishes on the menu include shrimp salad, spring rolls, and pho.
Although not Vietnamese, the Pad Thai was delicious, and the vegetarian spring rolls were tasty, too! You can also order Vietnamese coffee and delicious desserts.
Try bandeja paisa at Restaurante Mondongo's
Mondongo's Restaurant is a local eatery serving traditional Colombian dishes. Bandeja paisa is one of the most popular dishes, which includes rice, red beans, various types of meat, arepa, avocado, and plantain. Other meat and fish dishes are also on the menu, along with sides like empanadas, chicharrón, and beans.
Things to Do Near Medellin, Colombia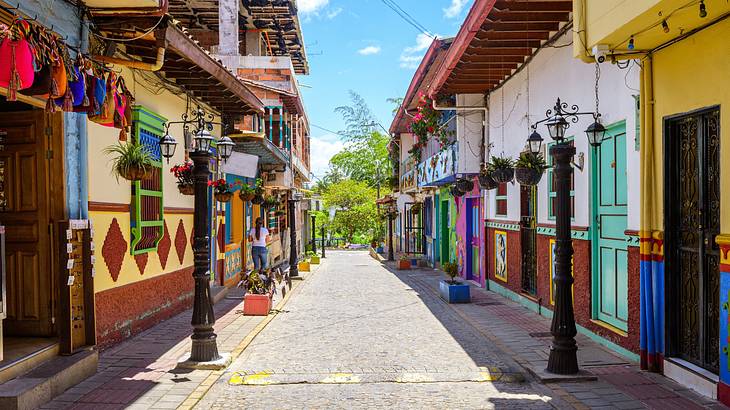 Do a day trip to Guatapé
Guatapé is another Colombian town that's well worth visiting! It is located around two hours from Medellin, and one of the easiest ways to explore it is by going on a Guatapé tour.
During the excursion, you will visit landmarks like La Piedra del Peñol (Peñol Rock), which offers stunning views over the flooded area from the top, and take a scenic boat trip on Guatapé Lake. A traditional Antioquian lunch is also included.
We found the tour to be a bit disorganized, but we are still glad we saw Guatapé. Just be prepared for a long day of travel there and back, especially if you're in Medellin during the rainy season, as landslides can block roads. Don't forget a rain jacket and an umbrella!
See Guatapé and tour a coffee farm in one day
If you want to learn more about coffee production in Colombia and tour Guatapé all in the same day, book this tour! This full day trip takes you to a coffee farm in Guatapé, where you can pick coffee beans and see the production process before coffee tasting samples. You'll also get to taste fresh fruit at a local market and visit Guatapé to climb the rock.
Go white water rafting
Another of the fun things to do just outside of Medellin is going white water rafting. The experience takes place on the Calderas River and allows you to raft through the Colombian rainforest. As you explore, you'll be able to hit class III and IV rapids and, of course, enjoy the beautiful rainforest views!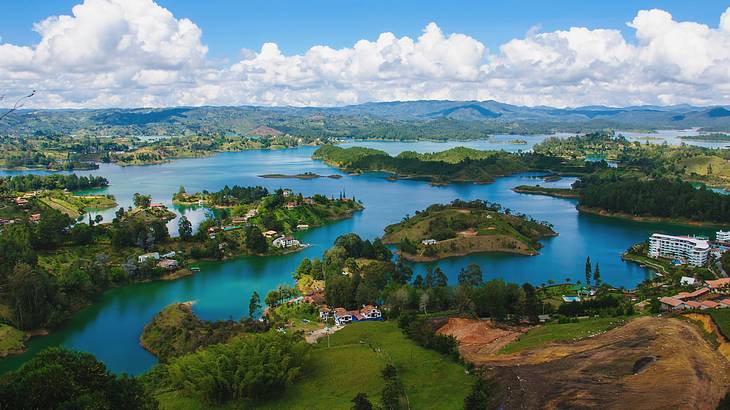 Take a helicopter tour over Guatapé
Taking a helicopter ride over Guatapé allows you to see the city from a different angle. Along with the fantastic helicopter ride, you'll get to take a boat tour, explore the city streets, and enjoy a delicious lunch featuring traditional Colombian dishes.
Paraglide over waterfalls
Adventure activity enthusiasts will definitely want to book a paragliding tour over stunning waterfalls. During your 25-minute flight, you'll get a birds-eye views of the falls and surrounding canyons. You can then stop for lunch at a mountain-top restaurant. This excursion can also include a trip to Guatapé.
Indulge on a chocolate tour
While Colombia is well-known for its coffee, the country is also a producer of cocoa and chocolate products. You can learn more about this industry, visit a cacao farm, and taste samples by booking a chocolate tour.
You'll start the tour in Medellin before heading to the farm in Santo Domingo to see the cacao plants and learn farming methods. You'll then get to make your own chocolate bars before being transported back to the city.
Medellin Travel Tips
What is the easiest way to get around Medellin?
Take Ubers between attractions, as they're generally safer than taxis. Even though Ubers are technically not "legal" in Medellin, and you may be fined for using them if caught by the police, most tourists use them... Again, they "feel safer" as at least you have tracking in the Uber app.
Is the public transport safe in Medellin?
The metro lines are safe to use during busy hours, and each station is usually occupied by transport staff and security. Local buses are a bit more difficult for foreigners to use who don't speak Spanish.
The public transport system in Medellin can be used for short distances around the city. We would recommend taking an Uber instead. When you are on the busses, metro or cable cars, though, make sure your backpack is on the front of you.
Do I need to know Spanish when visiting Medellin?
A little Spanish will take you a long way here, so learn the basics.
Are locals friendly in Medellin?
Absolutely! The Paisas (locals) are lovely and friendly. Get to know one or many of them!
Is it safe to walk around Medellin by myself?
In most tourist areas, such as the busy areas of Poblado and Laureles, it is safe to walk by yourself during daylight hours. Otherwise, we again recommend you take an Uber, especially once dark.
There is a saying in Colombia, "No Dar Papaya" - "Don't Give Papaya" in English, which means don't walk around flashing your valuables, don't keep a lot of money on you, and always walk aware of your surroundings.
Is it offensive to ask locals about Pablo Escobar?
Typically, yes, it is. There is more to Colombia and Medellin than Pablo Escobar. Medellin has a rich and interesting history. The actions of Pablo Escobar directly and negatively impacted many Medellin families.
Instead, be excited to learn and discuss other interesting facts about Medellin and Colombia, such as the food, natural beauty, and local customs.
In Conclusion
If you've been wondering what to do in Medellin, Colombia, this list should have given you lots of ideas! You can also find many things to do near Medellin, like exploring Guatapé.
No matter what attractions you see and how long you spend in the city, you're guaranteed to have a memorable time in Medellin, Colombia!
---
---
Want to keep exploring?
Subscribe for discounts on tickets and hotels and our latest guides.
Thank you for subscribing
We will be in touch soon with discounts on tickets and hotels and our latest guides.
Want to keep exploring?
Subscribe for discounts on tickets and hotels and our latest guides.
Thank you for subscribing
We will be in touch soon with discounts on tickets and hotels and our latest guides.
Related Articles