The Best 10 Days in Costa Rica Itinerary
Destguides may receive commissions from purchases made through affiliate links in this article.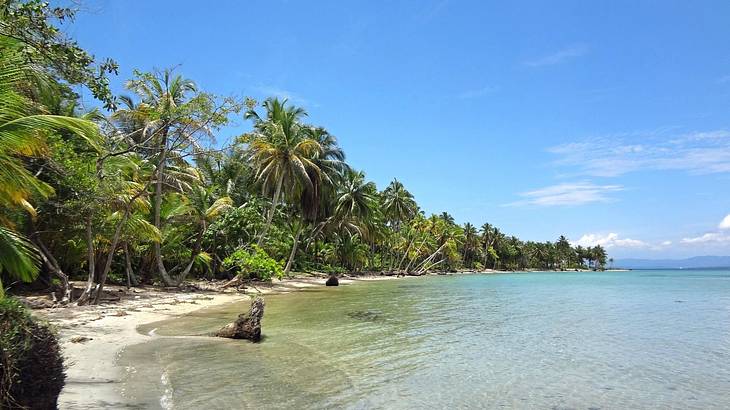 This 10 days in Costa Rica itinerary, full of helpful Costa Rica travel tips, will help you discover everything the country has to offer. From cities to jungles and beaches to volcanoes, there are various relaxing and exhilarating activities to make for an unforgettable Costa Rican vacation.
Costa Rica is a beautiful, lush country draped in different shades of green and decorated with hundreds of vivid colors. It is an ideal destination for both families and adventurers - or a family of adventurers. It is located just south of Nicaragua.
It is also one of the most bio-diverse countries on our planet. The government and its citizens are incredibly protective of Costa Rica's vital environment.
Costa Rica has been ranked as the second most environmentally-friendly and sustainable country on Earth. It uses nearly 99% renewable energy. Because of this, it is one of the leading countries in Ecotourism.
Costa Rica has over 500,000 species of wildlife, making up 5% of the entire animal kingdom worldwide. However, there are many species of lizards, snakes, frogs, birds, mice, plus more, that you can only find here. It is also home to several species of big cats, like the ocelot, puma, and jaguar, although rare.
In addition to all the unique wildlife and vibrant flora and fauna, Costa Rica offers plenty of exciting activities dedicated to exploring in an environmentally-friendly, educational way.
Continue reading for one of the best Costa Rica itineraries to learn what items to put on your Costa Rica bucket list! Do note that the itinerary below is only a loose guide and should be adapted to meet your unique needs and include your desired activities.
10 Day Costa Rica Itinerary
San José
San José is the capital city of Costa Rica and is also the most populated, with just under 350,000 people living there. It is located in the middle of a forest.
San José's location makes it the perfect place to start your adventure and spend your first two days in Costa Rica. Numerous spots in San José offer day trips and activities as well as car rental places to continue your exploration of Costa Rica.
Stay in the city for its rich history, or step outside and explore the surrounding nature; either way, San José is where it all begins! It only makes sense that it is the first stop on your 10 day trip to Costa Rica!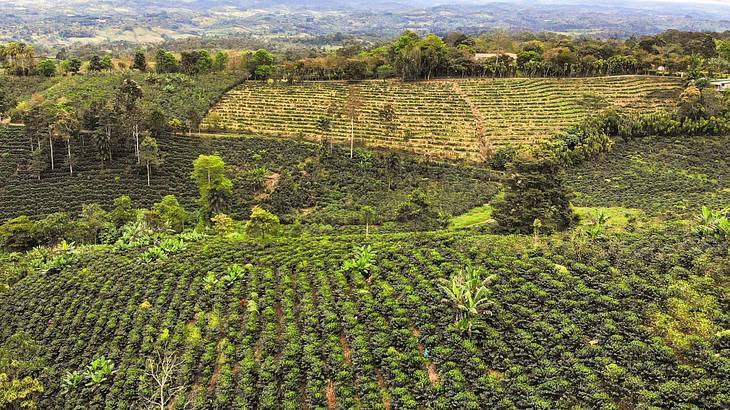 Finca Rosa Blanca Coffee Plantation
Coffee is one of Costa Rica's biggest exports and makes up a big part of the country's history. Finca Rosa Blanca is a highly-rated and respected coffee plantation located on the Poas and Barva Volcanoes.
Finca Rosa Blanca's coffee is grown in high altitude, shady soil, which makes for a really great-tasting coffee bean!
They offer daily guided tours that take you through the entire life cycle of coffee and ends with some taste-testing. Finca Rosa Blanca is also home to over 130 species of birds.
In addition to being one of the most well-known coffee plantations, it is also a lodge. Finca Rosa Blanca is one of the National Geographic's Unique Lodges of the World. To qualify for this title, each place is handpicked and must meet the following criteria:
"Unparalleled experience, environment, authenticity, and sustainability."
There are only '60 unique lodges' in the world on this list, so visiting here is a rare opportunity.
La Salle Natural Science Museum
The La Salle Natural Science Museum is an excellent introduction to all the wildlife that is indigenous to Costa Rica. They have seven sections, including birds (entomology), the study of insects (malacology), the study of the Mollusca- snails, slugs, octopus, etc., mammals, minerals and rocks (paleontology), and prehistoric species. There is also a section on fish and reptiles.
Not only does the museum teach you about the past, but it shows visitors the importance of what is going on in nature now and why it is crucial for the future.
There are over 65,000 exhibits in this museum, with 55,000 being permanent ones. It also has a garden filled with tropical plants and turtles!
Cerveza Tasting
Enjoy Costa Rican nightlife by spending the first evening on your Costa Rica 10 day itinerary tasting the local beer. A San José craft beer walking tour takes you around to the local microbreweries and also provides yummy snacks at each stop to go with your beer.
At each bar, you can also dance and enjoy the real, local nightlife. It's a fantastic introduction to the Costa Rican way of life! Wear comfortable shoes and bring extra cash for gratuity and souvenirs.
The beer tasting tour takes about four hours, and you are with a bilingual guide the whole time and typically a group of ten people.
San José Continued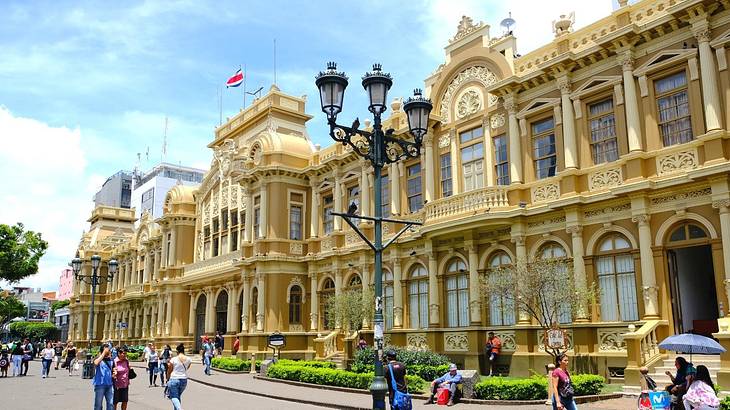 There are many fun and exciting adventures to be had just outside of San José. A lot of the tour operators who offer day trips provide fully-planned experiences where pick up and drop off at your accommodation are included, so spending a couple of days in the city can be quite good!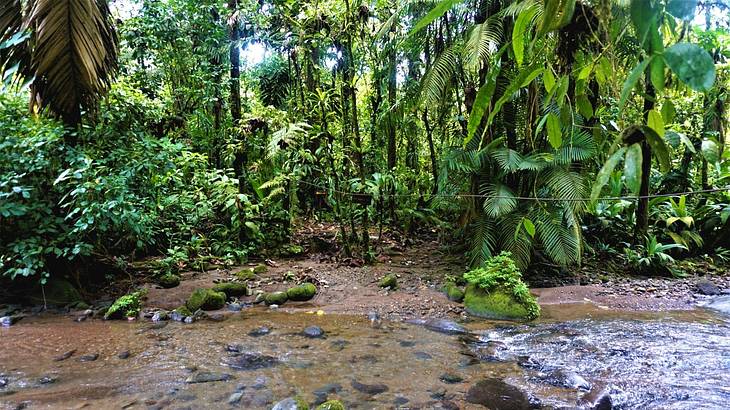 View from the Top
Get a bird's-eye view of the rainforest canopy by ziplining above the trees on a San Jose zipline adventure. Spend a few hours flying from tree to tree on this thrilling day trip. You'll even get to go on a little hike through the jungle, where you'll learn about the surrounding flora and fauna.
Ziplining in Costa Rica is exciting and beautiful! Everything is included for you with this experience, even hotel pick up and drop off if desired. There is a guide with you at all times, and the equipment is sturdy, clean, and safe. You can also get a mouth-watering, locally-prepared lunch.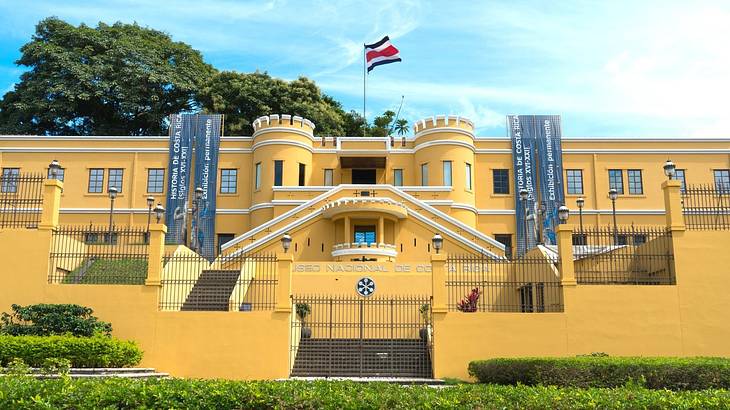 Museo Nacional de Costa Rica
If you want to learn more about Costa Rica, make sure you plan a trip to Museo Nacional de Costa Rica. Founded in 1887, the landmark moved to its current location in the 1950s.
While visiting this vast museum, you can see exhibits on the country's history and culture. You can also learn more about Costa Rica's wildlife and environment. The current museum building is additionally home to an interesting old fort called the Bella Vista Barracks.
Northern Caribbean Coast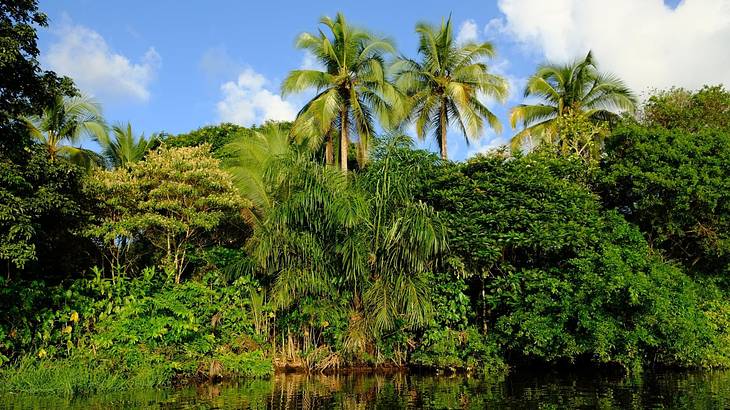 The Caribbean side of Costa Rica tends to be less touristy, has a more laid-back vibe, and is filled with vibrant colors and flavors. It is home to numerous national parks and magical creatures, such as sea turtles, dolphins, fish, and hundreds of birds and mammals.
It is also still inhabited by a handful of native tribes that have lived there for over 5,000 years. These tribes are dedicated to preserving their way of life and are fascinating to learn about.
The Caribbean side has a totally different style, culture, and food than the Pacific side. This area is incredible and absolutely must be visited during your ten days in Costa Rica!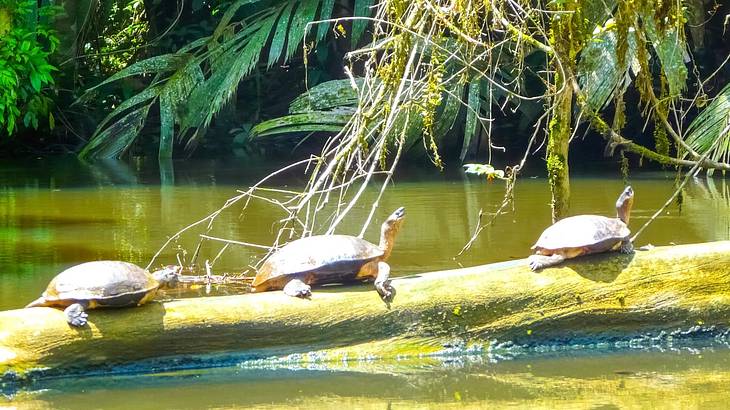 Tortuguero National Park
Tortuguero National Park is only reachable by airplane or boat, but both are easy to take and run daily. It is one of the most famous landmarks in Costa Rica to visit.
This park has been protected since 1996 and has 11 different habitats ranging from rainforest to swamps. Its protected status has kept thousands of species of mammals, reptiles, fish, and birds and their habitats safe.
There are many ways to explore the diversity of this beautiful park, and the best way to do so is by water, not land.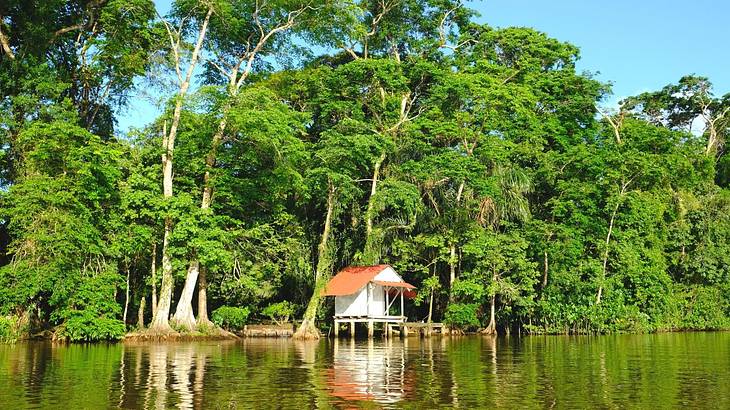 Kayaking Adventure
Explore the Caribbean side from the water by kayaking! Kayaking offers a whole new perspective of this side's unique landscape. Paddle through the mangroves and rivers with an experienced guide who can point out all the different wildlife, sea life, and vegetation that thrive throughout the area.
A couple of tour options take you deep into the jungle to get up close and personal with Costa Rica. Make sure to wear insect repellent, sunscreen and bring plenty of water and a life jacket, which will be provided for you.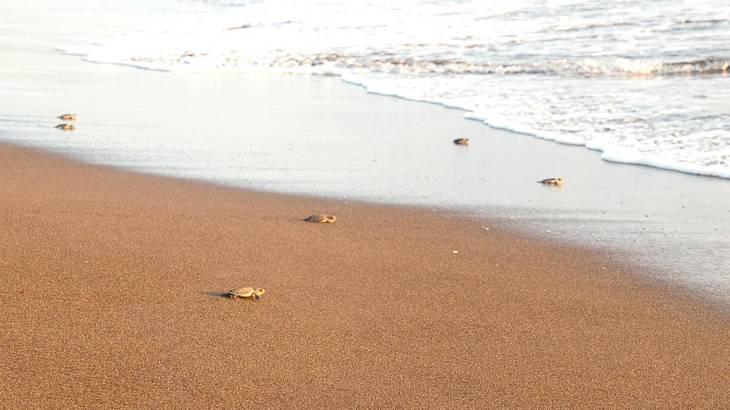 Tortuguero Turtle Nesting Tours
Tortuguero Tours offers many different tour options, but the most popular is definitely the night tour to see the nesting sea turtles. Tortuguero National Park is one of the most important places to keep safe because thousands of sea turtles come here to nest.
During the experience, your guide will provide more information on the turtles, their habitat, and their nesting habits. Of course, you also get to see the turtles on the beach. To better protect the turtles and not distract them, no videos or photos are allowed.
Northern Costa Rica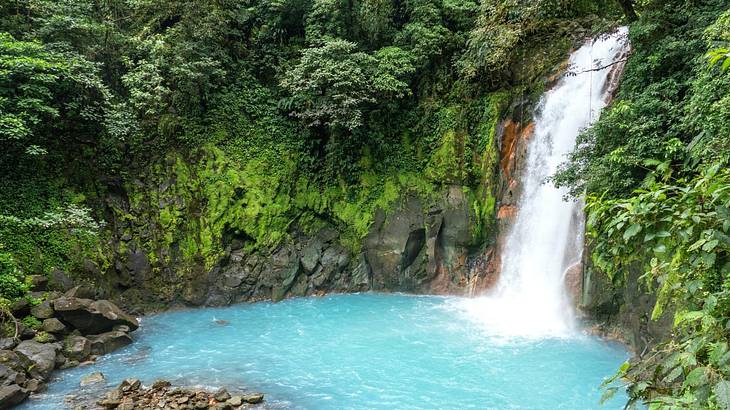 The northern part of Costa Rica is home to the majestic Tenorio Volcano National Park. Northern Costa Rica is dotted with volcanoes and is ideal for hiking and bird watching. There are incredible views to see, which makes for an unforgettable adventure.
Tenorio Volcano National Park Hike
If you've been wondering what to see in Costa Rica in 10 days, the Tenorio Volcano has to be top of your list. Tenorio Volcano National Park is named after the dominating volcano, Tenorio.
Tenorio Volcano comprises four peaks and two craters and shoots over 6,000 feet high into the sky. It is possible to hike the summit, but as always, be prepared with the proper gear, food, and water.
There are waterfalls, lagoons, and springs to see along the way, not to mention the various forms of wildlife and lots of flowers and colors that provide excellent opportunities for photography.
The hike takes about nine hours. Guided hikes are highly recommended, and you should be mildly fit and dressed appropriately.
Santa Elena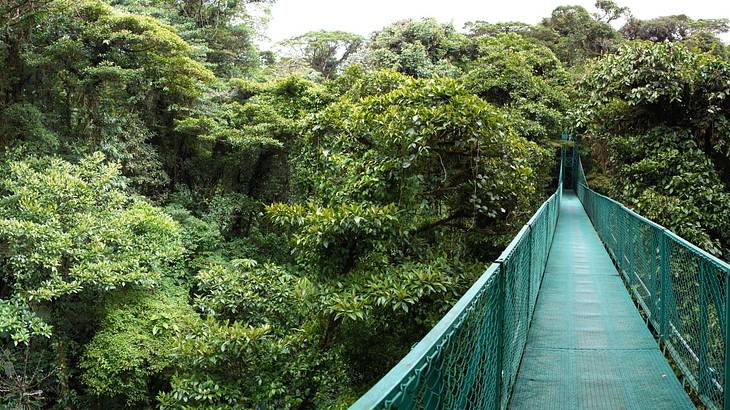 Santa Elena is a small town located near the popular and inspiring Monteverde Cloud Forest Reserve. It's also one of the most beautiful places to visit on your Costa Rica travel itinerary. While in Santa Elena, you can find incredible hiking, colorful butterflies, horseback riding, and much more.
The town also has galleries filled with local artists' creations, which offers an excellent opportunity to find souvenirs to bring back home to remember your trip.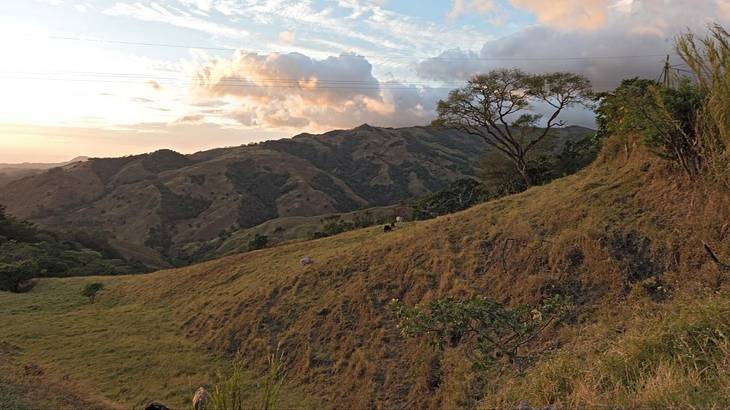 Horseback Ride in the Cloud Forest
Horseback riding is a unique way to explore the Monteverde Cloud Forest. There are various tour options offering rides as short as two and a half hours and even up to eight days!
The horses are friendly, and the guide is skilled and experienced with a lot of knowledge and information about the areas you will be riding through. You will have an unforgettable experience discovering how full of life the lush jungle can be. Don't forget the bug spray!
Monteverde Cloud Forest Biological Preserve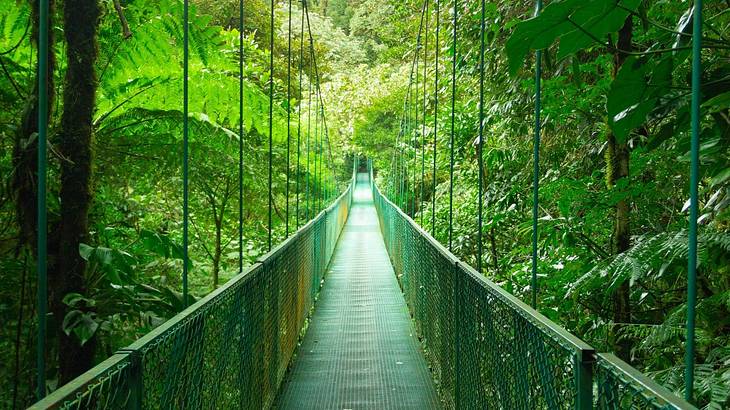 One of the most popular and scenic places to visit in Costa Rica is Monteverde. This area rises over 4500 feet into the air and is usually misty and humid, with humidity ranging from 74% to 94% and averaging 118 inches of rain a year.
It is known as one of Costa Rica's Seven Natural Wonders. There are six main trails to hike, which are well kept and easily accessible.
Quad and Adventure Tour
Take a muddy tour through the jungle on ATVs and try some other activities on a Monteverde adventure tour. Get messy and have fun exploring the forest quickly and efficiently. You can cover more ground and bush on a quad, not to mention it's super fun!
Along with driving ATVs, you can zipline and tackle treetop courses. The experience lasts three hours, and transportation can be provided if needed. Keep in mind you must have a valid driver's license to drive one and wear clothes and shoes that you don't mind getting dirty.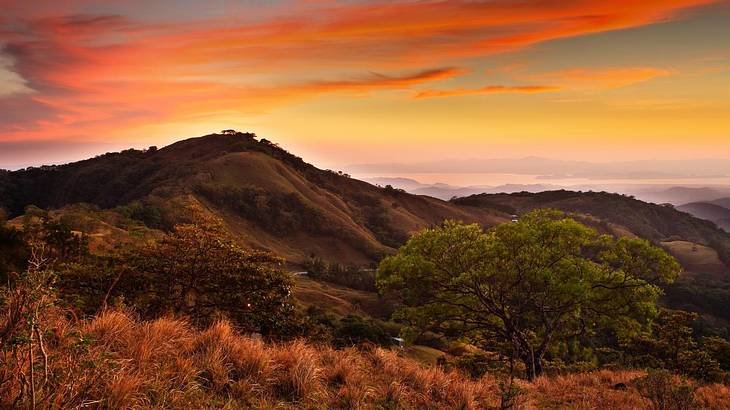 Private Nighttime Tour
A private nighttime tour of the Monteverde Forest is a once-in-a-lifetime experience offered by local guides. Walking through the jungle after dark is an undeniably unique experience. The jungle comes to life differently at night, and this tour allows you to understand why.
Types of animals you can potentially see at night include tree snakes, insects, birds, foxes, and other mammals.
This two-hour tour starts and ends in the same spot. You should be reasonably physically fit, and be aware that it could be canceled due to weather. You start as a big group and then separate with different guides as you hike into the deep jungle.
Playa Negra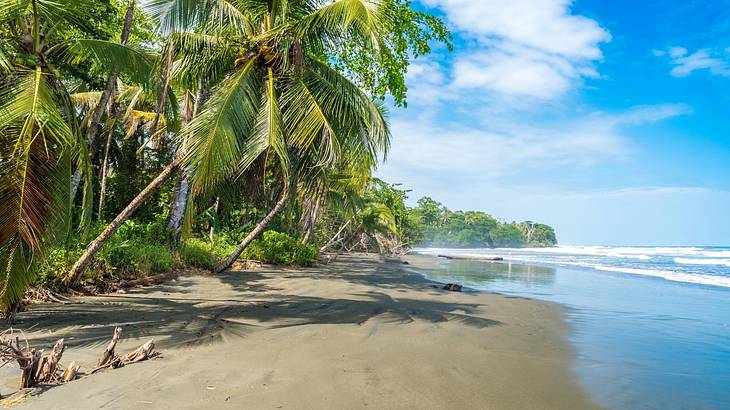 The next place on your itinerary for Costa Rica is Playa Negra. Located just south of the popular tourist town Tamarindo, it is most famous for its surfing. Playa Negra has world-class waves, and surfers from all over the world come to ride them.
However, there is way more to do here than just surf. You can go horseback riding, stand-up paddleboarding, snorkeling, scuba diving, and much more.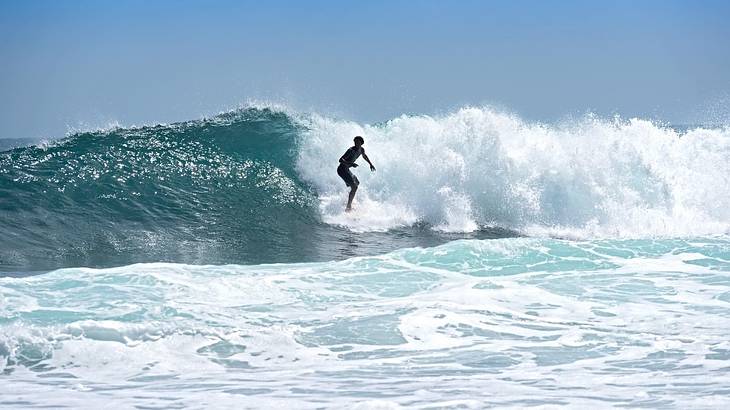 Learn to Surf
Playa Negra isn't just for experienced surfers. It is also a great place to learn how to surf. Snapper Surf School has dedicated teachers and experienced guides to help you with everything you need to know to be successful out in the ocean. The surf school also offers different tours for experienced surfers, including boat tours.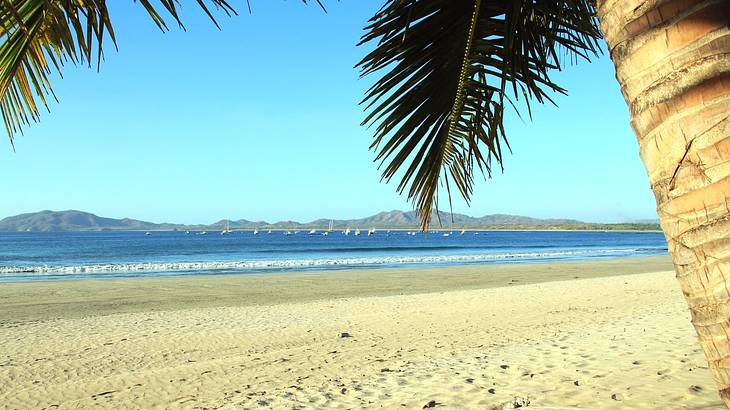 Tamarindo
Tamarindo is a great place to experience the vibrant and exciting nightlife of a Costa Rican beach town.
There are numerous bars and clubs to go dancing in and tasty local food to munch on. It is also an excellent town to meet other travelers passing through Costa Rica. There are entertaining and popular beach and pool crawls, too.
Tamarindo is also great for shopping or stocking up on supplies that some smaller towns might not have.
Nicoya Peninsula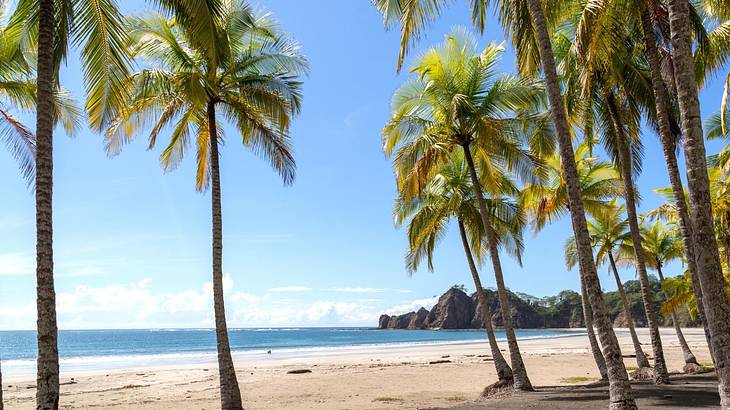 The Nicoya Peninsula is located on the Pacific side of Costa Rica and is known as a Blue Zone. Blue Zones are random areas on Earth where people seem to live much longer than people in other places.
There are four other blue zones in the world, which are located in Sardinia in Italy, Okinawa in Japan, Loma Linda in California, and Icaria in Greece.
It is thought that people in Blue Zones live longer because, according to some research, the local communities share five similar life rules. These rules include putting family first, maintaining a mostly plant diet, and staying active.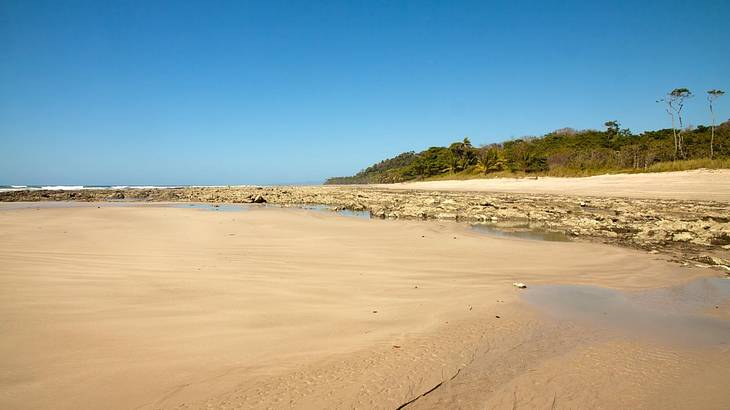 Santa Teresa and Mal Pais
Ideal for surfing and yoga, this area in the very south of the Nicoya Peninsula is a haven for quiet beaches and fun waves. There are yoga studios and classes everywhere.
This beautiful beach town also offers a peaceful, relaxing oasis in the jungle. You can wake up to monkeys howling and go to bed with the stars twinkling.
This area also has some fantastic fresh seafood that you can sometimes buy fresh off a boat. Santa Teresa and Mal Pais are easily accessible on foot, and it is nice to walk around, explore and meet other people.
Yoga Class at Horizon Ocean View Hotel and Yoga Center
One of the most fun activities to include on your Costa Rica trip itinerary is to take a revitalizing yoga class at the Horizon Ocean View Hotel and Yoga Center. The center offers different styles of yoga classes at various times, so there is something for everyone.
You can take group classes or arrange for private lessons - perfect for after a day of surfing! The Yoga Center is also a hotel and offers fantastic food and even better views.
Montezuma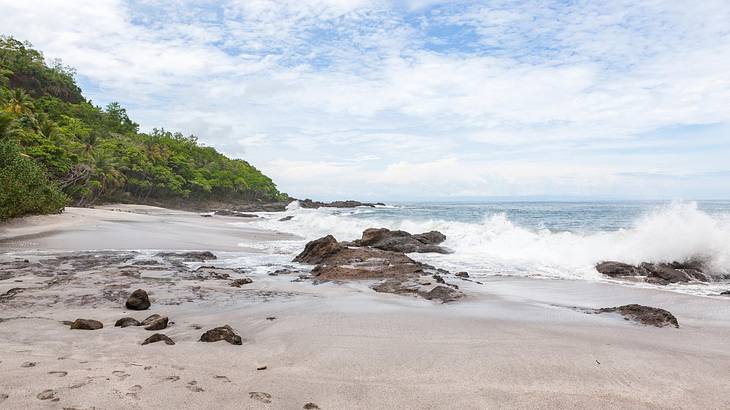 Montezuma is a beautiful area to visit -also in the Nicoya Peninsula region - and is home to a powerful and grand waterfall. It is one of the best waterfalls in Costa Rica to visit and is not far from Santa Teresa, where you can rent an ATV to get there for a bit of an added adventure.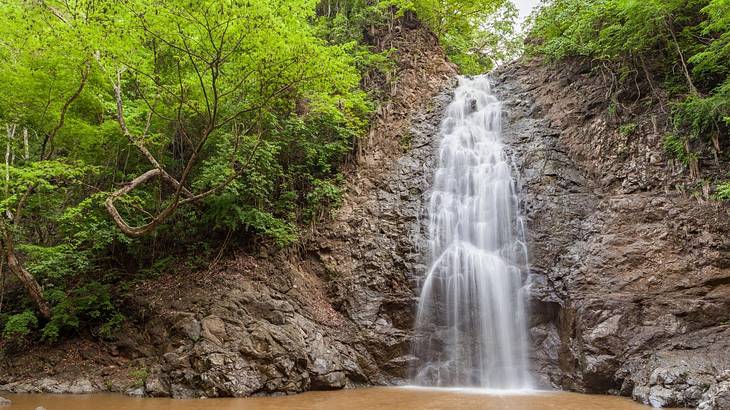 Montezuma Waterfall
The Montezuma Waterfall is a popular destination for tourists and locals, and it is no surprise why. It is incredibly breathtaking and offers a refreshing cool off from the Costa Rican sun.
The hike to the waterfall can be long, hot, and rocky, so make sure you wear proper sneakers and bring water and snacks. There are several safe areas to jump from; however, it is not recommended to jump from the top, even if you see other people doing it.
We took quads from Santa Teresa to the waterfall, and it was quite the adventure crossing rivers and streams.
Manuel Antonio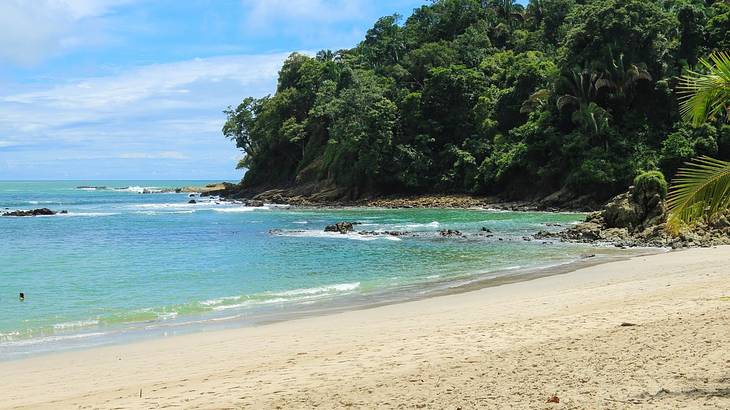 Manuel Antonio is home to a stunning national park and a lively restaurant. The local beach is surrounded by a lush jungle filled with animated animals hopping from tree to tree.
Manuel Antonio is also a great place to find authentic Costa Rican food and interesting handmade jewelry and other trinkets.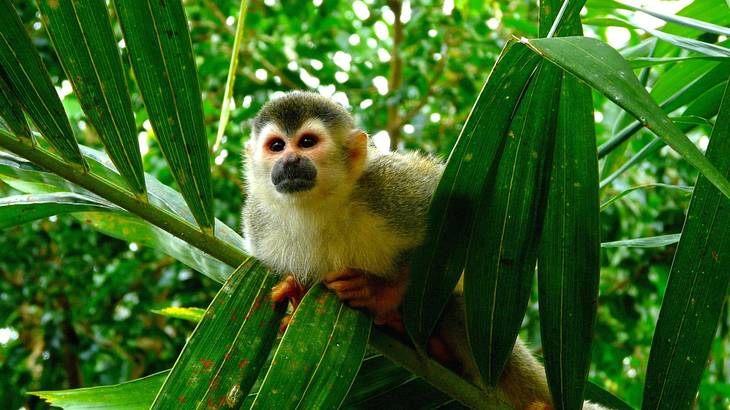 Manuel Antonio National Park
Manuel Antonio National Park is home to cheeky and cute rainforest animals, like monkeys and sloths, but also to beautiful sea creatures, such as fish and turtles.
Spend the day relaxing on the beautiful beaches, take a walk collecting shells, or go snorkeling in the clear water. Taking a trip to Manuel Antonio National Park is one of the things on your 10 days Costa Rica itinerary that you don't want to miss!
El Avion
El Avion is a creative and fun dining experience. This restaurant was created out of an old airplane. With a friendly and dedicated staff, having lunch or dinner here will be a fantastic addition to your trip.
El Avion is an open-air restaurant that offers incredible views. If possible, grab a table here to watch the sunset. Watching the sunset over the Pacific Ocean is one of the most impressive things to watch, especially from above.
In Summary - Don't Miss Out on Costa Rica!
Costa Rica is a fun, beautiful country and one of the best places to visit in December. It offers rest and relaxation as well as adventure and exploration.
You could spend an endless amount of time here and still not see everything there is to see. From jungles to mangroves, rivers, and oceans, Costa Rica is a magical, tropical paradise that everyone needs to put on their travel bucket list.
I hope this 10 days in Costa Rica itinerary has inspired you and given you some ideas for the things to see and do for your upcoming Costa Rica trip. And of course, have a great time - I know I sure did!
Give us feedback about this article
Read more articles about Costa Rica:
---
---
Want to keep exploring?
Subscribe for discounts on tickets and hotels and our latest guides.
Thank you for subscribing
We will be in touch soon with discounts on tickets and hotels and our latest guides.
Want to keep exploring?
Subscribe for discounts on tickets and hotels and our latest guides.
Thank you for subscribing
We will be in touch soon with discounts on tickets and hotels and our latest guides.
Related Articles