Top 10 Things to Do in Cairo
Destguides may receive commissions from purchases made through affiliate links in this article.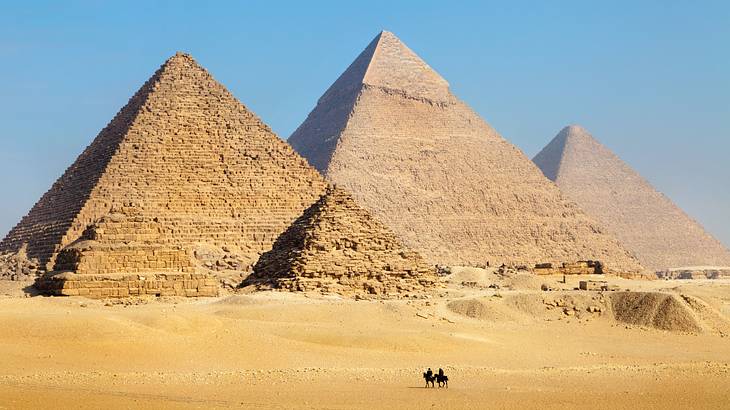 One of the countries that effortlessly makes it on many travelers' bucket lists is Egypt. Aside from its fantastic weather, very affordable prices and prime location, this Afro-Asian country's rich history and ancient Egyptian heritage are more than enough to get you hooked. And the most important stop on your trip has to be its busy, yet magical capital Cairo.
Cairo is one of the largest cities in Africa, and with its neighboring governorate Giza, you'll feel that it's an even bigger one. The Nile is the natural border that separates them, and movement is free between both governorates.
Having a different culture than the western side of the world, and even more subcultures within, Cairo's various streets is a tempting place to get lost, leaving you eager to explore.
If this is your first time here, the following guide will come in handy as it covers the top 10 things to do in Cairo, and will help you make the most out of your trip to Egypt.
The below suggestions are the capital's most important places, activities, and Egyptian landmarks that should be covered by any first-time visitor here. Each activity on the list will help introduce you to a small part of Egypt, and when all the pieces of the puzzle come together, you should have a better understanding of Egyptian culture.
Top 10 Things to Do in Cairo
Cairo Things to Do Video
Check out our highlights video of Cairo things to do.
Cairo Things to Do Map
A map of Cairo. Use the map to explore all the things to do.
The Great Pyramids of Giza
If every single visitor has to pick one single reason why they pay a visit to Egypt, it's hands down the chance to see the Great Pyramids of Giza. Seeing them in history books is nothing like being fixed in front of the last standing ancient wonder of the world in awe.
At the Giza Plateau, you can see the pyramids of Khufu, Khafre, and Menkaure as well as the famed half-human-half-lion, The Sphinx.
It's highly recommended that you go early in the morning to avoid the crowds and get yourself a good picture for the gram and the books! It's also preferable for you to go with an organized tour or a local friend so you won't be bothered by the sellers as it can get very irritating like any other touristy site.
Another great experience you can have here is enjoying the Sound and Light Show that takes place in the evening. That's only if you can fit another visit in your itinerary, of course.
But it's definitely worth it, as the Sphinx himself will be telling you the kings' stories that date back thousands of years ago. You can even get to hear these ancient secrets in 10 different languages!
If you're unsure about where to stay in Cairo, you could consider booking accommodation in Al-Haram around the Great Pyramids of Giza.
Pyramid of Djoser
Who said the three pyramids mentioned above were the only pyramids ever built by the ancient Egyptians? In fact, there were over 100!
The Pyramid of Djoser, also known as Djoser's Step Pyramid, is the world's first-ever all-stone complex. It is located in Saqqara and dates back to the 3rd dynasty. It's mostly known for its six levels of rectangular structures; hence, the name.
The Egyptian Museum
To complete your history lesson, you need to pay the Egyptian Museum, located in Downtown's Tahrir Square, a visit. Also known as The Museum of Egyptian Antiquities, it boasts more than 120,000 items in its fascinating collections.
The new Grand Egyptian Museum is still being built and was expected to open its doors in late 2020. With a focus on power and kingship, the museum, situated near the Giza Necropolis, is going to be the world's largest museum dedicated to archaeological artefacts.
Felucca Ride
Egypt is also iconic for the Nile, the world's longest river. So, how about a boat ride? It is one of the most famous landmarks in Africa after all!
In Egypt, that's commonly known as a felucca, which you can find docked in several spots by the river; such as in Downtown or Zamalek.
Old Cairo
This part of the city is the oldest remaining part of today's Cairo. But aside from that, it's mostly special because the neighborhood has highly religious value.
It is home to iconic sites, essential to all three Abrahamic religions, and it was also part of the holy family trail. From the Jewish synagogue to multiple churches to Egypt's first-ever mosque, Old Cairo is a must-visit!
You can check out this complete guide for more details on the history and to learn more about the places you can visit here.
Cairo Tower
A trip to Cairo isn't complete without taking in the mesmerizing aerial view of the city. The best viewpoint is at none other than the well-known Cairo Tower. You can consider this the Eiffel Tower of Cairo, but a much shorter one.
At 187m tall, you can view the Nile and the skyline of Cairo from the capital's most elite neighborhood, Zamalek. While you're here, you might as well dine at the tower's famous rotating restaurant and consider going for a walk around Zamalek too, especially if it's in the morning.
The green district has a feel-good vibe thanks to the art galleries and the unique restaurants and coffee shops around. Zamalek is also home to the Cairo Opera House and the famed lion statues of Qasr El Nil Bridge, which is within walking distance of the tower.
If you do both the walk and visit the tower, it's recommended to go for a walk first in the late afternoon then catch the sunset from the tower. That way, you can see the view during daylight without missing the captivating city lights later in the evening.
Saladin Citadel
Another important site you need to visit is the Saladin Citadel, a medieval fortress that dates back to 1176 AD. Also known as the Cairo Citadel, it's home to three beautiful mosques, but the most notable one is the Muhammed Ali Mosque.
It's one of the most breathtaking architectural structures in the city that you shouldn't miss. Learn more about the place's history in this Saladin Citadel guide.
Al Hussein (Khan El Khalili and Al Moez St.)
The old souq or bazaar in Cairo is commonly known as Khan El Khalili, a place that you simply must stop by whenever in Cairo. It is located in Al Hussein District. You can get your hands on whatever ancient Egyptian souvenirs you fancy.
When here, stop by Naguib Mahfouz or Al Fishawy coffee shops for some Egyptian tea and shisha (hookah). And for some Egyptian-style pie, ask for Fatatry Al Hussein.
On the other hand, Al Moez Street, which is perpendicular to the main street in Khan El Khalili, has many Islamic sites you don't want to miss. These include Al Hakim mosque, Al Aqmar mosque, and more.
Wekalet El Ghouri, which is across the street from Khan El Khalili on the other side, holds Tanoura shows on several days of the week. So, if you'd like to watch the famous whirling dervishes dance show, this is the place to go to.
Hiking in Wadi Degla
Care for some adventure travel or some quiet time away from the hustle and bustle of busy Cairo? Then, head to Wadi Degla Protectorate, located on the outskirts of the city near Maadi, for a refreshing hike.
There's also a spot here where you can enjoy bouldering with your friends. And if you'd like just to chill, there are lots of barbeque spots for you to pick from. Check out this story for more information.
Try Egyptian Cuisine
When in Egypt, you need to explore one of the main staples of the culture, the food! Don't miss embarking on a gastronomic adventure during your visit. Egyptian cuisine is one of the most delicious and underrated you'll ever try, with plenty of options for everyone; most of which are actually suitable for vegans and vegetarians.
For breakfast, as per the tradition, you need to try fava beans and Egyptian falafel; known as taa'meya. How are they different from any falafels you've ever tried? They're made of fava beans and not ground chickpeas like the Levantine's.
You should also try feteer, the Egyptian-style pie mentioned before. There are sweet and savory options and make a great light dinner choice. Hawawshi is another street food you must try; which is basically some sort of beef pie, but it's nothing like feteer, so you should try both.
The most popular street food, also a perfect vegan option, is koshari. It includes lentils and chickpeas with tomato sauce, garlic, and fried onions. A hearty lunch meal can include various dishes such as Fattah (white rice with beef and crispy bread), mamaar rice (tajine rice), stuffed pigeons, and a mixed grill (a selection of grilled meats).
In Summary
Cairo surely has a lot to offer, and this long list is nothing but the basics for any first-timer to the city. So, make sure to cover them all because there will be a second visit.
The friendly locals, the delicious food, the excellent weather all year long, and the warm atmosphere will leave you wanting to come back for more.
Want to keep exploring?
Subscribe for discounts on tickets and hotels and our latest guides.
Thank you for subscribing
We will be in touch soon with discounts on tickets and hotels and our latest guides.
Want to keep exploring?
Subscribe for discounts on tickets and hotels and our latest guides.
Thank you for subscribing
We will be in touch soon with discounts on tickets and hotels and our latest guides.