A Fun 3 Days in Rio de Janeiro Itinerary
Rio de Janeiro, a seaside city in Brazil, is known as one of the most beautiful cities in South America. Surrounded by luscious hills and coast, the city is home to one of the New Seven Wonders of the World, which attracts millions of tourists each year.
Of course, Rio de Janeiro is the most known for its never-ending carnivals and crazy nightlife. However, there is more to see than you can imagine; this 3 days in Rio de Janeiro itinerary has got you covered for your short visit to the city.
Rio de Janeiro, commonly called Rio, is one of the many places to visit in Brazil. It was founded in 1565 by Portuguese travellers and is on the UNESCO World Heritage Site List. It belongs to the Carioca Landscapes - situated between mountains and sea.
Rio de Janeiro is the city that has everything: rich history, delicious food, world-famous Brazilian landmarks, spectacular beaches, mountains with numerous hiking trails, and stunning architecture. There are plenty of attractions to keep you entertained for weeks!
The best time to visit Rio de Janeiro is between December and March - Rio's peak season. If you wish to experience the best city's carnival, arrive in February. For the milder temperatures and fewer crowds, visit during autumn (April and May) or spring (October and November).
For this Rio de Janeiro itinerary, I suggest booking an Airbnb holiday home to experience local life. Also, I highly recommend renting a car or hiring a driver for all your trip. That way, you will avoid public transportation and will have more freedom to explore.
3 day guide
Average of 6 stops per day
Rio de Janeiro 3 Day Article
Rio de Janeiro Map
A map of Rio de Janeiro. Use the map to explore all the days and stops.
The breath-taking nature of Rio de Janeiro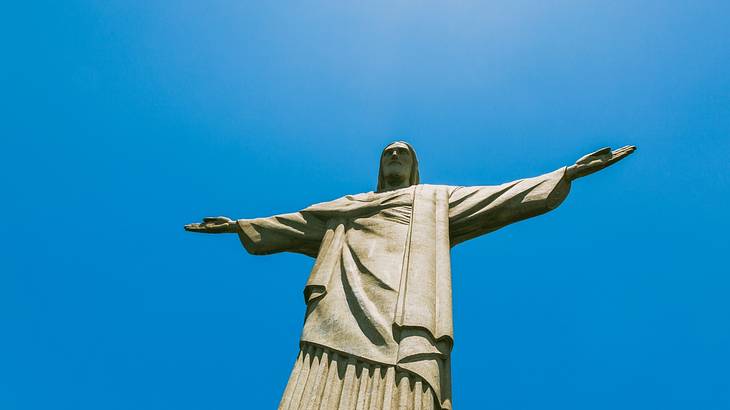 On your first day of three days in Rio de Janeiro itinerary, you will get lost in the stunning nature the surrounds the city.
Start your day early in the morning (before 8 AM) to make the most of your day. You will start your day with a scenic lookout point Mirante Dona Marta offering picturesque views of the city. Next, you will drive down the mountain road to find an inclined railway station taking people to the Christ the Redeemer statue - the most famous attraction of Rio de Janeiro.
Later, continue your journey to the Parque Lage where you will be able to relax after a tiring morning. However, please don't get too relaxed as it isn't your last stop.
On the second half of the day, you will visit the well-known Tijuca National Park filled with waterfalls, caves, and restaurants. When the evening approaches, head towards Sao Conrado neighbourhood where you will have fun at the beach and visit local bars.
If you are driving by yourself, pick a reliable mapping app as navigation doesn't work well in the mountainous areas of the city.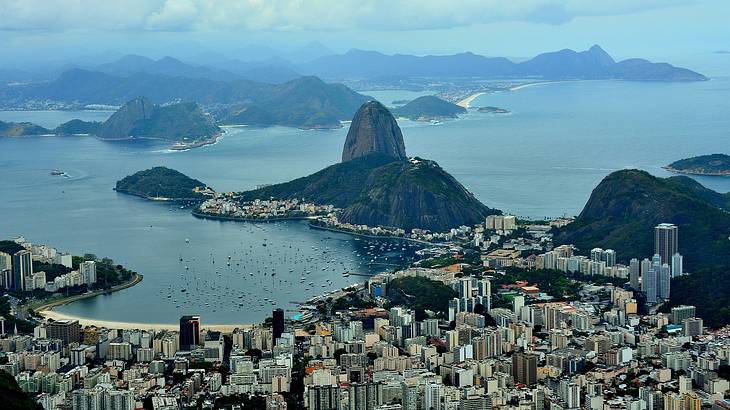 Quick morning stop at Mirante Dona Marta
One of the most overlooked Rio de Janeiro sites is Mirante Dona Marta. It is the perfect place to start your first morning in the city. The belvedere is not as high as Corcovado mountain, but still offers magnificent views of the city.
As it isn't very high, the lookout point is usually less foggy. You will be able to see the famous city's attractions such as Maracana Stadium, the neighbourhood of Santa Teresa, Guanabara Bay, Christ the Redeemer statue, and Niteroi from there.
You can reach Mirante Dona Marta by car. There is a spacious parking lot next to the belvedere, so you won't need to hike for a long time.
Visit famous Christ the Redeemer statue
Christ the Redeemer, or Christo Redentor in Portuguese, is the main attraction of Rio de Janeiro. Standing at the top of Corcovado Mountain, Christ the Redeemer statue offers fantastic views of the city and its suburbs.
Completed in 1931, the statue is 30 metres tall (98 feet) making it the largest Art Deco statue in the world. In 2007 the sculpture was named as one of the New Seven Wonders of the World.
Christ the Redeemer attracts millions of tourists each year. It is a symbol of Brazil and Christianity. You will also find two restaurants where you can grab a quick bite to eat before moving to another destination.
The best way to reach the statue is by taking an inclined train to the top of the mountain and enjoy spectacular views from the window. Make sure to arrive before noon to avoid crowds.
Wander around Parque Lage
Tucked at the foot of Corcovado in the Jardim Botanico (Botanical Gardens) neighbourhood, Parque Lage is a massive and tranquil public park.
The park is most known for its magnificent architecture of the mansion (now the school of arts, which showcases free art exhibitions and performances) numerous paths leading through exotic sets of trees. You will also find hidden between pillars decorative indoor pool and a small cafe.
The park is out of the way, so not many tourists decide to visit it. Due to this reason, you can enjoy the serene atmosphere and picturesque views of Christ the Redeemer.
If you have hired a driver, hike down from the Christ the Redeemer to the park, and ask your driver to pick you up from there. Another option is to drive yourself to the closest parking lot located near the park.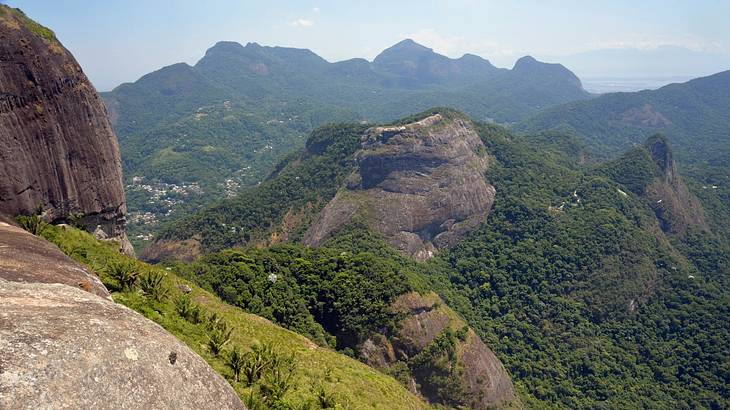 Quick drive through Tijuca National Park
Tijuca National Park, also known as Tijuca Forest, is one of the top things to do in Rio. It is a 39-sq-km tropical rainforest, which has mountainous terrain, high peaks, tons of creeks, and powerful waterfalls.
The park is home to various species of birds and animals, such as iguanas and monkeys. It is divided into two parts that are connected via mountain roads and hiking trails.
The best way to explore the park is to drive through it. I recommend taking a route leading through Vista Chinesa, Mesa do Imperador, and Alto da Boa Vista where you will find the entrance to the park's area filled with waterfalls.
You can pick up a free map of the park by the entrance and drive to the main points of the interest. There are lots of parking lots available in the forest.
You will also find two restaurants in the park: Os Esquilos and Barao da Floresta. I suggest having your lunch at one of these restaurants before you leave the park.
Sunset at Sao Conrado beach
One of the most beautiful neighbourhoods in Rio de Janeiro, Sao Conrado, has a lot to offer. The area is home to high peaks, paragliding spots, tranquil beach, stunning shopping malls, and chic bars.
Sao Conrado beach is probably one of the most beautiful spots in the city. It is a perfect place for relaxing strolls along the coast and sunset viewing. The beach is less crowded than other Rio's beaches, too.
You will also find several bars along the beach, which are known for great cocktails and lively atmosphere. I highly recommend grabbing a drink or two at one of them if you aren't driving by yourself.
Highlights of the central Rio
You will start your second day of this 3 day Rio itinerary early in the morning as you are going to explore central Rio De Janeiro's attractions. You will be able to learn more about the city's history and the local culture.
Start with exploring Etnias Murals, continue your walk to the Boulevard Olimpico and visit Museu do Amanha where you will learn some secrets of science. After a visit to the museum, you will have lunch, explore Lapa, and visit Escadaria Selaron (colourful stairs).
If you are interested in learning more about Rio, join a free walking tour from Lapa, which will lead you through hidden gems of Rio's bohemian neighbourhood.
The last stop of the day is going to be a beach. You will be able to relax, take a stroll or a dip into the sea, and enjoy drinks at the beach bar.
By the way, you can walk to all destinations, so don't bother about renting a car. If you are tired of walking or have children, take public transportation that links all the stops.
Take a look at magnificent murals - Etnias Murals
One of Rio de Janeiro's interesting places to visit, Etnias Murals is an art street in the Gamboa district. The graffiti on this street is recognized as the largest graffiti-filled areas in the world and is the most photographed spot in the city centre.
Painted by the artists Eduardo Kobra, murals are named 'Todos Somos Um' (we are all one in English). They represent ancestors from Australia, Asia, the Americas, Africa, and Europe.
Etnias Murals are 15 metres high and 170 metres long, and it took more than 3 months to complete. It is one of the unique parts of the city.
Morning is a perfect time to take a look at the gigantic murals since its less crowded.
Walk through Boulevard Olimpico
Boulevard Olimpico is a promenade that stretches from AquaRio to the Museum of Science. It is mainly known for Etnias Murals, ice cream shops, and great views.
From Etnias Murals, follow the signs to the Praca Maua(Maua Square), and you will come across several cafes serving sandwiches and hot drinks. I recommend getting takeaway and eating at the square.
You can also stop by Pier Maua - a busy port with cruise ships and spectacular views of the bay.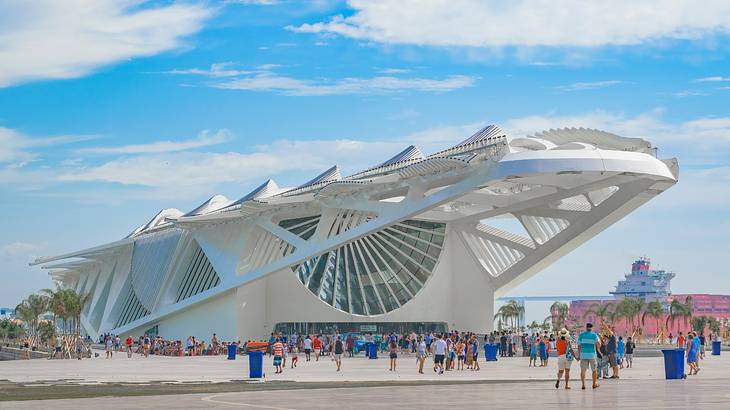 Discover the Museum of Tomorrow - Rio's science museum
Located near Pier Maua, Museo do Amanha, also known as Museum of Tomorrow or Science Museum, is well-known for its futuristic building that was designed by Santiago Calatrava.
The museum is divided into five parts: Cosmos, Earth, Anthropocene, Tomorrow, and Us. You can learn more about science by participating in hands-on activities and seeing how experiments are done. All exhibitions focus on ecological living and sustainable cities.
If the weather is bad and you are looking for what to do in Rio de Janeiro, consider visiting the museum with a guide, which will keep you occupied for several hours.
Have lunch and go shopping at Uruguaiana Market
Uruguaiana Market, also known as Centro Comercial Uruguaiana, is one of the most popular markets in Rio de Janeiro. It is also probably the busiest market you will find in the city. You can buy everything here and get it at the lowest price!
Established in 1904, Uruguaiana Market was the first place where street merchants were able to set their stalls and sell stuff without walking around the city.
Today, the market is filled with clothes, quirky traditional souvenirs, carnival masks, and exotic animals. You will also find numerous food stalls selling the best street food in the city.
If you really want something, don't be afraid to haggle!
Get amazed by Escadaria Selaron
Escadaria Selaron, also know as Selaron Steps, is another location that can't be excluded from your Rio de Janeiro trip. Nestled between neighbourhoods of Santa Teresa and Lapa, Escadaria Selaron is one of the most well-known attractions of the city.
The staircase is covered in more than 2000 pieces of colourful tiles and mirrors and was designed by Jorge Selaron. Escadaria Selaron has 215 steps that are 125 meters long. The tiles come from over 60 countries around the world and signify optimism and togetherness.
As it is a popular tourist attraction, be aware of crowds, especially on a nice day.
Get lost in Lapa
Lapa is Rio's vibrant and bohemian neighbourhood, which is filled with bars, restaurants, coffee shops, and unique buildings. It is mainly known for its crazy nightlife.
The area is home to the colonial architecture, with the Aqueduto da Carioca (Carioca Aqueduct) being the most famous. Just walk down the street, and you will see other interesting buildings!
You can also visit Passeio Publico - the first public park in Rio de Janeiro. Near the park, you will find several restaurants serving traditional Brazilian or European food.
Lapa is also known as a neighbourhood that comes alive in the evening. There are tons of great bars and clubs. However, if you are travelling alone, I highly suggest joining a Lapa pub crawl to avoid wandering on your own.
Drinks at the Flamengo Beach
Finish your second day with great cocktails at the beach of Flamengo offering great views of the Sugar Loaf.
Flamengo Beach is a narrow sandy beach near the Flamengo Park, Flamengo neighbourhood. It is a quiet and laid back beach that is home to various high-class beach restaurants and bars, which are known for having the most delicious cocktails of the city.
You can even take away your drinks and drink at the beach!
The Scenic Side of Rio De Janeiro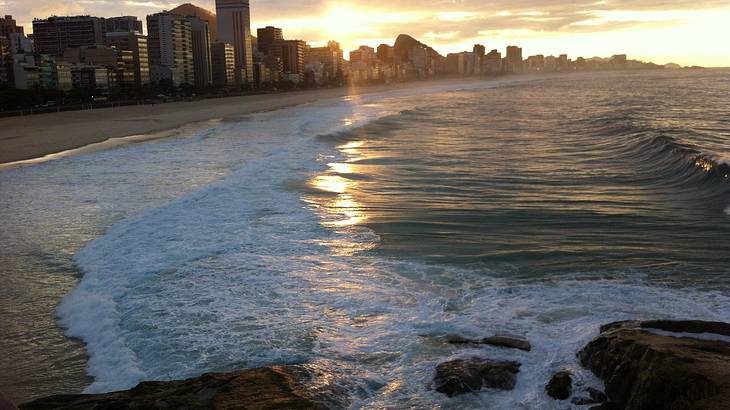 Your last day of three days of this Rio de Janeiro itinerary is going to be very relaxing and will let you enjoy spectacular views of the city. This day will have fewer stops so you can sleep a little bit longer.
The first stop of the day is going to be Sugar Loaf Mountain that offers magnificent 360-degree views of Rio. Afterwards, you will head to the Copacabana beach where you will have a chance to try out surfing or go for a long bike ride along the coast. You will have your lunch on the beach.
Later on, you will visit the National Park of Catacumba, which is filled with scenic trails and great spots to take photos. You will continue your journey to the rocky peninsula and Ipanema beach where you can watch the last sunset of the trip.
All locations are close to each other and can be reached by public transportation. However, I suggest renting a car or hiring a driver to make your day less stressful.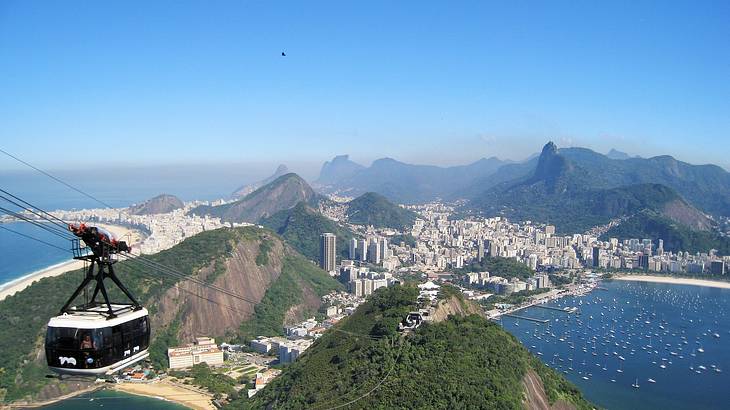 Enjoy thrilling views from Sugar Loaf Mountain
Sugar Loaf Mountain (Sugarloaf Mountain or Pao de Acucar) is one of the most iconic sites in Rio De Janeiro. It is a 396 meters high mountain that offers breathtaking views of Copacabana Beach, the city, and Christ the Redeemer.
You can reach the mountain in several ways, such as by taking a cable car that stops at a smaller peak (Urca Hill) before continuing to Sugarloaf Mountain.
You can also hike the peak by walking up to Urca Hill and then taking the cable car from there. The hike is fairly easy and shouldn't take more than 40 minutes. If you are feeling more adventurous, hike from the bottom to the top.
Tropical plants surround the hiking trail, and you might be able to see a wide variety of wildlife including monkeys, lizards, and tropical butterflies.
Try to arrive before 10 AM to avoid tourists groups.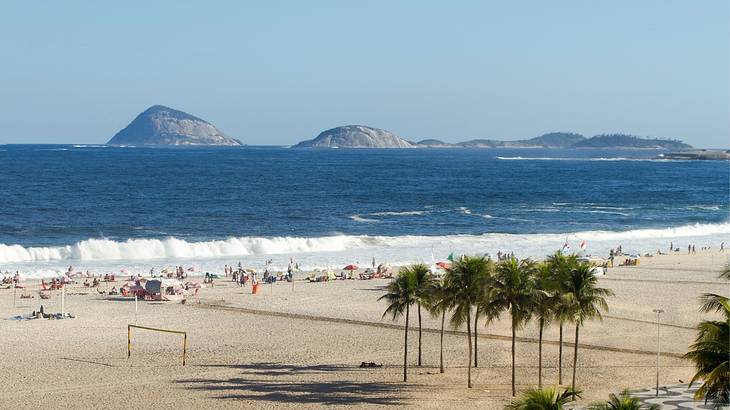 Have fun and brunch at the Copacabana Beach
When you think about places to go in Rio de Janeiro, Brazil, Copacabana Beach is one of the first places that come into the mind. It is probably the best and busiest beach in the city.
It is 4 kilometres long and offers various types of activities, such as surfing, watersports and biking trails. If you want to relax, there are of course plenty of walking trails along the coast, or you can find a nice spot on the white sandy beach to lay about.
Beyond that, the beach is full of kiosks and street vendors that sell anything and everything, from swimwear to various traditional snacks. Since it's your last day in Rio, I recommend treating yourself to a nice brunch from La Maison restaurant. It offers delicious dishes and amazing views of the beach.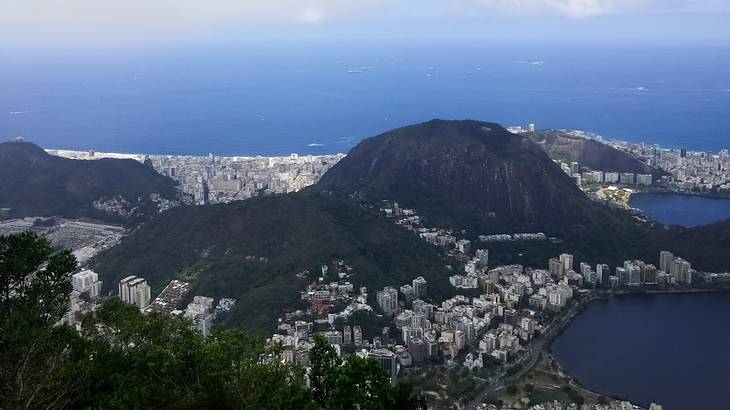 Catacumba National Park, also known as Catacomb Park, isn't very well-known to tourists, so you will be able to enjoy some tranquillity and peaceful nature.
It is believed that this park was a place where Indians used to bury their dead before the Portuguese arrived in Brazil. Today, Catacumba National Park offers a great escape from the hot weather and relaxation from the crowds.
The parks numerous jungle walking trails lead to various viewing points, which offer views of Ipanema.
Outside the park, you will find small coffee shops and several restaurants where you can get a refreshing drink before moving to another destination.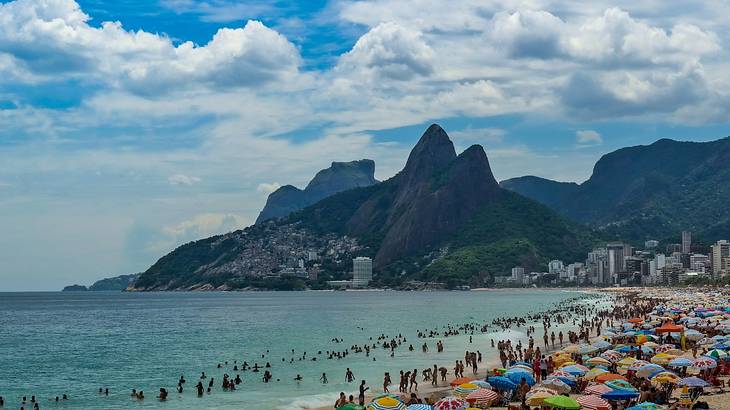 Wander around Ipanema neighbourhood
Everyone has heard about 'The Girl from Ipanema', so no wonder this neighbourhood receives millions of visitors each year. The area is known for its various cultural spaces, the beach, and parks.
Ipanema is home to numerous theatres, restaurants, bars, and luxury hotels. There are tons of little alleys leading through beautiful houses with colourful hanging gardens. You can wander around the neighbourhood for more than 2 hours and still find something that you haven't seen yet!
You will come across boutique souvenir shops selling traditional crafts, so don't forget to pick gifts for your family and friends.
If you are looking for a perfect place to take Instagrammable photos, Ipanema is the best place for that.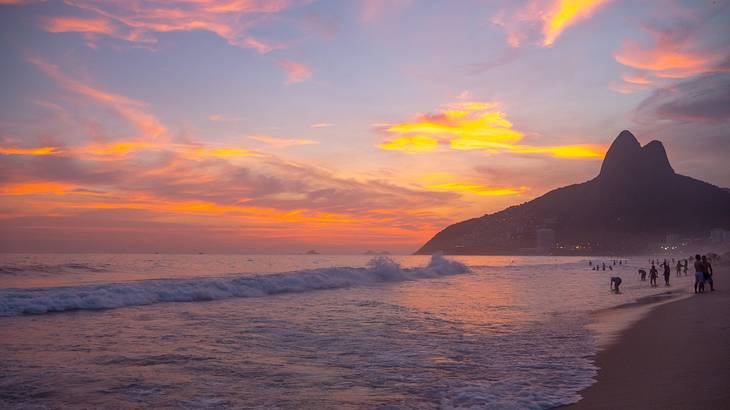 Spend evening at the Ipanema Beach
Ipanema Beach is another big beach in Rio de Janeiro, which is popular among locals and tourists. It is a perfect spot to relax, watch the sunset and enjoy the nightlife.
Located in the high-class Ipanema neighbourhood, the beach is filled with street art, souvenir stalls, bars, and restaurants. Ipanema Beach is 2 kilometres long and stretches from Alah to Arpoador - a rocky peninsula that separates Ipanema from Copacabana Beach.
I recommend taking a stroll to the Arpoador and watch a sunset from there. After that, you can head to one of the beach bars and enjoy the last evening of your 3 days in Rio de Janeiro vacation.
In Summary
I hope you have enjoyed my 3 days in Rio de Janeiro itinerary. It covered all the main attractions of central Rio, scenic lookout points, wild national parks, and beautiful beaches. The itinerary also included several essential travel tips that are useful for first-time Rio travellers.
Rio de Janeiro is a magnificent city that has everything for every type of traveller. It is a very busy and noisy city that can become overwhelming if you don't properly plan your trip.
If you ask me, 3 days in Rio de Janeiro is plenty of time to see most of its attractions. Of course, you will have to be prepared to wake up early and rent a car to make the most of your time.
Have more time in Rio? I recommend visiting various museums that you can find in the city centre. You can also spend more time exploring Tijuca National Park or take day trips to discover areas outside the city.
This article was first published on Jun 17, 2019 19:34 UTC.
For more interesting articles about Brazil, read:
---
---
Want to keep exploring?
Subscribe for discounts on tickets and hotels and our latest guides.
Thank you for subscribing
We will be in touch soon with discounts on tickets and hotels and our latest guides.
Want to keep exploring?
Subscribe for discounts on tickets and hotels and our latest guides.
Thank you for subscribing
We will be in touch soon with discounts on tickets and hotels and our latest guides.
Related articles