3 Day Phnom Penh Itinerary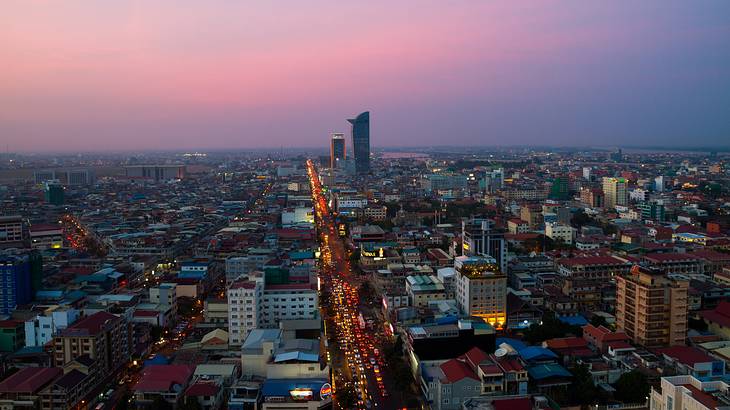 This Phnom Penh Itinerary is pretty full-on, so be prepared for a busy 3 days and lots of walking, or riding around in tuk tuks... whichever you prefer.
Phnom Penh was once the centre of the mighty Khmer Empire and the French colony and is still Cambodia's top city to go to for history lessons and business ventures. Luckily for you, the top sites are pretty close to one another and can easily be reached either by foot or local tuk tuk.
So, get ready to go on a historical and cultural tour of Phnom Penh by visiting the Wat Phnom, the Ounnalom Pagoda, the National Museum of Cambodia, the Royal Palace and the Silver Pagoda. Strike a pose at the Independence Monument and finish off with a solemn stop at the Tuol Sleng Genocide Museum.
People also visit Koh Dach Island for a silk-making experience. For great keepsakes, shop at the Central Market and the famed Phnom Penh Night Market. Grab a meal at the Elephant Bar or get a much-needed massage at the BOPIA Spa.
For more relaxed activities, take a stroll along the Sisowath Quay or enjoy Phnom Penh's Mekong River with a Cambo cruise.
3 day itinerary
Average of 5 stops per day
Disclosure: Destguides may receive commission for purchases made through hyperlinks in this article at no cost to you.
Phnom Penh 3 Day Article
Phnom Penh Map
A map of Phnom Penh. Use the map to explore all the days and stops.
Explore Some of The Top Things to See and Do in Phnom Penh
Set a new tone for your Phnom Penh adventure by mixing the local culture, shopping and cuisine all into one jam-packed day.
First, pay a visit to Wat Phnom, a Buddhist temple that is considered to be the heart of Phnom Penh city. Then, move away from the mainland and head to Koh Dach Island, or Silk Island as it's known, to see the process of how Cambodian silk is made.
Don't forget to put the Central Market and Phnom Penh Night Market on your list for your shopping run (or for when you wish to see the local fare and trade).
And finally, grab a bite to eat at one of the city's favourite grub spot - the Elephant Bar.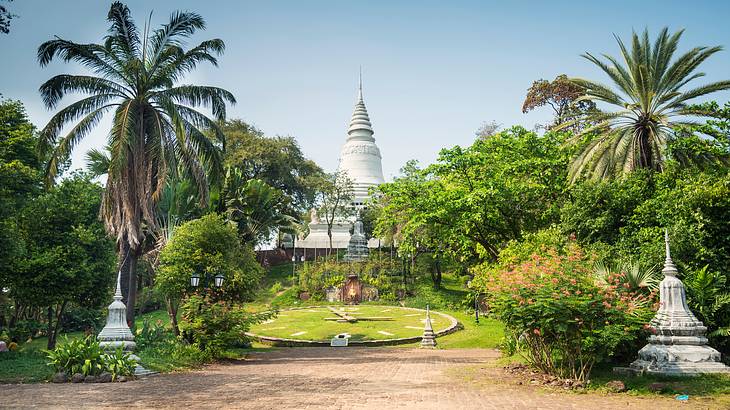 Wat Phnom
Legend has it that the Mekong River washed some 4 Buddha statues in a large tree ashore. When Lady Penh discovered these statues, she erected a temple for them on a hill to protect them, in this case... Wat Phnom.
The name Phnom Penh also means the 'Hill of the Penh', which was in honour of this legendary lady. People often visit Wat Phnom to take photos of this picturesque Buddhist Temple, and to offer prayers to it.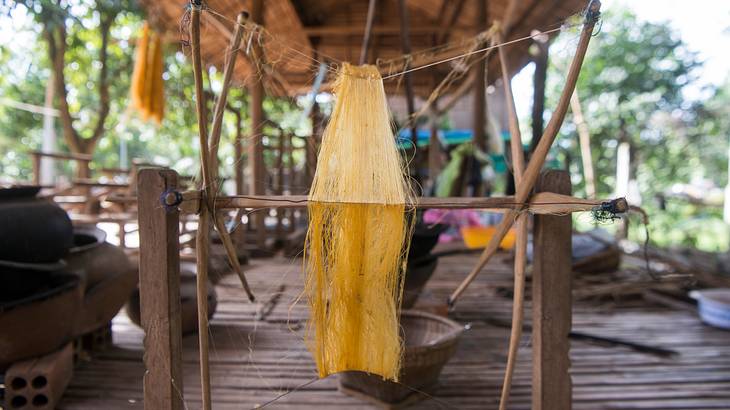 Koh Dach Island - Silk Island
Koh Dach Island (Silk Island) is just off the Phnom Penh mainland. Here, you will learn about the silk-making process and be able to buy silk souvenirs if you want. The silk-making process involves plumping the silkworms and spinning/dying the yarn into the final product.
You can get here by riding a ferry across the Tonle Sap River and then hailing a tuk-tuk to get to the silk-weaving factories. There is also a silk-weaving village nearby. Stay a little longer to escape the hustle and bustle of Phnom Penh.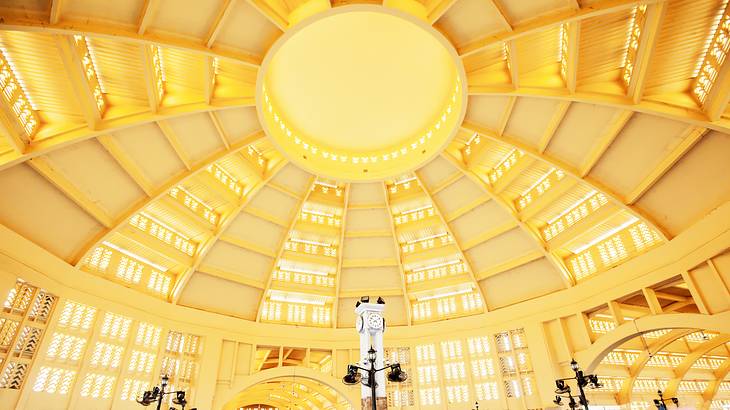 Central Market - Phsar Thmei
Phsar Thmei, the Central Market, was built in 1937 and is one of the biggest markets in Asia. Inside, you will find countless stalls and alleyways that make up the area. It is also an excellent place to go to get your fix of Cambodian treats and products.
Not hungry or don't feel like shopping? Doesn't matter! Just head inside to appreciate the impressive golden dome straight above you. This is also a great place to experience the daily hustle of a local and is where you might have to bargain for items, but please be reasonable.
Elephant Bar
Feel like some 'afternoon tea'? If yes, then head over to the Elephant Bar in the Raffles Hotel to start happy hour early with the Femme Fatale drink. This signature drink was specially made for Jackie Kennedy when she visited Cambodia in 1967.
Why not also be adventurous and try something new? Like munching on fried crickets while sipping your elegant signature drink.
Phnom Penh Night Market
Experience Phnom Penh after hours by ending your first night at the city's Night Market. While many of the same goods and eats are offered at the Central Market, this nightly fanfare still provides its own unique taste of Phnom Penh.
This is a good place for a midnight food crawl or those on the hunt for authentic Cambodian street food, such as meat skewers of all kinds, think beef and liver, crab curry and Cambodian amok. This is also a great way to go if you're travelling Cambodia on a budget.
Phnom Penh Through History
The second day is dedicated to exploring the historical and cultural spots of Phnom Penh. Be prepared to be mesmerised by beautiful pagodas (the structures with multi-tiered levels and eaves of roofs you see at religious sights).
Begin with the Ounnalom Pagoda and the Silver Pagoda, which is where you will also get a chance to meet monks. Then, head to the National Museum of Cambodia for a brief lesson on the country's history.
The Royal Palace is also within walking distance of these sites and is a must-see, so don't miss it! And finally, after a long day of walking (or tuk-tuk rides), relax at one of Phnom Penh's best spas - the BODIA Spa.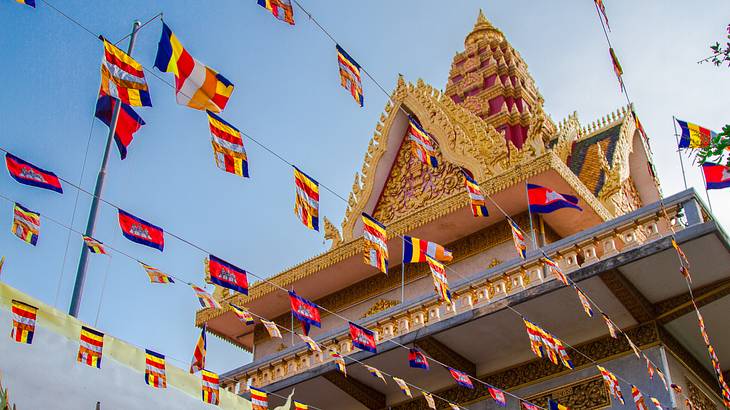 Wat Ounalom - Ounnalom Pagoda
Along the famed Sisowath Quay (a promenade) is Wat Ounalom. Cambodia's Mohanikay order is situated here, and it is considered to be the city's most important one.
Stop to admire the intricate details of Wat Ounalom and to get a quick break from the busy city. You might also see some monks on the property or nearby streets, so be sure to say hello!
Some things you should be aware of when interacting with monks is first and foremost to show respect. You show respect by keeping your hands to yourself, that includes not pointing at them rudely and covering yourself in appropriate dress.
If entering a temple, take off your shoes and hat. Pictures are allowed if the monks are walking freely outside a temple. However, you shouldn't be taking out your camera inside and shoving your lens in their faces. Be respectful, and all will be fine.
National Museum of Cambodia
After Ounnalom Pagoda, make a quick stop at the largest museum in Cambodia. The National Museum of Cambodia is home to a massive collection of Khmer art and artefacts, a testament to the grandeur of the once-powerful Khmer empire.
This museum is very close to the Royal Palace (reachable by foot) and is strikingly designed with Khmer aesthetic in mind. You most likely won't need more than 2 hours here, especially if you visited Angkor Wat in Siem Reap before heading to Phnom Penh as it covers quite a bit of the same information.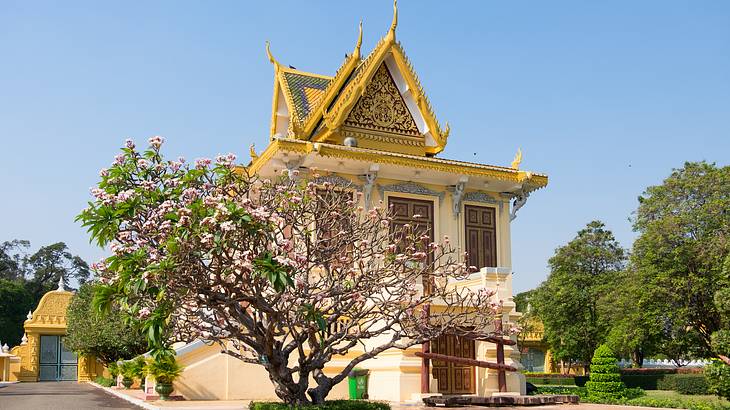 The Royal Palace
The Royal Palace is a grand complex that sits on top of a citadel and serves as the residence for the King. The five main areas/buildings are housed in the complex, which includes the Silver Pagoda, the Khemarin Palace, the Throne Hall, the Moonlight Pavilion and the private Inner Court.
This is a great place to visit to get your Cambodian and Khmer architectural fix. Modest clothes are required - i.e. pants that cover your knees at least.
Silver Pagoda - Temple of the Emerald-Crystal Buddha
The Silver Pagoda is located on the south side of the Royal Palace. It is also known as the Temple of the Emerald-Crystal Buddha (Preah Vihear Preah Keo Morakot). This Pagoda houses many Buddhas made with precious stones and minerals, namely the Emerald Buddha and the Gold Maitreya Buddha.
The King also commissioned for the Pagoda to be inlaid with silver tiles, though only part of it is accessible to the public.
Relaxing Massage at the BODIA Spa
When in Southeast Asia, do not miss out on on the opportunity to have an excellent massage - EVER!
At the Bodia Spa, you will be able to choose from a variety of massages, such as a foot or Swedish massage. This is a welcome treat for visitors, like yourself, who have spent all day walking around Phnom Penh.
Aside from massages, facials and other relaxing treatments are available here.
Down the Killing Fields
For the final day of your Phnom Penh tour, be sure to pay your respects to the country's history by visiting the Tuol Sleng Genocide Museum, which is a dark reminder of Cambodia's bloody Khmer Rouge reign.
Besides the above sombre, but essential stop, make sure to include a more uplifting reminder of another significant part of Cambodia's history - the Independence Monument. Don't forget to also experience the picturesque views of the city from the Mekong River by jumping on a Cambo Cruise.
Finally, do some last-minute shopping at the famous Russian Market.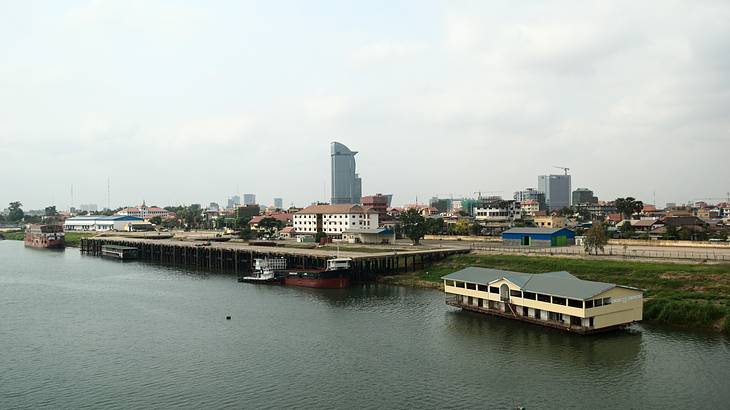 CAMBO Cruise
Whether for lunch or dinner, don't miss a boat ride on the Mekong River aboard a distinctly Cambodian vessel.
Meals can be arranged to be had onboard beforehand and catching the sunset is possible for dinner. A buffet is served with a variety of drinks and the ambience is perfected with good local music.
The ride can last up to four hours long and is a good way to relax before leaving the city.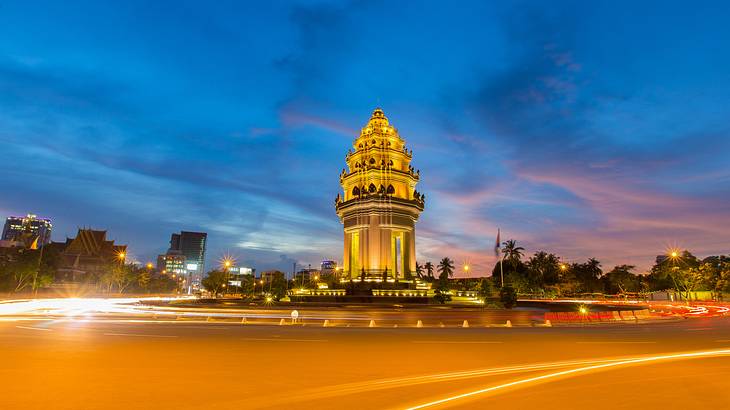 Independence Monument
Take a few snaps at this historic structure that was mounted in honour of Cambodia's independence from France. The Independence Monument is a lotus-shaped stupa and one of the most iconic modern Asia landmarks in the city.
At night, this is also an excellent spot to visit because of its lights and calm surroundings.
Tuol Sleng Genocide Museum
The Tuol Sleng Genocide Museum used to be an S-21 Prison and a school, but the Khmer Rouge government turned it into a torture centre. This is only one of the many torture chambers that were used to kill the almost 2 million Cambodians during this period.
What is striking about here is that the activities within the compound were documented so well that unfortunately, but fortunately, this information can be used as a reminder for future generations not to repeat the same mistakes of the past.
The Russian Market
For your last stop, shop for small trinkets at the Russian Market. If you look closely enough, you can also smell (and taste if you buy one!) authentic Khmer coffee at one of the local stalls. It is quite hot here, so wear comfortable clothing.
Prices are said to be cheaper than the Central Market, but you can still haggle with the stall owners.
This article was first published on Jun 24, 2019 20:40 UTC.
Give us feedback about this article
For more interesting articles about Cambodia, read:
---
---
Want to keep exploring?
Subscribe for discounts on tickets and hotels and our latest guides.
Thank you for subscribing
We will be in touch soon with discounts on tickets and hotels and our latest guides.
Want to keep exploring?
Subscribe for discounts on tickets and hotels and our latest guides.
Thank you for subscribing
We will be in touch soon with discounts on tickets and hotels and our latest guides.
Related articles