The 14 Cheapest Countries in Asia to Visit
Destguides may receive commissions from purchases made through affiliate links in this article.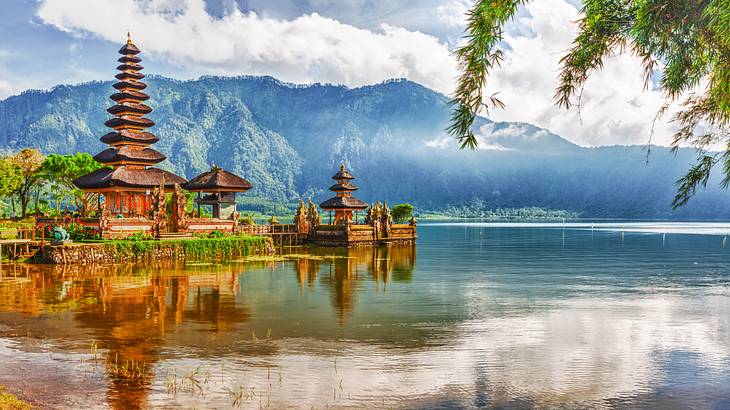 Asia is the largest continent in the world, with up to 48 countries in total. It has an impressive mix of some of the most expensive places to travel to, with countries like Japan and Singapore, and some of the cheapest, such as Laos and Cambodia.
With tourist sites like the Taj Mahal in India, the Great Wall of China, and Angkor Wat in Cambodia, you have a lot of exploring to do, especially if you are visiting Asia for the first time. You will also never run out of options when you are looking for landmarks to explore here!
In this article, we are going to focus on the cheapest countries in Asia to visit for travellers who are on a budget, such as backpackers.
Even though almost every country in Asia is worth visiting as most contain amazing cities and sites, this does not mean that every traveller can afford to go to each one individually. Most of the countries listed below can be found in Southeast Asia specifically.
14 Cheapest Asian Countries to Visit
Countries Map
A map of countries. Use the map to explore all the countries.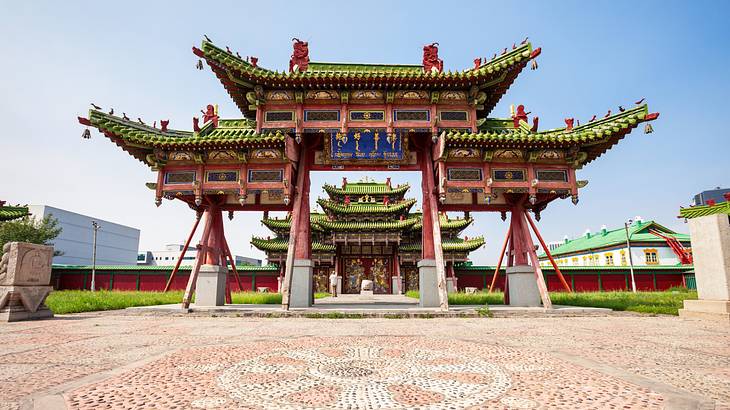 Mongolia
Honestly speaking, Mongolia is usually not at the top of the list of must-visit countries in Asia, but this does not mean it shouldn't be on your bucket list.
Mongolia is a country full of natural beauty, which is still mostly preserved today. The country is still growing when it comes to its tourism sector, so certain things are still being worked out to make the experience better for visitors.
One of the places to explore in the country is Ulaanbaatar, Mongolia's capital city. The city is the best place to start your journey around the country, too.
In Ulaanbaatar, you will find many sites such as:
You can also use the trip to Mongolia to learn a few historical facts about the place. The National Museum of Mongolia, also located in the capital, is one of the places where you can learn a few things before travelling to other sites.
Regarding budgets, you have nothing to worry about; accommodation and transportation are very cheap. Daily spend can range from as low as 20 USD to upwards of 50 USD or higher, depending on how you like to travel.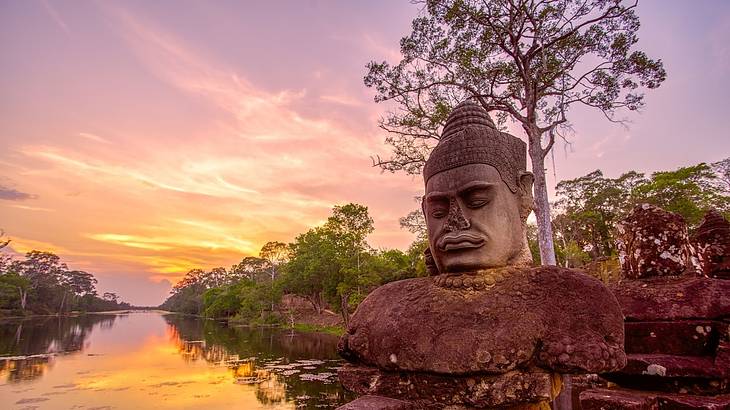 Cambodia
If you are trying to make your way through all of the budget friendly countries in Asia, Cambodia could be your starting point. Because of Cambodia's central location in Southeast Asia, it makes it easier for you to start your tour around the area from here.
If you want to discover the real Cambodia that everyone loves, then you have to check out the rural parts of the country. This is where you will notice the warm hospitality of the locals and the beautiful landscapes of the rivers and farmlands.
Once in Cambodia, you will likely start your visit in Phnom Penh for a few days. However, one of the major reasons why Cambodia attracts many tourists is because of the gorgeous temples it has that were built during the Khmer Era.
The temples located in the city of Siem Reap, a town in the northwestern part of Cambodia, are beautiful architectural masterpieces. These include Angkor Wat, Ta Prohm, and Bayon Temple. Angkor Wat is the largest temple complex in the world. It is also a UNESCO World Heritage Site.
From enjoying nature to taking bike rides through rice fields and temples and relaxing on Koh Rong Island, there are many things to do in Cambodia.
Cambodia is one of the cheapest countries to visit in Asia, to the extent that you can maintain a daily budget of 25 USD per day.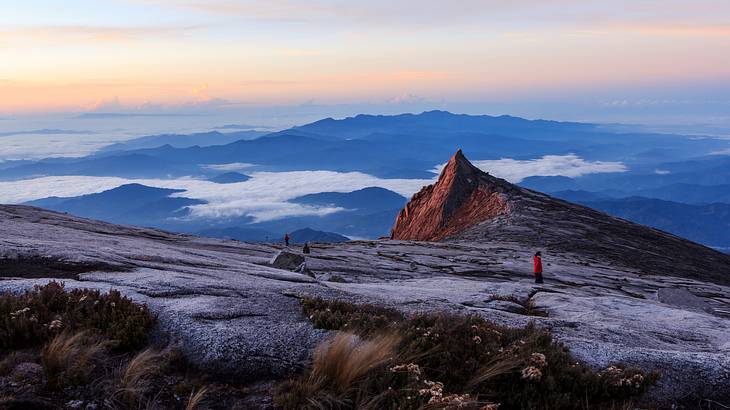 Malaysia
In Southeast Asia, one popular holiday destination is Malaysia. With many beautiful beaches, shopping malls and modern cities, national parks, charming sites and ancient architectural masterpieces, visiting Malaysia is never a dull moment, especially with its diversity.
In Malaysia, there is a variety of activities available at your fingertips as well, with some exciting ones not really recognised. For example, some people do not think of hiking as an activity to do in the country, but Malaysia actually has some fantastic hiking spots, like Mount Kinabalu.
Most visitors spend their time in Kuala Lumpur though, Malaysia's capital, whether for 48 hours or three days as there is a lot to do in the city, such as exploring its nightlife and enjoying its world-class restaurants. There are also many great short weekend getaways from Kuala Lumpur to do.
A daily budget can run anywhere from $25 to $50 plus for accommodation, food and transportation.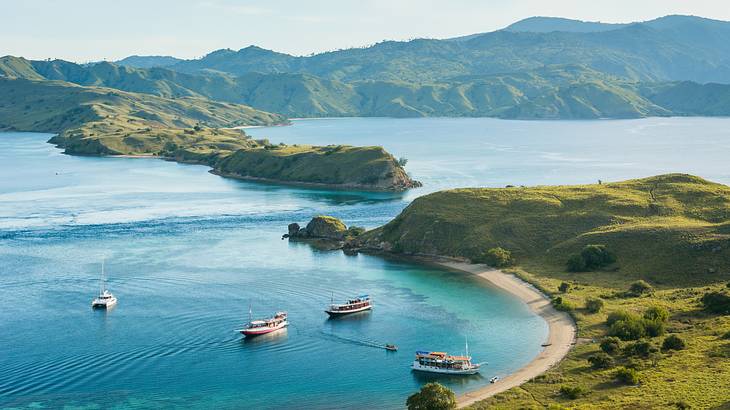 Indonesia
Indonesia is a country full of islands that bring out the curiosity of every tourist who travels to see them. With more than 17,000 islands, every island has a different experience to offer, from language and culture to religion and food.
No matter what you are in to, be it history or nature, there are lots of things to do in Indonesia to make your visit memorable.
One of the most-visited places in Indonesia is Komodo National Park. A Komodo is a large lizard, and it is one of the fascinating creatures of the world. The park is a beautiful place to see, with impressive hills and majestic landscapes.
Another popular destination in Indonesia is the largest and most serene lake in the country, Lake Toba. There is also a small island, Samosir, which is located in the middle of Lake Toba.
Many visitors flock to the island of Bali, which is famous for its surfing spots, nightlife, stunning waterfalls and quiet, tranquil rainforests (especially near Ubud).
If you are travelling alone, you can plan for a daily budget ranging between 25 to 30 USD. This includes your meals, transportation, and accommodation. For more comfortable accommodation, you can have a daily limit of 50 USD.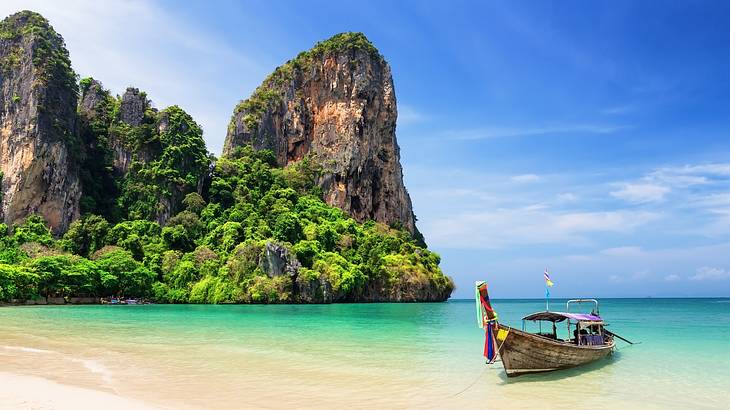 Thailand
Thailand is another country in Asia that is a must-visit. The country attracts millions of travellers from around the world annually, especially those who are on a budget.
It is recommended to spend at least one week to 10 days in Thailand as there is so much to see and do, and it takes time to travel between the islands if they are on your bucket list.
Thailand is known to have gorgeous islands, jungles, beaches and cultural sites. It is an easy country to travel in, especially if you are a new visitor, making it one of the best destinations for backpackers in Asia.
Some of the destinations you can head to in Thailand include the city of Bangkok for a few days, the beautiful city of Chiang Mai, and the incredible beaches in Phuket.
Aside from visiting cities, you can also see some of the famous sites in Thailand. I recommend making a stop at the Grand Palace and the Temple of the Emerald Buddha - Wat Phra Si in Bangkok.
Travelling around Thailand is relatively easy due to the high number of tourists travelling in the country each year, so there are lots of budget-friendly accommodation and transport options for newcomers. Your daily budget can range anywhere from as low as $25 to as high as $70, depending on your travel style.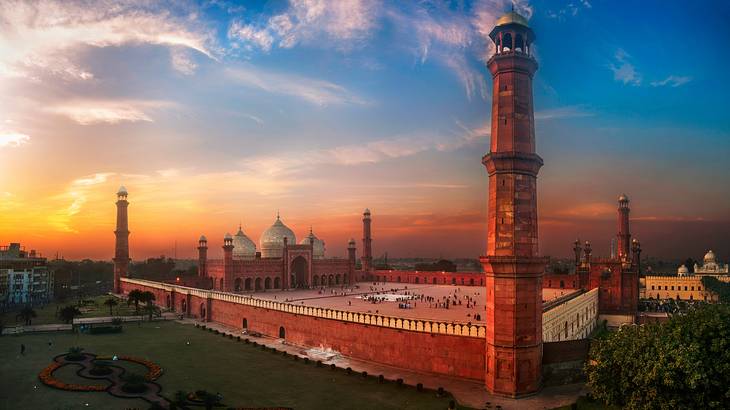 Pakistan
Pakistan is located in the southern part of Asia. It has the fifth largest population in the world, exceeding over 200 million people. The country is rapidly becoming one of the top countries in Asia to visit for tourists from around the world. Despite this, it is essential to plan ahead if you plan on visiting Pakistan.
Transport in the country can be difficult for first-timers to the place, so planning ahead will allow you to determine the best route to take and your preferred methods, e.g. bus, train, or private car. Either way, there are lots of modes of transportation options available in Pakistan.
To secure the best prices, however, hold off on booking your transport until you are in the country, and do be prepared to haggle for the best price.
When in Pakistan, some of the must-visit landmarks are:
When travelling around Pakistan, it is vital to always carry cash with you as paperless transactions are still growing, and cash is accepted everywhere.
You can plan for a daily budget of about 30 USD because food and transportation are quite affordable.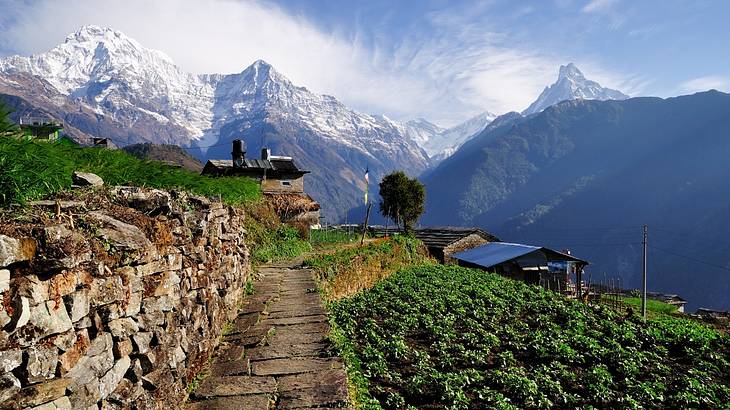 Nepal
Nepal is another country in Asia that escapes the bucket list of most travellers, and trying to understand this is impossible. The views from the jungles, mountains, and lakes of the country make you appreciate the importance of nature, and why it must be preserved.
It is home to the highest mountain above sea level in the world, Mount Everest, which is located in the Solukhumbu District. Because of the mountains in the country, it has become the perfect hiking destination.
Nepal is a country that has a diverse population of wildlife, but many travellers don't know this, so they usually leave before they get the chance to find out. There is a wide range of bird species, crocodiles, deer, rhinos, and even the Bengal Tiger.
It is also one of the few countries that actively protect leopards. Nepal's mountainous region is also home to the Indian Leopard.
Nepal is one of the cheapest places you can visit in Asia, with the most expensive activities being around Mount Everest. You can easily calculate spending about 2 USD for a full meal in an affordable restaurant.
Guest rooms also cost less than 15 USD per night. Ideally, you can account for about 30 USD per day, which is perfect for budget-travellers.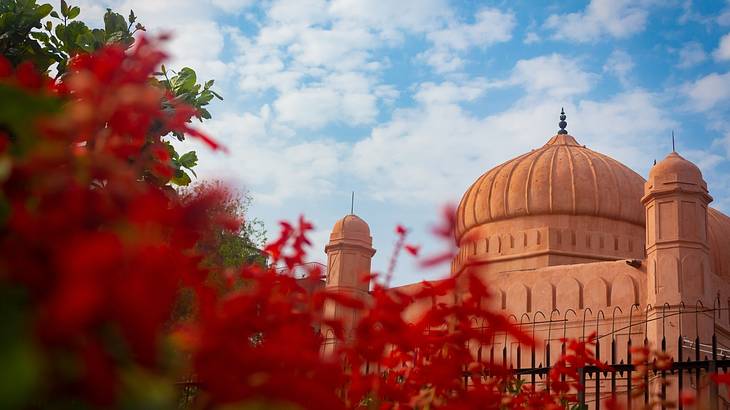 Bangladesh
Bangladesh is home to the world's longest beach and the largest mangrove swamp. The country has lots of things to brag about, and you will notice it once you finally travel to the country.
There are several places for you to discover and see in Bangladesh. Some of the top attractions to visit in Bangladesh are Cox's Bazar Beach, the National Parliament House, and Ahsan Manzil (the 'Pink Palace').
Bangladesh is one of the most budget-friendly countries in Asia to travel. With many cheap restaurants, accommodation options and transportation methods available for travelling around the country, you can easily get by on an amount of about 30 USD a day.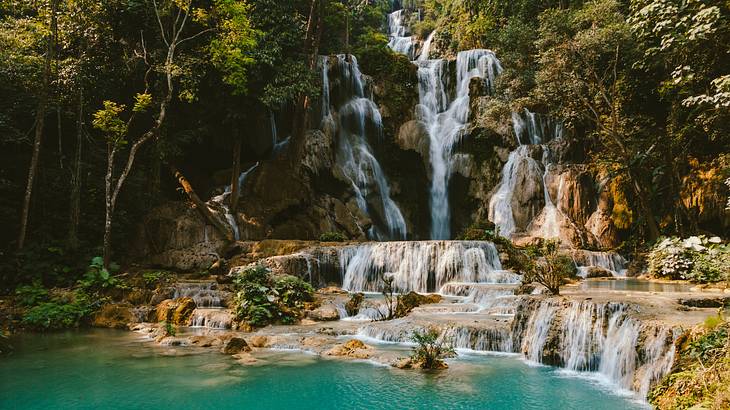 Laos
Laos is another country in Southeast Asia that is still developing its tourism sector. To attract more tourists to the country, it launched the "Visit Laos Year 2018" to attract more visitors. Many people don't consider Laos when planning their multiple-month Southeast Asia itinerary, but it is one of the most beautiful countries in Asia.
Even though Laos is a landlocked country, it is surrounded by some striking waterfalls, like the Khone Phapheng Falls on the Cambodia border and the Kuang Si Falls in Luang Prabang. When visiting, you can hike through the neighbouring jungles, swim in the waterfalls, and explore the beauty of nature.
Travelling in Laos is quite cheap, and compared to its neighbouring countries, it is one of the most affordable countries in Asia to visit. You can budget about 30 to 40 USD daily to travel around comfortably when in the country.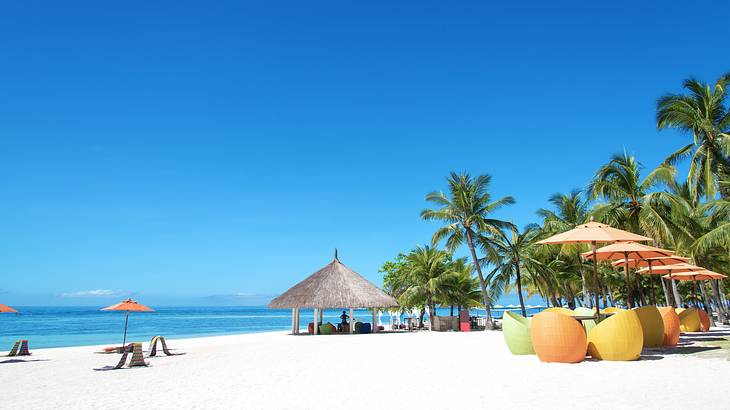 The Philippines
The Philippines is the perfect country for you to explore when you are looking for beautiful beaches and fantastic diving spots in Asia.
With more than 7,500 islands, the Philippines has a lot to offer to those that love the ocean. The main regions in the Philippines are the Visayas, Luzon, and Mindanao.
There are many interesting significant landmarks to visit in the Philippines, like the National Museum of the Philippines, Krus ni Magellan, and Fort Santiago.
The beaches and islands in the Philippines are also some of the best in the world and include Bohol, Palawan (which you need at least a week in as it has many beautiful tourist sites to explore), and Boracay (home to the white beach).
You will not run out of options when you are visiting the various areas in the Philippines as every single one offers a unique and wonderful experience.
Since cost is one of the main things budget-travellers consider, the price of travelling, such as food alongside transportation in the country, is very affordable. There are lots of accommodation options available too, with it all being relatively cheap.
The recommended daily budget for someone travelling to the Philippines is 35 USD.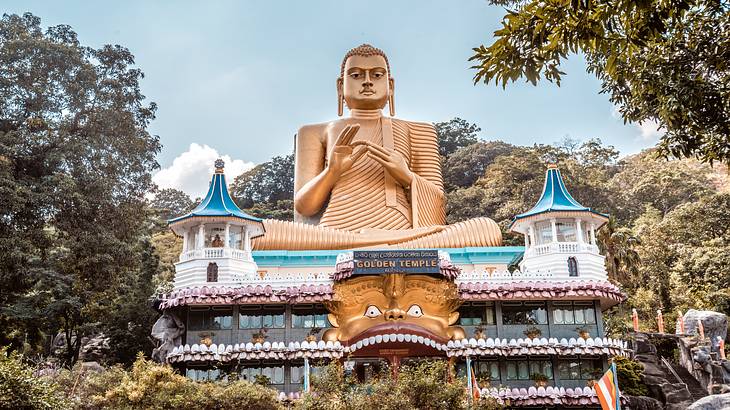 Sri Lanka
If you are looking for a country with excellent surfing, beautiful beaches, misty mountains, and incredible wildlife like leopards and elephants, Sri Lanka ticks all of those boxes. You will need at least 10 days in Sri Lanka to just scratch the surface of what this incredible country has to offer!
When you are in Sri Lanka, you can check out the eight UNESCO World Heritage Sites located within the country:
After visiting these sites, you can also explore other impressive towns in Sri Lanka like:
One of the amazing things about travelling Sri Lanka is that you get to experience the best places in the country while on a budget as low as 35 USD per day (6,500 LKR).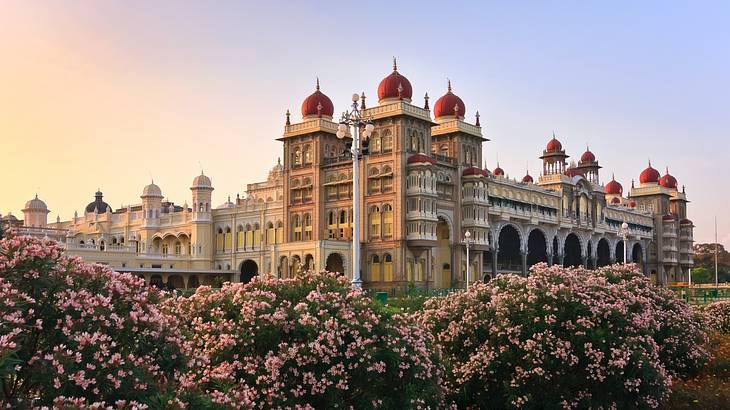 India
In Asia, there are only a few countries that can offer a certain type of diversity to its visitors. India is just one of the countries found in the continent that leaves a lasting impression on tourists.
Famous for its cool beaches, churches, markets, and other eye-catching sites, Goa is a great place to explore in India. Goa is a state in India that provides comfortable and cost-friendly experiences.
One must-see attraction in India is the Taj Mahal, the most-visited landmark in the country. I recommend visiting this famous landmark in India if you are interested in seeing historical monuments. It is close to Delhi and can be done as part of an organised tour within a day. Another city to visit in India is, of course, Mumbai.
With a daily budget of about 40 USD, converting it into the Indian Rupee is approximately 3,000 INR. With this modest amount, you can make your way around India while enjoying some of the best features of the country.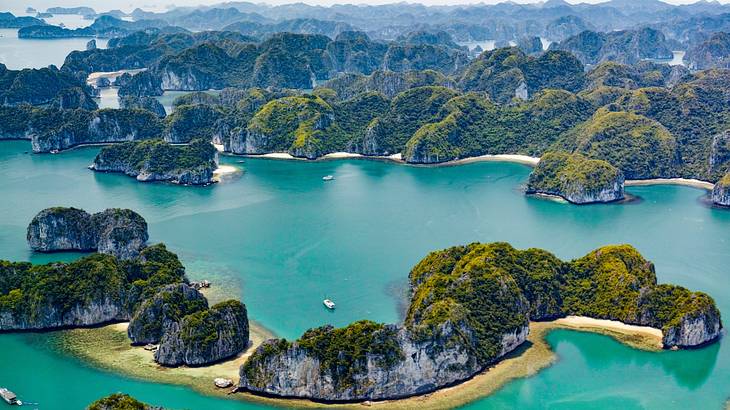 Vietnam
If you are a backpacker, Vietnam is a backpacker's paradise! The country draws in millions of budget travellers each year. Everything in Vietnam is affordable, from transportation to accommodation and even dining. It's a nice place to go for a vacation if you do not want to spend much.
Vietnam is famous for having several UNESCO-listed World Heritage Sites like:
Most visitors to Vietnam will spend a bit of their time in Ho Chi Minh City for a few days, or make visits to towns such as Hanoi in the northern part of the country. Both cities are great starting points for a tour of Vietnam - I recommend starting in one and following the coast to reach the other.
In Vietnam, 60 USD can get you quite far in a day. With this amount, you can enjoy delicious meals in excellent restaurants and stay in nicer-than-average accommodation.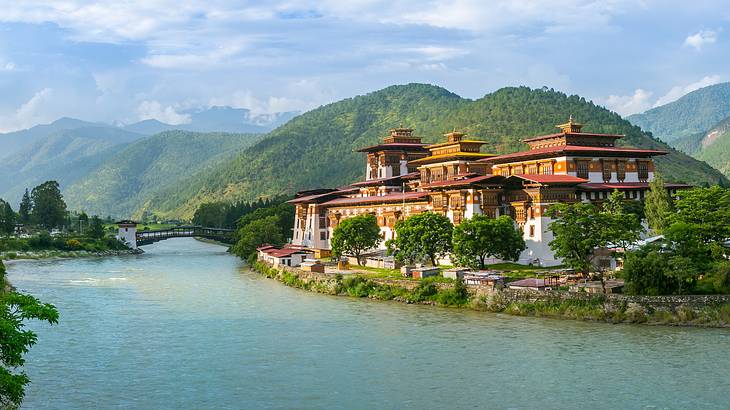 Bhutan
Bhutan is a country known for its exquisite landscapes and fortresses, tasty food, fabulous festivals, ancient temples, and its ethnic authenticity.
The country takes great pride in its approach to tourism, always making sure tourists feel welcomed every time they visit. If you are someone who likes to travel slowly, taking in every beautiful moment, Bhutan is the country for you.
If you are interested in seeing only the highlights, five days in Bhutan is just enough time to explore them.
Some of the best landmarks in Bhutan are:
Many people think touring Bhutan is expensive, mainly because of the 200+ USD per day budget required, but it is quite affordable considering the value you are getting at the end of the day.
Consider travelling to this country if you are up for the estimated spending amount, but one thing I can assure you is that you will not regret visiting Bhutan.
In Summary
Asia is the place you want to be if you are interested in witnessing some of the earliest architecture and ancient empires of the world that are still in existence. You will find historical sites, with each giving you a history lesson of how Asia has grown to be what it is today.
If you are on a tour of Asia, to make your budget-friendly travels even better, I recommend visiting southeastern countries first before travelling to the more expensive parts of Asia. With the right budget and adequate planning, Asia can be your perfect holiday destination.
I hope this helps you plan your trip to Asia better, especially if you are on a strict budget!
This article was edited by Loredana Elena.
---
---
Want to keep exploring?
Subscribe for discounts on tickets and hotels and our latest guides.
Thank you for subscribing
We will be in touch soon with discounts on tickets and hotels and our latest guides.
Want to keep exploring?
Subscribe for discounts on tickets and hotels and our latest guides.
Thank you for subscribing
We will be in touch soon with discounts on tickets and hotels and our latest guides.
Related articles