The Best 3 Days in Ubud Itinerary
Destguides may receive commissions from purchases made through affiliate links in this article.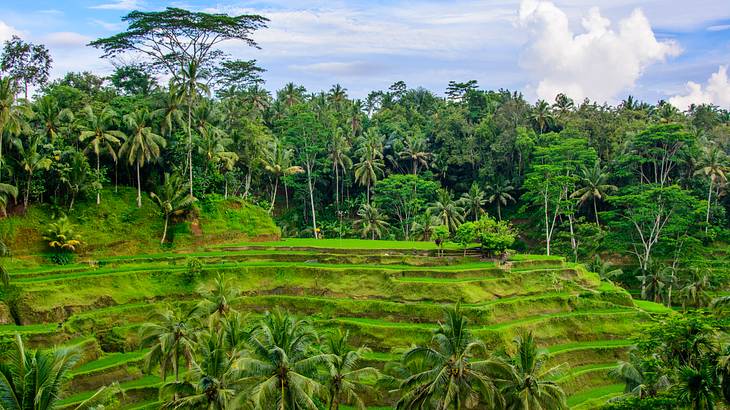 Ubud is a town in Bali, Indonesia and is considered Bali's cultural heart. It can be reached within an hour from the airport, and it offers excellent accessibility to other towns and villages in the area.
The town of Ubud is also known as a centre for traditional crafts, dance, and religion. In Ubud, you will find the Royal Palace and a wide variety of craft shops where you can buy handmade gifts - both a must for your Bali bucket list!
Ubud is a place that is surrounded by lush rainforests, rice paddies, beautiful Bali waterfalls and temples and shrines as well. It is the best place to go if you want to experience the real Bali, relax and learn more about Indonesian culture. Indonesia is also a cheap country in Asia to travel around!
There are, of course, many other places and highlights to see and explore in Bali, like Seminyak, Uluwatu and Nusa Dua, but this Ubud itinerary covers only 3 days in Ubud. Once here, you will have a chance to visit sacred sites, relax in natural beauty, be amazed by beautiful sunsets and learn new things.
Most of the locations that are covered in this itinerary are easily reached by walking or a scooter.
3 day itinerary
Average of 5 stops per day
3 Day Ubud Itinerary
Ubud Map
A map of Ubud. Use the map to explore all the days and stops.
A Walk in the Rice Fields, the Monkey Forest, and Tranquillity in Ubud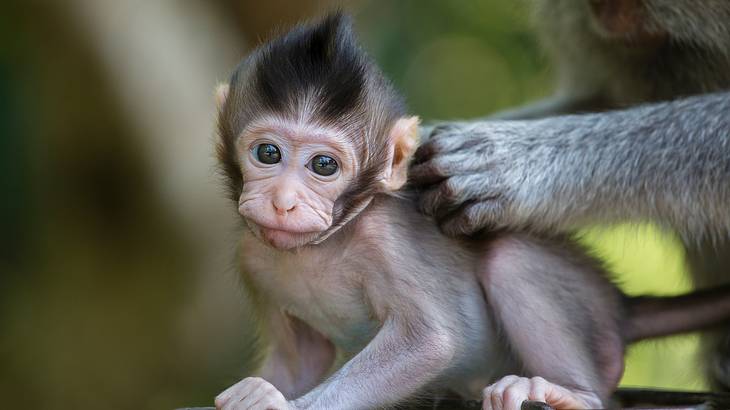 For your first day, you should rent a scooter or a car as you will be travelling outside of Ubud. If you can't drive, no problem! You can rent a driver, too!
Activities for this day include exploring a peaceful village filled with rice paddies - Tegallalang - and later on visiting monkeys at the Sacred Monkey Forest.
Once you are back in Ubud in the late afternoon, try an evening yoga class to relax your body and mind. Better yet, find a place to stay at in Ubud that offers yoga classes!
Your last stop for the day will be Capuhan Ridge Walk, which is where you will be able to enjoy the sunset and green fields.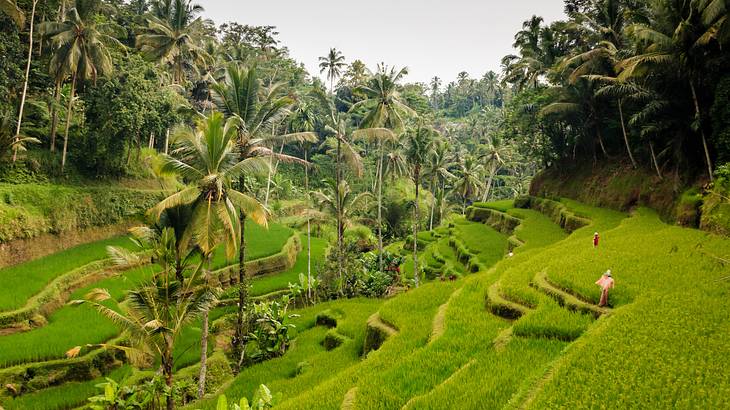 Tegalalang Rice Terraces
Tegalalang Rice Terraces are one of the top Ubud experiences and well-known attractions in Bali. The Terraces are located in Tegalalang Village, which is a 20-min ride from Ubud, or a 2-hour walk if you are feeling inclined and eager. However, I wouldn't recommend walking in the Bali heat.
The Rice Terraces are built upwards on a hill, which creates a beautiful and scenic background that can't be missed.
Another unique feature of Tagalalang is that the local village people still use a traditional Balinese rice farming technique, which has been used since the 9th century. You will be able to learn more about rice farming while here and taste some lovely rice, too.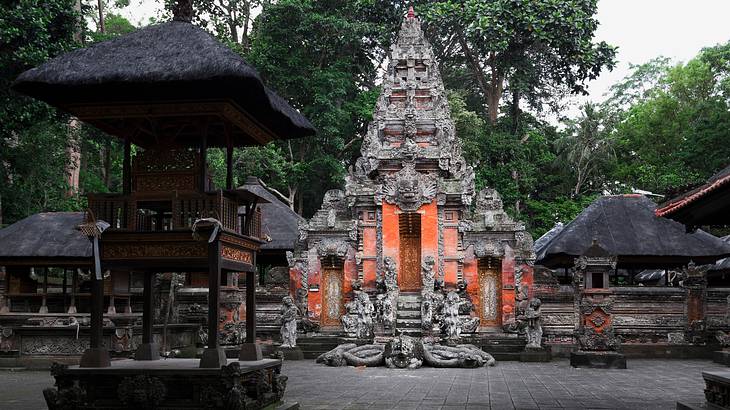 Sacred Monkey Forest Sanctuary
The Sacred Monkey Forest is located in the village of Padangtegal, which is also very close to Ubud. The local village people worship the monkeys as they believe they are spiritual animals that bring good fortune. You will find some shrines and lots of monkeys here.
Just be careful as the monkeys can be very cheeky and steal from you, especially your food.
Late Afternoon Yoga Class
The Yoga Barn is one of the most popular yoga studios in Ubud and is a great place to go for a late afternoon yoga class. It first opened in 2007, and since then, it has become a top place for spiritual healing for both locals and tourists. The building itself has a rustic Balinese feel that instantly makes you feel relaxed upon arrival.
There are 15 yoga classes and workshops offered here throughout the day, so don't be worried about not finding a suitable class time for you.
After yoga, why not also try their traditional Balinese spa complex?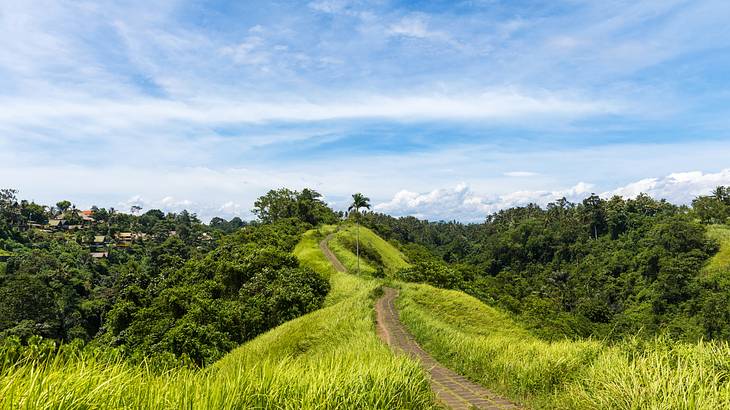 Sunset at Campuhan Ridge Walk
Campuhan Ridge Walk is located in the heart of Ubud. The entrance to the park is free, and there is no need to bring your hiking gear. It offers lovely views of Ubud and is a great spot to watch the sunset and go if you're tired of walking around Ubud only.
Cleanse Yourself with Temples, Art and a Traditional Dance
The second day covers central Ubud and is where you will find most of the temples and markets and other interesting things to do in Ubud. You will explore the spiritual side of the town by visiting the most famous Ubud temples.
You will also have a chance to participate in a spiritual ceremony at a temple and learn more about the Balinese people's believes. Your day will end with a traditional dance at the Royal Palace.
Take into account that you will need transportation to get to the first temple and then also back to Ubud. If you don't want to rent a scooter, check with your hotel/hostel as they will most likely be able to set you up with a reliable shuttle bus company to the first destination.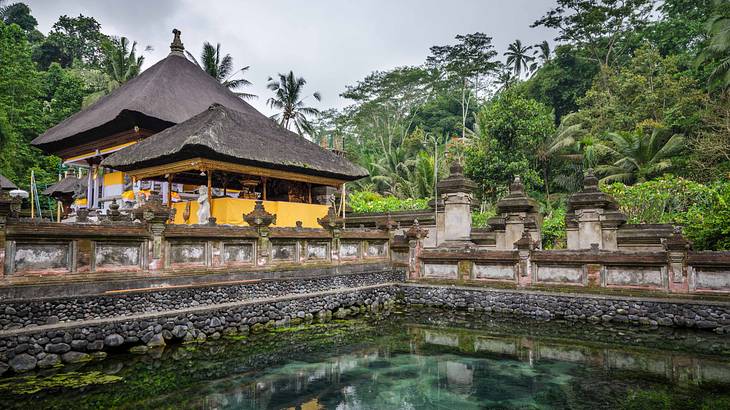 The Holy Water Ceremony at the Tirta Empul
The Tirta Empul is a Balinese Hindu temple whose name means the 'Holy Water Temple'. The temple is located outside of Ubud and is a famous destination for tourists.
If you come early in the morning, you will be able to participate in the holy water ceremony. During this ceremony, everyone gets into the temple's pond where the sacred water runs from the temple. It is a very spiritual ceremony and is highly recommended for visitors to try.
Pura Gunung Kawi
Gunung Kawi is a temple complex located in Mount Kawi and not very far from Tirta Empul (about 30 minutes outside of Ubud). It has several royal tombs carved into the cliffsides and dates back to the 11th century. Several beautiful rice fields also surround it.
Do note, there are over 300+ stairs to climb to reach this attraction and there is an entrance fee.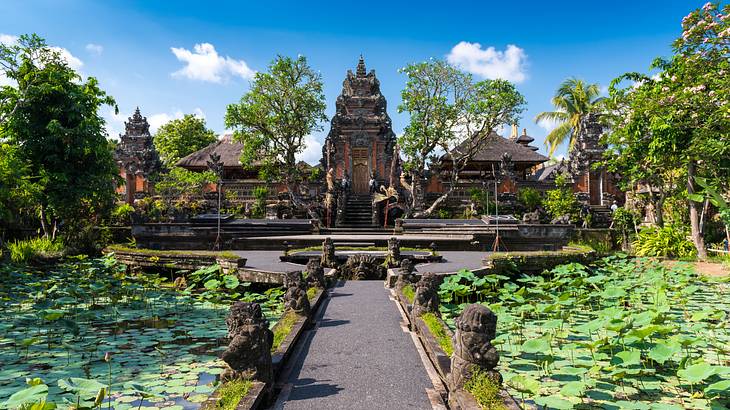 Saraswati Temple
The Saraswati Temple is a Hindu temple that was built to worship the Saraswati Goddess. It has a beautiful water garden that is filled with lotus flowers and lots of Hindu statues. It also has several artworks of the Saraswati Goddess.
Ubud Traditional Art Market
For some of the best outlet shopping in the area, head to the Ubud Traditional Art Market. It is located close to the Saraswati Temple and opposite of the Ubud Royal Palace.
The market is open daily and is the perfect place to buy gifts for your loved ones. People at the market sell everything from traditional crafts to Balinese clothing.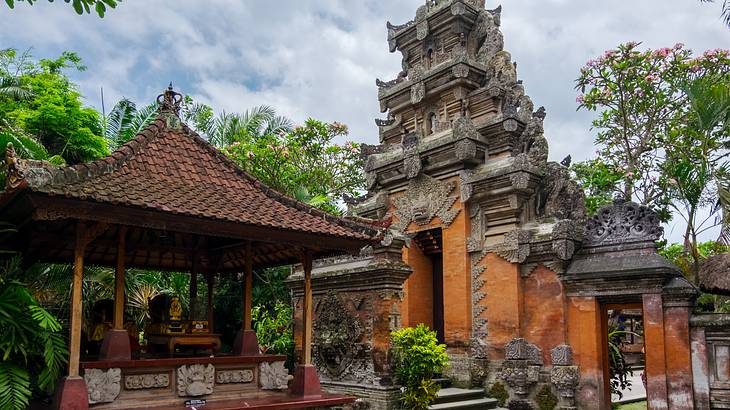 Balinese Dance at Ubud's Royal Palace
Every evening, the Royal Palace (Puri Saren Ubud) in Ubud holds a traditional Balinese dance performance.
The traditional dance tells the story of the Balinese people and their history, so it is a highly-recommended activity for visitors that want to learn more about the local people and their culture. The performance is full of colour and has beautiful scenography, so you won't get bored.
You can also purchase some snacks and drinks to enjoy during the performance.
Natural Beauty and Cooking Class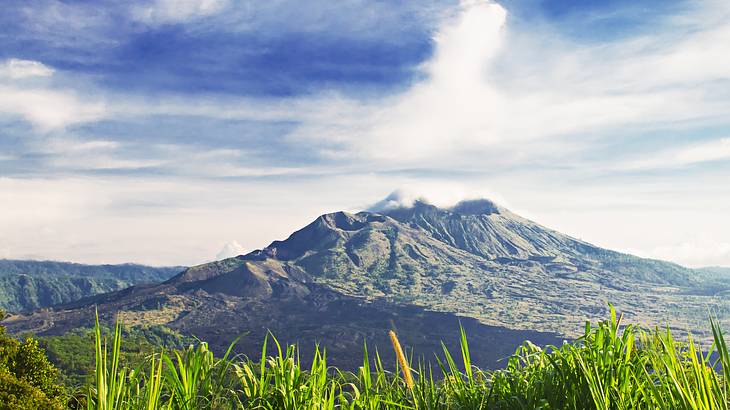 Your last day is going to be a little bit different from the other days. Today, you will have to wake up very early in the morning and drive (or take a tour) to the famous Mt Batur Volcano to watch the sunrise.
After a thrilling hiking adventure, you will explore both Tegenungan and Tibumana Waterfalls, which are located close to Ubud town. These waterfalls can get busy, so if you prefer a quieter one, try NungNung Waterfall. You will have a chance to refresh yourself in the natural pools, so don't forget to bring a swimsuit and towel.
Your last stop is going to be a cooking school where you will take a class and learn how to cook healthy and traditional Balinese food.
It is highly recommended to rent a scooter or book a local tour to get to Mt Batur and the waterfalls.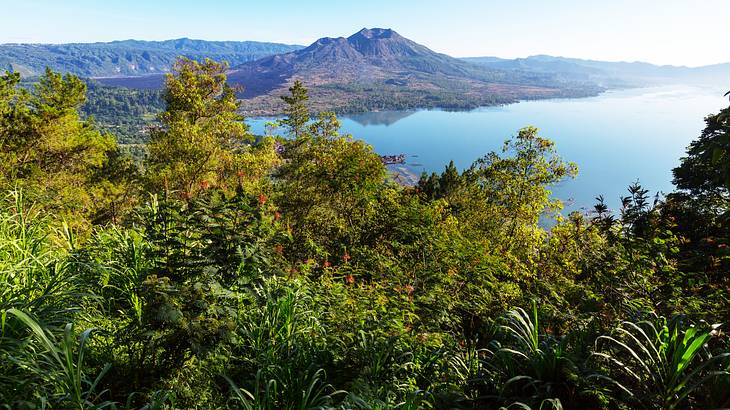 Mount Batur Sunrise Trekking
Mt Batur (Gunung Batur) is a 1717 m high active volcano that is very loved by tourists and locals. Due to the high daytime temperature, the mountain has to be climbed early in the morning.
You can do it on your own or take a tour with other people and a professional guide. To reach the top by sunrise, you have to start hiking around 4 AM or earlier. However, all your hard work will pay off as the views from the top are amazing.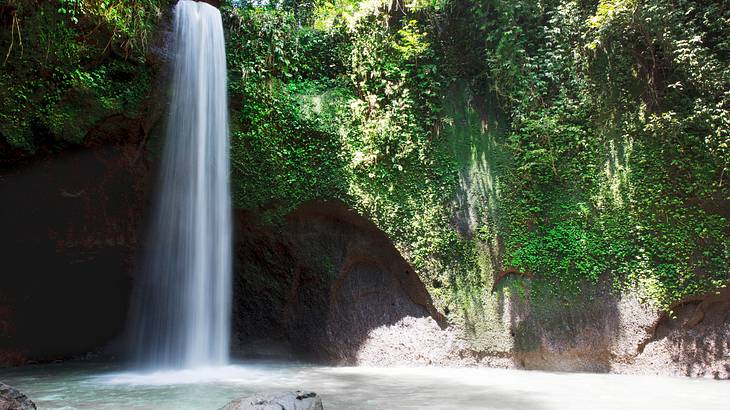 Tibumana Waterfall is about an hour drive from Mt Batur. It is a very small waterfall, and not many tourists know about it as it isn't included in most of the tours and guidebooks. As it is less touristy, you will be able to enjoy the tranquillity and have a relaxing swim in its natural pool.
Kanto Lampo Waterfall
Kanto Lampo Waterfall is a small but charming waterfall that is still relatively unknown. The best time to come here is in the morning. It is easily reached by scooter along a decent road. You can take a picture among the bottom rocks and falling water, but please be careful!
Do note - there is a small entrance fee.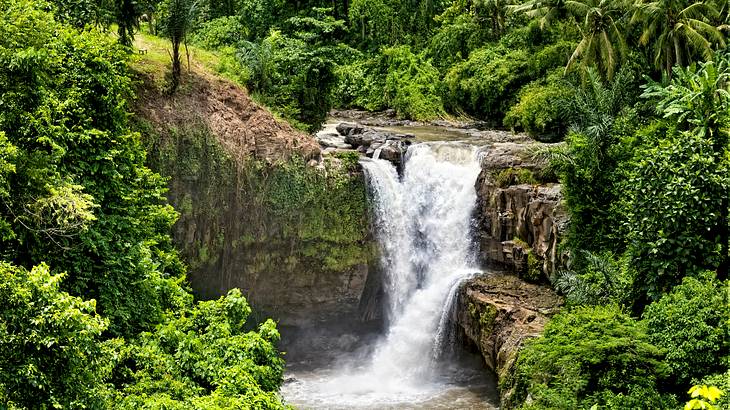 Tegenungan Waterfall
Tegenungan Waterfall is a big waterfall that is located close to the town of Ubud. By the entrance, you will find several restaurants and souvenir shops, and the waterfall isn't very far either.
When you reach the waterfall, you will enjoy wonderful cascading water surrounded by lush forest and a natural pool. Be aware that the waterfall might be crowded as it is one of the most popular waterfalls in Bali.
Cooking Class at Ubad Ubud Bali Cooking
Ubad Ubud Bali Cooking Class is a family-run cooking academy where you will learn how to cook traditional Balinese food and combine all types of exotic plants.
While taking this class, you will gain a general knowledge of Balinese food history and herbs important to the cuisine. Also, you will have a chance to take a quick tour of the family's rice paddies.
This article was edited by Loredana Elena and was first published on Jul 12, 2019 16:16 UTC.
Give us feedback about this article
For more interesting articles about Indonesia, read:
---
---
Want to keep exploring?
Subscribe for discounts on tickets and hotels and our latest guides.
Thank you for subscribing
We will be in touch soon with discounts on tickets and hotels and our latest guides.
Want to keep exploring?
Subscribe for discounts on tickets and hotels and our latest guides.
Thank you for subscribing
We will be in touch soon with discounts on tickets and hotels and our latest guides.
Related articles