Nestled in the Piedmont area and surrounded by the Alps, Turin is a powerhouse of culture and beauty and is one of the best destinations to visit in Northern Italy.
Wander the streets looking for traces of French architecture left by the Napoleonic occupation; eat its world-famous chocolate bars; and marvel at the Torino Baroque architecture.
With a cuisine to die for, a thriving wine culture, and an established art scene, one could easily pass 2 days in Turin, Italy and never be bored!
Turin is a fantastic city. Like Bologna, Verona, and Milan, it doesn't appear at the top of one's mind when dreaming about Italy, unlike Rome and Venice! But this small city has a lot to offer and a lot of Italian landmarks to explore!
Read on for our bite-sized weekend in Turin itinerary and prepare to be amazed by the sights, smells, and taste of this Northern Italian Royal seat.
2 day guide
Average of 9 stops per day
Turin 2 Day Article
Turin Map
A map of Turin. Use the map to explore all the days and stops.
Historic Sights and Museums
And so begins your weekend in Turin! Today we will be walking the inner, historic city sights and braving the museums of Turin's thriving academic undercurrent.
All of today's activities can be covered on foot, so put on some comfortable shoes and get ready to explore!
Breakfast at Pastarell
The most important meal of the day is breakfast! Be sure to start your exciting two days in Turin right by stopping off for a morning cafe and a breakfast sandwich to go!
Turin has a thriving street food market, with fresh baguettes and sandwiches stuffed with brie and salami sure to set you in good stead! You can grab these from several stores like the famous Pastarell or Master Sandwich. Why not also try and find a delicious Italian charcuterie board somewhere?
Italian street food is the perfect addition to your morning! Try snagging a park bench and people watching for a real taste of the Turin hustle and bustle.
If indoor dining is more your thing, most cafes will have indoor seating, or you can join the locals at the cafe bars and start your day rubbing elbows with the locals!
Egyptian Museum
The Museo delle Antichita Egizie is the only museum outside of Cairo that is solely devoted to Egyptian art and culture.
Explore the hieroglyphs first deciphered by Jean Francois Champollion; enjoy the monuments to pharaohs, and find yourself amazed by the restored state of many of the museum's most significant archaeological pieces.
This museum will take 2 hours to complete. It has very comprehensive audio guides in English and is packed with beautiful examples of Egyptian art and the old Egyptian empire.
Arriving in the morning will help you skip any crowds, and immersive yourself in the almost revenant atmosphere. Many of the halls feel like tombs, and it's not hard to imagine the grandeur of the Egyptian empire at it's prime.
This attraction costs 6 euros and tickets can be bought in conjunction with our next attraction: the Museum of Antique Arts in Madama Palace.
Madama Palace
A short walk onward takes you to Madama Palace.
Palazzo Madama was designed by renowned architect Filippo Juvarra in the 13th century. It features, most notably, a sweeping Baroque staircase (perfect for parading down and feeling like a princess)! Even before the Palace was built, the site was an old Roman gate. The palazzo was named after Madama Reale Maria Cristine who was the widow of the Duke of Savoy.
But why include it on this list? Because this beautiful building is only half the fun! It now houses an expansive collection of decorative arts and is the site of the Museo Civico d'Arte Antica collection. With pieces from the medieval period, through to post-unification, this museum has something for every art lover and history enthusiast!
Please note the Palace is closed on Tuesday and doesn't open until after 10 am. This attraction will set you back 10 euros and take around an hour to complete.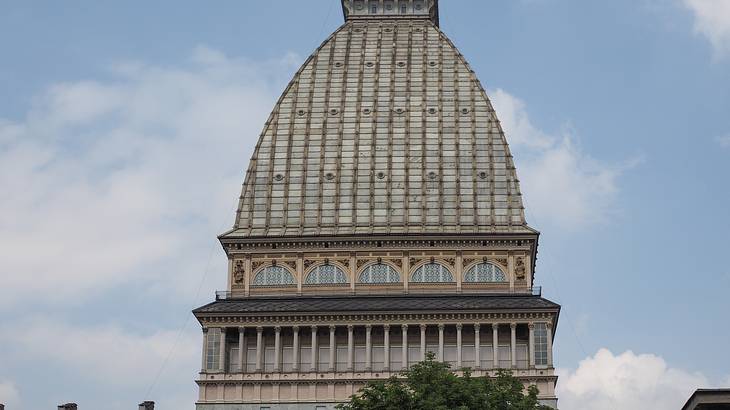 National Cinema Museum
Just a 6-minute walk onwards from the Madama Palazzo is the fabulous National Cinema Museum. This motion picture museum can be found inside the Mole Antonelliana tower.
The museum itself is well worth a visit, featuring over 20,000 devices used through cinematic history, over 300,000 movie posters, and a movie screen playing retrospectives and film festivals throughout the year. The most famous of these is the Torino Film Festival which is the second largest in Italy.
The museum offers a visual journey across the history of moving images. From black and white clips to silent films, to famous movie reconstructions, and behind the scene footage of cinema; this museum is an immersive experience into old Hollywood and beyond.
There is also a fabulous Aula del Tempio area where visitors, lying of chaise lounges, can watch various film clips projected onto hanging screens and immerse themselves in historical cinema. It's easy to lose track of time here- so make sure to check your watch!
Mole Antonelliana
This tower is half the fun, with visitors able to take a panoramic elevator to see sweeping views of Turin below. The Mole Antonelliana tower is a significant landmark and boasts itself as the tallest museum in the world.
The tower was initially conceived as a synagogue and dated back to 1889. This extension rises more than 75 metres high in 59 seconds and lands in a small temple where 360-degree views of Turin can be seen.
The glass elevator rises up through the vast domed hall that houses the Museo Nazionale del Cinema collection, allowing a beautiful view over the exhibitions to the temple room above. From here, at 85 metres above street level, you can take in Turin from above and marvel at the winding laneways and red rooftops.
The Mole Antonelliana price is included in your National Cinema Museum ticket and is well worth the trip. If you find yourself short on time, we recommend rushing through the museum and heading straight for this fabulous glass elevator experience.
Lunch at Vintage 1997
It's lunchtime!
While Turin city centre is packed with eateries and divine smells, I personally fell in love with Vintage 1997.
This restaurant has draped itself in red velvet, candelabras and wood panelling to deliver a quiet elegance that has you standing straighter and breathing deep. It can be a little old fashioned, so if you have kids it's best to stick with some family favourites on the main strip!
But if you brave it, Vintage 1997 offers a dreamlike dessert! Vintage 1997 provides a selection of cinque Piccoli Dolci (five small desserts) to let you try everything Turin has to offer. The Italian food is lovely, the service is excellent, and it's Michelin starred for a reason. That's right, Michelin starred. While Vintage 1997 isn't cheap, the hit to the wallet is well-worth the taste.
This was my big splurge in Turin, and if you're only spending a weekend in Turin then I would strongly suggest passing a lunch break here!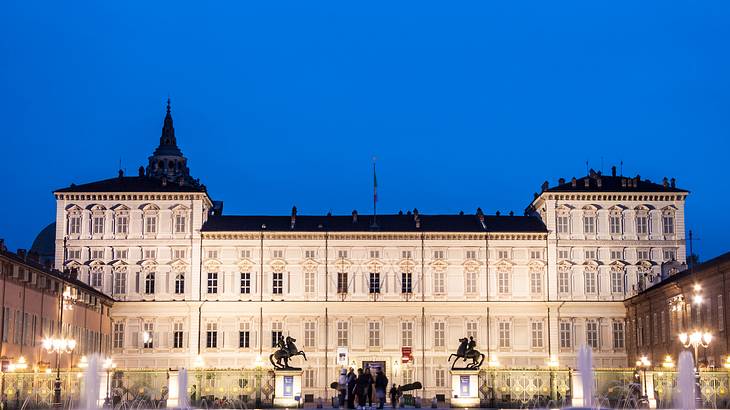 Royal Palace of Turin
Less than 10 minutes walk from the Museum of Cinema and Mole Antonelliana is the Royal Palace of Turin.
Constructed in the 16th century, this building has been changed and updated to reflect numerous architectural styles. For example, in the 17th century, baroque reliefs and art motifs were added to modernize the building. The result? A mish-mash of Turin history and artistic fashions.
Today this royal Palace houses the royal museums, including the opulent Savoy Gallery, the Royal Armoury, the Royal Library, and the Archaeological Museum. Plus, this gorgeous building overlooks the Piazza Castello and features well-manicured, sprawling gardens. The Palace served as the residence for the Kings of Savoy until unification in 1865.
While it would be easy to spend a day in these museums alone, we recommend taking 90 minutes to wander the Savoy Gallery, Royal Armoury, and then head to the gardens. These provide a glimpse at Medieval life and still allow for some fresh air and relaxation.
Cathedral of Saint John the Baptist (Turin Cathedral)
Following the theme of opulence, next, we will be walking 12 minutes to the Cathedral of St. John the Baptist. It is also known as Turin Cathedral or Duomo di Torino. This working church serves as the seat of the Archbishops of Turin (so be sure to behave)!
Before construction in the 15th century, the site served as an Ancient Roman city theatre. After this, there was a period were the Lombard Church stood and remnants of this stonework can still be found in the base of the cathedral.
The history of this cathedral is long a complex, but my favourite fact is that it was the site of an assassination! In 662 the Duke of Turin, Garibaldi, was assassinated while praying.
Spend some time wandering the beautiful building. Observe the Guarini Chapel rooftop and seek out the Giovanna d'Orlier de la Balme Tomb Monument with its missing top (which was destroyed by French troops during the Napoleonic occupation).
Dinner at a local Eatery
After a long and giant day exploring all that Turin's city centre has to offer, it's time for dinner! Turin sits in the Piedmont Region which offers a grand range of cuisine sure to get your taste buds tingling.
Instead of recommending a particular dinner spot (though you can't go wrong with Ca Dij Mat), I recommend looking for some of these traditional Piemontese dishes for your 2 days in Turin.
For your antipasto, try bagna cauda, which is a hot mix of garlic, milk, and anchovies served with grilled vegetables. You eat it like fondue, and it makes for a delightful starting snack.
Truffle risotto comes next! Truffles are expensive everywhere in the world, except, it seems, in Turin! Truffle risotto is packed with flavour, light, and delicious! I once gorged on 2 plates of it after a particularly strenuous day of sightseeing and have zero regrets!
Finally, try Barolo wine. The Barolo Vineyard is located in Le Langhe, which is the beautiful hilly wine region surrounding Turin. The red's that come from this area offer deep plum flavours, long legs, and are an excellent way to wrap up your first day on your weekend in Turin!
Get wild in the vast reaches of Turin's suburbs!
Welcome to day 2 of your 48 hours in Turin!
Today we will venture forth from the City Historical and Tourist centre by way of bus or tram.
On today's Turin, Italy itinerary is the Royal Palace of Turin, the Valentino Park, something for the sweet tooth, and an excellent Opera at the Teatro Regio Torino.
Breakfast at Convitto Cafe
Start your day on the right side of the bed with a pit stop at the Convitto Cafe.
With a vast array of cakes and tarts or a savoury menu including breakfast paninis, this cafe is packed with locals and tourists alike. It has excellent value for money and a welcoming, calm atmosphere. If you are feeling especially peckish, try the cakes! Baked daily, Convito Cafe offers the best sweets in the area (I made it my mission to devour at least 9 of them over the week I stayed in Turin). Grab a few for takeaway for your garden picnic at stop 3!
Breakfast in Italy, like all meal times in Europe, tends to run a little later than the US, Australian, or British travellers are used to.
Breakfast generally starts at 8 am and runs through to 11 am or midday. In general, save space for lunch because Italian's consider breakfast the lightest meal of the day. It's also worth noting that, due to the belief that too much milk late in the day is bad for you, Italian's switch from cappuccinos to cafe espressos after lunch. But it's your holiday, so try not to pay too much attention to this unofficial rule.
La Venaria Reale
To get to the La Venaria Reale, you have two choices: catch the express bus which stops at Piazza Castello every 15 minutes; or take a rideshare. I took the express bus and was only charge 1.7 Euros. It's well worth the bus to see the city and listen to the Italian chatter around you!
La Veneria Reale or the Palace of Venaria, is a former royal residence with impressive gardens. The palace complex is filled with Baroque decoration and artwork and is a monument to the beauty of Italian architecture.
The beautiful Palace and the grounds surrounding it will take approximately 2 hours, so make sure to fill up on coffee before embarking around it!
My favourite rooms were the Galleria Grande, which features black and white tiled floors and looming stone arches. Entry is 12 Euros with no time limit.
Have a Picnic in the Palace Grounds
Grab a coffee to go from one of the cafes inside the Palace and indulge on cakes taken from your breakfast stop. Wander the gardens and settle by the Great Pond and Fountain of Hercules for some well-needed rest.
The park allows food to be brought in, and you can choose from a range of areas to dine in. Feel like shady pergolas in the Rose Garden? Want to brave the terrace near Patio dei Giardini for views of the alp peaks in the distance? Or do you feel like a secluded spot near the Temple of Diana?
If you find yourself feeling restless, you can take the trackless train down to the lower gardens or explore the Great Pond via gondola ride.
The beautiful gardens at La Veneria Reale are worth a trip of their own- so don't skimp on time.
Parco del Valentino
Heading back across town, take the express bus back to Piazza Castello. From here it is a quick 15-minute walk, or a 10 minute Line 9 tram trip to get to our next stop: Parco Del Valentino.
Located on the banks of the Pi River, Parco del Valentino is a sprawling mess of stunning trees and greenery. Come in autumn to see the beautiful reds and gold of the area and enjoy the required leaf fight.
Parco del Valentino was opened in 1856 and was Italy's first public garden. It was also used as a racing circuit until the mid 20th century.
From this park, you can explore the Torino Esposizioni and underground pavilion complex. Made with glass and wrought iron arches, these pavilions offer a glimpse of the Nervi Ferrocemento mode of architecture. Which was revolutionary for Italy and broader Europe.
You can also search for Enzo Ferrari's unique bench!
Lunch at Pasticceria Bizzi
Tripadvisors Number 1 lunch spot is located a five-minute walk from Parco del Valentino.
The Pasticceria Bizzi has delightful small cakes, and ricotta stuffed pastries to get you through the afternoon.
Treat yourself to some world-famous Turin chocolate, a creamy flan, or a sweet croissant. The food is delightful, and this bakery has savoury and vegetarian options for any palette.
Seating can be a squeeze, especially if your trip is over the weekend in Turin, so grab your sweets to go and drift back to the park for our next stop!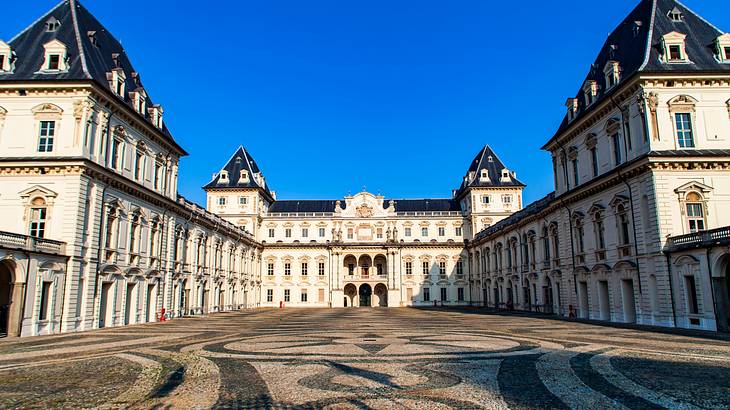 Castello del Valentino
Heading back into the park, explore the Baroque Castle UNESCO site located in the Northern quarter.
This ancient castle was the first mentioned in 1275 but was modernized in 1630. Nowadays it's the facade jaw-dropping, and the ceilings and architecture are primarily done in French Baroque style.
Today the central building is used by the Architecture faculty of the Polytechnic University of Turin (which seems fitting). You can still enter and explore the building, which houses many murals, paintings, and artefacts.
The highlight for many is the vast gated courtyard and french antique style turrets. These alone are worth the 6 Euro entrance fee!
If castles are to your liking, you can also fit in a visit to the Medieval Village and Castle located nearby. Built for the Italian World Fair in 1885, this mini-village is a great place to play make-believe and enjoy learning about Medieval life and culture.
Treat yourself to an Aperitivo in Piazza Vittorio!
Aperitvo's are part of Italian culture! These small alcoholic drinks are meant to whet the appetite before dinner and serve to ease you into the dining experience.
Try an Aperol spritz, some Campari on ice, or limoncello to immerse yourself in Italian dining culture. Almost any bar along the main city strips will have a list of apertivo choices for you to choose from. You'll find many locals descend onto the patios or stand by the bar to relax after a day at work.
Try heading back to Piazza Vittorio Veneto which is packed with great apertivo bars. Grab a seat on the patio, and people watch the hustle and bustle. Your two days in Turin is almost at an end!
Dinner at Da Dino
After your Aperitivo, head down to San Vincenzo by way of a 20-minute walk or ten-minute tram ride. Da Dino has excellent service, serves a buffet of Italian classics for both lunch and dinner. Alternatively, you can choose from the extensive menu and try some more Piemontese delights- such as the Piedmont Tajarin pasta.
Every region in Italy has its own type of pasta and tajarin is a long, ribbon-like egg pasta that will leave you rubbing your tummy in satisfaction. Other dishes the region is famous for include: Agnolotti, Ballito misto, and gianduiotto.
The latter, a delicious chocolate candy, is especially worth a try. Turin is famous for its chocolate. Turin is the birthplace of the chocolate bar, and has a history seeped in chocolate making! In fact, the first chocolate house was opened way back in 1678 after a Spanish princess married the Duke of Savoy (bringing with her the spoils of Cortez and Spanish settlement cacao). If you are a chocolate lover, you will be spoiled for choice at Da Dino- and any of the surrounding cafes!
Catch an Opera at Teatro Regio Torino
With little time to spare, why not see an Opera at the Teatro Regio Torino to cap off your 2 days in Turin? Tickets will set you back around 60 Euros; however, last-minute ticket sales do happen, so be sure to check at the box office.
The Royal Theatre building dates back to the 16th century. However, a fire destroyed much of the original interior. The baroque style facade remains, but stepping inside, you will find a surprisingly contemporary amphitheatre and performance space. Complete in 1973, the building favours red velvet, wide modern arches, and present some genuinely world-class opera and ballet.
Operas, from the classic La Boheme and Tosca to contemporary performances of The Wizard of Oz and Tobias Picker's Emmeline all grace the Turin Theatre stage. You are sure to find a memorable performance no matter your liking of Opera. And it will give you a chance to fully immerse yourself in one of Italy's most famous triumphs: the operatic art form.
Closing Thoughts
Turin brings to mind chocolate and coffee, history and romance.
It was the seat of the Savoy Royal family for over two centuries and carries the marks of Baroque architecture and French invasion in its very walls. From modern cinematic museums to Egyptian relics and green open spaces; Turin is genuinely a bustling city made to delight.
With this itinerary, you will have seen the best of Turin's historical and artistic heart. We hope that your 2 days in Turin is a beautiful memory and a brilliant snapshot of Northern Italy's diverse culture, food, and history.
This article was edited by Loredana Elena.
For more interesting articles about Italy, read:
---
---
Want to keep exploring?
Subscribe for discounts on tickets and hotels and our latest guides.
Thank you for subscribing
We will be in touch soon with discounts on tickets and hotels and our latest guides.
Want to keep exploring?
Subscribe for discounts on tickets and hotels and our latest guides.
Thank you for subscribing
We will be in touch soon with discounts on tickets and hotels and our latest guides.
Related articles