A Perfect 2 Days in Lisbon Itinerary
Destguides may receive commissions from purchases made through affiliate links in this article.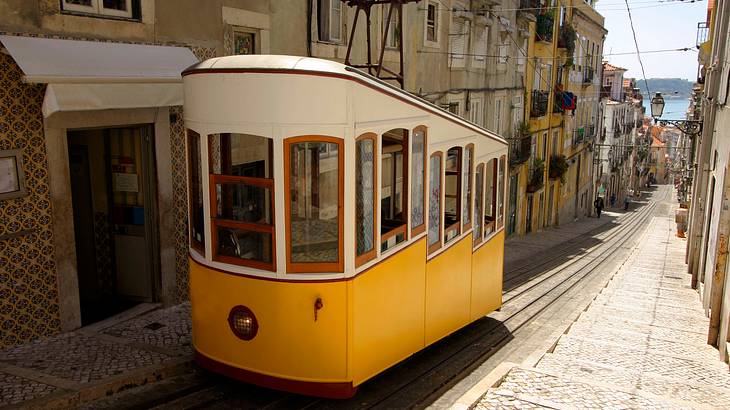 Lisbon, or Lisboa in Portuguese, is one of the finest and oldest cities in Europe. The capital city of Portugal was home to famous explorers and a starting point of the world's greatest voyages. Built on hills and surrounded by ocean, Lisbon is one of the most picturesque cities in Europe.
There are numerous things to do in Lisbon, Portugal, and this 2 Days in Lisbon Itinerary will cover some of these fun and exciting activities. You will find sandy beaches, charming streets with trams, spectacular architecture, old neighbourhoods, World Heritage Monuments and breath-taking museums. All of them conveniently located near each other.
Getting around Lisbon is also relatively easy. You can use buses, trams, funiculars, the metro and trains for day trips from Lisbon to Sintra and Cascais. For your two days in Lisbon trip, you can get a Viva Viagem Card that will allow you to use all the public transportation methods except tour buses. This card will help you save money on transportation tickets - just charge the card with single or 24 hours tickets and enjoy travelling cheaper.
Another way of saving money, and probably the best option is to get a Lisboa Card. It offers free entry to more than 30 attractions and allows you to travel free of charge. I suggest getting the 48 hours Lisboa Card as it will make your trip more convenient and hassle-free.
2 day itinerary
Average of 5 stops per day
2 Day Lisbon Itinerary
Lisbon Map
A map of Lisbon. Use the map to explore all the days and stops.
Explore the Picturesque Belém District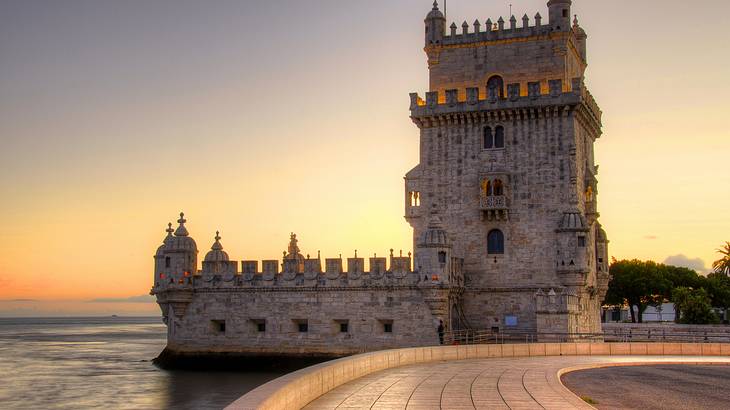 On your first day in Lisbon, you will be wandering around Belem (Belém) district - a charismatic neighbourhood to the west of the city. You will see a few of the most iconic tourist attractions in the city, such as Jeronimos Monastery, Vasco da Gama Gardens, Padrão dos Descobrimentos and Belem Tower.
To make the most of this day, especially if you only have one day in Lisbon, I suggest starting as early as possible. Take into account that even though you can walk from one attraction to another, you might need to use public transportation to save time. Don't forget to get the Lisboa Card to skip the queues at the front of the ticket booths.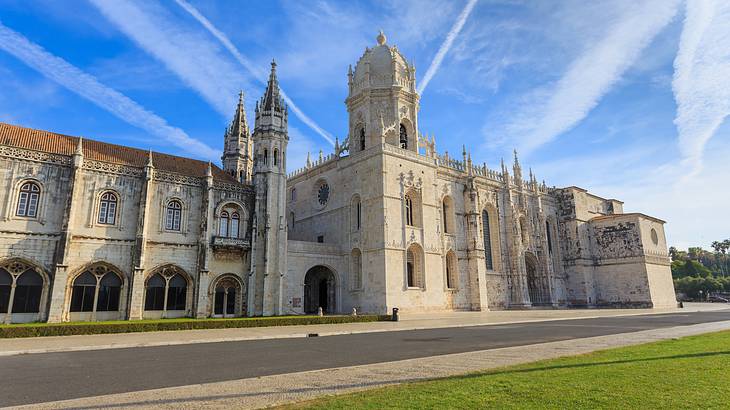 Jerónimos Monastery
Your first stop of the day is Jerónimos Monastery - a grand monastery and resting place of Vasco da Gama. Built during the 16th century to commemorate Vasco da Gama's return from India, Jeronimos Monastery is one of the most well-known landmarks in Portugal. Its breath-taking architecture, decorative elements and impressive stone carvings attract millions of visitors every year.
Inside the church are tombs of famous Portuguese people, including explorer Vasco da Gama and poet Luís de Camões. In 1983, the monastery was also named a UNESCO World Heritage Site.
Be aware that Jeronimos Monastery is closed on Sundays and even earlier during the winter months.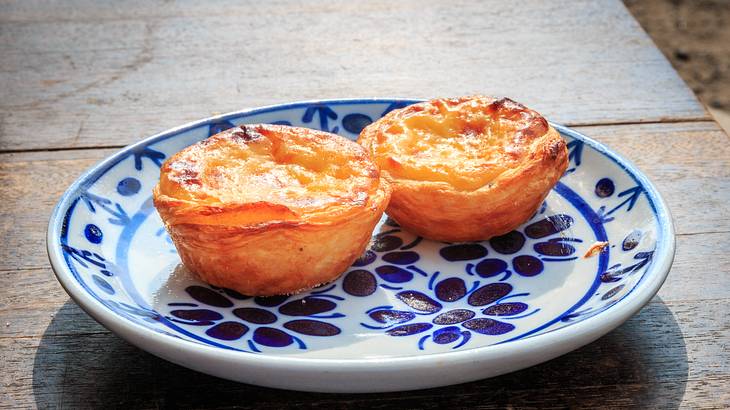 Pastéis de Belém
After the monastery, I recommend stopping at a small local bakery for a light breakfast and trying Lisbon's famous custard tart (Pastel de Nata). Pasteis de Belem is an airy bakery next to Jeronimos Monastery specialising in Pastel de Nata.
According to the local stories, this bakery was the first to start selling pastel de nata after monks from Jeronimos Monastery sold their recipe to the bakery owners. Only a handful of people know the formula used to make Pastéis de Belém's custard tarts. This unique recipe makes the pies crispier and more delicious than others sold in different bakeries.
The tarts offered here are delicious and are the main reason I had to include Pastéis de Belém in this Lisbon travel guide. The Manteigaria, aka the Portuguese custard pies factory, also serves up some tasty pasteis de nata, so it's worth considering stopping here too for breakfast in Lisbon!
Jardim Vasco da Gama
Jardim Vasco da Gama, or Vasco da Gama Garden, is a 5 hectares garden situated in the centre of the Belem district. The garden was established in the 18th century to celebrate the great discoveries of explorer Vasco da Gama.
Today, it is a vast garden with fancy restaurants, several handicraft shops, fountains and massive green space. It is also an excellent place for strolling around and enjoying the tranquillity.
To make the walk even more enjoyable and satisfying, I recommend taking away custard tarts from Pastéis de Belém and eating them alongside a cup of coffee somewhere in the garden. Don't rush - enjoy the nature and spectacular views of Belem.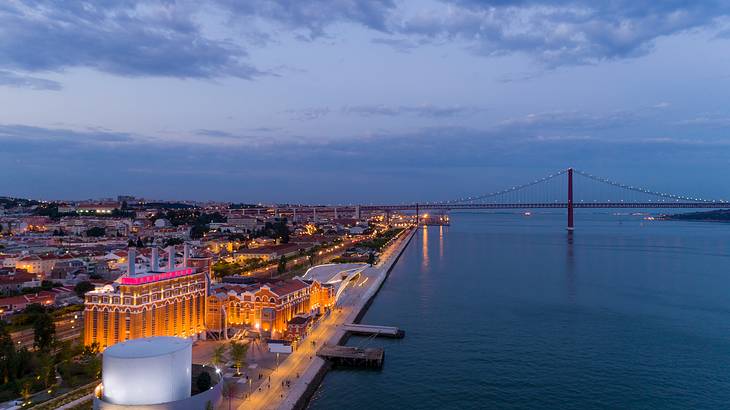 Museum of Art, Architecture and Technology (MAAT)
MAAT (Museum of Art, Architecture and Technology) faces the Tagus River. The architect Amanda Levete designed its exciting and modern architecture.
Next to the museum, you will find the Tejo Power Station - a symbol of Portuguese industrial design. I recommend walking around both buildings and admiring their shape and beauty.
Inside the museum, several halls feature international and local exhibits, as well as debate rooms and convention halls. MAAT, together with the Tejo Power Station, are two of the most visited museums in Portugal. Therefore, they are a must on even a 1 week in Portugal itinerary!
When you finish with the museum, grab lunch by the river. You can find cafes inside the museum or along the river, a couple of minutes walk from MAAT.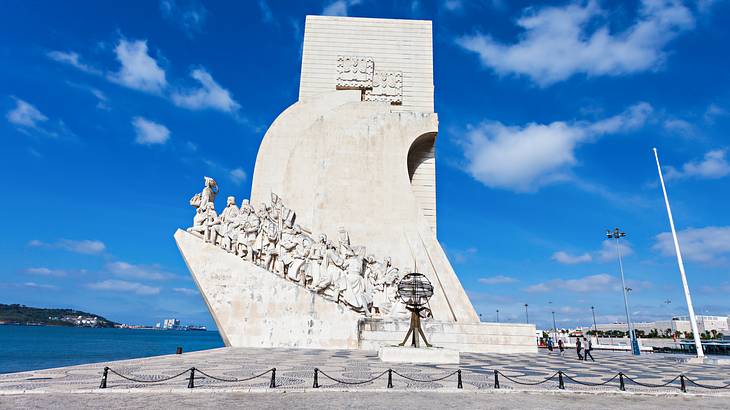 Padrão dos Descobrimentos
After the museum, continue walking along the river. You will eventually come across Padrao dos Descobrimentos monument (the Monument of the Discoveries).
This monument is dedicated to the great Portuguese explorers from the 15th-16th century. Initially built in 1940 from wood and plaster, in the 1960s, it was rebuilt using limestone, concrete and steel. It is 52 meters high and has a viewing platform with the most beautiful views of Belem and Tejo Estuary.
If you go inside Padrao dos Descobrimentos, you will find small exhibit rooms. Take note that there are different fees for the museum and viewing platform. If you have the Lisboa Card, you will receive a 30% discount.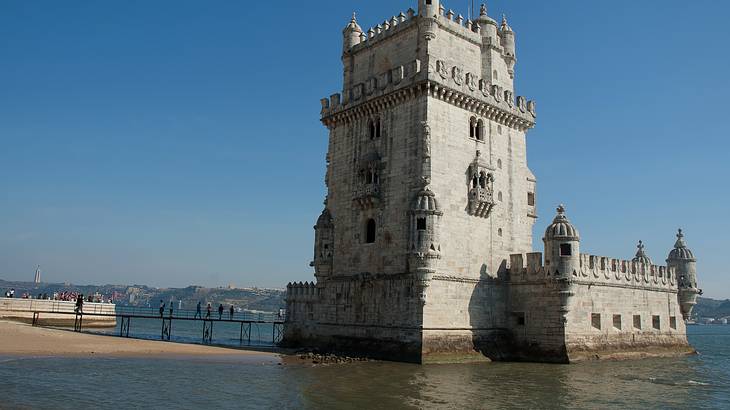 Torre de Belém - Belem Tower
The last stop of the day is Belem Tower or Torre de Belém in Portuguese.
The tower was constructed between 1514 and 1520. It was a part of the Tagus estuary defence system. Later on, it was turned into a lighthouse and customs house.
Belem Tower showcases unique and grand Manuelino architectural style. It has five floors, 16 windows with cannons and numerous pits that were used for prisoners. In 1983, Belem Tower was designated as a UNESCO World Heritage Site.
The tower can be explored with a tour, which includes visiting all the floors and several pits. Enter for free with the Lisboa Card.
The Historic Central Lisbon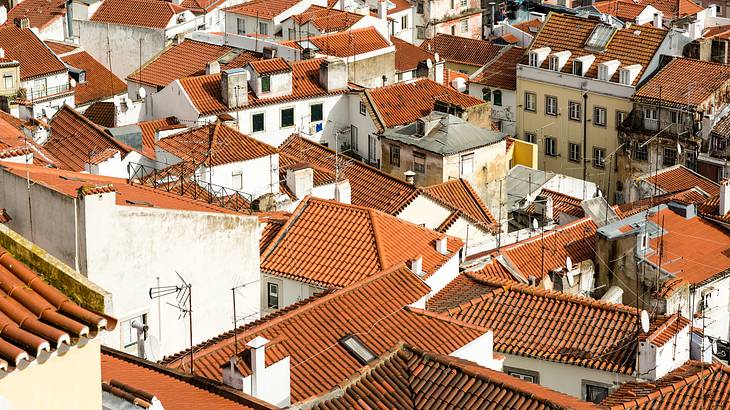 On the second day of your 48 hours in Lisbon, you will be visiting central Lisbon and learning more about the city's rich history. Be prepared to walk a lot and use public transportation.
This day covers several central and scenic districts in the city, such as Alfama District - the oldest district, Baixa District - the elegant district and Bairro Alto District - the 'undefined' district.
You will have a chance to see the charming São Jorge Castle, the chaotic Rossio Square, the unique Santa Justa Lift and the alluring Chiado Square. As you wander through these districts, you will find cosy traditional restaurants and cafes where you will be able to take a break and relax.
São Jorge Castle
São Jorge Castle, also known as Castelo de S. Jorge or Lisbon Castle, is situated on a hill overlooking Alfama District. First built in 200 BC by the Romans, the castle underwent a complete restoration in the 1940s.
Inside, you will find a museum, paintings, numerous viewing points and spectacular gardens. Outside the castle, there are several monuments, arches and beautiful medieval streets.
As it is the most visited tourist attraction in Lisbon, expect long queues by the entrance and ticket booths. If you have a Lisboa Card, go straight to the entrance line. The castle is open seven days a week.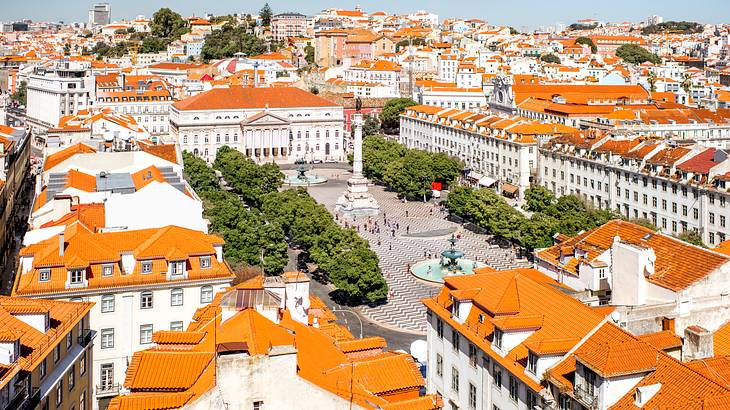 Rossio Square
Rossio Square is the most iconic square in Lisbon. It is located in the Baixa District (Downtown), a short walk from São Jorge Castle.
Locals usually refer to the square as 'the heart of Lisbon' as various European landmarks and traditional restaurants surround it. Within the square, you will find two baroque fountains and a 27-meter tall monument dedicated to Dom Pedro IV.
During the Middle Ages, Rossio Square used to be the main square for revolts, bullfights, executions and celebrations. Now, it is an ideal place to relax, grab a coffee and watch busy people running around while sitting down.
Be aware of your belongings here as pickpocketers are common and active in this square.
Santa Justa Lift
Your third stop of the day is the Santa Justa Lift (Elevador de Santa Justa in Portuguese). The lift was created in 1902 and was named the Elevador do Carmo (Carmo Lift) at first.
Until 1907, the lift was powered by steam. It was built to ease access between the Baixa and Bairro Alto Districts, and vice versa. The elevator stands at 45 meters tall and can carry up to 20 people at a time.
It became popular among tourists due to its panoramic views over central Lisbon. Two different admission fees exist to ride the lift and enter the viewing platform. However, if you have a Lisboa Card, both activities are included for 'free'.
Chiado Square
The last stop is Chiado Square, a small square located between Bairro Alto and Baixa Districts. The square is surrounded by various shops, theatres, museums, cafes, restaurants and bohemian streets.
If you are looking for gifts to bring back home from Lisbon, Chiado Square is an ideal spot for that. Also, just a little bit further from the square, you will come across important cultural sites, such as the ruins of Carmo Church, Martires Basilica and the National Opera House.
The square becomes 'alive' in the evening, which is when most of the chic cocktail bars, restaurants and pubs open their doors for visitors.
In Summary
Lisbon has a lot of interesting sights, and it's not easy to see everything in only 2 days, but I hope this 2 days in Lisbon itinerary will help you save some time and money, as well as visit the most scenic attractions.
An essential thing to plan for while sightseeing in Lisbon is to give yourself enough time to enjoy the city's cobblestone squares, majestic buildings and narrow alleys.
If you wish to explore more and don't mind using public transportation, I suggest you take the Tram 28 line that goes through the best parts of Lisbon. I can guarantee you won't be disappointed!
This article was edited by Loredana Elena and was first published on Nov 1, 2019 10:24 UTC.
---
---
Want to keep exploring?
Subscribe for discounts on tickets and hotels and our latest guides.
Thank you for subscribing
We will be in touch soon with discounts on tickets and hotels and our latest guides.
Want to keep exploring?
Subscribe for discounts on tickets and hotels and our latest guides.
Thank you for subscribing
We will be in touch soon with discounts on tickets and hotels and our latest guides.
Related articles