One Day in Cordoba Itinerary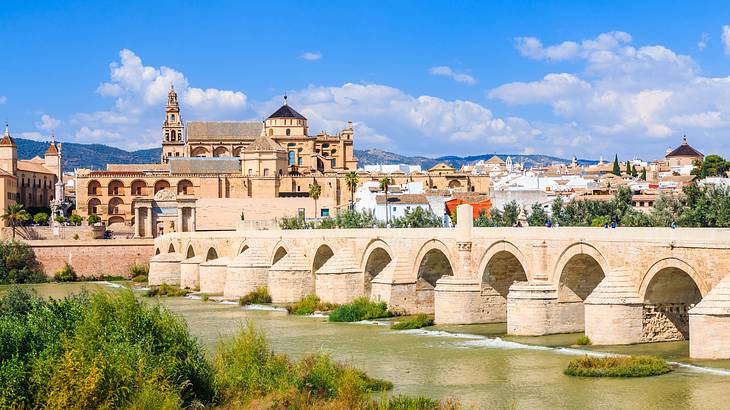 Cordoba is one of the most colourful and fascinating cities in Andalusia. It sometimes overlooked as a day trip destination in favour of other popular Spanish towns. Cordoba is a perfect place for people who want to escape the crowds of Granada and Seville.
I have perfectly planned this one day in Cordoba itinerary to help you explore the city's historic European landmarks and to experience the local culture. I have also included my suggestions on where to eat, how to travel, and what else to see if you have more than one day in Cordoba.
Nestled on the banks of the Guadalquivir River, Cordoba was designated as a World Heritage Site and was historically home to many diverse cultures such as the Jewish, Romans, Arabs and more. The city was once a capital of the Arab State and Caliphate. Today, Cordoba is filled with maze-like alleys, squares, museums, gardens, and colourful patios.
The city can be visited at any time of the year as it has a pleasant Mediterranean climate. Summer months are usually very sunny and hot, while winter months can be quite cold and rainy. I suggest visiting Cordoba in early spring and autumn when the temperature is perfect for outdoor activities. The best months to visit are April and October.
Almost everything in Cordoba is within walking distance (except Medina Azahara). You can obtain a free tourist map from any tourist information centre. Since the old town is about 25 minutes walk from the central train station, you can take a taxi after arriving and then walk all day.
This Cordoba itinerary is fast-paced and fully packed, so make sure you wear comfortable shoes and clothes. Don't forget sun cream, sunglasses, a hat and a bottle of water (especially if you are visiting in late spring or summer).
One day guide
Average of 13 stops per day
Córdoba One Day Article
Córdoba Map
A map of Córdoba. Use the map to explore all the days and stops.
Explore historic and colourful Cordoba's old town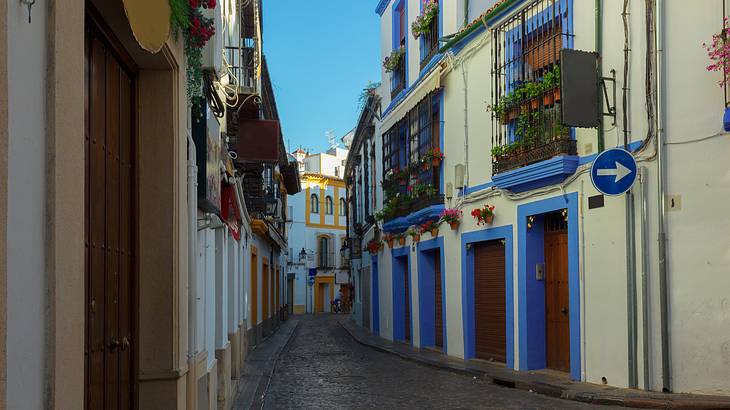 Cordoba is a relatively small city and one day is just enough to visit its main attractions. I suggest taking a sleeper or early morning train so that you can start your day as early as possible. When leaving the city, look to go after 8 PM to maximise your time in Cordoba. If road-tripping around Spain, make sure to include Cordoba on your itinerary!
For this day trip in Cordoba, you are going to visit well-known landmarks in Spain, such as Puerta de Almodovar, Cordoba Synagogue, Alcazar of the Christian Monarchs, and the Mosque-Cathedral Cordoba. You will also have a chance to wander through the majestic Calleja de las Flores and take photos of colourful patios of San Basilio.
I have also included several recommendations for cafes and restaurants that are suitable for all types of travellers. Make sure to check them out if you aren't sure where to eat or want to taste authentic Andalusian food.
Have breakfast at El Arriate - Café y Tapas
El Arriate - Café y Tapas is a small cafe located near the Roman Mausoleum that you will pass on your way to the cafe from the main train station.
The cafe serves various types of foods, including freshly made churros, crepes, Spanish sandwiches, and toasties. The cafe also sells fresh orange juice squeezed from local oranges. The prices are affordable, too. It's probably the cheapest place I could find in the area.
El Arriate cafe opens early in the morning and is only 10 minutes walk from the main train station. If you arrive earlier than the cafe opens - as I did, I suggest walking around the nearby park (Jardines de la Agricultura).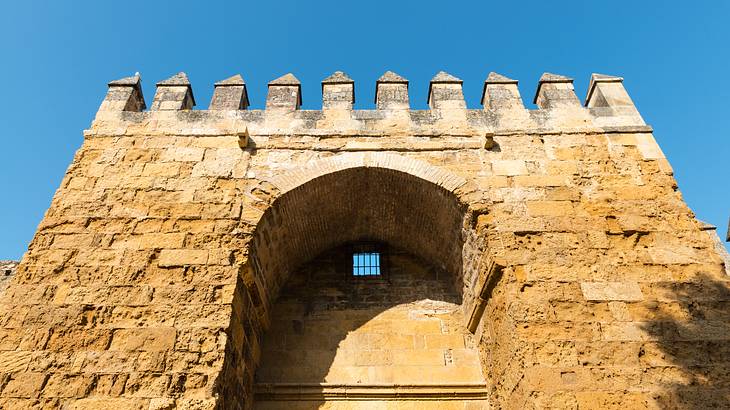 Get fascinated by Almodóvar Gate
Almodóvar Gate, or Puerta de Almodóvar, is one of the Islamic city gates previously known as Walnut Gate (Bab al-Yawz). Along with the other two city gates, the Almodovar Gate is one of three gates that has remained well preserved and has survived until modern times.
The construction of the gate is dated back to the 8th century when Moorish settled in Cordoba. As the gate was located on the route to Almodovar city, after 1236 it was renamed Almodovar Gate instead of Walnut Gate.
Its current appearance dates back to the 14th century. In 1802 the gate underwent a small amount of restoration. The gate has two towers connected via the parapet walk.
Today, Almodovar Gate is the main entrance to Juderia, the old Jewish Quarter in Cordoba.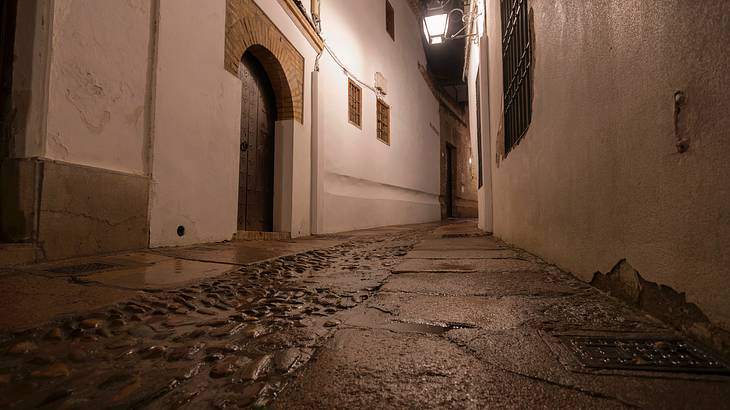 Visit Córdoba Synagogue
Constructed in the 14th century, Córdoba Synagogue, or Sinagoga de Córdoba, is one of the best-preserved synagogues in Spain. It is also one of the most popular landmarks that you have to visit on your Cordoba day trip.
Situated in the centre of the Jewish Quarter, the synagogue consists of a lush courtyard, prayer room and women's gallery.
It was built to accommodate about 30 people at one time. The interior is nicely decorated in Mudejar style. You will be amazed by the decorated walls and a tall ceiling that collects the daylight. The synagogue was designated as a National Monument in the 19th century.
If you are interested in Jewish history in the Cordoba or want to learn more about the synagogue, I highly suggest booking a tour that usually lasts for about an hour.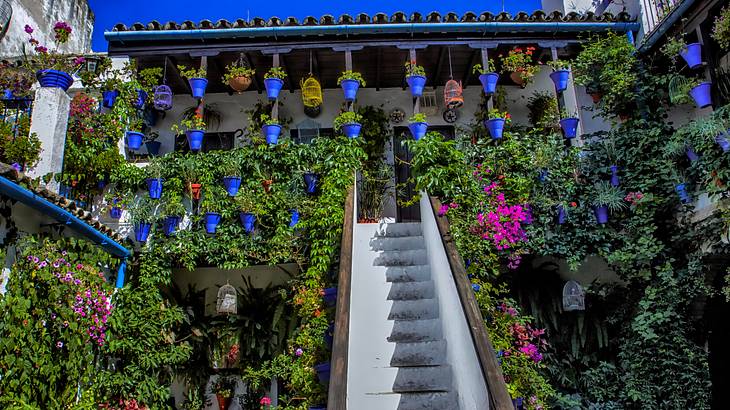 Take a tour of Patios de San Basilio
Almost every tourist decides to visit Cordoba after seeing the photos of colourful houses decorated with flowers.
Visiting the patios of San Basilio (Patios de San Basilio) is a must-do in Cordoba. This district is filled with breath-taking patios that have won numerous awards for the most beautiful architecture and design.
To get the most of your time and to learn more about the patio culture, I recommend booking a private or group walking tour. Your tour guide will take you to narrow neighbourhood alleys and won't let you miss any of the most amazing patios. The tour usually lasts about 2 hours.
If you prefer to explore on your own, make sure to check the local tourist information centre for the opening hours.
Have an Andalusian lunch at La Posada Del Caballo Andaluz
Located in a San Basilio district's peaceful street, La Posada Del Caballo Andaluz serves authentic homemade Andalusian food. The restaurant is open for lunch and dinner services, but you can also come in just for coffee and dessert.
La Posada Del Caballo Andaluz is situated inside a traditional Cordoban house which has several cosy lounges, colourful patio, and a spacious terrace. Customers are encouraged to sit on a terrace and enjoy the beautiful views.
La Posada Del Caballo Andaluz is a mid-range restaurant that serves fresh food from the local produce. It is popular among the locals, but still a hidden gem to the tourists.
Be aware that you might need to wait for some time before you get a table for your lunch - it is quite popular!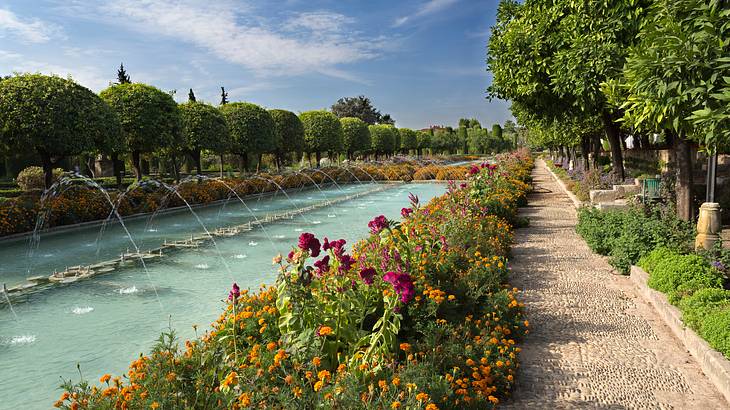 Explore Alcazar of the Christian Monarchs
Alcazar of the Christian Monarchs, also known as Alcázar de los Reyes Cristianos, is a UNESCO World Heritage Site and the most important landmark in this 1 day Cordoba itinerary.
The ancient fortress is built in the Moorish style and dates back to Roman and Visigoth times. In the 13th century, Alfonso XI transformed it into a Christian palace and became a royal residence for Christian monarchs.
Alcazar of the Christian Monarchs is the most well-known for its Moorish gardens, Royal baths, Hall of Mosaics and towers that can be climbed and showcase great views of Cordoba. It also has a museum that tells the story of the building.
Be aware that opening times differs depending on the season, so check the website before your visit.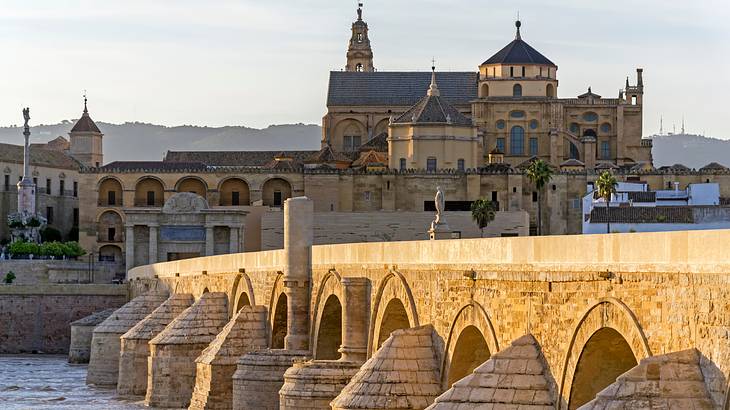 Cross the Roman Bridge of Córdoba
There are many beautiful bridges in Andalusia, such as the famous Puente Nuevo in Ronda, and Cordoba is no exception. The Roman Bridge of Córdoba, or Puente Romana, is 250 meters long and spans over the Guadalquivir River. The bridge is situated in front of the Cordoba Mosque.
The bridge was originally built in the 1st century BC by Romans, but the present Moorish structure can be dated back to the 8th century. The bridge has been reconstructed several times and now only the 14th and the 15th arch out of the 16 are original.
The Roman bridge is a good spot for taking photos of Cordoba's old town and the river. It is also a popular location for sunset views. However, it gets extremely crowded. The best time to go is early morning, afternoon or couple hours before the sunset.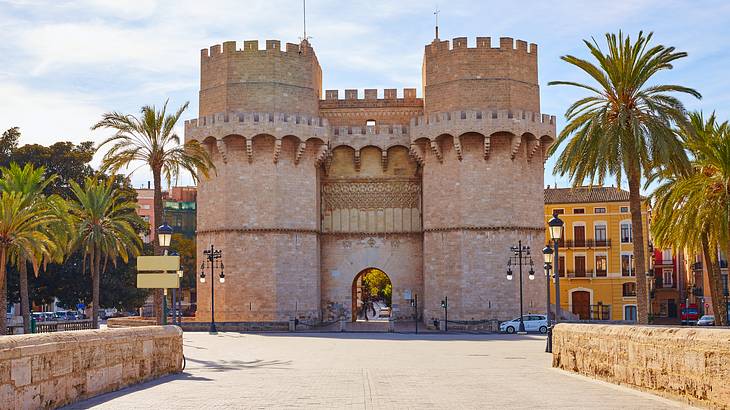 Be amazed by panoramic views from Torre de la Calahorra
Situated at the south of the Roman Bridge, Torre de la Calahorra, or Tower of Calahorra, is the oldest defence building of the city. The tower attracts tourists by its magnificent architecture, good views of the city centre, and interesting museum.
Torre de la Calahorra was originally built by Moors to prevent the city from the attacks. In the 14th century, Henry II of Trastamara had ordered to reinforce the structure and build the tower that made it look like a fortress.
The museum of the tower is quite interesting. It is home to various artefacts and documents that tell Cordoban history. It is open till late evening (depending on the season), too.
Since you only have a day in Cordoba, you can't miss spectacular views from the Calahorra Tower. It is also a good spot for the sunset views and is less crowded than the Roman Bridge.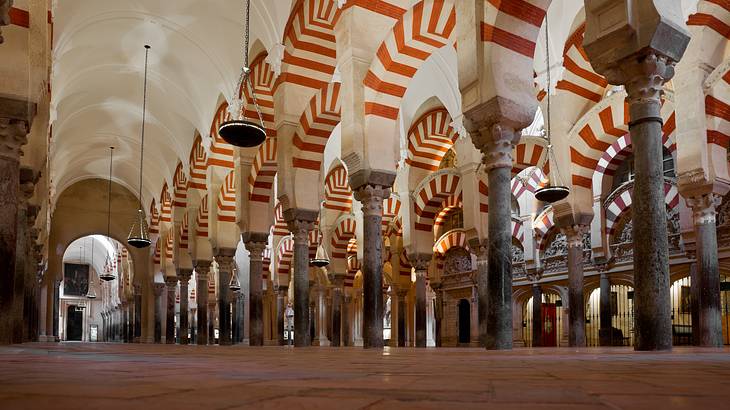 Wander around Mosque-Cathedral of Córdoba
Mosque-Cathedral of Córdoba, or Mezquita of Cordoba, is one of the main landmarks both in Cordoba and Spain. It is also one of the most visited buildings in Spain as more than 1.5 million tourists visit every year.
The massive building occupies 24,000 square meters (the world's largest mosque!) and has more than 856 columns made of the finest materials such as granite and marble. It is decorated in Islamic and Catholic styles. You will also find a massive courtyard filled with an orange tree.
The construction can be dated back to the 8th century when Abd al-Rahman I decided to build a mosque instead of the basilica. In the 10th century, the building was enlarged to its current size.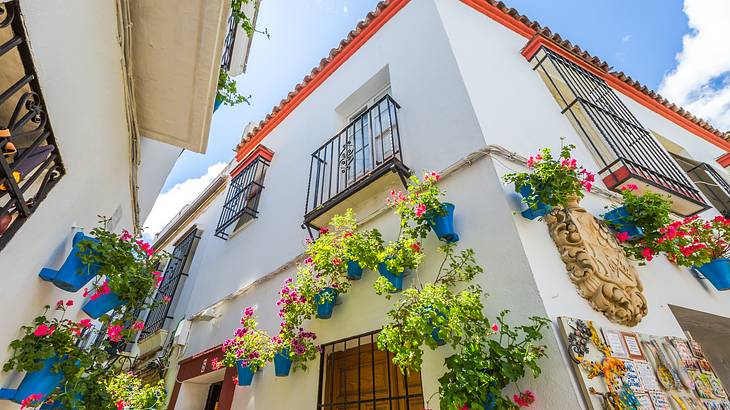 Explore Calleja de las Flores
The most loved by tourists and locals, Calleja de las Flores, also known as Alley of Flowers, is the most picturesque street in the city. The narrow alley's walls are decorated in hundred of flowers, making it an excellent spot for photos.
The best time to visit the street is late spring when geranium flowers are in full bloom. Every time I visit Cordoba, I try to go to Calleja de las Flores in the evening when most tourists groups have left.
The alley leads to the square with a fountain and a good view of the bell-tower of the Mosque-Cathedral.
Dinner at Taberna El Capricho
Surrounded by narrow alleys and historic buildings, Taberna El Capricho is an authentic Cordoban restaurant. It is an ideal place to eat your dinner and get to know Cordoban cuisine.
The interior of the restaurant is decorated with famous attractions from Cordoba, and you will also find the artwork of local painters. If you come with a group of friends or relatives, there is a small private room that can be booked in advance.
If you decide to have dinner here, I suggest ordering their famous braised oxtail dish that has won several awards. Also, the restaurant serves delicious and affordable tapas, so don't skip them!
I recommend booking a table in advance if you don't want to wait.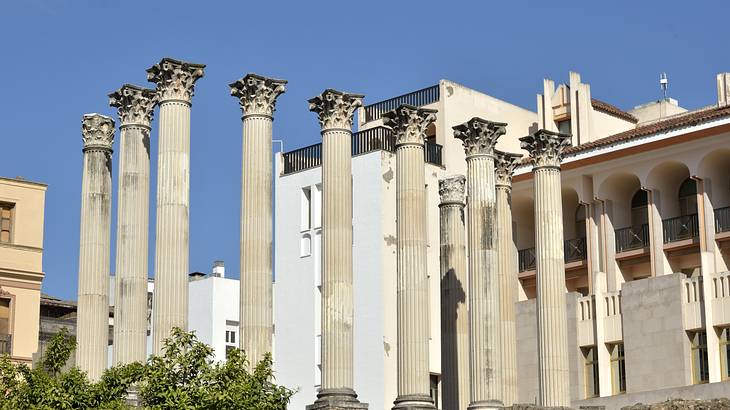 Stop by the Roman Temple of Córdoba
Located a short walk from the Plaza de la Corredera, The Roman Temple of Córdoba was discovered in 1950 and today exists as a set of ruins. It is a must place to visit before your day trip to Cordoba ends.
The temple was built in the 1st century and belonged to the Corinthian order. It is 32 meters long and 16 meters wide. Even though Cordoba has had numerous temples, the Roman Temple of Córdoba has survived the years and is in the best condition today.
Apart from beautiful Corinthian columns, there is not much more to see or learn about. Have a quick stopover to take some photos before you carry on.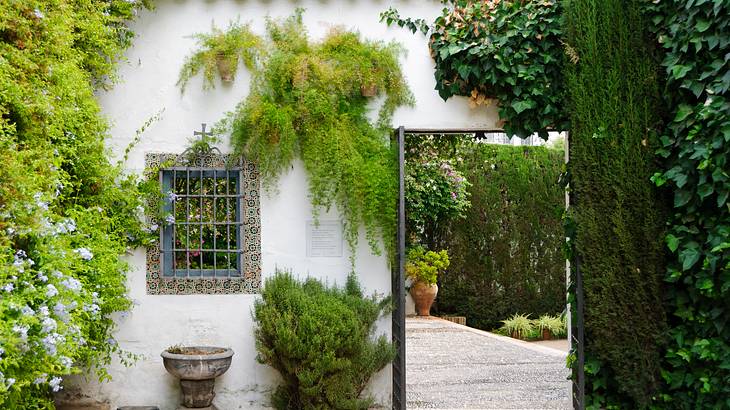 Enjoy night views of Palacio de Viana
Your last stop is Palacio de Viana, that is also known as Viana Palace. Technically, it is a museum of patios.
The museum is located in a big Andalusian mansion that has twelve beautifully decorated patios. If you are visiting in May, Palacia de Viana holds an annual patio festival which will allow you to tour for free.
Since this is your last stop, you might not be able to enter the museum (if you arrive after 7 PM); however, it is worth seeing the house from the outside, too. If you are particularly interested in getting into the museum, I suggest skipping some earlier stops to allow you to arrive before 7 PM.
In Summary
I hope you enjoyed reading this 24 hours in Cordoba itinerary and found plenty of places to visit.
Cordoba is a beautiful city that has a rich history and has many interesting places to visit. Cordoba is a perfect city for a relaxing day trip as you can visit most of its attractions by walking. You can enjoy walking around gardens, exploring ancient ruins and alleys, eating traditional Andalusian food and visiting museums such as Museo Archeologico or Casa de Sefarad.
Even though I couldn't include all of Cordoba's attractions, I tried to list the best ones that you just can't skip. Of course, if you decided to have at least two days to explore Cordoba, you would be able to see even more.
For more interesting articles about Spain, read:
---
---
Want to keep exploring?
Subscribe for discounts on tickets and hotels and our latest guides.
Thank you for subscribing
We will be in touch soon with discounts on tickets and hotels and our latest guides.
Want to keep exploring?
Subscribe for discounts on tickets and hotels and our latest guides.
Thank you for subscribing
We will be in touch soon with discounts on tickets and hotels and our latest guides.
Related articles