19 Best Beaches in Zanzibar You Must Visit Today
Destguides may receive commissions from purchases made through affiliate links in this article.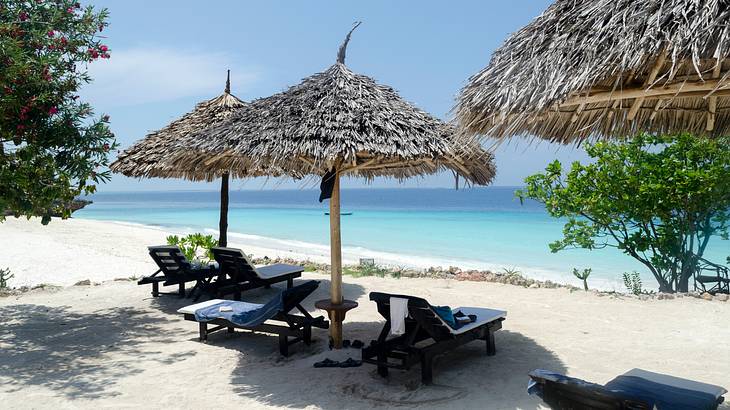 Just off the mainland of Tanzania, on the east coast of Africa, is an Indian Ocean nirvana called Zanzibar. The Zanzibar archipelago is also known as the 'Spice Islands' because of the abundance of produce, spice, and clove plantations.
Zanzibar is blessed with beautiful islands, alluring seas, colorful corals, and exotic sea creatures, making it the perfect holiday in the sun.
Unguja, frequently called "THE Zanzibar," is the main island of the Zanzibar archipelago and where most tourists start, and for good reason. It has one of the best beaches in Zanzibar, filled with intoxicating smells, vibrant colors, and friendly locals.
Greeting people is culturally significant here. Taking the time to learn how to say "Hi" in Swahili, the local language, is highly encouraged; just using the phrase "Jambo!" can go a long way as a visitor.
Before exploring the unsullied islands and beaches of Zanzibar, get acquainted with the history and culture by visiting Stone Town, a UNESCO World Heritage Site and a top landmark in Africa. Then, spend the rest of your holiday sunbathing, snorkeling, and scuba diving at the best Tanzania beaches.
19 Best Zanzibar Beaches
Zanzibar Beaches Map
A map of Zanzibar. Use the map to explore all the beaches.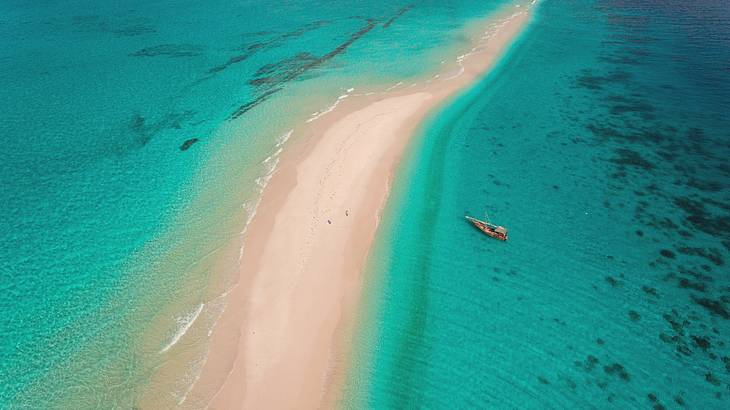 Nakupenda Beach
The Zanzibar archipelago boasts some of the most beautiful beaches globally, and Nakupenda Beach is by far one of them. In Swahili, Nakupenda means "I love you," and this lovely beach will surely make you feel warm inside and out.
During low tide, long stretches of sand are visible, and it is the perfect place to find sun and solitude. The sun here is extra strong, so you will want to protect yourself from its intense rays with the usual sun protection gear, a hat and sunscreen!
When visiting Nakupenda Beach, most people pair it with a trip to Changuu Island. If you decide to book a tour, you will be provided with a full and flavorful fresh seafood lunch.
Changuu Island is ironically nicknamed Prison Island for the now and always defunct prison that still stands tall and mighty today. At one point in time, this island held slaves and later people with illnesses that needed to be quarantined.
Today, Nakuprnda Beach and Changuu Island flourish, especially underwater. You can go snorkeling and swim with turtles and other fabulous sea life amongst the thriving coral reefs.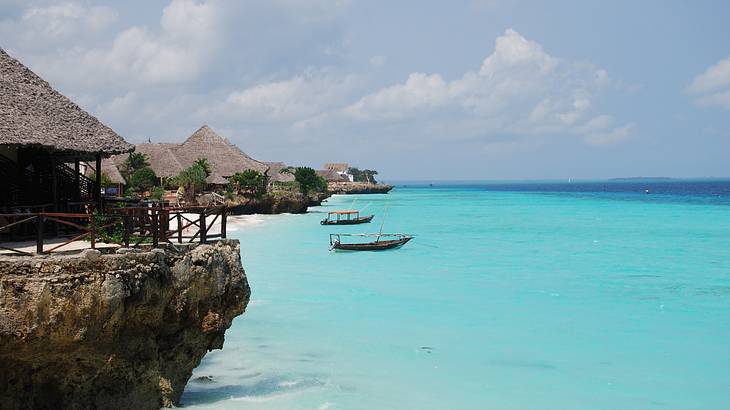 Nungwi Beach
If you are traveling solo or looking for more of a social vibe, Nungwi Beach could be the right fit for you. With resorts and hostels lining the beach and bars and restaurants lining the streets, it is an easy place to meet new people and get travel tips on other epic places to see.
This beach town is known to have an energetic and lively nightlife where you can find good food, great drinks, and dancing. If you're not into nightlife but prefer natural adventures instead, mellow sunset cruises on traditional dhow sailboats are offered.
You can also go fishing, partake in laid-back horseback riding tours, kayak, or see the beach from above by going parasailing.
Nungwi is ideal for snorkeling and scuba diving with its warm, gentle waters and thriving coral reefs. The resident animals here include dolphins, tropical fish, sea turtles, and sometimes even a curious shark or two.
If you are not dive certified, any of the local dive schools are excellent for getting you where you need to be to experience the incredible underwater world of Nungwi Beach.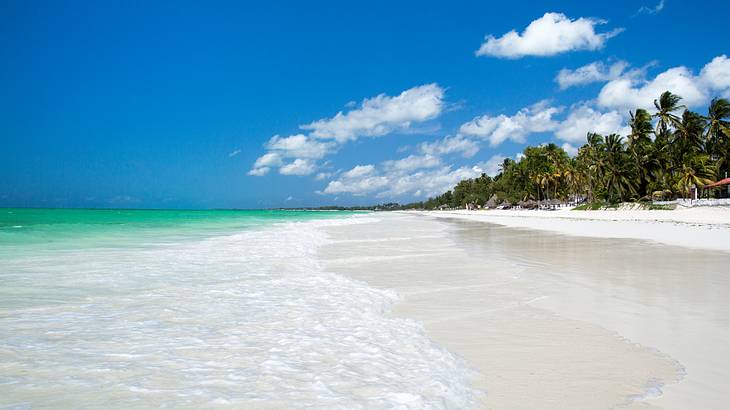 Paje Beach
Paje Beach is one of the best beaches for water sports. Kite surfing, snorkeling, and scuba diving are the biggest attractions for both tourists and locals here. The translucent waters make it ideal for underwater exploration for divers and swimmers.
Surfers can even find a fun break or two to catch some fun waves. If you are already certified to scuba or free dive, you can opt to take your gear out to the dive sites.
If you have never gone scuba diving before, or you are still working towards your certification, there are top-rated dive schools to take you to these great sites. If diving isn't your thing, snorkeling offers a glimpse into this fascinating alternate world.
Kite surfing is also hugely popular in Paje Beach due to its reputation for being the best spot to kiteboard in all of Tanzania's beaches, let alone Zanzibar Island. Like diving, if you are interested in taking a lesson, there are great schools to choose from.
After spending the day in the sun and surf, it is time for no shower happy hour at any local bar or restaurant where you can fill up on the freshest of seafood and cheap, refreshing drinks.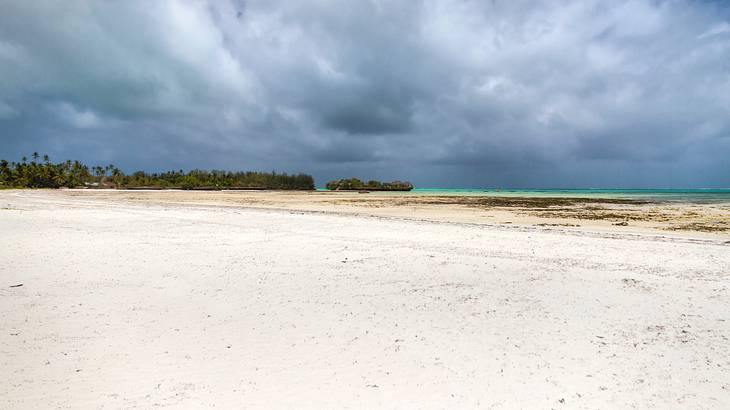 Pongwe Beach
Secluded and serene, Pongwe Beach is ideal for a romantic getaway or anyone needing a quiet, solo holiday. There are only a handful of places to eat and sleep at here, giving it a different feel than the previous two beaches. You will have to book far in advance to guarantee a spot on the remote beach.
You won't find bars and restaurants lining the streets, but what you will see is untouched, soft white-sand beaches lined with plush palm trees. Pongwe is a haven for the classic beach bum. While other beaches on Zanzibar are primed for water sports, this spot is perfect for working on your tan.
From sunrise to sunset, you can spend the day relaxing and reading a book, napping in a hammock, or taking a walk to admire the thriving flora and fauna.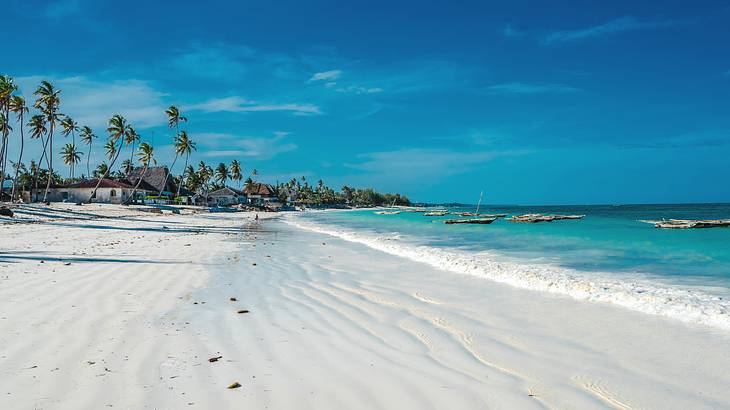 Jambiani Beach
If you are more into the authentic side of Zanzibar, Jambiani Beach is the place for you. This beach is significantly less touristy than some of the other beaches, making it somewhat of a hidden gem. Tourists who do venture here boast that it is one of the best places to visit in Zanzibar.
This small fishing village is home to friendly locals, happy kids, and fresh, flavorful food. The quintessential beach town, Jambiani Beach, has emerald green waters gently colliding with powder-like sand.
The beach is excellent for relaxing or biking around the village, but there is plenty to do if you are feeling a little bit more adventurous.
You can snorkel or dive with the "real" locals, like the octopus, several varieties of tropical fish, sea horses, and stingrays, or take a deep-sea fishing trip to catch the big trophy fish. If you want to pick up a new sport, kite and windsurfing are also popular.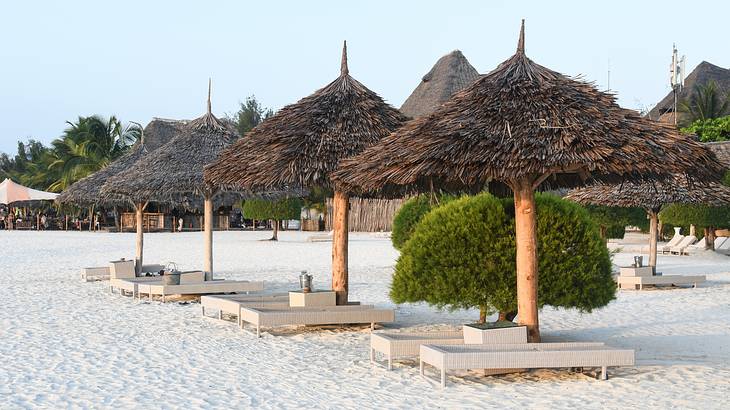 Kendwa Beach
If you like swimming, Kendwa Beach would be your ideal beach. Unlike some other beaches, the way the tides work here, swimming is obtainable at all times. Sailing, parasailing, and of course, diving and snorkeling are also popular.
If you are interested in getting to know the local culture more, there are eco-tours of the village available. You can also shop at boutiques specializing in locally handmade goods, such as bags, jewelry, and mats. You can find delicious fresh, locally grown, homemade food as well.
If you want to learn more about the locals, you can hop on a dolphin or whale watching tour or charter a fishing trip. Kendwa Beach is legendary for its full moon beach parties too, so if you find yourself visiting during the full moon, don't forget to let loose.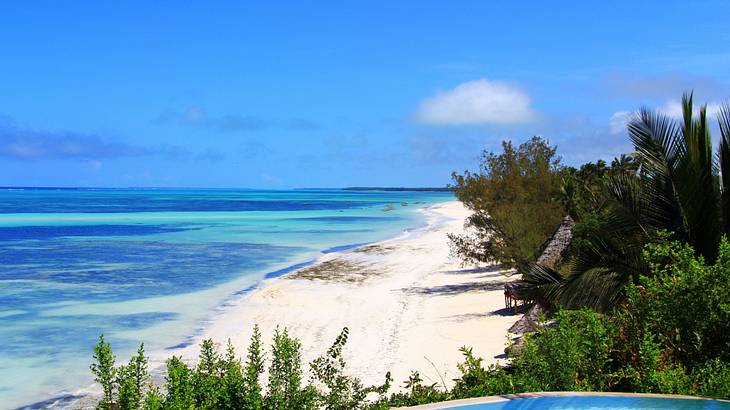 Kiwengwa Beach
Kiwengwa Beach is another pristine white beach with soft, fine sand that meets the turquoise blue sea. Tourists know this beach, but it is more laid-back than some of Zanzibar's other tourist spots. It is often referred to as "Little Italy" for its small Italian restaurants and resorts along the shore.
This beach is ideal for long walks collecting seashells, or stopping at one of the bars or restaurants that line the shore. There are some locals selling goods along Kiwengwa Beach, too. At low tide, you can walk out and see starfish and sea urchins.
You can also go sailing and book several other cultural, historical, or adventurous excursions.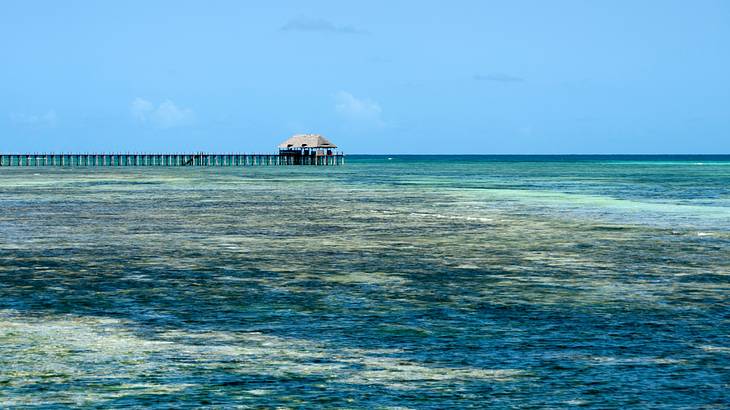 Kizimkazi Beach
Kizimkazi Beach is magical and mystical. It experiences drastic tide changes, and at low tide, beach, reef, tide pools, and rocks are exposed for you to explore around in.
You can also find exotic shells, crawling crabs, underwater urchins, and stunning starfish here, along with rocky beaches and cliffs that add a bit of drama to the landscape.
Though this beach sees fewer tourists than previous beaches on this list, it is acclaimed for swimming with wild dolphins. Bottlenose and indo-pacific dolphins both feed in the local bay.
Most mornings at sunrise, you can find the dolphins having a breakfast buffet before heading back out to the ocean. Book a trip with Safari Blue for snorkeling with vibrant starfish and sea urchins and dolphin and whale watching.
Since this island isn't so built up, it is an excellent place to take some quiet time and stare up at the star-filled night skies without light pollution.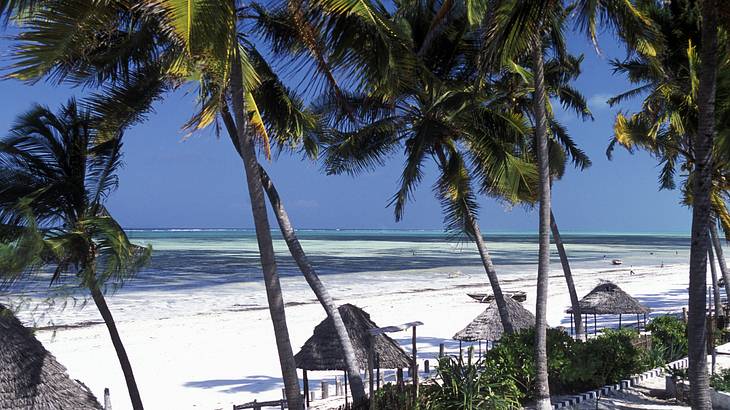 Bwejuu Beach
Charming and alluring, Bwejuu Beach is considered one of Zanzibar's best beaches due to its serene, laid-back village vibe and proximity to the highly trafficked tourist spots.
This beach stretch is spacious, so if solitude is what you are seeking, Bwejuu Beach is by far your best bet. You can spend the day soaking up the sun and salt air, snorkeling, and/or swimming.
There are also a few welcoming bars along the beach if you need a refreshing drink or something local to snack on. Once you feel revitalized and want to reintegrate back into the tourist scene, it is just a short walk down the beach to more populated beaches.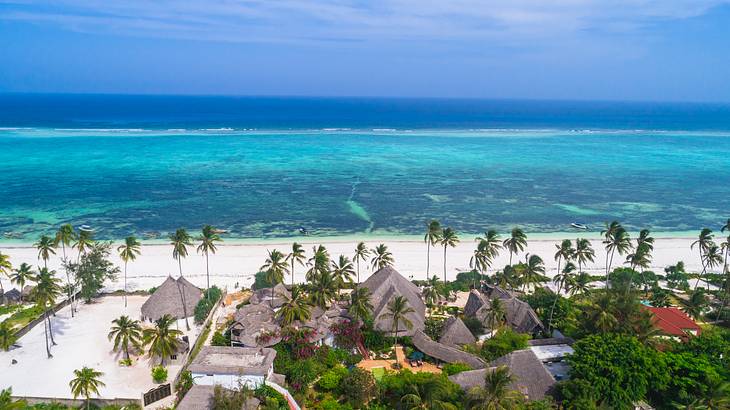 Matemwe Beach
Endless beach and ocean are what make this Zanzibar beach so appealing. Another quiet, secluded beach, this village is known for fishing and seaweed farming.
If you want to experience Zanzibar's real vibe and culture, Matemwe Beach is calling your name. There are small beach bungalows you can stay in as well as local bars and restaurants to enjoy.
Matemwe Beach runs on "island time," where nothing is rushed, and you live by the ocean's tide. At low tide, you will see locals collecting sea urchins and crabs for fresh food and people fishing and growing fresh produce.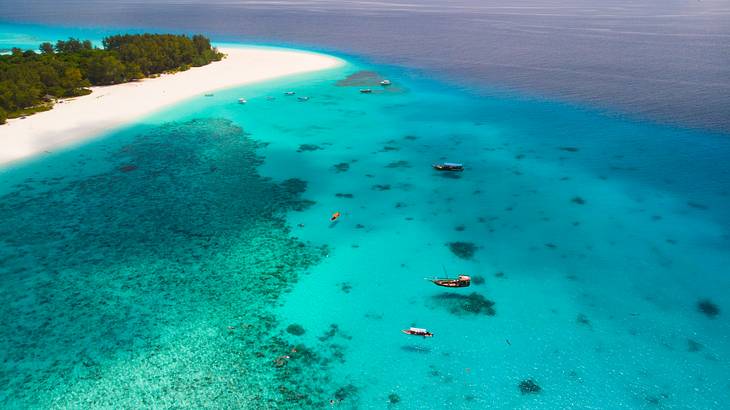 Mnemba Island
Mnemba Island, sometimes referred to as the Mnemba Atoll (which isn't actually correct), is an island just off the coast of Zanzibar's main island. This spot is globally known as a world-class scuba diving spot; however, the actual island is privately owned.
If you want to splurge and stay on the island, you have to book in advance and be prepared to pay a hefty price. You can book either a private or family banda, and the resort comes with a butler and a childcare program. Several excursions are also offered, including diving, yoga, and cultural tours.
If you book a trip to go diving or snorkeling, you are in for a real treat as well. This island is protected by a coral reef where you can see turtles, dolphins, whale sharks and humpback whales, and other wild marine life. The area is now a protected marine reserve where you can see that the wildlife is thriving.
Michamvi Peninsula
Michamvi Peninsula is a beautiful area to retreat to for a lovely holiday. The fine, powder-like sand is ideal for sunbathing and walking. The village locals depend on the sea, and similar to other beaches, fishing and seaweed farming is a massive part of their life.
While there are plenty of places to stay and bars and restaurants, it is a relatively quiet and tourist-free area. This is an excellent location for diving and snorkeling, and because it is not as busy as some other beaches, you will be diving with only a handful of people. You can also dive in a lagoon by the name of Oba-Oba.
If you surf or kitesurf, Michamvi may also be a great option. Experienced surfers will love the waves that form outside the reef, or if you want to learn, you can take classes and lessons from any of the schools around.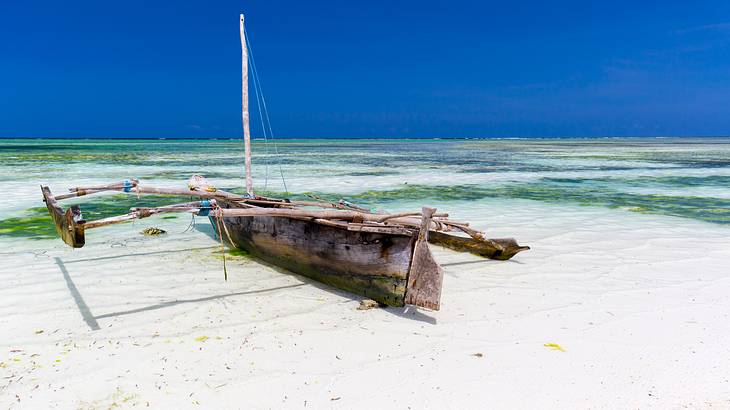 Dongwe Beach
Another beautiful white sand beach lined with gorgeous palm trees awaits you at this tropical paradise. There are small beach huts that you can relax and hide from the sun in after spending the day bronzing.
The emerald ocean gently laps the shores and is excellent for swimming at high tide. When the tide is low, you can go exploring for shells and small marine animals.
You can go paddleboarding or kayaking in the mangroves, book a trip to go snorkeling in the blue lagoon where you can see colorful starfish, or take a bike ride along the beach.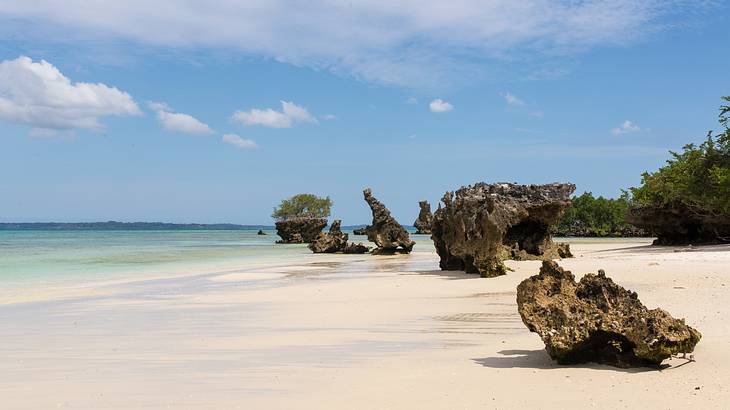 Pemba Island
To the north of Zanzibar Island, still part of the Zanzibar archipelago, lies Pemba Island. Literally meaning The Green Island, this island is rich in history, fishing, and agriculture.
Way more rural than the main island of Zanzibar, Pemba is ideal for growing cloves, and it is quickly gaining in popularity amongst tourists because of its natural beauty. Pemba is characterized by its rolling green hills, lush mangroves, and stunning beaches.
People who make their way to Pemba Island are rewarded with stunning dive sites full of bright coral reefs thriving with marine life. You can also see nesting turtles, migrating birds, and other rare animals.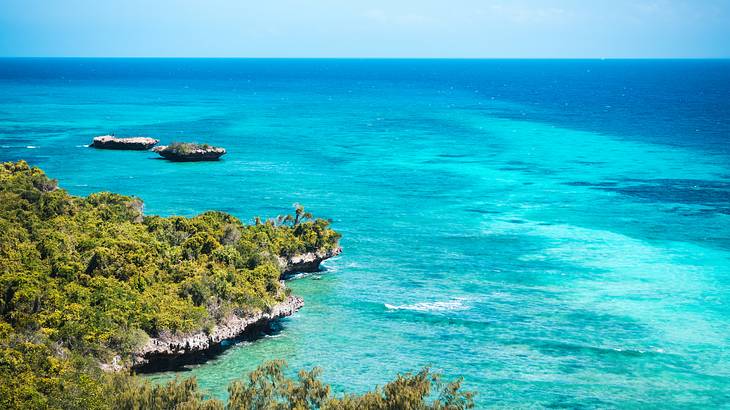 Chumbe Island
Chumbe Island is a hidden gem among the islands of Zanzibar. This uninhabited island is a haven for rare and endangered animals as the entire island and its reef are protected by the Chumbe Island Coral Park.
This park features a Coral Reef Sanctuary, a Forest Reserve, historical monuments, and an ecolodge for visitors. The island is considered private, so you have to book in advance to come here, but it is well worth it.
You can go diving and snorkeling in the vibrant and active Coral Reef Sanctuary, where there are over 200 hard coral species and nearly 450 different types of fish.
Because the sanctuary is private, only a few people are diving at any given time. This creates an unforgettable experience as typically shy creatures like lobsters and stingrays continue about their day instead of getting scared off.
You can take several different unique walking tours, like visiting with massive coconut crabs, taking intertidal walks, and/or walking through the forest where you can see fossilized giant clams and other fun wildlife like lizards and birds.
Chumbe Island truly has some of the best beaches of the Zanzibar Archipelago.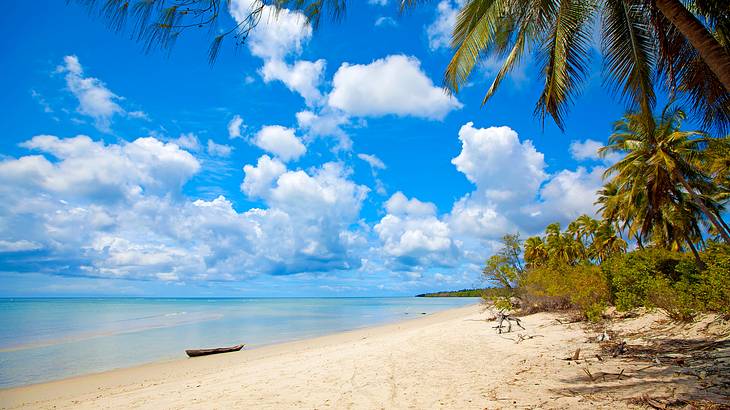 Mafia Island
Mafia Island is also part of the Zanzibar Archipelago, located south of the main island. Mafia, also known by its Swahili name of Chole Shamba, is actually an archipelago itself with its own smaller islands.
Most tourists don't find themselves on this beautiful remote island, so you will have an authentic island experience. The locals here like to keep things simple and slow, living off the land and sea, so you won't notice any big resorts or crowds here.
Mafia Island is made up of powder-soft, white-sand beaches and thick, protective mangroves. The island is home to various uncommon land animals, such as hippo, wild boars, and bushbabies.
There is also the Mafia Island Marine Park that provides you the unique experience of swimming with whale sharks, the world's largest fish. You can again book cultural island tours to learn about the island's history and see the ancient ruins that are still standing today.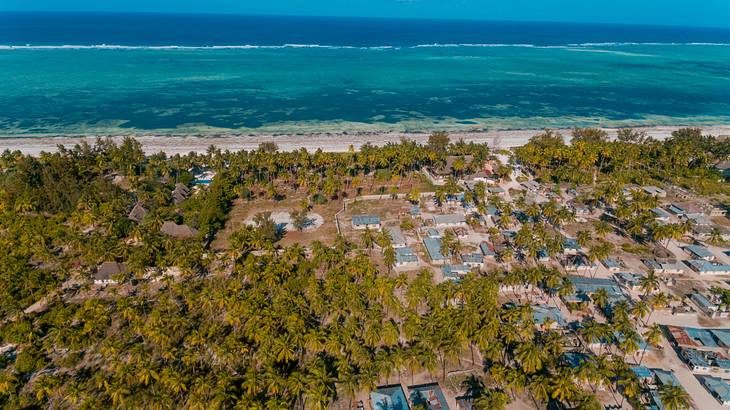 Pwani Mchangani
Similar to other beaches, this lovely spot is still a secret to the majority of tourists. While you can still do similar activities like diving and snorkeling, you can do them with fewer people!
Kitesurfing and surfing are also popular here as well as deep-sea fishing trips for large game fish. You can even rent quads to cruise around on the beach. If you are looking to party, look no further than the Cannibal Party at one of the beaches' liveliest bars.
Fumba Beach
Overlooking Menai Bay, Fumba Beach is a secret to most travelers, for now at least. While more hotels, resorts, and restaurants are being built daily, it is still one of Zanzibar's most beautiful beaches.
This is a more modern side of Zanzibar, featuring trendy, luxurious buildings and hotels and restaurants right on the beach.
Bawe Island
This small island is a little slice of magic away from civilization. Bawe Island is a privately-owned island that can be booked entirely, or you can book just one of the private villas located on the shores of this haven.
Secluded from the rest of the world and hidden amongst shady palm trees, you are sure to feel rested and refreshed after staying several nights off the grid with no Wi-Fi and annoyances from the outside world.
Book with a large group of friends or just a lover, with room for up to 30 guests. What happens on this lush, sultry island, stays on the island!
Final Thoughts
If you are an ocean lover, enjoy diving or snorkeling, or are thinking about getting SCUBA certified, you should book a trip to the Zanzibar Archipelago. This is an up-and-coming eco-tourism destination aimed at keeping the fragile and unique ecosystem alive and thriving.
Zanzibar is a jaw-droppingly beautiful place, both above and under the water, with fascinating marine life and rare, exotic mammals to see and learn about.
Zanzibar also has a wonderful culture and history with friendly locals willing to share their beautiful home with you. Just make sure to pay attention to your surroundings and be respectful as a form of responsible travel.
A trip to the Spice Islands will be an unforgettable trip for anyone who seeks out this mystical and magical archipelago. Don't forget to bring coral and reef-safe sunscreen and to keep the beaches just as you've found them, if not better. Even something as simple as picking up a piece of trash is all part of being a good tourist.
This list of the best beaches on Zanzibar is just a small glimpse into what this heaven on Earth is really all about!
This article was edited by Loredana Elena and was first published on Jan 11, 2021 14:09 UTC.
Give us feedback about this article
For some great articles about beaches, check out:
For visual stories related to this article, take a look at:
---
---
Want to keep exploring?
Subscribe for discounts on tickets and hotels and our latest guides.
Thank you for subscribing
We will be in touch soon with discounts on tickets and hotels and our latest guides.
Want to keep exploring?
Subscribe for discounts on tickets and hotels and our latest guides.
Thank you for subscribing
We will be in touch soon with discounts on tickets and hotels and our latest guides.
Related articles