25 Fun Things to Do in Downtown Phoenix, Arizona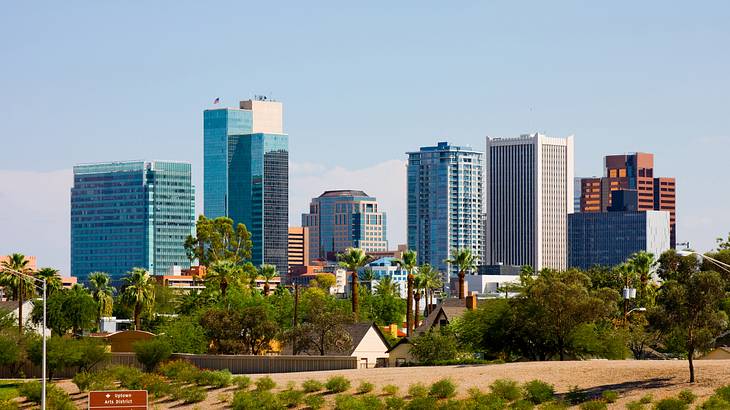 Known for its year-round sunny days, indie culture, breweries, and historic neighborhood, Downtown Phoenix, Arizona, is a great place to visit when your next travel itch kicks in!
To make sure you make the most out of your trip, take advantage of all the highlights to visit in the area, from museums to restaurants. You are guaranteed to have an adventure-filled itinerary!
So, what are some of the fun things to do in Downtown Phoenix, Arizona? Well, you've hit the jackpot!
The following 25 Downtown Phoenix things to do will fulfill your inner explorer and have you taking in every ounce of culture, activities, food, and drinks the city has to offer.
Read on to create your ultimate Downtown Phoenix itinerary!
25 Best Things to Do in Downtown Phoenix, AZ
Downtown Phoenix Attractions Map
A map of Phoenix. Use the map to explore all the things to do.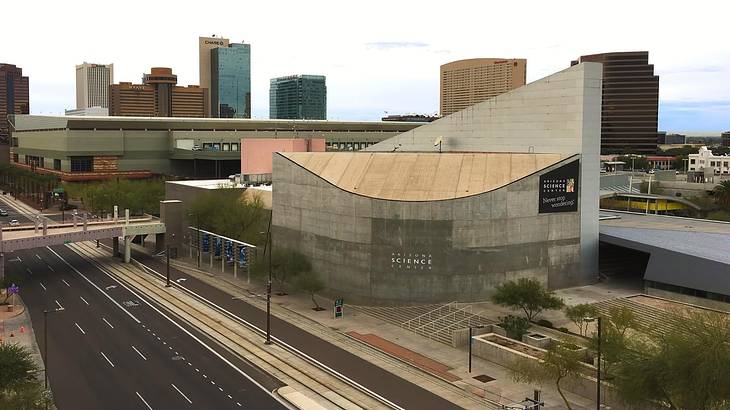 Learn about science at The Arizona Science Center
As one of the premier science centers in the U.S., the Arizona Science Center has countless activities and more than three hundred exhibits to explore!
It is known for its fun, interactive, and educational expos ranging from applied sciences and transportations to physical forces and human physiology. This stop is perfect for those traveling with little ones!
Have a signature drink at Bitter & Twisted Cocktail Parlour
Open since 2014, Bitter & Twisted has offered Downtown Phoenix a non-stop pour of their world-class, award-winning cocktails. Not to mention, they also provide an array of tasty bar bites. Don't miss out and pay them a visit for a drink and snack your taste buds will thank you for!
Visit Chase Field
Home of the Arizona Diamondbacks, Chase Field is a unique Major League Baseball field with a retractable roof stadium, the D-backs Pool in right field, and the Coors Light Strike Zone.
This facility offers guided tours year-round and is one of the best places to go in Downtown Phoenix for all sports enthusiasts. Don't forget to take pictures, or it did not happen!
Enjoy a sunny day at The Civic Space Park
The Civic Space Park has a unique urban design that creates an oasis in the city's heart for those unbearably hot sunny days. It is known for its sustainable design and features that maintain the area cool and fresh (70% of the park is shaded) while generating power.
It is also great to visit the A.E. England Building within the park, which houses meeting areas, art galleries, retail spaces, and rooms for special events. The park is home to a landmark public sculpture as well, "Her Secret is Patience," by artist Janet Echelman.
Insider Tip: Make your way to the park late in the afternoon when it gets dark to take advantage of the beautiful lighted structure!
Learn about art at The Phoenix Art Museum
After more than sixty years open, the Phoenix Art Museum is the largest in the Southwestern United States. It hosts a variety of calendar exhibitions each year that perfectly complements its permanent collection.
The permanent collection contains more than 19,000 works of art. The collection has art, photography, and fashion design from Europe, Asia, and the Americas.
Whether you want to develop your art knowledge or step outside of your usual travel routine, you will surely leave the museum feeling inspired!
Insider Tip: Check their website for any fun public programs they may be hosting during the length of your stay! Who knows, you might want to attend a lecture or have a romantic film date.
Spend an evening with The Phoenix Symphony
Calling all music lovers! Are you wondering what to do in Downtown Phoenix, AZ? Well, head on over to the Phoenix Symphony Hall!
They have an extensive repertoire of classical, chamber, and pop concerts. It is a great way to support local performing arts while having a new cultural experience.
Visit the Phoenix Center for the Arts
Support local art by visiting the Phoenix Center for the Arts! The center focuses on providing an easily accessible art center that promotes, educates, and inspires its members. Check out their website for events and performances you can enjoy during your visit.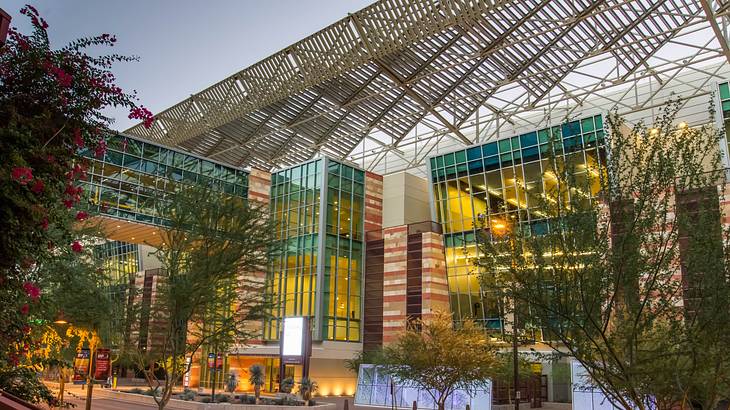 Explore the Phoenix Convention Center
With many events at your disposal, the Phoenix Convention Center is ready for your visit! Conveniently located in the heart of the city, with hotels, restaurants, parks, and museums surrounding it, the convention center offers cool activities and events year-round. From card shows to comedy shows, you never know what new adventure awaits!
Grab a slice at Pizzeria Bianco
It may be a long wait, but Pizzeria Bianco's wood fire or stone oven pizza is well worth it! Located in what used to be an old brick mechanic shop, this restaurant has gotten stellar reviews from The New York Times, Rachel Rae, and Food and Wine. Don't miss out on a great slice of pizza - Buon appetito!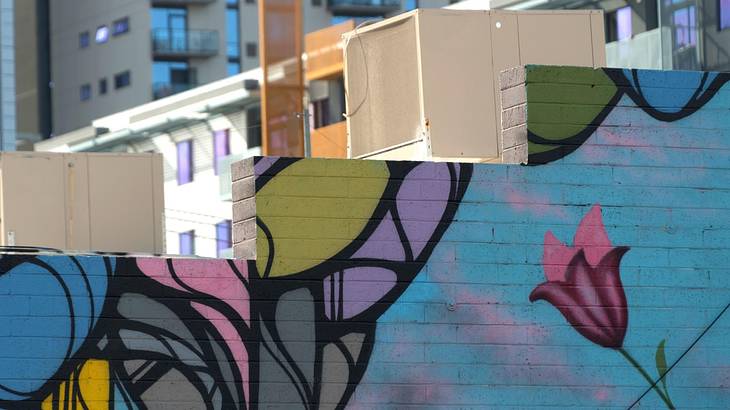 Take a walk through Roosevelt Row Arts District
Immerse yourself in local culture at the Roosevelt Row Arts District. Commonly known as "RORO Street", the walkable area is covered with large-scale murals and graffiti work by local and visiting artists. It is the perfect spot for a photo-op!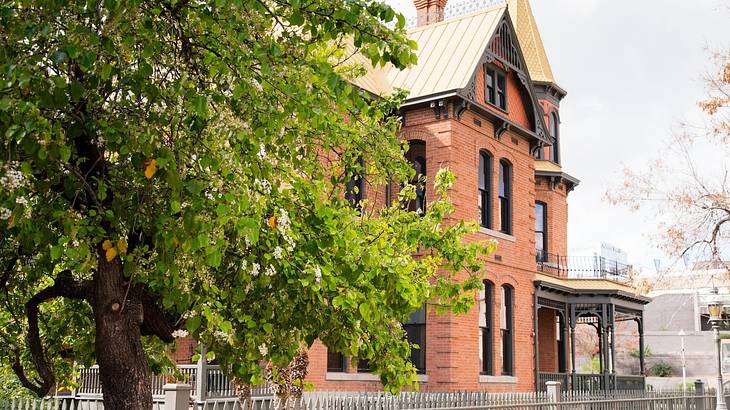 Glimpse into the past at The Rosson House Museum at Heritage Square
This fully restored Victorian house from the late 1800s is now a perfect window into the lifestyle of early Phoenix families. It has decor and items of the time, which is exciting for history buffs and regular tourists alike.
The Rosson House Museum admission is by guided tour only, so make sure to buy your tickets in-person or online on their website.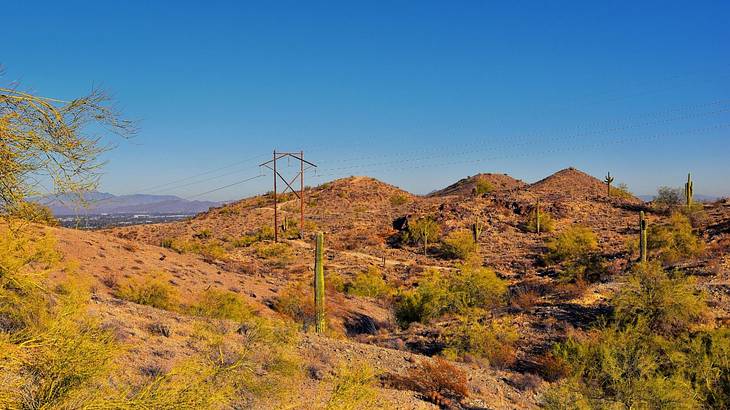 Hike at The South Mountain Park and Preserve
Head on up the dessert road to take in all the nature. As one of the largest municipally managed parks in the nation, the South Mountain Park and Preserve is just a 16-minute drive from all the Downtown Phoenix attractions.
The park has more than 50 miles of trails available to the public. It's a popular hiking, mountain biking, and horseback riding trail with some of the most beautiful views.
The park consists of three mountain ranges: the Ma Ha Tauk, Gila, and Guadalupe. Don't forget to check their website for road and park closures to make sure you don't show up on a day when you cannot enter.
Insider Tip: Don't miss out on the Dobbins Lookout, the highest point in the park at 2,330 feet. It is perfect for a photo-opp as it boasts a stunning panoramic view of the Valley.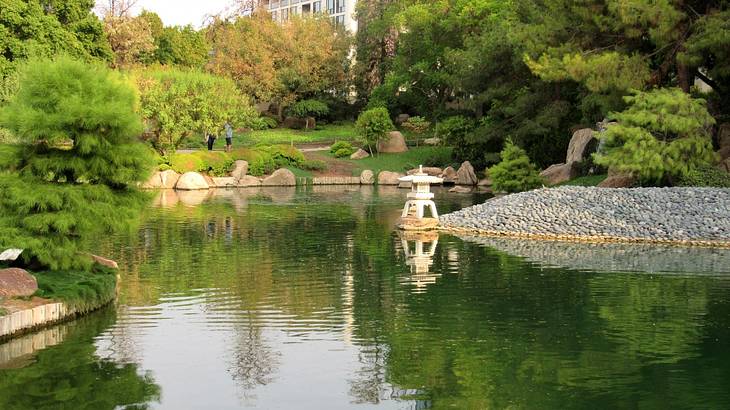 Reflect and relax at The Japanese Friendship Garden of Phoenix
Take in nature by going on a short peaceful walk inside The Japanese Friendship Garden. Its paths are filled with beautiful flowers, exotic plants, waterfalls, and koi ponds!
It does require a small entry fee but is an excellent respite for those looking to take a quick and easy city escape for ten minutes to an hour.
Head to The Van Buren
This concert venue always provides Downtown Phoenix with exciting new acts and night-life shenanigans. Once a vintage auto-dealership, this revamped venue keeps it fresh.
The Van Buren has hosted some of the biggest stars, including Sting, Billie Eilish, Death Cab For Cutie, Dua Lipa, Logic, 5 Seconds of Summer, Why Don't We, and the Bleachers, to name a few. Go online and see what their calendar offers during your trip!
Go to the Arizona Wilderness DTPHX
If you are a fan of good beer, the Phoenix Suns, tasty food, and a sustainable business, you have to stop at the Arizona Wilderness DTPHX. The beautiful state of Arizona inspires its rotating selection of artisanal beers.
They have partnered with many local farmers to use local ingredients, keep waste out of landfills, and save water. Stop by to watch a basketball game and share drinks with friends!
Stop by The Churchill for some food and local shopping
This hip, open-air, industrial food court is a fun place to go in Downtown Phoenix after enjoying all the murals and graffiti "RoRo Street" has to offer.
The Churchill has a variety of vendors ranging from food, drinks, and a couple of shops. Grab a bite to eat and sit down in their courtyard to enjoy this vibrant community of creatives!
Enjoy family time at The Teapot
Pinky's up, everyone- It's teatime! This family-friendly, British-inspired coffee shop and event place are perfect for those traveling with little ones. Located in the Roosevelt neighborhood, The Teapot is a renovated 1900s house with two beautiful gardens to enjoy Phoenix's sunny days.
Grab some drinks and appetizers at Lustre Rooftop Bar
Downtown Phoenix's only rooftop bar has lots to offer! With its contemporary yet inviting outdoor patio, refreshing pool, carefully-crafted cocktail selection, and locally sourced food, the Lustre Rooftop Bar has all the bases covered!
Enjoy some entertainment at the Orpheum Theater
Located within the Phoenix Convention Center, the Orpheum Theater cannot be missed! Its stunning architecture and rich history make it a must-add to any Phoenix itinerary.
Known for its acoustics, it is no wonder it hosts classical concerts and ballet performances and showcases films. Whether you want to book a show or just take a tour of the theater itself, you won't regret it!
Indulge on a fine-dining experience at Wrigley Mansion
Go all out for a special occasion or treat at the Wrigley Mansion. Constructed in 1931, this architectural space is home to a fine-dining restaurant and bar.
The Wrigley Mansion is the perfect place to enjoy beautiful 360-degree views paired with award-winning wine and cuisine. Make sure to make a reservation before arriving and prepare to valet!
Go shopping at The Downtown Phoenix Farmers Market
One of the best places to go to in Downtown Phoenix is the Farmers Market. It lets you support a small business and enjoy local food.
The Downtown Phoenix Farmers Market is a year-round, open-air farmer market that has more than 90 local merchants for you to explore. Stop by on a Saturday to enjoy some light shopping and live music!
Learn about Native American art at The Heard Museum
Founded in 1929, the Heard Museum is one of Phoenix's first cultural attractions. Known for its dedication to American Indian art, whether contemporary or traditional, the museum hosts world-class exhibitions that make it a great addition to any itinerary.
Enjoy some smooth jazz at The Nash
If you appreciate music, do not miss out on this hidden gem! Stop at The Nash, the home of jazz music in Arizona, to enjoy some live music.
Make sure to stop by on a First Friday for free entry or on a Sunday for open jams! Tickets are available for purchase in-person or online.
Grab a bite at Romanelli's Italian Deli
Open since 1975, this old-school Italian Deli will not disappoint! Its friendly staff, tasty subs, and fresh ingredients will make it one of your favorite food stops. At Romanelli's, quality comes first, and you can really taste it!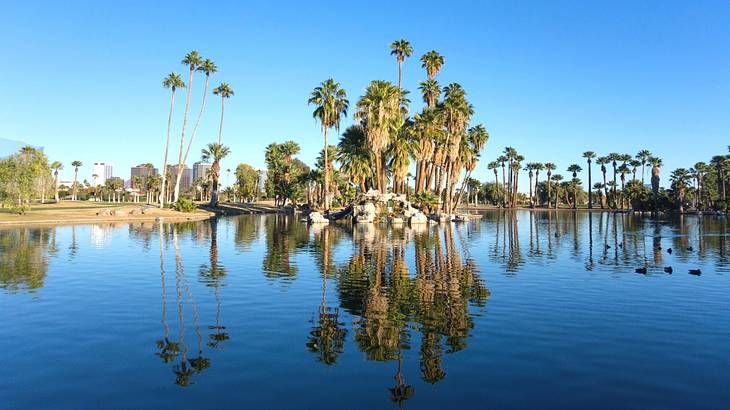 Spend a sunny afternoon at Encanto Park
Located in the heart of Phoenix, this park has everything from picnic areas and playgrounds to waterfalls and even a small amusement park. Encanto Park is the perfect stop for those traveling as a family or even on a fun date!
In Summary
Downtown Phoenix is one of the sunniest cities in the United States. It is full of fun activities for all ages and has everything from cultural and natural attractions to delicious food and drinks. This list covers all the highlights to make the most of your trip, no matter your interests.
Imagine a day where you first spend a quiet morning at the Japanese Friendship Garden, then you grab a tasty slice from Pizzeria Bianco before making your way to the Arizona Sciences Center and tying everything up with a well-deserved drink at the Bitter & Twisted Cocktail Parlour.
The possibilities are endless!
This article was edited by Loredana Elena.
For more interesting articles about United States, read:
For some great articles about things to do, check out:
---
---
Want to keep exploring?
Subscribe for discounts on tickets and hotels and our latest guides.
Thank you for subscribing
We will be in touch soon with discounts on tickets and hotels and our latest guides.
Want to keep exploring?
Subscribe for discounts on tickets and hotels and our latest guides.
Thank you for subscribing
We will be in touch soon with discounts on tickets and hotels and our latest guides.
Related articles