20 Best Things to Do on the Big Island of Hawaii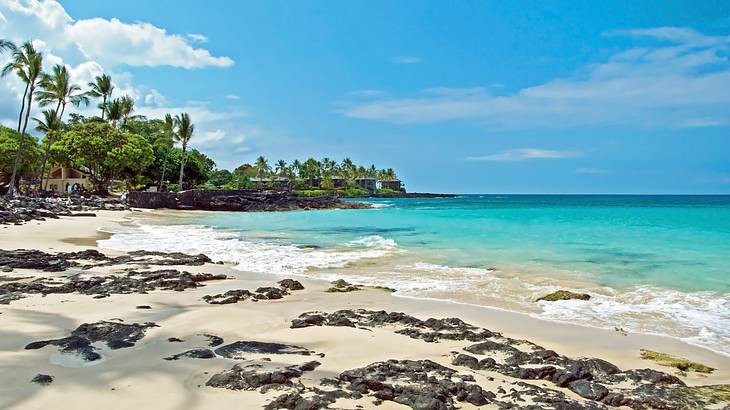 Big Island in the United States is the largest of the Hawaiian Islands. This vast tropical paradise is a travel hotspot known for its breathtaking natural scenery, active volcanoes, and exciting attractions.
If you're visiting the area for the first time, you may be wondering what the best things to do on the Big Island of Hawaii are. Luckily, this list is here to help! From hiking on volcanoes to seeing marine life up close and discovering magical waterfalls, there's so much to do when on vacation on Big Island!
20 Best Things to Do on the Big Island in Hawaii
Hawaii Things to Do Map
Using the map of Hawaii, you can explore all the things to do.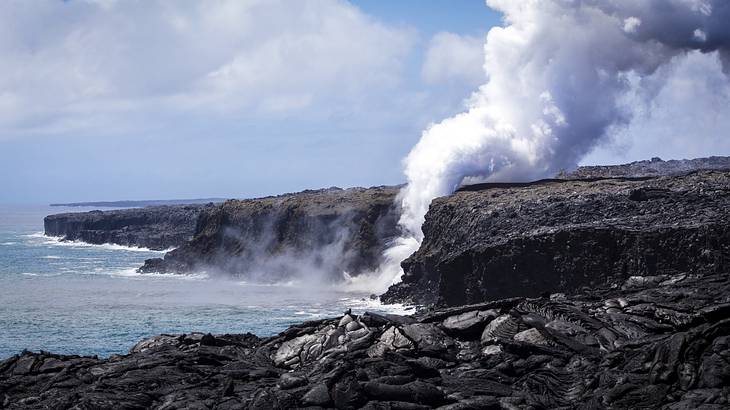 Explore Hawaii Volcanoes National Park
One of the most popular attractions on Big Island, Hawaii, is the Hawaii Volcanoes National Park. This beautiful park features two active volcanoes, the Mauna Loa volcano, and the Kilauea volcano. The volcanoes both erupt quite frequently, usually at no risk to tourists.
One of the most interesting geological activities here is the spewing of lava into the ocean, creating volcanic rock. There are also lots of things to do in this vast national park. Things to do in Hawaii Volcanoes National Park include taking a scenic drive, going on an eco-tour, and following various hiking trails.
Learn about coffee production at Kona Coffee Farm
Located in Kona on the west side of Big Island is the Kona Coffee Farm or Kona Coffee Living History Farm. The attraction is the only living coffee farm in the United States.
As you explore the farm, you'll learn more about coffee production, the history of coffee in Hawaii, and the famous Kona coffee. Of course, you'll also get to taste some incredible fresh coffee. Visiting Kona Coffee Farm is definitely one of the best things to do in Kona on Big Island!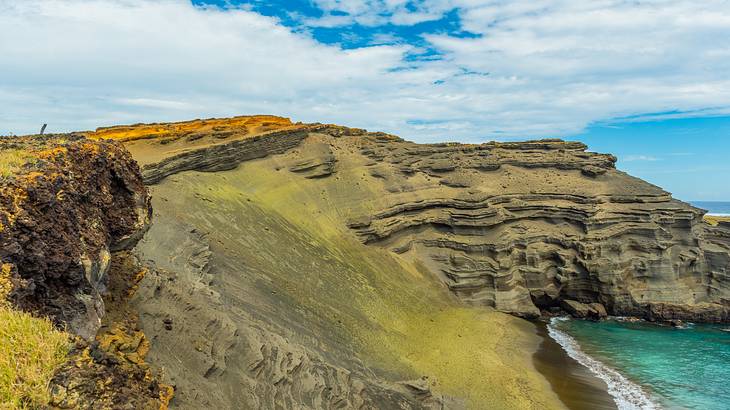 Visit Papakolea Green Sand Beach
Another of the amazing things to see on the Big Island is Papakolea Beach, also known as Mahana Beach or Papakolea Green Sand Beach. The fascinating attraction features green sands, as the name suggests!
The sand gets its green color from Olivine, which is found in lava. This lava flowed onto the beach thousands of years ago, resulting in the green-colored sand.
Papakolea Beach is in South Point and is only accessible by foot. Interestingly, Papakolea Beach is one of just four green sand beaches in the whole world. Seeing this rare beach is, therefore, a must.
Wander around the Hawaii Tropical Botanical Gardens
Hawaii is full of beautiful plants and trees, and you can see an array of them at the Hawaii Tropical Botanical Gardens. This attraction acts as a nature preserve but is also open to the public. Over 2,000 species of plants can be spotted.
The vast gardens are protected from the elements by a greenhouse-like surrounding, and there are various floral displays to see. One part of the trail also runs past the ocean, offering amazing coastal and tropical plant views.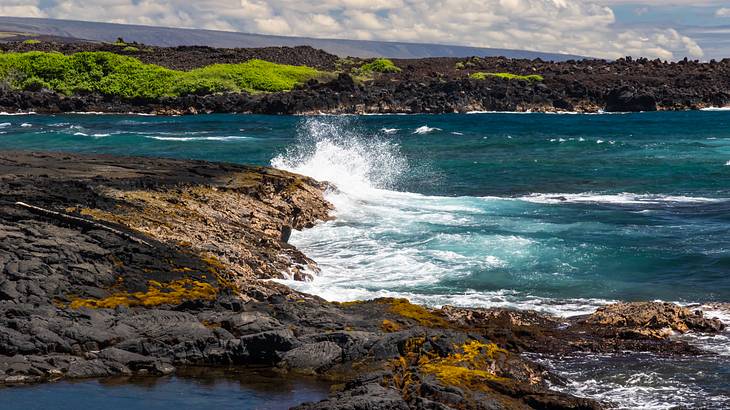 Marvel at Punaluu Black Sand Beach
There are a few black sand beaches in Hawaii, but Punaluu Black Sand Beach is one of the most popular. This interesting geological attraction features black sandy shores made due to the erosion of volcanic rock.
The area is made even more stunning due to the coconut tree-lined shores and turquoise ocean. When at the beach, you may even spot Hawaiian green sea turtles. The swimming conditions aren't great here, but you can take a picnic and appreciate the unique surroundings.
Take surf lessons
Surfing is one of the most popular sports in Hawaii, and learning how to surf is a super fun activity to try while visiting. You can find many surf schools, with surf lessons in Kona being the most popular.
During your lesson, you'll learn the basics and will get out on the water to put your moves to the test. If you already have experience surfing, taking a class with a professional instructor can take your skills to the next level.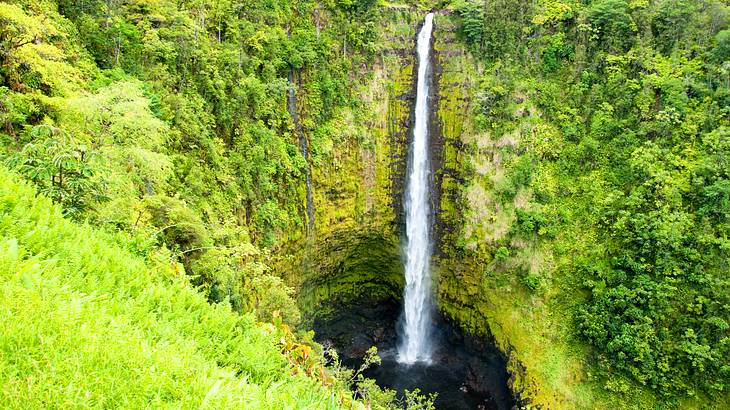 Discover beautiful waterfalls at Akaka Falls State Park
Akaka Falls State Park is found about 11 miles north of Hilo and features an amazing 442-foot waterfall, Akaka Falls. There is also a smaller 100-foot waterfall called Kahuna Falls. Along with viewing the waterfalls, you can hike various trails through the lush jungle.
Visiting Akaka Falls State Park is one of the top things to do on the Big Island, Hawaii! This experience is made even better by going on the Waipio Valley and Waterfalls Adventure. The tour will take you to Akaka Falls State Park as well as the Waipio Valley and multiple other waterfalls in the area.
Go whale watching
One of the best activities on the Big Island is whale watching. December to May are the prime time to see these majestic sea creatures. If you want to spot some whales, going on a whale watching tour is a great option.
You'll set sail from Honokohau Marina to areas known for being home to pods of humpback whales. Your captain will also teach you some Hawaiian history and geology facts as you marvel at beautiful whales gliding through the water.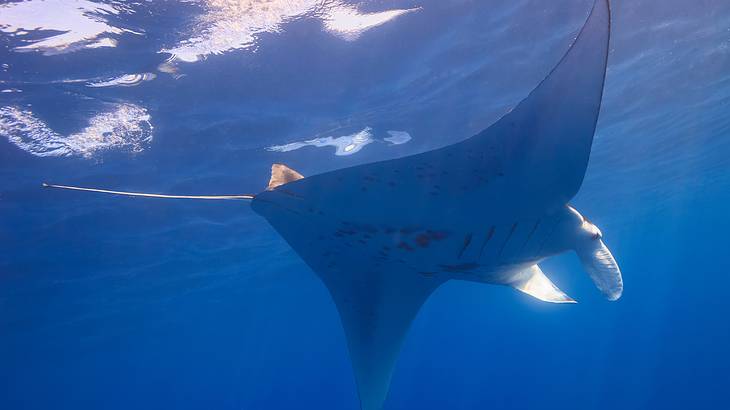 Swim with marine life on a manta ray night snorkel
The waters around Big Island are home to many manta rays. Snorkeling with these creatures is a super fun thing to do while in Hawaii, and doing so at night is even better!
On a manta ray night snorkel, you'll get up close with these beautiful animals as they eat and glide through the ocean. The activity takes two and a half hours, and you'll even get to enjoy a stunning sunset as you sail to the snorkeling spot.
Sail to the Captain Cook Monument
The Captain Cook Monument is a major landmark in Kailua-Kona. There are lots of ways to get to this monument, a 27-foot obelisk. Sailing to the Captain Cook Monument is a super fun activity to try.
Many operators offer sailing trips to the monument. Along with enjoying the views as you glide across the ocean, many tours offer kayaks, paddleboards, and snorkel equipment so you can get out on the water.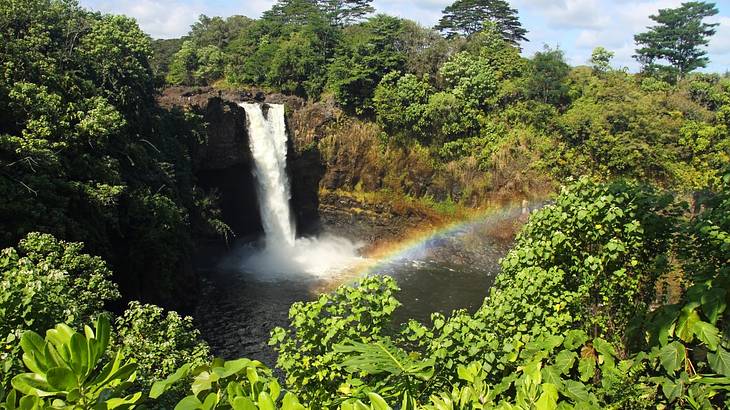 See rainbows at the breathtaking Rainbow Falls
One more of many incredible places to see in Big Island, Hawaii, is Rainbow Falls. This stunning waterfall is found in Hilo and stands at 80-feet tall and 100-feet wide. The waterfall gets its name because on sunny days, you can see rainbows emerge around the falls and pool below.
A good way to see Rainbow Falls is on an organized tour. For example, a waterfalls and volcanoes sightseeing tour will take you to Rainbow Falls and various other attractions on Big Island.
Take a dinner cruise on Kealakekua Bay
Treating yourself to a luxurious dinner cruise is a must when on Big Island! The Historical Dinner Cruise on Kealakekua Bay is the perfect option.
Once aboard you'll start your dining experience with a delicious cocktail. Next, you'll get to indulge in a tasty Hawaiian buffet. As you eat and drink, you'll sail past an array of landmarks and historic sites. A lunch cruise is available too if you prefer.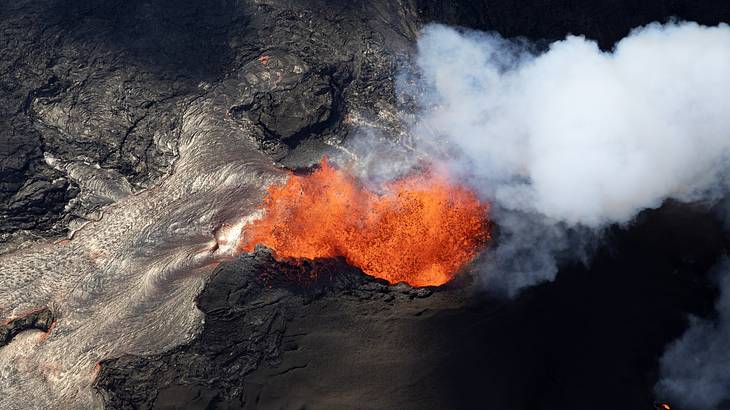 Experience a lava helicopter tour
Big Island is home to active volcanoes and seeing these geological features when in the area is a must. An exciting way to do so is on a Circle of Fire lava helicopter tour.
On the flight that takes off in Hilo, you'll be taken over active volcanoes and will witness lava flowing out of them. The tour also flies you over some of Big Island's most beautiful waterfalls.
Go ziplining through the forest
Ziplining is one of many fun outdoor activities to try on Big Island. The Nine Line Zipline Experience allows you to attempt nine different zipline courses.
As you fly down the zipline, you'll be able to take in the beautiful surroundings. This activity takes just under three hours and you'll be accompanied by a guide.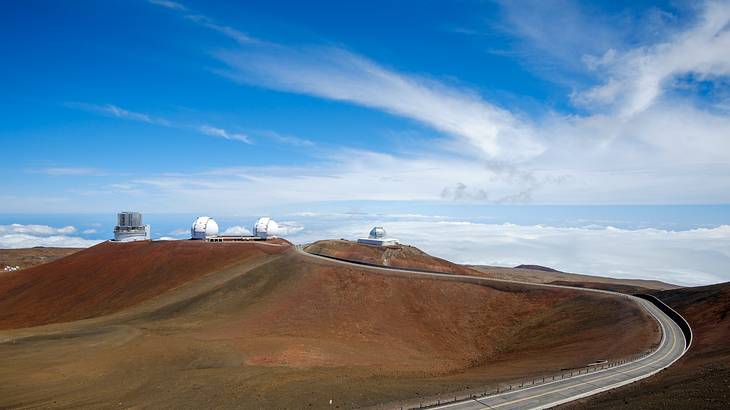 Stargaze from the Mauna Kea Volcano
One of Big Island's dormant volcanoes is the Mauna Kea Volcano. You can venture up to the Mauna Kea Summit in many ways, including driving and hiking. Stargazing from the Mauna Kea Summit is another exciting activity to try.
On this tour, you'll enjoy a delicious dinner before heading up to the summit. Once there, you can watch the sunset and then marvel at the starry sky. Telescopes are provided to offer close-up views of the stars.
Hike in Kaloko-Honokōhau National Historical Park
One of the fun things to do on the Big Island, Hawaii, for those that love outdoor activities, is hiking in Kaloko-Honokōhau National Historical Park. Located in Kona, the park features various hiking trails that all offer amazing views. These trails also lead to the Honokōhau Settlement, which houses sacred temples and petroglyphs.
The park is also home to an array of wildlife, and you can see a Hawaiian fish pond. Being close to the coast, you'll also see sea turtles, Hawaiian monk seals, and more.
Shop at the Hilo Farmers Market
Exploring the Hilo Farmers Market is an ideal way to learn more about the area and discover some amazing local produce. The market operates all week, with "big market" days running Wednesday through Saturday. The market hosts over 200 vendors selling a range of local goods.
Types of products you'll find include fruit and vegetables, other food goods, craft products, clothing, and much more. If you enjoyed the Hilo market, there is also a farmers market in Kona that's open Wednesday to Sunday.
Relax on the beach at Hapuna Beach State Park
If you love the beach, then one of the places to visit on the Big Island, Hawaii, that you can't miss is Hapuna Beach State Park. The beach is continuously ranked as one of the best beaches on the island.
This beautiful white sand beach is the ideal place to relax, sunbathe, and swim. It's also an amazing surfing, snorkeling, and bodyboarding spot. If planning to spend the day, you can also enjoy a picnic on the beach or at one of many picnic areas. Food trucks are often on-site too.
Enjoy a traditional Hawaiian luau
A luau is a traditional Hawaiian celebration and attending one when on Big Island is highly recommended. The Voyagers of the Pacific luau is a great option.
This luau includes Hawaiian performances, such as hula dancing, and a delicious buffet dinner. There's even a Samoan fire-knife dancing show to watch, and you'll be treated to tasty cocktails, like mai tais, all night.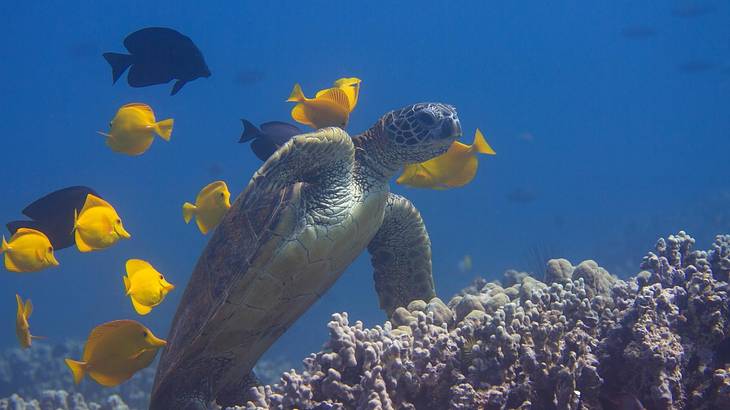 Dive under the ocean on a submarine tour
Diving and snorkeling are great ways to see underwater life on Big Island. But another unique way to do so is on a submarine tour. Once abroad, you'll travel deep below the ocean surface to view the incredible marine creatures that live there.
You'll get to see an 18,000-year-old coral reef, plus an array of exotic fish. It's likely that you'll also spot other animals like sharks, rays, and sea turtles.
In Summary
Hawaii's Big Island is an incredible travel destination. You can discover a range of things to do on the island, from snorkeling to hiking and learning to surf. If visiting, be sure to keep some of these activities in mind in order to have a fun and memorable vacation!
For more interesting articles about United States, read:
For some great articles about things to do, check out:
---