35 Fun Things to Do with Kids in Asheville, NC
Destguides may receive commissions from purchases made through affiliate links in this article.
Asheville, North Carolina is a beautiful town nestled in the wilderness of the Blue Ridge Mountains. A great spot for a family vacation, there is so much to do between all the outdoor activities, museums, landmarks, and natural beauty of the area.
Asheville offers a ton of kid-friendly things to do, ranging from STEM-learning activities to gardens full of native plants and kids' comedy tours. If you're looking for 35 fun things to do with kids in Asheville, NC, make sure to keep reading!
35 Asheville things to do
35 Fun Things to Do in Asheville with Kids
Asheville Things to Do Map
A map of Asheville. Use the map to explore all the things to do.
Challenge yourself at the Adventure Center of Asheville
Located only 5 minutes from downtown Asheville, the Adventure Center of Asheville is the perfect activity for families and children.
Filled with exciting activities like the Asheville Zipline Canopy Adventure or the onsite mountain bike trail system, there is so much to do here!
The Adventure Center also features KidZip, which is an adventure designed for kids under 10.
Get curious at the Asheville Museum of Science
The perfect stop for Asheville activities for kids, the Asheville Museum of Science features fully interactive exhibits and educational programs for the whole family. Exhibits include minerals, terra boxes, fossils, dinosaur skeletons, and more.
This is one of the best science learning museums in the area, don't miss out on the opportunity to spark your imagination here.
Play a game at the Asheville Pinball Museum
Are you a pinball fan? If so, stop by the Asheville Pinball Museum in downtown Asheville where you can play 35 pinball machines and 35 classic video games for one set price.
Kids and parents alike will have a blast playing games here, so make sure to make an afternoon of it!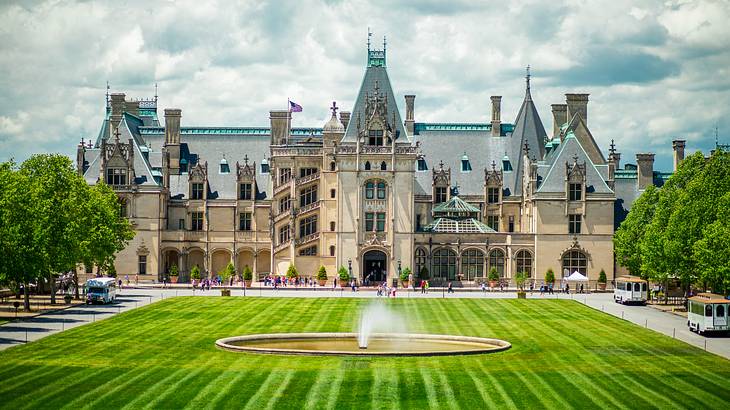 Explore the Biltmore Estate
Did you know the largest home in the United States is located in Asheville, North Carolina? This is just one interesting fact about North Carolina!
George Vanderbilt's country estate, Biltmore Estate, is a National Historic Landmark and is available for self-guided visits.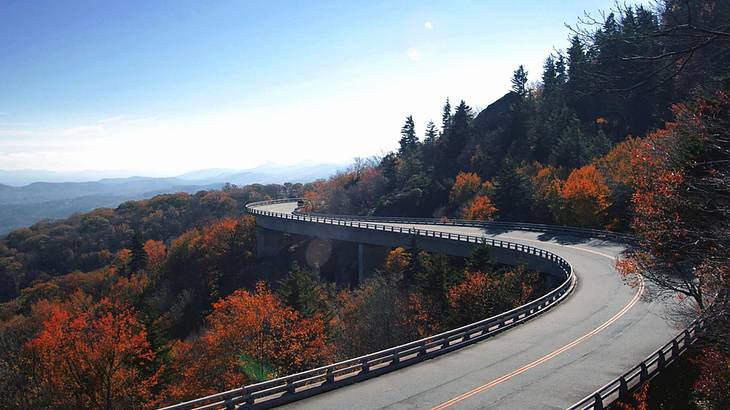 Take a drive on the Blue Ridge Parkway
Known for its scenic beauty, the Blue Ridge Parkway starts outside Asheville and goes to Virginia. The parkway is America's longest linear park and is 469 miles long.
The Blue Ridge Mountains dominate the majority of the drive, but there are many highlights to stop along the way. Take advantage of this beautiful drive during your trip.
See the countryside with Craggy Mountain Line
The Craggy Mountain Line features historic trolley cars for Asheville family activities. This fun trolley ride through the countryside is a great way to see the area with children.
Winter tours feature the Jingle Bell Trolley Train Ride with Santa and Mrs. Claus, hot chocolate, and cookies.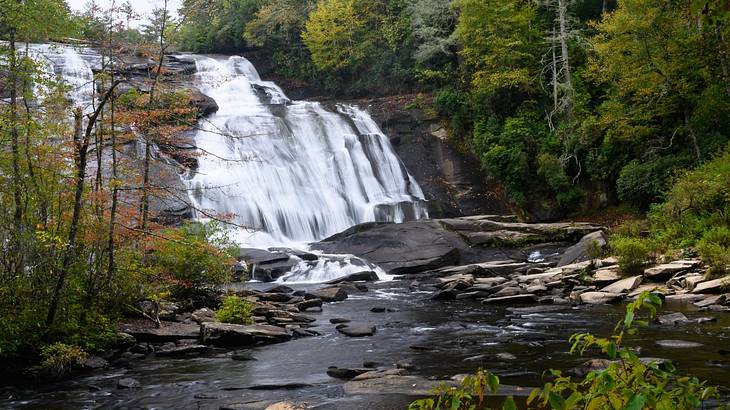 Search for waterfalls at Dupont State Recreational Forest
Every outdoor lover's dream, Dupont State Recreational Forest features 10,000 acres of land and 86 miles of hiking trails. The most popular hike here is a 3-mile round trip that takes you to Hooker, Triple, and High Falls.
Don't miss out on all the outdoor opportunities here!
Take a tour at the French Broad Chocolate Factory
French Broad Chocolate Lounge & Factory treats locals and tourists in downtown Asheville to indulgent chocolatey treats every day.
To learn more about the delicious bean-to-bar chocolate, you can bring the family on one of their daily Chocolate Factory tours to learn more.
This is one of the best things to do in Asheville with kids, so make sure to book a tour in advance.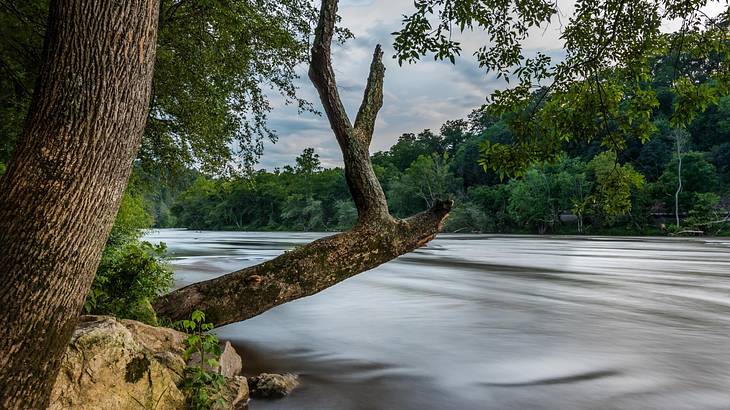 Whitewater raft the French Broad River
The French Broad River flows 218 miles through North Carolina and Tennessee. Section 9 of the river flows through Pisgah National Park and is beginner-friendly for whitewater rafting.
Have some fun and get your adrenaline pumping by joining a whitewater rafting group on the French Broad River when you're in Asheville, North Carolina.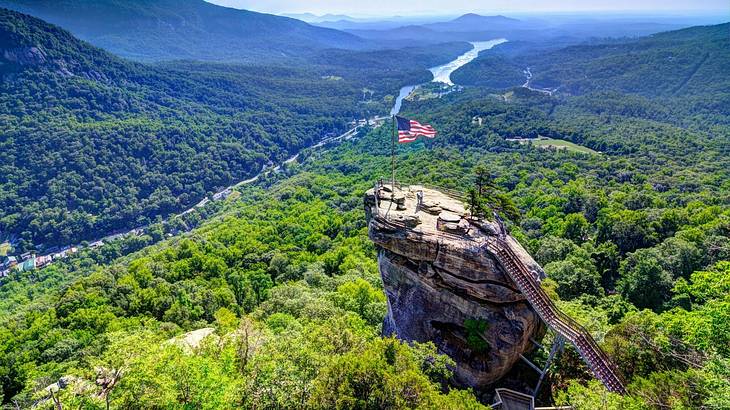 Reach the top of Chimney Rock State Park
Hike to the top of the 500-million-year-old Chimney Rock to reach the beautiful vantage point overlooking Hickory Nut Gorge. Families can hike to the top of Chimney Rock or take an elevator to the top to reach the 2,280 feet above sea level peak.
The park also features six trails ranging from easy to moderate difficulty. It's no surprise that North Carolina is a bucket list destination!
Explore the Great Smoky Mountains National Park
The Great Smoky Mountains National Park is a must-visit when spending time in western North Carolina.
One of the best national parks on the East Coast, the Great Smoky Mountains National Park features more than half a million acres, the Appalachian trail, and historical attractions.
Laugh during Lazoom Kids' Comedy Tour
One of the best family activities in Asheville, NC, LaZoom Kids' Comedy Tour produces kid-centric comedy shows for the 5-12-year-old audience.
Hop on the purple bus for shows such as the City Comedy Tour, the Kids' Comedy Tour, and Ghosted: Bus Comedy Tour. This event will make for a fun outing for the entire family.
Play inside at Mountain Play Lodge
Perfect for a rainy day adventure, the Mountain Play Lodge features a safe and fun environment with indoor playgrounds for children near Asheville.
Kids can sit on the life-sized dog replica, play pretend in the mini castle, or slide down the many slides. Larger groups will appreciate the party room rentals.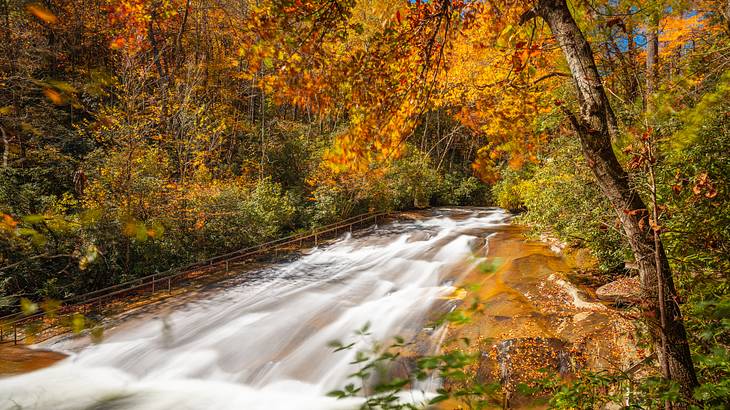 Enjoy the outdoors at Pisgah National Forest
Home to the first forestry school, Pisgah National Forest is also the site of two of the first designated wilderness areas in the Eastern U.S.
This national forest is worth visiting for its beautiful hardwood forest, rivers, North Carolina Mountains, waterfalls, and hiking trails. Take a scenic drive or hike your way through this fantastic forest.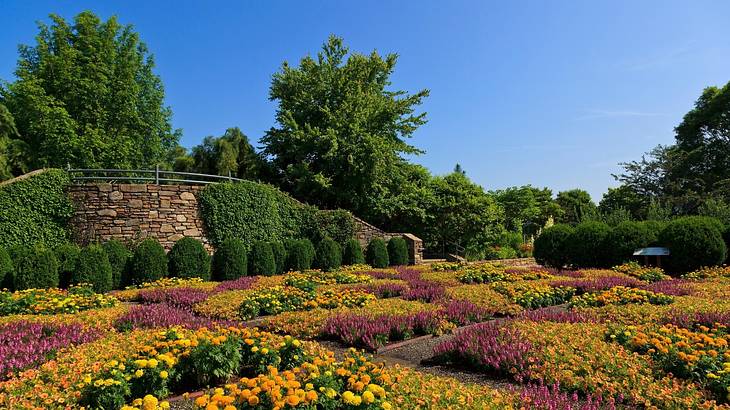 Take a garden tour at The North Carolina Arboretum
Explore the diverse Southern Appalachian Mountains at the 434-acre campus of The North Carolina Arboretum.
This lovely arboretum includes developed gardens and more than 10 miles of forested hiking and biking trails. While you're here, make sure to take a garden tour or participate in nature activities for families.
Say hi to animals at the Western North Carolina Nature Center
Stop by the Western North Carolina Nature Center, also known as the WNC Nature Center, and see some of the 60 species of animals that call this place home.
Many of the animals that call the WNC Nature center home have been injured, including black bears, red wolves, otters, bobcats, and more.
Visit a working farm at Hickory Nut Gap Farm
Only twenty minutes from downtown Asheville, Hickory Nut Gap Farm operates as a market for grass-fed beef and pasture-raised chickens and pork.
Visitors to the farm can spend time with farm animals or explore the farm store. Group tours are offered on Thursdays and Sundays every week.
Slide down the Sliding Rock Natural Waterslide
Situated in Pisgah National Forest is a 60-foot natural waterslide named Sliding Rock. It attracts thousands of visitors every year.
One of the fun things to do in Asheville for kids, Sliding Rock allows them to slide down a sloping rock face into an 8-foot deep pool of water.
View some art at the River Arts District
Along a one-mile stretch of the French Broad River, you'll find artists and working studios in 23 industrial and historical buildings called the River Arts District.
Bring the kids and explore more than 200artists'' work in various mediums, including painting, pottery, paper, and more. There is also food and drinks available onsite.
Take flight at the Western North Carolina Air Museum
The Western North Carolina Air Museum is a free museum dedicated to preserving the flying history of Western North Carolina.
Families will love the collection of restored and vintage airplanes, models, and engines. Pilots are available for free tours, and two planes are available to sit inside.
Do the Mast General Store Scavenger Hunt
Mast General Store first opened in 1883 in downtown Asheville. Still standing today, it is a popular location that has a little bit of everything for locals and tourists.
Stop by the store and ask for the kid's scavenger hunt... There's a fun reward at the end!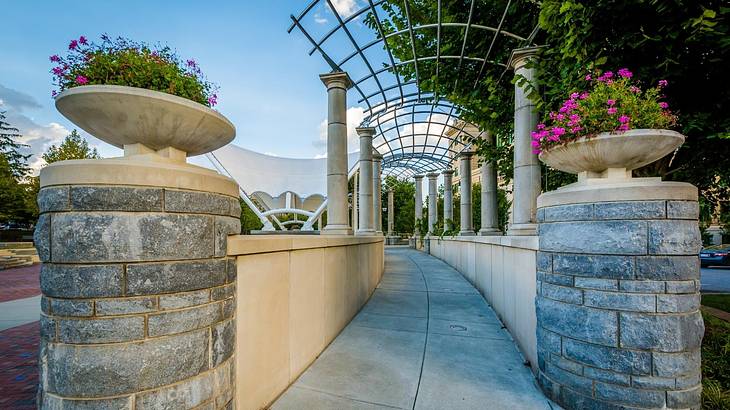 Learn the town's history on the Asheville Urban Trail
Perfect for your Asheville family vacation, the Asheville Urban Trail is a 1.7-mile self-guided trail through the historic sections of downtown Asheville.
The path has 30 marked stations that help display the town's history through statues, bronze plaques, and local art.
Go inside the Basilica of Saint Lawrence, Deacon and Martyr
If you want to add a historic and unique architectural building to your list, make sure you stop by the Basilica of Saint Lawrence, which is the only basilica in western North Carolina.
This basilica was built in 1905 in the Spanish-Baroque style with beautiful stained glass windows. There is a gift shop for visitors.
Search for gems at Asheville's Best Gem Mine
Full of fun Asheville, NC, activities for kids, Asheville's Best Gem Mine offers exciting mining opportunities for kids and adults alike.
Once you're done looking for your own precious gems, head to the Rockin' Rock Shop for custom- jewelry and other handmade crafts. The whole family will love this experience.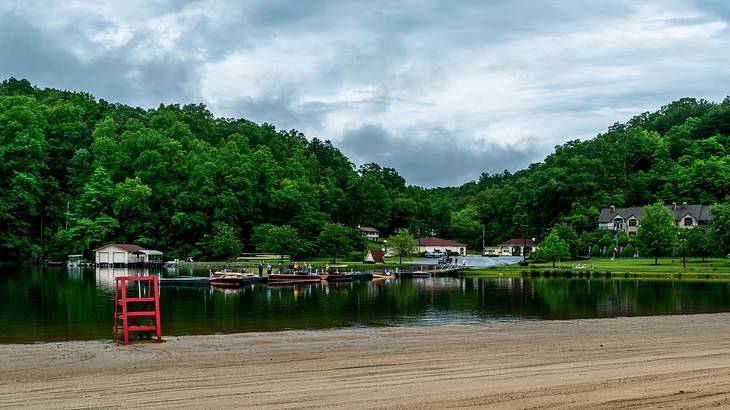 Have a beach day at Lake Lure
Less than an hour from Asheville is a quaint beach located on Lake Lure. Bring the entire family for a beach day filled with family-friendly activities.
Lake Lure Beach boasts 100 yards of sandy beach and a water park with water slides and water games. There is nearby dining and a large picnic shelter on the beach.
Grab a sweet snack at Rocket Fizz
Kids will love the vintage soda pops and a large selection of candy at Rocket Fizz located in downtown Asheville.
There is so much to offer here, including almost 300 different bottled sodas and so many different childhood candies to choose from.
Let the family explore the gag gifts and pick a sweet snack to take home at this fun shop.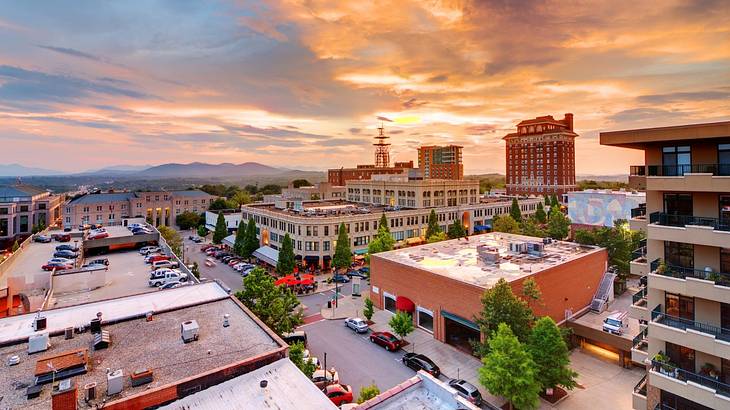 Take family photos while you're in Asheville
Asheville and the surrounding area offer so much natural beauty that it is the perfect location for a family photo shoot.
This Asheville Private Photoshoot provides 15 professionally-edited photographs that you have two weeks to download after receiving.
The photoshoot will occur at the Asheville Botanical Gardens unless you request otherwise. Don't hesitate to book this great opportunity!
Watch the Asheville Tourists play a game
Asheville has a Minor League Baseball team of its own called the Asheville Tourists. Taking the whole family to a baseball game is one of the great things for kids to do in Asheville.
Spend your afternoon at McCormick Field with a hot dog and soda cheering on the home team!
Visit the Botanical Gardens at Asheville
Only two miles from downtown, you'll find the Botanical Gardens of Asheville, which focuses on plants native to Western North Carolina.
The garden collection includes more than 600 species, including trees, shrubs, vines, wildflowers, herbs, grasses, aquatic plants, ferns, mosses, and lichens.
An easy half-mile walking trail shows off most of the area for visitors to enjoy.
Go glamping at Lake Powhatan Recreation Area and Campground
Lake Powhatan Recreation Area and Campground added newly-designed, fully-furnished canvas platform tents within walking distance of the lake.
Enjoy camping with your family without sacrificing the luxuries of home. The campground offers a swimming beach, fishing, hot showers, flush toilets, and more.
Horseback ride on the Fern Forest Trail
Well worth the day trip outside of Asheville, take your family for this once-in-a-lifetime opportunity to ride horses through the North Carolina wilderness on the Fern Forest Trail.
Once you arrive at this working horse farm, you'll be safety trained and matched with a suitable horse before you begin your ride to reach 3800 feet in elevation.
Climb the walls at ClimbMax Asheville
Climbmax Asheville has two locations: one in downtown Asheville, and another located near the River.
Both offer fantastic indoor climbing opportunities with over 6,000 square feet available between the two locations. If your family needs instruction or gear, both are available at Climbmax.
Stare at the sky at Pisgah Astronomical Research Institute
Located deep in the Pisgah National Forest, you'll find this must-see in the Asheville area. The Pisgah Astronomical Research Institute (PARI) was developed by NASA and operates today as an educational and research center for all ages.
PARI offers tours and guided evening observing by appointment. Public events are available for major astronomical events and hands-on learning opportunities.
Jump around at Launch Trampoline Park Asheville
Launch Asheville is full of fun indoor activities for youth, including trampoline courts where kids can literally jump off the walls.
There are also basketball and dodgeball courts here for kids who miss gym class. Don't miss out on the arcade or the Paradox VR for extra fun!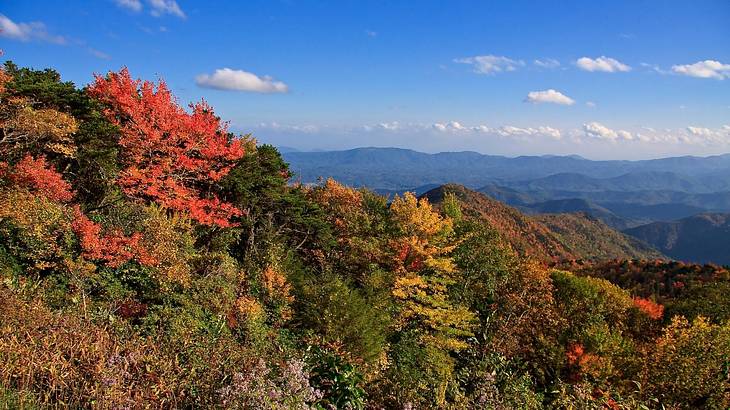 Take a helicopter tour of the Blue Ridge Parkway
What better activity for family things to do in Asheville, NC, than taking a helicopter tour over the Blue Ridge Parkway?
On this breathtaking trip, you'll get to see parts of Pisgah National Forest from above and see Looking Glass Rock from a different vantage point.
Conclusion
When planning your next family vacation, make sure to add Asheville, North Carolina, to your list. There are so many activities for parents and children here, including several gorgeous outdoor destinations for the whole family and kid-specific adventures that parents will enjoy as well.
No matter what families are looking for, there is something to interest all family members. From trampoline adventures to horseback riding, everyone can have fun in Asheville!
This article was edited by Loredana Elena.
Give us feedback about this article
For more interesting articles about United States, read:
For some great articles about things to do, check out:
For visual stories related to this article, take a look at:
---
---
Want to keep exploring?
Subscribe for discounts on tickets and hotels and our latest guides.
Thank you for subscribing
We will be in touch soon with discounts on tickets and hotels and our latest guides.
Want to keep exploring?
Subscribe for discounts on tickets and hotels and our latest guides.
Thank you for subscribing
We will be in touch soon with discounts on tickets and hotels and our latest guides.
Related articles