25 Famous Landmarks in Tennessee You Must See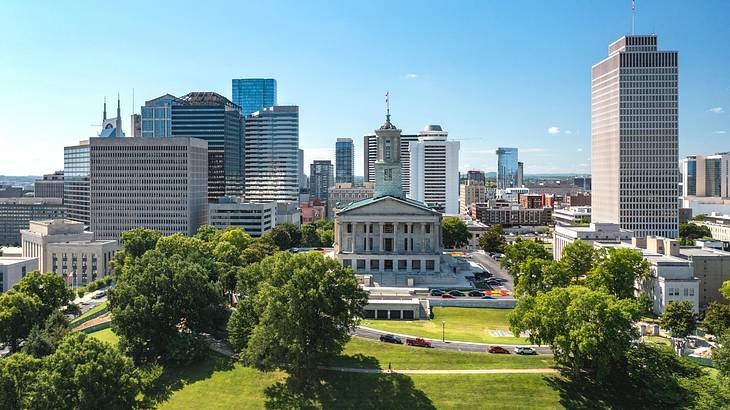 Tennessee is a popular travel destination in the Southeastern United States. If you are wondering what Tennessee is famous for, Tennessee is famous for its vibrant music scene rooted in country, soul, blues, and rock-n-roll, and much more!
The capital city of Nashville, known as Music City, is home to world-famous music venues, the Grand Ole Opry and Music Row. Music legends like Johnny Cash, Elvis Presley, and Dolly Parton have graced these iconic stages.
Tennessee is also known for its outdoor adventure. Hiking, rock climbing, and whitewater rafting are popular activities here. Outdoor famous landmarks in Tennessee include Great Smoky Mountains National Park and Lookout Mountain.
This state is rich in history, too. Visitors can explore civil war battlefields, museums, and historical sites. Tennessee is also part of the legendary Civil Rights Trail.
You can learn about Dr. Martin Luther King Jr., John Lewis, and many other brave civil rights activists at the National Civil Rights Museum in Memphis. Continue reading to learn more about all that Tennessee has to offer!
Disclosure: Destguides may receive commission for purchases made through hyperlinks in this article at no cost to you.
25 Famous Tennessee Landmarks
Tennessee Landmarks Map
A map of Tennessee landmarks. Use the map to explore all of the points of interest.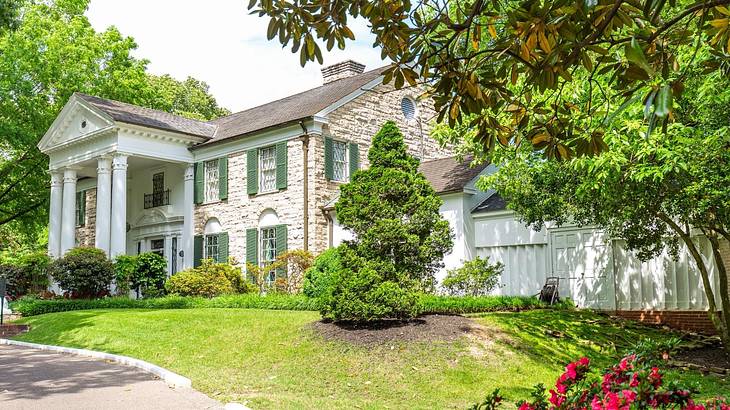 Graceland
Were you wondering:
What is the most famous landmark in Tennessee?
The most famous landmark in Tennessee is Graceland, of course! Over 650,000 people visit Graceland annually. It is one of the most visited historical sites in Tennessee.
Once home to the famous musician Elvis Presley, Graceland is a 13-acre estate and mansion in Memphis. Now operating as a museum and event venue, guests can tour the estate to see Elvis memorabilia and catch an Elvis tribute show.
Beale Street Historic District
The Beale Street Historic District is one of the most iconic areas in Tennessee. Adorned with eye-catching neon lights at every turn, Beale Street has been the epicenter of Memphis nightlife since the 1920s.
Known as "Home of the Blues", Beale Street has many live music clubs including the famous BB King's Blues Club. The district is also known for restaurants, shops, museums, and a famous statue of Elvis Presley.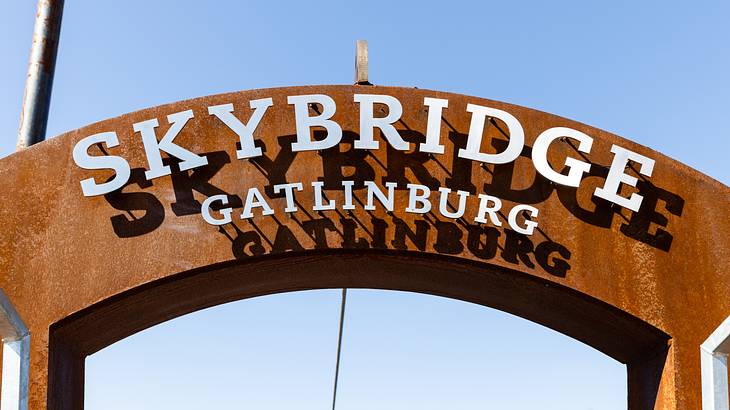 Gatlinburg SkyLift Park
Gatlinburg SkyLift Park is a famous theme park located in Gatlinburg, Tennessee. It is known for its open-air chairlift that takes you 1,800 feet above sea level to a lookout with panoramic views of the Smoky Mountains.
At the top of the chairlift, you'll also find the Gatlinburg SkyBridge, a 700-foot footbridge that spans a deep valley. The bridge provides panoramic views of the town of Gatlinburg.
You can walk along the bridge, but mid-way, things can get a bit nerve-racking. To make it onto the other side of the bridge, walkers need to pass over a glass-floored section, which gives a gut-tingling view of the valley below.
Bicentennial Capitol Mall State Park
Just off the capitol in downtown Nashville, the Bicentennial Capitol Mall State Park is a sprawling greenspace filled with interesting sights. Highlights of the park include WW2 monuments, a 31 geyser fountain installation, and a 95-Bell Carillon that chimes every hour.
The park also hosts special events in its 2000-seat amphitheater modeled after the ancient Greek Theater of Epidaurus. Walking tours are available to learn more about the park's history and monuments.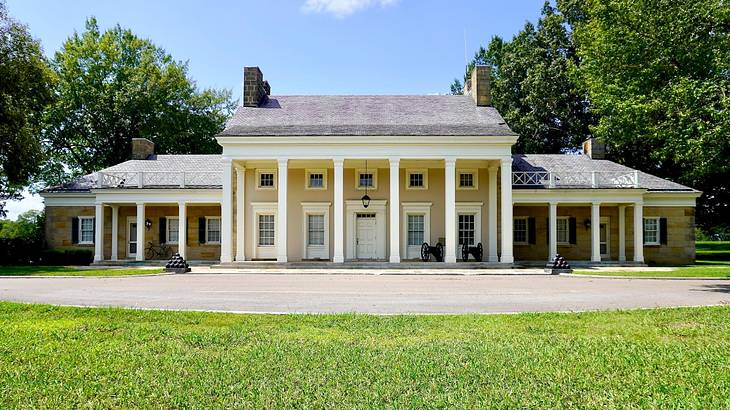 Chickamauga and Chattanooga National Military Park
Chickamauga and Chattanooga National Military Park is one of the most famous historic sites in Tennessee. The park was named for the locations of two major battles in the American Civil War, the battles of Chickamauga and Chattanooga.
Visitors to the park can learn about these historic battles through the many museums, monuments, and tours offered. The natural areas of the park also have hiking trails, rock climbing bluffs, and paddling on Chickamauga creek.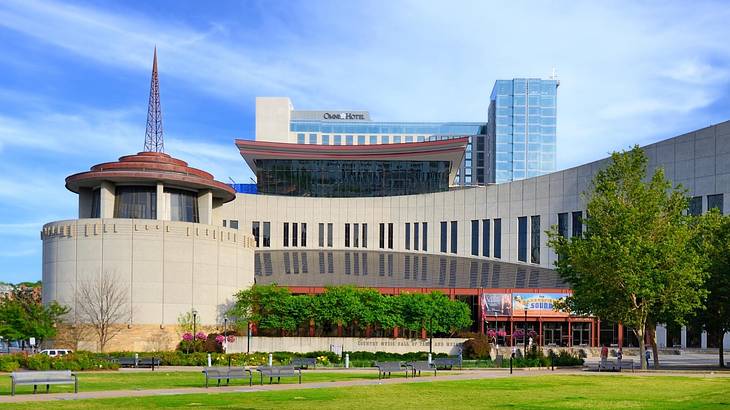 Country Music Hall of Fame and Museum
Located in the musically forward city of Nashville, the Country Music Hall of Fame is dedicated to showcasing and preserving the Country Music genre. This 350,000-square-foot museum holds an impressive collection of music memorabilia as well as an education center and theater.
Musician exhibits from past and present are on display including costumes and instruments. You can even tour the historic RCA Studio B where famous musicians like Dolly Parton and Elvis Presley have recorded.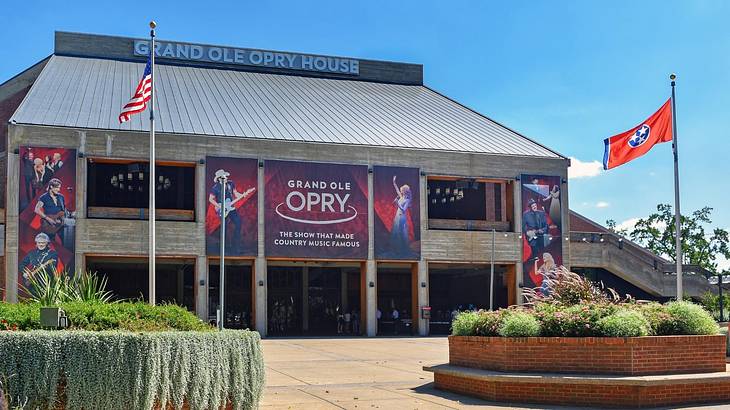 Grand Ole Opry
One of the most famous music shows in Tennessee, the Grand Ole Opry is known as "The Home of Country Music". The Opry has been hosting live music since 1925.
Over the years they've seen 6 different venues and many historically famous musicians perform including Hank Williams, Johnny Cash, and Willie Nelson.
The Grand Ole Opry has an ever-growing list of entertainers taking the stage. They hold multiple shows per week. If you are exploring Tennesse with a partner, the Grand Ole Opry is one of the top activities to do as a couple.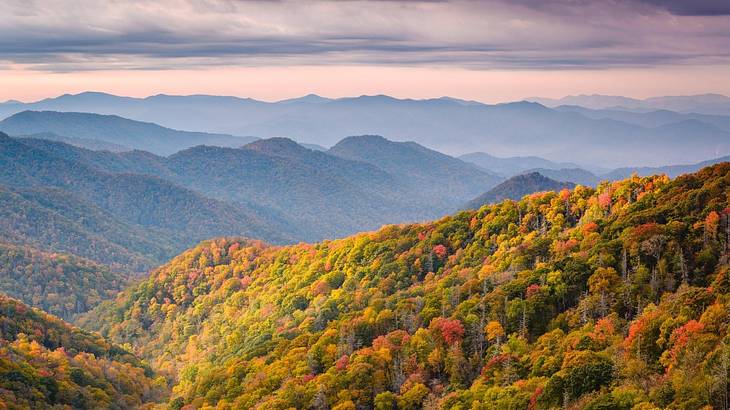 Great Smoky Mountains National Park
Great Smoky Mountains National Park is one of the largest natural landmarks in Tennessee. The park has over 500,000 acres of wilderness to explore. Lush green forests, cascading waterfalls, and picturesque mountain scenery make this park the most-visited amongst National Parks in the Eastern United States.
There are 150 hiking trails, 11 waterfalls, 384 miles of scenic drives, and endless opportunities for wildlife spotting inside the park.
Hatch Show Print
Part print shop, part living history, Hatch Show Print, is a one-of-a-kind design shop steeped in nostalgia. This print shop uses the same techniques as when it first opened in 1879.
Hatch Show Print offers tours, workshops, and art exhibits all centered around the classic letterpress. You can tour the studio, gallery, or even sign up to use a piece of history and make your own print.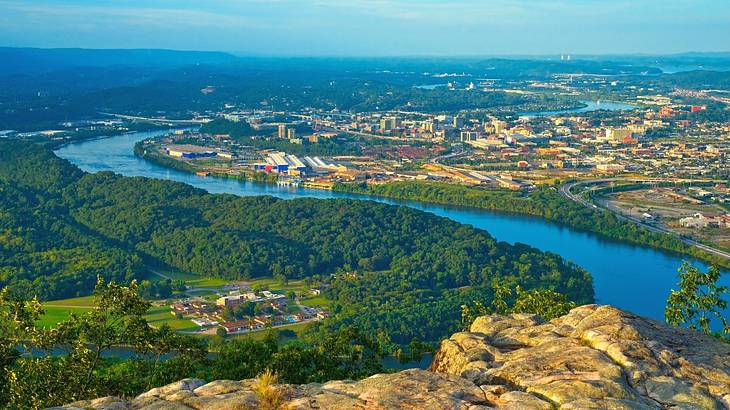 Lookout Mountain
One of the most well-known Tennessee landmarks and tourist attractions is Lookout Mountain. It is home to 3 major attractions, Rock City, Ruby Falls, and the Incline Railway.
Lookout Mountain also has hiking trails, waterfalls, and a historic battle site and museum. The Battles for Chattanooga Museum showcases the history of the Battle of Lookout Mountain, an important turning point in the Civil War.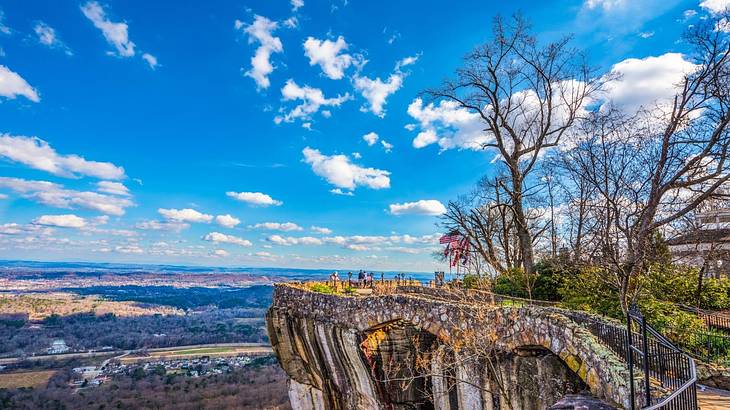 Rock City
Rock City is located at the very top of Lookout Mountain and offers panoramic mountain views, unique rock formations, caves, and waterfalls. It also has dining, shopping, and an outdoor art gallery.
The most popular area within Rock City is the "see 7 states" lookout point. Here you can catch a glimpse of not only Tennessee, but also Alabama, Georgia, Kentucky, North Carolina, South Carolina, and Virginia.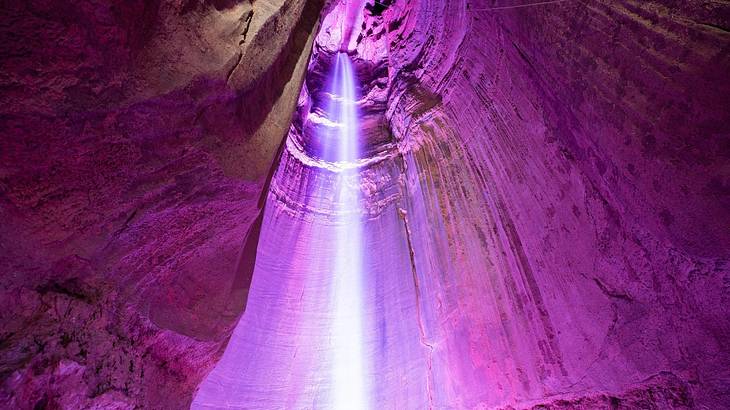 Ruby Falls
Ruby Falls is a unique underground waterfall that is 260 feet deep under Lookout Mountain. The falls can be accessed through one of their guided cave tours.
Guests can tour the cave system and see interesting geological features like stalactites and stalagmites and of course, the namesake waterfall. For those wanting even more adventure after the cave, ziplining and climbing are also available at Ruby Falls.
Incline Railway
Since 1895, the Incline Railway has been transporting passengers from downtown Chattanooga to the top of Lookout Mountain. It is the steepest passenger railway in the world and is known as "America's most amazing mile".
The Incline Railway takes passengers on a leisurely ascent up the mountain with prime views of the surrounding mountains and forests. Once the top is reached there are scenic valley overlooks, as well as shopping and dining.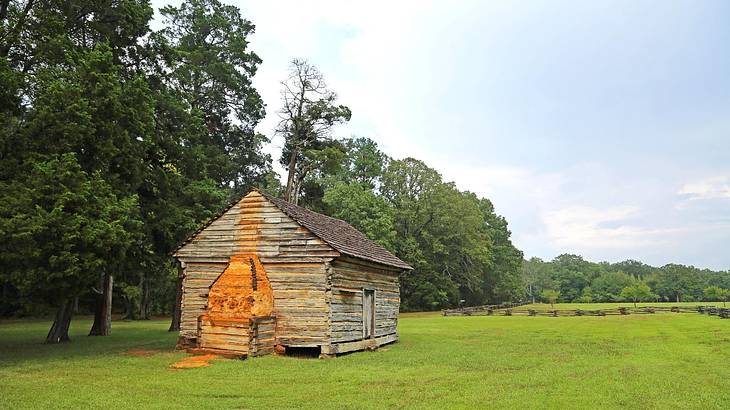 Shiloh National Military Park
Shiloh National Military Park is a large, 5000-acre park encompassing 4 historic sites in Tennessee. The Shiloh Battlefield and Davis Bridge were both sites of major Civil War battles in 1862. The Shiloh National Cemetery holds the remains of over 3500 Civil War soldiers.
Hundreds of years prior to the Civil War, Shiloh Park was home to the Shiloh Indians. Visitors to the park can see ancient ruins of the Shiloh Indian homes and burial mounds.
Montgomery Bell Tunnel
One of Tennessee's National Historic Landmarks, the Montgomery Bell Tunnel was built in 1819 to divert water for industrial purposes. The tunnel lies in a portion of the Harpeth River known as "the narrows" in Harpeth River State Park.
While the inside of the tunnel is no longer accessible due to collapse, the outside is a popular sightseeing spot. The outside of the tunnel can be accessed by hiking or paddling to it.
Harpeth River State Park
Harpeth River State Park is a linear park that follows 40 miles of the Harpeth River and its surrounding lands. The Harpeth River has areas of class I and class II rapids for beginners to advanced paddlers.
The forests that follow the river have 5 different hiking trails offering scenic points and prime birdwatching opportunities. The park is also home to a National Historic Landmark, the Montgomery Bell Tunnel.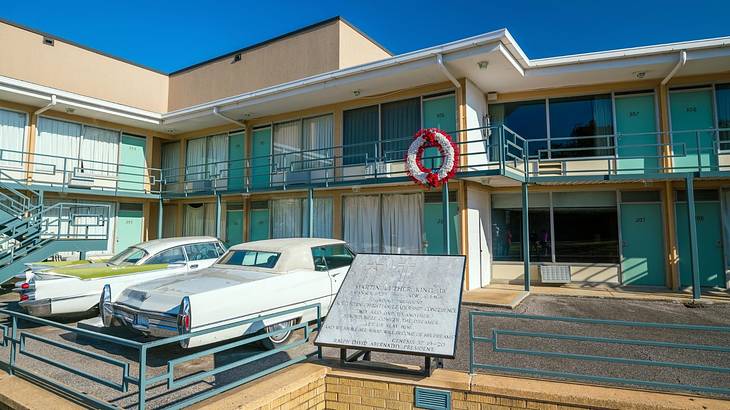 National Civil Rights Museum
The National Civil Rights Museum exhibits historic milestones in the Civil Rights Movement. Artifacts and presentations from some of the most prominent activists are on display.
Here you can see the actual bus that Rosa Parks famously took a stand in. The historic Lorraine Motel where Dr. Martin Luther King Jr. spent his final hours is also adjacent to the museum.
The museum teaches about the heroes of the Civil Rights Movement and the important work many of them are still doing today.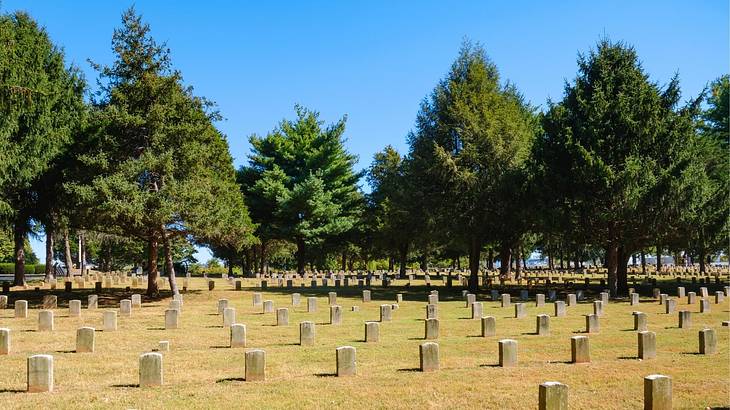 Stones River National Battlefield
The Battle of Stones River was one of the largest and most pivotal battles in the Civil War. This 3-day battle led to a Union Army victory in Tennessee but was also one of the highest in casualties. The Stones River National Cemetery, a memorial and final resting place for over 6000 soldiers now resides within the park.
The Stones River National Battlefield is now a famous landmark in Tennessee showcasing Civil War artifacts and educational programs.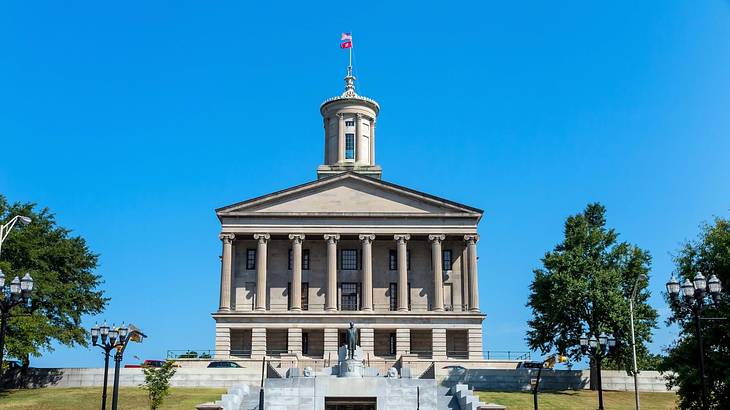 Tennessee State Capitol
The Tennessee State Capitol is a National Historic Landmark and one of the oldest working capitols in the United States. The dramatic Greek-revival style structure was built in 1859 by famous architect and Civil War engineer, William Strickland. Strickland's tomb resides on capitol grounds.
Today, visitors can tour the grounds and certain chambers of the capitol. There is also a museum with expansive exhibits on Tennessee history and the Civil War.
Tennessee State Museum
The Tennessee State Museum sits just outside of the Tennessee State Capitol and holds one of the largest collections of Tennessee history and memorabilia. Its exhibits include natural history, ancient artifacts, military, social and political movements, arts, and culture.
The Tennessee State Museum is very education focused. They offer special guided tours as well as host a variety of educational events. Events led by local historians, guest speakers, and authors routinely take place.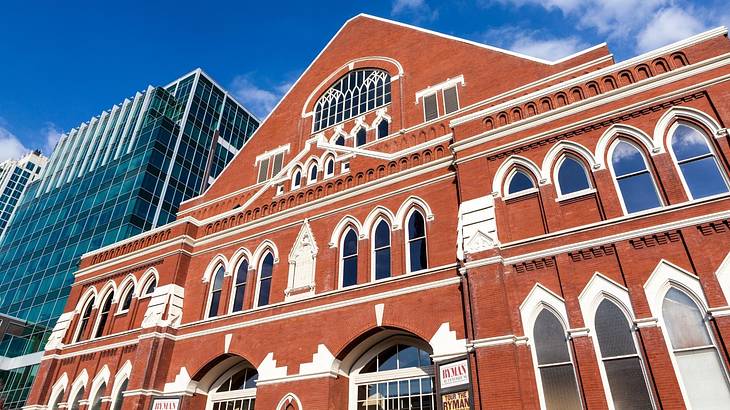 Ryman Auditorium
Since 1885, the Ryman Auditorium has been one of the most famous places in Tennessee. The auditorium is popular for its live music and as a stop for visitors on a weekend getaway in Nashville.
Originally named the Union Gospel Tabernacle, it was later changed to honor the late Nashville businessman who built the center, Thomas G. Ryman.
The Ryman has had a variety of famous acts over the years. It is credited as the place where the iconic relationship between Johnny Cash and June Carter began. Today, the Ryman Auditorium still hosts famous acts weekly.
Trail of Tears
The Trail of Tears spans over 5000 miles across 9 states. It documents the forced removal of the Native Cherokee from their homes under the "Indian Removal Act" brought forth by President Andrew Jackson. Thousands of Cherokees made the perilous trek during the 1830s, many succumbing to illness and injury along the way.
The Tennessee portion of the trail is located in multiple areas. Museums and monuments now line the trailheads to commemorate the strength of the Cherokee and education on the injustices they faced.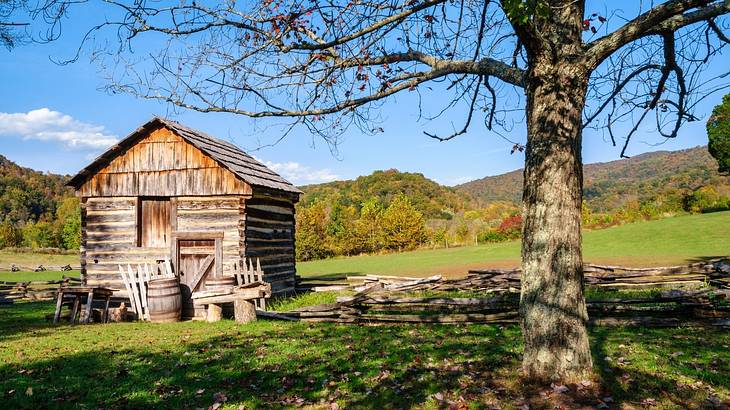 Cumberland Gap National Historical Park
Cumberland Gap National Historical Park encompasses 14,000 acres of land shared between Tennessee, Kentucky, and Virginia. The mountain pass served as an important pathway through the Appalachian Mountains throughout history, from Native Americans to early settlers. Remnants from an early 1900s settlement can be toured.
This park has over 80 miles of hiking trails, spectacular overlooks, campgrounds, and a cave to be explored. It is one of the most famous historical landmarks in Tennessee!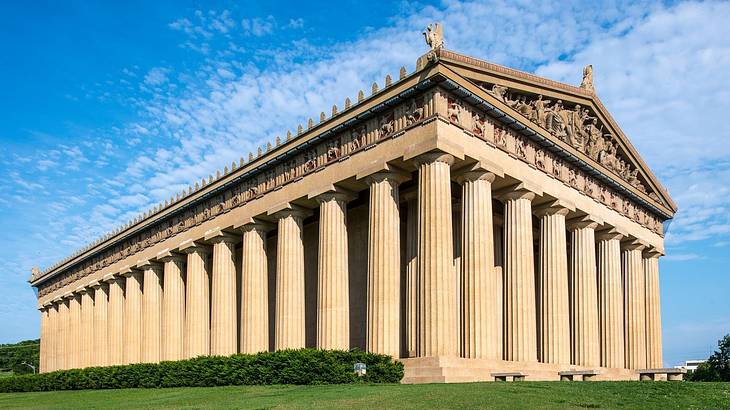 Nashville Parthenon
Nashville has sometimes been referred to as "The Athens of the South" due to its high concentration of Greek architecture. The Nashville Parthenon is the crown jewel of that sentiment.
Built in 1897, the Nashville Parthenon was modeled to be an exact replica of the one in Athens, Greece. The structure now serves as a museum, art gallery, and one of the most famous places in Tennessee.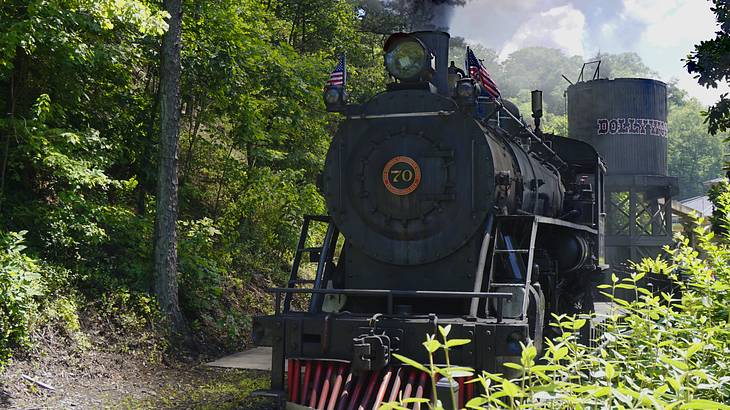 Dollywood
Dollywood, Dolly Parton's famous theme park, is located in Pigeon Forge. It has many rides, shows, restaurants, and other attractions. In 2022, Dollywood was voted the top theme park in the USA. Visitors love the park due to its excellent location - it is nestled next to the Smoky Mountains.
Dollywood offers something fun for the whole family. There is a water park for those who love to swim, roller coaster rides for people who love a thrill, and a resort and spa for those who prefer to kick back and unwind.
The town Dollywood is located is also a tourist attraction in itself. This vacation town in the Smoky Mountains is known for cabin rentals, wineries, and relaxing getaways. The area is full of outdoor adventure with hiking, jeep tours, and whitewater rafting.
In Summary
This list is just the tip of the iceberg when it comes to Tennessee landmarks and tourist attractions to visit. The capital of Tennessee, Nashville, has many more famous landmarks that are also worth exploring.
From the Smoky Mountains to the soulful music of Beale Street, there is so much to be explored in this state's unique history, art, culture, and music. Have the best time!
This article was edited by Henry Grahame and was first published on Sep 7, 2022 11:06 UTC.
Give us feedback about this article
For more interesting articles about United States, read:
For some great articles about landmarks, check out:
---
---
Want to keep exploring?
Subscribe for discounts on tickets and hotels and our latest guides.
Thank you for subscribing
We will be in touch soon with discounts on tickets and hotels and our latest guides.
Want to keep exploring?
Subscribe for discounts on tickets and hotels and our latest guides.
Thank you for subscribing
We will be in touch soon with discounts on tickets and hotels and our latest guides.
Related articles