21 Fun Things to Do in Washington DC at Night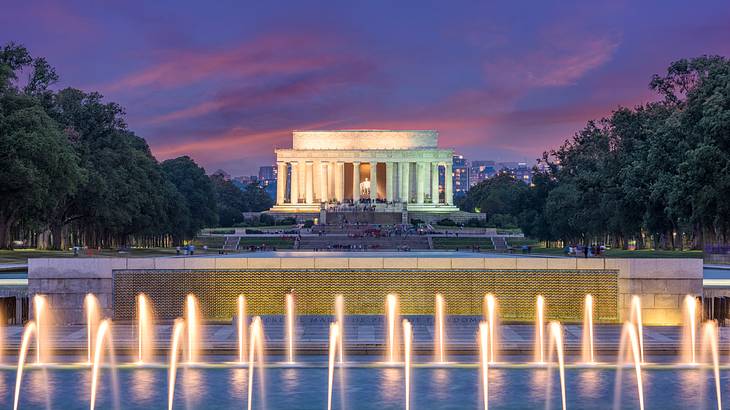 Washington DC is a political, historical, and cultural hub in the United States. When visiting Washington, you'll discover numerous things to do. These activities include seeing a range of historical and political landmarks to visiting attractions like museums and parks.
There are also many fun things to do in Washington DC at night. From nighttime sightseeing to catching a musical or relaxing at a rooftop bar. Read on for the top activities to enjoy at night in the US capital city.
21 Fun Things to Do at Night in Washington, DC
Washington, D.C. Things to Do Map
Using the map of Washington, D.C., you can explore all the things to do.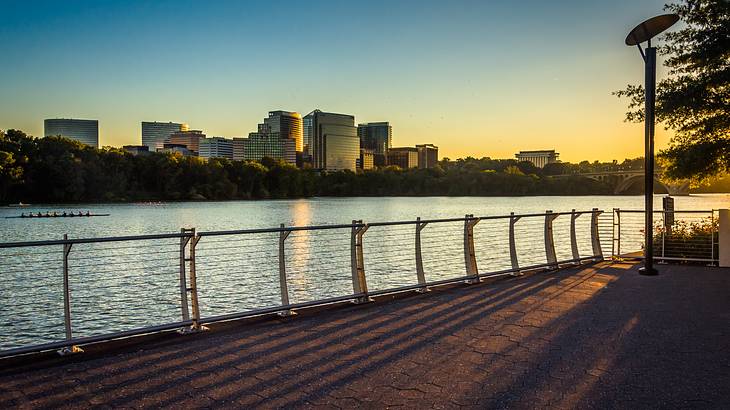 Wander around the Georgetown Waterfront Park
Washington DC's Georgetown Waterfront Park is a pretty national park located in the Georgetown Historic District. The park features beautiful greenery and stretches along the scenic Potomac River.
While the park is nice to visit during the day, it's also stunning at night. Walking alongside the river and enjoying the views of the illuminated city skyline is highly recommended.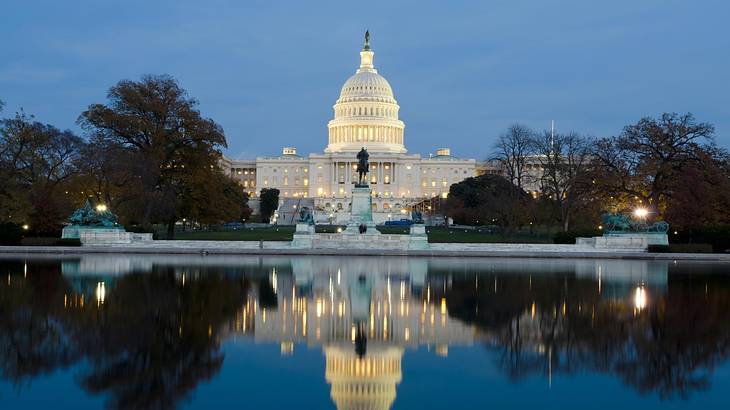 Go on a Washington DC night tour
A guided night tour is a unique way to go sightseeing in Washington DC. The DC at Dusk tour will take you to all of Washington's most famous landmarks. These attractions include the Lincoln Memorial, the Capitol, and the White House.
The tour takes you from spot to spot on a luxury mini-coach and will be accompanied by a knowledgeable guide. Seeing these iconic US landmarks lit up at night is truly memorable.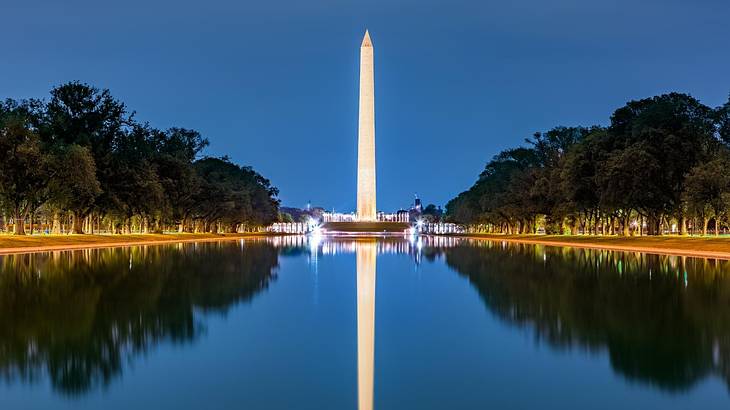 Visit the National Mall and Washington Monument
The National Mall and Washington Monument are some more of the iconic sites in Washington DC. Visiting these landmarks after dark is one of the best things to do in DC at night!
While you can visit on your own, a fun way to see the site at night is on a Moonlit tour of the National Mall. This narrated tour will allow you to learn more about this iconic attraction, and will take you to other renowned DC landmarks.
Break out of an escape room
If looking for an exciting and challenging activity in DC at night, why not try an escape room? Escape the Room Washington has two central DC locations and offers a range of themed rooms to try.
Challenges to escape from include a submarine challenge, a spy agency quest, and a Jurassic escape-themed room. No matter which room you try, you're sure to have an amazing evening!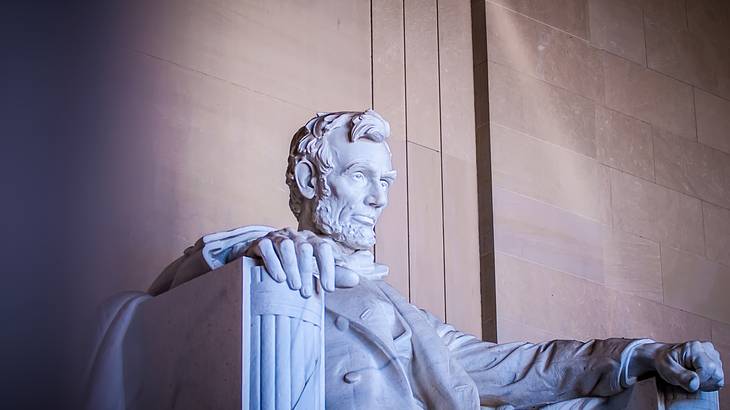 See the Lincoln Memorial lit up
The Lincoln Memorial is one of the most well-known Washington DC landmarks. This iconic attraction is stunning to see when illuminated at night.
To make an evening of this sightseeing activity, why not join a DC nighttime cycle tour? You'll bike to the Lincoln Memorial as well as to a range of other landmarks, like the Washington Monument and Constitution Gardens.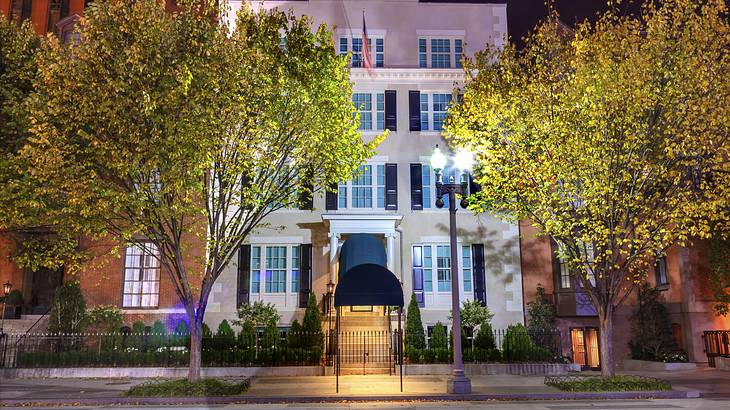 Spend a spooky evening on a ghost tour
Another of the fun things to do at night in DC is going on a ghost tour. You can find many Washington DC ghost tours to choose from, but the Washington Haunted History ghost tour comes highly recommended.
On this paranormal tour, your guide will tell you about 200 years of eerie history. You'll hear stories about murders, tragic events, and ghost sightings. This activity will also take you to a range of haunted locations throughout the city, like the Hay Adams Hotel and Blair House.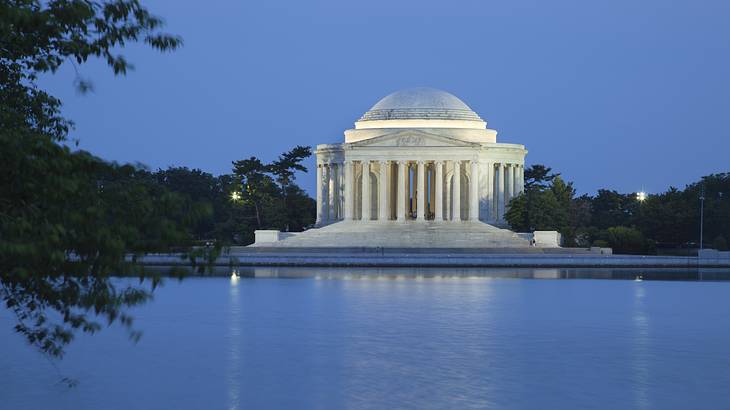 Walk around the Tidal Basin and Jefferson Memorial
The Thomas Jefferson Memorial can easily be accessed by walking around the Tidal Basin. The scenic walk to this North American Landmark is stunning in the evening.
Watching the sunset over the water and the memorial light up is breathtaking. Once at the Jefferson Memorial, you can look around and take lots of beautiful pictures.
Have dinner at Dupont Circle
Dupont Circle features many bars and eateries and is an ideal place to have dinner when in Washington. Obelisk is a popular high-end spot that has been in Dupont Circle since 1987.
This Italian spot serves a five-course meal with dishes including chestnut lasagna, braised pork belly, and pine nut lemon tartlets. Other great restaurants in the area include Del Sur Cafe, Anju, and Agora.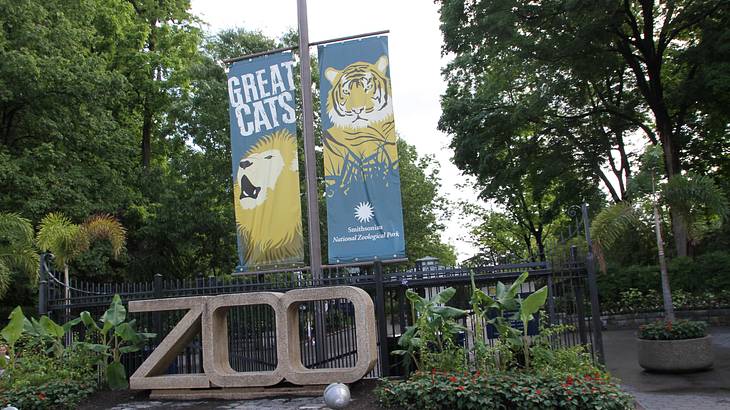 Experience Zoo Lights at the Smithsonian National Zoo
The Smithsonian National Zoo, or Zoological Park, is one of the US' oldest zoos. This attraction draws hundreds of visitors each day and is home to various animals, from elephants and pandas to alpacas and flamingos.
Although the zoo usually closes at 4 PM, you can visit in the evening when the Zoo Lights event is running. This after-dark experience sees an array of magical light displays placed around the zoo. Best of all, entry is always free.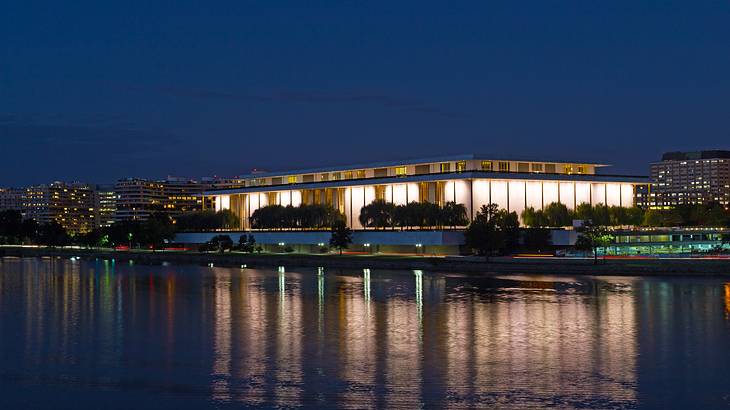 Watch a show at the John F. Kennedy Center for the Performing Arts
Washington has a host of cultural landmarks, and one you can't miss is the John F. Kennedy Center for the Performing Arts. The venue offers a range of shows to see, from classical music concerts to theatre productions and dance performances.
Spending the evening watching a show at the center is highly memorable. It's a great experience to add to your DC itinerary!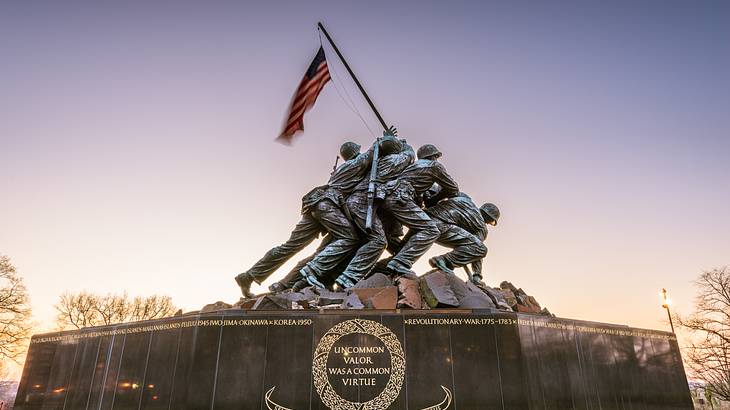 Sightsee on a Monuments by Moonlight night tour
Washington DC is home to an extensive collection of famous landmarks and monuments. One of the interesting night activities in Washington DC that allows you to see a range of landmarks is a Monuments by Moonlight trolley tour.
On the tour, you'll stop at eight iconic landmarks and will pass by numerous others. Places to see include the US Marine Corps War Memorial, the Lincoln Memorial, and the Washington Monument. At each stop, your guide will offer background information on site.
Listen to jazz and blues at Blues Alley Club
One of DC's most popular music venues is the Blues Alley Club. The club has a range of amazing live jazz and blues headline acts that are a must-see. There is an event almost every night, so you can visit anytime you're in Washington DC.
While watching a show, you can also order drinks and a range of meals. Most dishes are Southern-inspired and include gumbo, blackened catfish, and red beans and rice.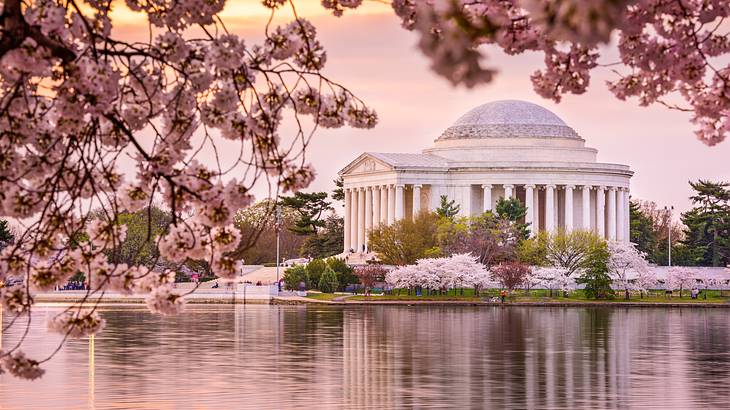 Marvel at beautiful cherry blossoms at sunset
In the spring, Washington's trees become covered in Cherry Blossoms. A fun activity is heading to one of the three national parks that feature many cherry blossoms at sunset. The combination of a pink-orange sky and the soft pink blossoms makes for a magical view.
The parks where you can see the cherry blossoms are near the Tidal Basin in West Potomac Park, on the grounds of the Washington Monument, and in East Potomac Park.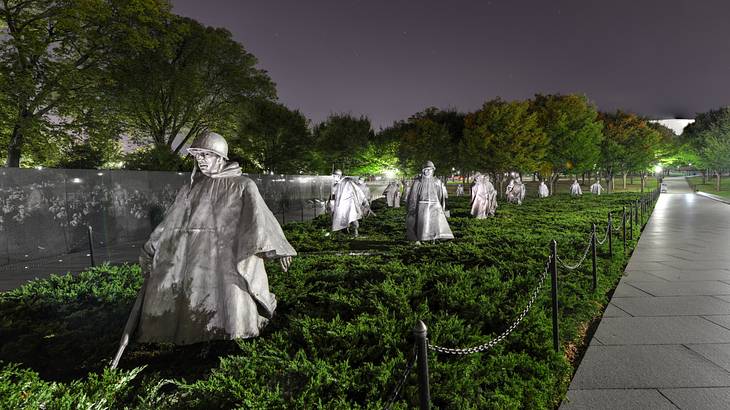 See the Korean War Veterans Memorial
The Korean War Veterans Memorial is found in West Potomac Park. This memorial commemorates those that served in the Korean War. You can access the memorial 24 hours a day, so going to see it at night is easy.
One of the convenient ways to visit the Korean War Veterans Memorial is on a DC Night Under the Stars walking tour. Other monuments to see include the Vietnam Veterans Memorial and the Lincoln Memorial.
Drink at a great DC bar
If you enjoy great drinks, one of the cool things to do in DC at night is visit an amazing bar. You can find a range of trendy spots across the city.
A highly recommended spot is the Columbia Room that serves craft cocktails and even has a tasting room. Other DC bars to check out include Off the Record in the basement of the Hay Adams Hotel and Calico, a cute spot with cocktail juice boxes!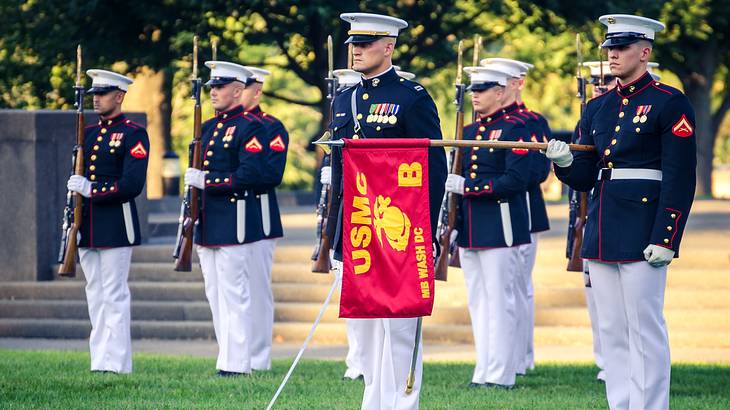 Watch the US Marines Sunset Parade at the US Marine Corps Memorial
The US Marines Sunset Parade takes place at the US Marine Corps Memorial, also known as the Iwo Jima Marine Corps Memorial. The parade is held once a week at sunset during the summer months, usually at 7 PM. The memorial is in Arlington, just across the bridge from downtown DC.
At the event, you'll get to enjoy a fascinating military parade that includes a performance by the Silent Drill Team. This famed parade has been held since 1956, so catching it when in the city is a must.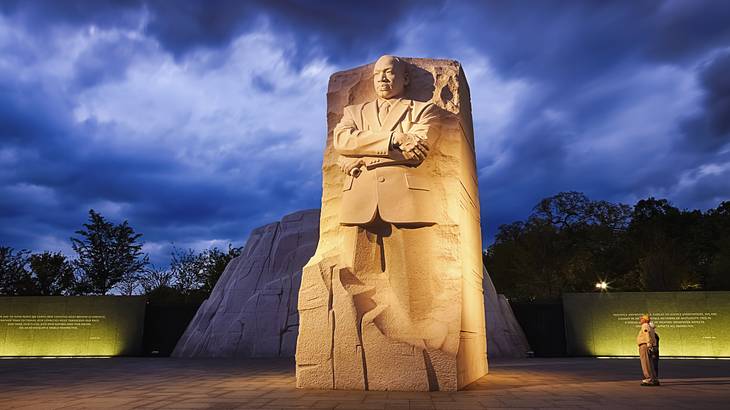 Go to the Martin Luther King Jr. Memorial
The Martin Luther King Jr. Memorial is a must-see attraction in Washington DC. To avoid the crowds, consider viewing the statue of the iconic Civil Rights leader at night. An ideal way to do so is on a nighttime trolley tour.
This tour will take two and a half hours, and you'll get to visit the Martin Luther King Memorial as well as other famous attractions. Your guide will also offer background on all the landmarks you see.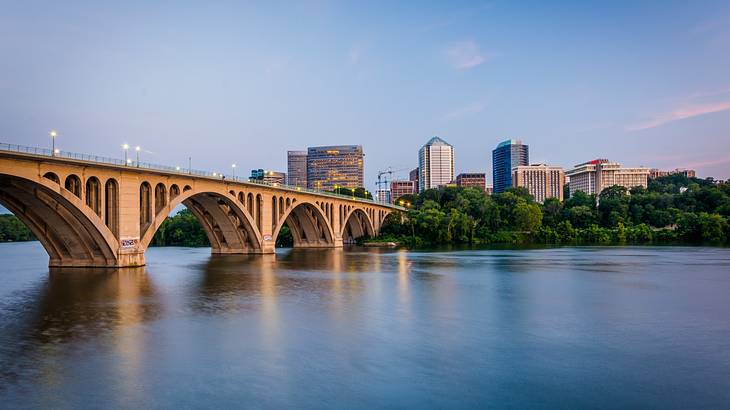 Enjoy an Odyssey dinner cruise on the Potomac River
If you want to treat yourself, one of the fun things to do in DC at night is going on a dinner cruise. The Odyssey Dinner Cruise is one of the most popular in DC and will take you out on the Potomac River.
Once aboard, you'll be served a delicious three-course meal that you can enjoy as you take in the stunning views. Live music is also provided, and you'll get to spot some of Washington's most famous landmarks.
Take in nighttime views from a rooftop bar
Seeing Washington DC lit up at night is an amazing thing. One of the best ways to enjoy these scenic views is from a rooftop bar. There are an array of these bars to choose from in the city, offering great drinks and snacks.
If unsure of which bar to choose, the sophisticated Summit is a good choice. Best of all, the bar is open all year round; an Apres-ski theme, including blankets and heaters, is used in the winter. Signature cocktails are on offer, along with wine, beer, and sharing platters.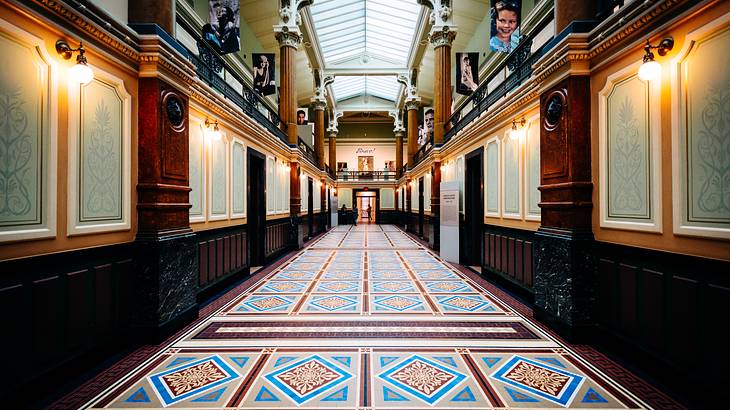 View stunning artworks at the National Portrait Gallery
As the National Portrait Gallery closes at 7 PM most days, visiting the gallery makes for an ideal evening activity. The art museum, opened in 1962, houses an extensive collection of artworks from numerous renowned artists.
Notably, the gallery also has a portrait of every US president. Portraits of other famous figures, including Harriet Tubman, Frida Kahlo, and Benjamin Franklin.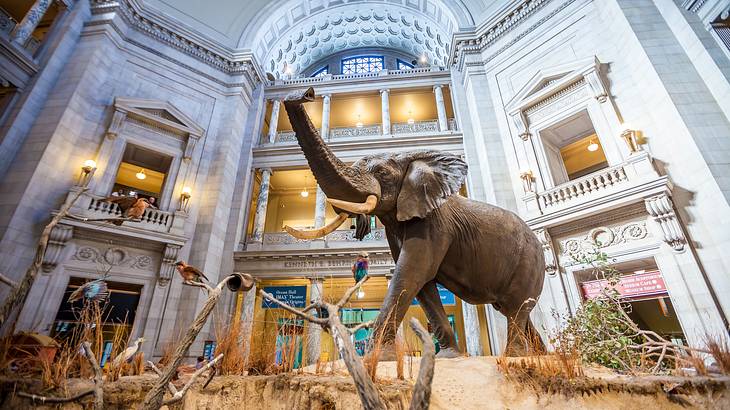 Attend an after hours event at Smithsonian National Museum of Natural History
One of the fun things to do in DC at night is attending one of the Smithsonian National Museum of Natural History after-hours events. These events occur throughout the year and allow adults to explore the museum and see special exhibits and talks.
Different topics are covered at each event and have included urban ecosystems and global disease-fighting efforts.
In Summary
You can find so many things to do in Washington DC at night. From visiting museums to sightseeing and going on a dinner cruise. DC really has something for all types of traveler to enjoy at night.
For more interesting articles about United States, read:
For some great articles about things to do, check out:
---