25 Famous Landmarks in Wisconsin You Have to See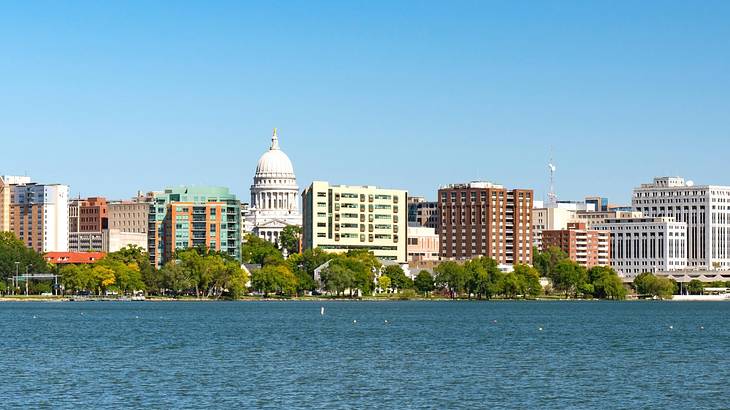 Located in the Northwestern United States, Wisconsin is a charming destination. Despite being a great place to visit, Wisconsin is a lesser-known US state. Therefore, you may be wondering:
"What is Wisconsin famous for?"
Wisconsin is famous for its many forests and farms and for being one of the country's largest producers of dairy products and beer.
There are also many famous landmarks in Wisconsin to see. These sites include the Milwaukee Art Museum, Aztalan State Park, and Lambeau Field, home to the Green Bay Packers NFL team.
Keep reading to discover 25 of the must-see attractions in the Badger State!
Disclosure: Destguides may receive commission for purchases made through hyperlinks in this article at no cost to you.
25 Famous Wisconsin Landmarks
Wisconsin Landmarks Map
A map of Wisconsin landmarks. Use the map to explore all of the points of interest.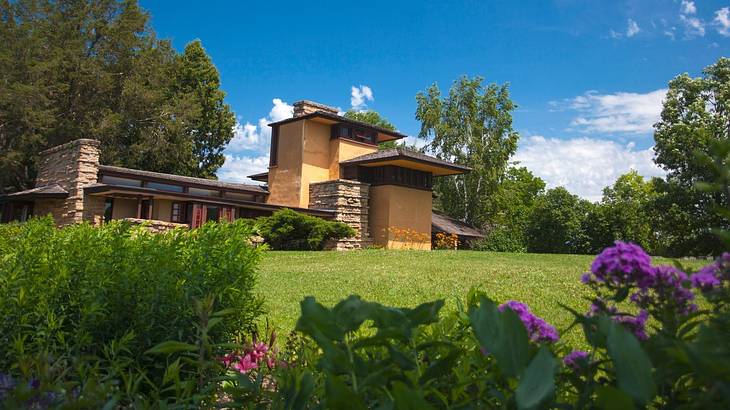 Taliesin East
Frank Lloyd Wright was one of the most famous architects in the United States and remains an icon today. When in Spring Green, Wisconsin, you have the chance to visit one of the designer's homes.
Taliesin was originally designed by Wright in 1911, with additions made over the next few decades. A fire in 1927 also resulted in renovations occurring. The home was designated a National Historic Landmark in 1976 and is now open to the public, allowing you to admire a renowned piece of architectural design.
Old World Wisconsin
Old World Wisconsin is an open-air museum that showcases the life of settlers in the 1800s. Founded in 1976 by the Wisconsin Historical Society, the museum has an array of fascinating exhibits and activities, especially for kids.
Things to do include exploring 60 restored historic structures, wandering through gardens and vegetable patches, and meeting barnyard animals. Little ones can also do some crafts and help with chores that would have been common in the 19th century.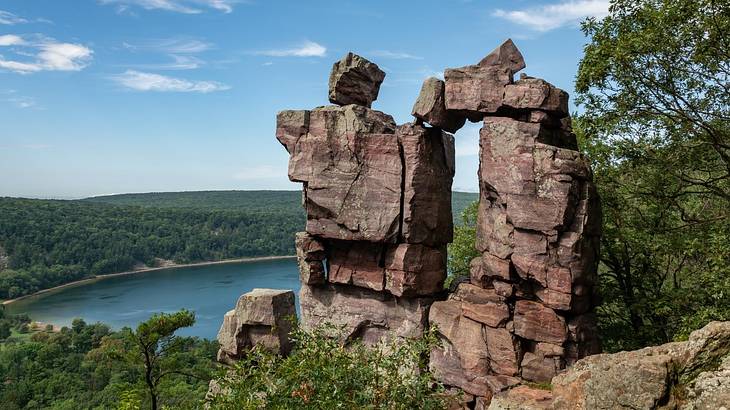 Devil's Lake State Park
A famous landmark in Wisconsin is Devil's Lake State Park. The park sits along the Ice Age National Scenic Trail and is a popular hiking and camping area. Visitors can also paddleboard or swim in the lake.
In addition, the park has famous quartzite bluffs, like Devil's Doorway, that reach 500 feet in height. You can see these fascinating rock formations as you explore the park.
Circus World Museum
A fun landmark to visit with kids in Wisconsin is Circus World Museum. This unique and interactive attraction is dedicated to circus history. It was even added to the National Register of Historic Places in 1969!
Exhibits feature circus-themed artifacts and teach you more about circus acts from the last few centuries, focusing on the Ringling Brothers Circus. You can also see circus performances, and there are many activities for kids to join in with.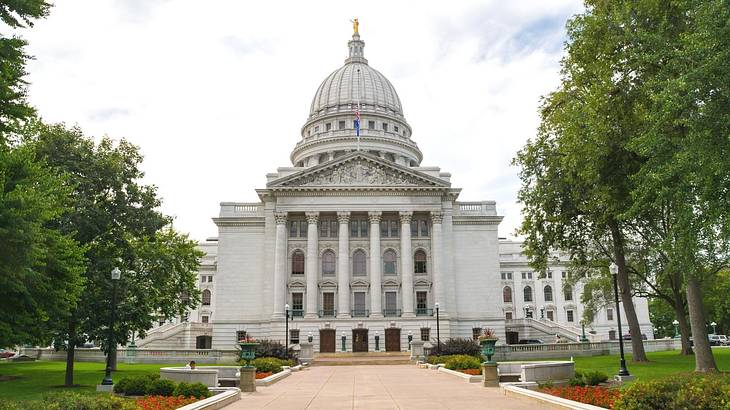 Wisconsin State Capitol
The Wisconsin State Capitol is home to the Wisconsin Supreme Court, the Governor's office, and both chambers of the Wisconsin legislature. The important political building is located in the state capital of Madison and was opened in 1917.
Visitors to the Neoclassical Beaux-Arts structure can admire the interior and exterior architecture and go on guided tours. On a tour, you'll also learn more about politics in the state.
Van Hise Rock
One of the lesser-known monuments in Wisconsin is Van Hise Rock. This place of interest is a monolith dedicated to Charles R. Van Hise, a well-regarded geologist from Wisconsin.
Van Hise Rock is also another of the National Historic Landmarks to be seen in the state, having gained the honor in 1997. You can see the rock along Highway 136 close to the town of Rock Springs.
Wisconsin Dells
Called "The Waterpark Capital of the World," the Wisconsin Dells area is one of the world famous landmarks found in Wisconsin. When visiting the town, you can choose from various top-rated tourist attractions, including waterparks and other amusement parks.
Some of the best waterparks in the Midwest found here include Noah's Ark Water Park, the Chula Vista Waterpark and Resort, and the Mt. Olympus Water and Theme Park.
National Railroad Museum
The National Railroad Museum is another of many specialty museums in Wisconsin. This museum is notably one of the oldest and largest in the US dedicated to preserving railroad history.
Exhibits at the museum offer a look at how the railroads developed over time in the US and how they helped grow the country's economy. You can also see old-fashioned trains and railroad memorabilia.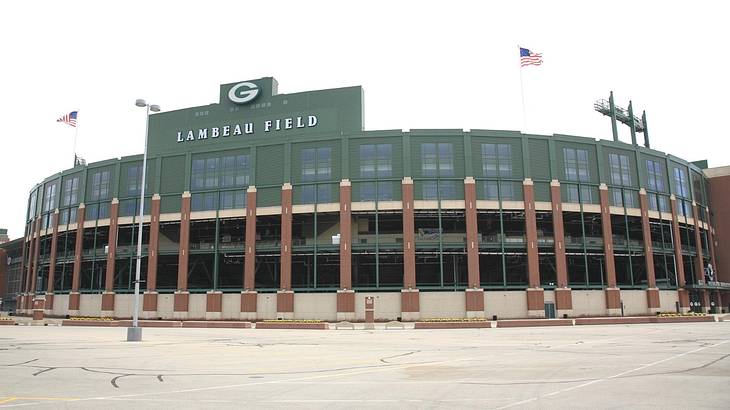 Lambeau Field
Lambeau Field is one of the famous places in Wisconsin that's a must-visit for sports fans. Opened in 1957, the over 81,000-capacity stadium is home to the Green Bay Packers NFL team.
Construction of the football stadium cost 960,000 USD, which would equate to an astounding 5.4 million USD today! Tours of the stadium are offered, and you can watch the Packers play at Lambeau Field between September and January in the regular season.
Fort Crawford Museum
Located in Prairie du Chien, the Fort Crawford Military Hospital and Museum houses exhibits on the military bases that were found here between 1816 and 1856. The fort was also used as a military hospital for Union soldiers during the Civil War.
You can visit the hospital building at the museum to learn more about the area's medical history. You can then head to other buildings to learn about Prairie du Chien's history and the uses of the fort during the 19th century.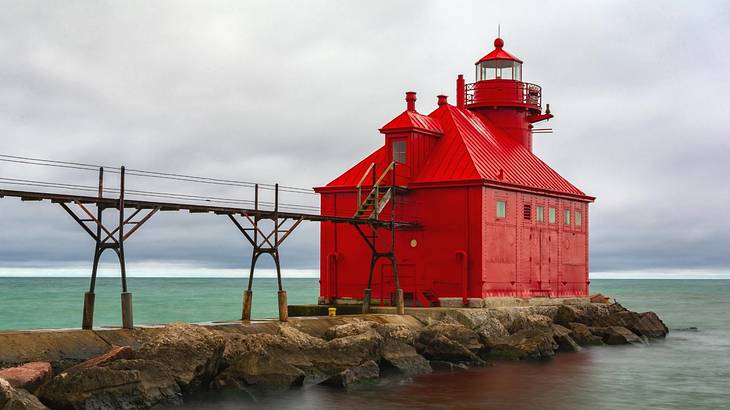 Sturgeon Bay Canal Lighthouses
You'll find two notable lighthouses in Door County that sit on Sturgeon Bay: Sturgeon Bay Canal North Pierhead Light and Sturgeon Bay Canal Light.
The Sturgeon Bay Canal North Pierhead Light is a bright red lighthouse that opened in 1882. It reaches 39 feet tall and is still an active lighthouse today.
The Sturgeon Bay Canal Light is also still active, having been constructed around 1873, and stands 98 feet tall. If in the area, snapping some pictures of these iconic lighthouses is a must!
Milton House Museum
Constructed in 1838, Milton House was a stop on the Underground Railroad, a route that allowed enslaved people to escape to Canada and free states in the US. The home was owned by Joseph Goodrich, a businessman, and abolitionist.
The Milton House became a National Historic Landmark in 1972 and is open to the public as a house museum. At the museum, you can take a guided tour and learn more about Joseph Goodrich and the residence's importance as a stop on the Underground Railroad.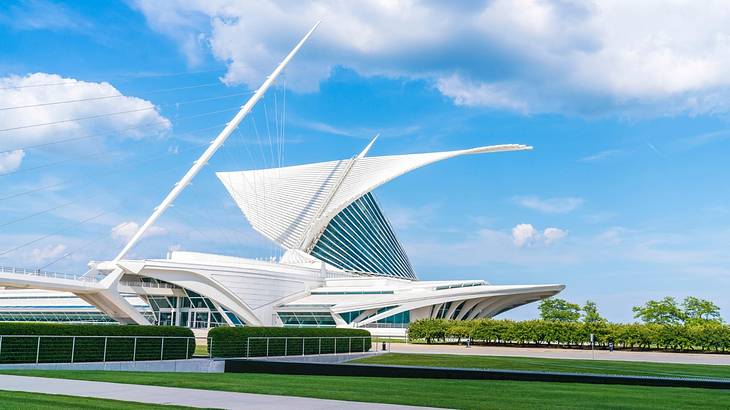 Milwaukee Art Museum
One of the best cultural landmarks of Wisconsin to plan a trip to is the Milwaukee Art Museum. Founded in 1888, the gallery houses around 25,000 pieces.
Artworks to see include paintings, textiles, and even furniture. The museum is also a notable art landmark in North America as it houses one of the largest collections of Georgia O'Keeffe paintings on the continent.
Wisconsin River
The Wisconsin River is the state's longest river. It flows for 430 miles and is a tributary of the Mississippi River. The source of the river is at Lac Vieux Desert, located close to the Michigan border.
Locals and tourists flock to the river, especially in the warmer months, to kayak, canoe, or paddleboard. Many also hang out on the river banks and wander along river trails.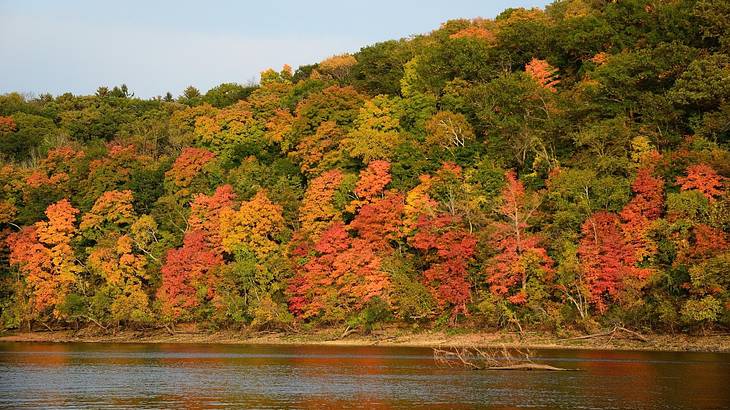 Saint Croix National Scenic Riverway
One of the most picturesque famous places in Wisconsin is the Saint Croix National Scenic Riverway. Located in Saint Croix Falls, the riverway runs 252 miles along the Wisconsin-Minnesota border. The federally protected waterway combines the Saint Croix River and the Namekagon River.
Despite its protection status, you can enjoy water sports on the river. Popular activities include kayaking and canoeing, plus hiking and camping on the land around the riverway.
Laura Ingalls Wilder Museum
The Laura Ingalls Wilder Museum is the birthplace of the writer, known for the Little House on the Prairie series. The museum sits on the land that Laura grew up on and inspired her children's book series.
Visitors to the museum can get a look at the writer's life growing up in Pepin, Wisconsin. You can also learn more about her career, and there are some interactive exhibits for kids.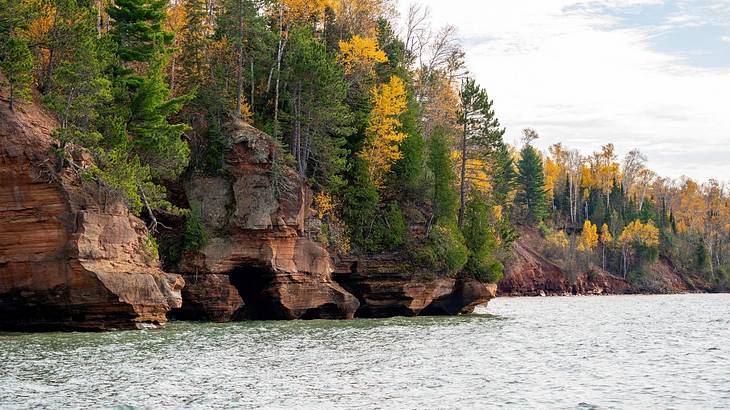 Apostle Islands National Lakeshore
One of the must-visit natural landmarks in Wisconsin is Apostle Islands National Lakeshore. The site consists of island chains and a park along Lake Superior.
In total, this landmark covers 62,372 acres. The woodlands found here consist of old-growth and Northern hardwood forests and are home to various creatures, like coyotes, red foxes, and beavers.
Those exploring Apostle Islands National Lakeshore can discover many activities to enjoy. Things to do range from kayaking and taking island cruises to camping and hiking.
Aztalan State Park
Covering 172 acres along the Crawfish River, Aztalan State Park is one of the state's most important archaeological sites. The park features the site of an ancient village that was thought to inhabit the area between 1000 and 1300 AD.
Due to its significance, Aztalan State Park was designated a National Historic Landmark in 1964, and it was added to the National Register of Historic Places in 1966. You can see reconstructions of an Aztalan stockade and ancient pyramidal mounds at the park.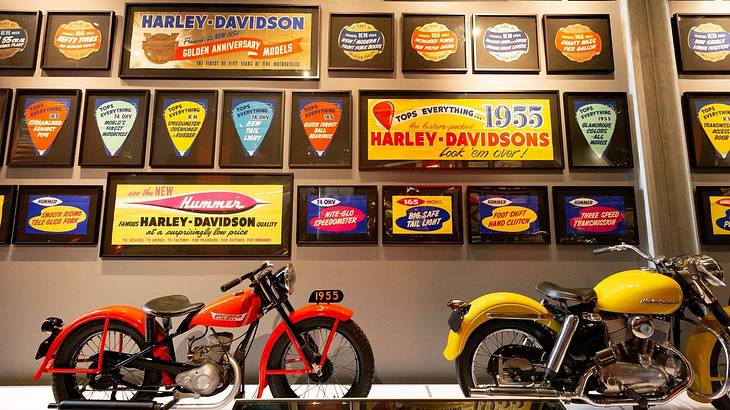 Harley-Davidson Museum
Opened in 2008, the Harley-Davidson Museum features exhibits on 100 years of Harley-Davidson motorcycle history. When visiting the Milwaukee attraction, you can see a vast selection of Harley-Davidson motorcycles.
You can also view exhibits covering the history of the brand, which was founded in 1903. Guided tours of the museum are on offer, and events are hosted frequently at the venue.
Pendarvis
Pendarvis is located in Mineral Point and features 19th-century cabins that Cornish immigrants to the area constructed. These individuals came to Mineral Point because it was one of the best places in the US to mine lead in the 1800s.
Pendarvis was added to the National Register of Historic Places in 1971 and is now a living history museum. Visitors can explore the charming cabins, learning more about past residents and life in a Wisconsin mining town in the 19th century.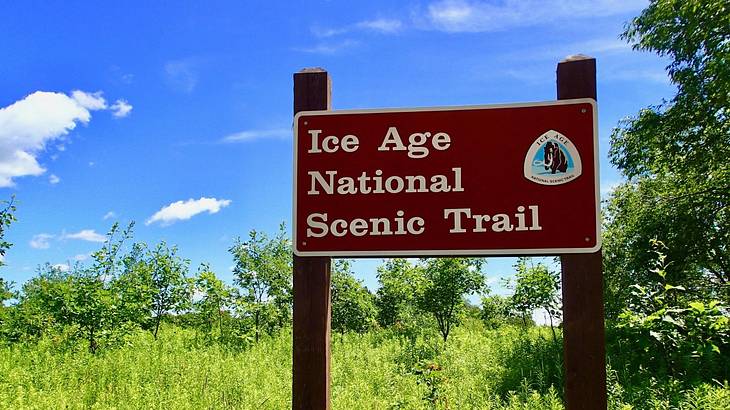 Ice Age National Scenic Trail
The Ice Age National Scenic Trail is a famous landmark in Wisconsin that will appeal to outdoor enthusiasts and those interested in history and archeology.
Covering 675 miles, the trail follows a terminal moraine created during the last ice age. An additional 525 miles of trail are planned, making the final path 1,200 miles long.
Following the trail lets you see incredible landscapes and glacial rock formations. Along the way, you'll find some places to stop that offer more information on the ice age and the animals that lived in the area at the time.
EAA Aviation Museum
A fascinating cultural landmark to visit in WI is the EAA Aviation Museum. This attraction is dedicated to preserving historic aircraft and items relating to air travel.
The museum has a collection of approximately 200 aircraft and features exhibits on aircraft used for travel and military service. If visiting the museum inspires you to learn to fly, EAA also offers flying lessons!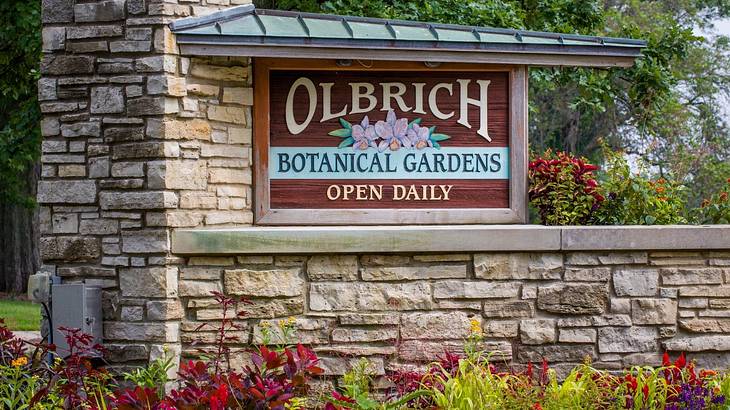 Olbrich Botanical Gardens
Located in Madison, Olbrich Botanical Gardens is one of the best famous places to visit in Wisconsin. The botanical garden opened in 1952 and covers 16 acres. There's also a 10,000-square-foot indoor conservatory to explore.
As you wander around, you'll discover an array of flowers and plants, water features, and sculptures. Notably, you can see a Thai sala that was gifted by the government of Thailand. It's one of just two salas in the US and one of six found outside Thailand.
Mirror Lake State Park
Another of the breathtaking natural landmarks to visit is Mirror Lake State Park in the Wisconsin Dells area. Established in 1962, the park covers 132 acres and features a beautiful lake that's popular with water sport enthusiasts.
Activities to enjoy on the lake include boating, kayaking, and canoeing. There are also 151 campsites over three campgrounds and beautiful lakeside trails.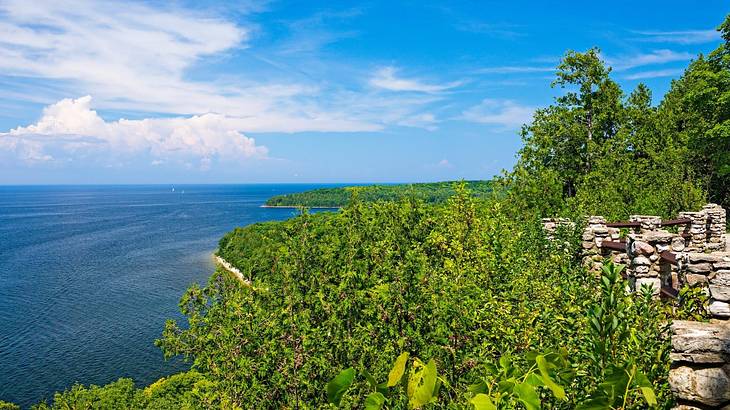 Peninsula State Park
Peninsula State Park is located along the Green Bay shoreline and covers 3,776 acres. It's the third-largest state park in Wisconsin and features trails, an island, two golf courses, and access to water activities.
When in the park, you'll also see Eagle Bluff Light, a 19th-century lighthouse that's now a museum. The park is equally popular among locals and tourists and welcomes approximately one million visitors annually.
In Summary
As you can see, there are numerous natural, cultural, and historical landmarks in Wisconsin to explore. Whether you enjoy being outside, learning about historical events, or exploring attractions like museums, you'll find plenty to see and do in the Badger State!
This article was edited by Loredana Elena.
Give us feedback about this article
For more interesting articles about United States, read:
For some great articles about landmarks, check out:
---
---
Want to keep exploring?
Subscribe for discounts on tickets and hotels and our latest guides.
Thank you for subscribing
We will be in touch soon with discounts on tickets and hotels and our latest guides.
Want to keep exploring?
Subscribe for discounts on tickets and hotels and our latest guides.
Thank you for subscribing
We will be in touch soon with discounts on tickets and hotels and our latest guides.
Related articles