Your Go-To Paris Bucket List - 50 Must-Do Activities
Destguides may receive commissions from purchases made through affiliate links in this article.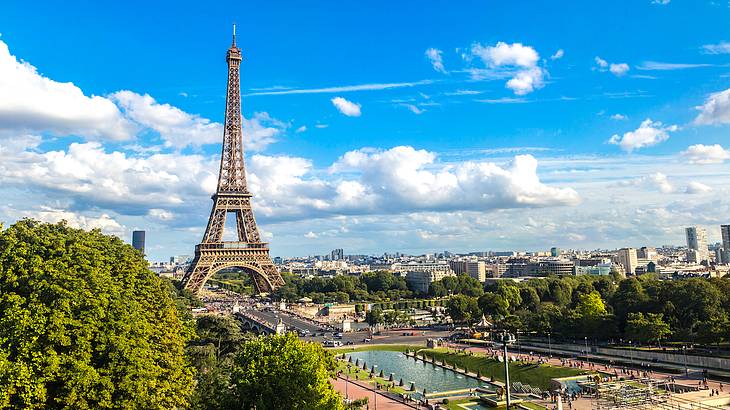 There are many unique places to visit in Europe. Trying to pick the perfect city to explore can be tricky considering the vast amount of famous European landmarks and attractions the different locations have to offer.
Despite the abundance of choice, a consistent standout destination that tops a traveller's Europe bucket list is none other than Paris, the capital city of France.
Planning a trip to Paris and deciding what to include on your Paris bucket list can be confusing and daunting, especially if it is your first time visiting.
Undoubtedly, seeing iconic French landmarks like the Eiffel Tower and the Arc de Triomphe in person goes without saying. But there are other exciting things to do and see in Paris apart from just the main attractions.
Unfortunately, trying to visit all of these places within one trip may not be possible, even if in Paris for four days or more.
Despite this, this ultimate Paris bucket list has been created to give an overview of the city's top things to do, making it easier for you to decide which places and unique activities you should prioritise while in the city of lights.
Bucket List for Paris - 50 Things to Do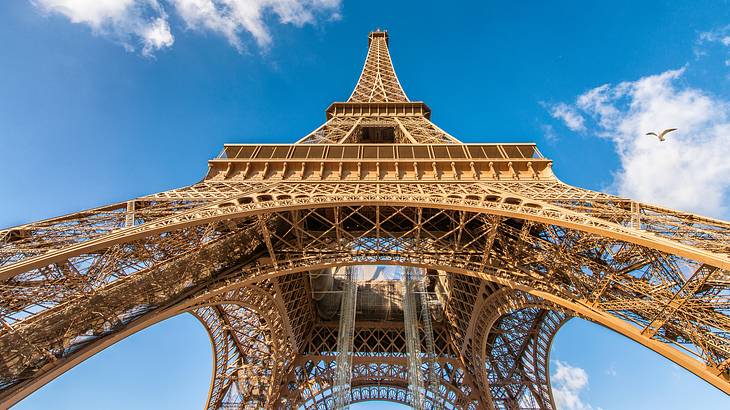 Climb to the Top of the Eiffel Tower
The Eiffel Tower is probably the most popular landmark in Paris. Seeing the famous tower for the first time can make your entire visit to the city memorable. As a first-time visitor in Paris, the Eiffel Tower is undoubtedly one of the places for you to see first.
The tower, which stands at the height of 300 metres tall, was constructed by Gustave Eiffel in 1889 for the World Exposition. An interesting Paris fact to know is that the Eiffel Tower was not built to be a long-standing structure in the city. Despite this, it still stands today and is the most iconic structure in Paris and probably in France as a whole.
If you want to take in the views of Paris from the top of the Eiffel Tower, you can either climb or take a ride in the tower's elevator to the top. Of course, there are also many spots around the Eiffel Tower to snap some pictures!
Explore Musée du Louvre
The Louvre Museum is the largest and most visited museum in the world. The museum was built during the 18th century. Interestingly, it was previously used as the home of French Kings like Louis XIV before being converted into a museum.
One prominent feature of the museum that impresses and attracts tourists is the glass pyramid entrance. Visitors often come just to take pictures with this iconic structure.
The museum itself houses many famous paintings and artworks in history. One of the most popular artworks in the museum is the iconic Mona Lisa painting, one of Leonardo Da Vinci's masterpieces.
Trying to explore and view everything in the museum can take you days to complete. It is recommended that you take your time to do so. If you can, split your museum visit over a few days instead of trying to see everything in one day. Book your Louvre Museum tickets.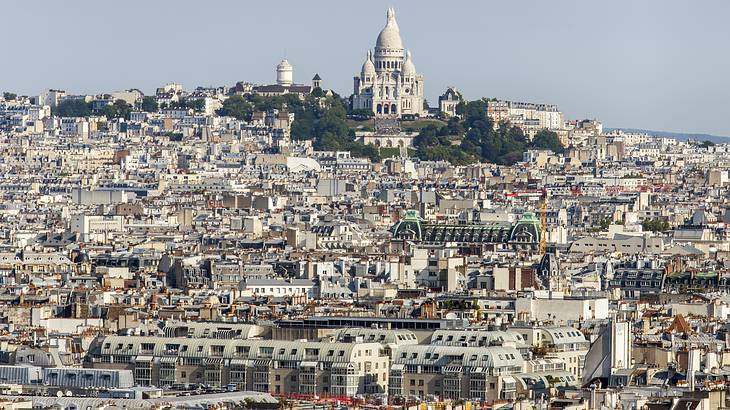 Look Around Montmartre
Montmartre is a large hill located in the northeastern part of Paris. The area is popular because of its artistic surroundings, where many world-renowned artists like Picasso and Renoir were stationed during the Belle Époque. Because of this, the hill attracts several artists looking for inspiration.
One of the hill's major attractions is the Wall of Love, or Le Mur des Je t'aime. On the wall, the phrase "I love you" has been written beautifully around it about 311 times in 250 different languages.
While in Montmartre, you can also visit the Sacré-Cœur Basilica. Montmartre is a place that is free to explore, so you can come anytime you are around the area.
Take a Walk Along Champs-Élysées
The Champs-Élysées is one of the must-visit places in Paris. It is an avenue that connects the Arc de Triomphe to Place de la Concorde. Champs-Élysées is French for Elysian Fields. The Elysian Fields, according to Greek Mythology, are the final resting place of heroics.
An interesting feature is that you may see names engraved on the street's surface. These are the names of battles, historic victories, and famous military leaders.
The avenue is about 2km long, so it is relatively easy to walk from the Arc de Triomphe to the Place de la Concorde. Therefore, you can enjoy a stroll down this famous avenue while visiting two iconic Parisian attractions at the same time.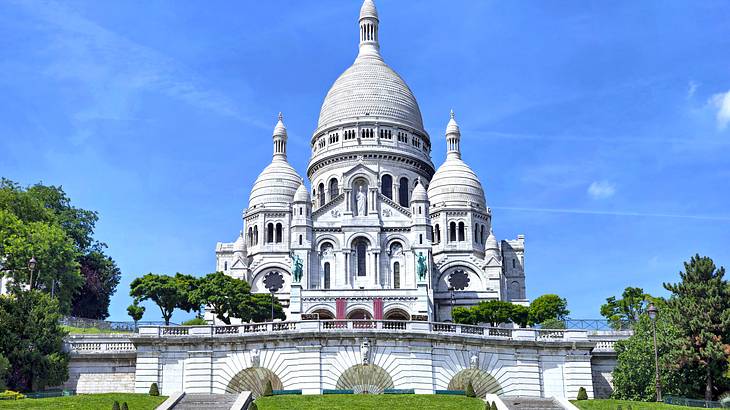 Visit the Basilica du Sacré-Cœur
Sacré-Cœur Basilica is a beautiful Roman Catholic church located at the very top of the Montmartre hill. It was built at the beginning of the 20th century, and today it receives about 10 million visitors annually.
This is one of the must-visit places when you are in Montmartre in Paris. The basilica is still used as a church today, hosting daily services for locals and visitors.
The basilica has 300 steps which lead you to the top where you can enjoy an incredible view of the city and the Eiffel Tower. If you are not interested in climbing to the top, you can get an equally fantastic view of Paris from the front of the basilica.
Since the basilica is a popular place, it does attracts pick-pockets. Therefore, be sure to stay vigilant whilst enjoying your time here.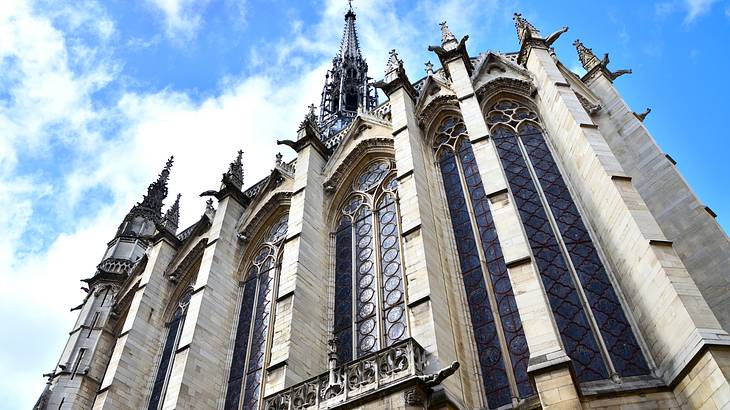 Marvel at Sainte-Chapelle
The Sainte-Chapelle is another cathedral in Paris that can be located just a few minutes away from the Notre Dame cathedral. Built during the 13th century, it is one of the most visited places in Paris, attracting millions of visitors annually.
Sainte Chapelle cathedral is divided into two parts. The lower chapel was initially reserved for servants, and the upper chapel was dedicated for the royal family. The cathedral was designed in a Gothic style. A notable feature is the beautiful stained glass that can be seen throughout.
Taking a tour of Sainte Chapelle is one of the best things to do in Paris if you get the chance. If you are impressed by what the cathedral has to offer, you can go the extra mile by attending a classical concert or church service at the cathedral.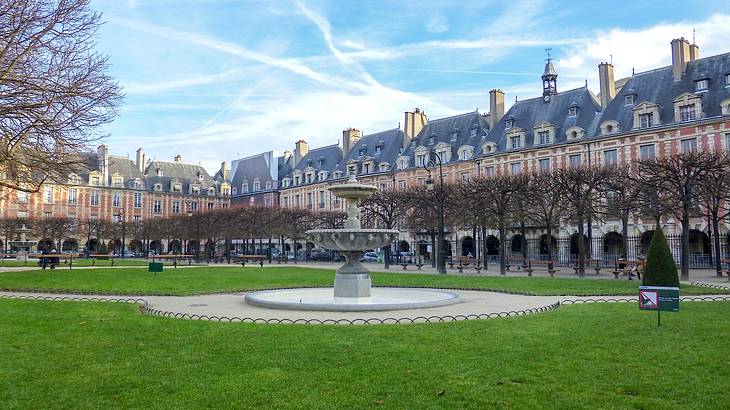 Enjoy a Stroll in Le Marais
The name Marais means "marsh" and was given because Le Marais was built on silty marshy ground. Today, Le Marais is one of the trendiest neighbourhoods in Paris.
The neighbourhood is filled with many shops, hip cafes, trendy galleries and museums, and fabulous restaurants. It is one of the best places in Paris for those looking for a range of things to do within a small area. The area is also known for its diverse community.
Taking a stroll in Le Marais allows you to take in the area's atmosphere while discovering lots of hidden gems such as unique shops and outstanding cafes and restaurants.
Besides walking around and enjoying the beautiful neighbourhood, you can also visit a few attractions in the area. These include Musée Picasso and Place des Vosges.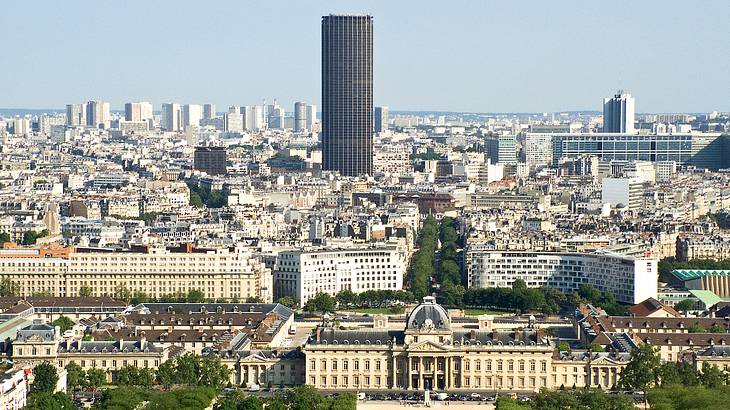 Go to the Top of Tour Montparnasse
While the Eiffel Tower is the tallest structure in Paris, Montparnasse Tower is one of the city's tallest buildings. Standing at 210 metres tall, it was the tallest building in Paris until Tour First was built in 2011.
Montparnasse Tower was commissioned by the French President George Pompidou in an attempt to modernise the city and its infrastructure in 1970. Many tourists overlook the tower in favour of the city's older buildings. But it is actually one of the best places in the city to get an incredible view of Paris.
The views are equally impressive in the day and at night. During the day you get a 360º of Paris from 40 kilometres above the ground. Visiting the 59 storey tower at night gives you a fantastic view of the Eiffel Tower, which looks like millions of sparkling diamonds from a distance.
The tower is open all year round and is definitely one thing to add to your Paris bucket list. Book your Montparnasse Tower tickets.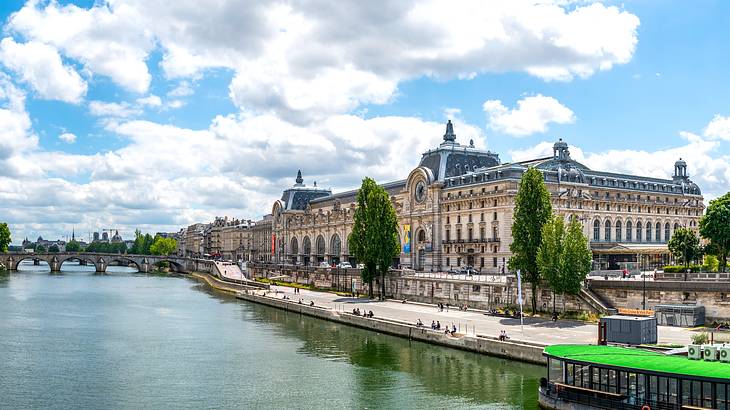 Explore Musée d'Orsay
Musée d'Orsay is an old train station that has been turned into a beautiful museum. The Beaux-Arts architecture museum is trendy because it houses the most extensive collection of Impressionist art globally.
Musee d'Orsay is one place in Paris where you can find masterpieces by some world-renowned impressionists like Van Gogh, Cezanne, and Renoir. Most of the artworks featured in the museum were created between 1848 and 1914.
Musée d'Orsay is also conveniently located near the Tuilerie Gardens and the River Seine. After visiting the museum, you can relax in the gardens or walk along the riverbank. Book your Musée d'Orsay tickets.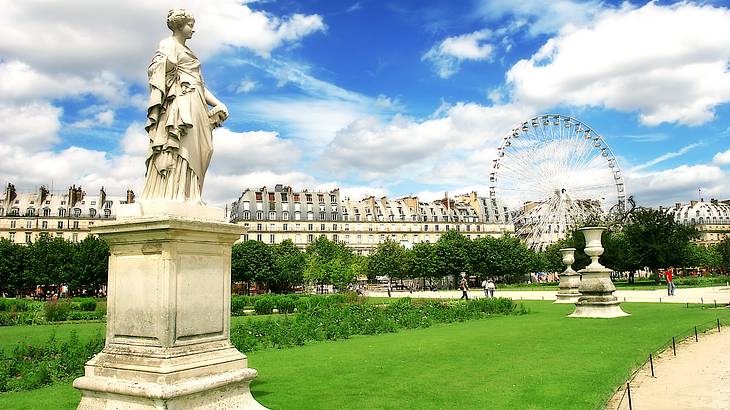 Relax in Jardin des Tuileries
Jardin des Tuileries is located to the west of the Louvre museum in Place de la Concorde. The stunning garden was built alongside the Palais des Tuileries in 1564, by Queen Catherine de Medici.
The gardens are named after the tile factories that previously stood on the garden's land. If you like, you can spend the whole day at Jardin des Tuileries as there are so many activities to keep you occupied.
For example, there is a Ferris wheel which offers a stunning view of Paris from the top. Of course, you can also simply take a stroll while enjoying the beauty of your surroundings. Jardin des Tuileries is the perfect spot for you to relax after visiting the Louvre museum.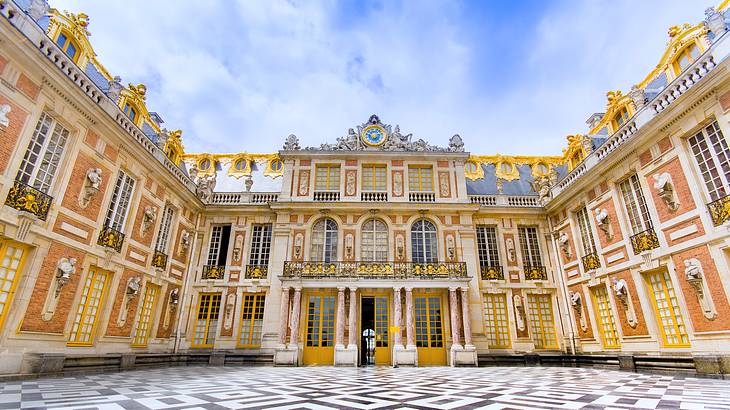 Look Around Château de Versailles
Château de Versailles, or the Palace of Versailles, is a major symbol of Paris that demonstrates the city's royal power and influence in the past. It was previously used as the home of the Kings and Queens of France.
The history of the Palace of Versailles began when Louis XIII ordered a hunting lodge to be built where the palace now stands. When Louis XIV came into power, he drastically expanded this lodge, building the Palace that stands today.
The Palace of Versailles is one of the city's most-visited tourist attractions, drawing in about 10 million visitors annually. Visiting the palace gives you an insight into French history, showing the lavish lifestyle of the monarchs that once lived there.
The Palace of Versailles is open throughout the year, so you can come here any time you are in Paris. However, visiting during the spring or summer offers the best experience as you can enjoy the palace's stunning gardens in full. Book your Palace of Versailles tickets.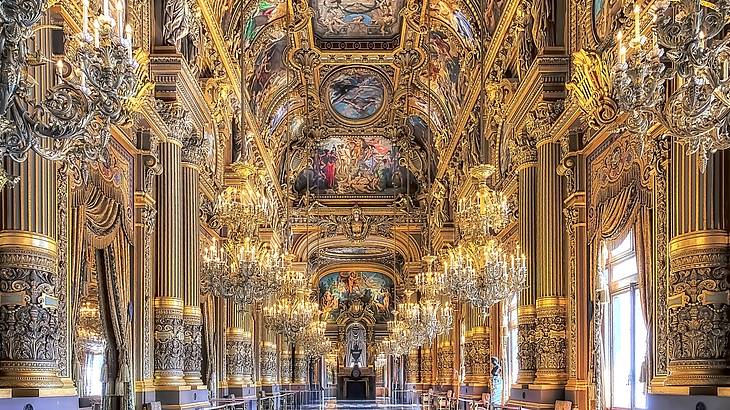 Watch the Opera at Palais Garnier
The Palais Garnier, also known as Opera Garnier, is a historical masterpiece in France. It was built by Napoleon III during the 19th century, and to date is one of the most beautiful places to visit in Paris.
Construction of the historic opera house started in 1860 and was finally completed in 1875. The landmark has a seating capacity of 2,200 and is a must-visit if you love ballet and classical music.
One of the most impressive attractions you must see before leaving the Opera is the Grand Foyer. This large hall features gold leaf designs and intricate mosaics. Another remarkable feature is found in the auditorium, which is illuminated by a large chandelier designed by Marc Chagall.
When visiting, you can explore the building yourself, take a 90-minute tour, or return in the evening to watch a show. Performances to watch include operas, ballets, and classic music concerts.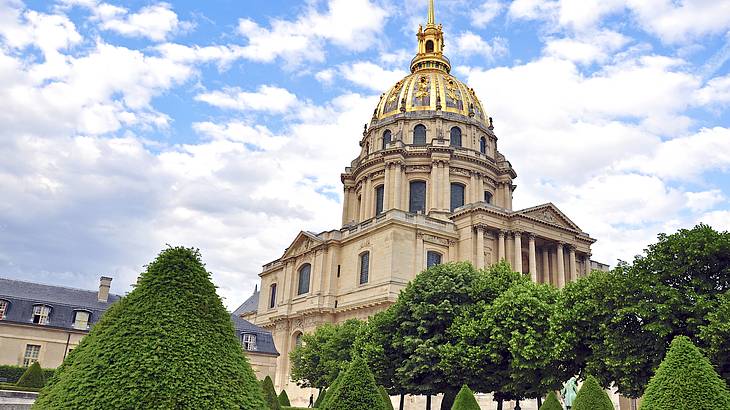 Visit Musée de l'Armee des Invalides
Musee de l'Armee des Invalides, or the Army Museum, was built in 1905. As it stands today, the museum is a merger of the old Musée de l'Armée and the Musée d'Artillerie. It is one of the most important museums in France and one of the world's most visited.
The historic landmark covers an area of 8,000 square metres. It consists of a museum and two churches. The museum houses about 500,000 artefacts making it the largest military history museum in France.
Historical military objects dating from the middle ages to the present are permanently on display for visitors to view. Items on display include swords, uniforms, and war paintings and photographs. There are displays with French military leaders' personal effects, such as those of Charles de Gaulle.
The museum also has more informative exhibits giving background on French wars and the creation of certain military objects. Book your Army Museum tickets.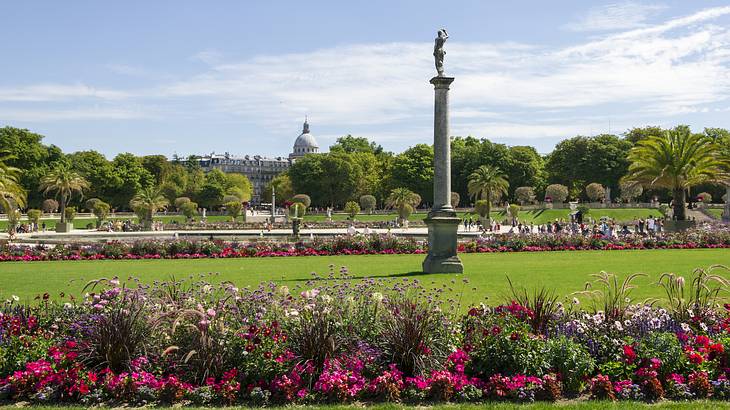 Enjoy the Jardin du Luxembourg
Luxembourg Gardens are located between Quartier Saint-Germain-des-Prés and the Latin quarter in the 6th arrondissement. The gardens were created at the request of Marie de Medici in the 17th century and were inspired by the Boboli Gardens at the Uffizi Gallery in Florence, Italy.
The gardens cover 23 hectares and are open to the public all year round. Along with enjoying the beautifully manicured gardens, there are 106 historic statues spread throughout the gardens to discover. You can also find the Orangery, which is used to host temporary exhibitions.
Since the gardens were built in different stages, you get the opportunity to see a range of garden designs all in one place. This is an excellent place to be if you just want to relax, take a walk, or relax with a book.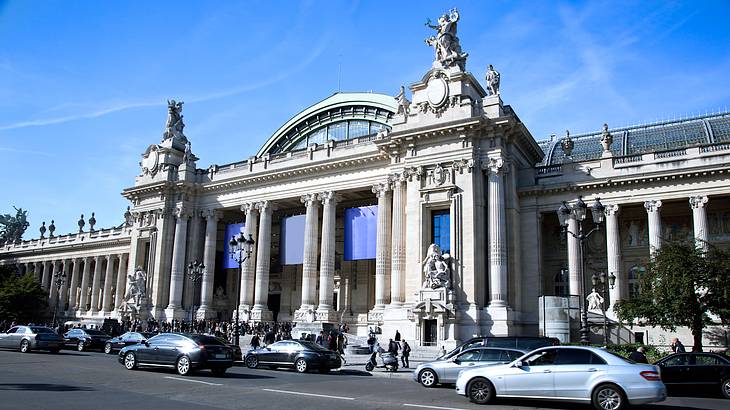 Make a Cultural Stop at Grand Palais
Grand Palais is located in the 8th arrondissement, adjacent to the Champs Élysées. This historic landmark is one of the must-visit places in Paris. When you find yourself in the area, it is hard to miss the Grand Palais because of its unique Beaux-Arts style architecture and its immense glass ceiling.
Construction of the building began in 1897 for the Universal Exhibition in 1900. The design of the Palace is the work of prominent sculptors, Alfred Boucher and Camille Lefèvre.
Today, the Grand Palais is a museum and cultural centre mainly dedicated to arts and culture. There are many unique temporary and permanent exhibits showcasing artworks, including paintings and sculptures.
There is also a range of cultural exhibits. Past displays included those focused on Pompeii, one of Italy's most famous landmarks, and the history of Napoleon Bonaparte.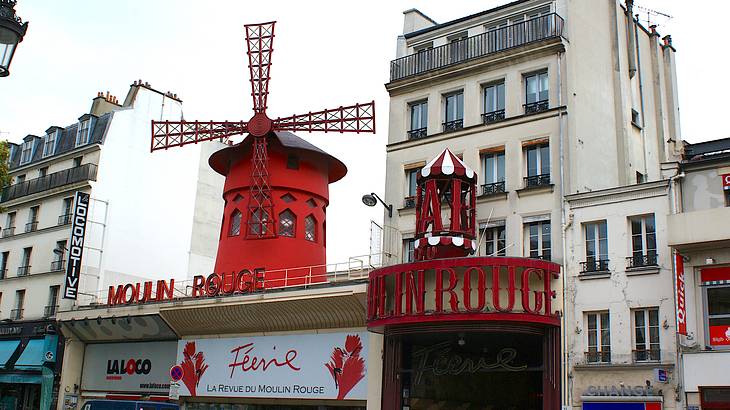 Attend a Cabaret Show at Moulin Rouge
The Moulin Range is the most famous cabaret in the world. Since it opened in 1889, the cabaret has dazzled the world. You can instantly recognise the cabaret when you are in Paris because of its sizeable red exterior.
The red windmill on its roof and the words Moulin Rouge across the building's facade are two notable features of the cabaret spot. The windmill on top of Moulin Rouge represents how Montmartre looked in the 16th century when it had about 15 windmills spread across it.
Moulin Range is decorated in the Belle Époque style. This is a wonderful place for you to be if you want to enjoy delicious French delicacies while enjoying a beautiful show. If you have not witnessed a cabaret show before, you must visit the Moulin Range to see what it is all about! Book a Moulin Rouge Cabaret Show.
Wander Around the Jardins du Trocadéro
Trocadéro Gardens is a must-visit park in Paris. The 10,000 square-metre garden, located near the famous Eiffel Tower, was built for the Universal Exposition in 1937.
One of the major attractions here is the famous Warsaw fountain (or, Fontaine du Trocadero), which offers a beautiful water display with 20 water cannons. Other things to see include sculptures and gilded bronze animal statues.
Trocadero Gardens is a stunning green space for you to visit if you want to take a stroll, have a picnic, or just relax under the sun. This is also a good place to get pictures of the Eiffel Tower that can be seen through the garden's trees and greenery.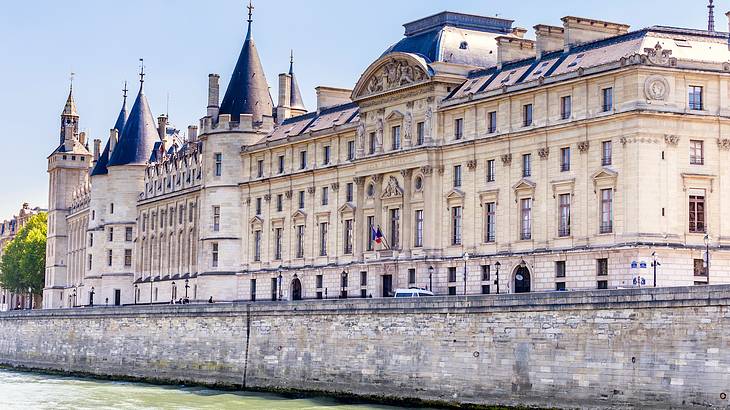 Go Back in Time at La Conciergerie
La Conciergerie was built to be used as the Royal Family and the French Parliament's official residence. However, it was later converted into one of the worst prisons in French history. Ironically, it ended up housing some Royal Family members who were awaiting execution, including Marie Antoinette.
The building today is a truly stunning piece of architecture and is located near the Seine River. When you reach La Conciergerie, be sure to admire the building's exterior.
The four towers are particularly popular features. These include the famous Tour Bonbec, which is where many prisoners were tortured into confessing. Once inside, you can explore the building, admire its beauty, and learn more about its history.
La Conciergerie is the place for you if you are interested in French and Parisian history. If you are not, it is still a stunning place to view even if you just appreciate the building from outside. Book your La Conciergerie tickets.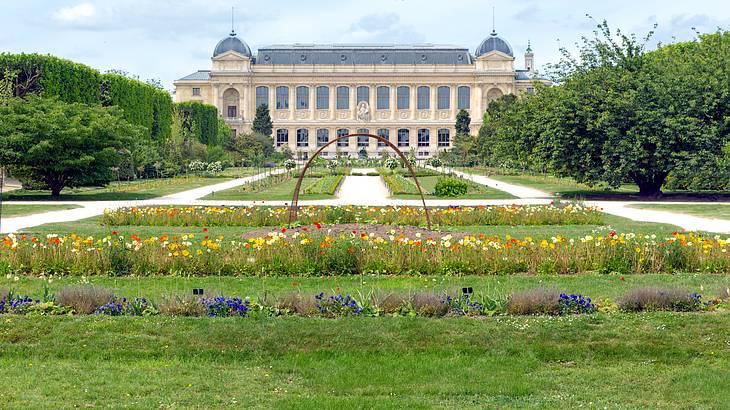 Surround Yourself with Greenery in Jardin des Plantes
The Botanical Garden of Paris, or Jardin des Plantes, is a large garden that covers most of the 5th arrondissement of Paris. It is located on the right side of the Seine River.
There are many activities available at your fingertips at the Jardin des Plantes. Of course, wandering around the stunningly landscaped gardens should be top of your list.
Another popular activity is going to the Museum of Natural History found here. This museum boasts a large collection of minerals, fossils, and other natural specimens.
You can also visit Paris' oldest zoo on the same grounds. The zoo is home to several animals, including red pandas, flamingos, and orangutans.
You will also find a library and some other exhibitions. If you are not in the mood to explore the collections of the museum or the zoo, you can relax and surround yourself with the beauty of nature.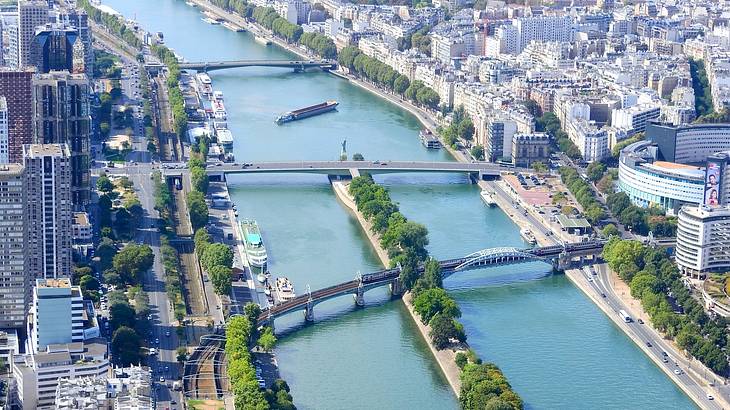 Walk Along La Seine
Whether this is your first visit to Paris or a return trip, walking along the Seine River is a must. The river is the most famous in Paris and stretches for 776 kilometres. The river runs through the country and into the English Channel at Le Havre.
Along with walking along the banks of the Seine, taking a Seine River cruise is one of the best things to do in Paris. The short cruises allow you to view many Parisian landmarks like the Eiffel Tower, Notre Dame Cathedral, and the Musée d'Orsay.
You will also find some boats that double as bars, restaurants, and clubs in the spring and summer months. Enjoying a drink under the sun on the Seine is a memorable experience!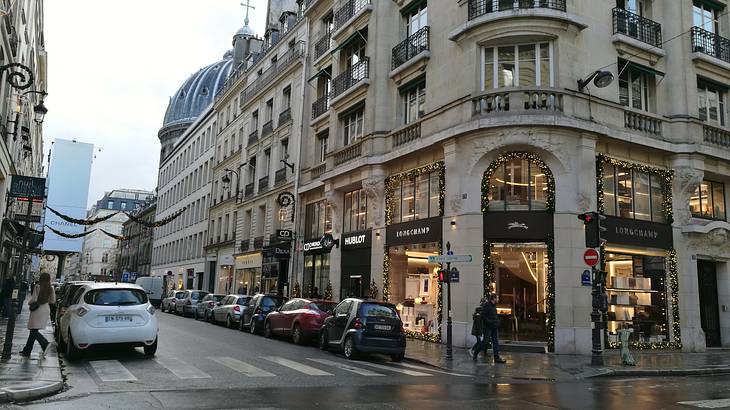 Shop on Rue Saint-Honoré
Rue Saint-Honoré is a large street that stretches for about 2 kilometres, extending between the 1st and 8th arrondissements.
While walking on the street, you can admire some famous Parisian monuments, like the Tuileries Gardens and the Louvre Museum. There are also several restaurants, hotels, and shopping centres on the street.
One of the major attractions of Rue Saint-Honoré is the Longchamp Flagship store. You can explore this store yourself or can even take a guided tour of the beautiful shopping centre.
Along with Longchamp, there are many other shops to check out on Rue Saint-Honoré. If you are looking to splurge a little, there are lots of places to pick up a new outfit to remember your time in Paris.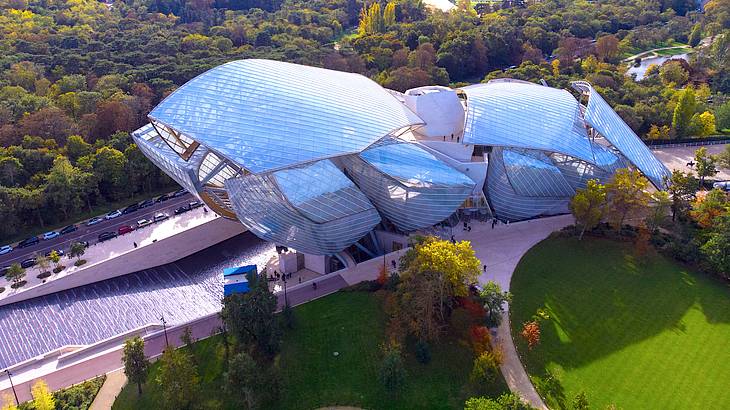 Visit Fondation Louis Vuitton
When you hear the name Louis Vuitton, the first thing that pops in your head is the fashion brand. However, this museum is not focused on fashion. It is instead a primary place in Paris to find a fantastic collection of contemporary and modern art.
The Louis Vuitton Foundation was opened in 2014 and is a popular place to visit as a tourist in Paris. The building was designed by architect Frank Gehry and was commissioned by Bernard Arnault. The museum has an impressive design that resembles a ship sailing in the air.
Inside, there is a range of art exhibits to enjoy, including works by Picasso and Jeff Koons. You can also go to the rooftop terrace that offers stunning views of the city.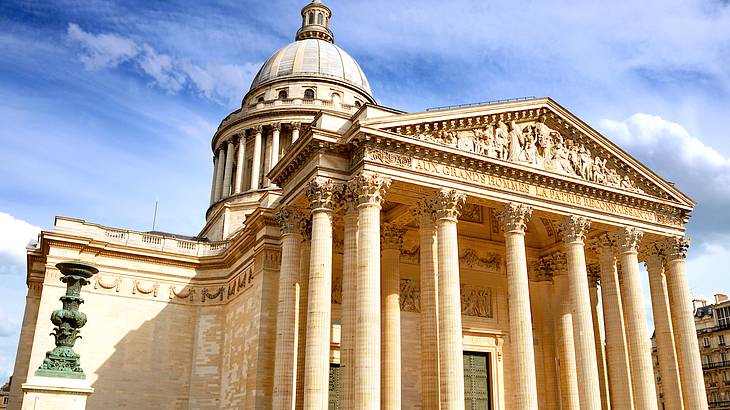 Discover the Historic Panthéon
The Paris Patheon, sometimes called the Temple of the French Nation, is a stunning building located in the 5th arrondissement. The Pantheon stands on Montagne Sainte-Geneviève and is used as a mausoleum for famous French citizens.
The building was built in the 1700s by Jacques-Germain Soufflot at the request of Louis XV. The structure was modelled on the Pantheon in Rome. After the French Revolution, it was decided that the Pantheon would be the final resting place for distinguished French citizens.
One famous individual buried here is Marie Curie. Marie was the first woman to win the Nobel prize twice in two different fields, Physics and Chemistry.
Unfortunately for this great scientist, she died due to being exposed to radiation during her studies. In 1995, sixty years after her death, her body was moved for burial in the Pantheon.
The amazing history provided by the Paris Pantheon makes it one of the most visited places in Paris. Book your Panthéon tickets.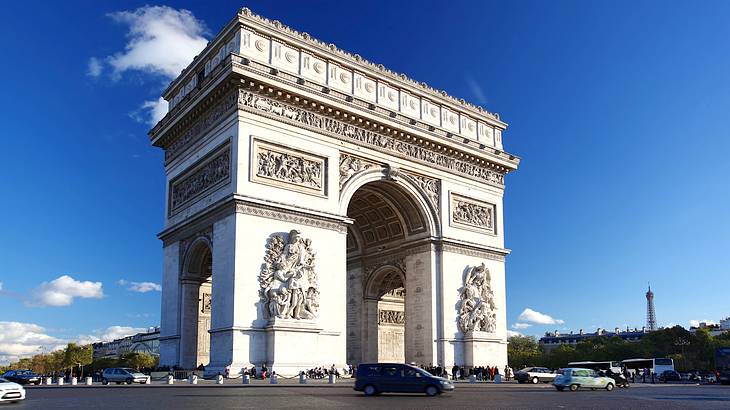 Marvel at the Arc de Triomphe
The Arc de Triomphe is one of the most historic and recognisable symbols of Paris. The arch was built in 1806 at the request of Napoleon I. It was constructed as a memorial to those who died fighting for France during the French Revolutionary Wars and Napoleonic Wars.
The 164 feet tall arch can be located at the western end of Champs-Elysées. The names of all of France's war victories and the generals who were in charge are inscribed on the Arch's inner and outer surfaces.
If you want a fantastic view of Paris, you can climb the steps leading to the top. This historic landmark acts as a reminder of how France and the city of Paris fought to be the beautiful country and city it is today. Book your Arc de Triomphe tickets.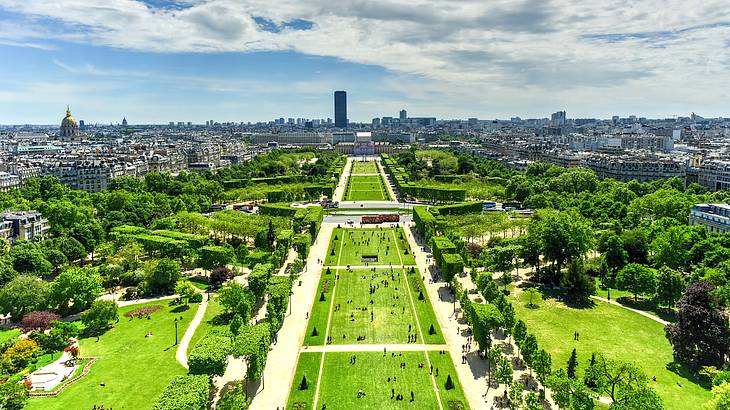 Hang Out in the Parc du Champ de Mars
You can locate the Champ de Mars public green space on the south side of the Seine. The park was opened in 1780 and extended from École Militaire to the Eiffel Tower. This landmark is used for many national events and is easily accessible.
One of the park's main attractions is the Mur pour la Paix, which translated means the Wall of Peace. It was built in 2000 just in front of the École Militaire and is dedicated to world peace.
The park is quite vast, so finding a spot for relaxation should not be a problem even though it is a popular tourist spot. If travelling with children, they will not get bored when here either as there are four playgrounds.
You can also get an amazing view of the Eiffel Tower from anywhere around the park! It is the perfect place to take a picnic to enjoy in the park in front of the Eiffel Tower.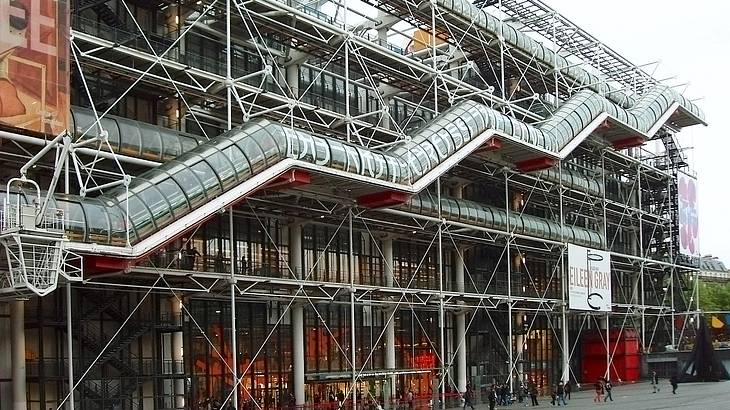 View Contemporary Art at Centre Pompidou
The Centre Pompidou is a museum built by the former French President Georges Pompidou. It was designed as a public place to display modern art in Paris with more than 10,000 contemporary artworks on exhibition.
The museum houses artworks from modern artists like Max Ernst, Jackson Pollock, and Edvard Munch. Additional contemporary artworks are added annually.
Many people think Paris is only famous because of its historical museums which contain older artworks. On the contrary, the city is also full of museums with artworks from the 1950s onward.
Visiting the Centre Pompidou allows you to see some of these modern artworks. You will also be able to see works by upcoming artists.
The Centre Pompidou is located near the Piccaso Museum. Therefore, you can visit another famous art museum after enjoying the artworks in this museum. Book your Centre Pompidou tickets.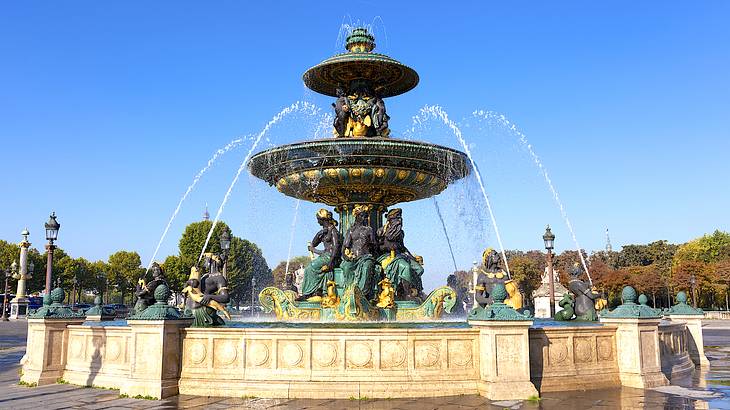 Stop at Place de la Concorde
The Place de la Concorde is the largest public square in Paris. It is also the second-largest square in France after the Place des Quinconces in Bordeaux.
Place de la Concorde was built between 1757 and 1779 and was originally named Place Louis XV. During the late 1700s, an equestrian statue of the King was built in the square to honour his strength after he survived a long illness.
Place de la Concorde is located between the Tuileries Gardens and the Champs-Élysées, so you can visit all these historical landmarks in one day.
The square features two river and sea-themed fountains (Fontaine des Mers and Fontaine des Fleuves). A 3,000-year-old Egyptian Obelisk sits in the centre of these two fountains. These features attract many tourists and make Place de la Concorde a nice place to take pictures in Paris.
Shop and Get Amazing Views at Galeries Lafayette
Seeing Paris from up high helps you appreciate the city even more. The rooftop of the Galleries Lafayette is certainly one of the best places to get an amazing view of Paris.
Aside from the fact that you can get some of Paris's best views from this shopping centre, there are other reasons to visit this famous landmark.
Firstly, the design of the building is impressive both inside and out. Of course, you will also find a great variety of shops. If you enjoy shopping, then this is the place to be!
If in the city around Christmas, be sure to stop by the store to enjoy the beautiful decorations. The store is lit up from outside and decorated with lights, Christmas trees, and more inside.
Take a Versailles Helicopter Tour
Taking a tour of Paris and its famous landmarks is a fantastic experience, but have you thought of taking a tour by air? If this interests you, then consider taking a Versailles Helicopter Tour.
On your helicopter tour, you will be able to view all of Paris' landmarks from up high. This includes seeing the Eiffel Tower, Arc de Triomphe, the Seine, and La Défense.
Along with the incredible views, your pilot will act as your tour guide as well, providing background information and fun facts about the landmarks you are seeing. If you are looking for a memorable way to view Paris, then taking a helicopter tour is a must!
Check Out the View at the Top of Printemps Haussmann
Who would have thought to add a department store to a Paris bucket list? Well, the cafe terrace at Printemps Haussmann is one of the best places to see Paris from above.
It is the perfect place to grab a coffee or glass of wine and take in the 360-degree views of the city of lights. Not to mention, it offers one of the best views of the Eiffel Tower!
Head to the metro station Havre-Caumartin to get to the department store. Three buildings make up the store, and you will need to go to the middle building (home and beauty). From there, take the elevator to the 9th floor to reach the terrace.
The rooftop terrace at Printemps Haussmann is the perfect place to admire Parisian rooftops and the Eiffel Tower while relaxing with a drink.
Have Fun at Lollapalooza Paris
Lollapalooza is a worldwide music festival that is hosted in Paris in Europe during July each year. It takes place at the Hippodrome Paris Longchamps, a famous horse-racing track to the west of Paris' city centre.
The lineup is always exciting with all genres accounted for, including pop, rock, dance, and rap. The crowds are electric, full of people having a good time and moving between the various stages. Lollapalooza is not a festival that is about being seen but simply about enjoying yourself and the music.
A unique feature at the festival is the Eiffel Tower's replica that stands in the centre of the festival grounds. Make sure you stay until the evening too because just like the real Eiffel Tower, it lights up at night! A weekend pass costs around 300 euros whereas day tickets start from 190 euros.
Grab a Croissant from Boulangerie Poilane
When visiting Paris for the first time, trying as many pastries as possible is essential — after all, it is a major culinary location.
Food Network star, Ina Garten of "Barefoot Contessa", visits Poilane Bakery every time she is in Paris. This establishment has been around since 1932 and has grown into one of the most beloved bakeries in the city.
Stepping inside Poilane Bakery will fill your senses, and it will be hard to keep from ordering everything. An especially well-known item here is the bakery's sourdough loaf which comes marked with fancy 'P's and weighs in at four pounds!
Besides picking up a sourdough loaf, be sure to order a pain au chocolat or other pastry for breakfast or as a quick snack. What's best is that everything is made with ingredients local to France.
Poilane Bakery has several Paris locations, including near the Eiffel Tower, Luxembourg Gardens, and the Picasso Museum. There is no better way to start a morning in Paris than with a visit to Poilane!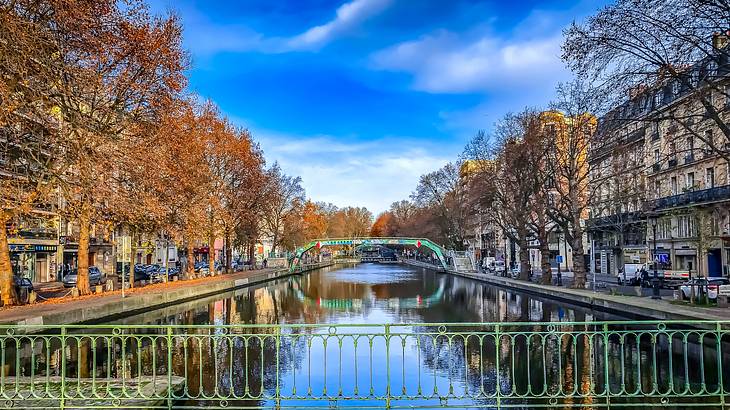 Have a Picnic at Canal Saint-Martin
One of the coolest things to do in Paris is to visit the Canal Saint-Martin to have a picnic. This lovely spot, which covers over 4.5 km, is located a bit off the regular tourist's path.
Therefore you will find that most visitors to the canal are locals or frequent travellers to Paris. It is the perfect place to go if you are looking for an authentic Paris experience!
Located in a picturesque working-class area, the Canal Saint-Martin enchants with a unique atmosphere. The Venetian-style bridges, scenic waterfront, and surrounding lush green parks and squares create a beautiful setting for enjoying a picnic.
Along with packing a picnic, don't forget to take your camera! There are many fantastic opportunities here to take pictures of lovely cafés, exciting street art, hipster shops and unique hotels.
Experience the Tour de France
The Tour de France is one of the world's biggest sporting events, so why not check it out while in Paris? There's something special about watching a world-class sporting event live in Europe!
The race is a men's cycling event that has been running annually since 1903 (except during the two World Wars). It is usually held in July, and although the race changes route, it always ends in Paris at the Champs-Élysées.
However, to fully enjoy this free sporting event, you do not need to watch from Avenue Champs-Élysées as it can get extremely busy. Instead, get a spot as early as possible at Jardin des Tuileries to watch the riders on Rue de Rivoli.
The cyclers will go past eight times in this area, making it a perfect spot to watch from. Cheering, waving, and joining in with the excited crowds is a truly exhilarating experience!
Wander Around Cathédrale Notre-Dame de Paris
Notre Dame is a highly recognisable monument in the heart of Paris and is one of the oldest Gothic cathedrals in the world. Built over 800 years ago, it comprises two towers at 226 ft tall.
You can climb all 387 steps to the Cathedral's top, where you will be rewarded with breathtaking views across Paris. This iconic building is a must for your Europe travel bucket list.
From the top of the towers, you can also see the famous stone gargoyles perched on the edge, as well as the bell tower. These elements are a must-see for Disney fans who will recognise them from the Humpback of Notre Dame.
If you don't fancy the steep climb, you can still enjoy the spectacular stained glass windows, the Great Organ, and the archaeological Crypts underneath the Cathedral.
Sadly, Notre Dame was partially destroyed by a fire in April 2019, and the Cathedral is currently undergoing extensive restoration. It could be a couple more years before Notre Dame is fully open to the public again, but visitors to Paris can still admire its striking appearance from afar.
Be Driven Around Paris in a Classic Citroen 2CV
A classic car in a classic city! The Citroen 2CV is an iconic French car and a symbol of the nation's rebirth after World War II that is still commonly seen on the backstreets of cities and towns all across the country.
In Paris, though, these classic cars have all but disappeared, making a few hours exploring the streets of the City of Lights in an old-school 2CV a unique experience.
The handful of companies that run Citroen 2CV Paris tours run them with driver/guides. This means that you can enjoy the experience of being driven in a classic car while also getting a locals' view of Paris.
Rather than a hop-on hop-off bus tour or a giant coach sightseeing tour, touring the city with a private driver in a beautiful car enhances the experience immensely.
It also allows for a level of customization to individualized interests or frequent stops for photos that wouldn't be possible in a larger group.
Discover Amazing Art at Musée Rodin
The Rodin Museum is in the 7th Arrondissement of Paris. It is a spectacular site for many reasons. This includes the fact that it houses some of the most famous of Rodin's sculptures like the "Thinker" and "Gates of Hell".
Additionally, the collection is also housed in a beautiful building complete with stunning gardens where the artist's sculptures are set. There are actually two Rodin museums. One is in central Paris while the other is on the city's outskirts.
The central Paris location is found at the Hôtel Biron. This building was built between 1727 and 1732 and is a beautiful example of Rocaille architecture. Over 300 pieces of Rodin's art is on display inside the Hôtel Biron and in the gardens.
You might be tempted to spend the majority of your time inside looking at Rodin's work. However, you should allocate at least an hour of your time to exploring the pretty gardens and discovering sculptures tucked away in breathtaking settings.
You are free to explore the Museum and the grounds alone, with an audio tour, or with a guide. It would be best to check with the Museum's website to determine which option is best for you.
Visit Musée Gustave Moreau
Musée National Gustave Moreau is one of the lesser-known museums in Paris. However, it is a must-visit for lovers of beautiful art and architecture.
It is a relatively small museum dedicated to the works of the symbolism painter of the same name, Gustave Moreau. The pieces are displayed in Moreau's former home, which he left to the State upon his death.
Moreau himself had the interiors repurposed to best serve his art. You can find bedrooms on the ground and first floors whilst the second and third floors were turned into large studios, which now serve as galleries.
The majority of the walls are covered with his works, both large and small, and you could spend a long time in here if you studied each piece carefully with its accompanying text.
There's everything from drawings and sketches to enormous oil paintings allowing you to appreciate this artist's work in all its forms. Part home, part museum, this Paris bucket list spot is a wonderful tribute to the artist Moreau.
Walk Along Promenade Plantée
Looking for a great walk through Paris without traffic? Taking a walk along the Promenade Plantée, or Coulée Verte René-Dumont, is a perfect way to start your day in Paris.
Formerly a railway track, this a 4.7 km elevated walkway is lined with trees and gorgeous landscaped flowers. The walkway additionally offers a unique view of the city as seen from a few stories above street level.
Considered a locals' secret, you will be mainly accompanied by locals going for runs and enjoying the wonderful shade offered here in the summertime.
A recommended place to start your walk from is at the Bel Air metro entrance. From there, you can walk until you reach the lively neighbourhood of Bastille. This is an excellent spot to stop at for drinks at a sidewalk cafe.
Then continue along the Seine to Île Saint-Louis, a quaint island on the river filled with independent shops, cafes, and restaurants.
Stroll Through Bois de Vincennes
The Bois de Vincennes is a beautiful park located just a 15-minute metro ride outside of central Paris. It is the largest public park in the capital and is three times bigger than Central Park in New York!
The park attracts families, joggers, cyclists, and even horse riders. Along with enjoying the park itself, you can visit the charming Chateau de Vincennes; a medieval castle considered the masterpiece of the Bois de Vincennes.
For the wildlife-lovers, don't miss the Zoological park, the Farm of Paris, or the ornithological reserves. There is also a beautiful botanical garden called the Parc Floral.
In addition, the park offers a large range of activities, from playgrounds with slides, mini-golf courses, and ping-pong tables to boat-riding on the lakes. Spending an afternoon discovering this enchanting garden and taking photos is definitely a must-do in Paris!
See Medieval Art at Musée de Cluny
Did you know that you can see some of the greatest works of medieval art in all of Europe right in the heart of Paris? Located in the 5th Arrondissement, Musée de Cluny contains an extensive range of paintings, sculptures, stained glass, jewellery, and fascinating historical artefacts from the European Middle Ages.
A popular artwork on display here is a famous 15th-century tapestry series called 'The Lady and the Unicorn' (La Dame à la licorne). This set of tapestries features themes of love and the five senses.
This museum is unique as it occupies a Gothic-style building that was built in the 15th century. What makes this building even more remarkable is that it was built over the ruins of Roman-era baths.
If coming between April and October, then add to your medieval experience by visiting the museum gardens. You can find plants and flowers arranged according to historical use, such as the love garden or the medicinal herb collection.
Take a Day Trip to the Popular Champagne Region
While Paris has an abundance of attractions to see, there are also some awesome places to visit outside of the city. One of these areas is the world-famous Champagne region. It takes less than two hours to get from Paris to the renowned Champagne region. Visiting this area makes for a nice day or weekend trip from Paris.
During your time here, it will be possible to join interesting tours of legendary French Champagne houses. The best part about these Champagne house trips is that you get to taste some of the world's most iconic Champagne!
There are several high-class cellars in the Champagne region, a lot of which were founded in the 18th-century. One of the most famous is Moët & Chandon. While in Champagne, you can take a tour of the brand's factory. You can, of course, also taste varieties of Champagne made by this legendary producer.
Another Champagne cellar that you can head to is the Mercier Cellar. This brand is significantly younger than many others in the area at just 20 years old. However, the brand has already become one of the most elite producers of Champagne. Taking a day trip to a Champagne house is a must for your Paris bucket list!
Experience French Life at Île Saint-Louis
If you are looking to experience the quintessential Parisian life then escape to Île Saint-Louis. This area sits in the middle of the Seine connected to the rest of Paris by five bridges.
The postcard-worthy views and historic architecture are the real highlights here. There is nothing better than strolling through the quiet streets admiring the grandeur of the well-preserved 17th-century buildings.
Look out for Hôtel Lambert, Hôtel de Lauzun and Hôtel Le Vau being the grandest of them all. As well, the island's only church, Saint-Louis-en-l'Île, designed in a classic Baroque style.
Île Saint-Louis is chock full of lovely boutique and specialty shops too - from bakeries to cheese shops and chocolatiers. But perhaps its most famous and long-standing shop is Berthillon ice cream.
Grab yourself a delicious cone and head to the pretty square of Place Louis-Aragon to enjoy one of the best views in Paris.
Go Underground to Les Catacombes de Paris
Paris is synonymous with glitz, glamour, romance, and true love. But have you ever wondered what lies beneath the busy Parisian streets?
Sometime in the 18th century, the Parisian cemeteries were overflowing. Due to the health concerns it aroused, the authorities decided to transfer remains to an underground quarry, just outside what was then central Paris.
Twenty metres beneath what today are the busy streets of Paris, you will find 200 miles of a mesmerising maze containing the remains of more than six million Parisians. The bones are neatly stacked into the wall, some into patterns, and some scattered around.
If you like history and are interested in doing offbeat things in Paris, France, you should certainly pay a visit to Catacombs. If you are claustrophobic, then this place is not for you, though!
It takes roughly one and a half hours to maneuver through the 1.5 km stretch of catacombs open to the public. If you decide to explore the underground tomb, then the audio guide is recommended to offer more background on the Catacombs and those buried there.
Find a Gem in a Paris Vintage Shop
No traveler should return home from Paris without a new outfit that will remind them of this fashionable city! Unfortunately, luxury clothing in Paris is very expensive.
But don't worry, there are thousands of other options allowing you to dress stylishly for less. To create a unique look, savvy fashionistas head to second-hand stores and vintage shops in Paris. In French, they are called "friperie".
At these stores, you can find luxury brands at the best prices. They also sell vintage items and more unique clothing options. Pieces on offer include everything from vintage Chanel and Balenciaga to dresses resembling those seen in 80s movies.
Even if you have prejudices about second-hand shops, be sure to visit at least one: you will forever change your mind. One of the best vintage shops in Paris is the Kilo shop. Its concept is simple: choose, weigh, and take!
Here you can buy clothing by weight as you do at a fruit market. Be sure to head to its subsidiary Kilo Shop Kawaii too, which specializes in clothing from Asian recycling factories. Kilo Shop Paris is found at 69-71 rue de la Verrerie, and the Kilo Kawaii Shop is located at 65 Rue de la Verrerie.
Tour the Museé National Picasso
Any art lover would enjoy their time at the Museé National Picasso located in the trendy district of Marsais, Paris. The museum houses the work of legendary artist Pablo Picasso.
Museé National Picasso houses a collection of approximately 5,000 artworks, including drawings, paintings, sculptures, ceramics, and prints, just to name a few. There are several Picasso museums in Europe; however, this one features the most extensive collection of Picasso works globally.
The museum is located inside the Hotel Salé, a beautiful 17th-century mansion known as one of the finest historic houses in Marsais. The museum offers an audio tour and also individual guided tours.
Specialized tours and workshops for those visiting with children are also offered. One unique feature of this museum is that they allow visitors to practice their drawing.
This is an excellent bonus for budding artists that are inspired by the works on display. No visit to Paris would not be complete without a trip to this historical art museum. Book your Picasso Museum tickets.
Explore the Petit Palais
Petit Palais is often overshadowed by its big sister Grand Palais. But due to its compact size, this art museum is worth adding to your Paris itinerary.
The Petit Palais was initially built for the 1900 Exposition, and today it invites individuals to enjoy the rich art scene in Paris. It houses artwork from the Renaissance era to the 20th-century. The museum is also home to the City of Paris Museum of Fine Arts.
Its location in the 8th arrondissement makes it easy for you to explore Petit Palais after touring Arc de Triomphe and Champs Elysées. If you are wondering where to stay in Paris, this neighborhood is perfect for first-time visitors. Also located on the museum grounds are - Grand Palais and a massive statue of Winston-Churchill.
The museum is open daily, except for national holidays. You can easily spend anywhere from one to two hours at the Petit Palais.
Check Out Musée des Arts Forains
Have you ever dreamed of visiting a 19th century Belle Epoque funfair? Perhaps you have seen these carnivals featured in period piece films and wondered what a whimsical experience it would be to transport back into the Golden Age.
Well, believe it or not, you can do just that at Le Musée des Arts Forains, in the Bercy neighborhood of Paris. You can ride several carousels at this immersive museum and play carnival games that date back over 100 years.
Let your inner child run free as you wander these historic grounds. Being able to interact with the beautifully handcrafted attractions and fairground collectibles that have been carefully preserved and restored is a truly unique experience.
The highlight of your visit will likely be getting to ride on the surprisingly fast bicycle merry-go-round which you and the other visitors power. The museum's entrance is only available by guided tour, and a reservation must be made in advance.
Have a Magical Day at Disneyland Paris
Disneyland Paris is the perfect day trip location if you want to take a break from exploring the city. The Paris park consists of two parks which are Disneyland Paris and the Studios. Get a park hopper ticket to enjoy both parks.
Visiting Disneyland while in Paris is a must if you love Disney and are in Europe! Some of the neat things to see in the park include Sleeping Beauty's Castle and the Phantom Manor. There are of course lots of rides and roller coasters too for all thrill levels and ages.
You can additionally enjoy unique shows and parades, eat Disney inspired snacks, buy Disney merchandise, and meet many beloved characters.
If you want to get the full Disney experience, consider spending a night in the park at a Disney Hotel. Along with being able to sleep in unique and magical accommodation, you will be able to enter the main park before its official opening time.
Be sure to use this time to ride the most popular rides and take photos of the nearly empty park. Book your Disneyland Paris tickets.
Find a Book at Shakespeare and Company
Shakespeare and Company is a literary institution in the 5th arrondissement of Paris. Located in the Left Bank and directly opposite to Notre Dame of Paris, it is an excellent addition to your 1-day layover in Paris.
Founded by American George Whitman in 1951, it became a popular gathering place for aspiring writers and literature fans worldwide. It was initially named "Le Mistral" but was renamed after the famous English playwright William Shakespeare as a tribute for his 400th birth year.
Shakespeare and Company also offer accommodation for aspiring writers in exchange for helping out in the bookstore. It is said that over 30,000 writers have helped out in the bookstore since its founding. Some famous writers who have frequented the store include Ernest Hemingway, James Joyce, and Ford Madox Ford.
If you are looking to buy second hand or new books, listen to promising authors read, or partake in any of the other events held here, visiting this bookstore is a must. It is also conveniently located between some of Paris' top attractions. Therefore, you can easily squeeze in a visit between other attractions.
In Summary
With so many things to do in Paris, it can be challenging to choose what to prioritise visiting. Unfortunately, it will not be possible to see everything on this list during one trip.
No matter which of these Paris bucket list locations you choose to visit, you are sure to be amazed and go home with great memories!
Give us feedback about this article
More visual stories related to this article:
---
---
Want to keep exploring?
Subscribe for discounts on tickets and hotels and our latest guides.
Thank you for subscribing
We will be in touch soon with discounts on tickets and hotels and our latest guides.
Want to keep exploring?
Subscribe for discounts on tickets and hotels and our latest guides.
Thank you for subscribing
We will be in touch soon with discounts on tickets and hotels and our latest guides.
Related Articles