The Best 2 Day Delhi Itinerary
Destguides may receive commissions from purchases made through affiliate links in this article.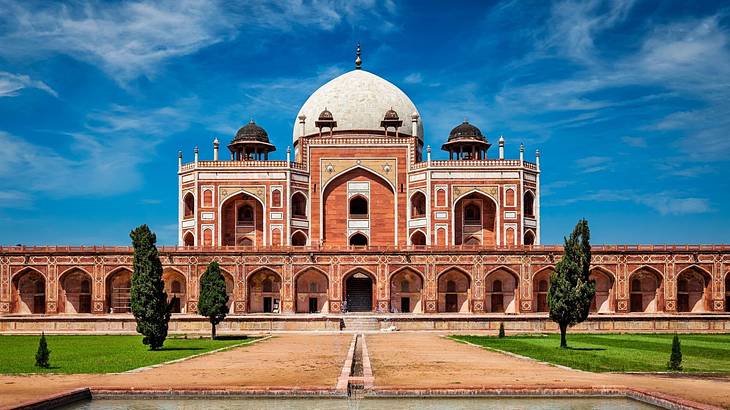 Delhi, the capital city of India, features historic architecture, cultural attractions, and some of the most famous landmarks in Asia. Due to the city being close to transport links, including New Delhi Railway Station, Delhi is a popular weekend getaway spot for tourists and residents of India.
Even if you are in Delhi for just 48 hours, you can find lots to see and do. This 2 day Delhi itinerary is here to help ensure you don't miss any top landmarks and attractions!
The Old Delhi area, Lotus Temple, and India Gate are just a few of the many places to visit here. You will also get to try some delicious Indian cuisine and experience Delhi's nightlife. Keep reading to discover all the places to visit in Delhi in 2 days!
Delhi 2 Day Itinerary
Old Delhi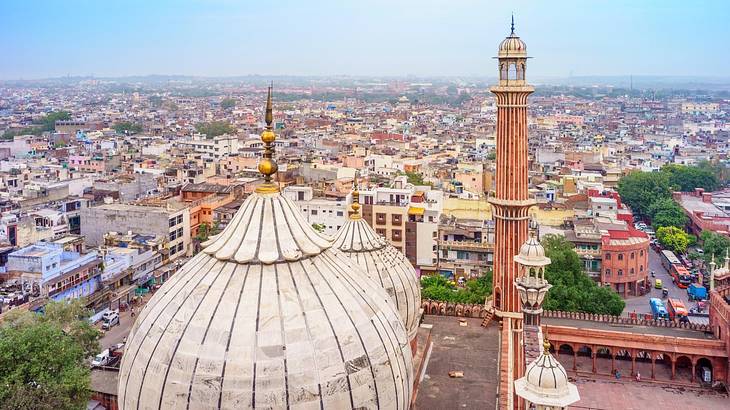 The first of your 2 days in Delhi will be spent in the most historical part of town, Old Delhi. This area oozes charm and Mughal architecture and features many famous Indian landmarks.
The best way to tackle your first day in Delhi is by grouping attraction areas together. Why? Because many attractions are grand and each can take 1-2 hours to visit. Traffic is also not usually in your favour. Going to all the stops today could take up to 12 hours!
You could, for example, spend today doing a tour of Chandni Chowk (weather permitting) and visiting the Jama Masjid Mosque and the Red Fort and whatever else is close by that you'd like to see. Similarly, you could spend today doing tours of the Qutub Minar Complex and Humayun's Tomb.
You will have a great time whatever way you decide to spend today! Use this itinerary as a starting point and adapt as needed by removing stops if required.
Chandni Chowk
Chandni Chowk is the oldest and busiest part of the city. This location was previously a trading market but, over the years, became a foodie's paradise. It's an especially great place to pick up some breakfast - it's well known for heritage and food tours!
If you can't decide which eateries to visit, taking an Old Delhi street food tour around Chandni Chowk is a fun way to start your day. Dishes to taste include local specialities like chole bhature, a type of fried bread, and aloo chat, fried potatoes with spices. Many sweet treats are also on offer, including jalebis and lassi drinks.
Do check the weather before visiting, as it's not the best place to be on a rainy day - there are not many places to run for cover!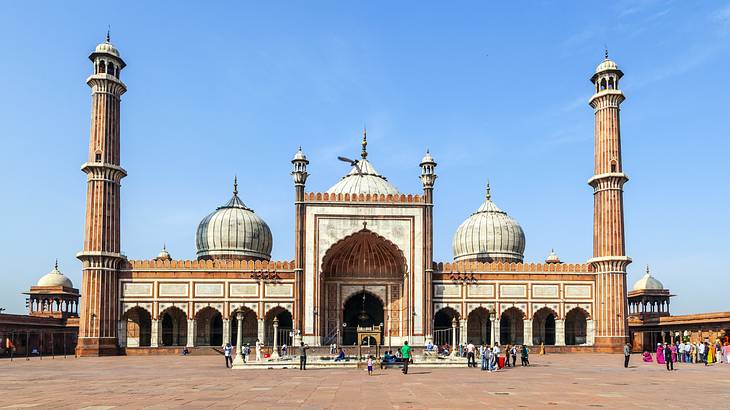 Jama Masjid Mosque
Masjid-i-Jahan-Numa, commonly known as Jama Masjid, is the epicentre of old Delhi. This world famous landmark is situated near the Red Fort and is one of the largest mosques in the country. It is also one of the last structures constructed by Shah Jahan, the Mughal Emperor renowned for building the Taj Mahal.
Built between 1644 and 1656, it took the effort of over 5,000 workers to construct the monument. With a vast courtyard capable of housing 25,000 devotees, this grand mosque is a prime example of the architectural extravagance of Shah Jahan.
The white marble and red sandstone mosque comprises three highly decorated gates, two 40-metre-high minarets, and four towers. Seeing this piece of architectural history in Delhi cannot be missed!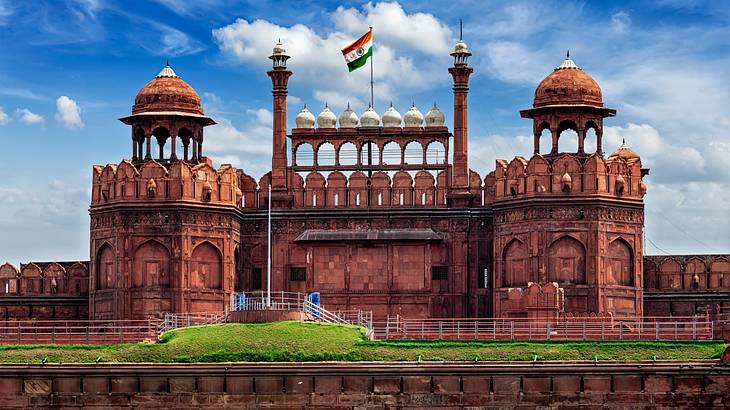 Red Fort
Another famous site to see on this Delhi itinerary for 2 days is the Red Fort. Also known as Lal Qila, the Red Fort is undoubtedly one of the most famous historical monuments in the city.
Situated on the banks of the River Yamuna, it is a UNESCO World Heritage Site and the place from where the Prime Minister addresses the nation on Independence Day (15 August) every year.
The fort was constructed in 1638 when emperor Shah Jahan decided to shift his capital from Agra to Delhi. It served as the residence of Mughal Emperors for more than 200 years till 1857.
Today, it is one of many must-see Delhi tourist places. Visitors can admire the architecture and visit on-site museums. To ensure you get in and don't have to wait, purchase a Red Fort skip-the-line ticket in advance.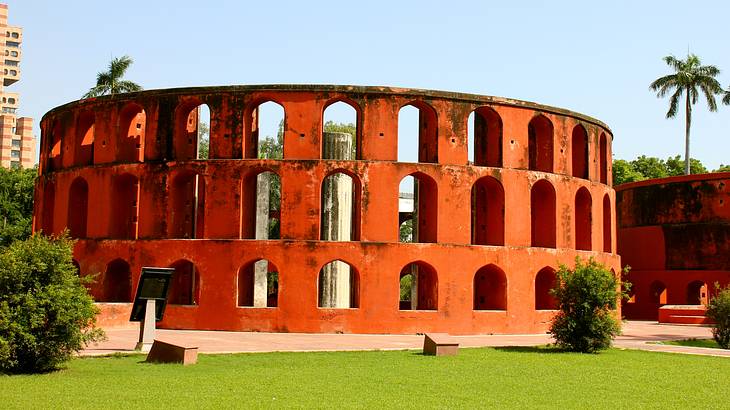 Jantar Mantar
Jantar Mantar, also called Delhi Observatory, is one of the most famous astronomical observatories in the country. It was built in 1724 AD at the request of Maharaja Sawai Jai Singh II to help accumulate astronomical tables. These tables would predict the time and movement of various celestial bodies like the sun, planets, and the moon.
The monument is an impressive testimony of the technical and scientific concepts used in Medieval times. It houses 14 astronomical instruments used for calculating various phenomena during the day.
The sundial found here, one of the world's largest, is used to accurately tell the time to half a second. Jantar Mantar is also a UNESCO World Heritage Site.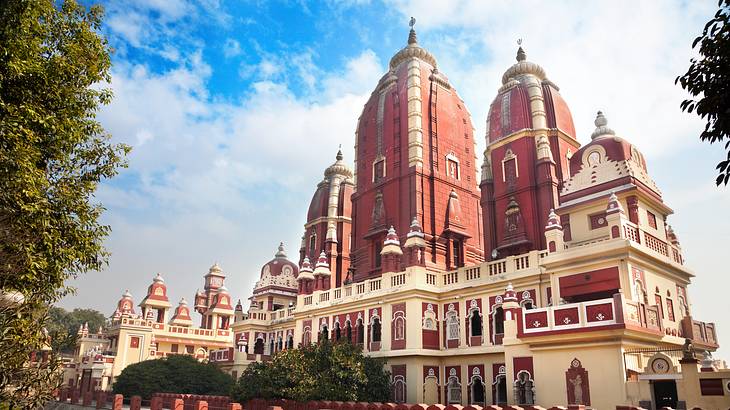 Shri Laxmi Narayan Temple
Located just two and a half kilometres away from Jantar Mantar is Shri Laxmi Narayan Temple. Popularly known as Birla Mandir, it is one of the first temples built by the Birla family, a pioneering industrialist family of India.
The Birla Mandir was built between 1933 and 1939. It was inaugurated by Mahatma Gandhi, who insisted that people of all castes must be allowed to enter the temple. Dedicated to Goddess Lakshmi and Lord Vishnu, the three-storey temple is one of the most visited tourist attractions in Delhi.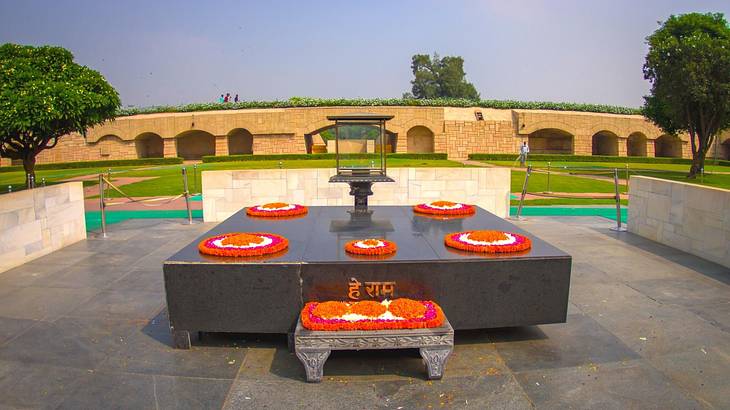 Raj Ghat
Raj Ghat is a memorial dedicated to Mahatma Gandhi, the notable figure who helped India gain independence. Located on the banks of the River Yamuna, it is also the resting place of Gandhi and is where his cremation took place after his assassination in 1948.
Vanu G. Bhuta designed the monument with a vision to reflect the simplicity of Gandhi's life. Raj Ghat has received numerous awards for its architectural design, and it is a must on your Delhi to-do list.
The memorial sits amidst a beautiful garden with numerous trees and fountains, which you can stroll around after seeing the monument. It features a black stone platform with Gandhi's last words, "Hey Ram," inscribed. An eternal flame also burns at one end of the platform.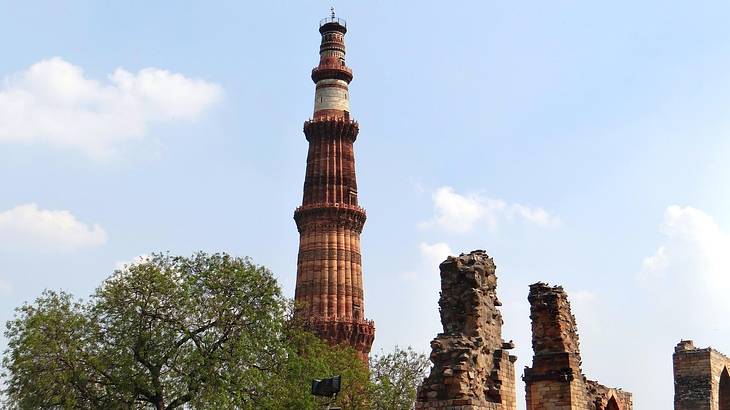 Qutub Minar Complex
The Qutub Minar is India's highest tower and an important World Heritage Site in Delhi. Constructed in 1199 AD by Qutub-ud-Din Aibak, it is also the tallest brick minaret in the world. Standing at 73 feet tall, this five-storey tower is one of the most magnificent monuments in the country from the medieval era.
Three storeys of the Qutub Minar are made using red sandstone, whereas the top two storeys are marble. All five floors have gorgeous balconies that provide a magnificent view of the surrounding area.
While you can explore this attraction alone, going on a Qutub Minar private guided tour is a great idea. You will also be taken to a few other places in Delhi, like India Gate and the Jama Masjid.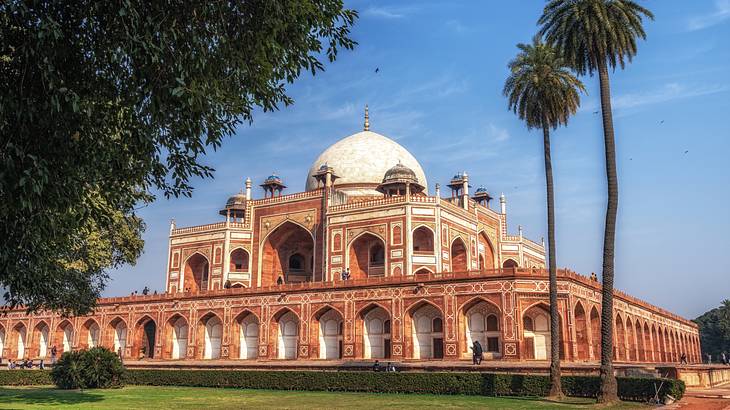 Humayun's Tomb
The last stop on the first day of your Delhi tour plan for 2 days is the burial place of Mughal Emperor Humayun. Humayun's Tomb is a vast mausoleum made of white marble and red sandstone.
It is located on the banks of River Yamuna and has the nickname "Dormitory of the Mughals." It gets this name because there are over 160 other people buried here. However, Humayun has the prime burial position directly under the dome of the octagonal chamber.
Not only this, but Humayun's Tomb has also been the site of numerous key events in history. The last Mughal king surrendered to British forces in 1857 here. In 1947, the surrounding garden was a refugee camp for families displaced during the Partition of India.
Today, it is one of the best examples of Mughal architecture. Moreover, its unique beauty has made it an important place of tourist interest in Delhi.
New Delhi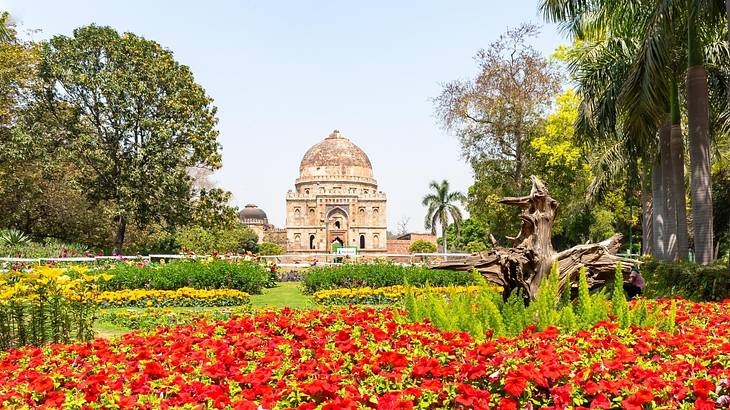 The second day of this "What to see in Delhi in 2 days" guide will have you exploring the newer part of the city. This area features more modern architecture and attractions, like trendy bars and shopping malls.
Firstly, you will go to the presidential palace, Rashtrapati Bhavan. Afterwards, you get to see the world-renowned India Gate before moving on to Lodhi Gardens and the National Museum of India.
You can then indulge in some shopping at Connaught Place. Another famous landmark, the Lotus Temple, is your next stop. Before evening fall, you can visit Akshardham to see the temple and watch the fountain show. Finally, you will end the day with a delicious dinner and drinks in the buzzing Hauz Khas Village.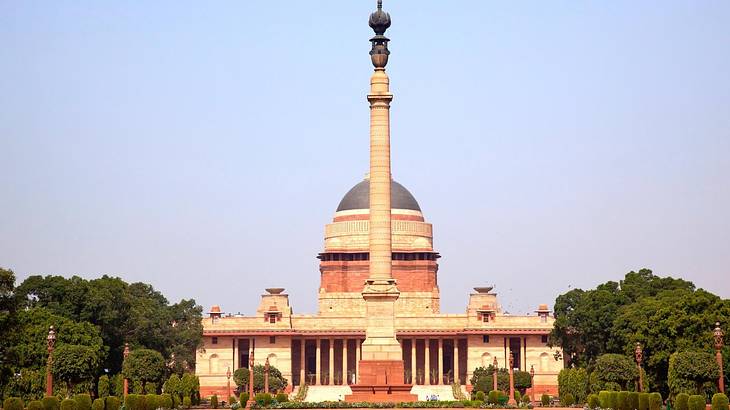 Rashtrapati Bhavan
Your second day in Delhi will begin with a visit to the Presidential Palace, commonly called Rashtrapati Bhavan. Initially constructed for the British Viceroy, it is now the official residence of the President of India.
Covering five acres of land, the presidential complex is the world's largest residence for a head of state. The building has 340 rooms, 190 acres of garden, and 2.5 kilometres of corridors! Although you cannot enter the complex for security reasons, viewing the building from afar and savouring the architecture is a remarkable experience.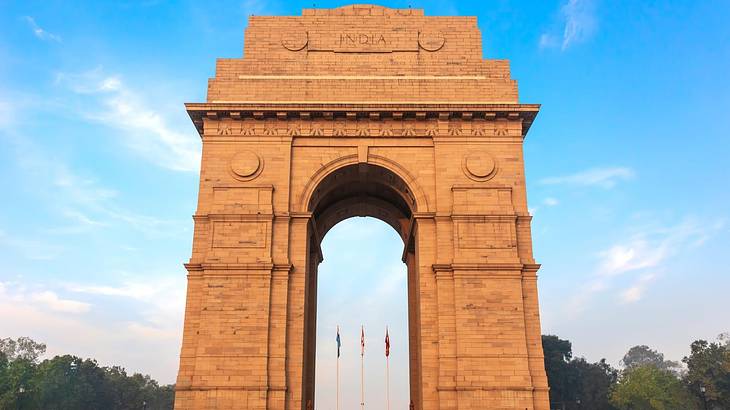 India Gate
After seeing the Rashtrapati Bhavan, take a short stroll along the Rajpath (King's Road) to reach India Gate, the most popular tourist spot in New Delhi. This landmark is a war memorial. It is dedicated to 70,000 British Indian Army soldiers who lost their lives between 1914 and 1921 during the Anglo-Afghan War and the First World War.
The 42-metre tall structure is an awe-inspiring sight. Designed by Sir Edwin Lutyens, it is the most significant war memorial in the country and is inscribed with the names of over 13,000 soldiers.
On Republic Day, a large parade marches on the Rajpath, beginning from Rashtrapati Bhavan and reaching India Gate. The attraction is surrounded by lush gardens, which have become a popular picnic spot in the city.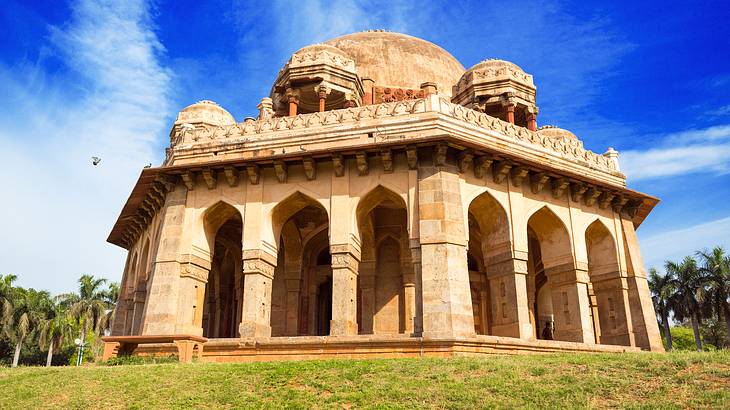 Lodhi Garden
Lodhi Garden is a renowned historical site in New Delhi. It is also a park used by walkers, joggers, and yoga enthusiasts. Lodhi Garden is one of the best places to see in Delhi in 2 days for those who want to spend time outside.
Additionally, this attraction is a popular spot for picnics due to the tranquil ambience and beautiful surroundings. You may also spot some of the 50 species of birds and butterflies that live in this park.
Besides the lush green landscape, the garden is adorned with 15th-century mausoleums, mosques, bridges, lakes, and a beautiful Bonsai Park. Historical features include Mohammed Shah's Tomb and the Tomb of Sikandar Lodi.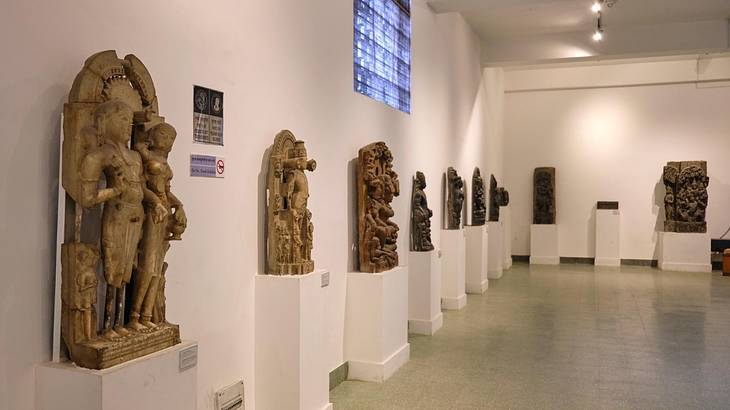 National Museum of India
The National Museum of India is one of the largest museums in the country. It is home to a vast collection of over 200,000 artworks by Indian and international artists. Pieces on display range from art created during prehistoric times to modern works.
Notably, the National Museum of India boasts relics dating from the 4th and 5th century B.C., from the time of the Harappa Civilization and Buddha. As you explore, you will find an array of stunning pieces, from paintings and murals to sculptures, wood carvings, and textiles.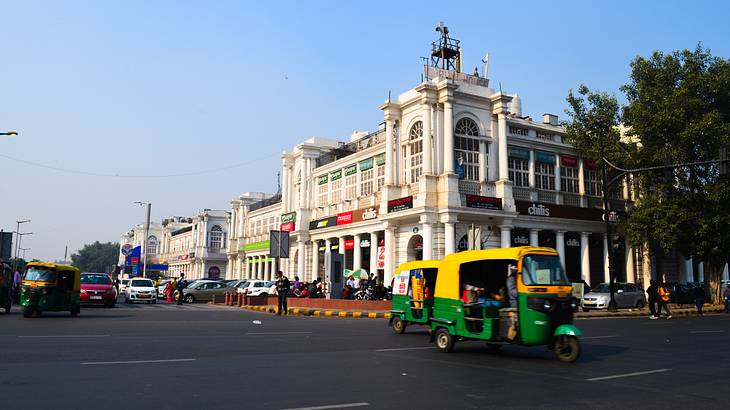 Connaught Place
Connaught Place, commonly called CP, is a massive financial and commercial centre in New Delhi. The complex is named after Prince Arthur, Duke of Connaught and Strathearn. As you look around, you will find numerous national and international food chains, stores, cinemas, and bars.
One of the largest Indian National Flags in the country is also hoisted in Central Park in Connaught Place. Additionally, it is a great place to enjoy some vibrant nightlife in the city. So if you want something to do in the evening, returning to Connaught Place is a good idea.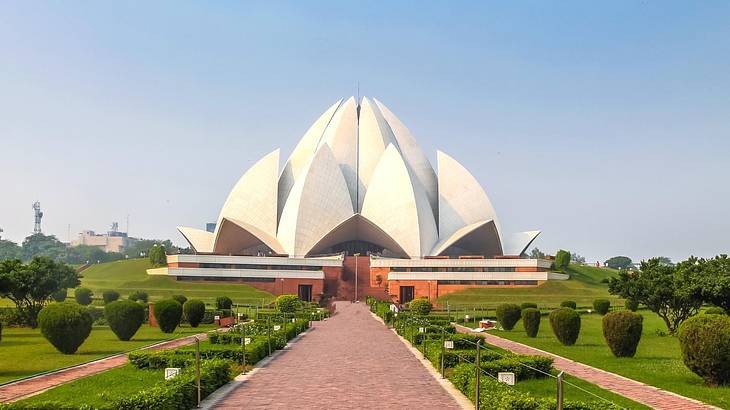 Lotus Temple
Built in the shape of a blooming lotus flower, Lotus Temple is one of seven significant temples dedicated to the Baha'i faith in the world. The beautiful temple is a sight to behold and is surrounded by lush green gardens on all sides.
The magnificent structure unfolds in the shape of a gorgeous white petal lotus. The shrine was conceptualized and completed in 1986 by the Canadian architect Fariborz Sahba.
Lotus Temple is open to all, regardless of religion, race, gender, or nationality. The entire complex has a highly calm and meditative aura and offers a beautiful experience for all visitors.
A convenient way to get to the Lotus Temple, plus nearby attractions like Connaught Place, is by going on a private tour of Delhi. Your guide will offer more information on all the sites you see, and dinner is included.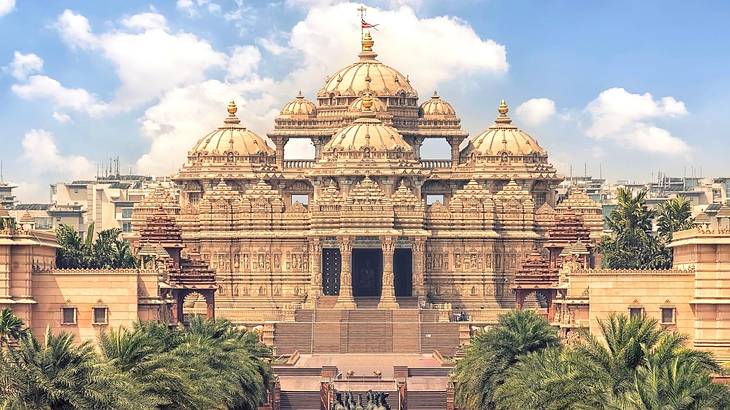 Akshardham Temple
Akshardham Temple, sometimes called Swaminarayan Temple, is another iconic cultural site in Delhi. It is considered to be one of the best temples in the country. It is also the fourth largest Hindu temple in the world.
Dedicated to Lord Swaminarayan, the word "Akshardham" literally translates to "abode of the supreme lord." The temple is an excellent example of Hindu architecture, traditions, and spiritual messages. The temple was inaugurated in 2005 by the President of India.
A notable event to see at the temple is the musical fountain show. This event takes place at sunset and depicts the cycle of life and death. Taking a late afternoon guided tour of Akshardham is the best way to ensure you get to see the colourful and memorable fountain show.
Hauz Khas Village
As one of the most affluent neighbourhoods in the city, Hauz Khas village is the best place to experience the nightlife of Delhi. This part of South Delhi is well-known for its electric atmosphere and numerous trendy bars, cafes, and pubs. The area is also home to boutiques, art galleries, and the Hauz Khas Fort.
Along with having great bars to hang out at, Hauz Khas Village hosts many live events, especially on Fridays and Saturdays. So if you are looking for things to do in Delhi on the weekend, you will have many events to choose from, including live jazz shows and stand-up comedy performances.
Conclusion
If you are planning a trip to India's capital and have been wondering what to do in Delhi for 2 days, this itinerary should have given you lots of ideas!
Delhi has world-class attractions, cultural and historical landmarks, and great shopping and dining opportunities. India is also one of the cheapest places to travel in Asia, making a trip to Delhi suitable for most travellers, even those on a budget!
Whether you follow this itinerary completely or customize it a little, spending a couple of days in Delhi is guaranteed to be a fun and memorable trip!
Give us feedback about this article
More visual stories related to this article:
---
---
Want to keep exploring?
Subscribe for discounts on tickets and hotels and our latest guides.
Thank you for subscribing
We will be in touch soon with discounts on tickets and hotels and our latest guides.
Want to keep exploring?
Subscribe for discounts on tickets and hotels and our latest guides.
Thank you for subscribing
We will be in touch soon with discounts on tickets and hotels and our latest guides.
Related Articles