The Best 2 Days in Milan Itinerary
Destguides may receive commissions from purchases made through affiliate links in this article.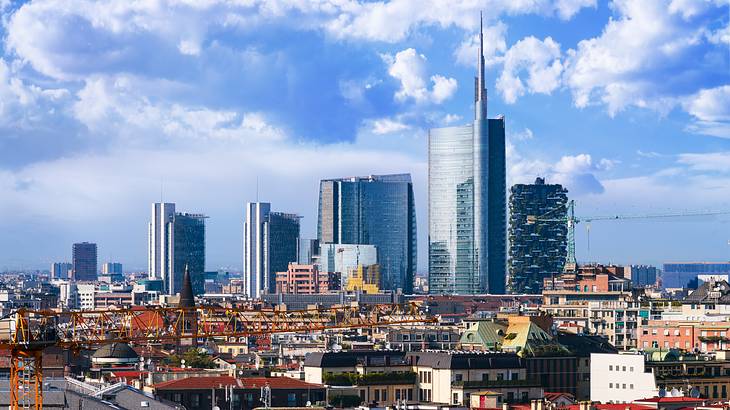 Milan is a renowned city in Italy, known for its high fashion, rich history, and stunning architecture. It is also one of the best places in Europe for a city break, and it is easy to get to the city centre from Milan Malpensa Airport.
Even spending a day or two in Milan allows you to see the most impressive landmarks and attractions. If you're a little overwhelmed deciding what to visit during your trip, this 2 days in Milan itinerary is here to help!
It will take you to all of Milan's best sights, including the Duomo di Milano, Santa Maria delle Grazie (home of The Last Supper), and the canals of the Navigli district. This itinerary covers everything the fashion capital offers, with more than a dozen daily stops!
2 Day Milan Itinerary
Welcome to Milan!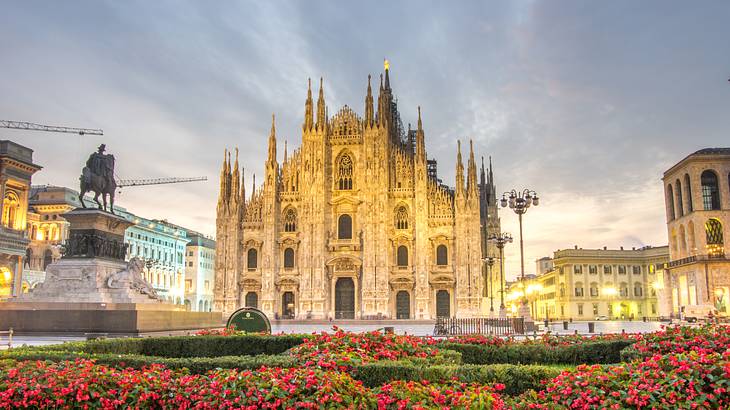 The first day of this 48 hours in Milan itinerary begins with breakfast at stylish Corso Como 10. You will then head to an eerie yet fascinating landmark, Cimitero Monumentale. Your next stop is one of the most famous landmarks in Milan, Duomo di Milano. You will also make a quick stop at Arco della Pace on the way to this attraction.
Afterwards, you will visit another iconic landmark, Galleria Vittorio Emanuele II, Italy's oldest shopping mall. You can then take a break while enjoying gelato in Piazza della Scala. Before lunch, you can tour Teatro alla Scala, a renowned opera house.
Lunch will be enjoyed at a classic Italian eatery, Ristorante Al Mercante. The late afternoon will be spent seeing Castello Sforzesco and Parco Sempione. In the evening, you can unwind with drinks and another delicious meal.
If needed, you can exclude some of the stops on this day. Doing this is especially recommended if you're travelling to Milan with your family.
Corso Como 10
The Milan Historical Center is packed with lovely eateries that offer delicious breakfast options. Getting a table at the stylish Corso Como 10 is highly recommended if you can't decide where to go.
This luxurious eatery and coffee bar is housed in a building with book shops, art spaces, and decor stores. Its cosmopolitan atmosphere makes for a great introduction to the sophistication and creativity that is the penchant of Milan.
Dishes to order include sandwiches, avocado toast, and Tarte Tatin. Of course, you can accompany your meal with a classic Italian coffee.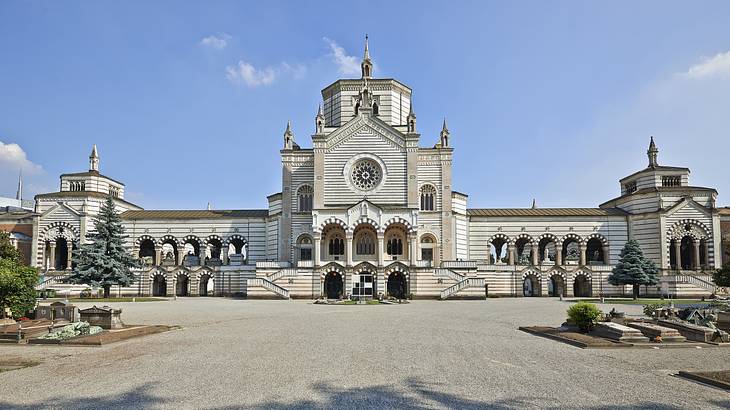 Cimitero Monumentale
A cemetery might sound like a morbid addition to this list. However, the tombs in this cemetery in central Milan offer a snapshot of 19th and 20th-century architecture and artistic styles.
Cimitero Monumentale is free to visit and is just five minutes away from Corso Como 10. There is a sacred silence over the area as visitors walk through the aisles between Romanesque tombs, classical sculptures, and Gothic-style monuments.
Going in the morning or late afternoon for the golden hour is recommended. Any later, and it may be a bit too creepy in the dark! To find out more about this landmark, take a Cimitero Monumentale guided tour.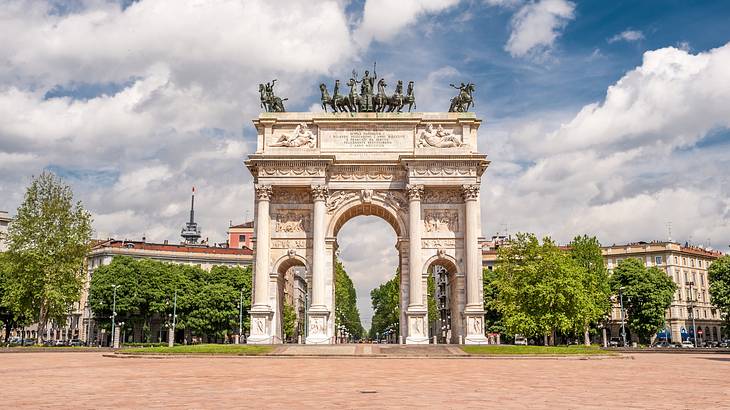 Arco della Pace
On the way back to central Milan and your next stop of Duomo di Milano, be sure to stop by Arco della Pace or the Arch of Peace. This monumental arch is located at Porta Sempione, which is known as the gate into the city.
The arch was constructed in the mid-1800s and features intricate carvings, columns, and Ancient Roman statues. While there isn't much to do in the area, stopping by this iconic arch to snap some photos is a must!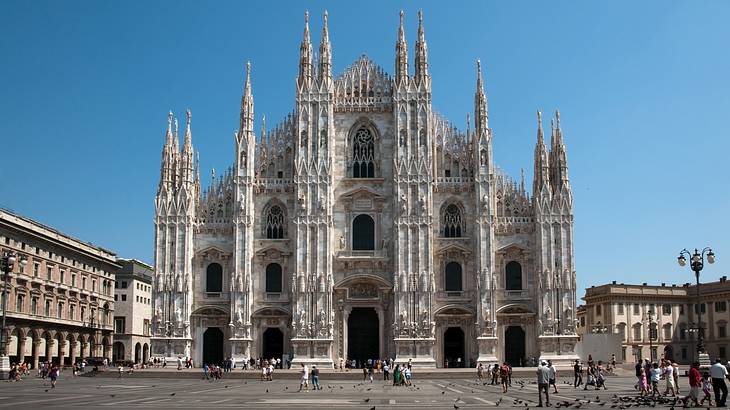 Duomo di Milano
The Duomo di Milano is one of the most famous landmarks in Europe. Construction began in 1386. However, the iconic piece of Gothic architecture was not completed until 1965.
The Milan Cathedral notably has over 3,400 statues, 135 gargoyles, and 700 figures. It's also the fifth-largest Christian church in the world. Being so large, it offers some fabulous views. You can climb the stairs or take an elevator ride to a terrace with stunning panoramic views.
Another interesting feature is a red lightbulb above the altar that allegedly marks the spot where a nail from Jesus' crucifixion has been placed.
Because this is such a popular attraction, you will want to book a Duomo di Milano ticket in advance. This ticket offers access to the cathedral and terrace and also comes with an audio guide.
Galleria Vittorio Emanuele II
Located one minute from the Duomo on Corso Vittorio Emanuele II lies Italy's oldest active shopping mall. This area is now home to a collection of high-end shops which make for beautiful window shopping. But even if shopping doesn't appeal to you, the arcade is a fabulous addition to this day's itinerary for its architecture alone.
The marble floors are protected by soaring glass and iron domes. Even the McDonalds in this arcade is elegant! It is an iconic photo-op location in the city, so don't forget to snap some pictures.
Interestingly, the arcade is also associated with a folk tale. Under the central dome is a mosaic of a coat of arms. This mosaic includes various animals that represent different cities within Italy.
Rumour has it that if one steps on the mosaic and turns counterclockwise three times, they will be blessed with good luck. This folk tale is so prevalent that the mosaic is starting to become worn down!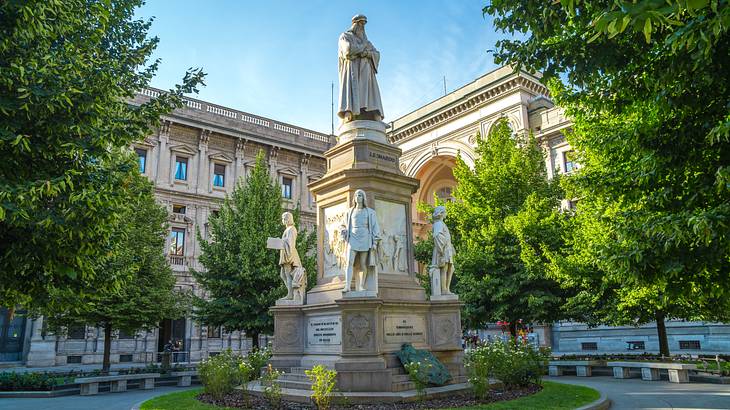 Piazza della Scala
The beautiful Piazza de La Scala is five minutes from Galleria Vittorio II. This giant pedestrian square is one of the most visited places in Milan.
The whole of Milan seems to pass through this stunning Italian landmark at some point during the day! If walking ever becomes overwhelming, Piazza de La Scala is the perfect place to grab a gelato and people-watch.
In the middle of the Piazza, you can also see a tall monument dedicated to Leonardo da Vinci. This sculpture was finished in 1872 by renowned artist Pietro Magni and remains a focal point today in a city known for art and creativity.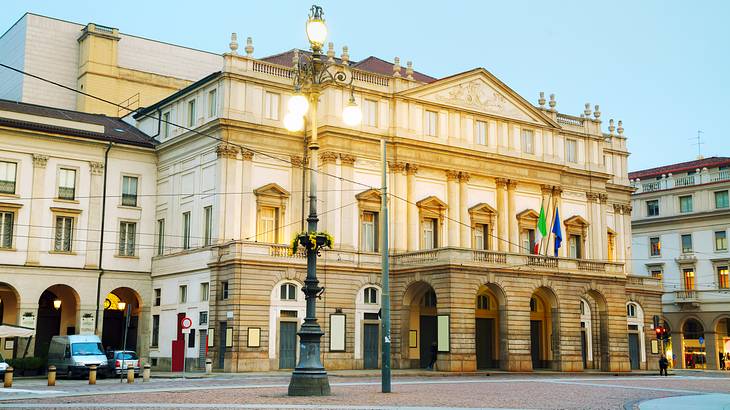 Teatro alla Scala
Located on one side of Piazza della Scala, Teatro alla Scala is a remarkable dedication to art. Opened in 1778, it is home to some of the world's grandest opera and ballet companies and hosts outstanding performances throughout the year.
While getting a ticket is expensive, last-minute ticket sales happen on the day of the performances and can be inquired about at the box office in the foyer. Alternatively, booking a tour of Teatro alla Scala is a great idea.
Perhaps you will get lucky and witness a dress rehearsal in action! This tour is also a great way to orientate yourself in Italian art history and gives you the chance to sit where many of us never will: in a private box in front of one of the grandest stages in the world. This excursion includes entrance to La Scala Museum as well.
Piazza Mercanti
Piazza Mercanti, or Merchant's Square, is a five-minute walk from Teatro alla Scala, making it easy to reach from your last stop. Merchant's Square is touted as one of the most charming squares in Milan and is lined with stunning medieval buildings.
This square was used to host city markets for centuries. It still bears the name Merchant's Square as a testament to this history. In addition, on one side of the square is a large red brick building called Palazzo della Ragione. This impressive medieval building was inaugurated in 1233 and housed the Courts of Justice.
The Piazza is often packed with tourists. However, if you can snag a patio seat at one of the many cafes lining the streets, it's a great area to sit and enjoy a coffee and the scenery as you breathe in history!
Ristorante Al Mercante
By this point, you are probably starving! After walking to the area of your next stop, Castello Sforzesco, you can stop for lunch at Ristorante Al Mercante. Located on the main street of Via Dante, Al Mercante serves excellent, authentic Italian food that will leave you more than satisfied.
Things to try include a variety of freshly made pasta and fish and seafood dishes, like calamari and lemon tuna. To really enjoy your meal like an Italian, indulge in a glass or two of wine with your lunch too! The eatery also has a great cocktail menu.
It is worth mentioning that this area is the tourist part of Milan. If you travel a few streets back, meal prices tend to drop, and the food becomes more authentic.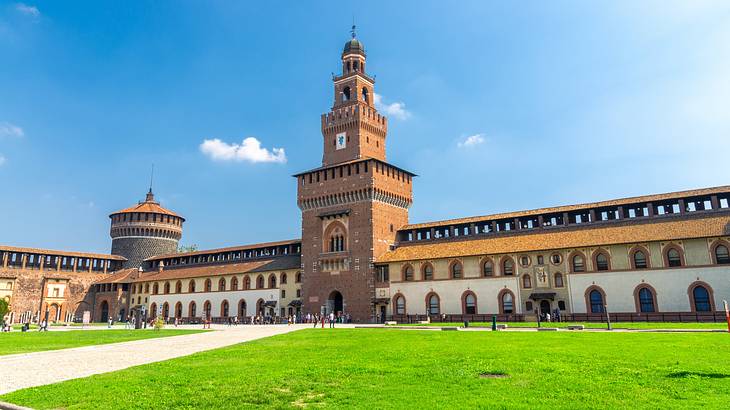 Castello Sforzesco
Castello Sforzesco, also called Sforzesco castle or Sforza Castle, is a ten-minute walk down Via Dante from the restaurant. It's impossible to miss this incredible landmark! You can see the looming castle from many areas of the city, making it a great gathering point if you get lost.
Be warned that the Castello is vast, with numerous museums within its walls. You may need to set aside two hours for this attraction alone. The castle was initially designed as a Visconti Fortress in 1360 before being passed to the Sforza rulers of Milan. It notably features frescoes by Michelangelo and Leonardo da Vinci.
As with other landmarks in the city, taking a guided tour of Castello Sforzesco is recommended to learn as much as you can about the historic site.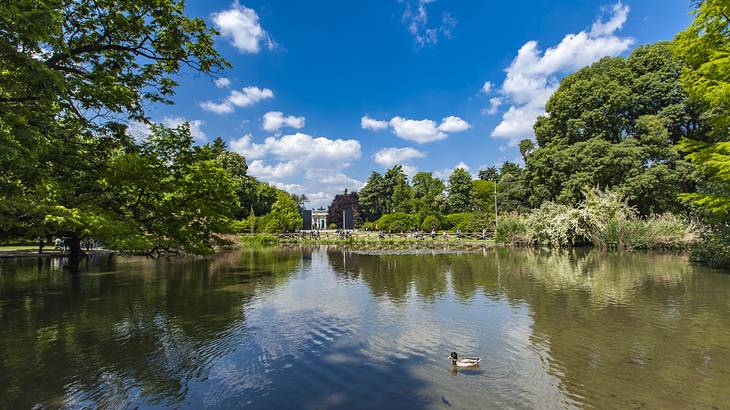 Parco Sempione
Your next stop is Parco Sempione. This giant nature reserve is the perfect place to take a break from walking. You can also find numerous attractions and landmarks within the park, such as the Arch of Peace, Arena Civica, and a free Aquarium.
However, Branca Tower (Torre Branca) is the most well-known attraction here. It is a viewing tower that stays open into the night and offers beautiful city vistas.
If you want to go to the top of the highest point in Milan, purchase a Branca Tower ticket before you reach the park to avoid waiting. If you have time, you can also visit the Palazzo dell'Arte, which houses the International Exhibition of Decorative Arts.
Pasticceria Ranieri
Grabbing a pastry and a coffee from the delightful Pasticceria Ranieri to enjoy on the way to your next stop is a great idea. Indulging in cake and coffee is a Milan tradition that you can't miss out on, and Pasticceria Ranieri is the perfect place to treat yourself.
Delicious sweets to try include classic cannoli, polenta cake, and panettone. A speciality at the bakery is its unique dove-shaped bread with honey and dried fruit, like orange and pineapple. You can also buy a box of handmade pralines as a gift or treat to take home.
Bulgari Hotel
By this point in the day, you are comfortably in aperitivo territory! Aperitivi are pre-meal Italian drinks designed to whet the appetite. Traditional aperitivo bars will serve these drinks with a salty snack. So this activity isn't instead of dinner but more like a pre-dinner treat.
Popular Italian aperitivo include Aperol and Campari. But there are many other options to try. A recommended place to go for aperitivi in Milan is the Bulgari Hotel, which offers a luxurious atmosphere and incredible drinks.
Alternatively, if you want to try a few bars, going on a Milan aperitivo tour is a fun thing to do. You will visit five bars, with drinks and snacks offered at each.
Quadrilatero della Moda
The Fashion District, or Quadrilatero della Moda, is a seven-minute walk from the Bulgari hotel. This area is dubbed the birthplace of Italian fashion and houses the stores of many luxury brands like Prada, Gucci, and Armani.
Visiting the fashion district is almost mandatory when in Milan! The area is excellent for window shopping if you don't have the budget to splurge in these stores. You can also take in the high-end atmosphere and admire the outfits of Italian fashionistas who frequent the area.
Il Salumaio di Montenapoleone
It's time for food! Italians (and Europeans in general) tend to dine later in the evening; this can be a strange change for visitors. In general, dinner time is around 8 or 9 PM. In the South of Italy, even 8 PM is too early! If you have extra time before dinner, treat yourself to another apertivo to whet your appetite.
Once it is dinner time, Il Salumaio di Montenapoleone, near the Montenapoleone Station and in the Quadrilatero Della Moda, is a top choice. For over 50 years, this stunning restaurant has served up simple Italian food to much acclaim.
The setting is also phenomenal! This restaurant takes you back in time with marble arches, Roman statues, and an ambient courtyard. Housed in the historic Bagatti Valsecchi Building, the eatery offers an authentic Italian fine-dining experience.
Dishes you can taste include prosciutto and melon, salmon tartare, homemade pasta, and octopus with tomato bisque. The dessert and wine menus are also extensive, with many indulgent options.
Day Two in Milan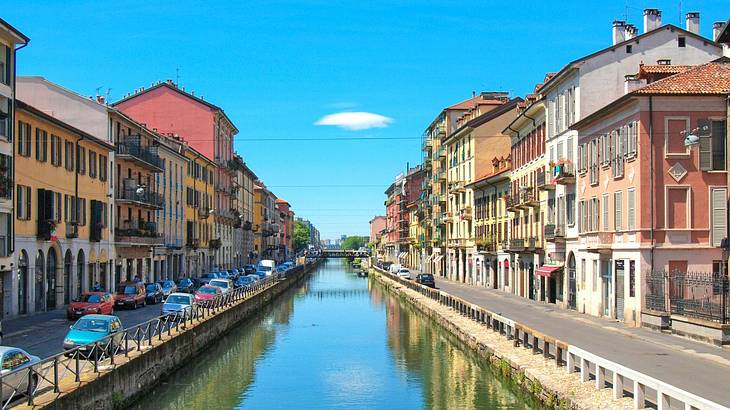 Welcome to day two in Milan! This will be another action-packed day, with lots of walking, exploring, and eating. You will start your day in the Brera district with breakfast at Panificio Maria Marinoni.
You can also get a coffee at Pasticceria San Carlo before visiting your first landmark of the day, Santa Maria delle Grazie, where you can see The Last Supper by Leonardo da Vinci.
Next, you will visit Basilica di Sant'Ambrogio and Pinacoteca Ambrosiana. For lunch, you can dine on Milanese classics at Cavoli a Merenda. In the afternoon, you will visit Pinacoteca di Brera, the beautiful Brera Botanical Garden, and the Braidense National Library. A trip to Chiesa del Carmine is also on the itinerary.
Later in the afternoon, you get to enjoy the breathtaking canals of Navigli before ending your trip with drinks and dinner next to the water.
Panificio Maria Marinoni
Your second day in Milan will begin at Panificio Maria Marinoni, a thriving cafe near Sempione Park. With all goods baked daily and a wide choice for all budgets, Maria Marinoni has been a hotspot with locals and tourists for 50 years. This cafe also offers quick service so you can start your day right!
Because of late dining, many Milan residents don't have breakfast until 8.30 or 9.00 AM. If you start the day earlier, look at opening hours to avoid disappointment. The Panificio Maria Marinoni currently opens between 6.30 and 7.00 AM, making it the perfect place to go no matter when you start the day.
Pasticceria San Carlo
Walk ten minutes away from Sempione Park, and you will find yourself at the world-famous Santa Maria delle Grazie. However, before braving the crowds, load up on caffeine from one of the cafes along the street. If you can't decide which to visit, Pasticceria San Carlo is a local favourite.
While sitting on the patio and enjoying your morning coffee, you will also be treated to the stunning views of Holy Mary of Grace Church, a UNESCO World Heritage Site and famous landmark in Milan.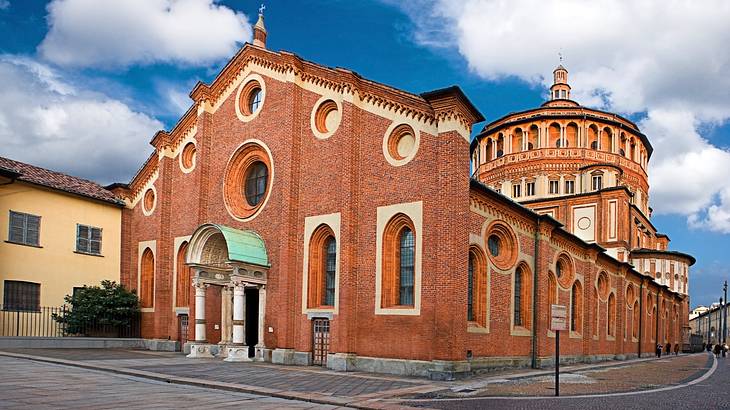 Santa Maria delle Grazie
Santa Maria delle Grazie is the home of Leonardo da Vinci's world-renowned mural, The Last Supper. Being such a famous artwork, you need to book tickets and tours to see The Last Supper in advance to ensure you get to see it.
Leonardo da Vinci painted The Last Supper over four years in the 1490s. It is a masterpiece of art, challenging classical fresco motifs and techniques. If you like art history, it may be worth taking a guided tour to learn about the painting's importance and impact on the art world.
The rest of the Santa Maria Church is a little underwhelming compared to the Duomo, so you don't need to spend too much time here.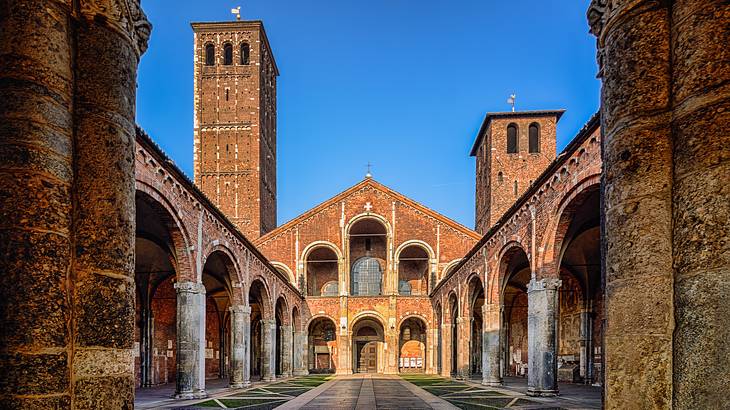 Basilica di Sant'Ambrogio
Located about ten minutes from Santa Maria Church is Basilica di Sant'Ambrogio. Saint Ambrose is Milan's patron saint, and the cathedral is a testament to this Saint's importance to the city.
The Basilica was consecrated in 387 and restored in the Lombard Romanesque style nearly a millennium later. Best of all, it is free to visit and explore the church!
However, do note that the Basilica closes at 12 for lunch. You shouldn't need to book ahead to enter the Basilica, but people have reported queues during the summer and peak seasons.
In general, this Basilica is a quiet, less popular tourist stop. However, it is worth visiting to admire the mosaics displayed and learn more about the church's history.
Pinacoteca Ambrosiana
A five minute walk from Basilica di Sant'Ambrogio is Pinacoteca Ambrosiana. Founded in 1618 by Cardinal Federico Borromeo, this gallery includes masterpieces by Titian, Bramantino, Rafaello, and Botticelli.
The most famous inclusion in the permanent collection is Codex Atlanticus, a 12-volume, bound set of drawings and writings by Leonardo da Vinci. This codex is the most complete collection of the Italian master's work and has been expertly restored.
Buying an entry ticket for the Pinacoteca Ambrosiana is a good idea. A ticket includes access to the main galleries and the exhibition with Leonardo da Vinci's drawings.
Cavoli a Merenda
If you're looking for a fabulous lunch, Cavoli a Merenda won't disappoint. The eatery offers quintessential Italian terrace dining with views of the bustling city and the surrounding Gothic and Romanesque architecture. Of course, the food is also incredible, and the menu features many Italian classics.
Trying some of the Milani specialities is a must. The Risotto alla Milanese is a great starting point, recognisable by its yellow saffron hue. If you are after another inescapable classic, try the Cotoletta alla Milanese. This dish is a veal cutlet that can be dressed up or down, depending on the chef's choice.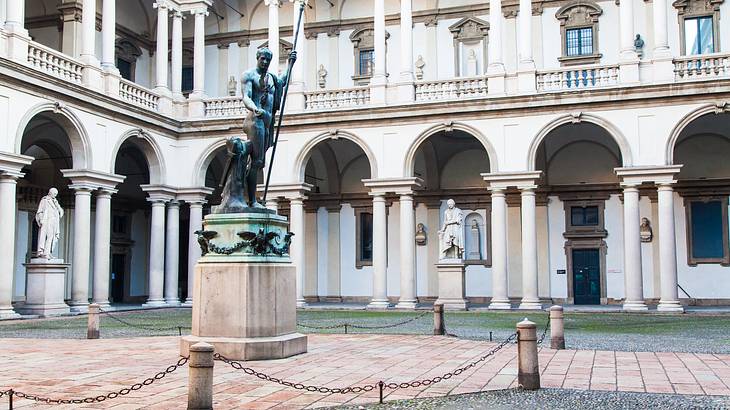 Pinacoteca di Brera
From the cafe strip surrounding Santa Maria, it is a 20-minute walk across Sempione Park to get to your next stop. The Pinacoteca di Brera, or the Brera Gallery, was originally a convent. Later in the 18th Century, it became a Neoclassical art school, producing pieces that defined the Napoleonic Era.
If you plan to visit, purchase a Pinacoteca di Brera ticket and guided tour before you arrive. The galleries are organized chronologically to take you on a journey through European art history.
If you don't opt for an in-person guide, audio guides are available in English. However, a guide can offer a wealth of knowledge on the artworks you see, making it well worth it.
Jardín Botánico de Brera
The Brera Botanical Garden is another of the amazing attractions in the Brera area. Also known as Orto Botanico di Brera or Jardín Botánico de Brera, the beautiful attraction is located right next to Pinacoteca di Brera.
Brera Botanical Garden was opened in 1774, although the gardens you see today were restored in 1998. As you explore, you will find an array of colourful flowers, from orchids to a wide variety of roses. There are also water features and sculptures to admire.
The gardens are open all week, except on Sundays, and are free to the public. Fun events that may interest you, like watercolour painting sessions, are also held throughout the year.
Biblioteca Nazionale Braidense di Brera
Braidense National Library, or Biblioteca Nazionale Braidense di Brera, is situated about five minutes from Jardín Botánico de Brera. Opened in 1786, the library is a must-visit for history and literature enthusiasts. Notably, it is one of the largest libraries in Italy.
Books within the library's collection include historical, literary, and legal works. The landmark has also acquired collections from various famous people and organizations, with many books in the library dating back centuries.
When visiting, you can admire the architecture and view stunning floor-to-ceiling bookcases. You can also learn more about the most renowned items in the library and can relax a little in the charming reading room.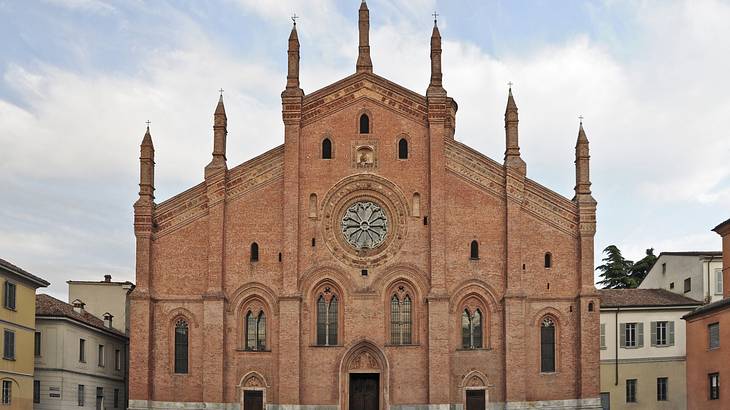 Chiesa del Carmine
The magnificent Santa Maria del Carmine Church is just five minutes from the Brera Gallery. By now, religious iconography must be becoming commonplace for you as you explore Milan. The church's exterior is quite understated, but don't let it fool you; the inside is magnificent.
Initially built-in 1447 in a Baroque style, this church is notable for its spectacular reliefs. While exploring the church, visitors are treated to stunning sculptures, paintings, and religious storytelling that will wow all types of travellers, even those not highly interested in art and design.
There is also a charming courtyard to see. The shady benches are a great place to take a break. Note that this is an active church, so check service times before entering.
GROM Gelato
Is it really a visit to Italy if you don't eat your weight in gelato? Luckily, you won't struggle with choice regarding gelato in Milan! Gelato stores pepper the city, serving up sweet delights in various flavours. For a more classic gelato experience, try GROM Gelato near the Duomo di Milano.
You can enjoy your ice cream with or without a cone, and there are various flavours to choose from. You can try traditional flavours like Sicilian lemon, pistachio, or hazelnut, or opt for something different, such as chocolate and hazelnut meringue gelato. You can even get ice cream on a stick dipped in chocolate or turn your gelato into a milkshake!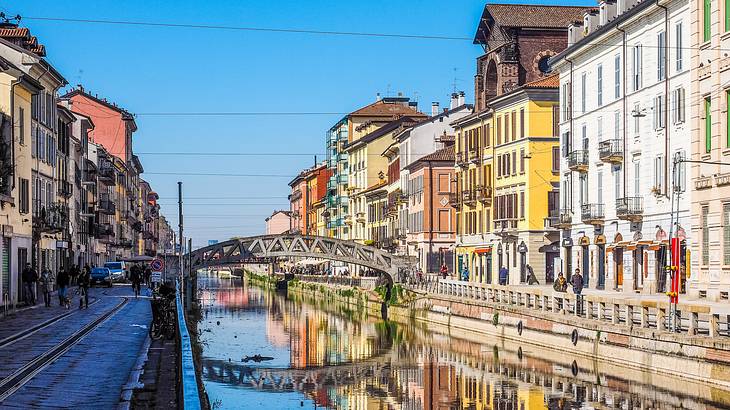 Navigli
Navigli, or the Navigli District, is a short train ride away from Brera. Take the Line 2 Tram from the Duomo Milan Metro station and hop off about 20 minutes later. Welcome to Navigli!
The Navigli District is especially popular with a younger, local crowd and is the perfect place to pass your last night in Milan. This district is packed with cafes and eateries. However, it is most famous for its beautiful canals.
The neighbourhood and its Venetian-style canals date back to 1179 when waterways were constructed to connect Milan to nearby lakes. Some historians claim Leonardo da Vinci designed them!
Navigli is also renowned for its art and vibrancy. Walking along the central canal, you will see signs pointing to local artists' galleries. Popping into a courtyard filled with local paintings and taking home a Milan masterpiece as a souvenir is a great idea.
Bar Rita
Picking one of the many beautiful bars along Navigli's central canal is the ideal way to begin a relaxing Italian evening. Bar Rita is an excellent choice.
This laid-back yet sophisticated bar is famed for its creative take on classic cocktails. You can also order from an extensive wine list if you are not in the mood for cocktails. Along with delicious drinks, you can also order bar food. Snacks include hummus and crudités and salmon tartare with avocado.
El Brellin
Your trip to Milan will finish with a delightful dinner at El Brellin. This classic Italian eatery is next door to Bar Rita and specializes in Milanese and Lombardian dishes. From the rustic restaurant, located in a house from the 1700s, you can enjoy views of the canal and a warm atmosphere.
Popular dishes to taste at El Brellin include Milanese risotto, sea bass ravioli, and beef tartare with black truffle. For dessert, you can indulge in tiramisu or a rich chocolate cake with hazelnut, among other delicious options.
In Summary
Spending 48 hours in Milan is enough time to see many of the city's most notable tourist attractions. You can visit an array of places, from ancient graveyards to renowned pieces of architecture and breathtaking art galleries.
You also get to taste classic Italian dishes and drinks and luxury window shop. If you have extra time, seeing the beautiful Basilica San Lorenzo Maggiore or going on a guided walking tour is recommended. Have the best time!
Give us feedback about this article
More visual stories related to this article:
---
---
Want to keep exploring?
Subscribe for discounts on tickets and hotels and our latest guides.
Thank you for subscribing
We will be in touch soon with discounts on tickets and hotels and our latest guides.
Want to keep exploring?
Subscribe for discounts on tickets and hotels and our latest guides.
Thank you for subscribing
We will be in touch soon with discounts on tickets and hotels and our latest guides.
Related Articles