The Best 5 Days in Sicily Itinerary
Destguides may receive commissions from purchases made through affiliate links in this article.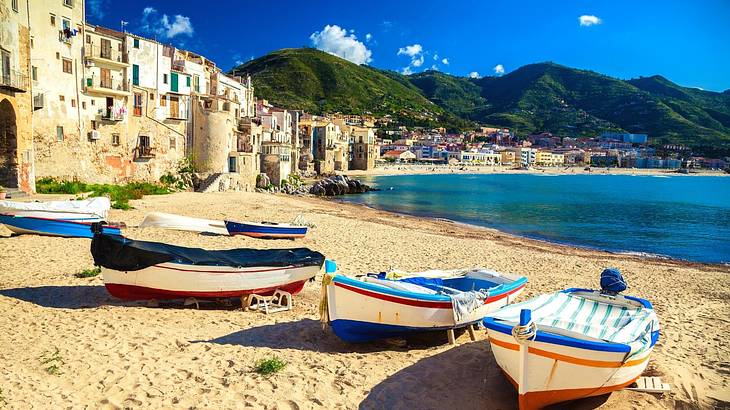 Sicily is a stunning Mediterranean island in Italy. It is home to UNESCO World Heritage Sites, beautiful landscapes, and exciting attractions.
Sicily is the perfect place in Europe to get some winter sun. It also makes for a memorable summer vacation destination. Even if you have just a week in Sicily, you can see a lot of what it has to offer.
This 5 days in Sicily itinerary takes you across the island from east to west. You will start in Catania and fly out of Palermo, but if you begin in Palermo, feel free to reverse this Sicily trip guide.
You will be amazed by the scenery, history, and welcoming residents as you explore the island. In addition, you will get to visit charming Baroque towns and see world-renowned landmarks, like Teatro Massimo Bellini and Mount Etna Volcano.
This itinerary is also perfect for beach lovers who want to see historical sites and relax on sandy shores under the sun, something not offered in popular Italian cities like Rome or Venice.
Best of all, Sicily has an excellent public transportation system, so travelling between sights and cities is a breeze! Are you planning a vacation in Sicily? Keep reading for a fun Sicilian travel guide!
Sicily 5 Day Itinerary
Mount Etna & Catania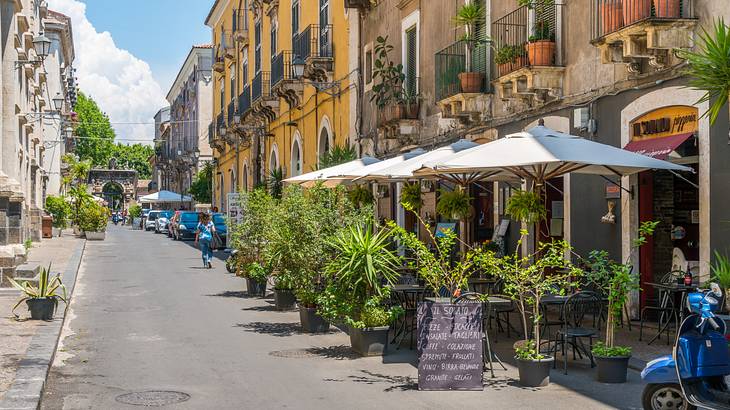 Italy is one of the best countries to visit in Europe, and Sicily will show you why! On the first day of your 5 day Sicily itinerary, you will foray up a volcano and visit numerous landmarks! Your first stop is Mount Etna, a stratovolcano you can hike around.
After this thrilling experience, you will head into the main part of Catania to visit Piazza del Duomo and Parco Archeologico Greco Romano di Catania.
Next, you'll venture to the stunning Teatro Massimo Bellini for a guided tour. Finally, you can indulge on fresh seafood, pasta dishes, and more at Uzeta Bistro Siciliano for dinner.
Breakfast and lunch spots are not listed on day one. However, don't forget to grab some delightful seafood and Sicilian treats at one of the many eateries found around the city.
If you are overwhelmed with food choices, head to the nearest dock. It's a great rule of thumb to find excellent restaurants! When choosing accommodation for your first night in Sicily, booking in central Catania is recommended.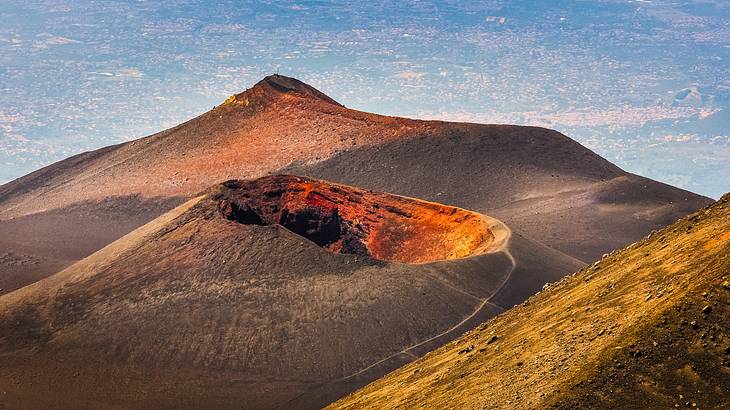 Mount Etna Volcano
Mount Etna is one of the most famous landmarks in Italy. The active stratovolcano is located in Eastern Sicily, surrounded by mountains and villages.
You can see the volcano from many places in Sicily and can also visit it to hike and learn more about the natural landmark's geology. Hiking up the crater early in the morning allows you to enjoy the sunrise and avoid the crowds that flock here later in the day.
If you don't want to explore alone, joining a Mount Etna tour is a great idea! There are many excursions to choose from, including guided group and private hikes or jeep tours. If you are okay splurging a little, you can even take a helicopter ride over the volcano!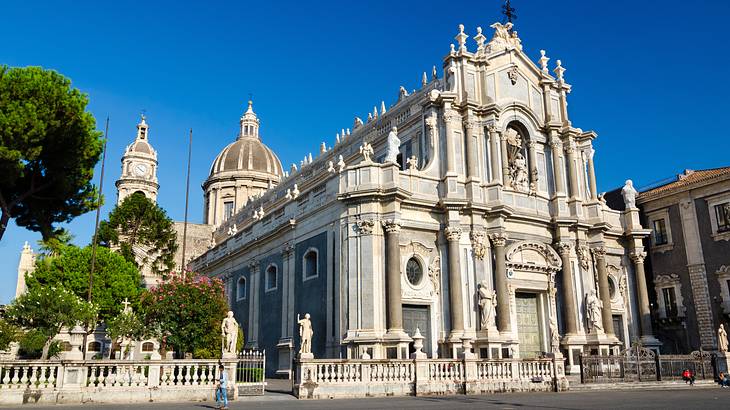 Piazza del Duomo
Located in the city centre, the Piazza del Duomo is a square packed with historical buildings and interesting sights. Cattedrale di Sant'Agata is one of the most famous landmarks found in the area. Therefore, exploring this beautiful church is a must!
You can also climb into the dome of Chiesa della Badia di Sant'Agata, which sits on the edge of Piazza del Duomo. In the dome, you can admire panoramic views of the historic city centre and Mount Etna.
The square also features a quirky elephant fountain, some excellent examples of Catanese Baroque architecture, and two palaces built during the Medieval period.
Parco Archeologico Greco Romano di Catania
The Roman Amphitheater of Catania, also called Casa Pandolfo, was built in the 4th century using lava stone. This theatre is an excellent example of Roman grandeur and architecture. Interestingly, the theatre was only revealed in the mid-20th century after an earthquake.
Today, you can wander around the theatre ruins, admiring the red brick arches, stone pillars, and carvings. As you look around, you will also see signage offering more information on the history of the site and the theatre's uses over time.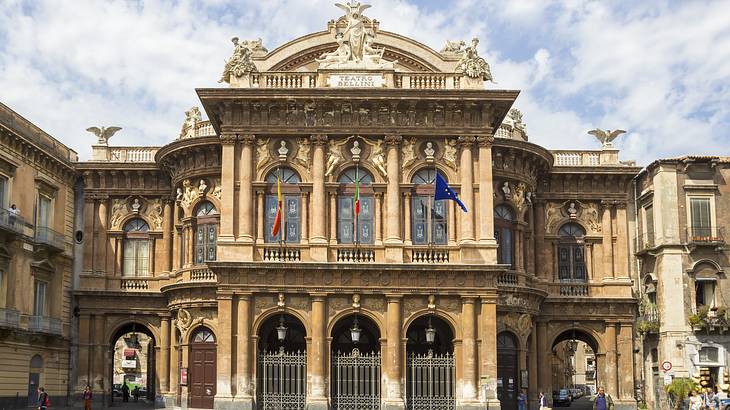 Teatro Massimo Bellini
Piazza Massimo Bellini features stunning Baroque architectural elements. This historic building opened in 1890 as an opera house. Today, you can still see opera performances here and can also tour the structure. Before going inside, appreciate the exterior design, including arches, stone carvings, and angel statues.
Once inside, you can look around the grand opera hall, admiring the stunning and opulent architecture. Design elements include red gilded boxes, sweeping golden ceilings, a vast stage, and balconies with copper embossed lamps.
The tour through the theatre is inexpensive and will allow you to learn about the history of the Opera house and the Italian composer Vincenzo Bellini, for whom the theatre is named after.
A guided tour may also allow you to see a dress rehearsal in action. If you want to watch a full opera performance, return in the evening for a show.
Uzeta Bistro Siciliano
In Sicily, you must try classic Sicilian food and Mediterranean seafood. Fresh prawns, freshly caught bass, and delicious scallops, among many other options, are sure to please. One of the best places to try Sicilian dishes and seafood is Uzeta Bistro Siciliano.
The eatery offers sampling platters filled with various items, like sardine entrees and different types of arancini. You can also order main courses such as stripped red prawns, white wine-covered bass, and a delightful range of calamari dishes.
Uzeta Bistro has a variety of meals for non-seafood lovers too! Delicious tapas and American-Italian-style burgers are just a few of the choices.
Also, make sure to order a glass of Malvasia, a fortified wine with a full-bodied flavour. It is bottled in Northern Sicily and is a must-try for first-time visitors to the region.
Taormina and Messina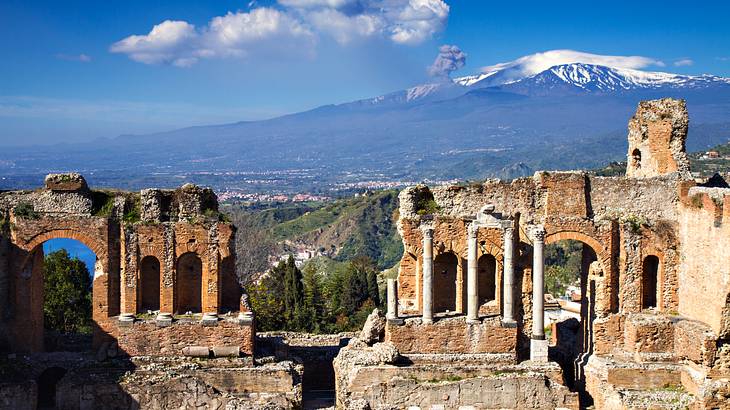 The second day of your Sicily trip itinerary is just as jam-packed as day one and starting early is recommended. First, you can explore the beautiful town of Taormina. From Catania, Taormina is an hour north when driving.
Once you arrive, landmarks to see include Teatro Antico di Taormina and you can also take a memorable boat tour. You can also relax on the beautiful beaches of Isola Bella.
You will then move on to Messina, a 50-minute drive north of Taormina. In this city, you can visit Tempio di Cristo Re, see a cathedral constructed by a protege of Michelangelo, and much more!
For this part of your trip, renting a car is the best thing to do. However, there are also local buses that run between towns sporadically. In addition, make sure to book your next night's accommodation in Messina.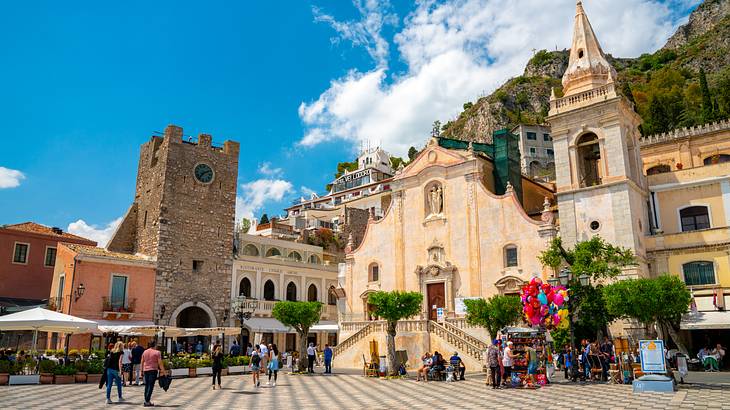 Taormina
Taormina is a small and charming town in the east of Sicily. Wandering through the scenic area should take about an hour or two. As you look around, you will find many beautiful spots to take some pictures.
An excellent place to start exploring is Palazzo Corvaja, which houses the extravagant Baroque Church of St Catherine of Alexandria. The church and surrounding square are built on the ruins of a Greek temple dedicated to Aphrodite.
When you are ready to leave, follow the Corso Umberto main road, which will meander down to the coast. While walking toward the next stop of the day, you will find many places to try delicious granita with figs or sweet wines. Sicily is one of the best wine regions in Italy after all!
Alternatively, you can cruise along the coastline by taking a Taormina boat tour. The two-hour excursion will allow you to see the town from the water. You can also sail past caves and hop in the water to swim or snorkel.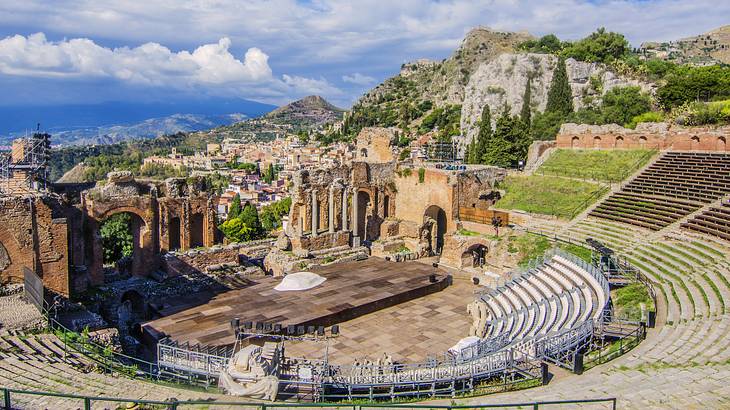 Teatro Antico di Taormina
Italy is home to many famous European landmarks and archaeological ruins. The island of Sicily is no exception, featuring many ancient landmarks like Teatro Antico di Taormina.
Dating back to the 3rd century BC, this amphitheatre would have likely been the scene of famous plays by Euripides and Aristophanes. The structure itself is an impressive feat of architecture. Its design required more than 100,000 cubic meters of rock to be moved manually from the surrounding mountains.
While at the well-preserved amphitheatre, you will get some of the best views on the island of the Calabrian coast, the Ionian Coast, and Mount Etna. It is the perfect place to take some spectacular photos with sweeping views.
As this is such a popular attraction, purchasing a Teatro Antico di Taormina skip-the-line-ticket in advance is a good idea.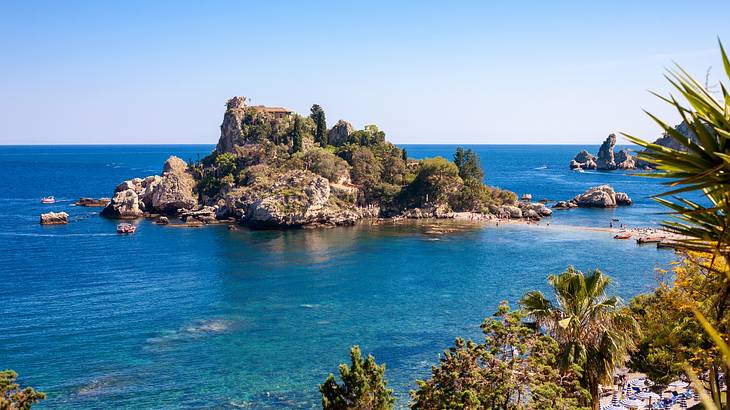 Isola Bella
Just 20 minutes from Taormina is the small peninsula island of Isola Bella. This white sand island surrounded by sparkling blue water is known as the "Pearl of the Ionian Sea."
Until the 1990s, this land was privately owned by Florence Trevelyan. It has since been converted into a nature reserve and popular tourist attraction. Isola Bella is also the ideal place to take a book and a towel, rent an umbrella, and soak up the Mediterranean sun.
For those interested in exploring the area a little more, you could book a hop-on-hop-off Isola Bella boat tour. This excursion will take you to the island, plus Lake Maggiore and Isola dei Pescatori, among other coastal stops.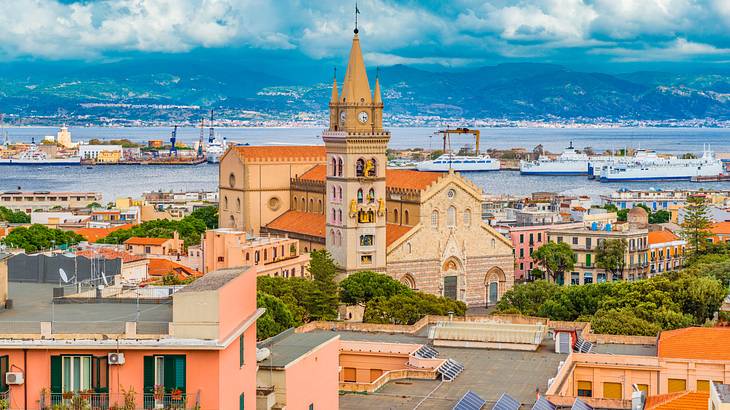 Messina
Situated just 40 minutes from Taormina is the city of Messina. This area once served as a Greek gateway to the Mediterranean sea and has the romance and grandeur you would expect from an ancient stronghold.
Once in the town, head straight to the Duomo, a 16th-century Catholic cathedral built by a protege of Michelangelo. You can go inside the cathedral to admire the architecture and cool down a bit. The interior is covered with a series of coloured tiles and frescos. The sheer size will leave you breathless!
From the cathedral, you can wander down to the Messina Regional Museum, which features an extensive archaeological section, a sculpture collection, and a painting gallery. This tour through Renaissance art is an excellent addition to your afternoon in Messina.
Another option for fans of The Godfather is to take a Messina Godfather tour. This excursion will take you to some of the movie's filming locations and a Sicilian meal and wine tasting are also included.
Those with a little additional time may want to visit the quaint town of Giardini Naxos, located in the Metropolitan City of Messina.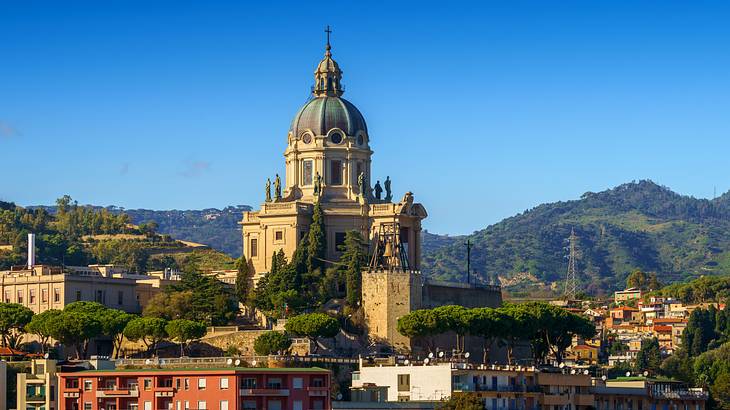 Tempio di Cristo Re
You can walk up the hill from Messina to your next stop Tempio di Cristo Re. The monument opened in 1937 and features a Baroque-style cathedral designed by Giovanni Battista Milani.
The walk to this attraction should take around 40 minutes, guiding you through the city's charming cobbled streets. You can also grab granita, an afternoon aperitivo, or arancini snacks from various street carts and cafes along the way.
Once you reach the hilltop building, you can enjoy stunning panoramic views of the city and the Mediterranean sea. On a clear day, you can even see mainland Italy!
Isola di Salina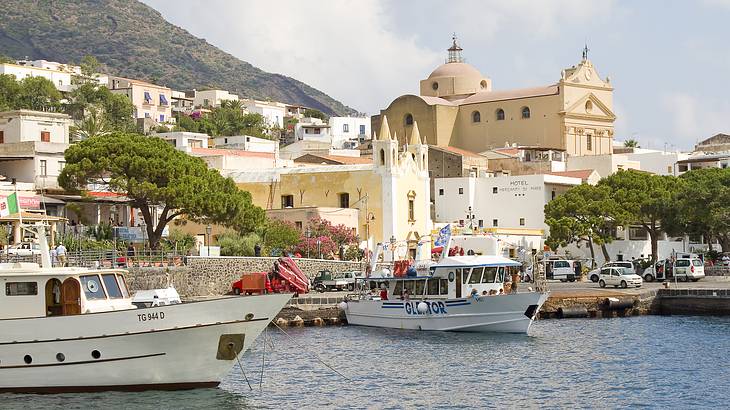 Located just two hours by ferry from Messina, Isola di Salina is the second-largest island in the Aeolian archipelago. It is also one of the best places in Sicily to visit, so don't leave it off your itinerary!
You can take your car on the ferry, which is worth doing for the ease of transport once you arrive. However, the island isn't particularly big, and this day of the itinerary will take you across most of the island's northern section.
Natural and historical landmarks to explore include Faro Di Punta Lingua and Area Balneare di Pollara. You can also have dinner and cocktails with amazing coastal views at La Pinnata del Monsu and Maracaibo.
In terms of accommodation, booking in Malfa is a good idea. Also, don't forget to book your 9 AM return ferry!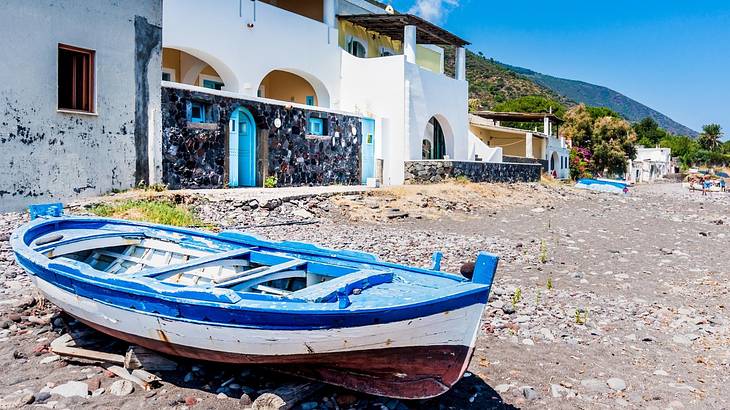 Isola di Salina
Salina is an Aeolian island with three main areas: Santa Marina, Malfa, and Leni. The island has amazing views, quaint villages, and delicious food. This area is especially well-known as a producer of olives, figs, capers, and citrus fruits.
Taking a full or half-day trip to Isola di Salina is a must and allows for a fun and relaxing day. To reach the island, you can take the early morning ferry at 8 AM from Milazzo on the northern tip of Sicily.
You can drive on with a rental car or walk on by foot and will land in Santa Marina Salina. On a calm day, this trip is lovely and offers stunning coastal views.
Faro Di Punta Lingua
Having explored Santa Marina a little, make Punta Lingua Lighthouse (Faro Di Punta Lingua) your next stop. The lighthouse was constructed in 1953 and sits on a stony beach between a salt lake and the ocean.
You can view the lighthouse and go inside to visit the Museum of the Sea. You can then spend some time on the beach, taking in the ocean vistas.
Area Balneare di Pollara
As featured in the film Il Postino, Area Balneare di Pollara is a cove in Malfa that is perfect for swimming. The snorkelling in this bay is also beautiful, and the water has good visibility. In addition, there is an ocean arch to the right of the bay that you can reach by swimming.
Many claim that this bay has the best sunsets on the island too. If you have some extra time, take a bottle of wine and some snacks and stay to watch the sunset over the Mediterranean sea.
La Pinnata del Monsu
One of the best places to eat dinner in Malfa is La Pinnata del Monsu. This coastal dining spot will spoil you with its imaginative menu and attentive staff. La Pinnata also has a delightfully calm atmosphere, welcoming families, couples, and solo diners with open arms.
The menu features freshly caught seafood, homemade pasta, and local, seasonal ingredients. Some great dishes to order include ravioli with caper pesto and ricotta, eggplant parmigiana, and seafood linguine. You can accompany your meal with wine produced in Salina, and homemade desserts are also available.
Relaxing with a delicious Sicilian dish and a glass of local wine while watching the sunset over the ocean can't be beaten!
Maracaibo
What better way to finish a sun-soaked day than with a cold beer, glass of wine, or cocktail looking out over a bay? Just a seven-minute walk from La Pinnata del Monsu is the cliffside bar Maracaibo. So if you don't want to end the evening after dinner, stopping here for some drinks is a fun idea.
If you want to try something a bit different, ordering a local drink of lemon granita and beer is recommended! This bar is a little more "beach shack" than fine dining, but it is a great place to stop for a drink, surrounded by a friendly atmosphere and beautiful views.
Cefalù and Palermo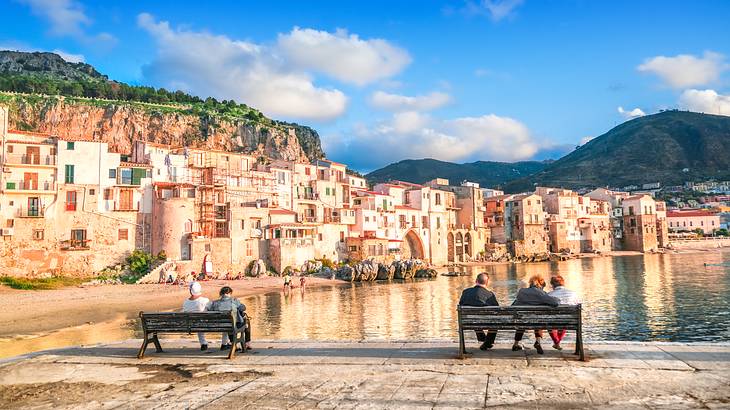 The next stops on your Sicily road trip itinerary are Cefalù and Palermo. These destinations are beautiful towns located on the western edge of Sicily and are a must-see when traveling in the area.
During the peak season, these destinations get inundated with tourists. However, this Sicily travel itinerary includes a few secret spots that aren't overly crowded.
Things to do during this part of your trip include seeing Rocca di Cefalù, shopping at the Palermo markets, and going on a guided walking tour of Palermo. It's a good idea to book your last two nights of accommodation in Palermo in preparation for your flight out. Conveniently, you'll find no shortage of excellent places to stay in Palermo when searching for accommodations.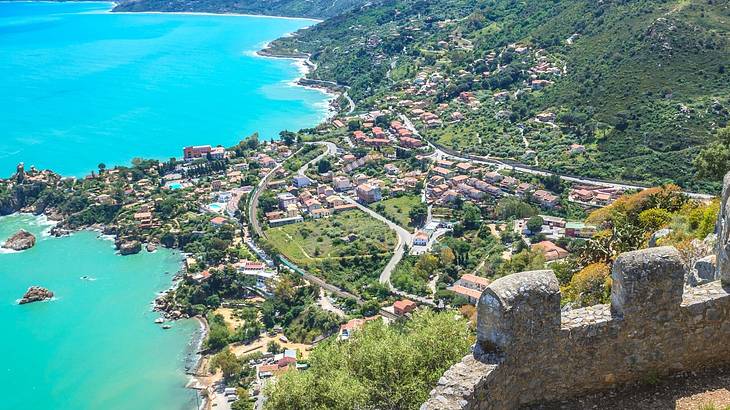 Rocca di Cefalù
Make sure you put on comfortable shoes for this activity and start your day as early as possible to avoid walking during the hottest part of the day.
Once in Cefalù, head up the town's main mountain via a series of steps to the city's medieval old town. As you follow the route, look for signs for the Norman castle, Rocca di Cefalù.
When you reach the Norman fortress, located 278 steps above the main Cefalu town, you can admire the stunning views of the city and the bay. After seeing Rocca di Cefalù, walk another 20 minutes up the hill to the Promontorio de Torre Caldura, a lookout built in the 16th century.
On the way down, you can also visit the Temple of Diana (Tempio di Diana.) While the ruin is in disrepair, walking the ancient hallowed ground is a memorable and unique activity.
Al Faro
After seeing some famous landmarks, you can stroll along the Medieval seafront walk (which is featured in the movie Cinema Paradiso) to find the Capo Cefalù Lighthouse.
Right at its base on Via Giudecca is a great little restaurant called Al Faro, which serves simple seafood and pasta dishes. You can enjoy your meal on the cliffside terrace overlooking Giudecca Reef.
After eating, you could even head down to the beach located along the medieval wall. It is quieter than the Cefalù's main beach and is ideal for snorkelling. Once you're ready to leave, begin the hour drive to Palermo.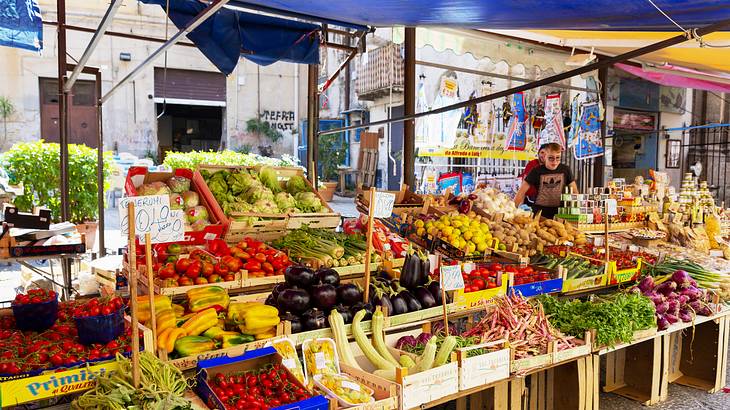 Palermo Markets
One of the top things to do in Palermo is to explore the markets. The markets of Palermo are filled with a kaleidoscope of colours and smells. Heading to the markets once you arrive in the city for an afternoon snack is a great idea.
Capo Market is an excellent place to start. From there, you can walk for ten minutes to Ballaro Markets. Both feature merchants selling local cuisine and souvenirs. Some popular food items to buy include fresh local plums and chocolate-covered strawberries. The markets are also the perfect place to practise your Italian!
If you have extra time, you may want to book a Palermo markets and street food tour. A local guide will show you around, teaching you about the city's history and taking you to the best market stalls.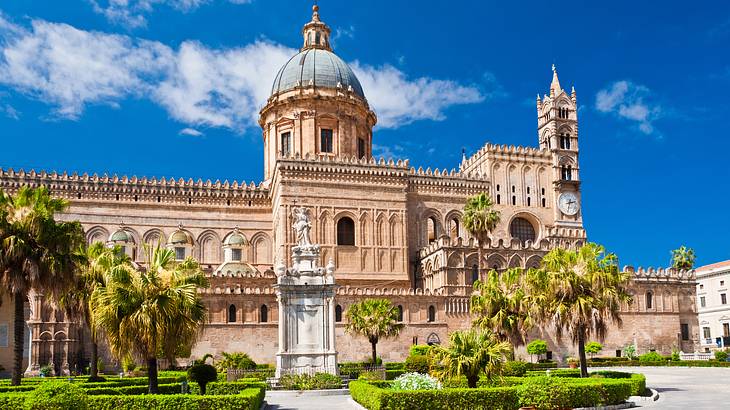 Palermo Walking Tour
An ideal way to see the best landmarks in the city is by taking a guided Palermo art and architecture walking tour. Once you've explored the markets, you can join the tour that will take you to an array of landmarks.
Places to visit on this four-hour tour include Teatro Politeama and Teatro Massimo, Cappella Palatina, and Palermo Cathedral. As you go from stop to stop, you can also admire the many beautiful Baroque buildings that fill the city.
Once the tour is over, head to Quattro Canti, just 10 minutes from I Candelai, where you will have dinner. If you find yourself with more time and an inclination to walk, you can also go down to Bellini Square and onwards to the city port, dubbed the Cala.
I Candelai
Located off Via dei Candelai, I Candelai (or the Cultural Association Candelai) is a cultural hotspot. Locals and tourists are drawn to the attraction for its live music scene featuring local and international acts.
The venue also offers theatrical performances, tango and salsa lessons, film screenings, and dance nights. Check their online schedule to see what's on during your visit!
Trip to Corleone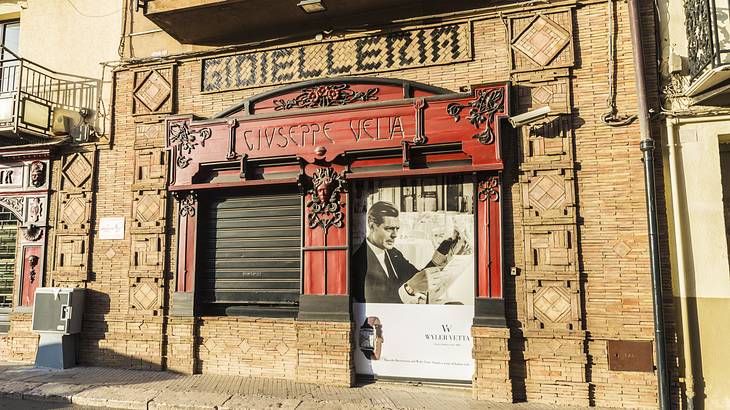 The last day on your itinerary for Sicily will be spent exploring Corleone. While ancient empires and history still have a mark here, Corleone's history has more recently been tied to that of the Mafia. However, even if you are not interested in mafia history, the sights, vistas, and beauty of the area are enough to enchant anyone.
Corleone is a one-hour drive from Palermo and offers a different kind of landscape and history. You can also stop in Monreale, a fantastic Norman cathedral, and Piana Degli Albanesi.
Once in Corleone, you can visit a Mafia museum and explore Ficuzza, a nature reserve that surrounds Corleone. Finally, you will end your trip with delicious traditional pizza at Pizzeria Frida.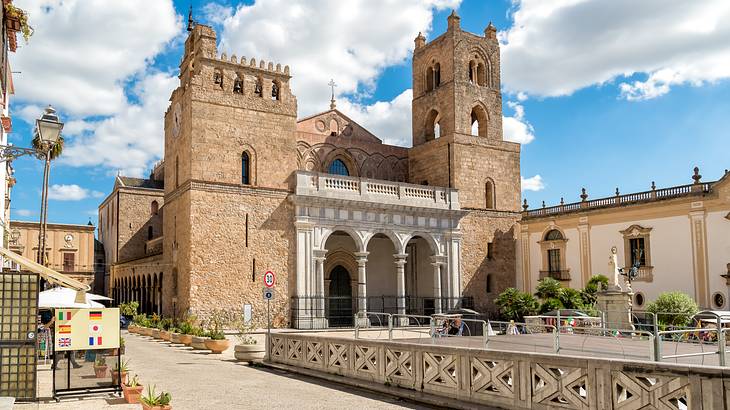 Monreale
Monreale, located on the southern outskirts of Palermo, is an unassuming hillside town. It is also home to a UNESCO World Heritage Site, Cattedrale di Monreale.
This massive Norman cathedral contains medieval-aged mosaics preserved in near-perfect condition. The opulent gothic, gold church is genuinely astounding! The cathedral is unique because William II incorporated Norman, Byzantine, Roman, Arab, and classical architecture into the design.
To best enjoy the church, organize a Cattedrale di Monreale guided tour. After exploring the cathedral, you can head outside to admire the views across the Tyrrhenian Sea and the Golden Valley.
Piana Degli Albanesi
Half an hour from Monreale is the commune Piana Degli Albanesi, usually shortened to La Piana. This small mountain village is famous for its cannoli and Albanian history and culture. The community keeps these unique traditions thriving through language and religious practice.
If you are interested, the town features an anthropology museum containing traditional Albanian clothing and historical artefacts. You can also walk up through the village to St Demetrius, a Greek Rite Church with impressive frescoes.
But the best part of La Piana? The Cannoli! Even if you skip everything else in La Piana, stop and try the cannoli at one of the bakeries in the main square. These ricotta-stuffed sweet pastries are absolute heaven.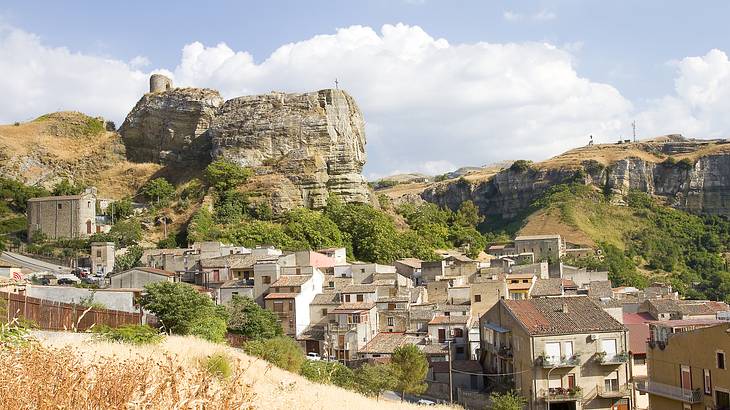 Corleone
Just under an hour away from La Piana is Corleone. The star attraction here is Centro Internazionale di Documentazione sulla Mafia e del Movimento Antimafia, often shorten to CIDMA or The Mafia Museum.
As the name suggests, this museum covers mafia history. Exhibits cover various mafia bosses who hailed from Corleone. The CIDMA focuses on presenting an informative view of the Mafia, so expect no glorification of these criminal groups here.
The museum tour takes a little over an hour and can be done with a guide or solo. Even if you aren't that interested in Mafia history, this museum is fascinating and offers a one-of-a-kind insight into the background of Corleone.
Ficuzza
Corleone lies in Ficuzza, a hamlet and natural park which stretches over seventeen thousand acres. Once in the area, take a walk to the Royal Palace to browse botanical gardens and wide-open lawns.
Alternatively, head out towards the Cascata Delle Due Rocche, where you admire a magical waterfall and do some hiking. You also have the chance to see wildlife such as foxes, weasels, hedgehogs, and even wolves.
Pizzeria Frida
After a jam-packed five days in Sicily, you can end your trip relaxing on a terrace with some classic Italian pizza. Once back in Palermo, wander to Piazza Sant'Onofrio to find Pizzeria Frida. It's a favourite with locals and has been named one of Italy's top pizzerias by various publications.
The eatery is always busy, so it pays to book ahead or arrive early. When ordering, you can choose between thin crust, classic Neapolitan, or the restaurant's unique square pizza with a stuffed crust.
If you find Pizzeria Frida too busy after a long day of sightseeing, Tredicisette on Via Siracusa also offers some fabulous pizza using only local ingredients. The price may be a bit higher than Pizzeria Frida, but you are more likely to find a table and a peaceful atmosphere.
In Conclusion
If you have been wondering what to see in Sicily in 5 days, this itinerary should have shown you how much sightseeing is possible.
Sicily offers a world of escapes, from beaches to charming towns and historical sites. Sicily has it all! A road trip around Sicily is one of the best ways to explore the island, and this guide has highlighted a few cities you can't miss seeing.
If you have time, other places to visit include San Vito, Ortigia Island, Ragusa, and Noto. Agrigento, an ancient city and Unesco World Heritage Site, is also a great area to check out.
As you drive from place to place, don't forget to try an array of incredible Sicilian dishes and stop to admire the views as much as you can!
Hopefully, this Sicily travel guide has provided you with inspiration for your trip. Whether you go to every stop or customize it to your needs, you will surely be amazed by this beautiful Italian island!
Give us feedback about this article
More visual stories related to this article:
Want to keep exploring?
Subscribe for discounts on tickets and hotels and our latest guides.
Thank you for subscribing
We will be in touch soon with discounts on tickets and hotels and our latest guides.
Want to keep exploring?
Subscribe for discounts on tickets and hotels and our latest guides.
Thank you for subscribing
We will be in touch soon with discounts on tickets and hotels and our latest guides.