3 Days in Luang Prabang Itinerary
Destguides may receive commissions from purchases made through affiliate links in this article.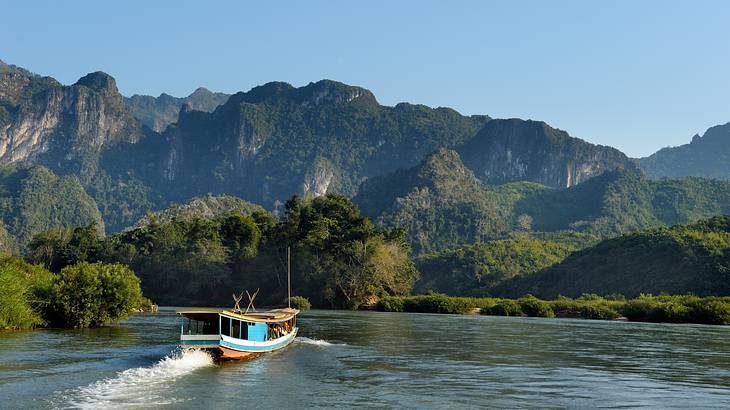 Luang Prabang (meaning Royal Buddha Image) is a city in north-central Laos with a population under 10 million. It is about a 4-hour drive from Vang Vieng - another beautiful town in Laos full of adventurous activities and limestone cliffs. Nam Khan River runs through the city and contributes the most water to the Mekong River.
Luang Prabang is considered to be the spiritual capital of the country as it is an ancient city that is very religious. It is made up of 58 villages, of which 33 fall under the Town Of Luang Prabang on the UNESCO World Heritage Site List.
While Luang Prabang is very popular among tourists these days, it remains relaxed and not too overcrowded. The city is home to various temples and other religious buildings, waterfalls, museums, restaurants, bars and traditional food markets. It has a mixture of modern and traditional elements, which makes the city more attractive to tourists.
You can easily spend weeks in Luang Prabang. However, if you are short on time, this itinerary will let you know the best things to do while you are here.
During the day, you will visit beautiful temples, taste authentic traditional food and see real natural beauty. While this itinerary was created with backpackers in mind as Laos is a cheap Asian country to visit, it is suitable for anyone who wishes to explore this ancient city.
You can reach Luang Prabang by slow boat from northern Thailand (Chiang Rai), or by catching a coach bus from the capital Vientiane (for budget-conscious travellers).
3 day itinerary
Average of 4 stops per day
3 Day Luang Prabang Itinerary
The Traditional And Spiritual Side of Luang Prabang
Luang Prabang has more than 30 traditional religious buildings within its small city center. Religious buildings (temples) are important to Luang Prabang's history and have a big impact on the local people's lives. For example, every morning, you can usually hear chanting and see monks walking from one temple to another.
It is possible to dedicate a couple of days visiting all of the temples. However, this itinerary's first day covers only the most unique and beautiful temples in Luang Prabang.
Of course, if you have some spare time after exploring the recommended temples, feel free to take a look at other ones.
Also, take into account that not all the temples allow visitors to go inside them, and some of them close earlier than others, so you will only be able to admire them from outside if you arrive after closing hours.
Visit The Temple of Many Names: That Pathum (That Mak Mo) – the 'Watermelon Stupa'
That Pathum (formal name), also known as That Mak Mo, is the oldest temple (stupa) in Luang Prabang. It was built in 1503 and nicknamed the 'Watermelon' Stupa due to the roof having an oval shape. Its actual name means The Stupa of the 'Great Lotus'.
It is located in the Wat Visounnarath temple, so people also tend to call it the Stupa Wat Visounnarath. The entrance is free of charge.
Do dress appropriately when visiting religious sites, such as temples and stupas, in Laos.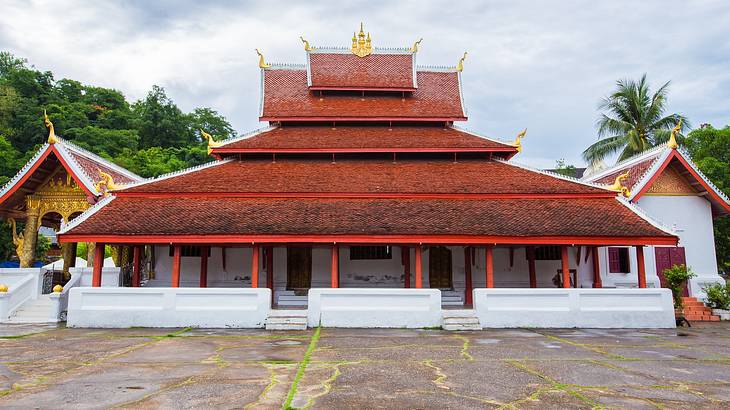 The Stunning Wat Mai Suwannaphumaham
The second stop of the day is Wat Mai Suwannaphumaham, simply called Wat Mai or Wat May. This temple is the most richly-decorated Buddhist temple in Luang Prabang. It was built in the 18th century and to this day remains one of the most visited and prominent temples in the city.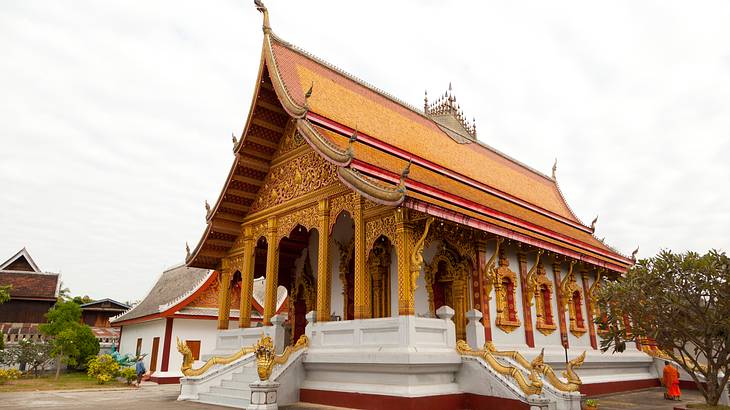 Wat Nong Sikhounmuang - The 'Dragon' Temple
Wat Nong Sikhounmuang is well-known for its 5-headed dragon sculptures on its front steps. The design of the temple is also full of the smallest details that make it even more unique. It was built in 1729 and is one of the biggest and most beautiful temples in Luang Prabang.
The Golden City Temple - Wat Xieng Thong
Wat Xieng Thong is also known as the Golden City Temple and is considered to be the most beautiful temple in Luang Prabang. It was built in the 16th century and has served as the main temple of the city.
Today, Wat Xieng Thong holds annual festivals and welcomes thousands of tourists each year. You will need to purchase entrance tickets and cover your shoulders once again. Do carry around a scarf with you, or you might need to pay for a shoulder cover.
The Natural Beauty of Luang Prabang and the Night Market
On your second day, you will head out of the city to visit the most beautiful and relaxing places, such as Kuang Si Falls and Pak Ou Caves. You will also have a chance to get up close and personal to Asiatic bears at the Bear Sanctuary (Rescue Centre) and try traditional street food at Luang Prabang's famous Night Market.
Kuang Si Falls and Pak Ou Caves are within close distance of Luang Prabang city and can be reached by local buses, minivans or rented motorbikes/cars. It is recommended to avoid the local buses and take minivans (for tourists) as they are quicker.
Alternatively, rent your own means of transport, such as a motorbike, but do drive carefully and wear the helmet that is given to you. Also, there are entry fees, so be prepared to pay for the above places to enter them.
The Thrilling Pak Ou Caves Experience
Pak Ou Caves complex is only 25 km north of Luang Prabang and can be explored on your own or with a group of other travellers.
The complex dates back thousands of years and is popular due to its more than 4000 Buddha icons. It has two caves, Tham Ting and Tham Theung, which serve as shrines for the river spirit and Lord Buddha.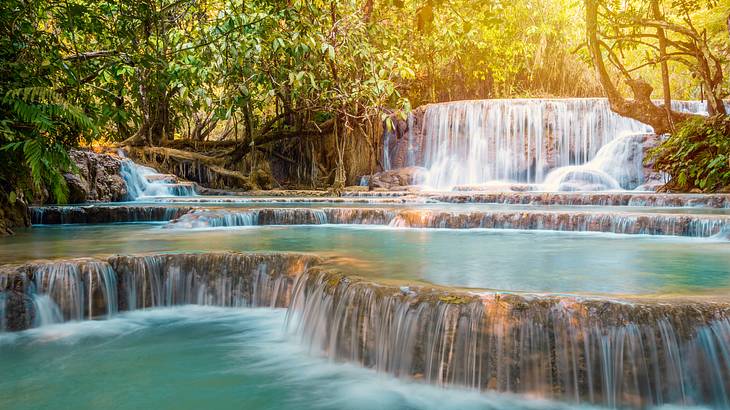 A Tour of the Beautiful Kuang Si Falls
Kuang Si Falls is located about 29 km outside of Luang Prabang. The falls are about 50 m high and can be hiked up (takes about 40 minutes each way).
The incredible thing about Kuang Si Falls is that you can swim in its natural turquoise pool, so don't forget to pack your swimwear!
Get Close to Bears at Tat Kuang Si Bear Rescue Centre
Once you are finished with your swim, head back to the entrance to Kuang Si Falls and visit the Bear Rescue Centre. There is no entrance fee as a charitable organisation runs it, so make sure to purchase some gifts from the centre's gift shop instead to give back.
At the centre, you will be able to see 38 beautiful moon bears (Asiatic bears) that were rescued from poachers. Spend some time at the centre just roaming around and watching the beautiful bears playing around.
Enjoy Traditional Food at the Night Market
Luang Prabang Night Market is famous for being a 'foodie paradise' and is held every night from 5 PM. The market has everything from fabric booths to never-ending street food stalls.
The night market is also probably the cheapest place to buy some clothes and souvenirs and to taste delicious Laos food that is freshly prepared in front of your eyes. Make sure to try some fruit bowls, bbq meats, noodles, an Asian version of baguette sandwiches and their baked goods.
If you are craving western food, you will find a couple of stalls that sell various types of this too.
Unique Luang Prabang Experiences
You are going to spend your last day exploring unique and fascinating locations in Luang Prabang, which will allow you to get to know the city even better.
It will start with an exciting boat ride from downtown Luang Prabang to Pha Tad Ke Botanical Garden, which is where you will have a chance to see rare plants.
After, you will visit the Royal Palace Museum and Heuan Chan Heritage House Cultural Center, which offers visitors various types of hands-on activities.
Your final stop of the day will be the show-stopping Mount Phousi - it has the best sunset viewing point in Luang Prabang and is considered to be the sacred mountain of the city.
Pha Tad Ke Botanical Garden
Pha Tad Ke Botanical Garden can be reached by boat from downtown Luang Prabang, which is conveniently included in the Botanical Garden admission fee. The Botanical Garden is a massive relaxing garden filled with palm and bamboo trees, orchids, and other rare plants.
The most popular area in the garden is called the Ethno-botanic Garden, which is where you can learn about Lao people's relationship with plants, their gardens, and what kind of herbs they use to produce natural medicine. After exploring the garden, take a minute to sit down at the café to relax.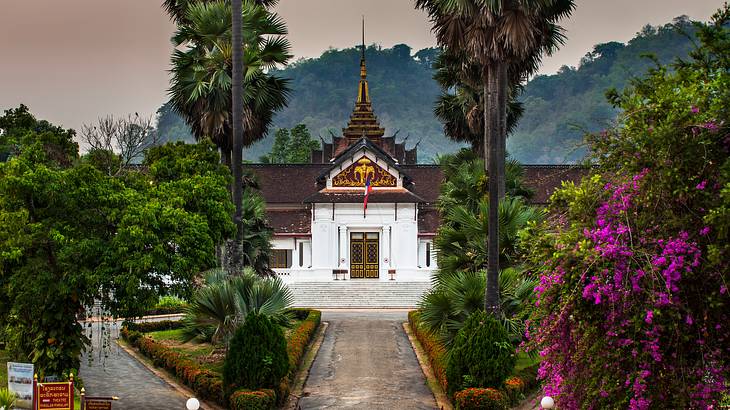 Learn Something New at the Royal Palace Museum
The Royal Palace Museum once served as the residence for the famous King Sisavang Vong, but in 1995, it was converted into a museum.
You will have a chance to explore the various parts of the palace, including the royal chapel, quarters and exhibition hall, and see a statue of the late King.
While exploring, spend more time at the exhibition hall, which is where you will see the crown jewels of Laos, royal religious objects, weapons, statues, screens and paintings.
Experience Local Life at Heuan Chan Heritage House
Heuan Chan Heritage House is a traditional house that was converted into a museum and cultural centre. Once here, you can participate in various types of hands-on activities related to the local people's lives, such as cooking traditional food and making traditional crafts.
ven if you don't spend any time participating in any activities, you can sit down in the garden café and relax. It is also a highly recommended place for lunch!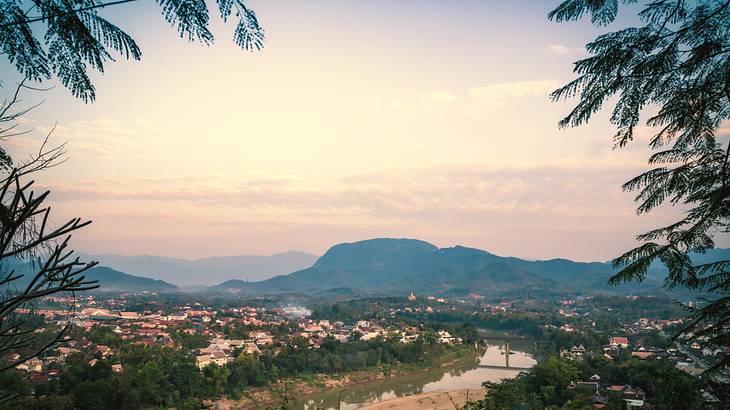 Sunset at Mount Phousi
Your last stop in Luang Prabang is a 100 m hill in the middle of the old town - Mount Phousi. It is the highest hill in the city and offers a majestic landscape of the temples, surrounding mountains and river.
Be prepared for a little bit of a sweat as the only way to reach Mount Phousi is by taking its 300 steps up and down. At the top, you will find a famous shrine called Wat Chomsi, so take a moment to appreciate it.
After that, grab a nice spot and wait for the sunset as according to the locals and tourists, Mount Phousi is the perfect spot for it. Don't forget your camera, too!
Also, don't mind the signs that say the mountain closes at 6 PM as those signs are for the shrine itself.
In Summary,
I hope this three days in Luang Prabang Itinerary has given you some ideas for the top things to do in Luang Prabang.
If you are visiting other cities on your tour of Southeast Asia, then make sure to refer to some of Destguides' other top guides on the region for guidance, such as Bangkok, Phnom Penh, Ubud, and Bagan!
---
---
Want to keep exploring?
Subscribe for discounts on tickets and hotels and our latest guides.
Thank you for subscribing
We will be in touch soon with discounts on tickets and hotels and our latest guides.
Want to keep exploring?
Subscribe for discounts on tickets and hotels and our latest guides.
Thank you for subscribing
We will be in touch soon with discounts on tickets and hotels and our latest guides.
Related articles