22 Best Weekend Getaways From KL, Malaysia
Destguides may receive commissions from purchases made through affiliate links in this article.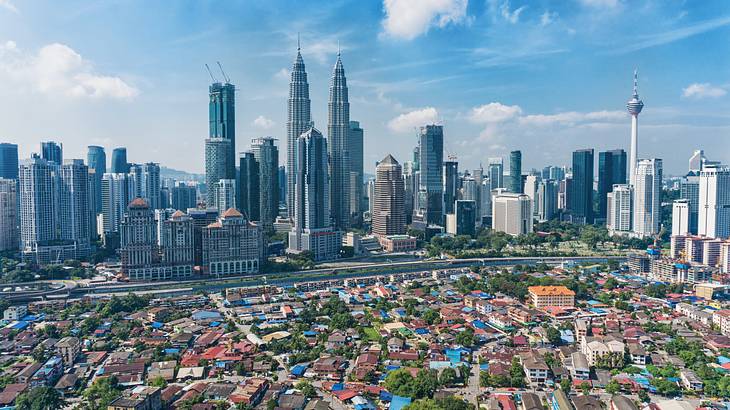 Kuala Lumpur is a fantastic location, and while it stands out as the Malaysian capital, there are plenty of other places to visit when traveling in Malaysia.
If visiting Kuala Lumpur (or KL for short), you should consider planning a trip to at least one nearby area. Malaysia is one of the cheapest Asian countries to visit, which means planning a short getaway from KL doesn't need to break the bank.
From gardens to beaches, every town and city surrounding KL is unique in its own way. Each spot is filled with culture, food, history, and so much more.
Whichever getaway you choose, you'll discover fascinating facts about Malaysia that you may not have known before visiting. You'll also love learning about and experiencing the Malaysian lifestyle and culture.
With so many spots for KL weekend getaways in Malaysia, it can be tough to choose which ones to travel to. Nevertheless, there is something that fits every traveler's criteria, and these 22 best weekend getaways from KL will not fail to impress you!
22 KL Weekend Getaways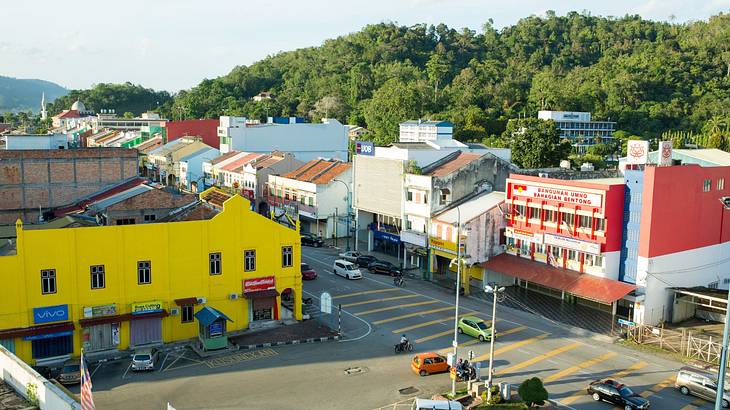 Bentong
Situated in West Malaysia, Bentong is only one hour away from Kuala Lumpur, providing a peaceful escape from the hustle and bustle of the large city. Venture through the markets and food stalls that are put out every Saturday night, and take in the charm and culture of this small town.
Love eating quality (and flavorful) ice cream? Then head over to Kow Po and indulge in some homemade goodness. This local favorite has been in operation for over 40 years and has an excellent reputation with many hungry locals stopping by, especially on weekends!
One of the best tourist attractions that Bentong has to offer is factory tours. A tour to Kicap Bentong Soya Factory is recommended for an up-close look at the process of fermenting soybeans to create savory soy sauce.
Alternatively, learn how to make tofu puffs, the recipe for which has been made in Malaysia and passed down generations for over 100 years, at Bentong Tofu Puff.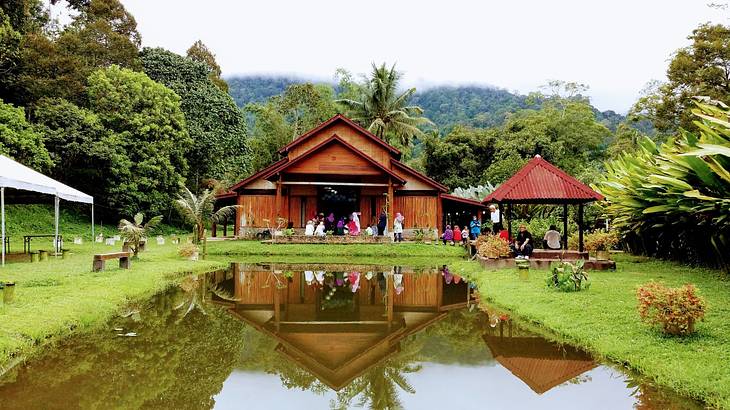 Janda Baik
Janda Baik is a tranquil hilltop village located in Bentong District, about a 40-minute drive from Kuala Lumpur. Surrounded by pine tree forests, it's the perfect spot for a very relaxing weekend getaway from Kuala Lumpur.
This area is perfect for nature lovers, with most activities centered around the village's natural surroundings. There are many hiking trails to follow, leading through forests to waterfalls and rivers. A popular place to visit is Lata Tampit, a seven-tiered waterfall that's perfect for swimming and hiking around.
Another exciting place to check out is A Little Farm on the Hill. This quaint farm cafe serves dishes made with homegrown ingredients. They also offer workshops, including gardening, plus yoga and cooking classes.
You'll also discover a range of other unique cafes and restaurants in Janda Baik. Pinto Coffee, offering freshly brewed coffee and tasty desserts in a rainforest setting, is recommended. Purple Cane Tea Restaurant is another good choice. They serve a selection of teas along with a selection of vegetarian dishes.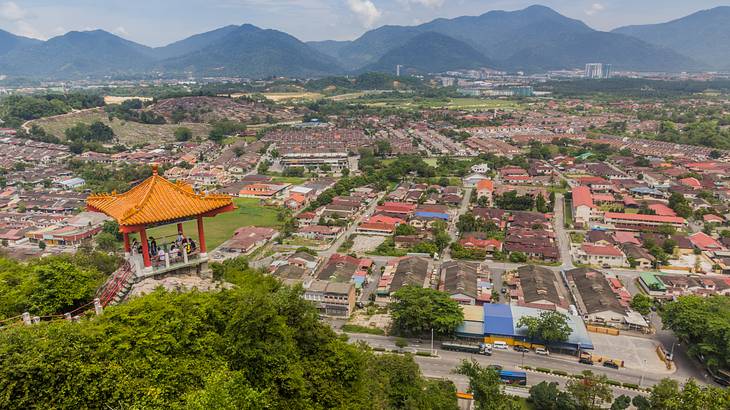 Ipoh
Ipoh, the third-largest Malaysian city, has been attracting travelers and locals for many years. The town is home to the oh-so-popular white coffee and additionally features beautiful historical architecture. Ipoh is truly worth exploring!
A must-visit is Nam Heong. Operating for over 60 years, Nam Heong and its chefs have always been dedicated to making quality dishes that everyone will enjoy.
One of the items that both locals and vacationists love to order is their iconic white coffee served in vintage coffee cups. Enjoy a cup of coffee with egg tarts while taking in the loveliness of the old-school shop to feel like a local.
If you love Malaysian street food, stalls, and markets, be sure to stop by the uneven street known as Concubine Lane. Built-in 1908, it was initially used by British officers and Chinese Magnates.
Today, it is open to the public with all of the structures and architecture preserved from the early 1900s. It is the perfect place to shop, take photos of 100-year-old streets, and of course, appreciate the historic architecture.
Every town in Malaysia has its most popular dishes, and the Ipoh Chicken Rice and Gai Si Hor Fun, or shredded chicken noodles, are part of what makes Ipoh so unique.
If you're in the mood to grab some chicken rice, head over to restaurants like Lou Wong and Cowan Street. The shredded chicken noodles can be found at almost every restaurant and cafe in Ipoh, and won't be hard to find since it's a local favorite.
Halal food is also available in Ipoh, so it's the perfect destination for people who eat Halal cuisine. Not only do they have their famous Halal Chinese food, but there is a variety of Halal verified restaurants that serve other foods as well.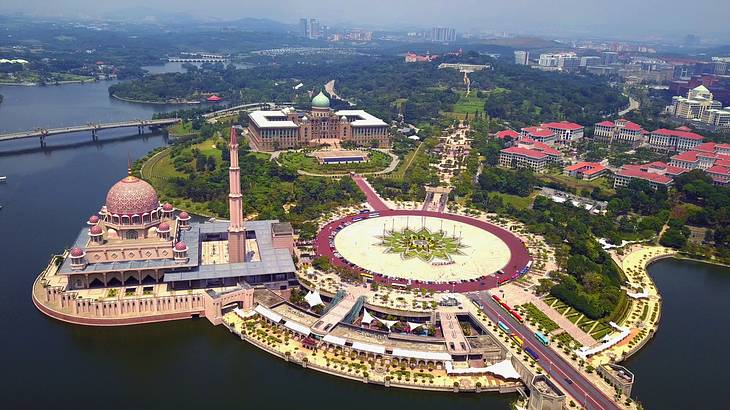 Putrajaya
As you venture through Malaysia on your short vacation from KL, you will most definitely hear about the modern city, Putrajaya. The town is located just 40-minutes south of Kuala Lumpur, making it an easy to access destination.
The development of buildings and other structures in this area only began in the early 1990s, which is why the city is seen as a very modern and cosmopolitan one. Additionally, Putrajaya's greenery and fascinating parks help add to the area's beauty.
One of Putrajaya's top Asian landmarks is the Putra Mosque, which can accommodate up to 15,000 people. Situated on a beautiful lake, the mosque's architecture is inspired by various Islamic styles and looks terrific both up close and from afar.
Visitors are welcome, but both men and women must wear clothing that covers themselves, and robes are provided when visiting if needed.
Another great way to view the city is by taking a cruise known as Cruise Tasik Putrajaya. You will be able to sightsee and enjoy this relaxing ride on your choice of either an air-conditioned 76 seater boat or a gondola.
Not only do you get to see the city's bridges and the Putra Mosque, but the knowledgeable staff will also provide you with information and history on each place that you visit.
The Putrajaya Botanical Garden is another recommended attraction in Putrajaya. It's the perfect place to go if you enjoy gardens, flowers, plants, and things of that nature. As you venture through the beautiful parks, you'll be able to view many species of orchids and various types of trees, among other flora and fauna.
With a mixture of eastern and western architecture, the Prime Minister's office holds lots of power in Malaysia. Although it is not open for tours or to the public in general, this government building and its surrounding area are very wonderful to see.
Completed in 1999, the PM's office offers a beautiful view of Putrajaya, as well as his residence across the lake.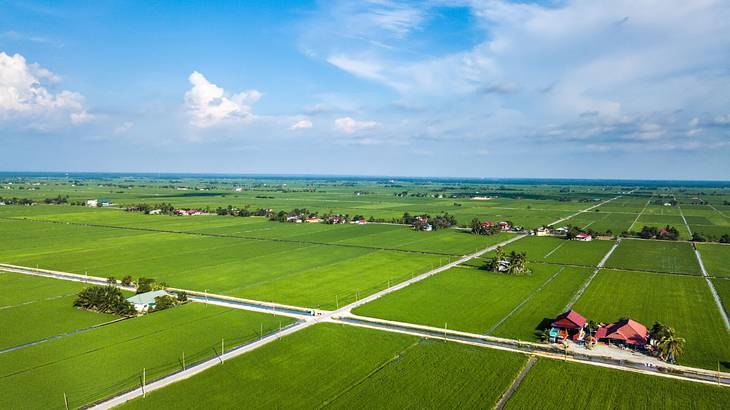 Sekinchan
Being a small town on Malaysia's west coast, Sekinchan attracts many people craving a break from the busy city environment. Located just under one and a half hours from Kuala Lumpur, this destination offers the perfect change of scenery.
There are also a countless number of activities that you and your family can enjoy to the fullest. If you love greenery and nature, why not stop by Sekinchan's endless paddy fields? You can take many cool photos in the green fields, complemented by a stunning blue sky.
You can learn more about the paddy planting process by taking a paid tour at the Paddy Processing Factory & Gallery. You have the option to explore the area and retail store for free as well.
Famous for its Wishing Tree and "I love Sekinchan" sign, Pantai Redang is a beach that you should make your next stop. From seaside snack stalls to coffee shops, this place is appreciated by both locals and tourists that visit.
One of the attractions that you should see here is the unique N.16 Bus Cafe, which is literally a cafe on a bus!
Once you start exploring Sekinchan, you will slowly begin to take in the culture and tranquillity it has to offer. Besides the outstanding restaurants and cafes scattered across the town, Sekinchan is also best known for its fishing villages, Bagan being the main one.
Bagan's economy depends on the fishing industry, and you can find many delicious seafood restaurants here.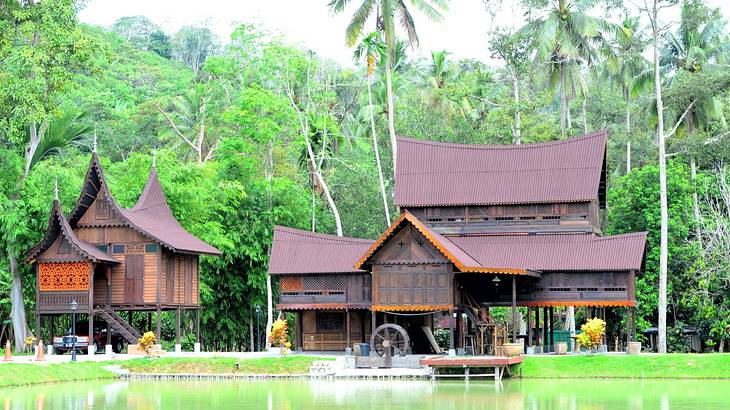 Seremban
Seremban, previously called Sungai Ujong, is a very cultural and fun area to visit when taking a short vacation from KL. Seremban's main attraction is the Centipede Temple, and it is also popular for its malls, food, and beautiful architecture. Seremban is just under an hour away from Kuala Lumpur when driving.
Begin your adventure in Seremban by exploring the nature of the highest peak in Negeri Sembilan; Gunung Angsi. Located in a forest, this famous hiking spot is 825-meters high and attracts people from many surrounding areas.
Although it is a large mountain (that you could get lost in without a proper tour guide), hiking it is a great way to appreciate the area's nature and beauty.
Shopping malls are frequented by Malaysian residents, and this mega-mall located in Seremban is not one to overlook. Palm Mall is surrounded by palm trees and offers 187 shopping and dining options.
You have many things to do here, including purchasing souvenirs to remember your trip and buying some clothes to wear around town. If looking to splurge a little, there are endless luxury goods options at this mall too.
Love adorable cats? Then be sure to take some time to go to Seremban's best cat cafe—Cat Town. This tourist favorite is very appealing to children and families, and the cats are well-groomed and friendly. If after a snack, they serve delicious coffee and waffles to enjoy with your new feline friends.
Cat Town's owner is also very knowledgeable about the residing cats and their stories, so don't hesitate to ask more about the little ball of fur you're playing with!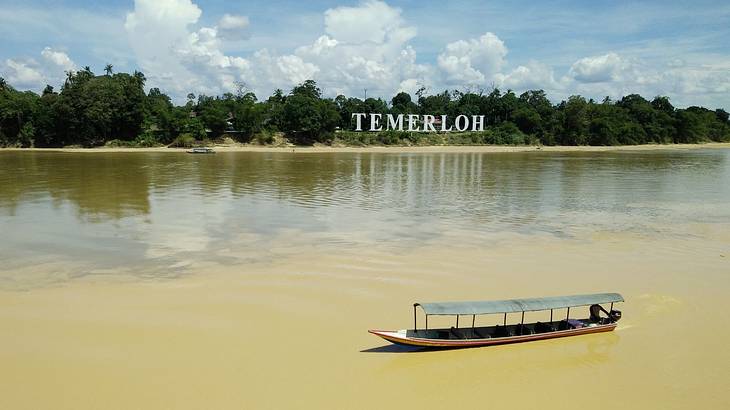 Temerloh
Temerloh, a municipality in Central Pahang, is the second largest town in Pahang after the state capital of Kuantan. It's located an hour and a 40-minute drive from Kuala Lumpur. Loaded with Malaysian culture and history, Temerloh is a municipality with lots of spots to check out. The recent growth of this Malaysian town has allowed it to develop sanctuaries, museums, reserves, and much more.
Shopping is a big part of Temerloh residents' lives, and the weekly bazaar that opens every Sunday is always packed with locals. Pekan Sehari sells products on both sides of the road and offers delicious food, including various kinds of fish. Chicken rice is also a popular delicacy here.
If you're the person that loves the idea of fishing on a hot summer day, then this is a great place to visit. Temerloh's visitors usually go to Pahang River, one of the best fishing grounds in the area.
There are many different species of fish and water prawns, and fishing here will surely be a highlight of your vacation. In some villages, you can even rent a motorboat or canoe to move around the river. So, bring your best fishing equipment, search for a secluded area, and begin fishing!
Along with fishing, the Pahang River is also famous for river rafting and tubing. Ever since the first Pahang International River Rafting Expedition was held in 2001, many tourists and locals have been coming to experience the excitement of river rafting. Be sure that you take necessities, such as food, clothing, and bug spray, and enjoy the adventure.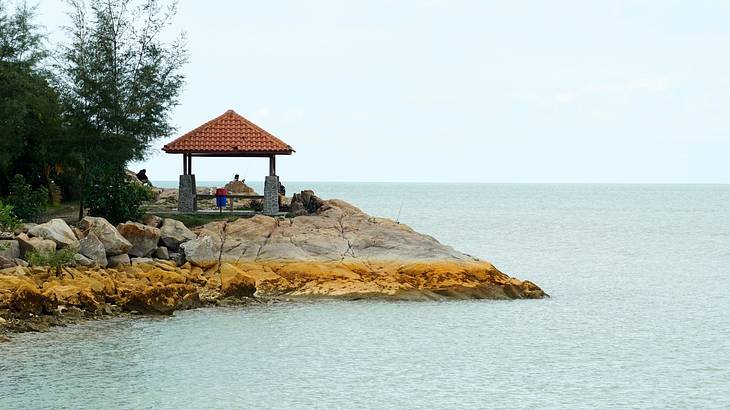 Batu Pahat
Situated in Johor Bahru, the town of Batu Pahat is a hidden gem in Malaysia that is worth exploring when going on a weekend trip from KL. Many locals like to vacation in Batu Pahat as well, making it a popular holiday spot.
Stunning beaches, forests, and more are what attract travelers to this peaceful town. Despite being three hours from Kuala Lumpur, you should make plans to visit.
If you have a sweet spot for beaches, then you should check out Pantai Minyak Beku, also called Frozen Oil Beach. This sandy beach has a unique name, but with history attached to it. Years ago, Siamese soldiers came to this very beach to dig up a well to get water. But, instead of clear water, they found rich oil.
To honor this moment, there's a historical plaque located by the Tourism Ministry that provides more facts and details about this historical event. Picnicking and fishing are two of the top activities that visitors like to participate in here. There is a ferry terminal at the village where you can hire a fisherman to give you a short boat ride.
Green forests are an incredible sight, and the Soga Perdana Amenity Forest is one that appeals to many. You can choose to trek in the beautiful forest or explore the reserve and snap a couple of pictures with the fascinating wildlife you find.
Additionally, you also have the fantastic opportunity to have a bird's eye view of Batu Pahat from the lookout tower, which allows you to see the town's beauty. Another natural area you can visit in Batu Pahat is Taman Rekreasi Tasik Y, which is a lakeside recreational park. Join locals as they jog, cycle, walk, socialize in this beautiful park made for the community, and appreciate the dazzling lake and cool breeze.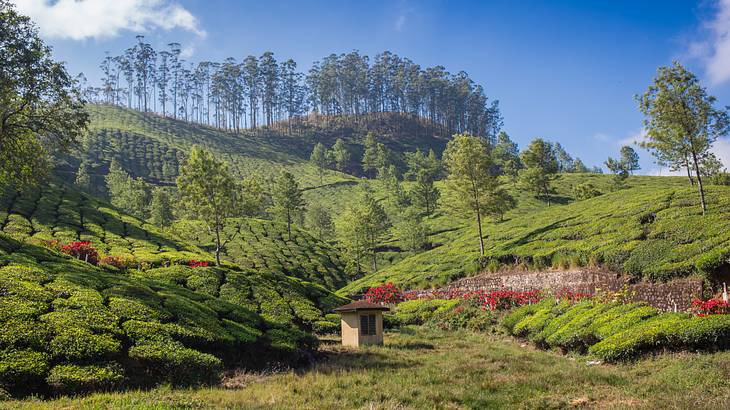 Cameron Highlands
Greenery, farms, villages, and mountains are only a handful of attractions you'll see in the Cameron Highlands. Both locals and vacationists swarm this area found three hours from Kuala Lumpur when driving.
Dating back to the 19th century, the area was founded by Sir William Cameron, a British colonialist. Cameron Highlands was created for guests to enjoy their summers in the cool climate that the site has to offer, and that is still the area's goal today.
With lush green terraces and a wonderful tea shop, the Boh Tea Company's plantation is the perfect attraction for tea-lovers. Learn how this famous Malaysian tea company harvests and grows their tea, and experience the fun that comes with it. The tea shop is also a must-visit, with signature brews available to sample.
Orang Asli, meaning 'Original People' in Malay, refers to the people who reside in the Cameron Highlands villages. There are countless villages scattered across the Highlands and on the main road that takes you to Tanah Rata.
Raju Hill Strawberry Farm is well-known, both by residents and tourists, for its tasty and juicy strawberries. Located in a foggy dale, this farm is the perfect place to visit (especially with children) to pick up to half a kilo of strawberries to eat later on.
There is a small cafe that you can pick up an English cream tea from as well, or even some fresh strawberry jam and/or juice.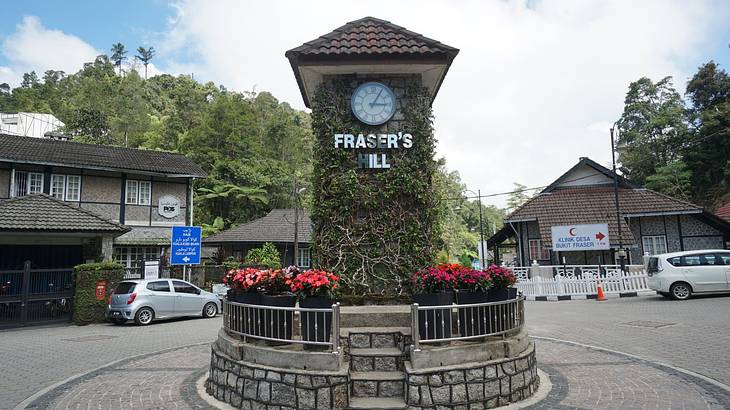 Fraser's Hill
Along with the Cameron Highlands, Fraser's Hill or Bukit Fraser, is another area famous for extraordinary peaks and authentic English cream tea.
With an old-fashioned and vintage feel, you'll never get over the experience that Fraser's Hill has to offer those taking weekend trips from Kuala Lumpur. When driving, you can reach Fraser's Hill in two hours from Kuala Lumpur.
Fraser's Hill is named after a Scottish man from the 1800s named Louis James Fraser. Running opium and gambling dens in this area, he was quite the man, and after a couple of years, he decided to turn this place into a 'little England.'
Fraser's Hill has been attracting British residents and others ever since, with bungalows, pubs, and restaurants surrounding the town.
With cool air everywhere you go, Fraser's Hill is a great place to explore different types of activities, such as golf. Royal Fraser's Hill Golf Club is the perfect place to play a peaceful game on their 9-hole course.
However, if you have children, this place isn't the destination for you since there is a 'no kids allowed' rule in place. You can still play golf with your kids, though, at the Puncak Inn mini-golf course, which costs 9RM per person for half an hour.
Cream tea, a British favorite, has gained an excellent reputation in this mountain village. Usually consumed in the afternoon, this tea is a big part of British and Fraser's Hill's history.
Ye Olde Smokehouse is recommended if you'd like to try afternoon tea, offering a delicious selection of scones, finger sandwiches, tea, and so much more.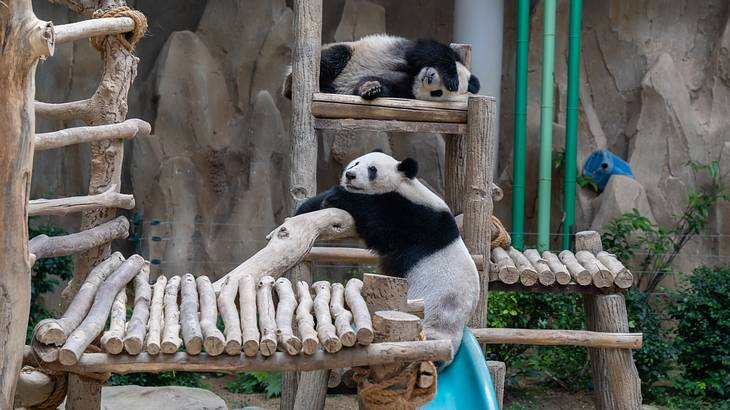 Hulu Langat
Being a small town in Malaysia, Hulu Langat is a good destination for a quick trip since it can easily be explored in a day. Hulu Langat is just a 30-minute drive from Kuala Lumpur.
A popular attraction in Hulu Langat is Zoo Negara Malaysia. The zoo has 5,446 creatures, including 476 different species.
The aquarium here is known for its display of over 80 species of aquatic animals as well. Children are welcome, and it's a fun place for both local and foreign families and tourists to visit.
Bukit Tabur, also called East Trail, is an ideal place to visit, especially if you're a fan of nature. It offers tranquil hiking and more extreme rock climbing, with both activities providing you a stunning view of Hulu Langat's natural surroundings. If possible, try an early morning hike to watch the sunrise on the peak.
Another go-to spot here is Ampang Point. This mall has grocery and other food shops as wall as a pharmacy anda money changer. It is the ultimate truck stop and can cater to all of your needs without you having to go anywhere else.
Even though it's a small town, Hulu Langat's nightlife is terrific. Locals recommend visiting Tamarind Springs, a bar and restaurant in the district. Offering the best Thai and Indochinese food in the area, it is the perfect spot for a pleasant and elegant dining experience.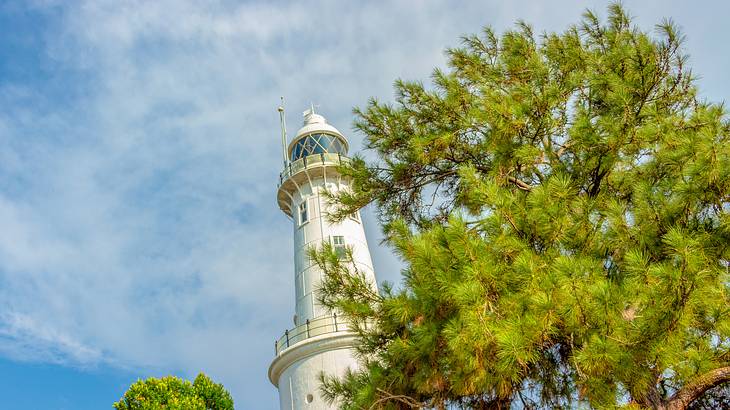 Kuala Selangor
Famous for its fireflies, Kuala Selangor is a beautiful town with endless attractions. The city is also just an hour away from Malaysia's capital, making it the perfect spot for a short vacation from KL.
Start by exploring the Altingsburg Lighthouse, which is the town's most visited landmark. Built-in 1907, it's a symbol representing the town of Kuala Selangor and stands at 27-meters high. Its light can be seen from as far as 18-miles away, and although it isn't open to the public, it's still a beautiful spot to photograph.
The Moon Viewing Pavilion, located in front of the well-liked lighthouse, is a beautiful pavilion built to see the new moon. It was also used to know the beginning and end of the Holy Month of Ramadan and other Islamic events and holidays.
Looking for a place to relax with a refreshment? Then, head over to Auntie Foo for a pleasant surprise. In business since 1935, Auntie Foo is one of the best cafes in town.
It serves the likes of homemade ice cream, dried seafood, and souvenirs for you to take home. Best of all, there are brochures, maps, and Wi-Fi available for use, so it's a great place to stop by when you need directions.
After the sun goes down, locals and vacationists love to see the beautiful firefly display that Kuala Selangor is best known for. There are swamps along the Selangor River banks, and those swamps are where fireflies like to roam freely.
Head down to one of many jetties to see the beauty of the fireflies as their tails glow on and turn off. This is a highly recommended and truly a wonderful experience!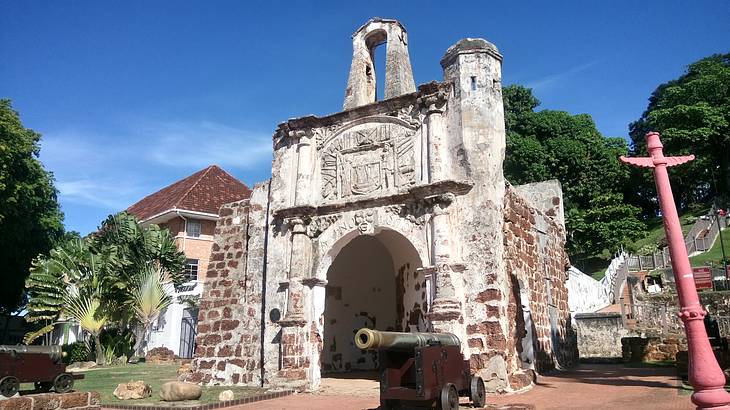 Malacca
Malacca, also spelled Melaka, is a popular tourist spot that includes an inside look at British, Portuguese, Dutch, and Baba-Nyonya culture and heritage. This city is easy to get around by either trishaw or walking and offers traditional food and lifestyle.
Visiting A'Famosa Fort is essential when it comes to traveling to Malacca. Built about 509 years ago, the great fortress used to stretch across an entire hillside. Today, all visitors see is a single gate called Porta de Santiago.
Alfonso de Albuquerque, who led the Malacca Sultanate's invasion, had constructed this piece of architecture, which sits downhill from St. Paul's Church today.
The Malacca Sultanate Palace, which is a replica of the original, is also a popular attraction amongst visitors. Constructed with no nails holding it together, this impressive structure in Malacca is a great spot for history lovers.
You can view 15th-century Malaysian culture and see the clothes of the royals and old paintings. There are hundreds of artifacts displayed across the museum, and it is a very well-known place to gain knowledge about ancient Malacca.
If you want to take a fun stroll through this city, then be sure to stop by Jonker Street). Located in the center of Chinatown, it is well known for craft and clothing stores and various restaurants and cafes.
The best times to visit this busy road are Friday and Saturday nights. There is everything from snacks, sweets, clothing, and so much more available for purchase at night.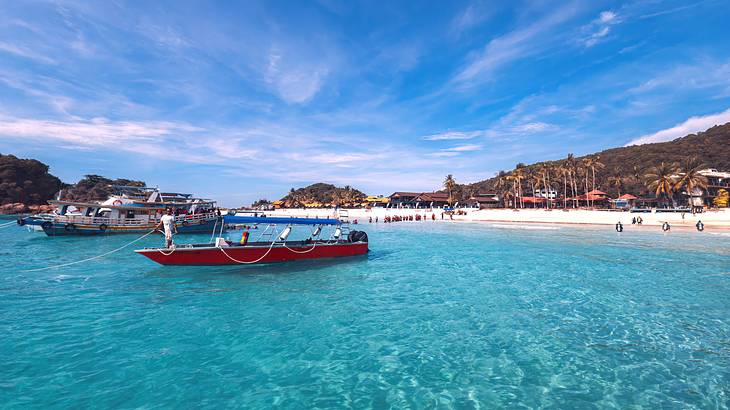 Redang Island
Redang Island, filled with palm trees and pretty coral reefs, is a tropical island located off Peninsular Malaysia's east coast. Whether you're a fast-paced person who likes to be as active as possible or the person that likes to have a relaxing time, this beautiful isle is the perfect place for everyone.
Smaller islands are also nearby, but this area is the main attraction that captivates vacationists taking a weekend away from KL.
Trekking is something that many people do when they reach Redang Island, and there is a wide variety of wildlife to see. Brightly colored birds, giant lizards, and monkeys are only a few of the animals that call Redang Island their home, and you'll see many of these when out for a trek.
If you enjoy learning about marine life, then you'll definitely like visiting the Redang Marine Park Centre. Situated on one of Redang's small islands, this popular spot is a research center where you can explore life underwater. The Marine Park Centre has snorkeling activities available for visitors too.
After venturing through the various places that Redang Island has to offer, you're bound to get hungry. This island has lots of shops and stalls spread across it and authentic Malay food available to eat. Redang Laguna Food Court is somewhere that you can grab a meal as well, with different kinds of cuisine at low prices.
Sekeping Serendah
Trying to take a break from the hustle and bustle of the city? Be sure to plan a trip to Sekeping Serendah, which is right on the edge of Kuala Lumpur.
One of the best tourist attractions here is the Sekeping Serendah Retreat, which offers relaxing activities both inside and outside the area. The Sekeping Serendah Retreat is very private and allows visitors to appreciate the nature surrounding the place.
Everyone stays in high-end "sheds," spread out in the resort's tropical rainforest grounds. Each shed includes Wi-Fi, queen-sized beds, and ceiling fans. You also get a luxurious outdoor shower, barbecue equipment, and of course, a magnificent view of the environment around you!
During the retreat, you'll have the option to swim, have barbecues, and explore different areas outside the resort. The area's cascading waterfalls and the Orang Asli Villages are usually the most popular attractions among retreaters.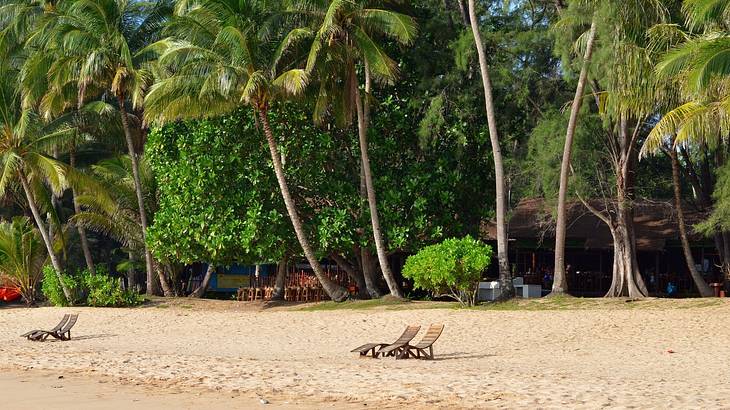 Sibu Island
Sibu Island, also called Pulau Sibu, is one of the most popular islands off the coast of Johor Bahru. With jungles and plants scattered all over, you definitely won't get bored while visiting this beautiful isle. The island features walkways that circle it and make it possible to walk around the entire island.
This getaway is a little further from Kuala Lumpur, taking between eight and ten hours to reach using a combination of transport methods. However, if you're looking for a relaxing island getaway, it's well worth the trip.
The island includes multiple sandy beaches, which are the perfect place to chill out. Beaches aren't the only thing Sibu Island has to offer, though. The village found on the island, which is home to approximately 200 people, is worth exploring. Here you'll be able to see traditional Malay houses and hang out at small coffee shops.
Additionally, Sibu Island is a secured National Marine Park area that's home to coral reefs, fish, and many more underwater creatures. Due to this, diving and snorkeling are two of the most popular attractions here.
The ideal time to visit the island and marine park is between April to September, with most of the island closed from October to March for monsoon season.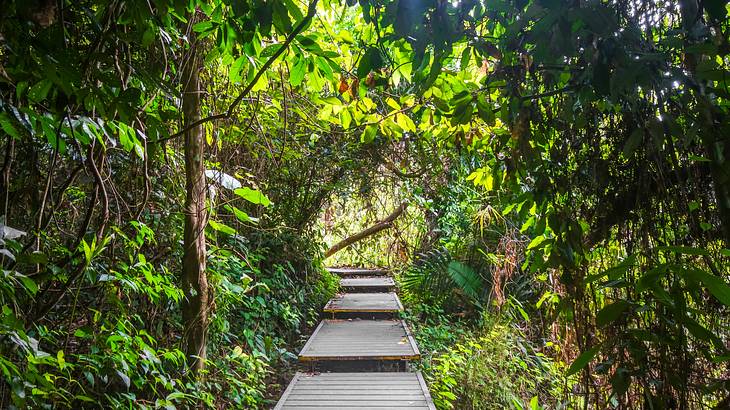 Taman Negara
Established around the late 1930s, Taman Negara is the most well-known national park and nature reserve in Malaysia, and the largest. It's also been named as one of Malaysia's UNESCO World Heritage Sites.
The area's breathtaking scenery is what attracts so many people to it, and you will be blown away by its natural beauty when taking a short vacation from KL. Taman Negara is relatively close to Kuala Lumpur, being just a three-hour drive away.
Once you arrive, you'll instantly be impressed by the vast forests in the area. Not only does Taman Negara have some of the country's oldest forests, but it's home to delightful flora, mountains, rivers, and exotic animals as well.
With over 380 species of birds residing in the abundant jungle, Taman Negara is a great place to go birdwatching. Visitors can see various kinds of birds, such as the Asian fairy-bluebird and the Rhinoceros Hornbill.
If visiting for birdwatching, May and August are the best times to visit since many fruits are in season, causing more birds to fly over the jungle.
Rapid shooting is one of the most popular activities in Taman Negara. This activity sees you hop into a boat driven over river rapids allowing you to take in the surrounding scenery.
The feeling of navigating through seven rocky rapids and passing by the jungle and river is exhilarating! Trips start from Kuala Tahan and Kuala Terengganu.
Taman Negara has plenty of notable places to visit, but the canopy walkway is one of the spots that you cannot miss. Located between 25 and 40-meters above the ground, the walkway allows you to venture through the jungle and explore every part of it — having fun as you do so.
If looking for some fun nightlife activities, there's more on offer than just partying and clubbing in Taman Negara. Night-walking safaris in Taman Negara are just one of these activities and are a fantastic way to appreciate the area's jungle and animal inhabitants.
These safaris will allow you to see beautiful nocturnal animals, such as deer, wild boar, and tapirs in their natural habitats. Taking a night-walking safari is a unique and memorable experience worth trying.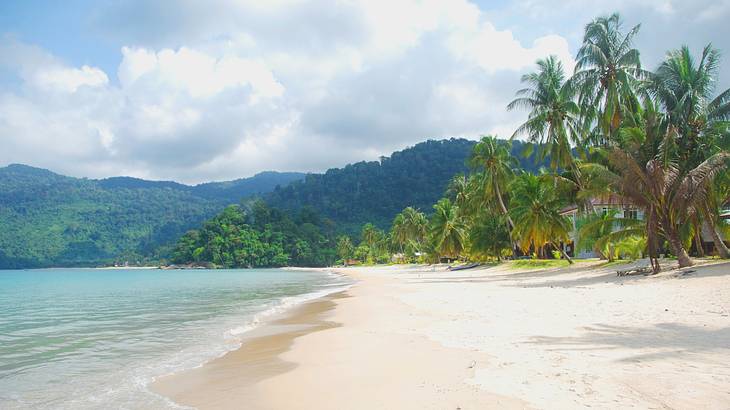 Tioman Island
Being a small island in Malaysia, Tioman Island is a must-visit destination for a weekend away from Kuala Lumpur. The island first became famous when the movie 'South Pacific' was filmed here in 1958, although this is debated, and it is home to white-sand beaches and clear waters.
With duty-free products and lots of activities, this island is truly a dream come true for vacationists. You can reach the island in four to six hours from KL, with most choosing to travel by ferry or bus.
If you're looking for some relaxation during your trip, then head over to Paya Beach to take in the beauty of the peaceful sandy area. Many visitors like to be in a calm environment for at least a part of their trip, and this beach is the perfect place to achieve that goal.
With outstanding spa services, massages, and cocktails available, you will truly feel rejuvenated after visiting. The sunset on the beach is also something you shouldn't miss since it is a beautiful sight.
Hiking is a common activity here. A popular spot to do so is around Asah Waterfall. Not only is it one of Tioman Island's main attractions, but this grand waterfall has multiple routes to get to it.
You have the option to trek through the jungle, or you can take a water taxi or boat which will drop you off at the waterfall. Once you get to the falls, you can venture through it and will come across plants, animals, and other beautiful areas that Tioman Island is famous for.
Lang Tengah Island
Lang Tengah Island is truly a hidden gem. Located between Pulau Redang and Pulau Perhentian, the sandy and secluded beaches are home to incredible marine life as well as clear blue water. Unlike most of Malaysia, there are no roads on this island, only a few jungle paths. However, there are boats and canoes available to travel around the area, or you can walk.
Lang Tengah features mesmerizing white sand beaches and rich underwater fauna. You can enjoy these at the island's two large beaches. Alternatively, there's also a stunning small beach named Turtle Bay, which is home to many turtles, as the name suggests, and is a turtle-watching and conservation area.
Turtle Bay is a must-visit, especially for people fond of nature, when going to Lang Tengah Island. Not only does this beach protect sea turtles, but it offers an easy (but fun) hike to get there too.
Walk through a jungle path surrounded by coconut and banana trees as you make your way to Turtle Bay, and be prepared to learn about turtles, their struggle, and how this organization, mainly made up of volunteers, saves them from extinction.
Snorkeling is a big deal on the island as well. Visitors can dive underwater to see the beautiful fish and coral reefs at any time of day without having to book a snorkeling trip! The ideal time to visit this island is between March and October to avoid the monsoon season.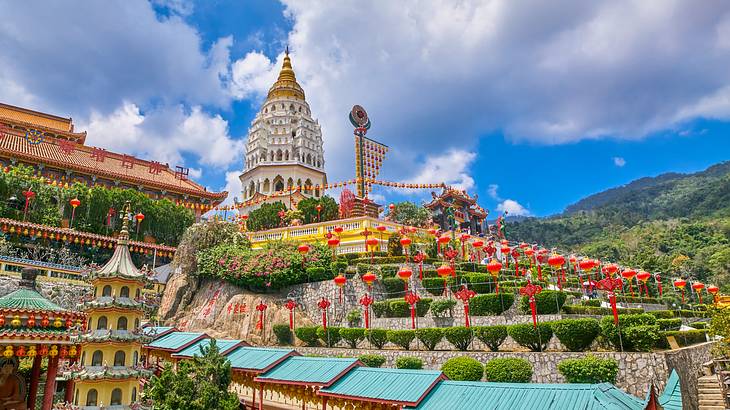 Penang
Malaysia has many places filled with flora, fauna, and other delightful things to see, and Penang, or Pulau Pinang, is one of them. Penang is famous for its shimmery waters, street food vendors, street art, and impressive architecture. There are also quite a few good cafes in Penang to visit.
This state is called home by many Chinese, Tamil, and Malay residents, and you will find diversity in every corner when planning a getaway from Kuala Lumpur. Penang is located four hours from Kuala Lumpur when driving, and it is a safe destination in Malaysia for both solo female travellers and families.
Situated in an area that used to be a rubber plantation, the Tropical Spice Garden is a fantastic attraction to start with when visiting Penang since it offers a breathtaking view of nature. This green garden is one of the most famed places in the city, and visitors from all around come to see its herbs, spices, plants, and animals.
Culinary classes, as well as guided and audio tours, are also available for those who want to know how to use spices and herbs in food.
Fort Cornwallis is a historical museum in Penang that happens to be a tourist favourite. Dating back to the 18th century, the British East India Company built the fort under Penang's founder's supervision, Captain Francis Light.
You can still visit it today to explore the structure and see the Francis Light statue, as well as a couple of original cannons.
Being one of the largest Buddhist temples in Southeast Asia, Kek Lok Si Temple is an important pilgrimage site for Buddhists all across the globe. The temple is sectioned into three parts: the entrance, food and drink stalls, souvenir shops, and the turtle liberation pond.
The middle of the temple is home to the gardens, the large pagoda, and a pavilion dedicated to four kings. A giant statue of the Goddess of Mercy also stands tall over the temple, with hundreds of people coming to view and photograph the figure.
Your trip to Penang will not be complete if you don't have a cup of creamy tea at the Suffolk House. The building is inspired by classic British colonial architecture and was previously owned by the founder of Penang.
Since its official opening in 2007, travellers from all over have been taking guided historical tours at this large house. There are restaurants here too, where you will find the famous cream tea as well as sandwiches, pastries, and other delicious snacks.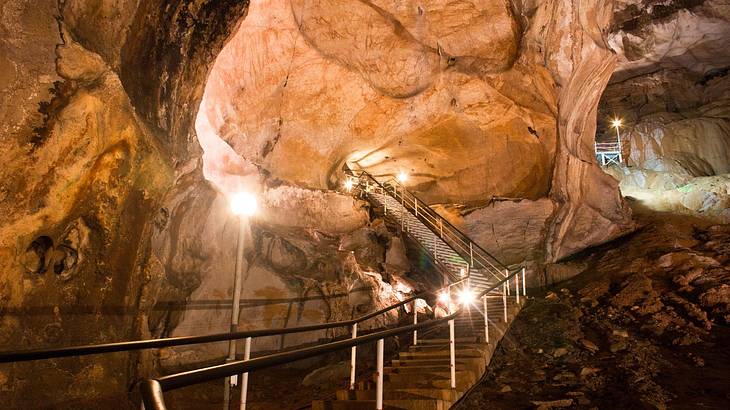 Gopeng
The magnificent town of Gopeng is approximately two hours away from Kuala Lumpur. However, it is worth the journey since it will truly make your getaway from Kuala Lumpur a lot more special.
With magnificent caves, rivers, and limestone cliffs being the main attractions, this place is an absolute must-see for travelers that adore the outdoors.
White water rafting is very popular in Gopeng, and both locals and tourists love rafting in Kampar River. Enjoy the beauty of nature as you go about the Grade I to III river rapids, and make lots of fun and exciting memories.
Best of all, this attraction is beginner-friendly! Not only will you be provided with life jackets and helmets, but an experienced rafter will also be on board as you paddle through the rapids.
Caving is one of the best things to do in Gopeng, and it attracts countless people each day. Being approximately 400 million years old, Gua Tempurung is a limestone cave in Perak that offers cave tours.
Previously, the cave was used by communists during the Malayan Emergency from 1948 to 1960, with their graffiti still visible today.
Gopeng Museum is a free museum that tourists and locals enjoy visiting. Here you can explore Gopeng's past, learning about the town's history and stories through multiple displays.
The museum features over 300 antiques in its exhibitions. Things to see include watches, sewing machines, typewriters, and much more. It is the perfect place to gain some knowledge about the area and its history.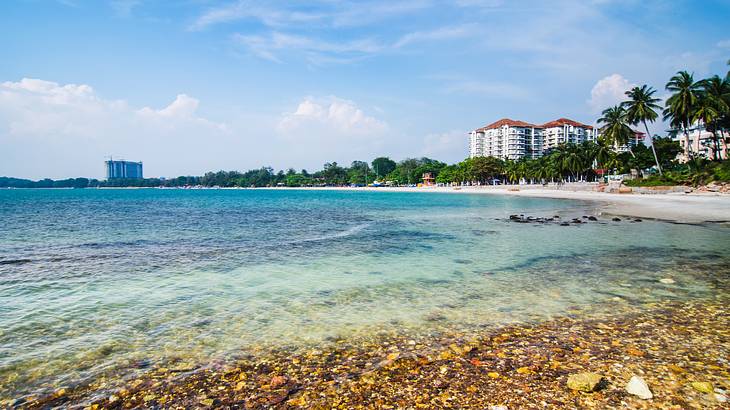 Port Dickson
Port Dickson is a coastal town on Malaysia's west coast. It's very easily accessible for a short trip away from KL and is just an hour and a half away from the city. The area is well-known for its amazing beaches and delicious fresh seafood.
A popular attraction here is Cape Rachado, which houses a charming lighthouse and lots of areas for jungle trekking.
You'll additionally find two temples here to visit; the Sri Anjaneyar Alayam temple and the Wan Loong Chinese Temple. Both of these temples exhibit beautiful and ornate architecture. They are perfect for those looking for some cultural sites to explore.
Of course, there are also many beaches in Port Dickson to relax on. The area is additionally home to a host of excellent resorts if you're after a relaxed poolside getaway, including the highly recommended Grand Lexis Resort.
In Summary
Hopefully, this list inspires you to book a getaway to Kuala Lumpur (and many of its surrounding areas) very soon, and I encourage you to check out each of the spots listed in this itinerary!
Many of these locations aren't too far from each other, so you can easily plan a multi-stop vacation allowing you to visit multiple areas. Even if you decide that you want to visit Kuala Lumpur (or any one of these places) for a short amount of time, you can find many things to do when visiting just one or two getaway locations.
Whatever type of trip you take to and around Kuala Lumpur, be ready to eat loads of food, take lots of photos, and enjoy the journey, no matter how many areas you visit!
---
---
Want to keep exploring?
Subscribe for discounts on tickets and hotels and our latest guides.
Thank you for subscribing
We will be in touch soon with discounts on tickets and hotels and our latest guides.
Want to keep exploring?
Subscribe for discounts on tickets and hotels and our latest guides.
Thank you for subscribing
We will be in touch soon with discounts on tickets and hotels and our latest guides.
Related Articles