15 Famous Landmarks in Cancun, Mexico to Visit
Destguides may receive commissions from purchases made through affiliate links in this article.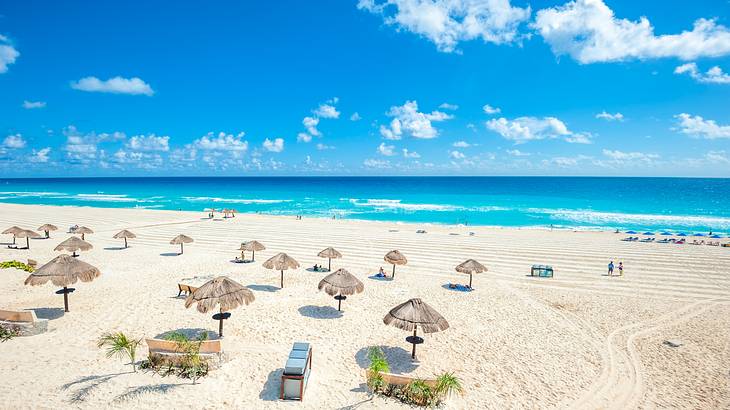 There's no shortage of famous landmarks in Cancun, Mexico. The Yucatan Peninsula was once home to the Mayans, whose temples still dot the region. It's also known for its resorts and merry-making for singles, families, and honeymooners alike.
Whether you're looking for adventure, culture, relaxation, or romance, you'll find it in Cancun, and this list of famous landmarks will help you sort out where to begin and end your journey.
15 Famous Cancun Landmarks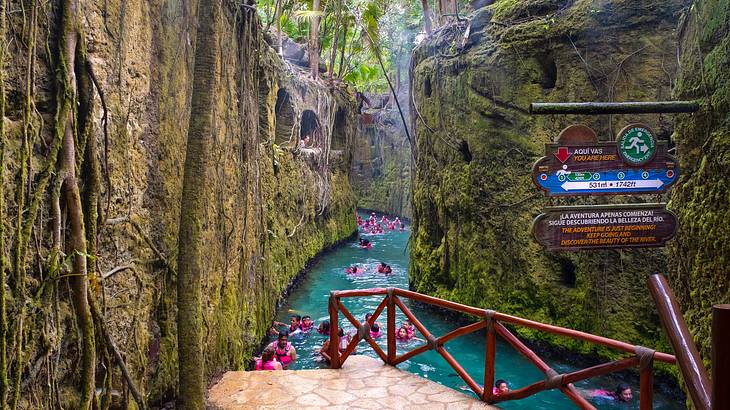 Cancun Scenic Tower
The Scenic Tower in Xcaret Park, also known as Torre Escenica in Spanish, gives breathtaking views of the Caribbean Sea and the Riviera Maya coastline. At 260 feet high (80 meters), you can see the natural surroundings and gain a panorama of the park that the colorful, rotating tower is found in.
The sprawling Xcaret is one of the best landmarks of Cancun, and it aims to be a one-stop-shop for tourists. For nature lovers, there are snorkeling locations and underground rivers to explore. The wildlife found here is diverse and includes manatees, a jaguar paddock, and a butterfly garden.
"Xcaret Mexico Espectacular" offers dinner and a jaw-dropping show that celebrates the country's history from pre-Columbian Mayan culture to modern times. It is one of the best things to do in Cancun at night.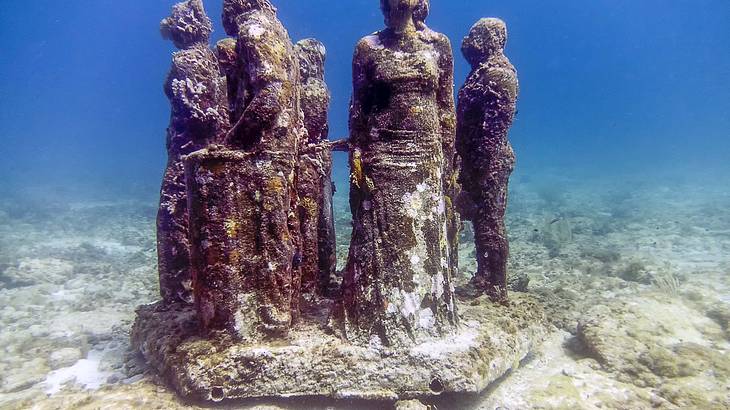 Cancun Underwater Museum
The floor of the Caribbean Sea has been transformed into a canvas for the fascinating Cancun Underwater Museum. The installations combine human sculptures with the otherworldly silence beneath the water to produce powerful and haunting tableaus.
There are two exhibits that you can see, depending on your interests and experience. The first is the thirteen-feet-deep Punta Nizuc at the edge of the hotel zone (zona hotelera). These thirty-three sculptures are easily viewed by snorkelers and are more easily accessible to visitors.
The more expansive Manchones exhibit at Isla Mujeres has 473 sculptures, but at twenty-five feet deep, you'll need to go scuba diving to see them properly.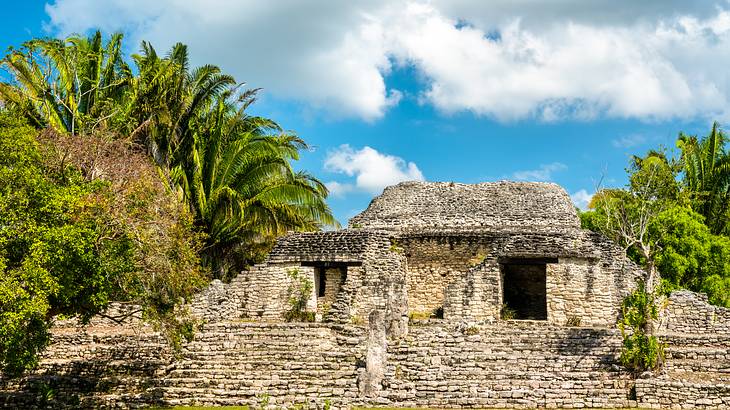 Archaeological Zone of Kohunlich
A visit to Centro Ceremonial Kohunlich in southern Quintana Roo makes an excellent overnight trip from Cancun. This pre-Columbian Mayan ruin is about a five-hour drive away, so you'll probably want to find a place there to stay or arrange a tour with overnight accommodation rather than heading straight back to Cancun.
The most impressive feature of the 21-acre archaeological site is its wonderfully preserved Temple of the Sun. It was built around 500 CE and is also called the Temple of the Masks due to the stucco masks lining its central staircase.
El Meco Archaeological Site
The El Meco ruins just outside the Hotel Zone contain the tallest temple in this region of the Yucatan peninsula. The site was an important city for trade before the arrival of Europeans.
El Meco was opened to the public in the early 2000s after decades of excavation and restoration efforts. There are now three plazas where you can explore the centuries-old structures, making it an excellent way to spend the morning before setting off for other points of interest in Cancun.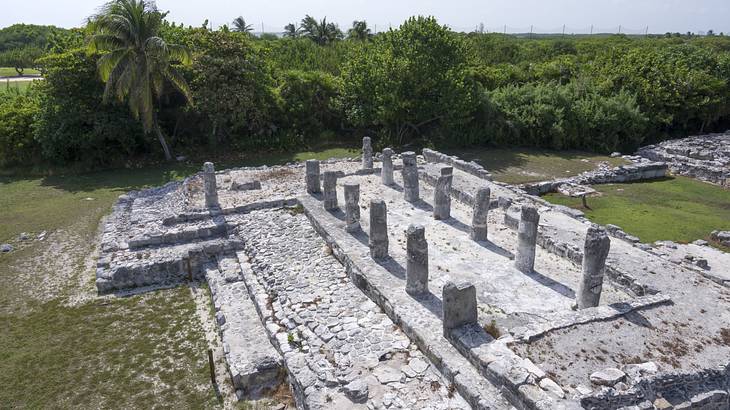 El Rey Archaeological Zone
Head to El Rey Archaeological Zone if you're looking for Mayan cultural heritage or historical sites in Cancun without leaving the Hotel Zone. Most of its forty-seven surviving structures date back over five hundred years, and beneath the ruins are the burial sites of at least five hundred ancient Mayans.
El Rey means "The King" in Spanish, and the site received this name from travelers in 1909 who thought that a sculpture they saw there represented royalty. Today, the sculpture is protected in the Archaeological Museum of Cancun.
Iglesia de Cristo Rey
Constructed in 1971, Christ the King Church in Cancun was the first Catholic Church built in the city. Two gardens surround the simple but beautiful church, and often open-air masses are held here.
This church is a popular option among people who want to make Cancun the site of a destination wedding or for travelers who want to catch a mass on vacation.
Iglesia de Nuestra Señora del Carmen
The Church of Our Lady of Carmen is in Playa del Carmen, about an hour away from the Hotel Zone in Cancun by bus or car. The church manages to be small yet grand with its unique design, and the tall, white outer walls make it picture-perfect as a wedding location. It is a must on your Playa del Carmen itinerary!
They also hold an English service at 10 am on Sundays for travelers still struggling with the local language. Playa del Carmen itself is a beach town with a lot to offer, so you may consider sticking around for the rest of the day to enjoy a different kind of vibe from the Hotel Zone in Cancun.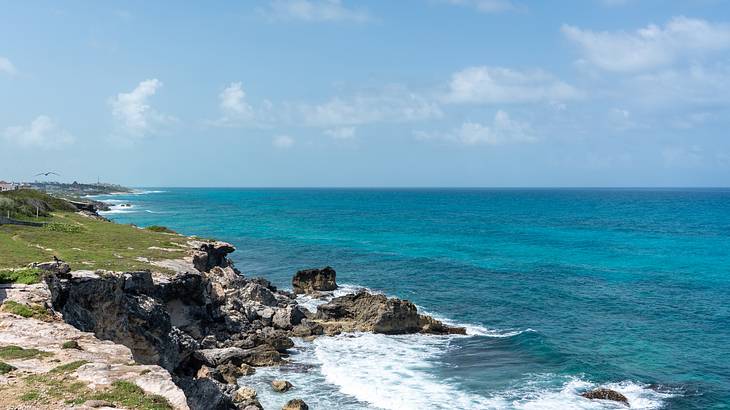 Isla Mujeres
Just across Bahia de Mujeres (Bay of Women) from Cancun lies Isla Mujeres (Island of Women). Both the bay and island get their names by being sacred to Ixchel, the Mayan goddesses of the moon and fertility.
Here, you'll find a more laid-back getaway from the steady hum and busier landmarks of Cancun, and its Playa Norte is considered one of the best beaches in Mexico. Isla Mujeres offers more than relaxation, though, and visitors can enjoy water sports, marketplaces, and swimming with whale sharks.
One of the most fascinating places to visit here is the estate built by the famous pirate Fermin Mundaca as his luxurious home away from the high seas.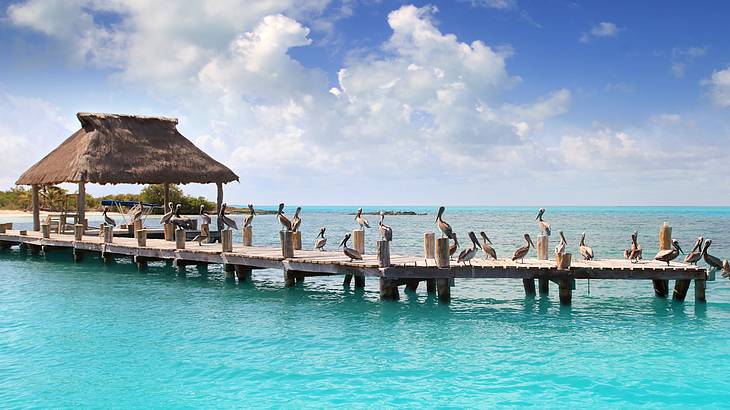 Isla Contoy
Isla Contoy is uninhabited by humans and has been protected by the Mexican government since 1961. It's an important preserve for migrating bird and fish species, such as the brown pelican and double-crested cormorant.
While there are no lodging options on the island, you can reserve your spot as one of only two hundred visitors allowed there per day. On-site biologists lead tours to bird-nesting locations, and you can stop to snorkel in the Ixlache Reef on your way there or back.
Mayan Museum of Cancun
The Mayan Museum of Cancun, or Museo Maya de Cancun, opened its doors in 2012 to celebrate the once-powerful Mayan civilization and the historical places in Cancun.
The first room in the museum is dedicated specifically to local archaeology in Quintana Roo, moved here from places like El Meco, El Rey, and Centro Ceremonial Kohunlich.
The second room shares a more general history of the Mayan civilization, and the third room hosts a rotation of temporary exhibits. For this reason, only about 350 of the museum's 3,500 artifacts are on display at any particular moment.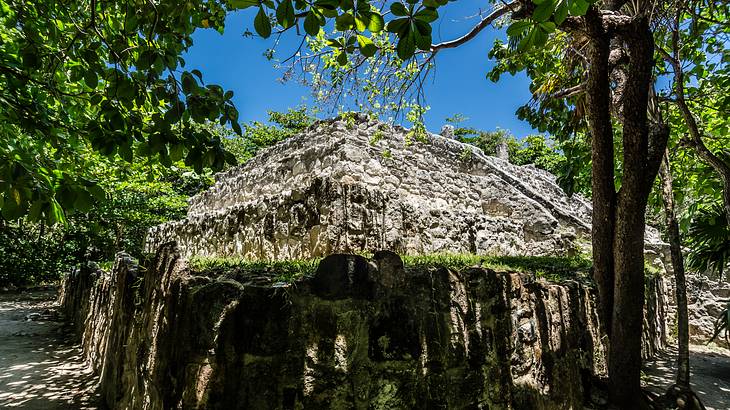 San Miguelito Archeological Site
The San Miguelito Ruins are located right next to the Mayan Museum of Cancun. The Mayan name has been lost, but the modern name comes from the San Miguel coconut ranch that operated on the site between 1950 and 1970.
There are four main groupings of the ruins: the North Complex, the Dragon Complex, Chaak Palace, and the South Complex. A north-south path connects the two-hundred-acre zone.
It typically takes about an hour to meander through its different sections and is one of the unique things to do in Cancun.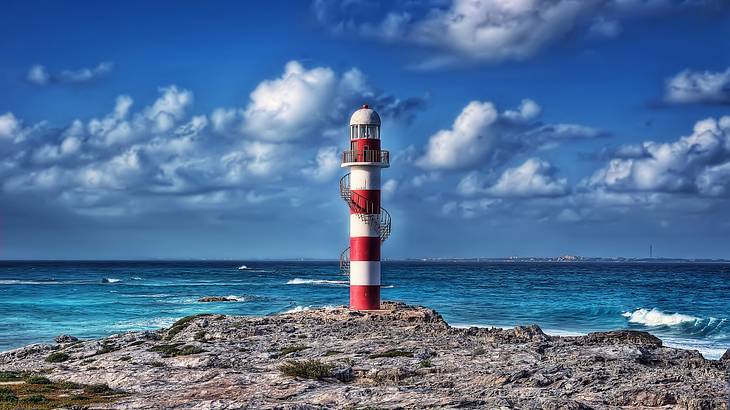 Punta Cancun Lighthouse
Cancun, Mexico landmarks are famously photogenic, but this favorite of locals and tourists is especially beautiful and a great spot to catch a sunset.
The red-and-white striped Punta Cancun Lighthouse is found on a rocky outcrop and stands 40-feet tall at the far northern end of the Hotel Zone.
The external staircase spiraling its way to the top of the lighthouse does not reach the ground, however, and it's not accessible for tours.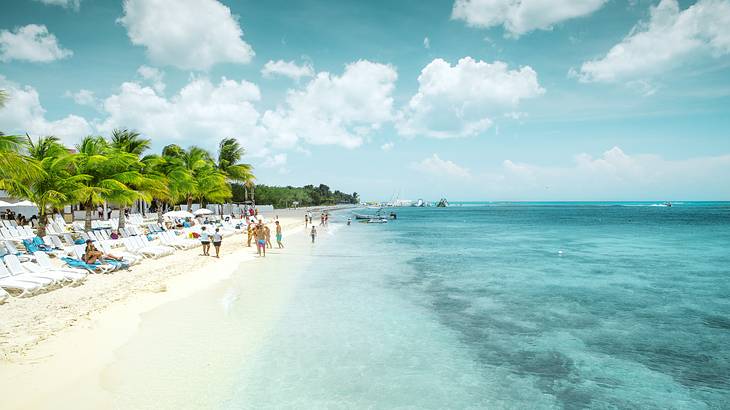 Cozumel
Cozumel Island is one of the most visited ports for Caribbean cruise ships. As a port of call, there are many ready-made adventures and tours to be found that are designed to last for a few hours before getting guests back to their ships.
These activities include snorkeling or scuba diving in the coral reef, taking jeep tours of the island, and swimming with dolphins. This lines up well for daytrippers, but if you're staying nearby and can spend a little more time on the island, you'll find no shortage of things to do.
On the island's eastern and southern coasts, you can visit secluded beaches, find lesser-known Mayan ruins, see nesting turtles, and marvel at ocean blowholes.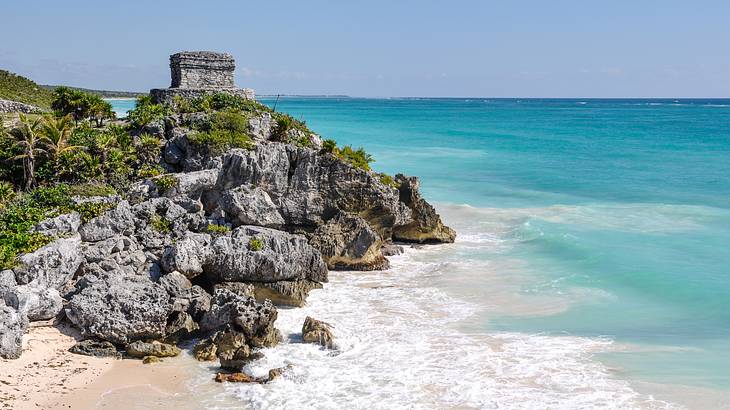 Tulum Archaeological Zone
Perhaps the most famous of the historical landmarks in Cancun and Quintana Roo is the Tulum Mayan Ruins. A short road trip from Cancun, Tulum was a seaport specializing in jade and turquoise trade.
Today, it is a UNESCO World Heritage Site and one of the top landmarks in North America. It is a must-visit for any first-timers to the area!
The limestone walls protecting the important Mayan city are about a half-mile in perimeter and conclude at the Castillo. The Castillo backs up to the sea and is one of the largest and best-preserved Mayan ruins in their once expansive territory.
Visitors who climb the steep stairs of the Castillo are rewarded with an impressive panorama of crystal-blue waters, deep green jungle, and the worn-grey stones of the Maya.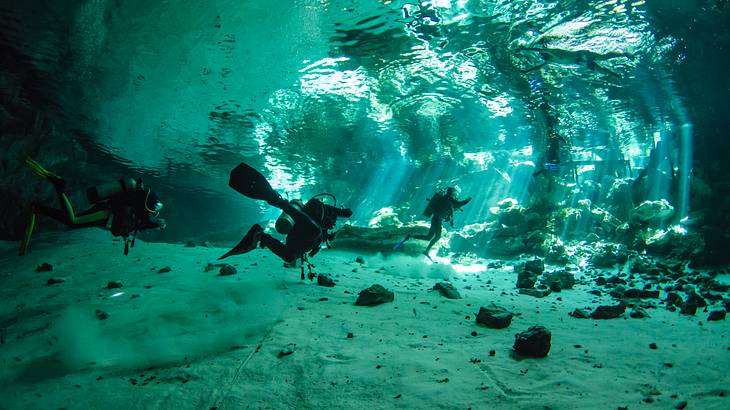 Xplor Park
Another attraction in nearby Playa del Carmen is Xplor Park. Xcaret runs Xplor, but the less developed surroundings allow visitors to more fully experience one of the unique features of the Yucatan peninsula: cenotes.
Cenotes (say-NO-tays) are sinkholes or caverns filled with water, like underground lakes connected to an intricate system of subterranean rivers. The whole system is found lining the perimeter of the impact crater Chicxulub, formed by the meteorite credited with knocking out the dinosaurs.
Xplor Park also has two ziplining circuits and ATV paths through the jungle, and its nearby sister-site of Xel-Ha has a huge natural water park.
Conclusion
Cancun is a popular destination for a good reason, with lots to see and do in and around the resort area. The all-inclusive resorts will let you sit back and not worry about a thing.
When you're feeling refreshed enough to go adventuring, the Yucatan peninsula awaits with adventure, beaches, and ruins.
Give us feedback about this article
Learn more about Cancún:
More articles about Quintana Roo:
Read more articles about Mexico:
More articles about landmarks:
More visual stories related to this article:
---
---
Want to keep exploring?
Subscribe for discounts on tickets and hotels and our latest guides.
Thank you for subscribing
We will be in touch soon with discounts on tickets and hotels and our latest guides.
Want to keep exploring?
Subscribe for discounts on tickets and hotels and our latest guides.
Thank you for subscribing
We will be in touch soon with discounts on tickets and hotels and our latest guides.
Related articles