21 Best Things to Do in Cancun With Kids
Destguides may receive commissions from purchases made through affiliate links in this article.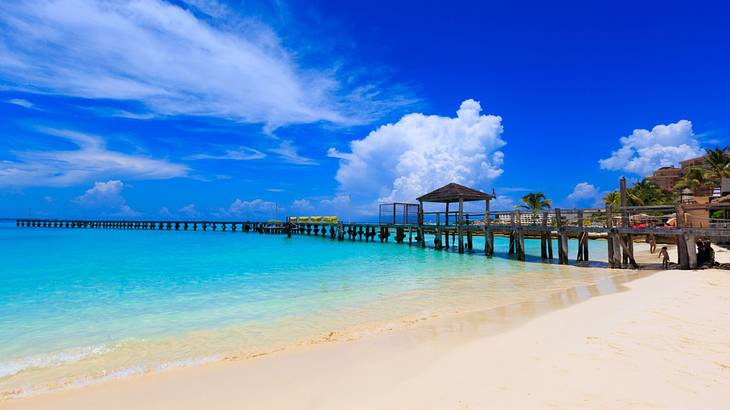 Cancun is a tourist hot spot in the Mexican state of Quintana Roo on the Yucatan Peninsula. The area attracts millions of visitors yearly due to its sandy beaches and array of attractions. Cancun is also an ideal family-friendly vacation destination.
Some of the best things to do in Cancun with kids include going to water parks and eco theme parks, visiting cultural sites, and trying adventure activities like parasailing. Best of all, many fun attractions for kids are close to the Cancun Hotel Zone or can be accessed via guided tours and day trips. If you're planning an exciting family getaway to Cancun, make sure you're aware of these 21 kid-friendly things to do!
21 Fun Things to Do in Cancun for Kids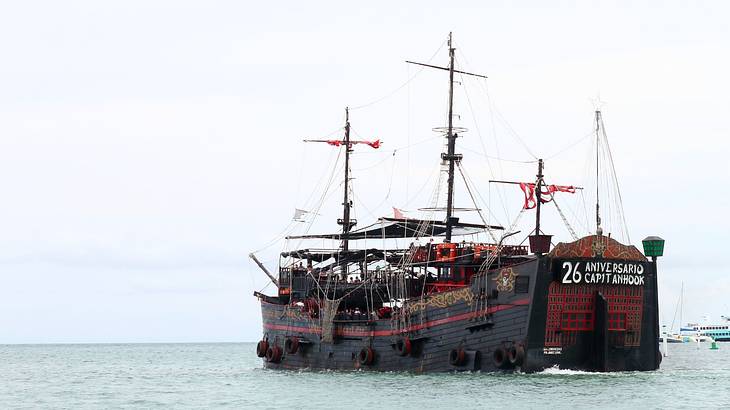 Eat dinner with pirates on the Captain Hook Pirate Dinner Cruise
Going on a Captain Hook Pirate Dinner Cruise is a fun dining option for the whole family. The cruise takes place on a replica pirate ship and features immersive experiences with dinner and drinks included.
You and your kids will get to enjoy an array of pirate-themed shows and performances, including stories, dances, and acting. While watching the show, choose from a selection of main courses, such as lobster tail, steak, or a vegetarian option. There's also an open bar with alcoholic beverages for the adults and soft drinks for the kids.
Shop at La Isla Shopping Village
One of the more laid-back activities in Cancun for kids is spending some time exploring the shops at La Isla Shopping Village. The exciting open-air mall has a variety of outlets and dining options.
Best of all, there are many kid-friendly attractions on top of the shops. You can go to the unique Ripley's Believe It or Not, have lunch at a Lucha Libre show, or ride the Sky Wheel. There's something for kids of all ages!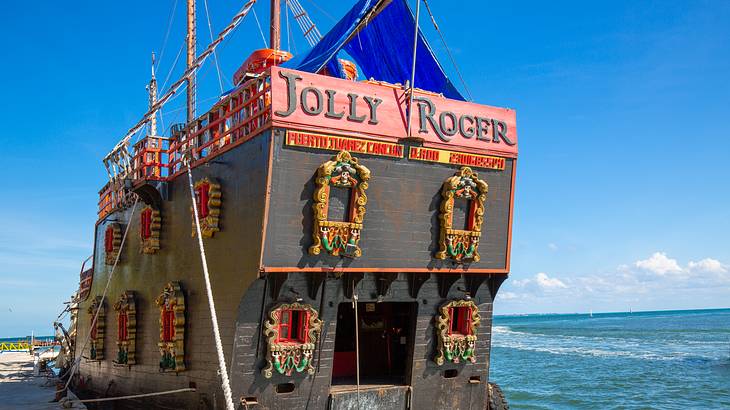 Enjoy a nautical performance with the Jolly Roger Pirate Show
The Jolly Roger Pirate Show is another exciting pirate-themed dinner cruise in Cancun. Performances on the pirate ship feature costumed actors, acrobatics, and even fireworks.
As you watch the show and admire the Caribbean Ocean, you can enjoy a gourmet dinner. Dining options include surf and turf or lobster, and a children's menu is available. An open bar is on board, too, so you can have drinks while the kids try various activities, including a treasure hunt.
Spend the day at All Ritmo Cancun Resort & Waterpark
All Ritmo Cancun Resort & Waterpark is a water park and resort just outside of the Hotel Zone. The water park features a vast array of kid-friendly amusements, and your family can easily spend the entire day here.
Your kids can enjoy numerous water slides, as well as waterfalls, swimming pools, and a play park for younger children. Along with the water park, there's a mini-golf course, ping-pong tables, a playground, and more. If you're staying at the resort, entrance to the water park is always free.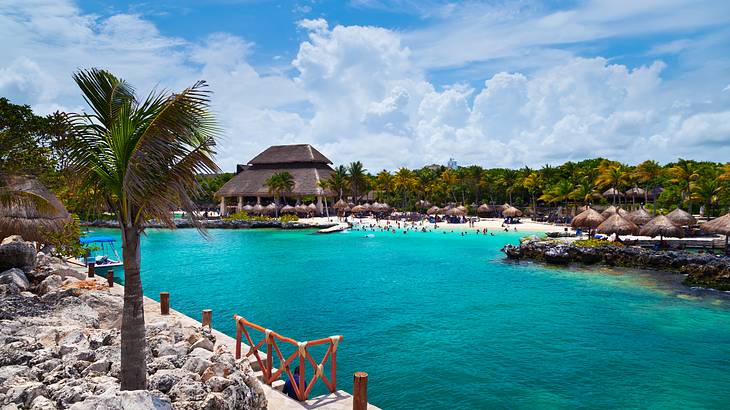 Visit Xcaret Eco Park
Located along the Riviera Maya, Xcaret Eco Park is a theme park and eco-tourism area. The park features a range of exciting outdoor attractions, such as lagoons to swim in and incredible snorkeling spots.
Xcaret additionally has unique adventure experiences suitable for kids, like ziplining. Spending the day at Xcaret Eco Park is a must on any Mexico itinerary!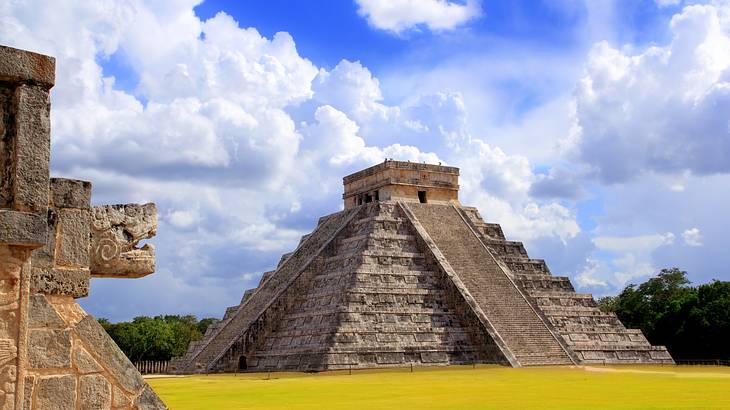 Explore the Chichen Itza Mayan ruins
As one of the New Seven Wonders of the World and one of the most famous landmarks in the world, Chichen Itza is a must-see when in Mexico with your family. This attraction is the largest of Mexico's Mayan ruins, and when visiting, there is a lot to explore.
The best way to see the ruins is by booking a guided tour of Chichen Itza. This convenient tour will transport you to and from the site, and you can walk around with a guide to gain more background on the area's history.
Discovering all the ruins and unique archaeological sites is very interesting to kids, making a trip to Chichen Itza one of the best family activities in Cancun. If you stay into the evening, there is also a light and sound show to see.
Swim with whale sharks
The waters around Cancun are home to many whale sharks. This species of shark, while very large, is no threat to humans. Therefore, swimming with these gentle giants is a fun and memorable activity that's safe for your kids.
As Cancun is one of this animal's main habitats, you can find numerous operators offering swimming with whale shark sessions. Once in the water, you'll get up close with the sharks and will learn more about them from your knowledgeable guide. For many, this is a once-in-a-lifetime opportunity and shouldn't be passed up!
Snorkel in the waters of Isla Mujeres
Isla Mujeres is a beautiful island near Cancun. Due to its crystal clear waters that are inhabited by an array of marine life, it's a popular snorkeling destination.
Snorkeling in Isla Mujeres with your kids offers the opportunity to get up close with many sea creatures. Animals you may see include sea turtles, various shark species, barracuda, rays, and much more. If you go on a snorkeling tour, you'll also be transported to and from Cancun, and lunch is provided.
Go below the water to explore the Underwater Museum of Art
Visiting the Underwater Museum of Art is one of the excellent Cancun activities for families with older kids. You can book an Underwater Museum and snorkeling tour to reach this famous landmark.
Along with snorkeling around the museum, home to numerous statues and sculptures, you can snorkel in open water with turtles and tropical fish. You even get the chance to swim around a shipwreck!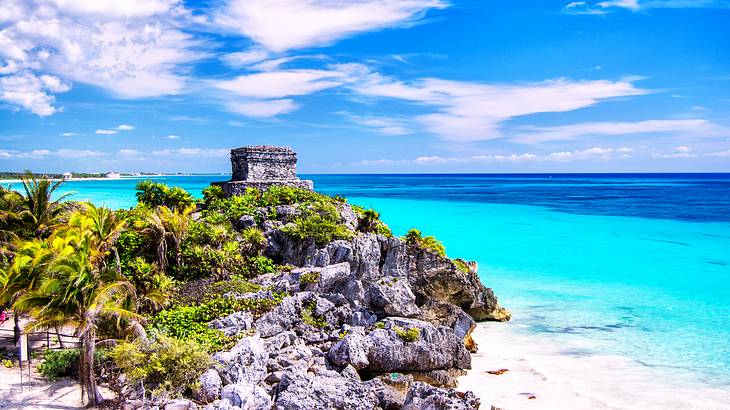 Plan a road trip to Tulum
Tulum is a city close to Cancun that's known for the Tulum Archaeological Site, a famous North American landmark. Best of all, Tulum is only about a two-hour drive from Cancun, and you can join a tour to the Tulum Archaeological Site to make transport easy.
Along with seeing the Mayan ruins, you and your family can try many other activities in Tulum. Things to do range from swimming in cenotes and going on ATV tours to trying the city's delicious cuisine.
Have an adventure at Xplor
Taking your kids to Xplor is one of the best activities for families! This Cancun landmark is a jungle adventure-style theme park that has a range of thrilling activities in jungle and underground cave settings.
In the park, you'll discover caves to raft through, multiple zip lines, subterranean pools, and much more. Xplor is especially recommended if you're in Cancun with teenagers.
See iguanas at Ruinas Del Rey
Ruinas Del Rey, or El Rey Archaeological Zone, are Mayan ruins and one of the most famous landmarks in Mexico. While smaller than Chichen Itza, the ruins are located within Cancun.
The landmark is fascinating for both kids and adults. One of the fun things to see here is the array of iguanas that inhabit the area. Your kids will love searching for and getting up close to the iguanas. You can even take some interesting pictures with the ruins, your family, and the reptilian creatures!
Interact with spider monkeys at the Jungle Place
Visiting the Jungle Place is one of the most exciting Cancun family activities. The wildlife sanctuary is primarily home to spider monkeys, rescued from the illegal pet trade or displaced by deforestation and habitat destruction.
At the sanctuary, your kids can watch the monkeys play and eat, and they may be able to hold them. Not only will your kids love the monkeys, but they'll also learn about the importance of protecting animals and wildlife habitats.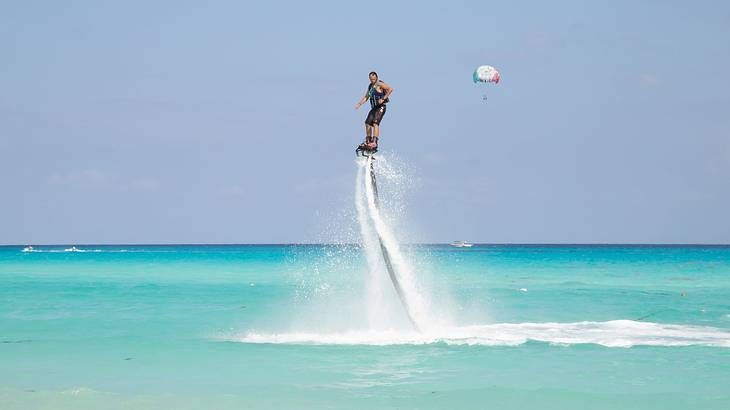 Flyboard above Nichupté Lagoon
Flyboarding is a fun activity that kids are sure to love. The exhilarating hoverboard-style sport allows you to do aerial tricks high above the water.
Cancun is a popular destination for the sport, and you can easily book a flyboard session. Those participating will get lessons from an experienced flyboarder before attempting the sport themselves. It's a must-do activity in Cancun for adventure-loving teens and kids!
Experience a jungle tour
A Cancun jungle tour brings together jungle, lagoon, and ocean for a thrilling activity. You and your kids will hop aboard a boat and pass through lush jungles, spotting an array of wildlife. You'll then be able to swim in tranquil lagoons and snorkel around the tropical fish-filled Punta Nizuc reef in the Caribbean Sea.
What's great about this experience is that it's perfect for all ages and abilities, even if you've never snorkeled before. Seeing a range of environments and getting up close with marine life will thrill all your children.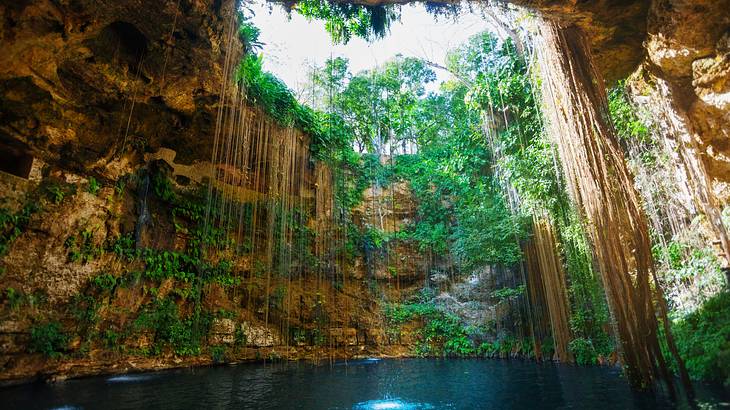 Drive ATVs and swim in cenotes
If your children love adventure activities, taking an ATV and cenote tour is one of the things to do with kids in Cancun that you have to try! After arriving in Puerto Morelos, you'll hop aboard ATVs and ride through the jungle and along dirt roads.
During the trip, you'll stop to swim at beautiful and tranquil cenotes. Your kids can also fly through the jungle on ziplines. The tour includes lunch and pickup from your Cancun hotel as well. Kids of four years or older can participate, but under 18-year-olds must be accompanied by an adult.
Horseback ride around Cancun
If your kids love horses, seeing Cancun on horseback is a must. You can discover lots of Cancun horse riding tours that will take you and your family to various attractions.
Many of these tours involve riding through the scenic jungle to find cenotes and ziplining spots. Horseback riding is a relaxed and memorable mode of transport when exploring Cancun with your kids.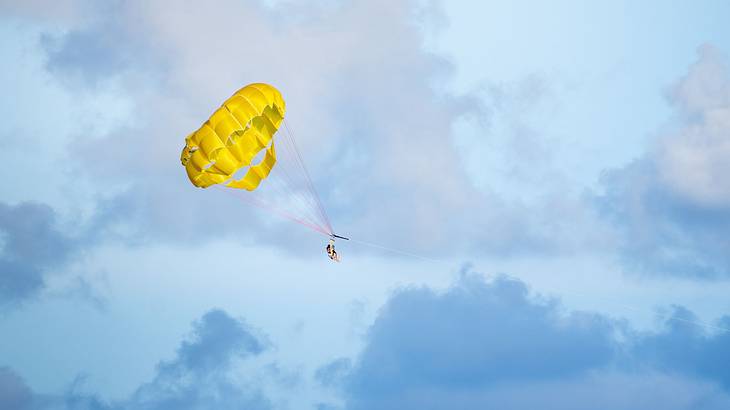 Try jet skiing and parasailing
Trying jet skiing and parasailing is one of the best things to do in Cancun with family! Your day will begin by being whisked up 260 feet in the air on a parasailing adventure. Having enjoyed the thrill and taken in the stunning views, your family will next try jet skiing.
Your kids will love flying across the waves on a jet ski, and you'll get to enjoy even more breathtaking vistas. This super kid-friendly activity should be on every family's Cancun to-do list!
Taste Cancun street food
Many of those visiting Cancun remain in the confines of their resort, but seeing the true Cancun is highly recommended. Doing so is also an excellent way for your kids to learn about Mexican food, culture, and traditions.
An ideal way to safely see the area is by joining a Cancun street food tour. A local guide will take your family to incredible food stalls and the local market to taste authentic Mexican cuisine. As you go between each dining location, you'll get to see creative street art and learn more about the city you're visiting.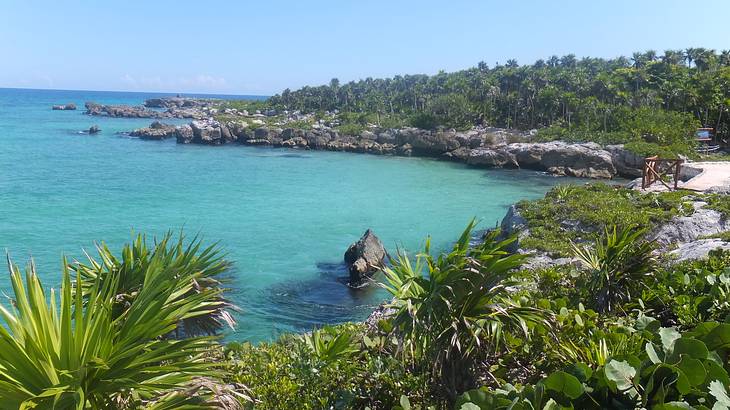 Swim, explore, and more at Xel-Ha Park
Xel-Ha Park is another exciting water and adventure park close to Cancun. The park is about an hour and a half drive from Cancun's Hotel Zone, but you can book a day trip to Xel-Ha Park that includes transportation.
Once at the park, you and your kids can enjoy a range of water activities, from swimming in pools, caves, and cenotes to rope swinging and ziplining across the water. There's also a water park just for young kids. If you get bored of water activities, you and your family can bike around the park and explore areas featuring plants and wildlife.
Kayak through Nichupte Lagoon
The stunning Nichupte Lagoon sits on the edge of Cancun and offers some fun activities for visitors. A can't-miss activity for nature-loving families is taking a kayaking tour around Nichupte Lagoon.
During the two-hour excursion, you'll paddle through the saltwater lagoon, which features mangroves and numerous animal species. Your local guide can also give you and your kids more information about the ecosystem and things you see.
In Conclusion
Cancun is a perfect vacation spot for families with kids of all ages. Exciting activities offered in the area include visiting water parks, eating dinner on a pirate ship, and exploring Mayan ruins. No matter what type of things your kids like to do, they're sure to have loads of fun in Cancun!
Give us feedback about this article
Learn more about Cancún:
More articles about Quintana Roo:
Read more articles about Mexico:
More articles about things to do:
---
---
Want to keep exploring?
Subscribe for discounts on tickets and hotels and our latest guides.
Thank you for subscribing
We will be in touch soon with discounts on tickets and hotels and our latest guides.
Want to keep exploring?
Subscribe for discounts on tickets and hotels and our latest guides.
Thank you for subscribing
We will be in touch soon with discounts on tickets and hotels and our latest guides.
Related Articles