33 Best Things to Do in Playa del Carmen, Mexico
Destguides may receive commissions from purchases made through affiliate links in this article.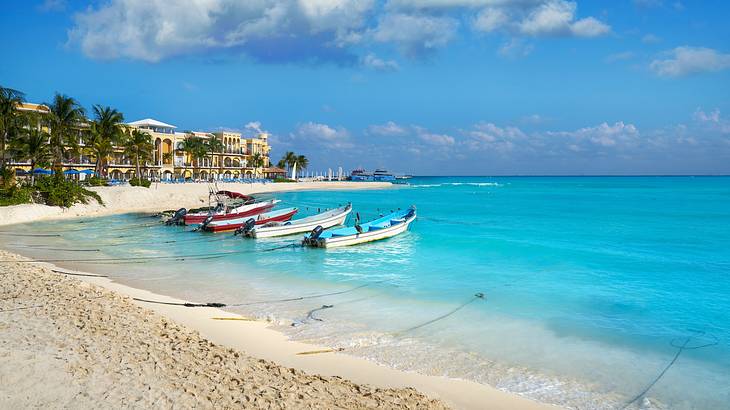 If you're looking for a metropolitan beach town, Playa del Carmen is a top choice! This coastal resort town on the Yucatán Peninsula features breathtaking beaches and unique attractions.
Some of the best things to do in Playa del Carmen, Mexico, include swimming in Río Secreto cenote, paddleboarding at sunrise, and relaxing at Mamitas Beach Club. You can also plan a few day trips, like going to the world-famous Chichén Itzá.
Want to learn more about everything to do in Playa del Carmen? Keep reading for 33 activity suggestions from a person (aka me) who spent over two months in Playa!
33 Best Things to Do in Playa del Carmen, MX
Fun Things to Do in Playa del Carmen, Mexico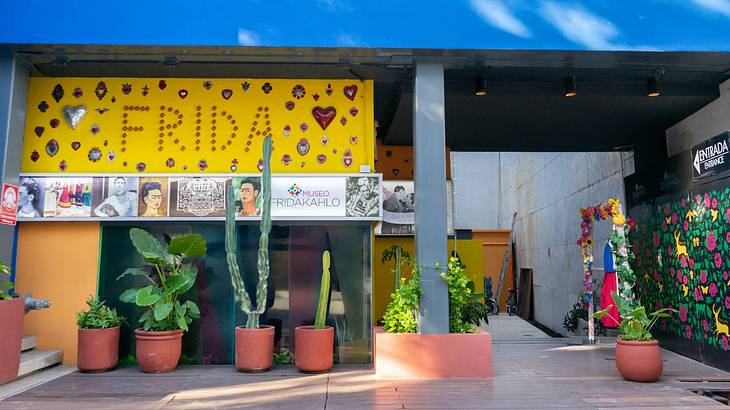 Admire artworks at the Frida Kahlo Museum
The Frida Kahlo Museum, or Museo Frida Kahlo in Spanish, is dedicated to the Mexican artist and features some of her works, as well as reproductions and exhibits on Kahlo's life and career.
This attraction is great for art lovers and is a good way to learn more about Frida if you can't make it to the other Frida Kahlo Museum in Mexico City.
Learn to make delicious dishes at a cooking class
There are many delicious dishes to try while in Mexico, but to make your experience more unique, why not learn to cook them yourself?
At a Playa del Carmen cooking class, you will shop for ingredients at markets with your local guide before using those ingredients to cook a multi-course meal. Things to make include fresh corn tortillas and various salsas, and vegan and vegetarian menu options are available.
Taste the best dishes in PDC on a food tour
Do you love finding the best local eateries when on vacation? If so, you might be interested in joining a Playa del Carmen food tour!
This walking tour will take you to multiple stops where you can sample popular Mexican dishes and drinks. Things to try include quesadillas, tacos, and fresh tropical fruit.
Have a fun day at Mamitas Beach Club
Hanging out at Mamitas Beach Club is one of the top things to do in Playa del Carmen, Mexico, during the day. The trendy beach club sits right by the sandy shores of Playa Mamitas and features outdoor pools and a stylish waterfront restaurant. After enjoying a meal, you can rent a cabana on the beach, and DJs often perform during the afternoon and evening.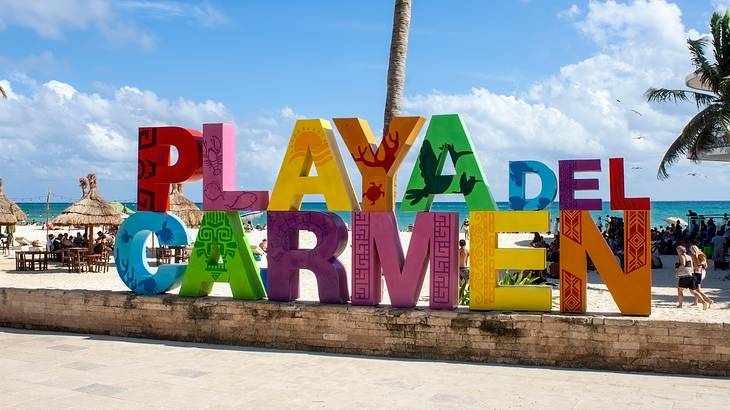 Snap a picture with the Playa del Carmen sign
The well-known colourful Playa del Carmen sign, also known as Letras Playa del Carmen, can be found in Parque Los Fundadores. However, you can also find some other colourful and patterned signs that spell the city's name at other beaches in town.
Whether you seek out all of them or just go to Parque Los Fundadores, taking a photo next to a Playa del Carmen sign is a must on your PDC bucket list!
Relax with a view at a rooftop pool
Going to a rooftop pool offers the perfect way to take in views of Playa del Carmen while beating the heat. There are many pools to choose from in the city, with Fives Rooftop at The Fives Hotel being a popular choice.
From the infinity pool, you can look over the city and surrounding beaches. You can then relax in poolside cabanas with tropical drinks.
Get ice cream at Amorino
Why not stop for an ice cream while in Playa del Carmen? If you're unsure where to go, visiting Amorino is a great idea! The gelateria has two locations in central PDC, both close to the beach.
Unique and classic gelato flavours, such as pistachio and tiramisu, are available. You can also get waffles with ice cream, gelato macarons, sundaes, and more.
Go for lunch at Lido Beach Club Restaurant
If you're wondering what to do in Playa del Carmen, Mexico, for lunch, going to Lido Beach Club Restaurant can't be missed! The beachfront eatery serves delicious food, including salad bowls, tacos, and various fresh fish dishes.
As you enjoy your meal (and the views!), you can sip on tropical cocktails or mocktails and listen to music or the ocean waves.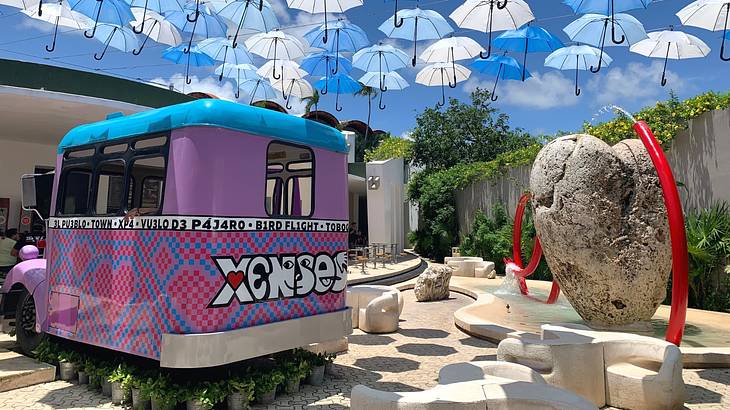 Enjoy the attractions at Xenses Park
Xenses Park is one of the many fun Playa del Carmen tourist attractions. The adventure park sits on the edge of PDC and has a water park and adventure attractions, like ziplining.
There are also photo areas with backdrops that create optical illusions. To make admission easy, purchase your Xenses tickets before you arrive.
Paddleboard with Aloha Paddle Club
Admiring the beauty of Playa del Carmen from the water is an excellent idea, and one of the best ways to do so is by going paddleboarding.
Aloha Paddle Club offers various paddleboarding tours, including sunrise and sunset sessions. The company also offers surf lessons if you want to enjoy more aquatic activities!
Stop for the best specialty coffee in PDC at Ressio Cafe
Coffee lovers can't miss going to Ressio Cafe at least once! The cafe serves various coffee drinks made using plant milk, with soy, almond, coconut, and oat milk on offer. You can also get chai lattes or fresh juice. The beverages are a little pricey, but definitely worth it.
Unique Things to Do in Playa del Carmen, MX
Try Salsa Dancing
If you want to improve your dancing or learn from scratch, taking a salsa and bachata dancing class is one of the most fun and unique things to do in Playa del Carmen, Mexico.
At the evening dance social, you can follow along with an instructor and get tips on your technique. Then, if you have a good time, you'll be set with the basics and can join a salsa dancing group at home!
Be amazed at the 3D Museum of Wonders
The 3D Museum of Wonders is one of the most unique Playa del Carmen attractions. It's also the perfect place to go if you want to take a break from the heat.
This interactive museum features interesting 3D backdrops for photos that will look impressive and eye-catching on your Instagram feed. As this attraction is quite popular, book 3D Museum of Wonders tickets in advance.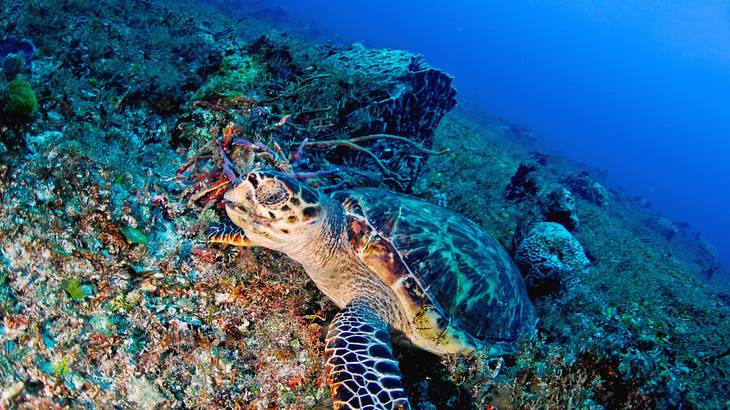 Scuba dive around the Pared Verde Reef
Experienced scuba divers will want to plan a dive at Pared Verde Reef. You can reach this reef in about 20 minutes by boat from the harbour in Playa del Carmen. Creatures to see during your dive include turtles, rays, and tropical fish. You may even see bull sharks during the winter.
If you want to dive but don't have experience. No problem! You can join a scuba diving tour that goes to other stunning reefs and is suitable for beginners.
Check out Xplor Adventure Park
Xplor Adventure Park is a fun attraction for visitors of all ages. The jungle theme park has a range of amusements, from zipline courses to rafting and amphibious vehicle adventures.
You'll also discover many underground rivers that you can swim through while admiring the cave-like surroundings. To make admission easy, book Xplor Adventure Park all-inclusive tickets in advance.
Swim in the Río Secreto cenote
You can find many tranquil and beautiful cenotes around Playa del Carmen, with Rio Secreto being a popular cenote in the area. Situated just over ten minutes from central Playa del Carmen, the cave-style attraction features stunning stalagmites and warm, clear waters.
If you are also interested in visiting the Tulum Archaeological zone, you can join a Rio Secreto and Tulum tour. You'll first head to Tulum and the Mayan ruins site and will stop at Rio Secreto on the way back.
Free things to Do in Playa del Carmen, MX
Watch the sunrise or sunset at Founding Fathers Park
Parque Los Fundadores is a scenic public park near the beach in central Playa del Carmen. It's a beautiful place to hang out any time of day, but going around sunrise or sunset is highly recommended.
You can relax on the sand enjoying the pink and orange sky over the ocean. During a visit, you may also see a traditional Mayan dance performance, and don't forget to snap a picture of the Portal Maya Statue. Note that tipping is appreciated and often expected if you watch a show in this square.
Unwind with a relaxing beach day
While there are many attractions to check out in Playa del Carmen, be sure to also schedule in a beach day or two. The town's main beach area, Playa Incluyente, is great for sunbathing and swimming.
As this is a popular beach, try to go on a weekday to avoid crowds. Also note that the beaches up and down Playa and as far down as Tulum can have lots of Sargassum on the shores, a type of seaweed, typically from May to October.
However, when we were in Playa del Carmen in January of 2023, Sargassum piled up on the beaches even then (apparently, it's a more recent phenomenon). The local council makes a good attempt at cleaning it up every day, though, so don't let that stop you from visiting whenever works for you!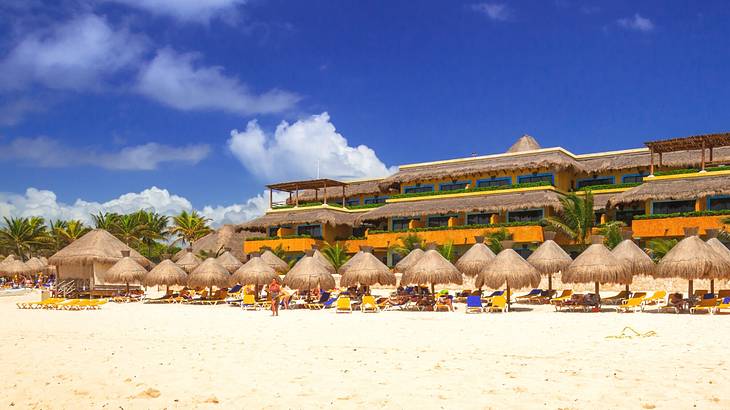 Sunbathe on Playacar Beach
Playacar Beach is a little less well-known than the main beach in Playa del Carmen, although many say it's a better beach, and visiting to see for yourself is well worth it. You can reach Playacar Beach via car or a leisurely stroll from PDC's main beach.
Once you arrive, you can sunbathe on the white sand shores and swim or snorkel in the warm and clear water. The sunset is also beautiful here.
Walk along 5th Avenue
Quinta Avenida is a bustling street that runs parallel to the beach. Wandering along the street during the day or in the evening is one of the many fun and free Playa del Carmen activities to do.
As you explore, you will come across find many souvenir shops as well as more unique stores. You'll also find touristy eateries and bars with drink deals.
Stroll around DAC Verduras y Frutas
DAC Verduras y Frutas is an indoor market that sells many colourful fruits and vegetables, other food items, and Mexican cooking ingredients. There are vibrant handicrafts as well.
Simply wandering around the shop, seeing the unique offerings, and snapping fun pictures is a good way to pass some time. If you have a little to spend, picking up some tropical fruit or souvenirs is the thing you can do!
Things to Do in Playa del Carmen at Night
Luxuriate on a sunset sail
The Riviera Maya sunset is beautiful, and one of the best ways to see it is by going on a luxurious sunset sail. During this two-hour journey, you'll sail along the Riviera Maya, taking in the coastal views. As the sun goes down, you can enjoy drinks and snacks.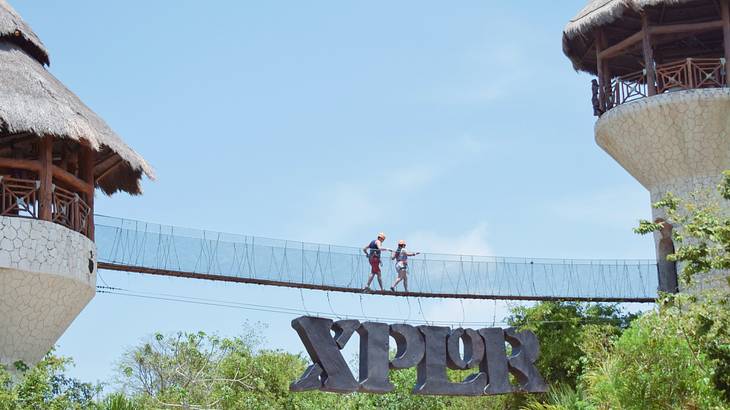 Experience a fun evening at Xplor Fuego
While you could plan a trip to Xplor during the day, going during the evening is even more fun, especially if you're in a group of adults with no kids!
Visiting Xplor Fuego allows you to enjoy the park's underground rivers, zip lines, and other attractions after dark. Visitors can also dine on a delicious BBQ buffet that includes vegetarian options.
Dine at the stunning Alux Restaurant Bar and Lounge
An interesting place to dine in Playa del Carmen is Alux Restaurant Bar and Lounge. This unique eatery is located in a cave, which is illuminated with colourful lighting.
At dinner, you can enjoy dishes with local ingredients like salmon tartar or poblano pepper risotto. Delicious and unique desserts, such as lime cheesecake with blue corn crumble, are on the menu to finish your meal.
Take in the atmosphere at The Public Market Playa Del Carmen
If you can't decide on one bar or restaurant to go to in the evening, consider exploring The Public Market Playa Del Carmen. The market is open all day but comes alive at night, with lots of bar carts and food vendors. There's also live music to add to the fun and bustling atmosphere.
Best Things to Do Near Playa del Carmen, Mexico
Do a Chichén Itzá day trip from Playa del Carmen
While there are many fun things to do in Playa del Carmen, MX, you'll find an array of attractions and landmarks within reach. The most famous Mexican landmark near Playa del Carmen is Chichen Itza.
Visiting Chichen Itza, one of the New Seven Wonders of the World, is something you should do, and you can reach the Mayan ruins in about two and a half hours when driving. You could also opt to take a Chichén Itzá tour.
This excursion includes transport from Playa del Carmen to Chichen Itza, plus a trip to Cenote Saamal and the colonial town of Valladolid.
It is worth mentioning that the stop in Valladolid is really only for 30 minutes on this tour, which is just enough time for a coffee or ice cream. This historic town is beautiful in its own right, and it might be better to do as another day trip from Playa or overnight.
Explore Puerto Morelos
Located only 30 minutes from Playa del Carmen is the sleepy fishing village of Puerto Morelos. This charming destination is worth visiting and features tranquil beaches and many fantastic dive sites within Puerto Morelos Reef National Park.
Along with diving or relaxing on the beach, things to do in Puerto Morelos include joining a food tour, going on a catamaran sail, and shopping at unique independent shops.
Head to Cancun for the day
Cancun is another fun Riviera Maya destination located about an hour by car from Playa del Carmen, depending on traffic. Renting a car or taking the ADO bus to this popular resort destination is a fun way to get out of Playa for the day. The coach bus is the much cheaper option!
You can find many fun and unique things to do in Cancun once you arrive. Activities include going to the scenic Playa Delfines (note that the restrooms are not open past 5 p.m.), shopping at Plaza Las Américas, and visiting El Rey Archaeological Site. The latter takes less than 30 minutes to walk around.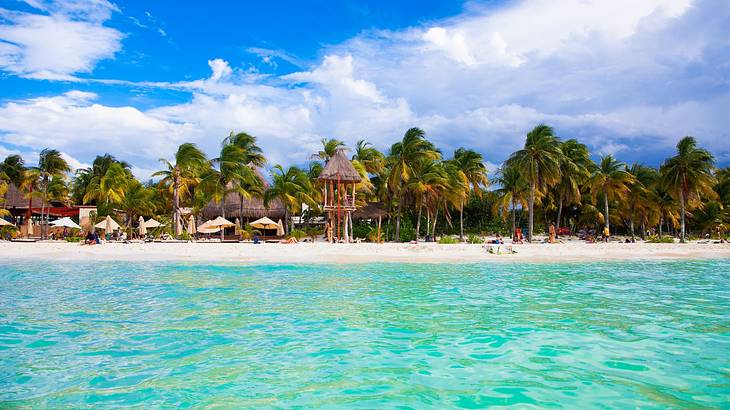 Sail around Isla Mujeres
Isla Mujeres sits in the Caribbean Sea near Cancun. This beautiful island is a must-visit if you're willing to travel a little outside Playa del Carmen. It takes two to three hours to reach by driving to Cancun and then taking the ferry to Isla Mujeres.
Once you arrive, you can check out local shops and restaurants, admire the stunning views, and relax on the beach. You could also treat yourself to a private half-day catamaran sail around Isla Mujeres.
Hop in the water and go snorkelling
A fun idea for those that like water activities is planning a day of snorkelling at the best cenotes in Tulum and Playa del Carmen. Some excellent cenotes for snorkelling include Dos Ojos Cenote and Casa Cenote, both located about 45 minutes from Playa del Carmen.
You can jump in a collective to reach the cenotes, a local minibus. Do note that they don't usually have the air conditioning running, but it's a great way to save money if you're on a budget when visiting PDC.
Alternatively, you can travel a little further to go on a snorkel adventure tour, which includes diving at the Underwater Museum. Another option is going on a whale shark swim and snorkel in Cancun. Make sure to always wear reef-safe sunscreen at the cenotes and when snorkelling near the reefs.
Take a day trip to Cozumel
It is very easy to hop over to Cozumel and do a day trip from the main boat pier in Playa del Carmen, but of course, the island itself is also worthy of an overnight or two!
Either way, you can buy your ferry tickets the day of, but you do need to line up an hour before your departure time, as having a ticketed time does not guarantee you'll make it on board for your selected sailing!
Once you get to the island, you can walk around the small town centre or grab some food or a drink before you jump into a dune buggy to explore some of the nicer beaches here. Do keep in mind that you will need some form of transportation to see areas outside the main town.
Head into the Mayan jungle for an adventure tour
Another of the excellent day trips from Playa del Carmen, Mexico, involves exploring the Mayan jungle on an adventure activity tour. You'll hop onto 4x4 buggies to explore the nearby lush woods and jungles. During the adventure, you'll also stop to swim in a cenote and explore a Mexican ranch.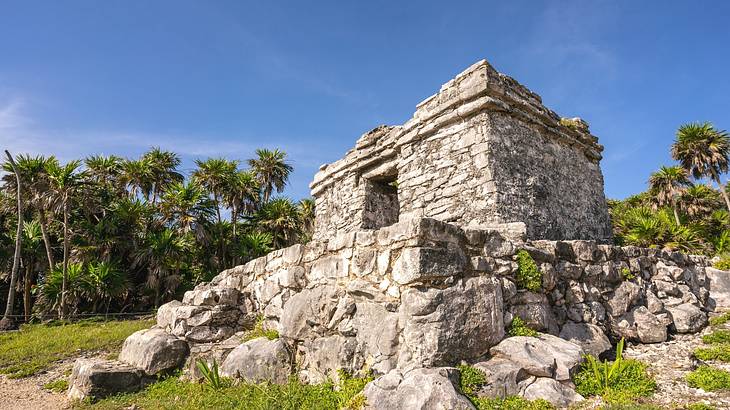 Marvel at the Mayan ruins at the Tulum Archaeological Zone
The Tulum Archaeological Zone is a must-visit attraction near Playa del Carmen. You can reach the site in about 45 minutes to an hour of driving, traffic depending.
To make visiting the landmark easy, booking a Tulum tour from Playa del Carmen is recommended. Once you arrive, you can tour the ancient Mayan ruins and will also get to visit a tranquil cenote.
In Conclusion
There's no shortage of exciting and unique things to do in and around Playa del Carmen. Whether you're relaxing on the beach, enjoying water activities, visiting fun attractions, or anything in between, you'll have fun in Playa del Carmen!
Give us feedback about this article
More articles about Quintana Roo:
Read more articles about Mexico:
More articles about things to do:
---
---
Want to keep exploring?
Subscribe for discounts on tickets and hotels and our latest guides.
Thank you for subscribing
We will be in touch soon with discounts on tickets and hotels and our latest guides.
Want to keep exploring?
Subscribe for discounts on tickets and hotels and our latest guides.
Thank you for subscribing
We will be in touch soon with discounts on tickets and hotels and our latest guides.
Related Articles