24 Free Things to Do in Auckland
Destguides may receive commissions from purchases made through affiliate links in this article.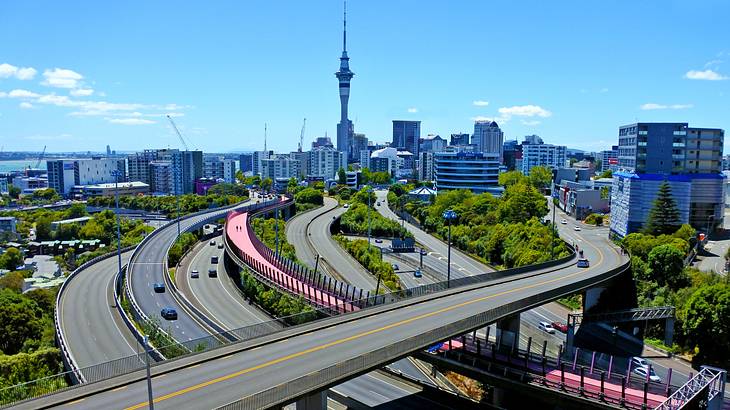 Did you know that there are many fun and free things to do in Auckland? From beautiful gardens and parks to gorgeous white sandy beaches and live volcanoes, there is so much to do here that you will be spoilt for choice.
Located on the North Island of New Zealand, Auckland is the country's social and cultural hub. It is known for its scenic wonders, stunning skyline, and fantastic wine and foods, including many cheap eats!
My intention with this post is to challenge the idea that you need to spend a lot of money to have a great time. So in this Auckland guide, you will find a variety of activities that you can enjoy throughout the year without the need to spend a single cent.
Whether you are a local or visiting New Zealand (Aotearoa) or Auckland for the first time, or if you're on a budget, here is an excellent list of the best free things to do in the city.
24 Free Activities in Auckland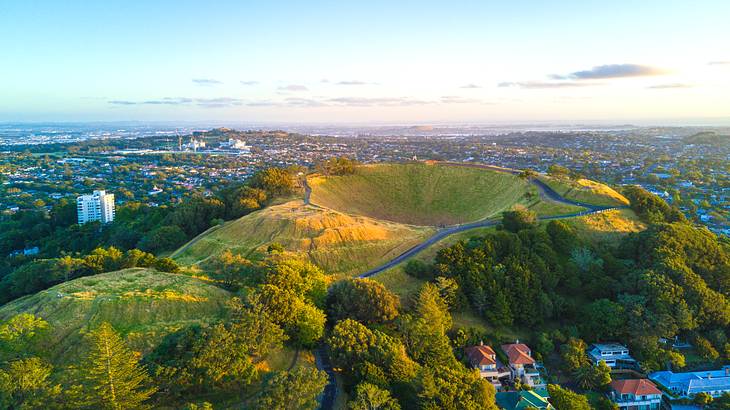 Mount Eden
Mount Eden is a must-see when visiting Auckland. Although it is not an indoor activity you can do in Auckland, it is free. Mount Eden is an extinct volcano that you can now hike, walk, run, bike and even drive most of the way to the summit. At the top is a map of where all the world's major cities are located.
Hundreds of people visit Mount Eden every day, and it is an epic spot to watch the sunrise and sunset. It offers excellent views of the city and surrounding area, including the harbours.
There are also hundreds of little side trails going up from all areas of the base of the volcano. There is even a paved main road leading up and around it. Mount Eden is dog-friendly and also has a dog park on one side of it.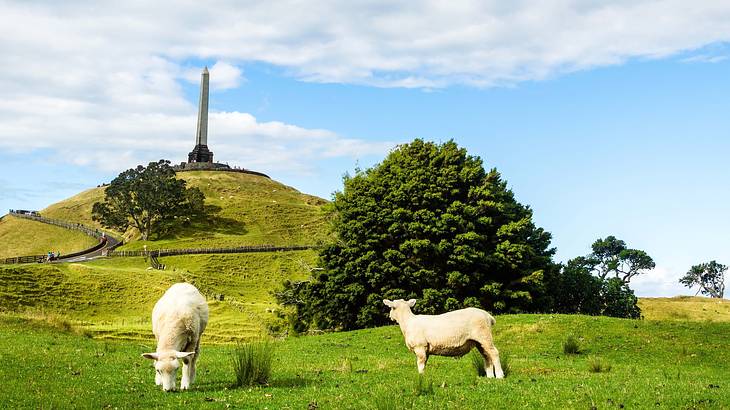 Auckland Walks & Hikes
Auckland is filled with numerous picturesque walking and hiking trails all around the city, all of which you can access for free. Whether you wish to soak up the cityscape, walk along the coastline or chase a waterfall, grab yourself a pair of sneakers and start walking.
Don't forget to take your camera along as you will come across numerous insta-worthy locations along the way.
The famous coast-to-coast walk will take you through volcanic cones of Mount Eden, beautiful parks and One Tree Hill, which provides gorgeous views of the entire city of Auckland.
Some of the best places where you can go for memorable hikes and walks include Rangitoto Summit, Hunua Falls Track, and Okura Bush Walk among others.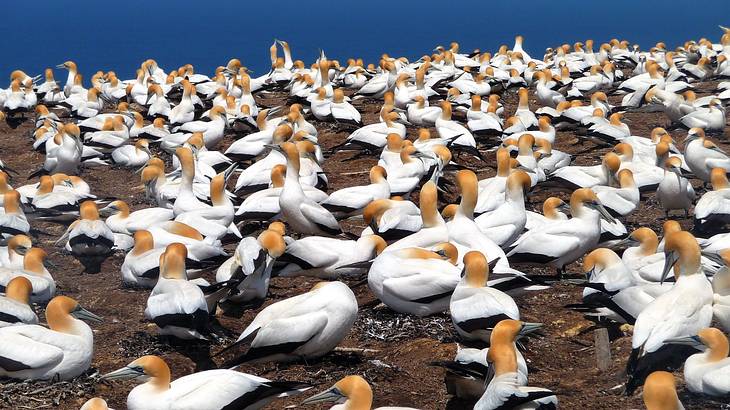 Muriwai Gannet Colony
Viewing the Muriwai Gannet Colony is another one of the top free activities to do in Auckland. Muriwai is home to the largest Gannet breeding site in New Zealand and one of three on the mainland.
These giant sea birds are native to New Zealand and are known to mate for life.
It isn't just the Gannets that are impressive. The drive there is scenic, dramatic and unforgettable.
A New Zealand travel tip to keep in mind is that the beach and cliffs here can be quite windy, and there tends to be a lot of other visitors, so watch your step and be aware of your surroundings when you are taking pictures.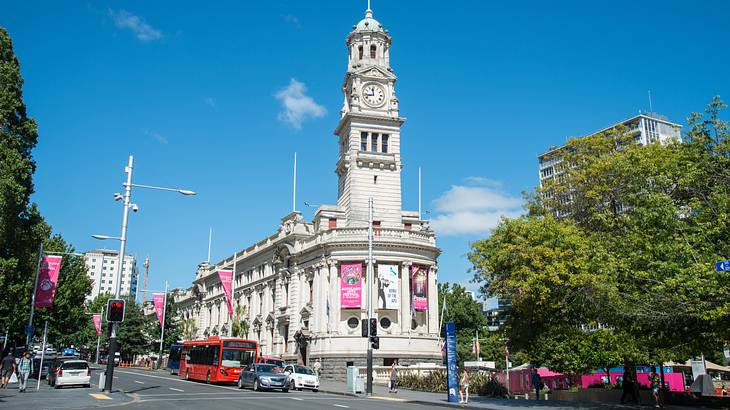 Window Shop at Queens Arcade
Queens Arcade is a historic shopping mall located in the centre of Auckland. It was opened in 1929 and renovated in 2013, making it a comfortable and modern shopping place - a perfect home for many of the international stores located here.
Situated on Queen Street, you can find several cosy cafes and shops here selling everything from designer garments to gift items, boutiques and even supermarkets.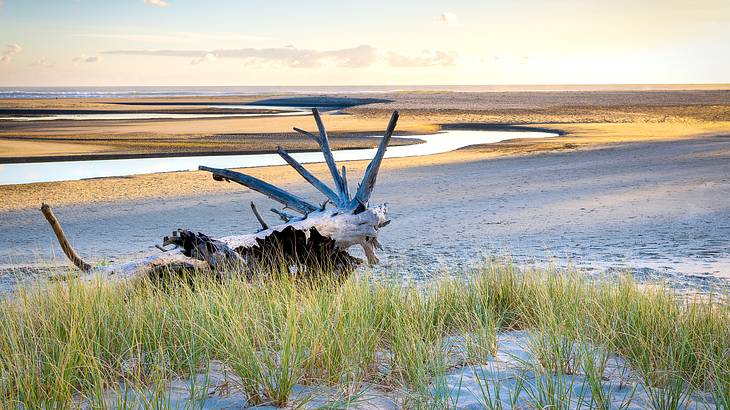 Relax on a Beach
Being an island country, New Zealand has numerous gorgeous beaches and coastal locations at your disposal. If you are in the mood to do something for free, then head over to one of the beautiful beaches in Auckland or surrounding areas.
You can either go for white-sand beaches or black-sand ones as both exist here. All sorts of water sports are also available at most beaches, including surfing, diving, swimming, snorkelling and much more.
On the other hand, if you are someone who likes to stay dry, pack a picnic basket and spend some time sunbathing on the beach with your loved ones. Don't forget to take your sunscreen along!
Some of the most popular beaches in and around Auckland include Pākiri Beach, Anchor Bay, Karaka Bay, Karioitahi Beach, and Piha Beach.
Visit a Library
With over 55 libraries as well as four mobile libraries spread throughout the city from Waiheke to Waiuku to Wellsford, visiting one of them is a great idea, especially for people who love to read and learn new things.
Of course, the libraries are filled with numerous books, but you can also find some fantastic picks in magazines, videos, DVDs, audiobooks as well as eBooks. You can easily spend the entire day here immersed in books, forgetting the whole world outside.
The libraries often host exciting talks and events as well, so make sure to keep an eye out for such occasions to get the most out of the experience.
Auckland Art Gallery Toi o Tāmaki
The Auckland Art Gallery is one of the best things to do for free in Auckland. With over 15 thousand works of art in the gallery and free entry, it's a fantastic attraction that might result in you quickly losing track of time.
This renowned museum is a great place to learn about new things through its interactive exhibits like the 'shaky' volcano. The gallery also hosts free talks regularly, which gives an added incentive to visit this museum.
So make sure to keep an eye out for these special events taking place at the Auckland Art Gallery to get the best experience possible.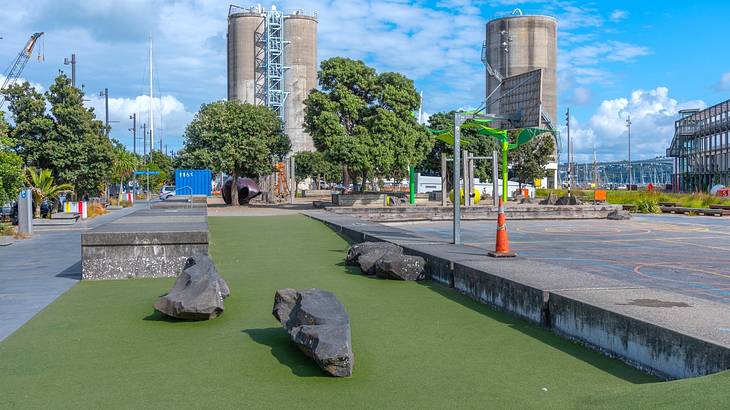 Catch a Movie at Silo Park
Throughout the summer, Silo Park offers free movie nights every Friday and Saturday, which can be a fun activity to do at night in Auckland! They offer a rotating selection of movies along with a night market in the park.
The Silo Cinema got its name from the fact that movies are projected on adjacent silos in the park. This event has become a beloved tradition in the city.
So if you're visiting Auckland during the summer, make sure to carry a blanket along with some snacks, and head over to Silo Park to catch a free movie.
You can also find numerous food trucks and street performers all over the park, making it one of the best free destinations to visit in Auckland.
Visit Cornwall Park
Another great way to spend an afternoon for free is to visit Cornwall Park located in the middle of the hustle-bustle of the city. It acts like an inner-city oasis, and there is a lot to do here.
You can go for a stroll, have a picnic in the park, BBQ with friends, play games on the giant open lawns or heat things up with a run. You can also experience an urban farm operating within the park.
With a rich history and beautiful tall trees all around, it is a great place to spend some tranquil quality time with your loved ones in nature.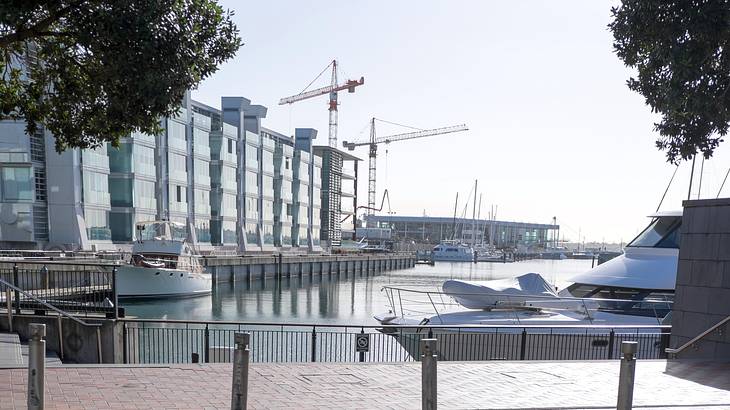 Auckland Waterfront - Viaduct Harbour
The Auckland Waterfront is undoubtedly one of the most happening places in the city. There is so much to do here that you will be spoilt for choice.
You can sit on the shore and watch the boat traffic go by, or sit and watch people going about their day-to-day life. You can go for a stroll along the quay and enjoy the picturesque sights.
Of course, if you want to try any of the delicious food available here, you will have to spend a few bucks. But whatever you end up doing, it will be a day well spent.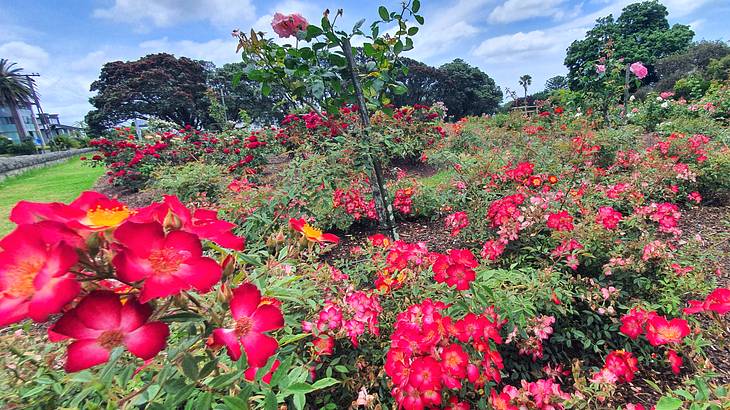 Stop & Smell the Roses at Parnell Rose Garden
You must have heard the old expression, "take time to stop and smell the roses". This is extremely important, especially in today's busy life. So take some time out of your day to slow down and appreciate life, and the best place to do just this for free in Auckland is at the Parnell Rose Garden.
The garden comprises a multi-park complex with more than 5000 roses that you will be able to smell from a distance. And once you see the garden, the flood of colors will sweep you off your feet.
Spend some time amongst the pretty roses and take lots of insta-worthy pictures to remember the day forever. Apart from the roses, the gorgeous views of the bay and picture-perfect moments are a bonus.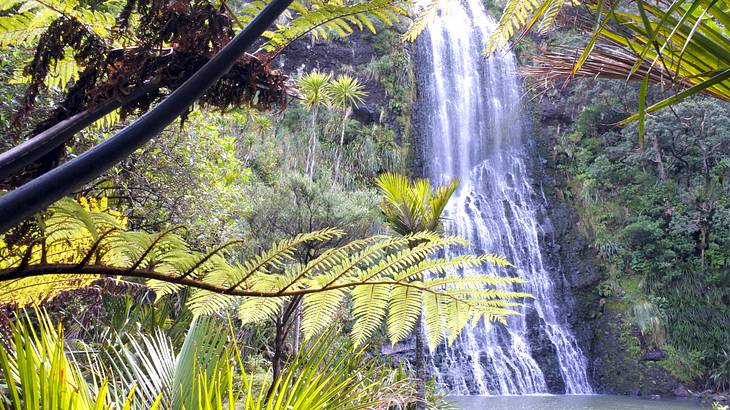 Chase Waterfalls at Karekare Falls
New Zealand has many gorgeous treks and hiking trails that reward your efforts with stunning waterfalls at the end. One such beautiful location that will take your breath away with serene views is Karekare Falls.
Located about a 45-minute drive from Auckland city, you can visit Karekare Falls by taking a day trip. The falls are just a short 5-minute walk from the parking lot, so even those who don't enjoy hiking can visit here.
To get the most out of the experience, visit the waterfall right after it rains heavily. Take a moment and sit by the waterfall, enjoy the sounds of the rushing water and immerse yourself in the experience.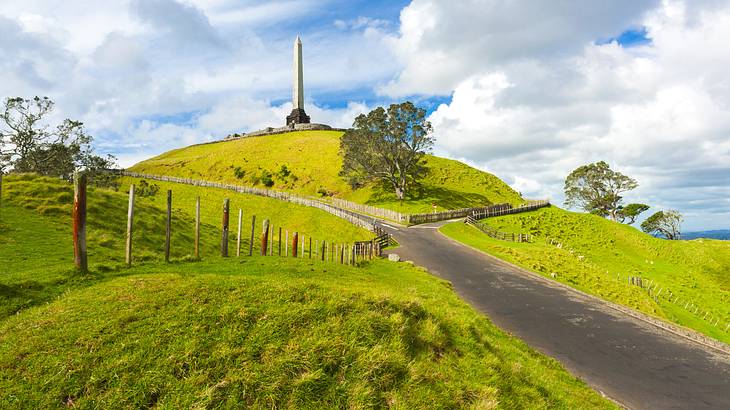 One Tree Hill - Maungakiekie
One Tree Hill is a renowned volcanic peak in the city of Auckland standing at the height of 182-metres. The top of the hill offers fantastic panoramic views of the city.
The summit is also home to John Logan Campbell's grave, who presented this land to the people of the city in 1901. He requested that a memorial be built for the Maori people on the summit. Since then, it holds great importance for the Maori culture.
The stump of the last 'one tree' also exists nearby, which gave the hill its name. It is an excellent location for those who love walking and hiking as well as enjoy some fresh air with amazing views.
The peak also houses an observatory at the top, making it popular with people who are into astronomy.
Fort Takapuna Historic Reserve
For all of you military buffs, Fort Takapuna is one of the most exciting places you can visit. Colloquially known as the 'Russian Scare Fort', it was built before the century changed in 1900. The fort offers many fun free things to do for adventure-seekers.
There are two main buildings here, the enormous barracks built in 1880 and the newer brick building built in the 1920s by the Navy for storing warheads for torpedoes.
When visiting, you're free to wander on the grassed areas while taking in the superb Hauraki Gulf and the fascinating military history of the fort. You can also explore the underground bunker network or take a self-guided coastal walk.
Spend a Kid's Day at Potter Children's Garden - The Auckland Botanic Gardens
The Potter Children's Garden at the Auckland Botanic Gardens has been designed specifically for children, or those who are kids at heart. With the live biome at the garden, visitors have the opportunity to learn about the evolution and biology of birds, plants and insects.
There are discussions about how plants adapt to different environments around the world, weather and its impact on habitats, and much more.
Of course, being a place for children's entertainment, there is also a huge play area where they can play till their heart's content while adults take a relaxing break at the nearby café by grabbing a cappuccino.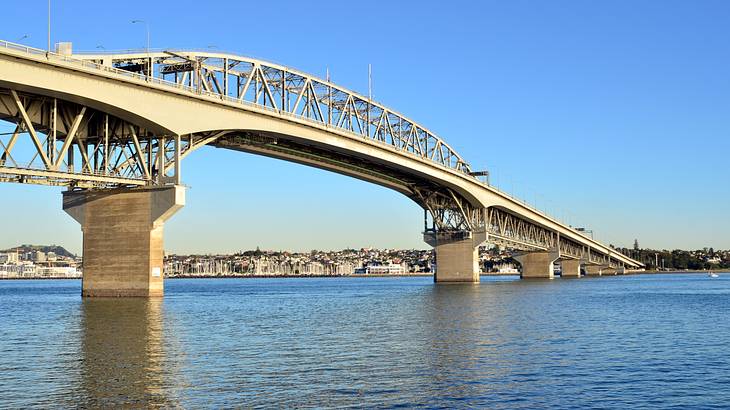 Feed Your Architectural Bug at Auckland Harbour Bridge
If you are fond of and appreciate architecture, Auckland is an excellent place for you to visit. The first stop for any civil engineer or architectural buff should be the Auckland Harbor Bridge.
However, apart from that, there are many other buildings in the city from ancient forts to ultra-modern skyscrapers with exciting designs that you should explore. All these buildings combined make for a majestic background in any Auckland landscape shot.
Bird Watching at Tawharanui Regional Park
Due to New Zealand's geographical isolation, it is home to a diverse and exotic bird population. There are several flightless birds native to its shores and forests.
This peculiarity was made possible because there weren't any mammals present in this area to feast on the flightless birds and their eggs. Rats, possums and sloths came later, but the ongoing conservation efforts of the government have ensured that the native and endemic bird species of New Zealand continue to survive.
Tawharanui is a bird sanctuary located an hour away from Northern Auckland. Here, you can undertake guided visits and bird-watching tours to various parts of the sanctuary to witness all the rare bird species, such as the North Island Brown Kiwi, Takahe, Kakariki, Tieke or Saddleback, Pateke or Brown Teal, Oi, Bellbird and North Island Robin.
If you are looking for more destinations like this, check out Tiritiri Matangi Island - it is another wildlife sanctuary that you should consider visiting.
Goat Island Marine Reserve
The whimsical Goat Island is a marine and wildlife sanctuary located a short drive north of Auckland city. Besides being a wildlife sanctuary, it is also one of the premier diving locations in the area.
Lovers of water sports can also enjoy snorkelling and rowing here amongst a kaleidoscope of varied marine life.
However, if you prefer to stay on dry land, you can go for a glass-bottomed boat tour of the sanctuary to witness the beautiful marine life in action.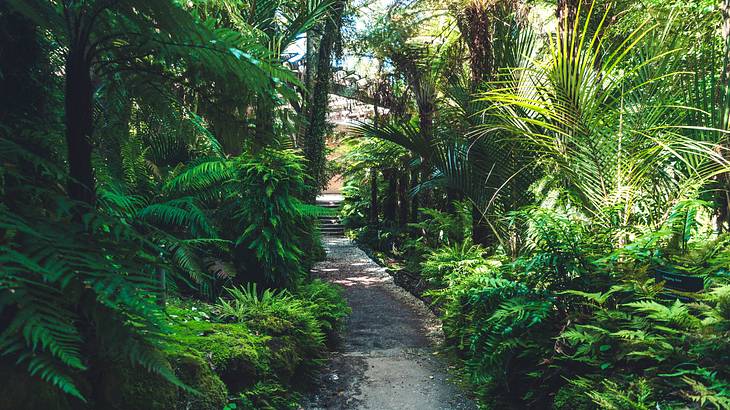 Relaxing at 'The Domain'
Just like New York City is known for Central Park, Auckland is home to The Domain. It is the oldest park in Auckland and is free to visit for the public.
This vast park is full of greenery and is the perfect oasis for relaxing, kite flying, picnicking, hanging out with your loved ones, practising your photography skills, or just taking a stroll amongst the lush green trees and waterfalls.
Also, if you're lucky, you may catch an outdoor concert taking place in the park.
Visit Clevedon Village Farmers Market
For all those foodies out there, head over to the Clevedon Village Farmers Market. Especially for the people who are into organic food and believe in bringing their food products direct from farm to table, this is the perfect destination for you.
Located close to the Eastern Beach district in Auckland, you can find all sorts of farm-grown produce and hand-cured meats here.
Of course, you can browse the entire market for free, but I wouldn't be surprised if you cave in and get lots of produce and goods for yourself and your family.
Explore Queen Street
Considered to be the backbone street of Auckland, Queen Street is the primary axis along which the entire city spans. Today, it is filled with many modern malls that attract tons of shoppers throughout the year.
Queen Street begins right at the water's edge and heads up in a straight line towards Auckland Town Hall and the Baptist Tabernacle. The upper part of the street is lined with converted cottages, modern apartments, and several galleries.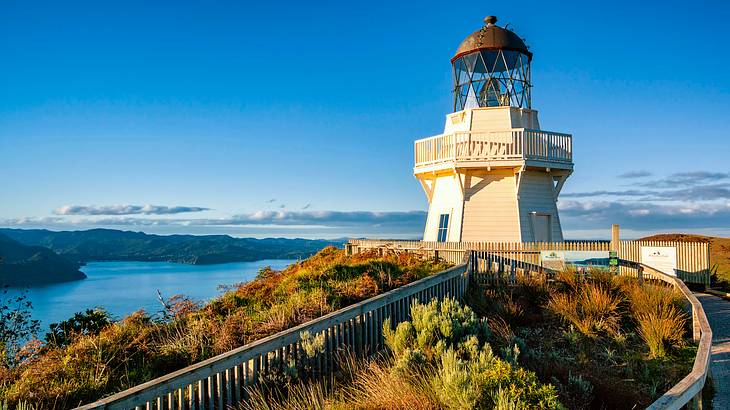 Manukau Heads Lighthouse
Go for a long drive along Awhitu Peninsula on the southern side of Manukau Heads to reach the picturesque Manukau Heads Lighthouse. Here, you can climb the 120 stairs to reach the top.
From the top of the lighthouse, you can get immersed in the gorgeous views of the ocean below. If you are lucky, you may even be able to spot the Maui Dolphin – one of the rarest mammals in the world.
This is a great place to have picnics with its spacious grounds, stunning views and the fascinating lighthouse in the background.
Tāmaki Herenga Waka Festival
Tāmaki Herenga Waka Festival takes place every year to celebrate Maori heritage in New Zealand. The festival involves both water and land performances along with storytelling encapsulating the rich waka history of the region.
Some of the usual highlights of the festival include the Waka showcase, Kapa Haka, Music and Contemporary Maori dance, water and land performances and storytelling, and a marketplace selling traditional toi (art) and kai (food).
Otuatua Stonefields
Undoubtedly one of the most historically significant sites in New Zealand, the Otuatua Stonefields will take you into an entirely different tranquil world even though it is situated just a few minutes drive away from the chaos of the city.
Being home to the indigenous tribes of the Tangata Whenua, it is also an important archaeological site in the country. Spread over 100 hectares, this historic reserve was established to preserve and protect the archaeological remains of those communities.
Not only this, but it is also a well-known volcanic area where you will be able to witness large-scale stonework remains that depict the lives of people who once lived here.
Conclusion
Auckland is truly a world apart with its charming aura, clean environment and friendly people. And when you add in the numerous year-round selection of things that you can do for free in Auckland, there is no reason why anyone would not want to visit this place.
While some may find the wide variety of choices in this Auckland guide quite overwhelming, this list can work as a handy guide for new visitors to Auckland on a budget!
So head over to Auckland, New Zealand and enjoy the city without making a hole in your bank account!
Give us feedback about this article
Learn more about Auckland:
More articles about Auckland:
Read more articles about New Zealand:
More articles about things to do:
---
---
Want to keep exploring?
Subscribe for discounts on tickets and hotels and our latest guides.
Thank you for subscribing
We will be in touch soon with discounts on tickets and hotels and our latest guides.
Want to keep exploring?
Subscribe for discounts on tickets and hotels and our latest guides.
Thank you for subscribing
We will be in touch soon with discounts on tickets and hotels and our latest guides.
Related Articles