27 Fun Indoor Activities in Auckland
Destguides may receive commissions from purchases made through affiliate links in this article.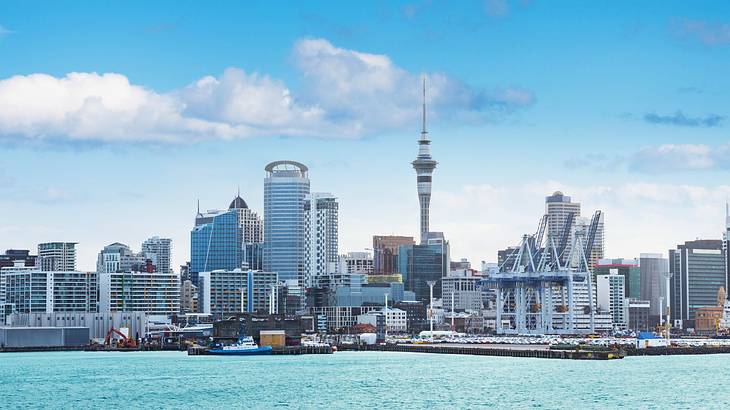 Located on the North Island of New Zealand is the happening city of Auckland. You can find many cool and free indoor activities in Auckland.
Auckland Central, Auckland CBD, and Queen Street are all busy, touristy, and popular places to visit. They are filled with shops, tattoo parlors, and book stores. You can also find bars, cafes, restaurants, and other businesses.
Most of the indoor activities mentioned on this list are located within walking distance of the above areas, and some are located a short transit ride away.
Free things to do in Auckland are endless, and new festivals and events are always popping up. Exciting educational places that offer free activities for kids over the school holidays exist too.
The activities I've included on the list below will ensure you still have fun regardless of the weather outside. If the weather is holding up, there are also some great outdoor activities to do north of Auckland as well.
27 Best Things to Do in Auckland on a Rainy Day
Auckland War Memorial Museum
The Auckland War Memorial Museum brings history to life, particularly Maori culture. It stands as a memorial for any New Zealander who has lost their life at war. The museum is a must-visit, especially if you are in Auckland for a long weekend.
This museum is the perfect place to spend a rainy day, whether by yourself or with your partner or family. It is open every day (except Christmas) from 9 AM to 5 PM. The Auckland Museum has daily performances celebrating Maori history as well as several collections and exhibits to explore.
There are exhibitions related to the Ancient Greeks, Early Auckland Photography, Wildlife Photography, and many more. The museum also offers guided tours and special programs and activities for kids, like the "Discovery Trail."
SkyCity Auckland
If virtual reality gaming is not your thing, but roulette, blackjack, and poker are, then Sky City Casino might be your sanctuary indoors. This casino is open 24 hours a day and is located in the Central Business District.
Within the same complex are multiple bars and restaurants. The casino, bars, and restaurants come alive at night time. However, most venues serve lunch as well. There are many other things to do in Auckland at night aside from casinos, so don't worry! Within SkyCity is also Sky Tower.
Sky Tower is 328 meters tall. At 220 meters, you can enjoy panoramic views of Auckland city with 80 kilometers of visibility in every direction. If you want to spend a few hours indoors in Auckland, SkyCity has much to offer.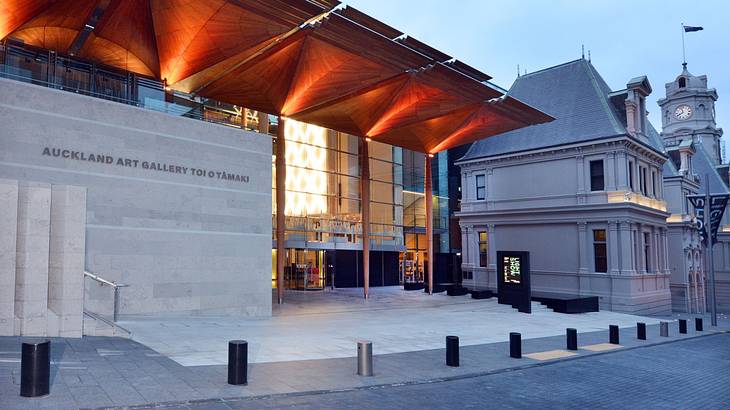 Auckland Art Gallery Toi o Tamaki
Auckland Art Gallery Toi o Tamaki is open daily (except Christmas) from 10 AM to 5 PM and on Fridays from 10 AM to 9 PM. It offers guided tours as well as group tours for ten or more people.
As it is an art gallery, the exhibits change regularly, but the website is always up to date with what's being shown, so it is a good idea to check it before you go. The Auckland Art Gallery is family and kid-friendly. It provides free "gallery games" from 10 AM to 4 PM, which you can download before your arrival.
The gallery also has interactive exhibits in its Creative Learning Centre. The displays in the center are designed to spark interest in the arts for kids.
Purrs and Beans
Purrs and Beans is a fantastic cafe to spend time at. Whether you're missing your cat from home or just want to cuddle some kitties, Purrs and Beans is purrfect. There are 13 cats that live on-site, waiting to sit on your lap while you enjoy your cup of coffee.
The cafe is open Wednesday-Sunday and has two separate cat rooms. One is devoted to the 13 cats living on-site, and the other is for cats that can be adopted. The cafe works by booking sessions in either one or both rooms for 30 minutes or 60 minutes.
New Zealand Maritime Museum
The New Zealand Maritime Museum is full of many interesting and exciting exhibits, such as permanent exhibits made up of real ships and model replicas. It takes you through New Zealand's sailing culture and nautical history, all the way from the Maoris to modern-day sailing, with a detailed and informative exhibit on America's Cup sailing race.
A popular offering of the museum is hopping aboard their Ted Ashby boat to go for an hour-long sailing ride around Auckland's harbor. The museum has all the amenities you would expect - a cafe, luggage storage, WIFI, and guided tours.
Stardome Observatory & Planetarium
The Stardome Observatory & Planetarium is open every day with varying hours, but it is recommended to plan your visit ahead of time. It is a fantastic indoor activity to do in Auckland on a cold and rainy day as it is family-friendly and always has a lot of exhibits and shows going on. You can even have a kid's birthday party here or adopt a star!
The observatory goes through the history of spacecraft and space travel, contains displays of meteorites from the moon and Mars teaches you about telescopes and how they work, and has a scale that shows you how much you would weigh in space.
Furthermore, it has courtyard telescopes, a space gallery, and a Zeiss Telescope where you can see deep objects in space. It also offers planetarium shows where you can learn about the night sky. Don't forget to stop by the amusing gift shop on the way out!
SEA LIFE Kelly Tarlton's Aquarium
Kelly Tarlton's Aquarium is one of Auckland's most popular attractions for families and people of all ages. It is home to a large selection of sea creatures, including penguins, turtles, sharks, and Tuataras. The aquarium has glass tunnels that you can walk through as the sea creatures swim above and around you.
The aquarium does live feeds and talks with penguins, sharks, turtles, and fish. The shows happen at different places and times, so check the website for exact times and locations. Kelly Tarlton also provides school holiday activities and educational games, and classes for kids.
For those interested in getting closer to the animals, the aquarium offers a wide array of "experiences," like cage diving with sharks, getting up close and personal with penguins, or a behind-the-scenes tour of the park.
Clip 'n Climb Auckland
Located just outside the city center, Clip 'n Climb offers a fun and safe climbing environment for children. They provide lots of easy and fun courses for kids.
A session lasts about an hour. During the session, kids will explore many of the differently-themed walls and challenges within the center. It is a popular location for parties and events. So advanced booking is recommended if you are visiting on a weekend or during the school holidays.
Holey Moley Golf Club
Golfing at Holey Moley Golf Club is one of Auckland's best rainy-day activities. It has an indoor mini-golf course where each hole is differently themed and decorated with pop culture icons. They offer 9, 18, and 27 holes and even have a private karaoke room that can fit 20 people.
Holey Moley Golf Club provides a high-energy place for social events, kid's parties, and even work celebrations. It has a bar stocked with beer, wine, and spirits, as well as non-alcoholic drinks, snacks, and food. It is a fun place for adults but also has areas for kids and families too.
Odyssey Sensory Maze
The Odyssey Sensory Maze takes about 20 to 30 minutes to explore. The "maze" is a series of rooms. Each room has a unique set of challenges, lighting effects, and illusions that, when combined, create a quirky and unexpected experience. The maze doesn't require any pre-booking; however, tickets are cheaper if you book online in advance.
Mount Albert Aquatic Centre
The Mount Albert Aquatic Centre is a lot of fun for the entire family or anyone looking to learn how to swim or stay fit. The center offers all kinds of classes and safety courses and is staffed with lifeguards.
In addition to the 25m indoor swimming pool, there is a children's wave pool, splash pool, and hydroslide. There is also a sauna, steam room, and spa for the adults. The center has a cafe on site as well.
Giapo Ice Cream
Giapo Ice Cream is one of Auckland's most unique and famous ice cream parlors. It has turned ice cream into a literal art form, and people travel from all over the city and world to experience Giapo.
If you are looking for plain old ice cream, Giapo is not the spot for you. Dedicated to new and innovative ways to enjoy ice cream, Giapo goes above and beyond creativity and imagination to bring you the very best ice cream creations.
Giapo offers halal, vegan, kosher, and gluten-free options and "experiences." There is the free "Walk-in Experience," where the employees walk you through the ice cream creation process with a few samples.
The "Master Class" is recommended for parties and families. This one-and-a-half-hour-long class allows you to create your very own ice cream. You can also go on a Kitchen Tour or sign up for a one-hour Music & Ice Cream experience.
Virtual Reality Voom (VR Voom)
If you are a casual gamer or gaming enthusiast, you should check out VR Voom. VR Voom offers "the most advanced virtual reality gaming experiences."
Using their virtual reality headset, body kit, and weapons, you can enter their virtual world and compete with either your friends or other gamers to solve puzzles and challenges together in a virtual world. If you've never used virtual reality technology before, it is worth checking out. It is a unique indoor experience.
Cakes 'n Ladders - Board Game Cafe
If you are a coffee lover and are looking to unwind indoors, then look no further than Cakes 'n Ladders - a quaint cafe in Auckland's CBD. The cafe's gaming collection is continuously growing. They have all sorts of games - from board games to family-friendly games, like Cards Against Humanity and Connect Four.
If you are looking to get off your feet for a few hours, or are looking to wait out some bad weather, then a board game or two at Cakes 'n Ladders is an excellent way to pass the time - and to have a lot of fun doing it!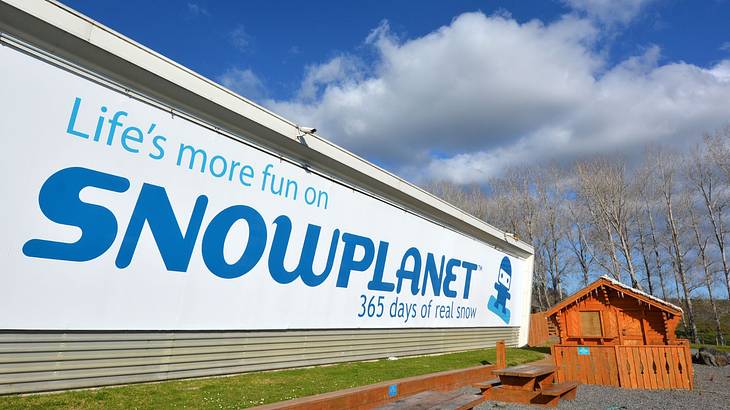 Snowplanet
Snowplanet is a super cool indoor ski and snowboard "mountain." It offers ski and snowboard lessons, "night" riding, a terrain park (on Friday nights), and snow tubing, and has a restaurant, bar, and even a ski shop.
Snowplanet also provides after-school and school holiday programs, athlete training, and camps. This indoor slope is a fun thing to do on a rainy day in Auckland.
Escapade NZ
An escape room is a fun way to pass the time indoors. It can be storming outside or blistering hot - regardless, lots of fun can be had at an escape room.
One of the most popular escape room venues in Auckland is Escapade NZ. They have six different rooms, all Kiwi themed. It is highly recommended to book in advance. A typical room supports two to six people, and you have up to 60 minutes to complete a room.
Game Over Auckland
Game Over Auckland offers several fun indoor activities that will allow you, your family, or your group of friends to pass many hours. The venue might be located quite far outside of Auckland's CBD; however, it takes just under one hour by public transport to reach it.
If you are looking to burn some rubber and compete against your friends to discover who is the fastest driver in your group, indoor karting can be a lot of fun. The karts at Game Over are electrically powered - meaning, no smell of petrol fumes. They are safe as they are capped at a safe speed for the course.
Also available at Game Over are laser tag and mini-putt. The laser tag arena supports up to 20 people. Each laser tag game runs for 10 minutes. When you are ducking and hiding from your opponents, a 10-minute game can seem like a long time.
Finally, the mini-putt course at Game Over has a Jurassic theme. It is a 12-hole course and kid-friendly.
Jump Trampoline Park
Jump Trampoline Park is a flipping good time and one of the best things to do on a rainy day in Auckland. Whether you're a group of kids, teens, or adults, or a mix, this place has endless things to do.
The Main Court is made up of over 50 wall and floor trampolines for you to bounce around on. There are the Mini Courts especially sectioned off for the little ones.
Jumper Trampoline Park also features the best foam pit in Auckland. The foam pit is made of 20 feet of foam and is two meters deep. It has a classic catapult setup as well as a two-meter high platform you can jump from.
In addition to the foam pit, there is a battle beam, a dodgeball court, a performance wall, and more! When you get a little tired, there is a cafe on-site where you can refuel with a snack or a great cup of coffee.
Event Cinemas at Queen Street
A movie at the cinemas is a great way to pass the time indoors. The Event Cinemas at Queen Street is conveniently located in the city as well. If you are looking to spoil yourself, consider booking yourself into Gold Class or an IMAX screening for an out-of-the-ordinary experience.
Paradice Ice Skating
Paradice Skating offers ice and regular skating, mini-golf, and laser tag. If you've never been ice skating before, you can take classes. Paradice offers lessons for the young and old.
They also play host to several ice sports, such as curling, ice hockey, and figure skating. Paradice Skating is open seven days a week, and on Friday nights from 7:30 to 10:30 PM, Blackout Friday is available to everyone; it even includes skate hire. It's the perfect place to add to any list of Auckland rainy day activities.
The Classic Comedy Club
Who doesn't like to laugh? Especially during a night in the city! The Classic has shows up to five nights a week, with their bar and box office opening at 7 PM and staying open until late.
The easiest and most convenient way to get info about who's on for the night, and to get tickets, is by going online. Anyone between the ages of 14 and 17 must be accompanied by their parent, while some shows are strictly R18 and will require your ID before entering.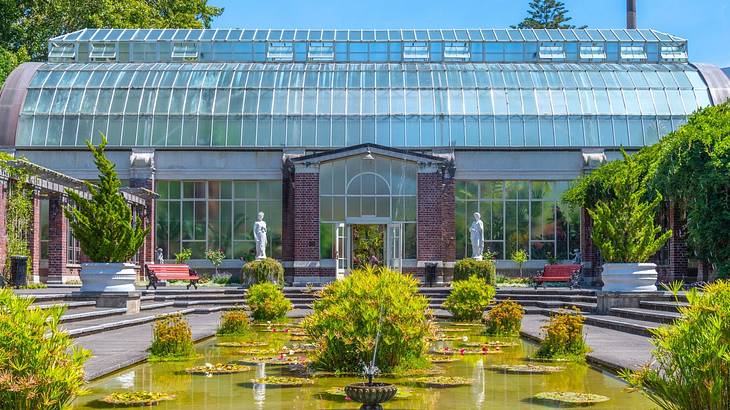 Auckland Domain Wintergardens
The Domain Wintergardens are a vibrant, beautiful, and peaceful place to visit in the middle of a busy city. It was designed in the 1900s and has been open to the public since 1913.
Set up in two beautiful glasshouses, the Wintergardens has one that is heated and another that changes with the seasons. There is a cafe on-site offering fresh baked goods daily, and it is open for breakfast and lunch.
If you want to stay near these stunning gardens for easy access, the Parnell neighborhood is the best place to stay in Auckland and has accommodation options for most budgets.
Extreme Karts
Extreme Karts is one of New Zealand's best indoor things to do in Auckland. They have a two-level track and a straightaway where you can gain speed before drifting into sharp turns. Extreme Karts offers individual and group racing options, or you can hire the track for private events and parties.
The Go-karts here are unique and were designed and built for this track only. Your laps are timed down to 1000th of a second, plus you get much more info like the place you came in and more.
Megazone Mt. Wellington
Megazone in Mt. Wellington is Auckland's largest multi-level laser tag complex. There are two floors designed with fog machines and laser lights to test your skills as you search and sneak your way through the maze, looking for your enemies.
Megazone also features a Laserweb, New Zealand's first! A laserweb tests your coordination and skills as you collect points using your arms and legs to eliminate red beams while you dodge the green beams.
After a few games of laser tag, you can drive The Dodgems. They are a version of bumper cars where you can speed, race, and drift all over the track before crossing the finish line.
The Megazone just added glow-in-the-dark mini-golf, and they have a fully stacked arcade as well. This is one of the best rainy day activities in Auckland because of the number of things to do in one building.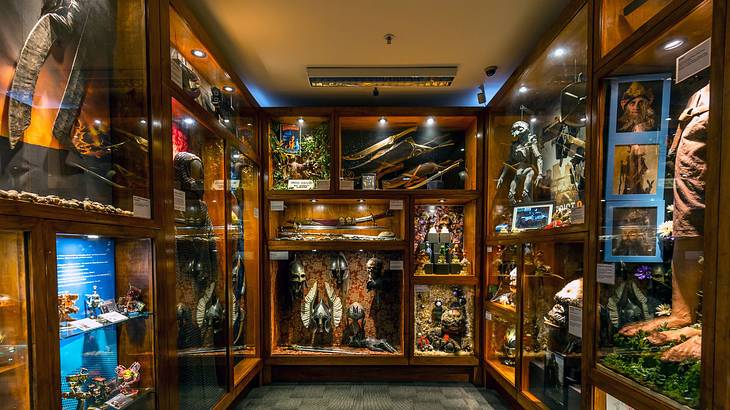 Weta Workshop: Unleashed
This new and exciting attraction is described as part workshop and part film set. The tour takes you through the creative process of how things like monsters, giants, and robots are created for modern-day movies.
You can book different workshops like makeup and costume design. Weta Workshop: Unleashed makes you feel like you are in a different world, as they take you through 3 different movie sets and several various workrooms. This is a super fun Auckland activity for anyone interested in the magic behind movie-making.
Dice and Fork
The Dice and Fork is Auckland's Boardgame Bar and Eatery. The bar has over 250 games to choose from and has themed nights and tournaments. The Dice and Fork has an incredible menu with a variety of beer, wine, cider, and cocktails.
They also have a delicious section of burgers to choose from and even cater to different dietary restrictions. The bar has happy hour every Tuesday, Wednesday, and Thursday from 4 to 6 PM, and you can book a table right on their website.
Brothers Brewery: Juke Joint
Brother Brewery is one of Auckland's most popular beers, and hanging out at their leading production site is always a good time.
Set up in an old leatherworking factory, Brothers offers a BBQ restaurant with mouth-watering food, and you can even go on tour if you'd like.
The Juke Joint is laid-back and easy to get to via public transport. They are open every day but Monday, and it is well worth the visit. Or, head to one of their other locations around the city.
In Summary,
Auckland is a super fun and neat city for anyone who visits. There are various indoor activities in Auckland that one can do when it is wet and cold outside.
Whether you are passing through Auckland for three days or live here, I hope this list helped give you some ideas for things to do in Auckland on a rainy day.
Give us feedback about this article
Learn more about Auckland:
More articles about Auckland:
Read more articles about New Zealand:
More articles about things to do:
---
---
Want to keep exploring?
Subscribe for discounts on tickets and hotels and our latest guides.
Thank you for subscribing
We will be in touch soon with discounts on tickets and hotels and our latest guides.
Want to keep exploring?
Subscribe for discounts on tickets and hotels and our latest guides.
Thank you for subscribing
We will be in touch soon with discounts on tickets and hotels and our latest guides.
Related Articles