How to Spend the Best Long Weekend in Auckland
Destguides may receive commissions from purchases made through affiliate links in this article.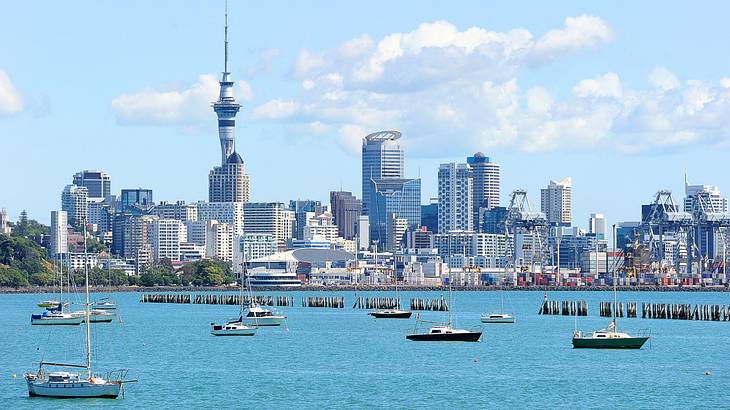 Auckland is located on New Zealand's North Island and belongs to the Auckland Region, the most populous urban area in the country. It is situated between two harbours, making it the country's transport hub.
Auckland is also famous for its remarkable skyline and scenic wonders that can be found in the city and surrounding areas. This includes small islands that can be easily reached from the city and explored with a tour or on your own.
Furthermore, Auckland offers excellent food and wine that is considered to be the best in New Zealand. A long weekend in Auckland exploring all of its sights, attractions, and tastes is a reasonable amount of time to take in all this fantastic city has to offer.
So whether you are kicking off your New Zealand trip by flying into Auckland or are just visiting over one of NZ's national holidays, I highly recommend spending at least a few days in the city. Continue reading my Auckland itinerary to learn how to make the most of your short time here!
A Long Weekend in Auckland Itinerary
Auckland 3-Day Itinerary Video
Check out our highlights video of the stops covered in this Auckland itinerary.
Auckland 3-Day Itinerary Map
A map of Auckland. Use the map to explore all the days and stops.
Auckland's Historic and Cultural Side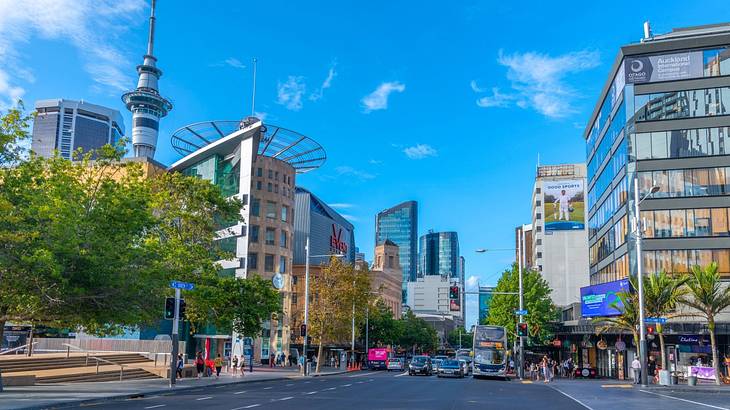 Begin your first day in Auckland by exploring the popular Queen Street. Then, pay a visit to a traditional art gallery and some Merchants' Houses. Finally, learn more about Auckland's war history at the Auckland War Memorial Museum and climb Mount Eden. All the tourist attractions on this day are relatively close to each other, so skip public transportation and just walk from one destination to the next.
A free walking tour is also available near Queen Street at the Tourist Information Centre. You might be able to join a free walking tour through your hotel or hostel as well, so do enquire once you reach there. 'Free' (tip-based) walking tours are one of the many budget-friendly things you can do in Auckland.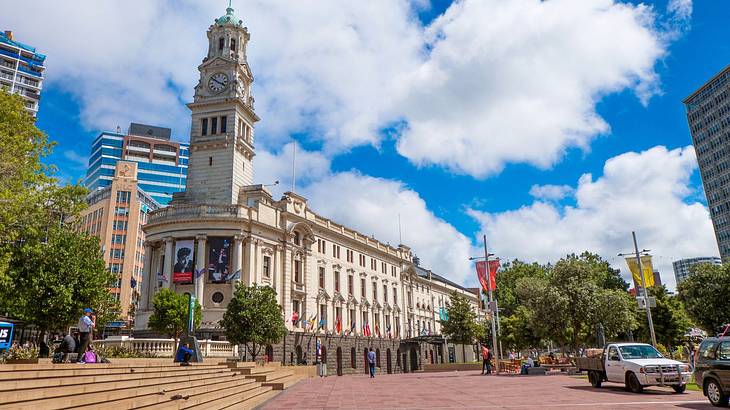 Wander Around Queen Street
Queen Street is the main street in Auckland Central and has the most landmarks in the city. It is full of traditional houses, shops, and various types of restaurants and business buildings, and is a popular destination for inexpensive eats.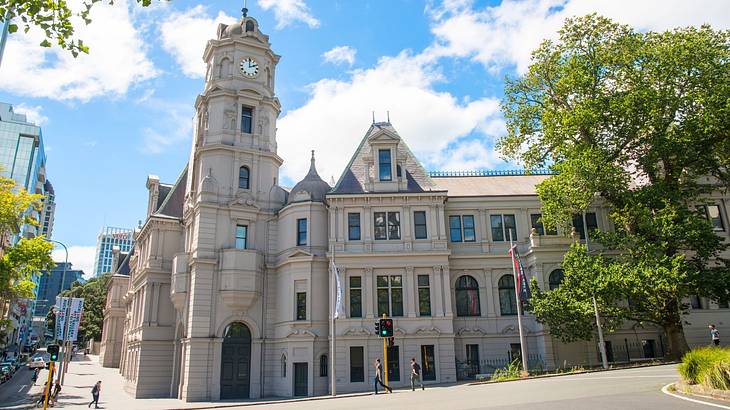 Visit the Auckland Art Gallery
The Auckland Art Gallery Toi o Tāmaki is a popular gallery with impressive collections of international and New Zealand art. It was established in 1888 near Albert Park.
This gallery is the best place to go if you want to learn more about traditional New Zealand art and take a look at famous paintings by the country's most recognized artists.
See the Merchants' Houses on Princes Street
Princes Street is famous for its elegant and majestic Merchants' Houses that are now a heritage site in New Zealand. Unfortunately, only a couple of houses have survived until today, and one of them is now a museum.
If you aren't interested in learning about the story behind the Merchants' Houses, you can still go for a relaxing stroll along the street to admire the historic houses from afar.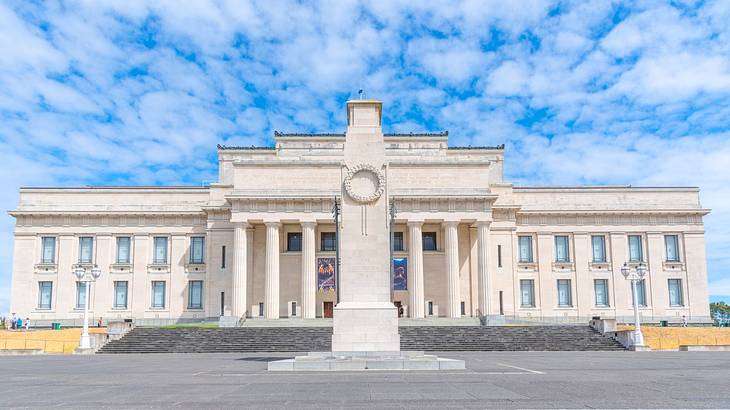 Learn About History at the Auckland War Memorial Museum
The Tāmaki Paenga Hira Auckland War Memorial Museum, or simply the Auckland Museum, is one of the most important museums in New Zealand. It can be found in Parnell Village, an upscale area of Auckland full of boutique shops, galleries, and restaurants. The museum is located inside the park and is where you can also find several walking paths and the Domain Wintergardens.
It has extensive collections of artefacts from New Zealand's historical, natural, and military past. Notably, going to the museum is a great activity to do on a rainy day in Auckland.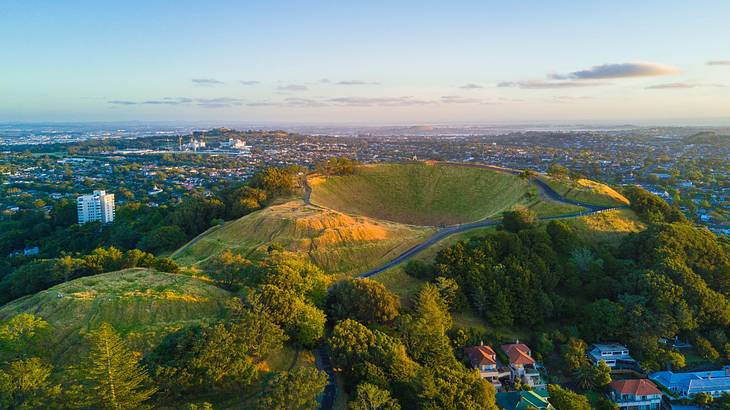 Climb Mount Eden
Mount Eden is not only a residential area in Auckland but also a volcanic peak. It is also known as Maungawhau. Mount Eden is popular with hikers and joggers thanks to its many trails that lead to its highest point.
At the top, you are spoiled with outstanding panoramic views of the Hauraki Gulf, Auckland city and beyond. A variety of shops, bars, cafes and restaurants also line the streets in the village below, meaning you won't be out of options if you want to kick back somewhere once you're back at the bottom.
Islands Outside of Auckland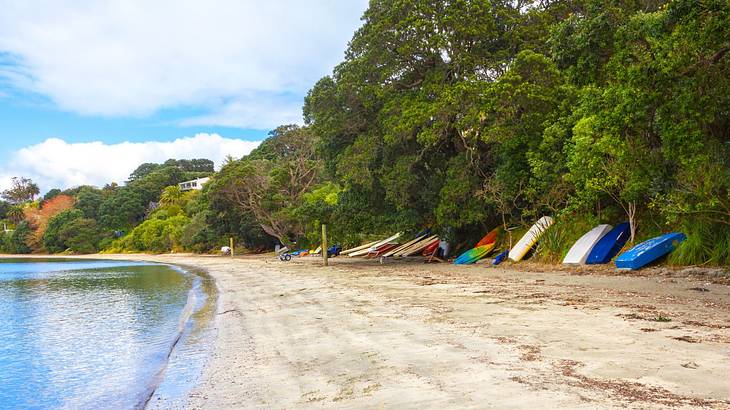 Your second day in Auckland involves exploring a couple of nearby islands just outside the city. So, wake up early in the morning to take a ferry to Waiheke Island, which takes about 35-40 minutes to reach from Auckland.
Waiheke Island is known for its natural beauty, palm-lined sandy beaches and vast vineyards. It is the perfect place if you are looking for tranquillity, scenic landscapes, and adventure.
In Waiheke, you will visit one of its popular beaches and taste its wine. Afterwards, you will take a sunset sea kayaking adventure to another little Island - Rangitoto Island. For this sea kayaking experience, you will have to join a guided tour.
End your day in the trendy Britomart area once you are back in Auckland; this is assuming you have some energy left in you after your adventure-filled day!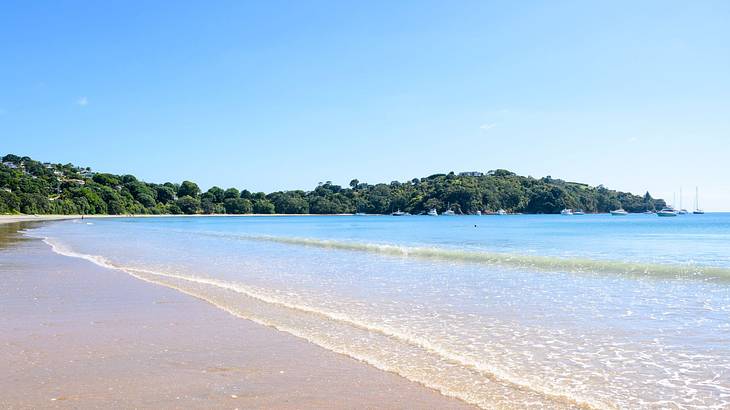 See the Stunning Oneroa Beach
Oneroa Beach is the most popular beach on Waiheke Island, which is northeast of Auckland. It is known for its central location, white sand and gorgeous scenery. The beach has several rock pools where you can swim and many cafes and restaurants that offer great food and drinks.
If you don't like swimming or fancy sitting somewhere indoors, take a stroll along the coast to admire the beautiful rocks and palm trees.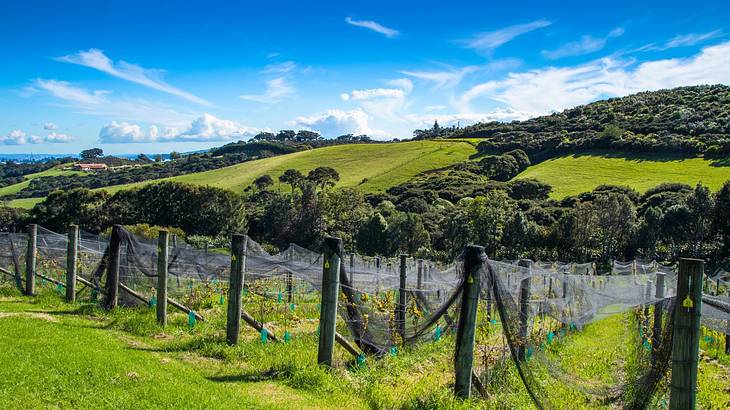 Relax at Cable Bay Vineyards
Cable Bay Vineyards is a lovely local winery and restaurant. It is where one of the best wines in New Zealand is produced. The first vineyard opened in 1998 and became well-liked among both locals and tourists as the years passed.
The vineyard offers an extensive range of handcrafted wines and cellar tours amongst a beautiful backdrop. If you wish to take part in a cellar tour, do get in touch with the vineyard in advance.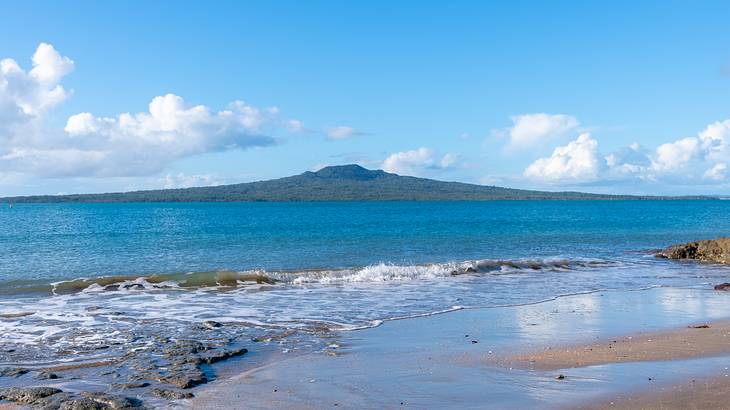 Kayak to Rangitoto Island
Kayak tours to Rangitoto Island can be found on Waiheke Island, or you can pre-book one online. As it is a popular day trip from Auckland, I recommend arranging your kayak tour in advance. The guide will lead you to Rangitoto Island and back from Waiheke Island.
Rangitoto Island is a beautiful volcanic island where you can find fascinating natural beauty, mountains, rock swimming pools and endless walking trails.
Party in Britomart
Once you finish with your kayak tour, take the ferry from Waiheke Island back to Auckland. If you still have some energy left, explore Britomart.
Britomart is located near the ferry piers, so you won't have to walk for long to reach this trendy place. The area is filled with chic cafes and busy bars and restaurants. The streets of Britomart come alive only at night and will for sure leave you with an unforgettable experience.
If, however, you find Britomart to be underwhelming for whatever reason, you also have the option of visiting Silo Park in the reclaimed Wynyard Quarter and the Viaduct Harbour, all of which are not too far from the piers and each other!
Silo Park is a public park that often hosts outdoor concerts, movie nights and markets. Do give their website a look before you head to Auckland to see if there are any exciting events on that you want to add to your Auckland itinerary.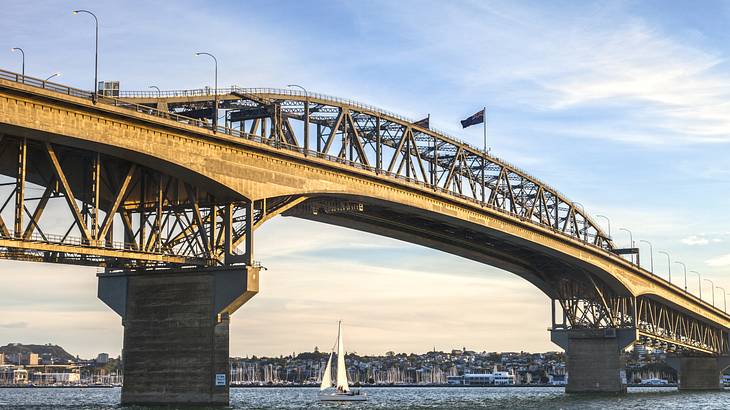 Photograph the Auckland Harbour Bridge
The Auckland Harbour Bridge might not look as exciting as the Harbour Bridge in Sydney, Australia; however, it provides excellent photo opportunities as you walk towards it from the ferry piers.
Built in the 1950s, it is a relatively new landmark that is still worthy of a visit or at least a picture from afar. If you're feeling really adventurous, then consider climbing the bridge or bungy-jumping from it.
Highlights of Auckland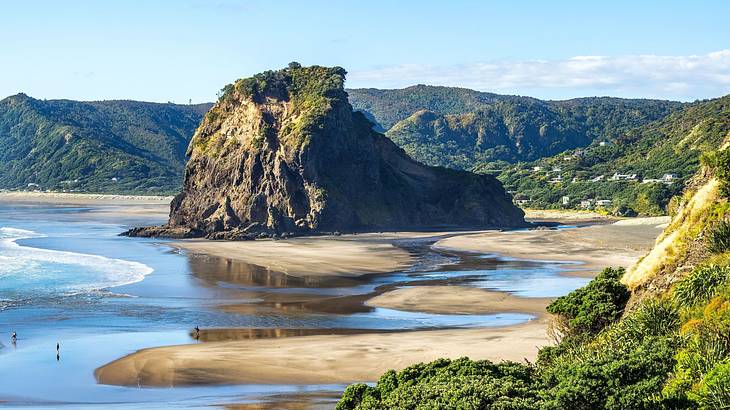 Your last day in Auckland is going to include several of Auckland's main attractions that you should visit before departing for your next adventure. First, you will pass through Waitakere Ranges Regional Park to see Kitekite Falls, said to be the most beautiful natural falls near Auckland, and the gorgeous Piha Beach.
At Piha, you can walk along the coast and the sandy beach where you will eventually come across the Lion Rock. After that, you will head back to Downtown Auckland to visit Cornwall Park and the Sky Tower. For today, you can use public transportation for destinations located both inside and outside of Auckland.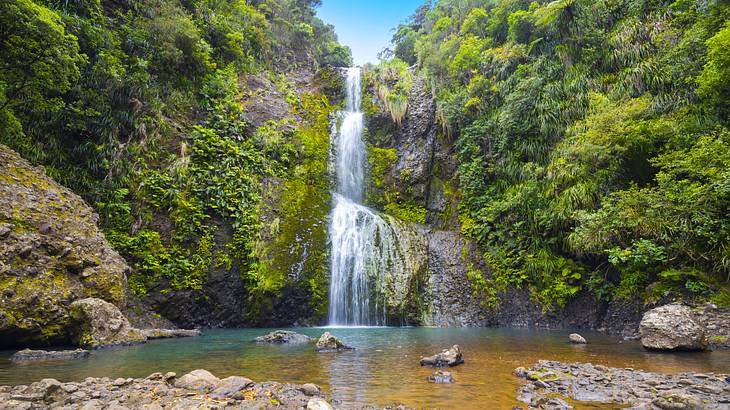 Visit the Magnificent Kitekite Falls
Kitekite Falls is a three-tiered waterfall whose falls drop 40 meters into a natural pool below. This waterfall is one of the sights you shouldn't miss when visiting Auckland!
Kitekite Falls is less than an hour ride from Auckland and is located close to the Waitakere Ranges and Piha Beach. It is very easy and rather straightforward to get to this waterfall. You will only need to walk a maximum of 45 minutes from the nearest parking space or bus stop to reach it.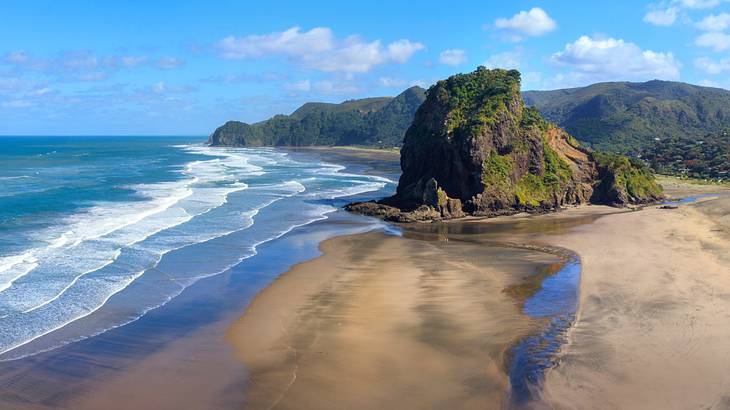 Explore Piha Beach and Lion Rock
Piha Beach is the most well-known surf beach in Auckland. It is full of surf rental shops and schools. It is also a popular spot for swimming; however, the black iron-sand beach isn't the best for sunbathing.
Piha Beach is also a famous location for coastal walks and viewing the Lion Rock – an iconic landmark for climbing. Spend your day walking along the coast and admiring the Lion Rock.
Walk Through Tranquil Cornwall Park
Once you are back in Auckland City, visit Cornwall Park. It is a massive park and one of New Zealand's heritage sites. The park is filled with footpaths, sports grounds, trees and a working farm where anyone can visit to learn more about New Zealand's farming culture. Cornwall Park is a popular location among locals for relaxing evening walks.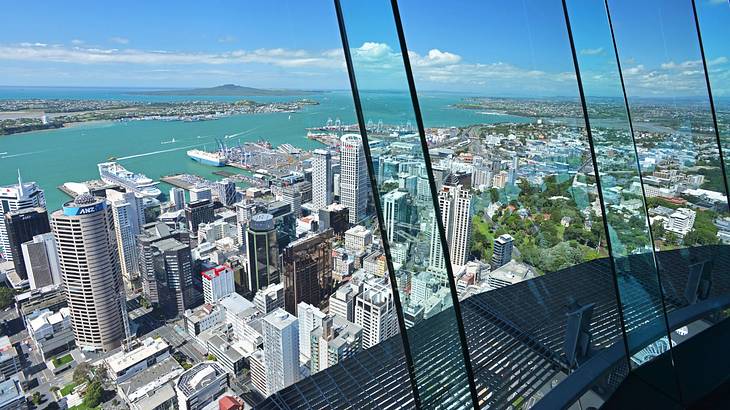 Go up to the Sky Tower's Observation Deck
The last stop for the day is the Sky Tower Observation Deck - an iconic landmark in Auckland that stands 328 meters tall. The observation deck is located 220 meters above street level and offers majestic 360-degree views over the city and surrounding areas.
From the observation deck, you can spot Auckland's famous attractions, mountains and volcanos. Visiting the observation deck is a fun activity to do in Auckland at night or during the day. Or better yet, arrive here just before the sun sets!
In Summary
I hope that after you finished reading my Auckland weekend itinerary, you learned that it is hard to be bored in this city and in New Zealand more generally.
You might actually find yourself spending more than one week in New Zealand wandering around the North Island itself, or checking out places on the South Island even.
Nonetheless, Auckland is just one of many great places in the country to include on your New Zealand itinerary. Don't forget to also check out Wellington, Queenstown, and other towns around this beautiful country. Oh, and of course, have a great time!
---
---
Want to keep exploring?
Subscribe for discounts on tickets and hotels and our latest guides.
Thank you for subscribing
We will be in touch soon with discounts on tickets and hotels and our latest guides.
Want to keep exploring?
Subscribe for discounts on tickets and hotels and our latest guides.
Thank you for subscribing
We will be in touch soon with discounts on tickets and hotels and our latest guides.
Related Articles