10 Things to Do North of Auckland
Destguides may receive commissions from purchases made through affiliate links in this article.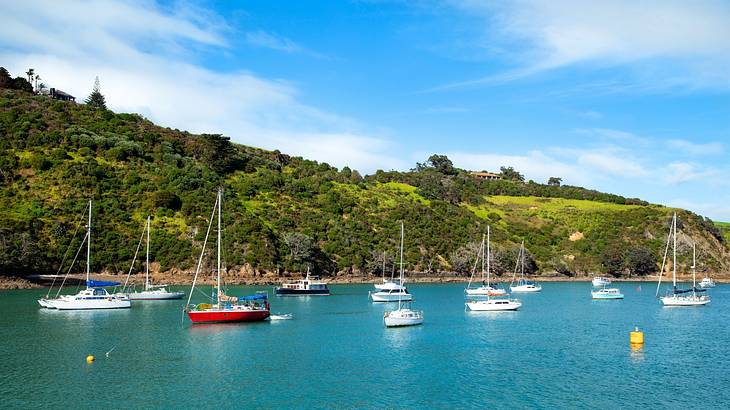 Auckland is New Zealand's largest city and the common starting point for most travellers to New Zealand. After landing at the airport, renting a campervan or a car should be your priority, as having a vehicle is one of the best ways to get to Auckland from the airport.
Having spent a few days in Auckland, it's time to head out and explore the many things to do north of Auckland. While public transportation and hitchhiking are both reasonably common ways to travel throughout the country, renting a vehicle is ideal. Renting allows you the freedom to be spontaneous (road trip, anyone?!) and change plans as needed.
Keep in mind that spending a bit more money on a car that you can sleep in can make your trip that much more enjoyable, as you will be saving money by combining accommodation and transportation. Driving anywhere in New Zealand can take hours, but places further north of Auckland offer unforgettable adventures and landscapes you couldn't even begin to imagine.
Keen on a more adventurous mode of transportation? Consider taking a cruise in New Zealand as Auckland is one of the main ports in the country! Enough about transportation, though; continue reading below for the top activities and attractions north of Auckland.
10 Attractions North of Auckland
Auckland Things to Do Video
Check out our highlights video of Auckland things to do.
Auckland Things to Do Map
A map of Auckland. Use the map to explore all the things to do.
Scuba Diving Near Poor Knights Islands
The Poor Knights Islands is a marine reserve located off the east coast north of Auckland. No one has lived on the islands since the early 1800s.
One of my all-time favourite things to do north of Auckland was visiting the Poor Knights Islands. You can't dock on the islands, but you can explore under the water near them, which is a once-in-a-lifetime experience.
The Poor Knights Islands are a world-class scuba diving spot. Jacques Cousteau rated it one of the world's top 10 diving places, which you can experience too with Dive! Tutukaka. Dive! Tutukaka can take you to the islands, whether you have your own gear or need to rent, or it is your very first time - these guys have you sorted don't you worry!
While diving, you will get a chance to see a variety of tropical fish, stingrays, sea slugs and other sea animals. Not only do you get to mingle underwater with sea creatures, but you also get to visit the world's largest sea cave. Rikoriko Cave is 430 ft by 260 ft, reaches 115 feet into the sky and goes 85 feet below sea level.
Ahipara and the Endless Summer Hostel
Ahipara is home to a popular yet out of the way spot that many surfers visit. Shipwreck Bay, as it's called, is one of the best left-hand point breaks in all of New Zealand, which was my top reason for visiting here.
I first saw this spot in an old surf film called Endless Summer and knew that someday I had to go here. Even though it took me nearly 15 years, I made it!
Even if you don't surf, there is still plenty of things to see and do here. My sister and friend were with me (who don't surf) when I was here, and they still loved it! You can go ATVing or horseback riding down Ninety-Mile Beach, visit one of the local fish 'n' chip shops, head to a winery, or relax in this quiet town of fewer than 1500 people.
In a nod to the film, I recommend staying at the Endless Summer Lodge and Hostel. It is situated right on the beach, is super clean and even has a couple of dogs wandering around. The owners are incredibly friendly and helpful with information on activities to try.
Sunrise at Cape Reinga Light House
Cape Reinga is the very most northern part of New Zealand, and it is where the Tasman Sea and the Pacific Ocean meet. This spot is sacred in the Maori culture.
There is a long walkway that leads out to a beautiful lighthouse and offers an incredible panoramic view of the most northern point. Not only is the lighthouse iconic, but there is a lone Pohutukawa Tree growing out of the rocks.
The tree is thought to be over 800 years old, and Maori tradition says that this is the tree that spirits jump off of to start their final adventure. There are public bathrooms at the beginning of the walkway.
Sand Boarding on the Te Paki Sand Dunes
Not far from Cape Reinga is the legendary Te Paki Sand Dunes. These natural, massive dunes are amongst one of the most popular attractions north of Auckland.
What is there to do on giant dunes? Sandboarding, of course! Most people come to these dunes intending to board down.
Several tour operators include sandboarding in their packages, but we just went on our own with rented boogie boards from Endless Summer Lodge.
The dunes do require a bit of physical strength and stamina to get to the top. Once there though, all you see is endless sand and sometimes a glimpse of the ocean just on the other side.
Boarding down is incredibly fun, but be warned that you do go very fast and wiping out is almost guaranteed. So keep your mouth closed (so the sand doesn't get in it), and maybe bring a pair of goggles.
Whangarei Falls
Whangarei Falls is another very popular attraction north of Auckland, and a great place to bring the family in the Northland. It is easily accessible by car, and you can see the waterfall from several locations.
There is even a car park conveniently located close to the top of the falls with toilets and picnic tables available here too. You can view the falls from here, or follow the paved trail down to the base of the waterfall where it circles to the car park.
The Whangarei Falls are known as a classic curtain waterfall and is a popular swimming spot in the warmer months.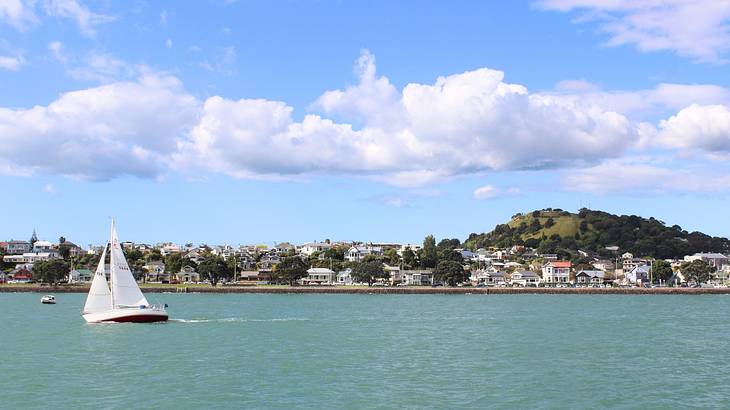 Devonport
Devonport is a straightforward trip to do from Auckland, as it lies just north of the city. Most people take the ferry over to Devonport for the day and go either shopping, eat at one of the many cafes or restaurants here, or hit up one of the local bars for a night out with friends. You can shop at book shops, boutiques, art galleries, and antique shops when here.
Devonport is also home to the Royal New Zealand Naval Base and Torpedo Bay Navy Museum, where you can learn about the history of New Zealand's navy.
Devonport has various trails to hike that have lovely views of Rangitoto Island and the Hauraki Gulf. Kayaking to Rangitoto Island is actually possible in the evening, and is one of the many nightime activities you can do in Auckland! Devonport is also the perfect place to relax on beaches.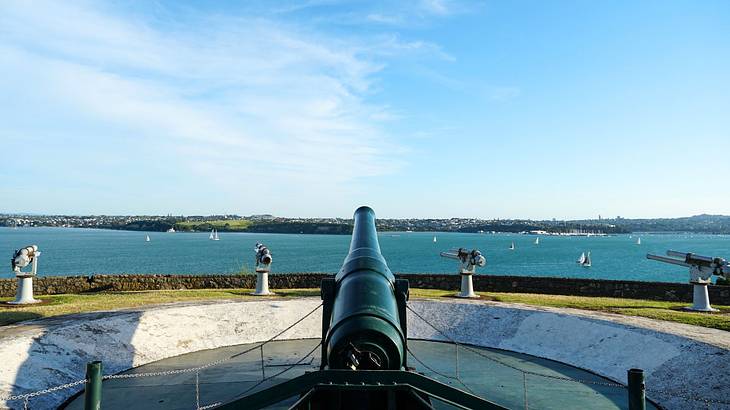 North Head in Devonport
North Head is a military base within Devonport. A volcano formed it, and you can get here by walking along the edge of Torpedo Bay. In 2014, the volcano was renamed Maungauika / North Head Historic Reserve.
From the summit, you can see incredible views of Auckland, Rangitoto Island, as well as the harbour and Hauraki Gulf. You can also explore old military tunnels and underground gun emplacements. Another popular track takes you down to a secluded beach near Cheltenham Beach.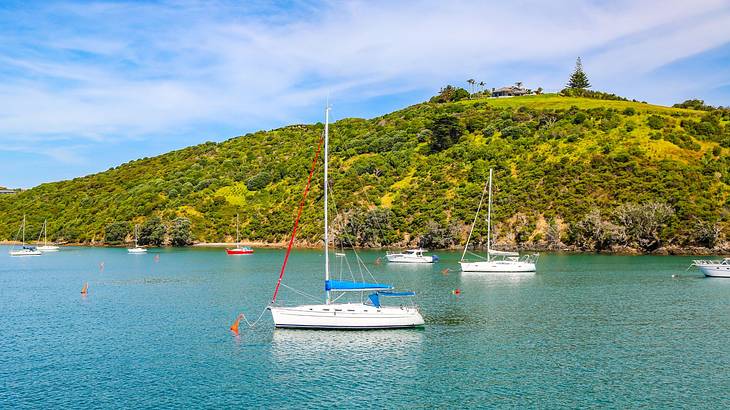 Waiheke Island
Waiheke Island is yet another famous tourist attraction north of Auckland that must be included on your Auckland itinerary. It is best known for its hop-on-hop-off bus wine tours.
The island is dotted with over 10 wineries and vineyards for you to visit and explore. It has stunning white sand beaches too that you can relax and soak up the sun or cool off in the water if you're too hot. You can even hire kayaks and paddleboards and take them for a whirl in the sea if you wish.
Various trails run all over the island providing beautiful views or try zip lining to see the island from a different perspective. Waiheke also has excellent restaurants, cafes, and bars, as well as boutiques and other specialty shops.
Goat Island Marine Reserve
Goat Island Marine Reserve is New Zealand's very first marine reserve that was established in 1975. It is often included on 'Free Things to Do in Auckland ' lists as it's free to the public to access. Previously, the area was overfished, which resulted in the depletion of some of its native sea creatures.
However, since being protected, Goat Island is now one of the best places to experience New Zealand's sea life. You can scuba dive or snorkel here and see underwater cliffs and an array of marine life.
Many tour companies operate throughout Goat Island. You can choose one depending on your skillset and how comfortable you are in the water. Orcas and seals sometimes visit the reserve too. If you don't want to go in the water, you can still see the wildlife by renting a glass kayak or taking a tour on a glass-bottom boat.
Goat Island is also home to several busy surf spots, especially when there is a storm out. Even if you don't surf, it's always fun to watch other people surf, especially when the waves are big. Daniel's Reef and Pakiri Beach are great spots to do just this.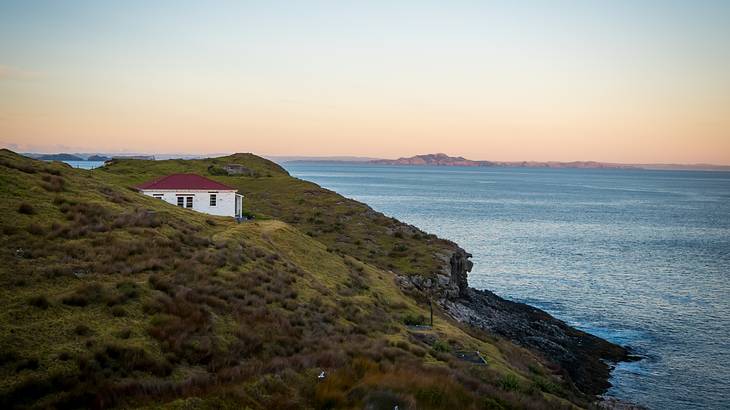 Cape Brett Walkway
The Cape Brett Track is an unforgettable hike located in the Northland region of New Zealand's North Island. The hike is 16.3 km (10 miles) each way and is considered to be an advanced hike. Most people take a couple of days to complete it.
One way typically takes 8 hours. You will walk through native forest and along cliffs and beaches until you eventually reach Deep Water Cove, which is ideal for swimming and snorkelling.
Cape Brett Hut sleeps up to 23 people, and bookings are required in advance. There is a fee of $40 / $20 (adult/child) for passing through the private land. The view from the hike is just beautiful!
In Conclusion
There are numerous attractions and things to do north of Auckland. Whether you want to do something adventurous, like sandboarding or diving or want to relax and enjoy the beautiful beaches, exploring north of Auckland is worth the time and effort.
The way of life here is old school and laid back, but the landscape is intense and majestic. The north of Auckland is not an area you want to miss, and New Zealand, in general, will be as incredible as you expect it to be!
If you're combining your trip to New Zealand with Australia as well, which is quite a common thing to do, do check out other guides for major cities in Australia, like Brisbane.
Give us feedback about this article
Learn more about Auckland:
More articles about Auckland:
Read more articles about New Zealand:
More articles about things to do:
---
---
Want to keep exploring?
Subscribe for discounts on tickets and hotels and our latest guides.
Thank you for subscribing
We will be in touch soon with discounts on tickets and hotels and our latest guides.
Want to keep exploring?
Subscribe for discounts on tickets and hotels and our latest guides.
Thank you for subscribing
We will be in touch soon with discounts on tickets and hotels and our latest guides.
Related Articles