The 18 Best Hikes on New Zealand's South Island
Destguides may receive commissions from purchases made through affiliate links in this article.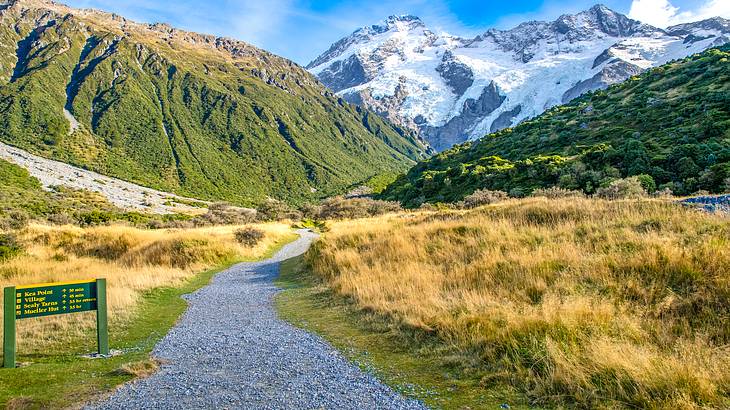 Made up of snow-capped mountains, ice-blue glaciers, lush rainforests, and endless coastlines, New Zealand's South Island is enticing for any explorer. The best way to reveal the true beauty of any country is by spending time hiking through it.
When hiking, you get up close and personal with the native flora and fauna, and you become more connected with nature as well as yourself and/or anyone you're hiking with. Do not get too close to the wild animals, though!
Below you will find a list of the best hikes in New Zealand's South Island. Some tracks are well-known and popular, while others are small secrets that few know about. Included are short, day and multi-day South Island hikes.
Before learning more about New Zealand's South Island hikes, you will need to keep a few things in mind when hiking in New Zealand.
Firstly, always check the weather before you go anywhere. Secondly, make sure to wear the appropriate hiking clothing and gear, even if it is an 'easier' hike with smoother terrain (not too rocky).
Thirdly, research your New Zealand hiking trail beforehand, making sure the difficulty level is appropriate for your fitness level. Some hikes can be quite tricky and dangerous, so make sure others are aware of your location and estimated return time. Lastly, always follow signage recommendations!
Ready to explore the South Island's most beautiful hiking trails? Keep reading for the 18 most scenic hikes in New Zealand's South Island to find your next hike location.
18 Best Hikes in NZ's South Island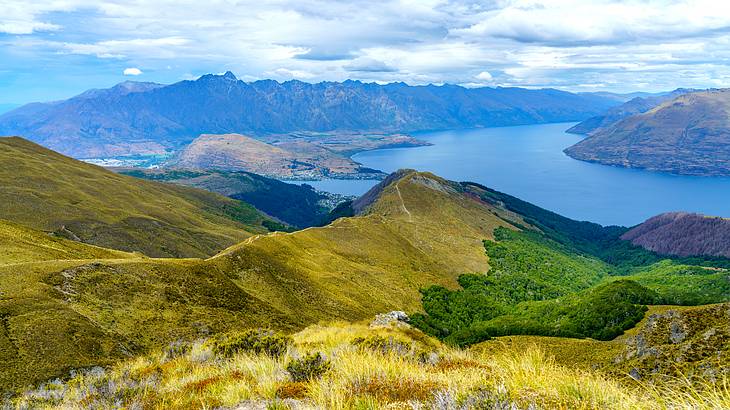 Ben Lomond Track, Queenstown
Not far from Queenstown is the very popular Ben Lomond Saddle Track. This hike is rated easy to moderate and takes most people around 3-4 hours (return) to complete. The elevation gain is quite impressive at 1438 m (4717 ft).
Keeping to the 11 km Saddle Track, you'll see sparkling mountain lakes, rolling grassy knolls, and sometimes snowcapped peaks.
You also have the option of turning this into a longer hike by continuing onto the summit, which can make it closer to a 6-8 hour (return) hike. Once you reach the summit, you're at an elevation of 1738 m (5734 ft).
From Saddle to Summit, the track is more challenging due to the steepness and rockiness of the terrain, but at the top, you will be rewarded with incredible panoramic views of the entire Otago.
Whichever you decide, this is one of the best hikes on the South Island of New Zealand. Both tourists and locals enjoy this hike due to its proximity to Queenstown, and can be completed without any special equipment or a guide. Ben Lomond Saddle Track is a must for your 2 day Queenstown itinerary.
As always, you need to pack the proper equipment for a hike as well as wear the appropriate hiking gear, and check the weather before leaving.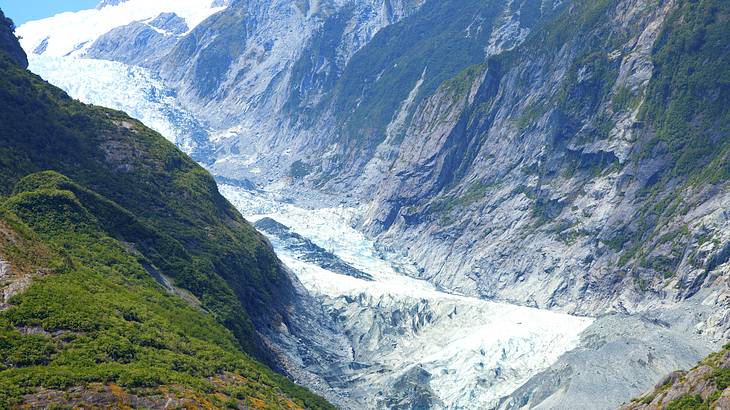 Alex Knob Track, Westland Tai Poutini National Park
Alex Knob Track is an enticing trail with staggering views of snowcapped mountains, raging rivers, open ocean, and of course, the enchanting ice-blue Franz Josef Glacier.
This hike is definitely not for the faint of heart, and you will surely need a full day to complete it. It takes about 8 hours, if not more, with a total of just over 17 km of ground to cover on an out and back trail. You can rest at the Rata Lookout and the Christmas Lookout before reaching the summit for the best views of all.
You'll experience an elevation gain of nearly 4,000 feet as you walk through lowland forest, alpine meadows, herb fields, and mountain daisies before reaching the summit, which can sometimes be snow-covered throughout the year.
It is imperative to pack appropriately with enough food and water and an extra set of clothes. Sturdy hiking boots, layers, and waterproof clothing are also essential.
If you're doing this hike solo, it would be a good idea to check in with the visitors center, letting them know your expected return time.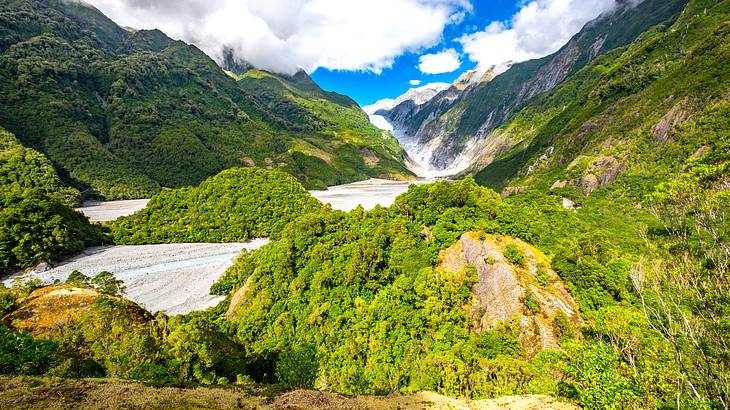 Callery Gorge Walk, Westland Tai Poutini National Park
This out and back walk takes you through dense, lush rainforest and past dilapidated mining relics and trickling streams, all under a thick canopy of native plants.
The Callery Gorge Walk dead-ends at a swing bridge over the Callery River. This usually raging river is from glacier runoff from the Franz Josef Glacier. Depending on what time of the year you're here, the water may be a milky gray or an icy blue.
The walk is about 5 km (3.1 miles) and takes most people about 1.5 hours to complete it from start to finish. It is short and sweet and indescribably beautiful. It is an excellent option as part of a series of day hikes when visiting Franz Josef.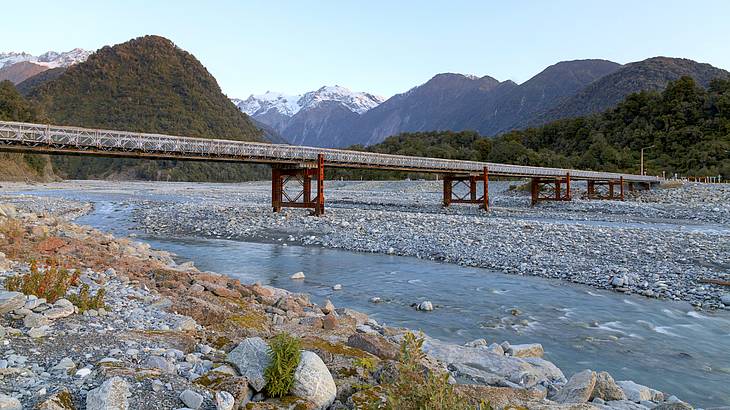 Canavan's Knob Walk, Westland Tai Poutini National Park
This alluring walk takes you along the Waiho River and up through the whimsical jungle to a stunning lookout.
From this vantage point, you can see all the way to the ocean and its lowlands. You will be able to see the glacier as well as the Southern Alps and have unforgettable views of the Waiho River and the village of Franz Josef from above.
Canavan's Knob is a moderate hike that returns via the same track and takes less than 2 hours to complete. In total, Canavan's Knob is 6.3 km (4 miles) and has an elevation of about 130 m.
This is another beautiful short walk you can combine with other short day hikes while visiting Franz Josef.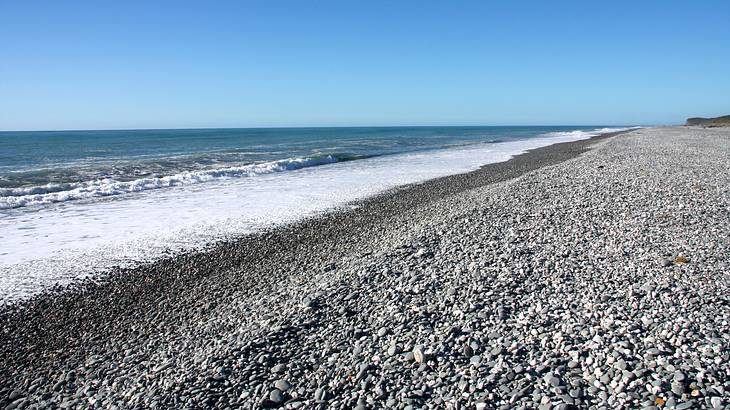 Gillespies Beach Walks, Westland Tai Poutini National Park
Gillespies Beach is a true depiction of the wild west coast of New Zealand. There are five walks and hikes of varying lengths and degrees of difficulty you can choose from. If you can't decide, that's okay, because there is a campsite nearby, so you can do all of them!
The shortest of these hikes is a quick 5-minute walk to an old miners cemetery. Another 15-minute loop starts from the main car park and takes you through reeds and past old dredging equipment.
The longer hikes include the 30-minute return track of the Bucket Dredge Walk, the 1-hour and 40-minute hike of the Miners Tunnel Track (also a return track), and the Galway Beach Tramping Track that is about a 3-hour and 30-minute return hike.
The Bucket Dredge Walk is a 1.6 km (less than a mile) trail leading you to the relics of a 1930's gold mining dredge. The walk also provides excellent views of the surrounding mountains when the skies are clear.
The Miners Tunnel Track takes you past the gold mining dredge and onto the beach, where you will eventually reach Gillespies Lagoon. From here, the lagoon turns into a miner's track that goes through a tunnel and up to a lookout point with remarkable views of the beach.
The longest of the Gillespies Beach Walks is the Galway Beach Tramping Track. The 6.8 km (4.22 miles) track goes through the native Rimu forest and down to Galway Beach, where you can see the local seal colony. The beaches here are not the sandy beaches you're used to, but they are rocky and wild and beautifully tranquil.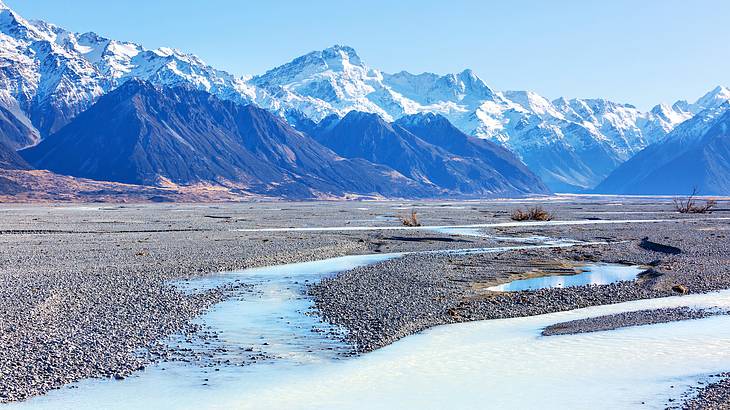 Copland Track, Westland Tai Poutini National Park
Another popular track when hiking in New Zealand's South Island is the Copland Track. One of the longer ones on the list, it's 18 km (11 miles) one way and takes about 7 hours to get to the Welcome Flat Hut, where you'll be staying for the night, but more on that later. It has an elevation gain of about 1400 ft (420 m).
The Copland Track is a wonderland for adventure seekers. As you start off by meandering through the native bush, you'll catch glimpses of a river rolling through below. Eventually, you'll come to an overlook where you'll witness the convergence of the Copland and Karangarua Rivers.
As you continue to climb through the forest, you'll have to cross a series of swing bridges before heading through more woods and a valley ahead of hitting the hut.
One of the bonuses of getting to the halfway point on this 36 km (22 miles) hike is the natural hot pools just beyond the hut. There are various pools with varying temperatures, so be careful when you are testing them out.
You do need reservations. It's a newly updated shelter and has over 30 bunks with mattresses at only $15NZD per night. As hikers, you need to provide your own sleeping bags and cooking equipment, including gas and food.
There are no showers or electricity in the hut, but there are toilets. Hikers can also camp the old fashioned way for $5 a night.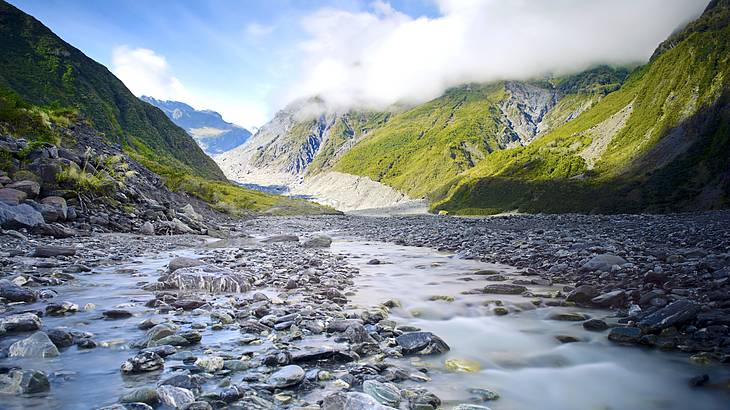 Roberts Point Track, Westland Tai Poutini National Park
Roberts Point has two car parks you can start from, and each is about the same distance to the start of the trailhead. This out and back trail is just over 12 km up and back. There is an elevation gain of 545 m (1797 feet), and it takes about 5.5 hours to complete.
While it is considered "advanced" hiking, as long as you leave early in the day, are careful where you're stepping, have the proper gear with you, wear the correct shoes and take someone with you, you should be fine.
This hike can get wet and wild at times, with swing bridges, narrow paths, and cable stairs, but it's a popular hike, and people are kind and helpful, even if you're having a panic attack on the side of the trail.
Everything scary about this track is well worth the stunning views around every corner and over every slippery step. Roberts Point provides you with breathtaking views of the Franz Josef Glacier.
Those "ice-blue" pictures you see, you can get those from here. It gives views that no other trek or tail can provide, not even the heli-hike (trust me, I've done both). You have to make that same terrifying hike back, but now it is a little less scary!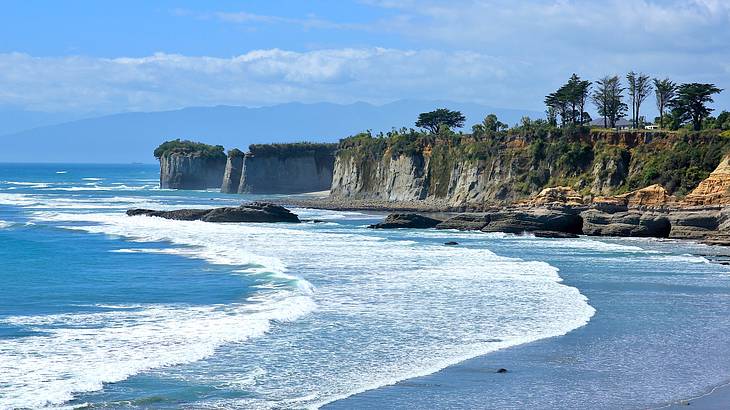 Cape Foulwind Walkway, Cape Foulwind
Hiking the South Island in New Zealand is one of the country's most popular activities. The walkway along Cape Foulwind perfectly displays why New Zealand's west coast is so captivating.
The walkway is 3.4 km (2.11 miles) one way and has a fitness level rated low to moderate. It typically takes about an hour and a half (one way).
During your walk, you will have the chance to witness the local fur seal colony resting on the rocks, and if you are super lucky, you may get the opportunity to see whales and dolphins frolicking in the bay.
The Cape Foulwind Lighthouse stands tall at one end of the walkway, and while you can't walk inside the structure, you can walk around it before heading back to the carpark to jump in your rental or campervan.
This is also one of the shorter walks on this list. It is ideal for anyone looking for day hikes that are easy to do with leashed dogs or kids.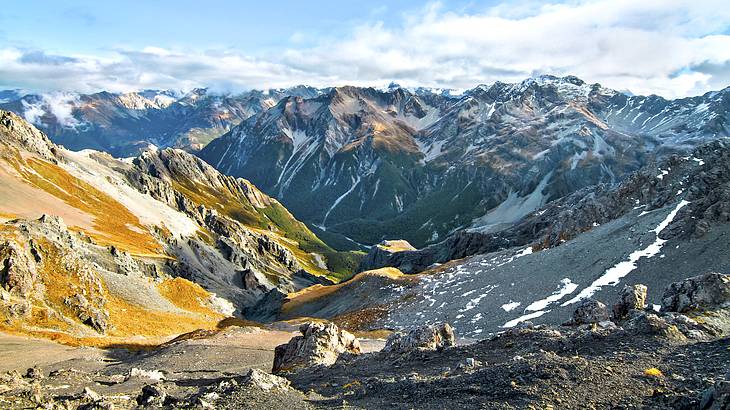 Avalanche Peak, Arthur's Pass National Park
Avalanche Peak is a hike marked for experts only, so you want to make sure you are highly prepared before setting out on this epic journey.
The trek is steep and rocky, so you ideally need a clear, dry, windless day, and during winter, the area is prone to avalanches, hence the name.
There are two separate paths, so you can choose to go up and back the same way or do a circuit. The tracks are marked with cairns and color-coded poles. Avalanche Peak Route is marked with yellow, and the other route is known as Scotts Route and is colored orange.
If this trek is high on your to-do list, it's one you need to plan for, especially if you prefer to do it without a guide. Make sure you're healthy and physically fit enough to do the trek and check and recheck the weather conditions before leaving.
Ensure you have all the proper gear, plus extra equipment, before setting out. As always, give someone your expected time of return!
The hike takes most people about 8 hours, and the safest months to go are during summer and fall. You will venture through dense forest and sharp rocky terrain dotted with deep turquoise blue crater lakes.
While the hike itself is relatively short at 2.5 km (1.39 miles), there's an elevation gain of 1,100 m (3,600 ft). So watch your step but enjoy the view.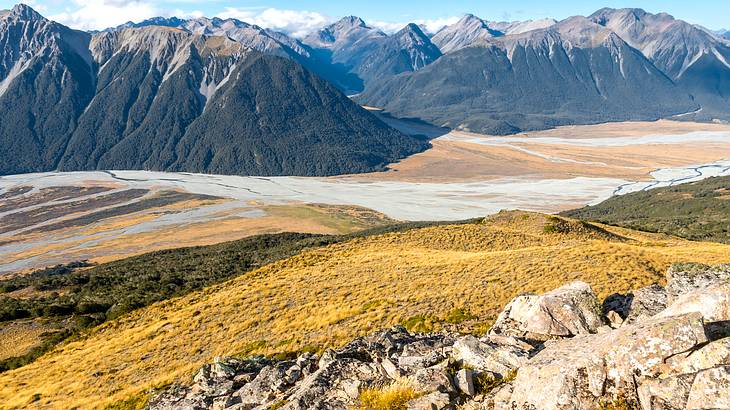 Bealey Spur Track, Arthur's Pass National Park
The Bealey Spur Track is generally an easy walk for most people because it has a more gradual incline. There are several steep spots but not much elevation gain.
This track takes you through an enchanting beech forest and grassy meadows, over boardwalks and wetlands, and past glacial lakes with unforgettable views of the Waimakariri River Vallet and Mountain ranges. Eventually, you will reach the Bealey Hut, a very simple hut that houses six very basic bunks.
Some people choose to make the hut their turnaround point, and others decide to have their lunch and continue a bit further up the trails and grassy hills to check out more of the stunning views. This hike is about 13 km (8 miles) round trip, and it takes anywhere from 4 to 8 hours to complete (2.5-3 hours one way).
If you are hiking New Zealand's South Island during the summer, you'll be stoked to see the native pirirangi, also known as the red-flowering mistletoe, at the head of the trail and the meadows of wildflowers as you hike. The trek is known to be a bit muddy at times, even several days after it last rained, so pack accordingly.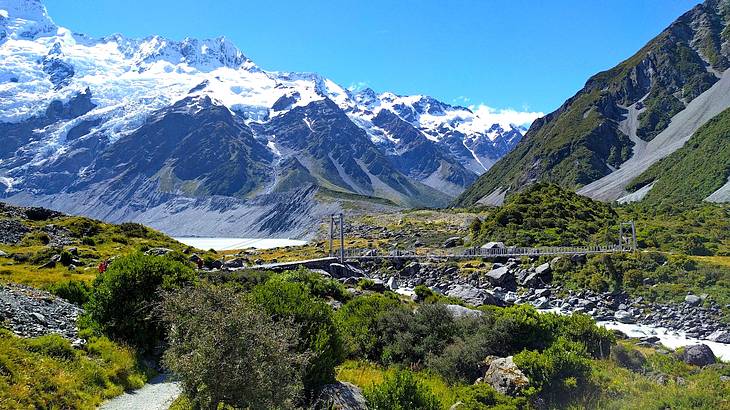 Hooker Valley Track, Mount Cook National Park
The Hooker Valley Track is the most popular track within Mount Cook National Park. It's rated as easy, with an elevation of less than 400 feet, and is relatively flat for the 10 km, 3-hour walk, out and back via the same track.
The Hooker Valley Track begins at the end of Hooker Valley Road. The walk takes you through Hooker Valley and over several swing bridges. As you're walking, if you know what to listen and look for, you can sometimes catch an avalanche coming down off of Mount Sefton.
Most of the hikes sees you through local flora and fauna with stunning views of snow-peaked mountains, glaciers, iceberg-laden lakes, and of course, the legendary Mount Cook. As you hike back on the same track, keep your eyes open for more magical things you may have missed on your way out.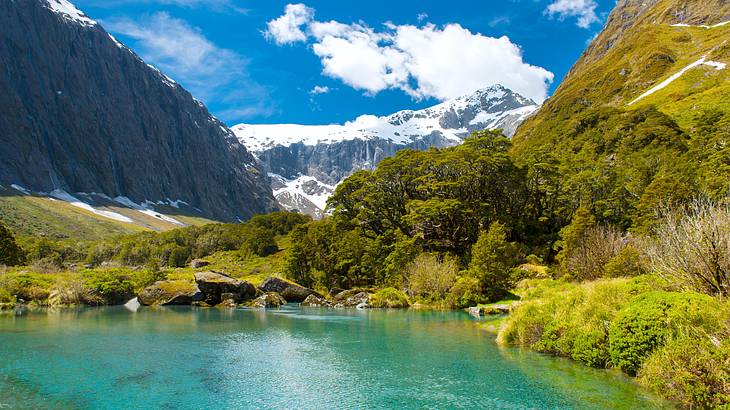 Gertrude Saddle Route, Fiordland National Park
The Gertrude Saddle Route, with an elevation gain of 1410 meters, is perfect for any experienced climber or hiker looking for a challenge. This track is one of the best things to do in Fiordland National Park in four days.
The Gertrude Saddle hike is rumored to be one of the "World's Great Short Hikes" and is 7 km (less than 4.5 miles) up and back. It can take anywhere between 4 and 6 hours and should only be attempted when the weather is/has been, and is supposed to stay, clear, especially during the colder months.
This trek is highly prone to dangerous conditions like ice, wind, rain, and snow, and even avalanches during the winter months. Most of the trail is super steep and needs to be walked with caution and the appropriate equipment, and there are steel cables at points to assist you in your climb towards the summit.
During your hike, you'll pass by Gertrude Stream, tumbling down a waterfall, as you make your way to Black Lake. You will be rewarded with views very few people have seen with their own eyes from the top. You can take in part of the hauntingly beautiful Milford Sound as well as the surrounding Fiordland National Park.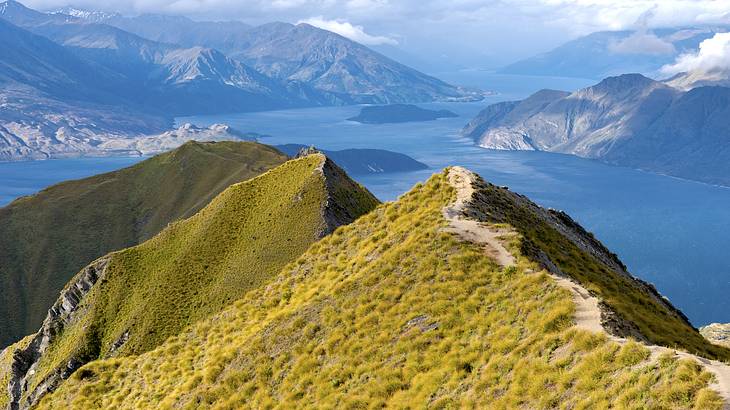 Roys Peak Track, Fiordland National Park
Roys Peak is a popular day hike for tourists and locals and is a must on any Wanaka itinerary. It's provided some of the most famous photos of Lake Wanaka, and for good reason.
This up and back hike is about 16 km (10 miles) and typically takes about 6 hours to finish. It has an elevation gain of 1500 m and might not be the easiest of hikes depending on what shape you're in!
The track is almost always muddy and follows a well-loved path through grassy sheep-farm land. I highly suggest wearing good hiking boots rather than sneakers.
Don't be afraid if you collect some locals along the way, and by locals, I mean the aforementioned sheep. There are definite photo ops along the way, but the entire hike is panoramic beauty, as long as you don't slip in the mud.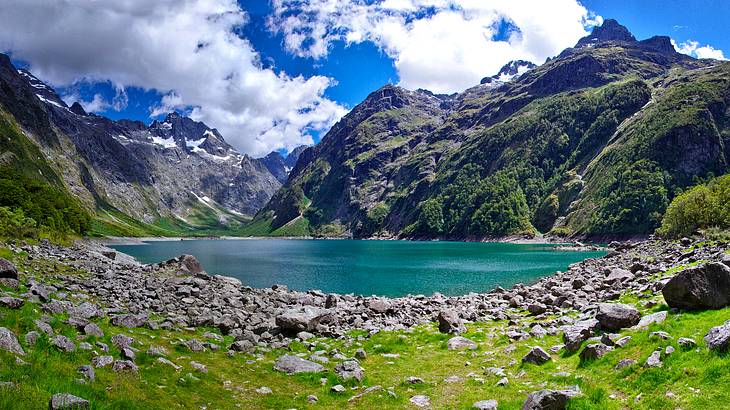 Lake Marian Track, Fiordland National Park
With an elevation of around 420 meters, this short hike to Lake Marian can be completed in about 3 hours. It is just slightly over 3 km (under 2 miles) long. It is an excellent choice if you need to break up a long day of travel or if you want to do a bunch of short hikes in one!
The hike starts out stunning and adventurous as you cross several sets of swing bridges and a series of waterfalls. You can finish the walk here or do the longer hike to the lake.
When you get closer to the lake, the path becomes steeper and can sometimes be icy or muddy, depending on the season and weather. Either way, even on a bright sunny day, take care where you are stepping.
Everyone thinks you need a clear, gorgeous day to get the best pictures at Lake Marian or the Fiords, but that's simply not true. Some of the most evocative and soul-stirring experiences are on those cloudy, average days.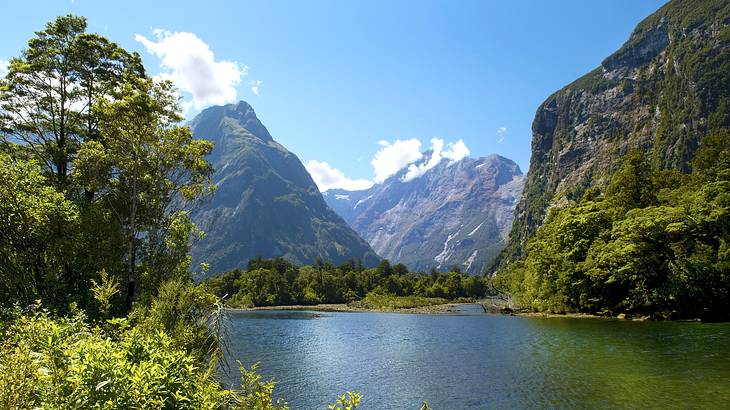 Milford Track, Fiordland National Park
Known as "One of the Finest Walks in the World", the Milford Track can also be found in Fiordland National Park. It is over 50 km one way and requires at least four days to complete it. This is another hike you need to plan ahead for, but it is well worth it!
The hike takes you through untouched, ancient jungle, up mountains and down valleys full of native grasses and wildflowers. You'll pass by powerful waterfalls, rushing rivers, and fiords carved by glaciers.
The Milford Track has been New Zealand's favorite hike for over 150 years, one of the reasons being you get to see the Sutherland Falls, the tallest waterfall in New Zealand at 580 meters (1,900 feet) high.
As with any multi-day hike, you need and should be fully prepared to take care of yourself in case of an emergency, and be wearing the proper hiking gear.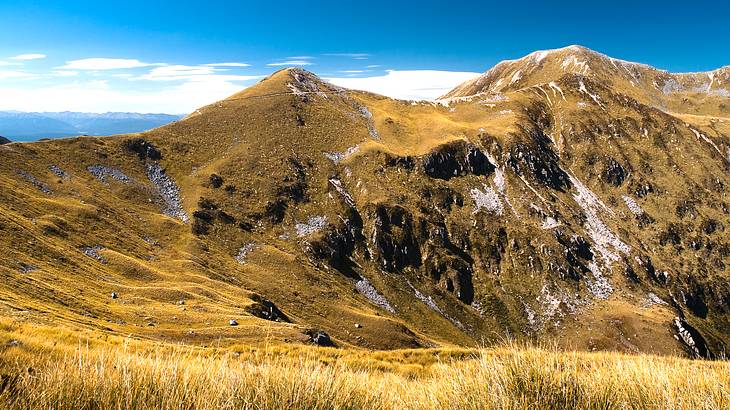 Kepler Track, Fiordland National Park
Another intense but otherworldly trek in Fiordland National Park is the Kepler Track. This walk needs some planning ahead, but again, you would have bragging rights for having been some of the very few humans to complete the Kepler hike.
It is a 60 km (37 miles) loop that can take up to 5 days to complete. At the highest point on the trail, you will be 1,400 m (4,600 ft) high. There are seasonal restrictions, and you have to book this trip ahead of time, but you know, bragging rights!
During your captivating walk along the Kepler Track, you will be exposed to the very best of everything New Zealand is known for. Dramatic landscapes will keep you walking long after your legs are screaming for you to stop.
The Kepler Track was carefully planned and constructed for hikers to easily enjoy everything nature has provided in this hidden, untouched part of the world. As mentioned before, this multi-day hike takes some planning ahead, but if you have the time and means to squeeze it in, you must.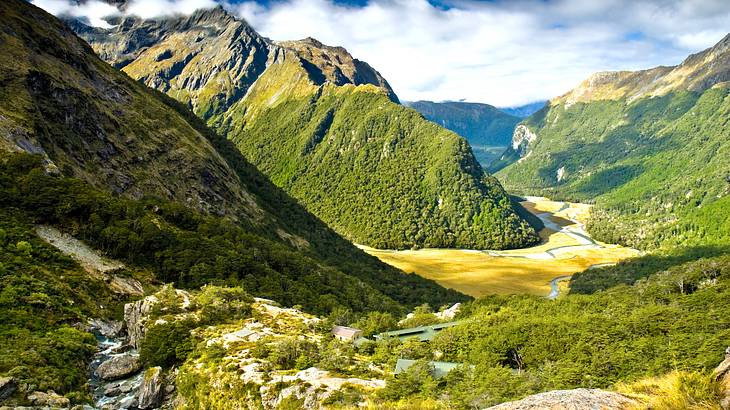 Routeburn Track, Fiordland National Park
The Routeburn Track is a 33 km (20.5 miles) one-way track that spans two national parks. It can take up to 5 days to trek through Fiordland National Park and Mount Aspiring National Park in this exciting alpine hike.
At its highest point, it's 1,255 meters tall. The difficulty level depends on your fitness ability (so it can be rather easy or moderately difficult). The terrain is mostly smooth, with some rocky bits.
Crossing over mountain peaks, gushing waterfalls, and around stunning cliffs - this alpine hike is exciting for more than just the imaginable beauty.
This track is also home to the only alpine parrot in the world. They are called the Kea, and they are super cheeky.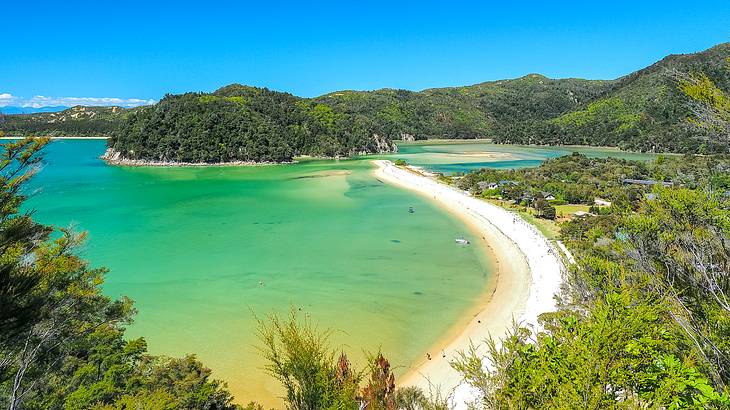 Abel Tasman Coast Track, Abel Tasman National Park
Abel Tasman National Park is located at the top of the South Island, giving it a mild climate all year long. Despite being the smallest national park in the country, it's home to one of New Zealand's ten "Great Walks", designated by the Department of Conservation.
The Abel Tasman Coast Track is one of the more easily accessible Great Walks and can be hiked in sections, or the 60 kilometers (one way) can be hiked over a few days. The track can be walked in either direction, but if you're walking the entire thing, remember to arrange accommodation (in advance) as well as one-way transportation.
Whether you set out to do the entire trek or you're just going with the flow, the coastal walk is entirely hypnotic, with views of expansive bays, glittering beaches, and tranquil rock pools, and parts of the trail taking you into the flourishing native bush.
Even though this hike is rated easy, you still need to pack and be prepared for all weather types. During the Abel Tasman coastal walk, you especially need to pay attention to when the high and low tide is.
Something else to keep in mind is sandflies. These pesky little buggers can definitely ruin a good hike with their itchy and painful bites. Bug spray won't work unless it contains more than 40% DEET, but the best way to avoid them is to wear light-colored material covering your arms and legs, especially your ankles, and just keep moving.
Hike it Up
The South Island of New Zealand has some of the most enticing hikes on the planet. This list only includes some of the most beautiful and alluring. While some are high on everyone's list, others are hidden gems.
There are, of course, many other hikes to explore on the South Island that have not been included on this list, such as the Queen Charlotte Track.
---
---
Want to keep exploring?
Subscribe for discounts on tickets and hotels and our latest guides.
Thank you for subscribing
We will be in touch soon with discounts on tickets and hotels and our latest guides.
Want to keep exploring?
Subscribe for discounts on tickets and hotels and our latest guides.
Thank you for subscribing
We will be in touch soon with discounts on tickets and hotels and our latest guides.
Related Articles