15 Best Places to Snorkel in Puerto Rico
Destguides may receive commissions from purchases made through affiliate links in this article.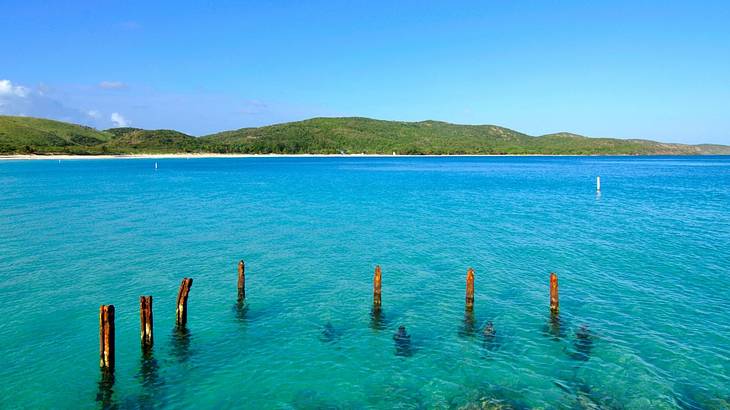 If you're a lover of water activities, Puerto Rico is a must-visit destination! The Caribbean island, located off the coast of North America, has ideal conditions for boating, scuba diving, and swimming. It's also one of the world's top snorkeling locations.
Just a few of the best places to snorkel in Puerto Rico include Flamenco Beach, Seven Seas Beach, and the uninhabited Cayo Icacos. While you can head to any snorkel beach alone, opting to go on one of numerous snorkeling tours in Puerto Rico is recommended.
If unsure when to visit for a snorkeling trip, the best time to snorkel in Puerto Rico is between April and August. This is when the waters are most calm and clear.
Now that you know when to visit Puerto Rico for a dream vacation, read on to discover the 15 snorkeling beaches you have to check out!
15 Best Puerto Rico Snorkeling Spots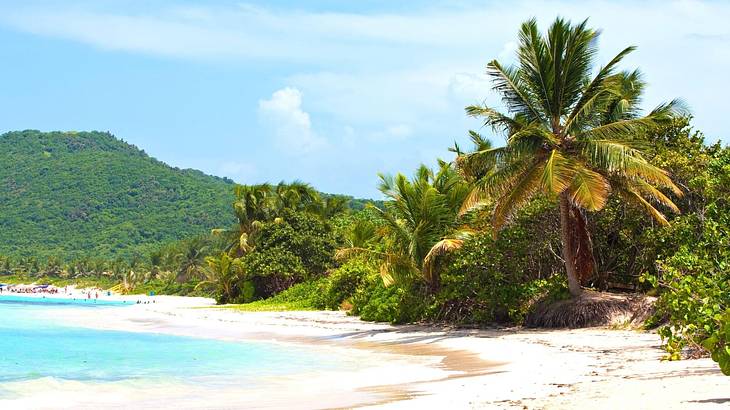 Flamenco Beach
Flamenco Beach sits on the island of Culebra in the municipality of Flamenco. This location is the epitome of a tropical beach, with soft white sand shores lined with palm trees and warm turquoise waters.
It's also one of the most popular places to go on a Puerto Rico snorkeling tour. When experiencing a full-day Flamenco Beach snorkeling tour, a guide will take you to the most amazing snorkel spots in the surrounding waters.
In the water, you can see a diverse array of marine life. Creatures to spot range from colorful fish to sea turtles and stingrays. This experience includes speed boat transport to Culebra, lunch, and snorkel lessons.
If you want to find the best snorkeling beaches, a trip to Flamenco Beach has to be on your Puerto Rico itinerary!
Carlos Rosario Beach
Carlos Rosario Beach (Playa Carlos Rosario) is another beach located in Flamenco, Culebra. It's one of the quieter places to snorkel and has great conditions and abundant marine life. To reach the area, you can take a ferry from Ceiba or Vieques.
Once at Carlos Rosario Beach, you can hop in the water to discover the world under the ocean. Things to see include lots of fish and pretty coral reefs. You may also spot turtles, but that's not guaranteed here.
To reach this location, you have to hike a trail from Flamenco Beach. This hike will take about 20 to 30 minutes to complete. However, you'll be rewarded at the end with what will most likely be an empty yet beautiful beach.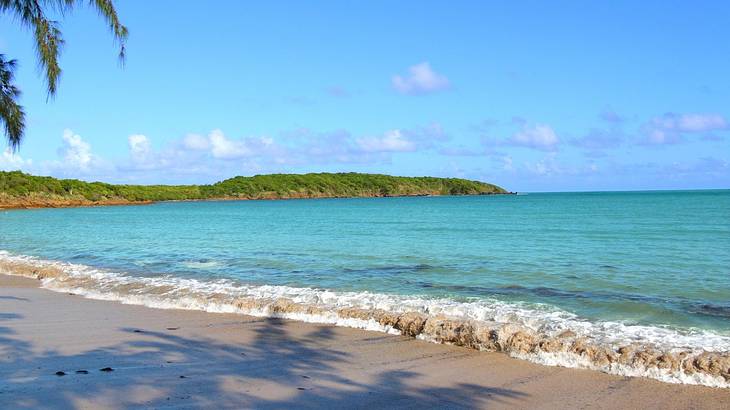 Seven Seas Beach
Seven Seas Beach is found on the east coast and features soft white sand shores and crystal clear waters. Because the water is often calm with minimal waves, it's the best place to snorkel in Puerto Rico for beginners. Once in the water, you can see small reef systems, plus seagrass and sea cucumbers.
Plenty of fish and other small sea creatures will be swimming around these reefs too. If you need snorkel gear, you can head to Pirate Snorkeling Shack, located right on the beach. They also offer snorkel lessons.
Tres Palmas Marine Reserve at Steps Beach
Located on the west coast of Puerto Rico near Rincon, the Tres Palmas Marine Reserve at Steps Beach (Playa Escalera) is the ideal place to snorkel. A fun idea is to go on a snorkeling adventure. During this three-hour guided snorkel, you'll be taken to places where spotting marine life is guaranteed.
Aquatic creatures to see swimming among the elkhorn coral reefs include tropical fish, sea turtles, and rays. You may even spot some dolphins and whales further out in the ocean. After a snorkel session, you can relax on the sandy shores found in this area, sunbathing and enjoying the views.
La Parguera Nature Reserve
The waters in La Parguera Nature Reserve offer some of the best snorkeling in Puerto Rico. The reserve features mangrove-sheltered bays and clear waters with extensive coral reef systems. When you begin to snorkel around the reefs, you'll also spot fish and small crustaceans.
If you're looking for another fun water activity to try while in La Parguera, trying a chili-boat tour is a great idea. Chili-boats are pedal boats that you'll be able to pedal through the waters, spotting turtles, manatees, and even swimming iguanas!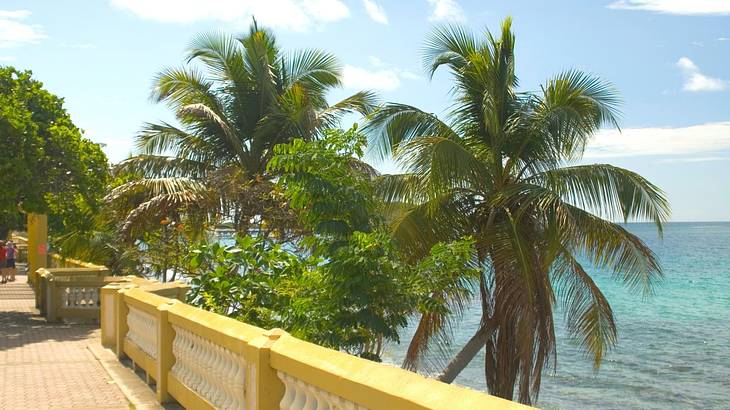 Vieques
Vieques is an island found off the east coast of Puerto Rico. It features the famous Bioluminescent Bay, the Vieques National Wildlife Refuge, and beautiful beaches. Vieques also has some top snorkeling locations.
A great way to see all the best places to snorkel on the island is by going on a Vieques guided snorkeling tour. As you explore the warm and clear waters, you'll see coral reefs and giant sea turtles, among other marine life.
Bioluminescent Bay
As mentioned, Vieques is home to the Bioluminescent Bay, also known as Bio Bay or Mosquito Bay. The waters here are unique as they contain Pyrodinium bahamense, which glows blue. At night, this phenomenon is especially noticeable and makes the bay bioluminescent, hence the name!
If possible, heading to Bio Bay to kayak and snorkel after dark is a great idea. You can also admire the natural sparkling lights in the water and spot some nocturnal sea creatures. If you arrive just before dark, you can see the aquatic world beneath the water in the daylight as well.
Wandering along the sandy shores taking in the scenery is recommended too. The neon and sparkling blue waters crashing onto shore make for a magical scene.
Escambron Beach
Another of the best beaches in Puerto Rico for snorkeling is Escambron Beach in San Juan. Things to see under the water include coral reefs, crustaceans, and tropical fish that are comfortable with snorkelers and will happily swim around you.
To find the best snorkel spots in the area, book a San Juan guided snorkel tour. The trip begins at Escambron Beach and takes you to the surrounding waters, where you'll see marine life galore! You even receive GoPro footage of your snorkeling experience.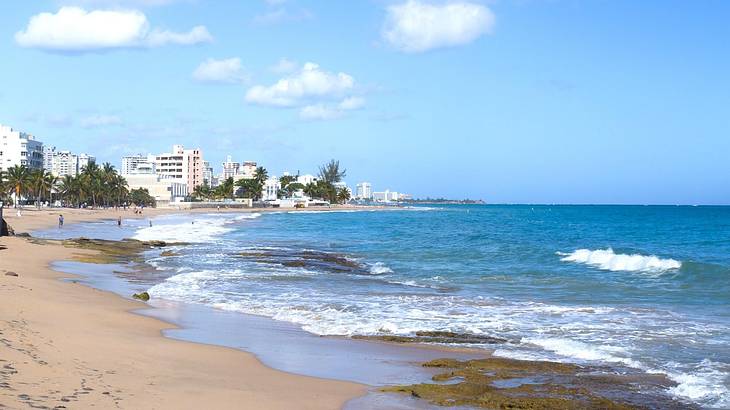 Condado Beach
As one of the most popular beaches in the country, Condado Beach in San Juan is somewhat of a landmark in Puerto Rico. The beach is a top place to sunbathe on the soft sand, swim in the warm waters, and, of course, snorkel!
You can see many fish species in the clear waters here, plus crabs, urchins, and coral reefs. Once on the shore again, you may spot iguanas relaxing on the sand too. After snorkeling, taking a quick 10-minute cab ride to scenic Old San Juan for sightseeing, shopping, and refreshments is a great idea.
Palominos Island
Another must-visit snorkel island is Palominos Island. The uninhabited offshore island is incredibly scenic and peaceful and has clear waters and white sand beaches. Many tours can get you to the island, or you can rent a boat.
If you're willing to splurge, another great option is booking a private sail and snorkel trip to Palominos Island. Your captain will sail you to the island, where you can snorkel among tropical fish and turtles. Paddleboards are also provided.
If you need a break from the water, hop back on the boat, where an open bar is accessible. In addition, snacks are served and you can upgrade the tour to include a freshly prepared lunch.
Do note that this particular tour takes you to one of three locations depending on the day you go. If you want to go to Palominos, ensure you specify that.
Cayos de la Cordillera Nature Reserve
Another breathtaking place to snorkel just off of mainland Puerto Rico is Cayos de la Cordillera Nature Reserve. The reserve comprises multiple small islands which feature sandy beaches, lagoons, and mangroves.
In the waters here, you also get to see a vast coral reef system that's vital to marine life. To best explore the area, going on a Cayos de la Cordillera Nature Reserve snorkel adventure is recommended.
A guide can help teach you how to snorkel if you're a beginner. No matter your ability level, you'll be able to see a vibrant underwater world when snorkeling around this island chain.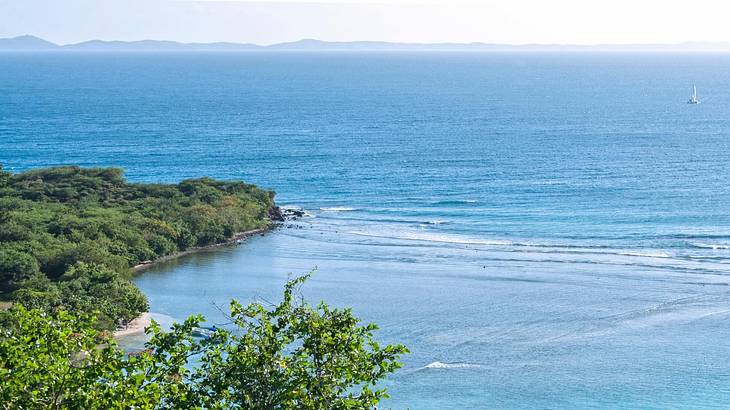 Culebra
Culebra is known for being home to Flamenco Beach and Carlos Rosario Beach, two of the best snorkeling beaches in Puerto Rico. But these aren't the only places to see marine life on the island.
To make the most out of your trip to the area, going on an all-day Culebra snorkeling tour is a must. You'll be taken to a variety of places, including Tamarindo Beach and Cayo Luis Peña, where you can see spotted eagle rays, yellowtail snappers, turtles, and more.
Cabezas de San Juan Natural Reserve
Cabezas de San Juan Natural Reserve is located in Fajardo and is another of the amazing snorkeling beaches in Puerto Rico. Planning a trip to this wildlife-filled nature reserve is a must! A fun way to do so is by going on an eco-adventure snorkeling tour.
At the reserve, you can kayak under the warm sun before getting into the water with your snorkel gear. Things to see in the clear water include bright coral reefs, lobsters, fish, turtles, and even nurse sharks.
Piñeros Island
Piñeros Island is a small island just off the coast of the municipality of Ceiba. The tropical destination has white sand beaches and waters that are ideal for snorkeling.
If you're looking for a more luxurious snorkel cruise, booking a sailing and snorkel day charter to Piñeros Island is highly recommended. Once on the island, you can admire the views and get in the water to search for marine life within abundant reefs.
This tour also includes a delicious BBQ lunch, plus beer and wine, allowing you to enjoy your meal surrounded by a tropical paradise!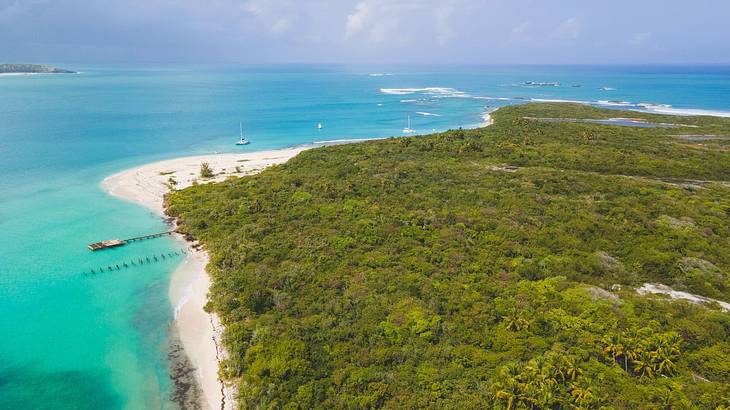 Cayo Icacos
Cayo Icacos is an uninhabited island that sits just off the east coast near Fajardo. It has tranquil and clear waters, plus white sand beaches to relax on under the sun.
The easiest way to get to this island is by taking a Cayo Icacos tour. After being provided with snorkel equipment, your guide will take you to the best places to spot coral reefs and aquatic animals.
As the tour lasts five hours, lunch is provided, which you can enjoy while taking in the tropical views. Soft drinks and local rum are on offer too.
In Summary
There are numerous places to snorkel in Puerto Rico, all of which are home to a variety of marine life. Whether you're a beginner or an experienced snorkeler, going to one or more of these spots will allow you to discover Puerto Rico and its natural beauty in a different light!
---
---
Want to keep exploring?
Subscribe for discounts on tickets and hotels and our latest guides.
Thank you for subscribing
We will be in touch soon with discounts on tickets and hotels and our latest guides.
Want to keep exploring?
Subscribe for discounts on tickets and hotels and our latest guides.
Thank you for subscribing
We will be in touch soon with discounts on tickets and hotels and our latest guides.
Related Articles