Romania Vacation - The Perfect 5-Day Transylvania Itinerary
Destguides may receive commissions from purchases made through affiliate links in this article.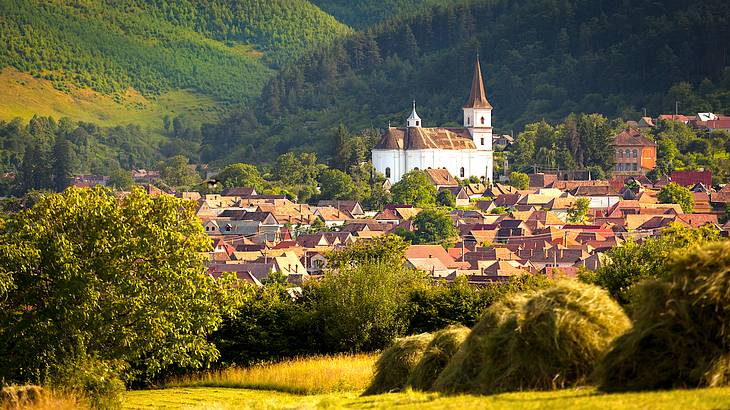 Transylvania, in central Romania, is famous for its Transylvanian 'vampires', with Dracula being the most well-known. This stunning region in Romania has more to offer than just a dark past made up of only Dracula though.
Of course, if you're here, you will have to pay a visit to 'Dracula's Castle'. But along with this castle also comes many other towering castle complexes and exciting things to see and do in Transylvania, Romania.
Whether you feel like a city walking tour, castle hopping or trekking beautiful mountains; this 5-day Transylvania itinerary has got you covered for your upcoming Romania vacation.
Renting a car is the best way to explore this area, which is how I did it with my family when we were here many years ago. Fun Fact - I was born in Bucharest, the capital of Romania, but this was my first visit back in 25+ years at the time, so it was quite exciting for us.
Begin the first day of your Transylvania, Romania itinerary by getting lost in the magical city of Brasov. After doing a self-guided walking tour of Brasov, those on the hunt for a ski adventure can head to Poiana Brașov, one of the best ski resorts in Romania. Or, you can just walk around the mountain top in the summer. Finish off your day with a cool down at the Fortified Church in Prejmer.
Make your second day one for the books with a hike up to the top of the breathtaking Piatra Craiului National Park. Then, kick off your castle-hopping tour of Romania's famous castles, including Bran Castle (aka Dracula's Castle, but keep in mind there is no real Dracula or vampires here) and Peles Castle.
Romania is also peppered with citadels and fortresses all around as they come from a long history of military strife. So, don't forget to visit Cetatea Râșnov too, a fort built to protect citizens from invasion. Next up is the city of Sibiu to explore the town, the ASTRA National Museum Complex and the Bridge of Lies.
Make sure to not miss the big city of Cluj-Napoca as well, which is where you can experience authentic Eastern European cuisine, people watch and enjoy the city architecture, such as the National Theater, without wandering too far.
Another must-visit destination in Transylvania is the town of Sighișoara, one of the most instagrammable places in Romania and the perfect spot to end your road trip around Transylvania. Here, you can wander around and admire the picturesque surroundings without getting bored.
Visitors to Sighișoara can climb up the Historic Centre as well for a good view of the town. While here, do not forget to try the local cuisine at Georgius Krauss Guest House too.
The Best 5 Day Transylvania, Romania Itinerary
Brașov City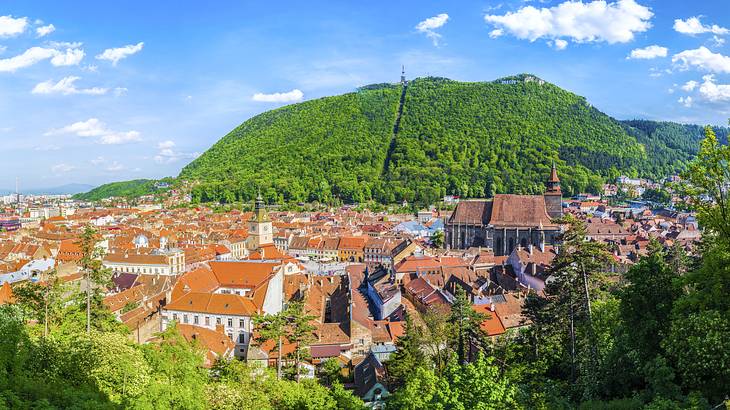 Make sure to include the city of Brasov on your Transylvania itinerary for a glimpse of old-world Saxon walls and Gothic-style structures. It truly is one of Europe's hidden gems.
Nature and wildlife are also abundant here, as expected from a city cradled in the Carpathian Mountains. Enjoy a pleasant stroll around town, chill in a nearby restaurant to watch the crowd go by, or admire the beautiful local architecture.
For those up for more of an adventure, Poiana Brașov offers one of the most incredible skiing experiences in the country (that is if you're here in the wintertime). Not up for skiing? The resort has facilities for skating, too. You can check out the Christmas markets in the city as well if you're here during the holidays.
During the summer, visitors can hike or bike on the mountain. After having fun at Poiana Brasov, continue your tour of the city by heading to the Fortified Church in Prejmer. Castles and citadels are not the only structures made with Transylvanian craftsmanship, as can be seen in this Lutheran church.
Brașov Town Centre
A visit to Brasov is like walking into a medieval storybook setting. Here, you can marvel at Saxon and Gothic-inspired architecture. Further inside the city is the Council Square (Piata Sfatului), which is at the centre of Instagram-worthy baroque buildings.
On your walking tour, you can also find Casa Sfatului - a building that used to be the city hall but is now a small museum. Lining the streets of Brasov are restaurants and food stalls where you can try local favourites, such as sarmale (minced meat wrapped in cabbage) or polenta with cheese!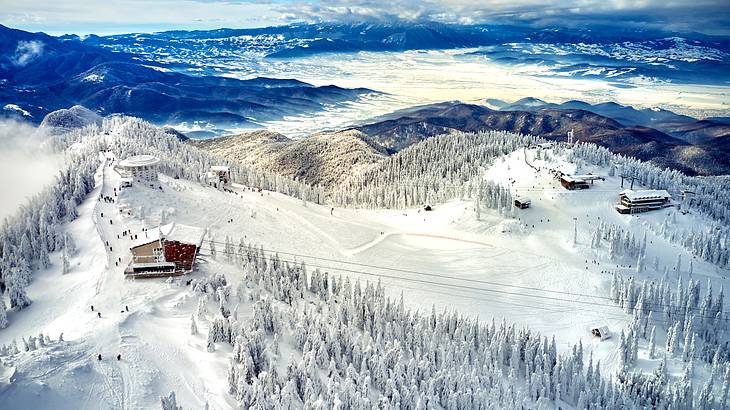 Poiana Brașov - Ski Resort
Add more height to your trip with a visit to the best ski resort in Romania. Visit Poiana Brașov for its 7-slope offering, ice-skating rinks, a sports complex and more!
During the summer, it also offers biking, hiking and horseback riding activities. Snow cover is expected from mid-November to March. Book a trip here to get a taste of Romanian adventure and hospitality.
Peasant Fortified Church at Prejmer
Before leaving Brasov, be sure to pay a quick visit to the Fortified Church. This Church has a tower that visitors can climb to see what the city looks like from above.
It is believed that the Fortified Church was created as early as the 13th century, but luckily it has survived until today. Visit for another taste of medieval charm.
Nature & Castle-Hopping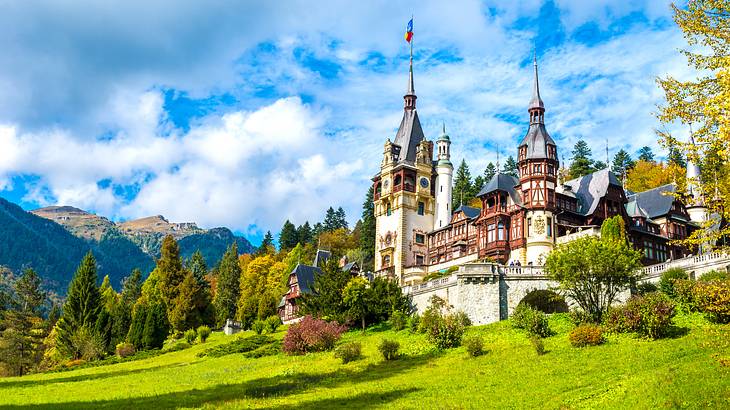 Kick off the second day of your Transylvania itinerary with a trip to Piatra Craiului National Park to hike up a trail leading to limestone ridges and breathtaking views of the area.
As newcomers to Transylvania often look for "Dracula's Castle", head to Bran Castle after you visit the national park to learn about what inspired the setting for this story. Don't worry; it's relatively cheap and easy to get to Bran castle from Brasov even if you're not driving.
Another must-visit castle is Peles Castle, which is known for its German Neo-Renaissance style. Complete your medieval tour with Cetatea Râșnov, an impressive symbol of Transylvania's old strength and power.
All of the places mentioned below have their own spot in Romanian history and are prime spots for tourists looking for a cultural trip full of rich history.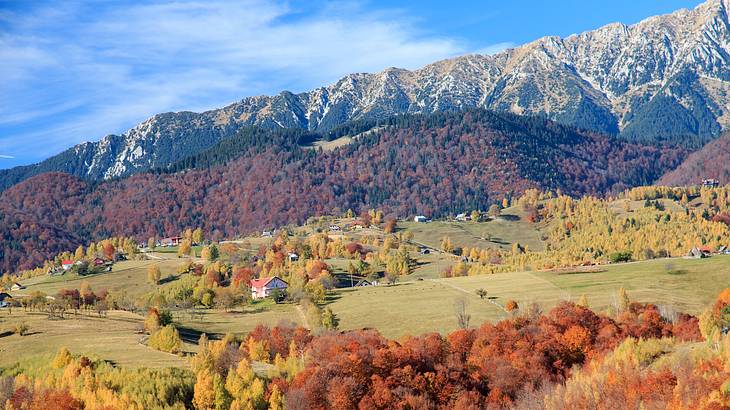 Piatra Craiului National Park
Piatra Craiului National Park contains Romania's longest limestone ridges. The top of the park also offers fantastic panoramic views of the countryside below.
Hikes can take up to 3 hours and hikers with various levels of fitness can take on multiple areas to climb. Be sure to check the weather before heading here to make sure you will enjoy the trip.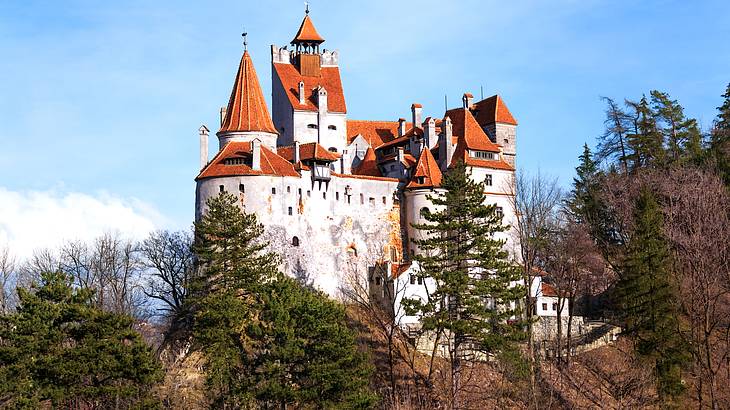 Bran Castle
Bran Castle sits beautifully atop a hill in Transylvania. It is one of Romania's most-visited sites due to being known as Dracula's Castle.
The Castle was once owned by Prince Mircea the Old, the grandfather of Prince Vlad the Impaler. Vlad had a reputation of being a ruthless prince who liked skewering his enemies and displaying their impaled bodies to the public. These events inspired Bram Stoker's novel of Dracula.
Bran Castle boasts more than 600 years of history, but its grandeur is credited to the care of Queen Maria who transformed the castle into the famous Romanian landmark it is today. Do not miss this great castle on your Romanian holiday.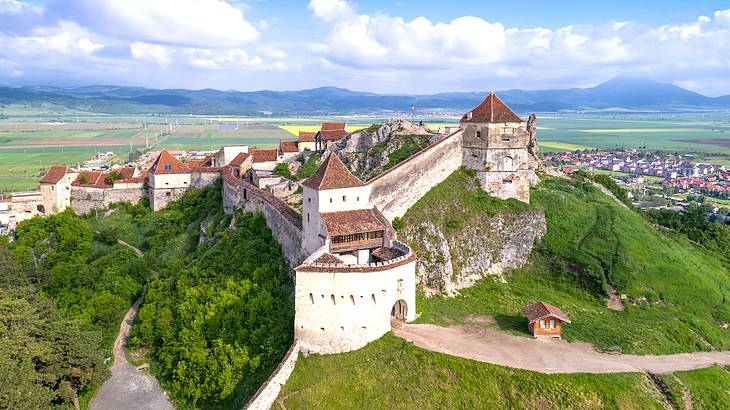 Cetatea Râșnov
Next, visit the Cetatea Rasnov Fortress. This fortress is an excellent reminder of Transylvania's military prowess and high-quality architecture. Inside, you can get a good view of the structures of Rasnov villages.
When exploring this fortress, don't miss the Mythical Well which is believed to be the hiding place of a treasure. Legend has it that this well was dug by Turkish prisoners during a siege and is where they put Quran verses on the walls.
The Cetatea Rasnov Citadel also has a museum where visitors can learn more about the local history and way of life.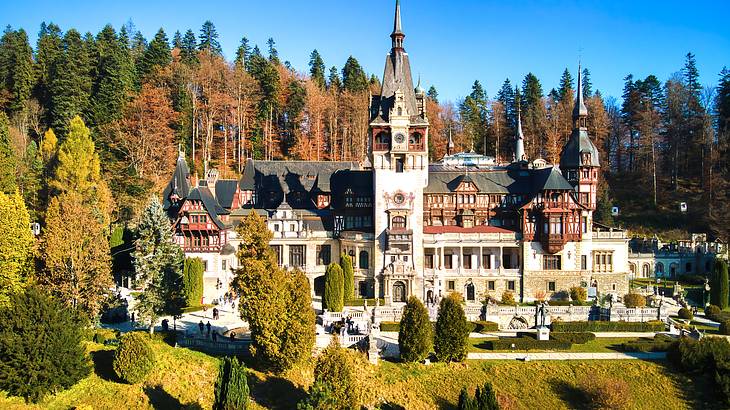 Peleș Castle
For an excellent example of Neo-Renaissance grandeur, head over to Peles Castle. This castle is situated in the Carpathian Mountains, right on the medieval path that connects Transylvania and Wallachia.
Peles Castle has a royal touch and was once the home of the Royal Family of Romania. This elegant piece of architecture in the town of Sinaia is surrounded by trees and mountains, which adds a beautiful backdrop to the fairy-tale-like castle.
Sibiu City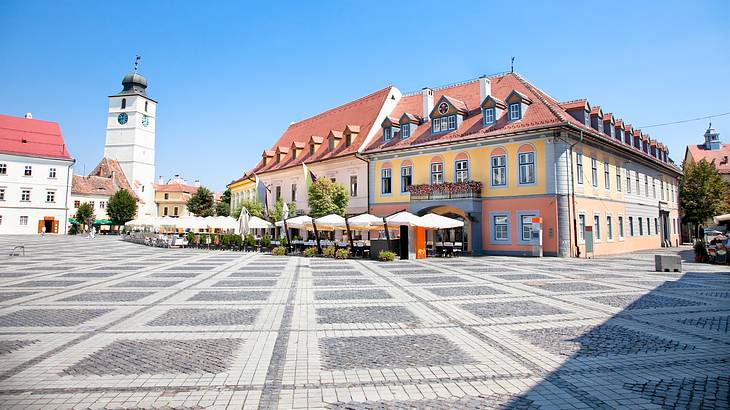 Make your next day count with a trip to Sibiu City, which is easily explored on foot as the landmarks are close to each other, such as the Council Tower and the Brukenthal National Museum. This is the best way to have an authentic encounter with any town, after all.
After exploring many Romanian castles, citadels and mountain tops, it is time to do something different too. So visit the ASTRA National Museum Complex, home to other museums dedicated to ethnography and civilization.
End your day in Sibiu by checking out the infamous Bridge of Lies to find out how it earned itself such a peculiar name!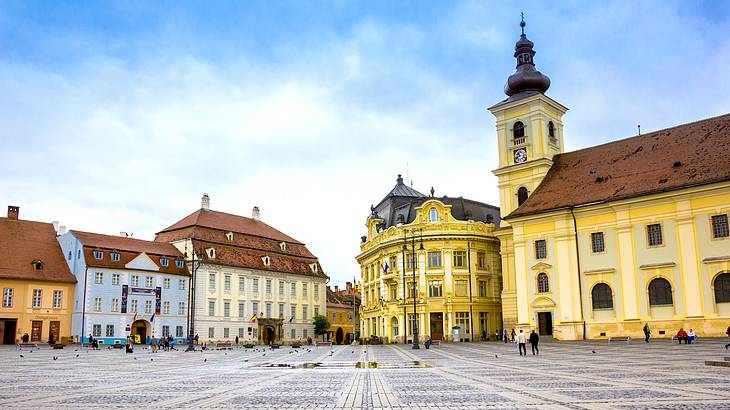 Sibiu Town Centre
This Transylvanian city is home to many Germanic (Saxon) structures that still stand strong until this day. Walk its medieval paths and head over to Sibiu's nearby attractions, such as the Council Tower or the Brukenthal National Museum, to continue your adventure.
ASTRA National Museum Complex
For your major museum stop, head to the ASTRA National Museum Complex (simply Astra Museum) where you can visit four different museums. The four museums are The Traditional Folk Civilization Museum, The Universal Ethnography Museum, The Transylvanian Civilization Museum and The Saxon Ethnography Museum.
If you visit during the summer, the museum complex organizes dance workshops, musical presentations and other events, so do keep an eye out for these if you visit here. It also has shops and restaurants by the creek for when you wish to take a break in between each museum run.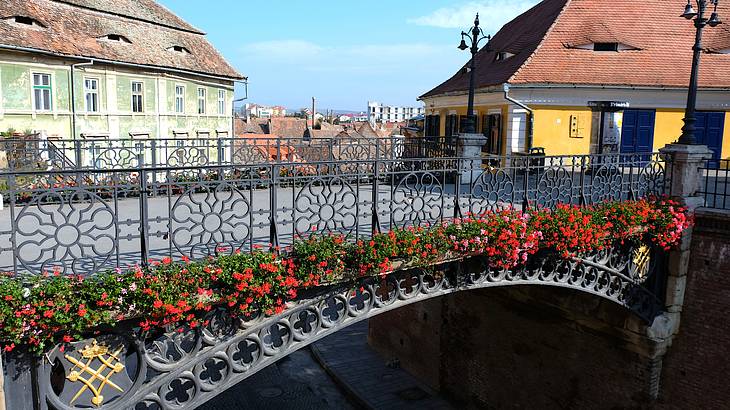 Bridge of Lies
I'm not going to lie; this Bridge got me all curious. Legend has it that this Bridge of Lies is where cadets of old taken ladies made empty promises.
Another myth is that when a liar crosses this bridge, whirring noises can be heard as if the structure is ready to collapse on them. Find out if there is any truth to this by crossing the Bridge of Lies yourself!
Cluj-Napoca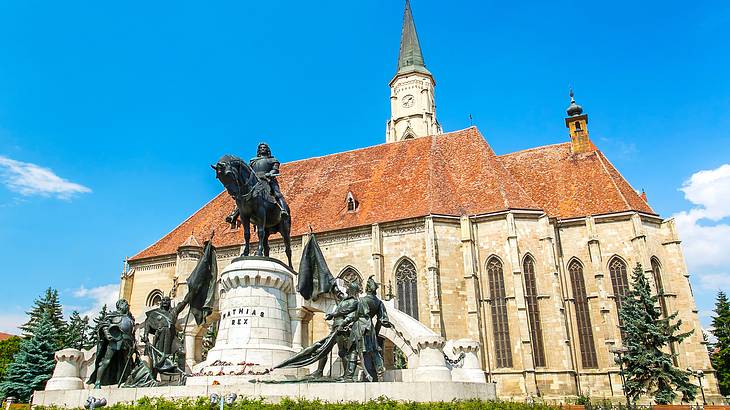 On the fourth day of your tour of Transylvania, explore the must-visit salt mine, Salina Turda, where an underground lake and impressive structures are open for visitors to see and journey through.
Next, visit Transylvania's unofficial capital, Cluj-Napoca, which has a vibrant nightlife and the highest population of students in the region. Same like other towns and cities you have visited by now, Cluj-Napoca is highly walkable. Anyone who wishes to make the most out of their visit here should explore each road with wide-eyed wonder.
Finally, make sure not to miss the beautiful Central Square that has a church and a statue of a King. To cap off your tour, relax and catch a play at the Lucian Blaga National Theatre.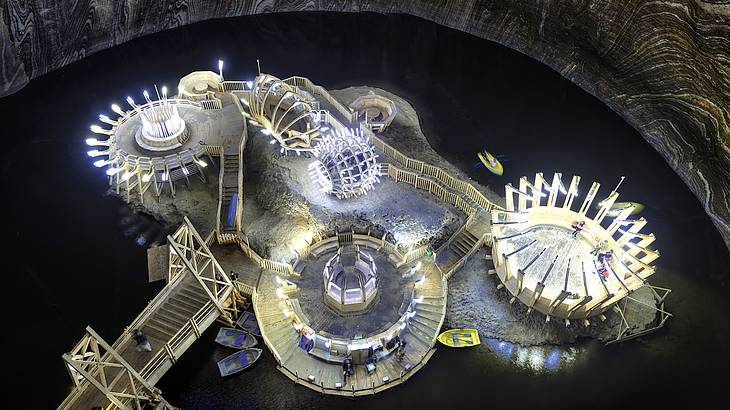 Salina Turda (Salt Mine)
A short distance away from Cluj-Napoca is the world's largest salt mine. It is known as the Salina Turda Salt Mine and is located in the Durgău-Valea Sărată area of Turda.
Salina Turda was opened to tourists in 1992 and is probably one of the most exciting attractions to see in Transylvania. It has an underground lake, four mines and many large structures in the shape of massive disks.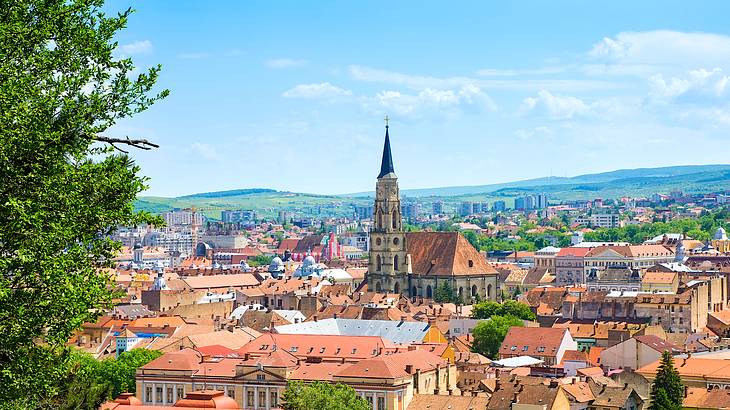 Cluj-Napoca Proper
Cluj-Napoca Proper is Transylvania's unofficial capital. The largest population of students live here, so you can count on the newer and more modern elements of the city being well integrated into the old-world setting. Plus, the nightlife here is vibrant too!
This city is also known as Cluj and is best explored on a food-walking tour that includes stops at various restaurants. Don't forget to take snaps at Cluj-Napoca city proper and visit St. Michael's Church, the Matthias Corvinus Statue, Banffy Palace and other landmarks that are relatively close by to one another as well.
Finally, enjoy the local chimney cakes, potato goulash, cabbage a la Cluj and more sarmale before you take off!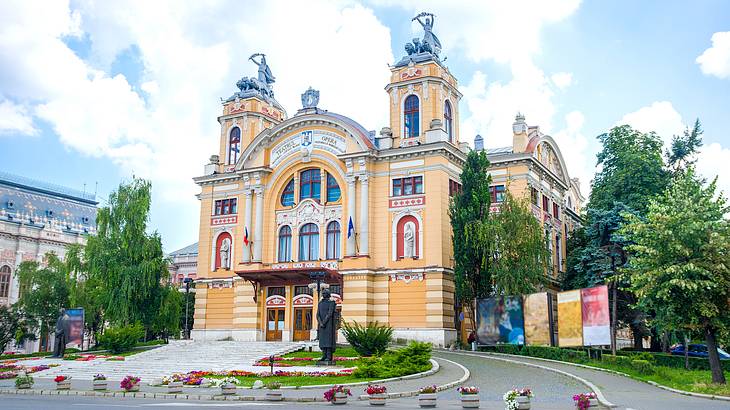 Cluj-Napoca National Theatre
After exploring the city, cap off the night with a play or show at the Cluj-Napoca National Theatre. A potential option for you, if it's your thing, is to catch a Romanian Opera show.
Take note that there is no bar here though, unfortunately, so make sure you have eaten and quenched your thirst enough to last you throughout the entire performance.
Postcard-Ready Sighișoara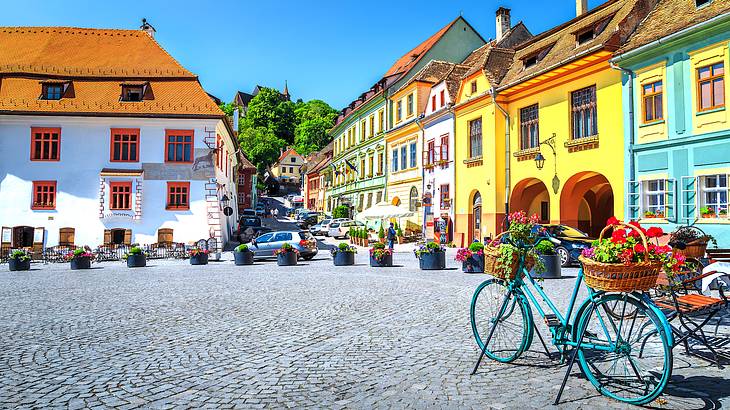 Another beautiful town that looks like it jumped straight out of a postcard is Sighisoara. This small town is a fantastic backdrop for your picture-perfect holiday snapshots.
When in Sighisoara, revel in its medieval charm and homely atmosphere by either doing your own walking tour or aimlessly wandering around. Do include the Sighisoara Historic Centre on your what to visit in Transylvania list, and why not also check out the clock tower while you are here?
The town proper is lined with excellent grubs too, so be sure to have your meals at places that serve great local food. For example, you can try out Casa Georgius Krauss, which is a fantastic restaurant located in a hotel in Sighisoara.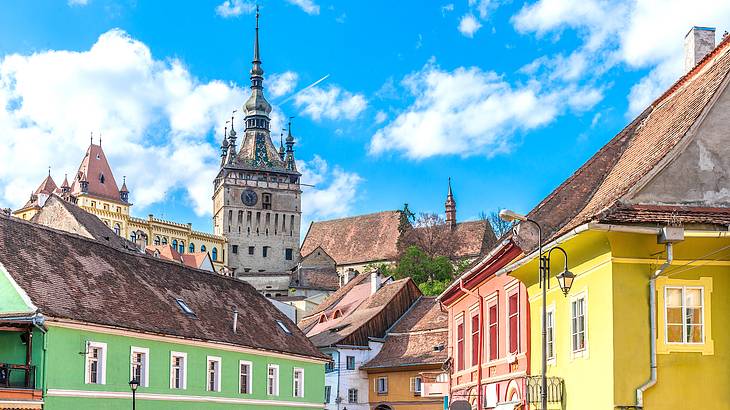 Historic Centre of Sighisoara
You can reach Sighisoara's Historic Centre with a quick climb. This UNESCO World Heritage Site contains an 800-year-old Saxon town that has had most of its architecture and medieval beauty well preserved.
Strike a pose by the clock tower, or simply stroll endlessly along its old streets. Like any other tourist town, it is tastefully lined with cafes, restaurants and shops for those on the hunt for souvenirs and takeaways.
Casa Georgius Krauss
Casa Georgius Krauss is primarily a quaint hotel that sits atop an old property. Each room in this hotel merges the old with the new as rooms are decorated with 17th-century art and flat-screen TVs.
Tourists who visit this place should not pass up on the hotel's restaurant as they can get a taste of slow-cooked food, such as beef filet, muttons and other great local food made to order.
In Summary
I hope this Transylvania travel guide full of travel tips and more has inspired you to visit this beautiful part of Romania, or at the very least, given you some ideas on how to set up your days when here. Have a great time!
---
---
Want to keep exploring?
Subscribe for discounts on tickets and hotels and our latest guides.
Thank you for subscribing
We will be in touch soon with discounts on tickets and hotels and our latest guides.
Want to keep exploring?
Subscribe for discounts on tickets and hotels and our latest guides.
Thank you for subscribing
We will be in touch soon with discounts on tickets and hotels and our latest guides.
Related Articles