32 Best Things to Do in Seville, Spain for First-Time Visitors
Destguides may receive commissions from purchases made through affiliate links in this article.
Seville is a beautiful and historic town located in the Andalusian region of Spain. The city has lots to offer visitors, with many historical landmarks, markets, unique shops, and fantastic bars and restaurants.
Just a few of the best things to do in Seville, Spain, include visiting iconic landmarks like Catedral de Sevilla, shopping at markets such as Triana Market, and going on some day trips to other great cities like Granada.
If planning a visit to Seville, often referred to by its Spanish name of Sevilla by locals, the best time to visit is in the "shoulder season." This is a period between peak seasons which generally runs from May to June and September to October.
It is highly recommended NOT to visit in August as it's way too hot. Somedays, it can reach 40°C! Heat rises from below and comes down from the beating sun. In short, Seville is not a fun place to be in July and August; plus, many shops and restaurants are closed then, and locals are also out of town.
Other good times to visit include during Holy Week in mid-April and between December and February when the city's famous orange trees have fruit on them. Seeing these trees is on many people's Seville bucket list, and interestingly, they are known for keeping the city cool as they don't lose their shady leaves at any point in the year.
Even if you don't visit when these trees have oranges, make sure you pick up some Seville orange products, like jams, marmalades, and perfumes.
Has your interest in Seville been piqued? Keep reading to discover all of the fun and unique things to do in Seville. You can be sure the information and tips you will find in this Seville guide are genuine as we spent the whole month of August 2022 here (crazy, I know!).
32 Seville Things to Do
Fun Activities in Seville, Spain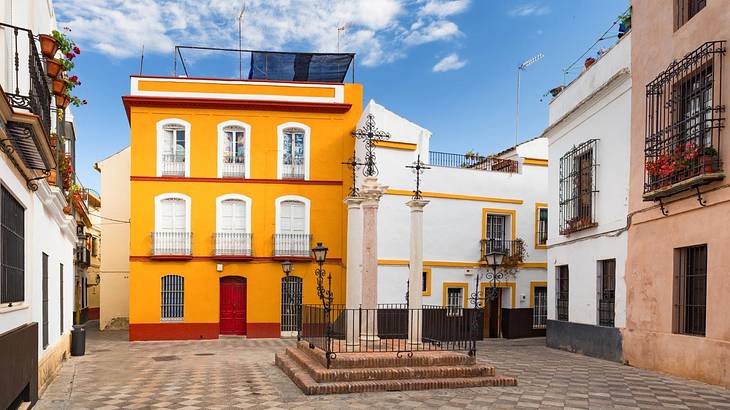 Explore Barrio de Santa Cruz
Seville is one of the best places to stay in Spain as it has many unique and vibrant neighborhoods to explore, like Barrio Santa Cruz. The Santa Cruz neighbourhood is one of Seville's most popular tourist areas. The heart of the barrio is Plaza de la Santa Cruz, a small square with many landmarks around it.
Interestingly, there used to be a synagogue in the square; however, it was replaced with the Church of Saint Bartholomew. Nevertheless, you can still experience some of the area's Jewish heritage by doing a guided walking tour of the Old Jewish Quarter within Santa Cruz.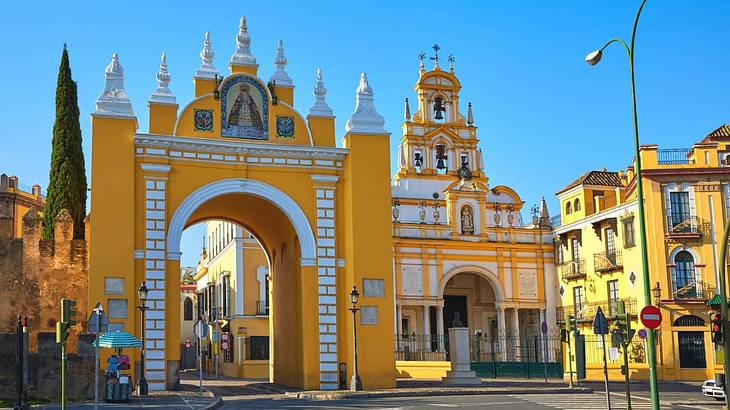 Visit Basílica de la Macarena
Basilica of Santa María de la Esperanza Macarena, or Basílica de la Macarena for short, is a Catholic temple constructed in 1941 in a neo-baroque style. It's also the headquarters of the Brotherhood of La Esperanza Macarena, and there is a museum relating to this brotherhood next to the basilica.
In addition, the basilica houses an iconic statue, the Virgin of Macarena, a 17th-century piece that is a centrepiece in the city's Holy Week displays. Along with seeing this statue during a visit, you can admire the intricate details and religious murals inside the chapel.
View Catedral de Sevilla and La Giralda
Visiting the Seville Cathedral and Giralda Tower is undoubtedly one of the top things to do in Seville, Spain. Catedral de Sevilla, sometimes called Catedral de Santa Maria de la Sede, is a European landmark and UNESCO World Heritage Site that was constructed in 1528. The 16th-century landmark also happens to be the largest gothic cathedral in the world!
The cathedral's bell tower, Giralda Tower, is also a renowned landmark in itself. It was initially part of the Great Mosque of Seville during the Moorish period and was later incorporated into the cathedral.
When visiting, it's recommended to purchase a Seville Cathedral and Giralda Tower skip-the-line ticket. Once inside, you can marvel at the building's architecture and admire views over Seville from the top of the bell tower. Admission is free on Thursdays from 2:45 pm onwards; however, this is only available to the first 80 visitors and needs to be pre-booked online.
Learn to cook Spanish dishes at a cooking class
After trying delicious Spanish dishes in Seville, why not learn to cook some of these meals? Taking a Spanish cooking class allows you to learn how to cook authentic Spanish dishes using fresh local ingredients.
You'll also learn more about dishes local to Seville. As you cook, you can enjoy sangria and will be offered wine when you sit down to enjoy the meal you've created.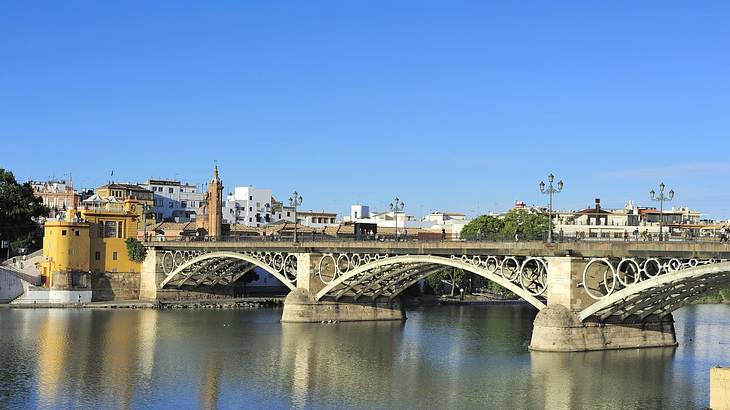 Do a circular walk of the Triana and San Telmo Bridges
The Triana and San Telmo Bridges, or Puente de Isabel II (Puente Triana) and Puente de San Telmo, cross a tributary of the Guadalquivir River and connect central Seville to Triana. If you want to take a scenic walk around Seville, doing a circular walk of these two bridges is a great idea.
As you walk across Triana Bridge, you can admire the views down the waterways. You can wander through Triana before crossing back into Seville over the San Telmo bridge, again admiring the views.
Go on a free Rick Steves walking tour
There's a lot to see in Seville, and planning what to do in a day can be challenging. A fun and free way to see the best parts of the city is by going on a Rick Steves walking tour. The tour begins at Plaza Virgen de Los Reyes near the Giralda Bell Tower.
Places you'll walk by on this short tour include Royal Alcázar, Basílica de la Macarena, and others. As you explore, you can listen to an audio guide (so don't forget to bring headphones) that offers more information on all the landmarks you'll pass.
Look around El Barrio de Triana
Another popular neighbourhood in Seville is El Barrio de Triana. You can get from the central part of Seville to Triana by crossing Puente de Triana (Isabel Bridge) or Puente de San Telmo.
Once in the neighbourhood, you can explore the charming streets, discovering independent shops, including many selling pottery and ceramics. There's also a beautiful square to visit, Plaza del Altozano.
In addition, there's a bustling market, Mercado de Triana, which is open daily and is the ideal place to pick up some one-of-a-kind souvenirs.
Enjoy a gelato at Gelateria MITO
Stopping for ice cream at Gelateria MITO is one of the fun things to do in Seville, Spain, if you want a snack between visiting landmarks. This ice cream shop serves traditional Italian gelato in a range of flavours that you can enjoy in a waffle cone or on its own.
With so many flavours to choose from, it can be challenging to decide what to try! If unsure what to order, the Nutella and pistachio gelati are super tasty!
Take snaps at the photogenic Casa de Pilatos
Casa de Pilatos is another of the best places to visit in Seville, Spain. This palace, which translates to Pilate's House in English, is a residence of the Dukes of Medinaceli and was constructed in 1483.
Visitors can explore the palace and marvel at its Mudéjar and Italian Renaissance-style architecture. There are also stunning gardens to see. Note that the top floor is currently closed to visitors. An audio guide is available to download to your phone, or a physical one is available (included with your ticket).
To make admission easy, buying a Casa de Pilatos entry ticket in advance is a good idea. If you're an EU citizen, note that entry is free on Mondays after 3 PM. However, coming an hour before then is recommended to line up.
Fill yourself up on tapas at La Bartola
You can't visit Spain without having tapas at least a few times, and breaking up a busy day of Seville sightseeing with a stop for some delicious tapas is an absolute must! An excellent place to get different and tasty tapas in Seville is La Bartola.
This laid-back and friendly spot has many menu options, including vegetarian and vegan tapas dishes. Things to try include Iberian ham, caponata, calamari, and beef with roasted potatoes. You can also indulge in dessert, with dishes like panna cotta and cheesecake with berries on the menu.
If you want to find more great tapas spots, Calle Mateos Gago is known for its many fantastic tapas restaurants, so the street is worth checking out!
See a flamenco show
The dance form flamenco originated in Seville, so going to a traditional flamenco show has to be on your Seville to-do list! A great place to watch a show is at the Flamenco Dance Museum.
The show occurs in a charming 18th-century courtyard, with performances happening throughout the day. Before or after the show (depending on when you book your tickets), you can also look around the museum to learn more about flamenco in Spain. While the museum and the exhibit layout isn't the greatest, it only costs a few more Euros to experience both!
To ensure you get to see the show, you should purchase Flamenco Dance Museum show tickets in advance. Triana is another excellent area to watch flamenco shows, with various performance venues in the area.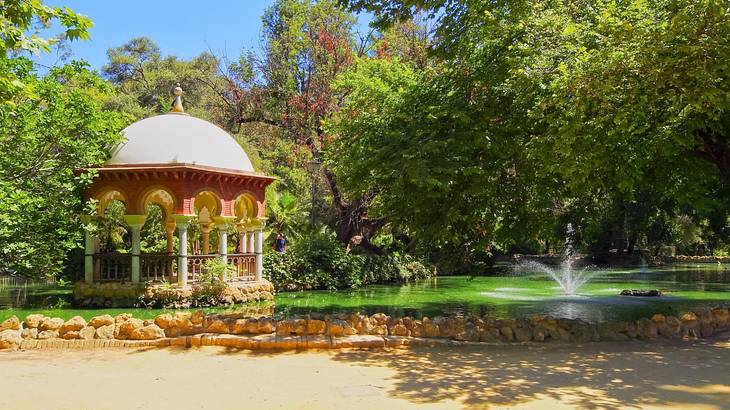 Hang out in Parque de María Luisa
If you want to take a break from sightseeing, one of the top places to visit in Seville, Spain, is Parque de María Luisa (María Luisa Park). This charming urban park sits on the banks of the Guadalquivir River and is the ideal place for a stroll or relaxing on the grass by the river.
As you walk around, you'll also find some statues and fountains. These include a statue of the poet Gustavo Adolfo Bécquer and the beautiful Fountain of the Lions (Fuente de los Leones). In addition, the renowned Plaza de España is also located nearby, and the park makes a nice place to go for a walk after visiting that attraction.
Walk around Plaza de España
Plaza de España is a famous Spanish landmark that has to be visited when in Seville, especially because it's free! The square is situated within Parque de María Luisa and was constructed in 1928.
As you wander around the area, you'll find four unique bridges representing Spain's four ancient kingdoms. You may also see flamenco dancers here; however, they tend to appeal to tourists, so the dances will not be as authentic as at other venues.
You should visit the plaza in the morning or evening to avoid the crowds of tourists and the hot sun and for the best photo opportunities. Spending an hour or two here is recommended to really enjoy the attraction.
Grab a speciality coffee at Delatribu
Delatribu is the ideal place to stop for some refreshments when exploring Seville. The brand serves specialty coffee in a trendy coffee shop. Coffee beans used come from all over the world, including Colombia, Papua New Guinea, and Brazil.
Drinks on offer include cold brew, cappuccinos and lattes with pretty latte art, and blended ice coffee drinks. Plant milks, like Oatly, are also available for use in most beverages. If you don't feel like coffee, you can have an iced tea or agua fresca. This cafe doesn't have much seating, so it's best to plan to get drinks to go!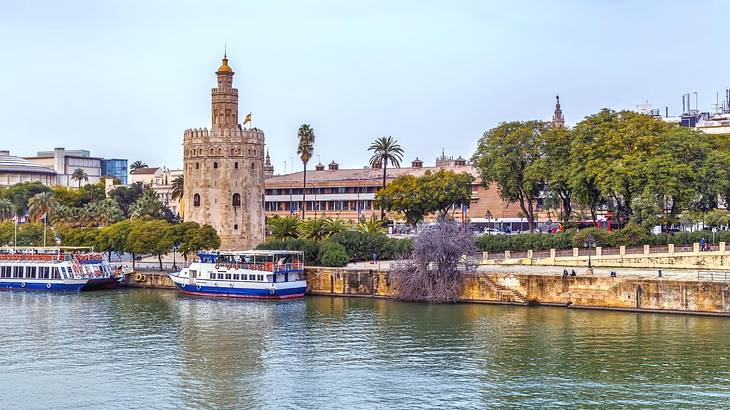 Take a Río Guadalquivir cruise
The Guadalquivir River, or Río Guadalquivir, is the second-longest river that has its entirety in Spain. It runs through all of Seville and is a popular place for river cruises.
If you opt to go on a Guadalquivir River cruise, you'll get to sail down the river admiring the views and spotting lots of Seville landmarks. If visiting Seville with your partner, going on a cruise at sunset is a romantic thing to do!
Learn about maritime history at Museo Marítimo Torre del Oro
Also known as Museo Naval de Torre Del Oro, or the Naval Museum Torre Del Oro in English, this attraction is a small maritime museum located on the banks of the Guadalquivir River. If you enjoy unique and specialty museums, this is one of the best attractions in Seville, Spain, for you to visit!
The museum is located within a tower built in the 1200s and features an array of maritime artifacts dating back centuries. You'll also learn more about Spanish naval history as you look around the exhibits and displays.
Have brunch at La Tienda de Plácido y Grata
La Tienda de Plácido y Grata is a cute spot to get a tasty breakfast or brunch in Seville for a very reasonable price with generous portions.
The modern, bright, and simplistic cafe is the ideal place to start your day or is also a great spot to do some work, with good-sized tables, free wifi, and plugs.
Food options include items like smashed avocado on toast with eggs your way for only five Euros, as well as pastries and sweet treats, such as cookies.
La Tienda de Plácido y Grata is open Monday through Sunday from 9 AM to 3 PM. The cafe portion is located at the bottom of the hotel it's situated in, across the road from the main restaurant.
Be amazed by Real Alcázar de Sevilla
An attraction that has to be on your Seville itinerary is the Real Alcázar de Sevilla, or the Royal Alcázar of Seville in English. This UNESCO World Heritage Site dates back to the 10th century and has been home to members of the Spanish royal family.
Today, you can tour the magnificent structure and its grounds and learn more about the royal residents who have inhabited the palace for centuries.
The Salón de Embajadores, or the Ambassadors Reception Room, is a noteworthy room to see. Seeing the Upper Royal Apartments is also a must, but if you'd like to visit them, make sure to book a tour at least two weeks in advance.
If you want to explore on your own, booking a Real Alcázar de Seville skip-the-line ticket in advance is a must. Alternatively, take a Real Alcázar de Seville guided tour to learn more about the landmark's history.
I would personally recommend a guided tour as the digital audio guide via your phone didn't match the English map provided. You can also spend hours aimlessly walking around as the grounds are vast (we spent 3+ hours), so if you're short on time, then a guided tour is the best way to go.
You can look around the area for free on Mondays between 6.30 PM and 7.45 PM; however, this may not be enough time to see all the attraction has to offer as you really need at least a few hours to visit everything.
Have dinner or drinks at Mercado Lonja del Barranco
Mercado Lonja del Barranco is a gourmet market popular with tourists and locals, especially after work. The indoor market is housed in a 19th-century building and was originally a fish market before being transformed into the contemporary space seen today.
As you look around, you'll find a variety of food stalls selling all types of dishes, from Spanish food to sushi and more. After choosing something to eat, you can stop at one of the trendy bars for a glass of wine or a craft cocktail.
Walk up and down Calle Feria and visit the market
Calle Feria, or Feria Street, is another of the top attractions in Seville, Spain, to check out. This famous street has many shops, cafes, and a market. The market is notably the oldest in Seville and is held next to the Omnium Sanctorum Church.
You can visit the market most days of the week to shop for local produce, food items, crafts, and souvenirs. If you miss the market, you can walk up and down the street anyway, as you can find some unique shops to step into.
Watch the sunset at Setas de Sevilla - Metropol Parasol
Setas de Sevilla, also called Metropol Parasol, the Mushrooms of the Incarnation, and the "Mushrooms of Seville," was designed by German architect Jürgen Mayer.
Las Setas, yes, another one of its names, is thought to be the largest wooden structure in the world. If you want to view this renowned structure, you should consider doing so in the evening to enjoy sunset views over Seville.
While on the viewing deck, you can also grab a drink. It's only five Euros to access the viewing deck, and if you want to stay a bit longer to admire the vistas, there is a restaurant within the structure.
Get coffee at Syra Coffee
Syra Coffee is another great coffee shop to stop at for some quick refreshments. This spot is located in the Room007 Select Tetuan hotel lobby and serves various coffee drinks, plus teas like chai and matcha. Plant milk is also available, like oat milk. There isn't much seating here, so visiting Syra Coffee is best if you're looking for a drink to take out.
Wander around Plaza Nueva
Plaza Nueva is another of the must-see Seville tourist attractions. This square is located in the center of Seville and is home to Seville City Hall. Interestingly, the land the plaza is built on was part of the San Fernando convent between 1270 and 1840.
Along with admiring the architecture of the city hall and seeing a famous statue of King Fernando III, you can explore the area around Plaza Nueva, which has lots of shops. A couple of noteworthy streets nearby to visit include Calle Tetuán and Calle Velázquez. .
Pick up a drink at Hispalis Café
If you're looking for some more coffee shops to visit, add Hispalis Café to your list. Drinks to order include several types of coffee, like a flat white, caffe latte, or cappuccino, and non-dairy milk is available. You can also get tea, and many freshly-made baked goods are on offer, such as the cafe's highly popular brownies.
Admire Palacio de las Dueñas
The Palace of the Duenas, or Palacio de las Dueñas in Spanish, is a stunning palace that belongs to the House of Alba. It was constructed at the end of the 15th century and is open today for tours. There are also some museum-style exhibits within the building, and beautiful grounds surround it.
You should buy tickets in advance, and purchasing Palacio de las Dueñas entry tickets with an audio guide is a good idea. It will allow you to learn more about the history of this hidden gem in Seville.
Participate in a Tapas Crawl
Eating at excellent tapas restaurants is one of the best things to do when in Spain. If you want to try a range of the best tapas spots in Seville, joining a tapas crawl is a fun thing to do.
A local guide will take you to multiple locations, including some tapas bars only known to locals. You'll get to try over ten dishes, all of which are accompanied by drinks.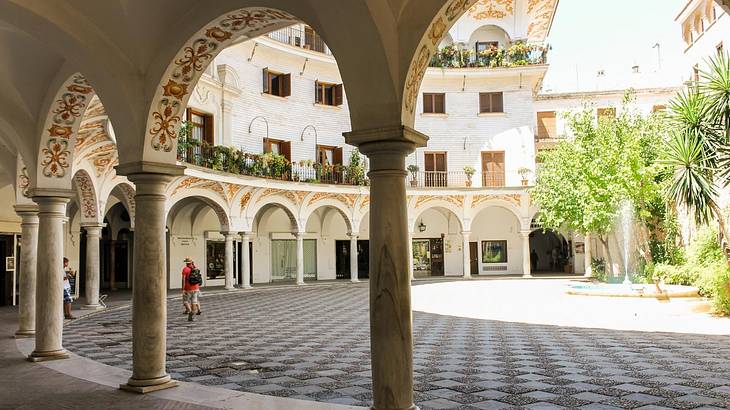 A lesser-known spot in the city that has to be on your list of Seville must-see sites is Plaza del Cabildo. This beautiful square has a fountain and interesting crescent-shaped structures with painted arches surrounding it.
The plaza is hidden through a small alleyway but is well-worth searching for. Occasionally, a flea market is also held in the square, and you can find an excellent gelato shop nearby (hint: scroll up to "Thing to Do 8")!
Best Things to Do Near Seville, Spain
Have a Beach Day in Cádiz
Cádiz is a beautiful coastal town just over an hour from Seville by car. You can also reach Cádiz by train. Catching the train early and returning in the evening is recommended. A round trip is about 50 Euros, and make sure to pay attention to which is the departures board when inside the Seville train station (we missed our train)!
Cádiz is the ideal place to visit for a relaxing beach day. There are numerous beaches to visit during your day trip, with Playa de la Caleta being the city's main beach and Playa Santa María del Mar being the one closest to the train station.
When we arrived in Cádiz, we first walked around the old town and saw the attractions below, then we had some food before heading to the beach (Playa Santa María del Mar) and back to the station to catch the train to Seville.
The notable attractions we visited included Catedral de Cádiz (just the outside) and the waterfront Parque Genovés. We also walked around Castillo de Santa Catalina, a beautiful castle free to enter that offers stunning coastline views. Make sure to plot these points of interest on Google Maps to make the most of your short time in Cádiz.
You can also check out Torre Tavira, which contains a viewing tower, a camera obscura and exhibits. You must book in advance to reserve a spot for the English camera obscura presentation.
Plan a Granada day trip
There are many day trips from Seville that you can book, with one of the most popular being a day tour of Granada. Located just over three hours from Seville, the city is most well known for being the location of the famous world landmark the Alhambra.
To make visiting the city easy, booking a Granada day trip from Seville is recommended. This tour includes transport and skip-the-line tickets to famous attractions within the Alhambra, like the Generalife and the Alcazaba, which you'll see in the morning.
In the afternoon, you'll head to the Albaicín area, where you'll be greeted with stunning panoramic views of the Alhambra from Mirador de San Nicolás. For lunch with veggie options, try the spinach burger at El Higo in the same area. Your bus host/tour guide will also take you on a small walking tour of the Albaicín area after lunch, which is nice.
Just a word of caution about the specific tour referenced above; it is a long day - 13+ hours round trip, to be exact. A lot of walking is also required. While we are glad we did the tour, if you prefer to do things at your own pace, you should rent a car and drive yourself to the Alhambra and just book your own guide for the attraction in advance online.
The tour's guides tend to, unfortunately, rush through the sites as the Alhambra is a massive complex, and time is short. Nevertheless, we didn't regret the tour and the convenience of being driven there and back in an air-conditioned bus!
If you have a little more time, you could also opt to spend two days in Granada. Other activities to enjoy include visiting other notable landmarks, like Basilica of San Juan De Dios.
Do a half-day trip to Itálica
Another great place to travel to from Seville is Conjunto Arqueológico de Itálica, or Itálica for short. Italica is a large archaeological site full of Roman ruins. It is located within modern-day Santiponce, just 30 minutes from central Seville, making it the ideal spot for a day or half-day trip.
To reach Italica, take the bus from Plaza de Armas. At the bus station, ask a person at the information booth for the bus number, platform, and bus time to Itálica, as it can be a little confusing to find.
Interestingly, Itálica is also where seasons seven and eight of the popular TV show Game of Thrones were filmed. So if you like the show and want to explore the historical ruins, taking a Roman empire Itálica tour is a great idea! You'll get to see the ruins and learn historical facts about the ancient city and a few fun facts about the show and its filming locations.
Another word of caution, this isn't really a "Game of Thrones" tour - the information shared about the filming locations was quite brief! If you're expecting an in-depth GOT filming location analysis, this isn't the tour for you!
Opting for a guided tour is still recommended, as not many of the ruins remain, and the grounds are vast, so having someone explain each site can help you imagine the ancient city as it once was. Our guide was pleasant and informative; we enjoyed the tour!
Do note that Italica is closed on Mondays and isn't very easy to reach on Sundays due to public transport having a reduced service.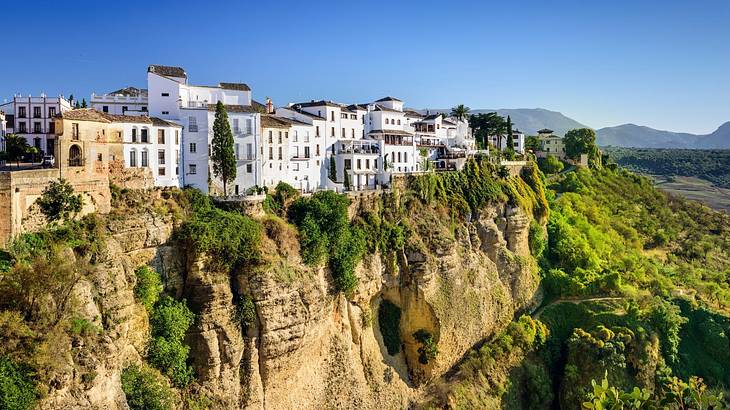 Go on a day trip to Ronda and Pueblos Blancos
Ronda is another scenic Spanish town to visit from Seville. When going on a day trip to Ronda, you'll also visit Pueblos Blancos (the White Towns of Andalusia), like Zahara town, and some other attractions on the drive there, like an olive oil factory.
The drive itself will take you through the countryside and scenic parts of Sierra de Grazalema Natural Park. While on your Ronda day trip, you'll also see a range of landmarks and visit local shops and eateries. You can take photographs of the pretty towns you pass through.
Experience a fun day at Isla Mágica!
Isla Mágica is one of the best Seville attractions for those visiting the area with kids. The theme park is just ten minutes from central Seville and has an array of fun rides and roller coasters. The park also hosts shows and has games, arcades, a kids' playground, and restaurants.
In addition, there's a water park next to the theme park, Agua Mágica, that has pools, waterslides, and other water amusements for all ages. To make admission easy and reduce the time you wait in line, buy Isla Mágica and Agua Mágica tickets before you arrive.
In Conclusion
If you've been wondering what to do in Seville, Spain, this list should have given you numerous ideas! Seville has many attractions, from historical landmarks to great markets, tapas, bars, and coffee shops.
Sevilla is also relatively close to some other notable Spanish towns, meaning you can plan fun day trips. No matter how you spend your time in Seville, you're guaranteed to have a memorable vacation!
---
---
Want to keep exploring?
Subscribe for discounts on tickets and hotels and our latest guides.
Thank you for subscribing
We will be in touch soon with discounts on tickets and hotels and our latest guides.
Want to keep exploring?
Subscribe for discounts on tickets and hotels and our latest guides.
Thank you for subscribing
We will be in touch soon with discounts on tickets and hotels and our latest guides.
Related Articles