32 Best Things to Do in Alicante, Spain, for First-Time Visitors
Destguides may receive commissions from purchases made through affiliate links in this article.
Alicante is a beautiful coastal town in the Costa Blanca region of Spain. Notably, Alicante is one of the best places in Europe to get some winter sun.
During a visit to this scenic destination, you'll be able to enjoy many attractions, including beaches, historic landmarks, and great bars and eateries.
Some of the best things to do in Alicante, Spain, include hanging out at Playa del Postiguet, shopping at Mercado Central de Alicante, and exploring Castillo de Santa Bárbara.
Want to learn more about all the top things to do in and around Alicante? Continue reading for 32 fun activity suggestions from someone who spent a month in this glorious city!
32 Top Things to Do in Alicante, Spain
Walk through Parc de l'Ereta
Also known as Parque de la Ereta, this park is a much-loved attraction that's free to explore. As you walk around, you can enjoy the fresh air and take in beautiful views across the city.
As it sits next to Castillo de Santa Bárbara, combining a trip to the park and the castle is a great idea, as long as you don't do so during the hottest parts of the day (usually around lunchtime and early afternoon).
While the park is stunning all day, visiting around sunset is highly recommended. Bringing some drinks and relaxing in the park as you watch the sun go down can't be missed!
Tour Castillo de Santa Bárbara
Santa Bárbara Castle is an ancient fort located atop Mount Benacantil. It sits next to Parc de L'Ereta and is quite close to the old town of Alicante. The construction date of the structure is thought to date back to the 9th century.
As you look around, you'll also see ruins that were added from other periods as well, including the Bronze Age and the Roman era. The 360-degree views across Alicante and the coast from the lookouts at Santa Bárbara Castle are breathtaking, too!
Visiting during the morning or in the evening is recommended as it's generally cooler at these times. You should plan to spend about two to three hours exploring, and the castle is accessible for wheelchairs and strollers, with multiple elevators on-site.
Admission to the attraction is free. However, you could also book a guided tour of Santa Bárbara Castle. Taking a tour with a knowledgeable guide allows you to learn more about the history of this Spanish landmark.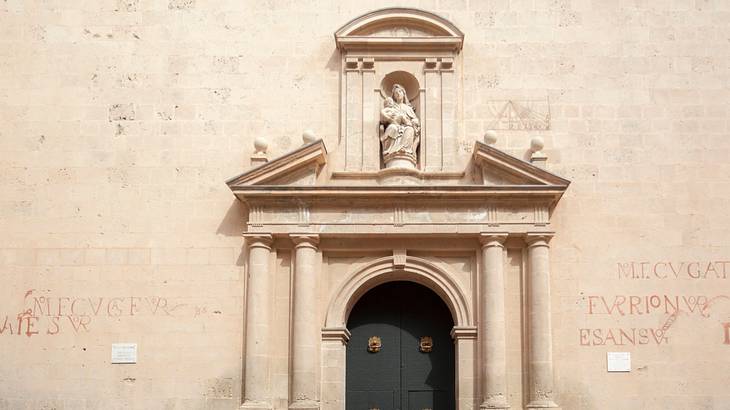 Visit Concatedral Sant Nicolau de Bari d'Alacant
Also known as Santa Iglesia Concatedral de San Nicolás de Bari de Alicante or Co-Cathedral of Saint Nicholas of Bari, this church opened in 1616 and is designed in a Renaissance style.
Visitors to the cathedral can take a tour, allowing them to marvel at the interior and exterior design. You'll also get to see religious statues and learn a little about the building's history.
Shop on Avenida Maisonnave
Avenida Maisonnave is a popular shopping street in Alicante. You can find a range of stores here, including Spanish chains like Zara and Mango and other international brands and smaller local shops.
Whether you plan to splurge a little or just want to window shop, exploring the bustling Avenida Maisonnave has to be on your Alicante bucket list!
Purchase picnic supplies at Mercado Central de Alicante
Mercado Central de Alicante is a bustling marketplace that's fascinating to explore. Also known as Mercat Central d'Alacant or Alicante Central Market, the space houses many local vendors selling meats, cheeses, and fresh fruit and vegetables.
As you walk around, you could pick up items for a picnic to enjoy at Parc de L'Ereta or the nearby beach of Playa del Postiguet, which is approximately a 20-minute walk away. There's a charming square behind the flower stands where you can hang out with a coffee or a beer, too.
You could also take a guided food tour around Alicante Central Market. On the tour, your guide will take you to the best vendors where you can try samples, and you'll learn more about the market's history.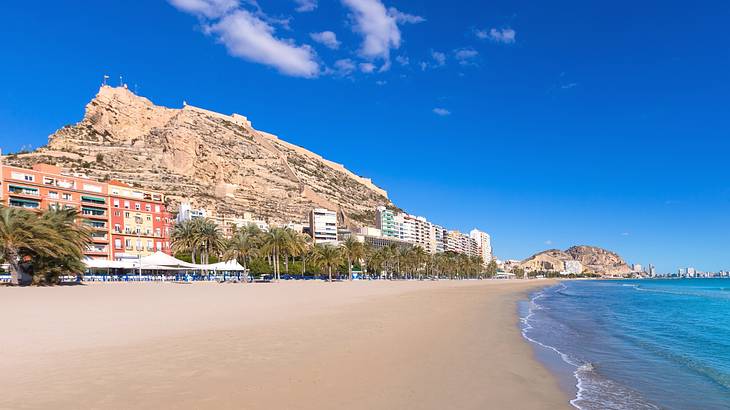 Relax on Playa del Postiguet
Postiguet Beach is situated in central Alicante, not too far from Mercado Central de Alicante. This beautiful beach features soft sand and warm waters where you can swim and cool off a little.
Playa del Postiguet is the perfect place to relax, especially if you've been on your feet for a while sightseeing. Due to its central location and popularity as a tourist attraction, though, the beach can get a bit busy. However, don't let its popularity discourage you from planning a visit!
Go to Basílica de Santa Maria
Santa María Basílica is another stunning religious building in Alicante. It is designed in a Valencian Gothic style and was constructed in the 14th century and remodelled after a fire in the 15th century. You can look inside the basilica for free and appreciate the architecture, which includes high ceilings and ornate carvings.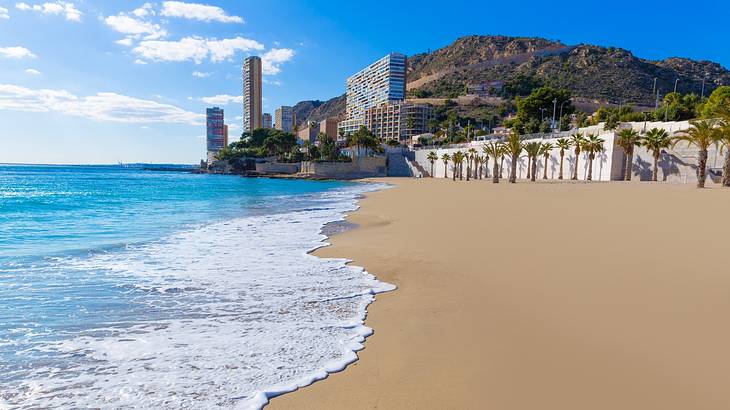 Hang out at Playa de la Albufereta
One of many excellent beaches in Alicante is La Albufereta Beach. This beach is a little outside of central Alicante and is, therefore, a bit quieter than the likes of Playa del Postiguet.
At the beach, you can sunbathe, swim, and enjoy water sports like paddleboarding. After enjoying the beach, you can check out some of the surrounding bars and restaurants.
Experience paragliding over Alicante
Adventure activity enthusiasts can get a unique view of Alicante by taking an Alicante paragliding tour. The half-day experience allows you to paraglide over the city with an experienced instructor while taking in the views of the Costa Blanca scenery. This activity is one of the best things to do in Costa Blanca and will make for a memorable trip!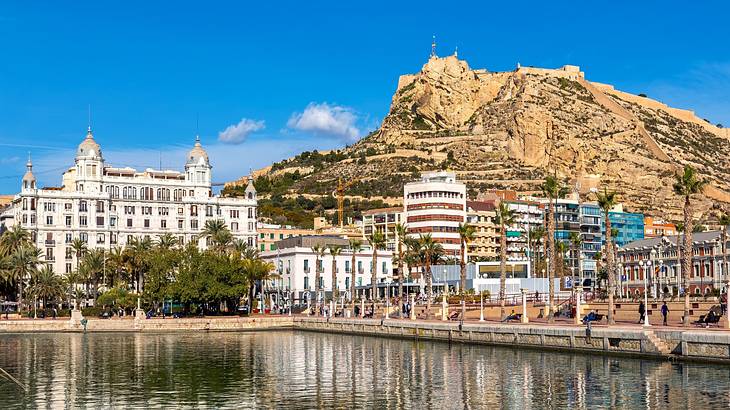 Follow trails up Mount Benacantil
Mount Benacantil is known for being the location of one of the most famous tourist attractions in Alicante, Spain: Santa Bárbara Castle. However, the mountain itself also features some trails which are popular with outdoor activity enthusiasts.
You can find multiple trails that will take you to the mountain summit, which sits at around 169 metres above sea level. The trail beginning in Barrio Santa Cruz is the most popular to follow. As you hike, you can admire the stunning views over Alicante.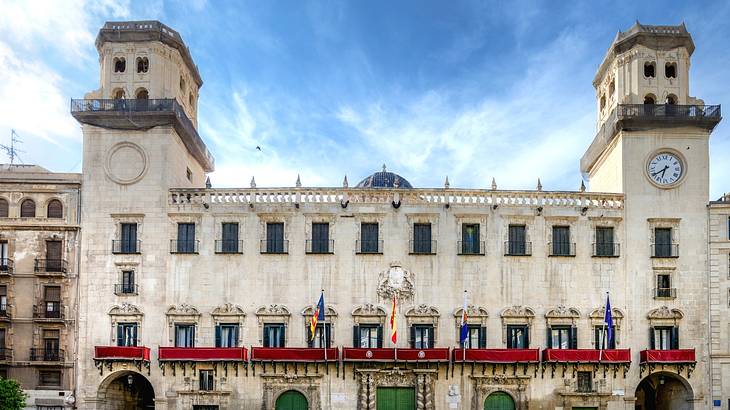 Appreciate the architecture at Alicante Town Hall
Alicante Town Hall, also called Alicante City Hall, is a Baroque building that was constructed in the 18th century on the site of the previous city hall, which was destroyed in the 1600s.
Visitors can admire the exterior before heading inside to tour some of the rooms. Areas to see include a couple of beautiful rooms styled by Spain's Queen Isabel and a breathtaking chapel.
Eat at excellent restaurants on a tapas tour
You can't visit Spain without trying tapas! One of the best ways to discover Alicante's best tapas restaurants is by joining a tapas tour around Alicante.
On the tour, you'll visit three tapas bars and try a range of classic and more unique dishes. Drinks, including alcoholic beverages, are also included, and you'll be able to spot some landmarks as you walk between bars.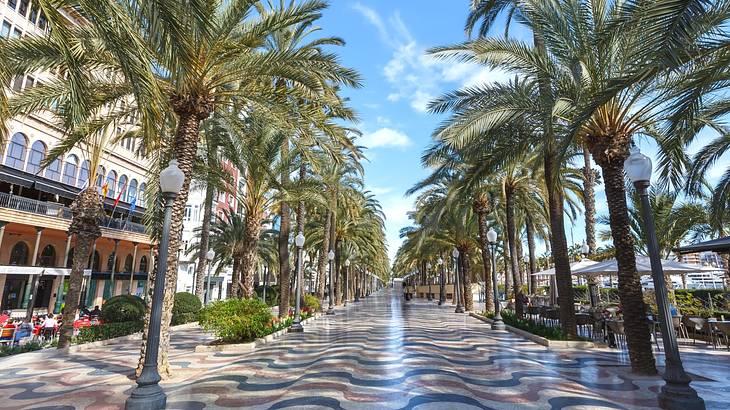 Explore Passeig Esplanada d'Espanya
Passeig Esplanada d'Espanya is a scenic waterfront promenade in central Alicante. Walking along the promenade in the evening is highly recommended, although it's beautiful at any time of the day. As you stroll along, you can stop at one of the many bars and restaurants along the walkway for food or drinks.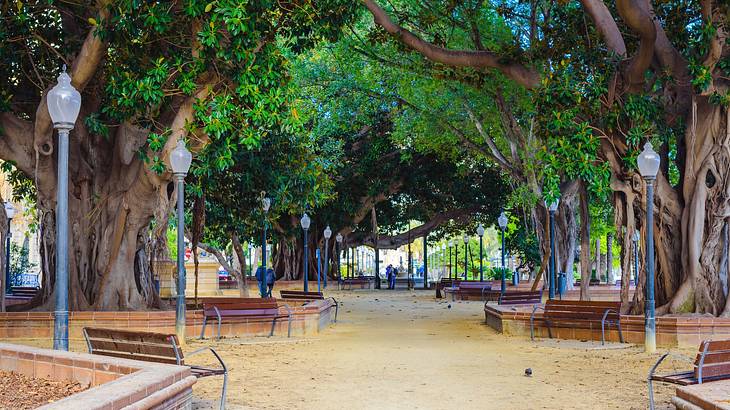 Walk around Parc de Canalejas
Wandering around Parc de Canalejas (Parque de Canalejas) is another of the fun things to do in Alicante, Spain, that allows you to enjoy the fresh air and unwind a little. The park features lots of greenery, including hundred-year-old rubber plants, plus fountains, grassy areas to relax on, and walking paths.
You can reach the park in a few minutes from Explanada de España, and carrying on to Gabriel Miro Square and Playa del Postiguet is an excellent idea if you want a longer walk.
Stroll around Plaza Gabriel Miró
Plaza Gabriel Miró or Gabriel Miro Square is a scenic spot to wander around and sit with a take-out coffee. The square has a fountain, beautiful trees, plants, and gardens, and lots of places to sit and take in the views.
Interestingly, this square is sometimes also called "Post Office Square" as the Postal Service Headquarters is located next to the square.
Enjoy Reserva Marina de la Isla de Tabarca
Marina de la Isla de Tabarca is one of many can't-miss Alicante attractions. Also known as Tabarca Island Marine Reserve, the island and Mediterranean marine reserve is located around an hour from central Alicante.
To reach the island, you must travel to Santa Pola and then take a boat across. It's around 30 minutes to Santa Pola, and the boat ride is approximately 20 minutes.
Some boats even offer a glass floor, allowing you to see fish and other sea life below you. Once you arrive on the island, you can swim and relax on the beach. There are a few shops and restaurants as well.
You could also book an Isla de Tabarca snorkel tour. This experience includes snorkel equipment and a guide that will take you to the best snorkel spots where you can see an array of marine life.
Look around Barrio de Santa Cruz
Barrio Santa Cruz is a neighbourhood in Alicante that's part of Alicante's Old Town. Also known as El Barrio, the hillside area features cocktail bars, tapas restaurants, and other eateries and nightlife spots.
You can see several landmarks around Barrio de Santa Cruz, like the Co-Cathedral of St. Nicholas. As you walk around, you'll also discover many coloured and beautiful buildings, which look great in photos.
Sightsee on a free walking tour
If you're having trouble deciding what to see in Alicante, Spain, going on a free walking tour will allow you to pass by some of the top attractions in town. There are a few tours to choose from, including an Old Town tour and a tour that takes you to off-the-beaten-path spots.
Both tours last for around two to two-and-a-half hours and will allow you to experience the best of Alicante. Don't forget to leave your hard-working guide with a generous tip!
Take photos on El Carrer dels Bolets
Despite having a slightly seedy past, Carrer de Las Setas or "The Mushroom Street," is now much more family-friendly and is worth checking out!
It's especially well-known for its art installations, which include brightly painted streets and cartoon mushroom-style sculptures. This street is a great spot to take some unique photos, and there's also a playground for young kids to enjoy.
Go on a tour of the Civil War Anti-aircraft Shelters
This guided tour begins at the Interpretation Center of the Civil War. It takes you through two underground shelters after a brief overview of the Spanish Civil War that saw Alicante suffer close to 83 bombardments.
While you can find around 95 underground shelters throughout the city of Alicante, unfortunately, only a few are open to the public via the city or an organized tour, like Turiguias Alicante. It costs money to recover and preserve these shelters; as such, only a few are available to the public.
We really enjoyed the history talk and walking through the shelters with a guide from the private company mentioned above. It was quite complicated to find the right website to book the tour with because they either weren't in English, had limited information available, or had broken web pages.
The tour is inexpensive and available in English on certain days of the week. It needs to be booked in advance, which you can do so here. We highly recommend this tour for the unique insight it provides into the historical and social context surrounding the usage of these shelters in Alicante during the Spanish Civil War.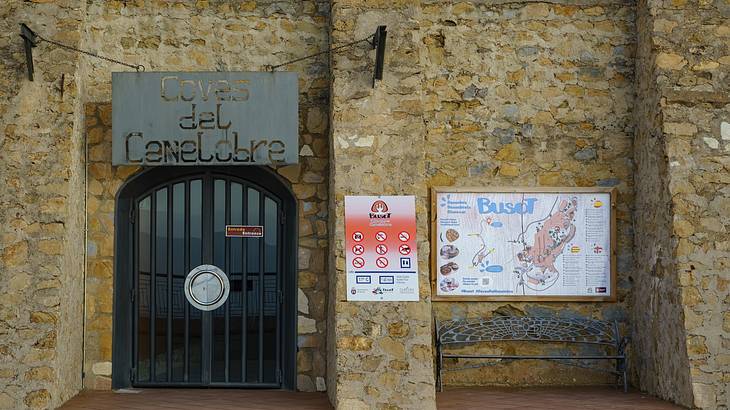 Marvel at Las Cuevas del Canelobre
Located around 30 minutes from central Alicante when driving, Canelobre Caves is a stunning natural landmark to see. The karst cave system is beautiful due to its many stalagmites and other geological features.
The cave is also illuminated with multi-coloured lights, creating an even more unique sight. You can head to the caves alone or opt to join a Canelobre Caves guided tour, which includes transport from Alicante.
Appreciate artworks at the MACA Contemporary Art Museum of Alicante
The MACA Contemporary Art Museum of Alicante opened in 1977 and is one of the city's most popular cultural attractions. It features contemporary art, including pieces by Spanish and international artists.
The permanent collection comprises around 800 pieces, and viewing these artworks is a fun activity, even if you aren't the biggest art enthusiast.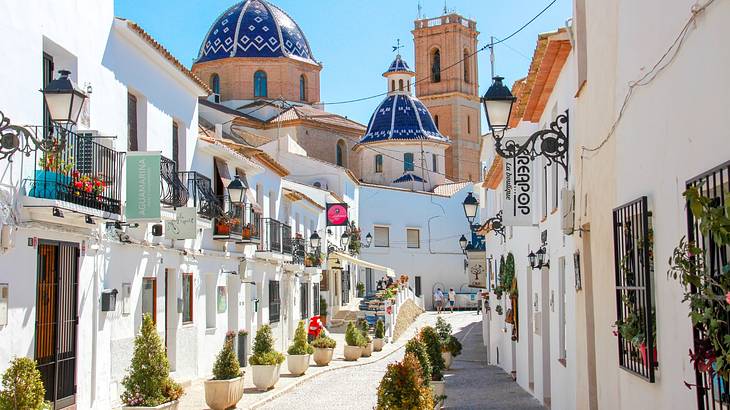 Plan a day trip to Altea
Altea is another pretty Spanish town located around 40 minutes to an hour from Alicante when driving. It is also possible to take the tram here from Alicante, but bring a book to read as it takes about 1 hour and a half! Once you arrive, you can explore Altea's picturesque streets, check out local shops, and stop at one of the many eateries for drinks and tapas.
Even though you can drive yourself, taking an Altea tour from Alicante with transport is a great option for those who don't want to take the tram or drive. If you're staying later into the evening or overnight, you could also book an Altea sunset catamaran cruise.
Stop for drinks at Madness Specialty Coffee
Madness Specialty Coffee is definitely one of the best places to visit in Alicante, Spain, to get some drinks. The trendy cafe serves a variety of coffee beverages, including cold brews, lattes, and cappuccinos. You can also get tea and some other drinks, and food like topped toasts and various breakfast offerings.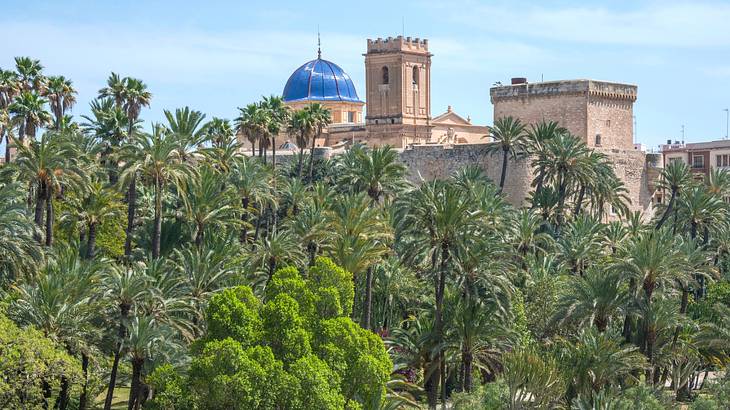 See El Palmeral de Elche
Palmeral of Elche is a UNESCO World Heritage Site located in the city of Elche, around 30 minutes from Alicante. This world landmark comprises date trees and other greenery, which showcases Arab agricultural practices in Europe. It's thought that the planting of date palms in these areas goes back to the 5th century BC.
Grab a coffee at Sip and Wonder Coffee House
Sip and Wonder Coffee House is the ideal place to grab some refreshments. The trendy spot serves various coffee drinks, like cold brew, cappuccino, and coffees with flavoured syrups.
You can also sip on hot and iced tea, smoothies, and juice. Additionally, the cafe serves food, including salad bowls, pancakes, and sandwiches.
Snap photos of the Casa Carbonell
Another of the impressive buildings to see in Alicante is Casa Carbonnell. The mansion house is on the waterfront and features Baroque Revival and Historicist elements and Eclecticism in its architecture. While you cannot currently tour the building or go inside, admiring the architecture and snapping some photos from the street is a must!
Bike around Alicante
There are many ways to sightsee in the city, including going on a biking tour around Alicante. You'll bike to many of the city's best sights, and your guide will offer more information on all of the places you see. Snacks are also included, and you can choose from regular bikes or e-bikes.
Marvel at the Algar Waterfalls
Another excellent day trip is visiting Guadalest and the Algar Waterfalls. On the day tour, you'll be transported to the area where you can explore the mountainous village of Guadalest. You will then head to the Algar Waterfalls, where you can snap pictures and swim in the clear pools below.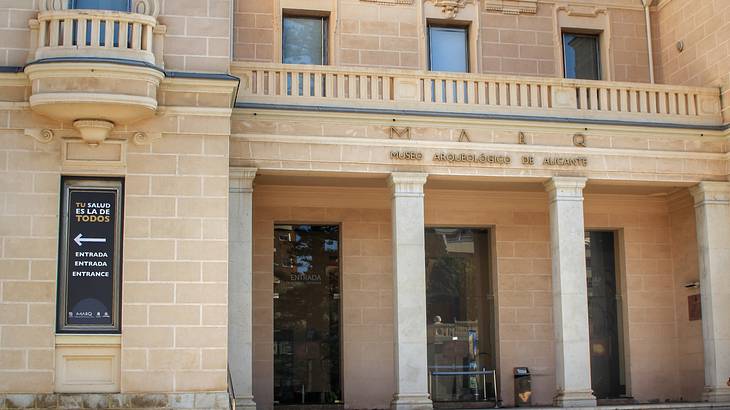 Look around the MARQ Museo Arqueológico de Alicante
The Archaeological Museum of Alicante (MARQ) is one of the must-visit attractions in Alicante, Spain, especially for those interested in history and archaeology. Exhibits at the museum focus on the history of Alicante and cover various eras.
While looking around, you can see many artifacts, including weapons, pottery and other art pieces, and jewellery, too. There are also temporary exhibits, with past exhibitions including a gladiator display.
Learn about competitive sailing at Museo The Ocean Race
If you're interested in sailing, planning a trip to Museo The Ocean Race is a must. The attraction features exhibits on the history of The Ocean Race, a round-the-world yacht race that began in 1973.
You can also learn a little more about the history of sailing competitions and the notable The Ocean Race competitions. This museum additionally houses many artifacts, like sailing equipment, and a children's library with exhibits for kids.
Enjoy a peaceful scenic walk from Cala Cantalar to Playa San Juan
Two more excellent beaches in Alicante are Cala Cantalar and San Juan Beach. Both beaches feature sandy shores to relax on and warm waters to swim in. You can also take a scenic walk to Playa San Juan from Cala Cantalar. You can explore Cabo de las Huertas while at Cala Cantalar as well.
Be cautious when walking along this coastline, as some areas have slippery rock surfaces. It's also worth mentioning that nudists visit some of the beach areas along this coastal walk, so if that's not your thing, skip this activity!
In Conclusion
There's no shortage of fun activities in Alicante, Spain, to enjoy! Things to do range from relaxing on the beach to eating at great tapas bars and seeing landmarks like Santa Bárbara Castle.
If visiting during June, you can also attend Las Hogueras de San Juan, a once-a-year festival that features bonfires and floats. No matter what you do and see, you're guaranteed a memorable trip to Alicante!
Give us feedback about this article
More articles about Valencia:
Read more articles about Spain:
More articles about things to do:
---
---
Want to keep exploring?
Subscribe for discounts on tickets and hotels and our latest guides.
Thank you for subscribing
We will be in touch soon with discounts on tickets and hotels and our latest guides.
Want to keep exploring?
Subscribe for discounts on tickets and hotels and our latest guides.
Thank you for subscribing
We will be in touch soon with discounts on tickets and hotels and our latest guides.
Related articles