25 Best Places to Visit in Nuwara Eliya, Sri Lanka
Destguides may receive commissions from purchases made through affiliate links in this article.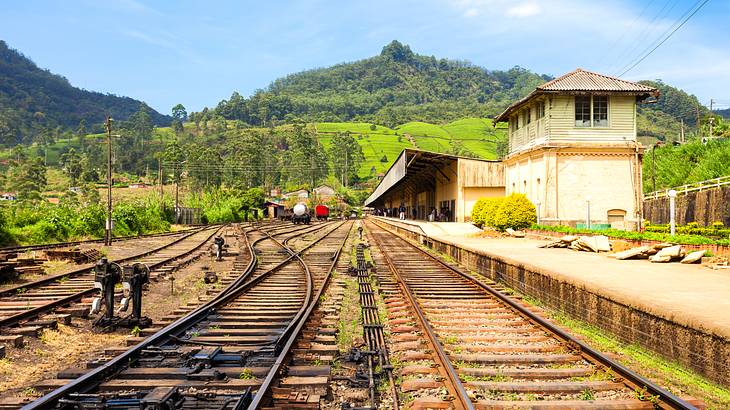 Often referred to as 'Little England', Nuwara Eliya is known for its colonial ambience as it is where the British rulers' holiday mansions were built. Its rugged landscape makes it a place filled with many natural wonders as well.
Nuwara Eliya loves to lure visitors with its laid-back setting and cooler weather. It is one of the top tourist places in Sri Lanka and a must for any 10 day Sri Lanka itinerary. Backpackers also flock to Sri Lanka as it's a cheap Asian holiday destination.
There are so many places to visit in Nuwara Eliya, Sri Lanka, so you might have to set aside a few days to discover this majestic area. Continue reading to learn what the 25 best places to visit in Nuwara Eliya are!
25 Best Things to Do in Nuwara Eliya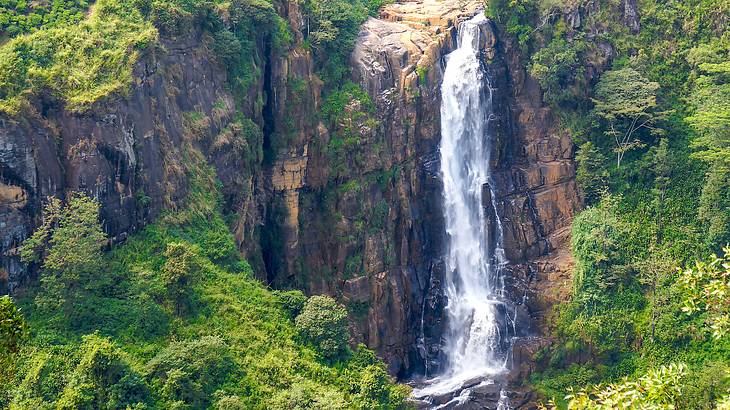 Devon Waterfall
Nuwara Eliya district has many magnificent waterfalls, and Devon Waterfall is one of them. Devon Falls is located closer to Thalawakele town, and you can get here by taxi or tuk tuk.
Although you can get a clear view of Devon Falls from Hatton - Nuwara Eliya's main road - you also have the option to walk about 1 km through the woods to get a closer look. The falls reach a height of 97 meters and are part of the Kotmale River.
Swimming or bathing here is not advisable because it is hazardous. However, you can treat yourself to a cup of tea at the Mlesna Tea Centre after enjoying the waterfall.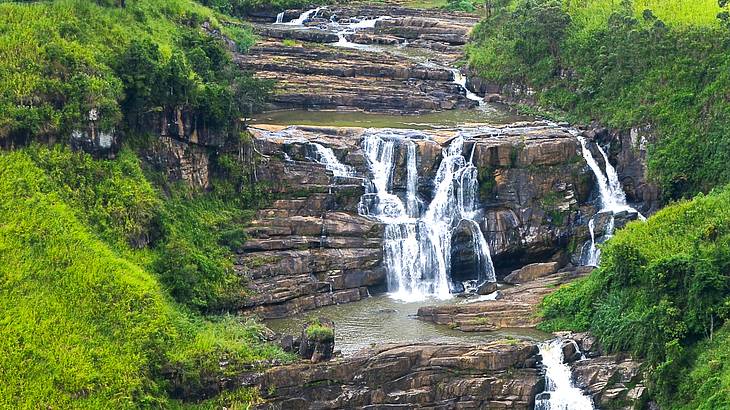 St Clair's Falls
Located close to Devon Falls in Thalawakele is a three-tiered cascade waterfall with extensive tea plantations on either side of it. St. Clair's is one of the widest waterfalls in the country, and is popularly known as the 'Little Niagara of Sri Lanka.'
It is a combination of two waterfalls, namely 'Maha Ella' and 'Kuda Ella,' meaning big fall and small fall respectively. You can see the falls from either the main road, or take one of the small paths in the tea plantations that leads to the waterfall.
St Clair's Falls used to be a much prettier sight before the Upper Kotmale Hydropower Project came into place, which reduced its water level by a great extent.
Galway's Land National Park
Galway's Land was declared a wildlife sanctuary and national park in 2006 to conserve the mountain ecosystems in the region. It is one of the smallest national parks in Sri Lanka.
Still, it has become one of the prominent attractions in Nuwara Eliya as it features attractive migrant and native bird species on the island. Galway's Land National Park is located in Hawaeliya, 3 km from the main town.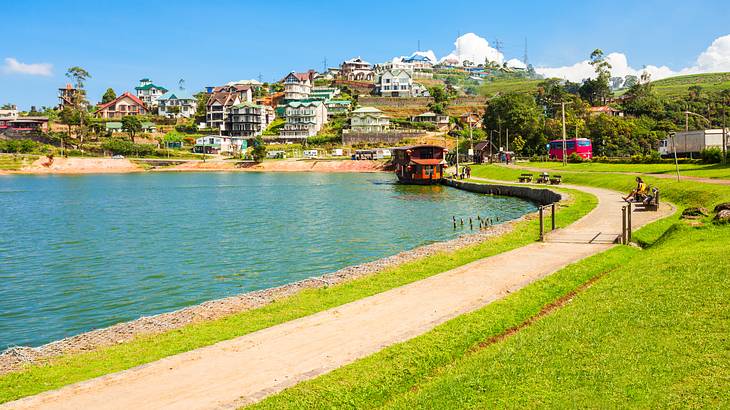 Lake Gregory
Lake Gregory is an ideal spot to go for a walk in the evening to enjoy Nuwara Eliya's cooler weather. The scenery at the lake is simply breathtaking, although it can get pretty crowded during April. There are plenty of opportunities to have fun here, and it is an excellent place to relax idly.
You can go on cycling and pony rides here along the walking paths that are surrounded by pretty flowers. The most popular activity at Gregory Lake is boat rides as they allow you to take in the scenic views better.
You have the option of hiring a speed boat or a swan boat if you want to go by yourself. You need to purchase a ticket to enter the lake premises and pay more to partake in the activities separately.
Mohini Falls
The waterfall resembles the outline of a mohini, which refers to a female ghost with long white locks in English, and therefore it is named Mohini Falls.
Intriguingly, there's also a superstitious belief among locals that a ghost inhabits this waterfall. If you like to rule out things with a first-hand experience, you can go on an expedition at night!
Mohini Falls is located in Maskeliya town along the road that leads to Adam's Peak. The 30-meter high waterfall is smaller compared to the other waterfalls. You can easily reach the waterfall base and spend some time admiring its beauty, but bathing is not recommended here.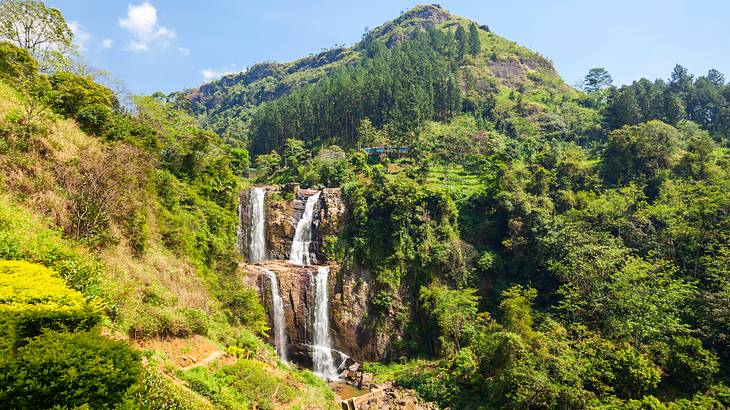 Ramboda Waterfalls
Ramboda Waterfalls is one of the most popular Nuwara Eliya sightseeing places among locals and tourists due to its unique shape and sheer size.
The entire waterfall is actually a trilogy of waterfalls consisting of Upper Ramboda Oya Fall, Middle Ramboda Oya Fall, and Lower Ramboda Oya Fall. It's difficult to observe all three from a single spot, but you will be able to see the first two as you travel along the Colombo - Kandy - Nuwara Eliya main road.
The whole waterfall marks a staggering height of 109 meters, and it's an awe-inspiring experience to watch it flow so majestically. If you are looking for a good bathing spot, the Middle Ramboda Fall is ideal, but be wary of the water level. Ramboda Falls Hotel is a great place to enjoy the waterfall while having a good meal.
Jagro Strawberry Farm
Visting a strawberry farm is one of the most popular things to do in Nuwara Eliya. It's really interesting to observe how strawberries are grown and harvested in open fields, as well as in polytunnels.
Jagro is one of the leading suppliers of strawberries throughout the country. You can even purchase freshly-picked strawberries at a reasonable price from the outlets on the farm.
There is a café where you can enjoy a variety of food items prepared using strawberries. From jam and fresh juices to cheesecakes and sizzling hot strawberry pancakes and waffles to treat your taste buds in the cold weather - there is quite an assortment of food available here!
But, it's important to know that strawberry fields are best enjoyed during the harvesting season, which begins in September.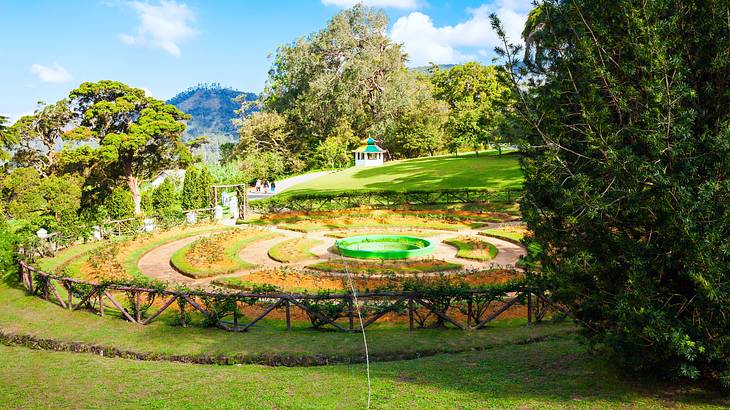 Hakgala Botanic Gardens
If you want to explore rare plant and flower varieties, Hakgala Botanic Gardens is the place to go. There's quite a lot to see here, so allocate a few hours to enjoy the site fully.
Hakgala Botanical Gardens was established in 1861 and was initially a place of cultivation to experiment with crops like tea. The Gardens are famous for their eye-catchy collections of orchids and roses that are best enjoyed during the spring season (March - April) in Nuwara Eliya.
Some other noteworthy places here are the Rock Garden, the Upper Flower Garden, the Arboretum, and the Bulb Garden. If you don't feel like walking but still want to enjoy every special place in the garden, you can hire a golf cart service to take you around at an added cost.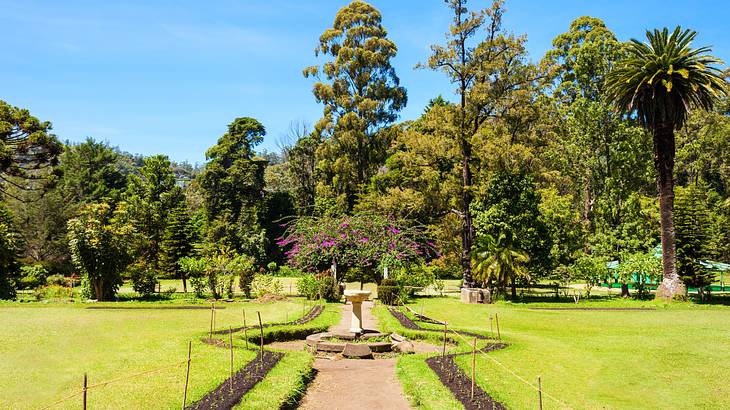 Victoria Park
Victoria Park is located next to the Nuwara Eliya Post Office. You can relax under the shade of giant trees, take a walk in the park admiring its beauty, or have a picnic with your loved ones. There is a small museum with lots of pictures that show how old Nuwara Eliya town eventually transformed into what it is today.
The park is beautiful between March-May and August-September when the flowers are in full bloom. It's also an excellent place to observe some rare species of birds. The entrance fee costs between 300-400 LKR for tourists.
St Francis Xavier's Church
St. Francis Xavier's Church is one of the most revered churches in Sri Lanka and the first to be built in Nuwara Eliya. It was built in 1838, and it took nearly ten years to complete the structure you see today.
You can pay a visit to admire the church's colonial architecture, learn about its long-standing history, and spend some time in its serene ambience. There are several interesting paintings inside the church worth observing as well.
Anyone can pay a visit to the church during its opening hours. It is located in Bandaranaika Mawatha, Nuwara Eliya.
Franciscan Sister's Jam Room
If you love jam (who doesn't!), here's what to do in Nuwara Eliya to treat your taste buds right. Located behind St Xavier's Church, Franciscan Sister's Jam Room features a variety of jams, chutneys, pickles, sauces, as well as home-brewed wine. You can purchase your favourite condiments and jam flavours to pair with your main meals!
This small shop is run by a group of nuns who manufacture the products in the building located behind the shop. Most of the fresh produce, like strawberries, are also sourced from the garden in the shop premises.
A fraction of the earnings made from the Jam Room is directed towards helping orphans and people in need. So your purchases will have an impact on the local community as well.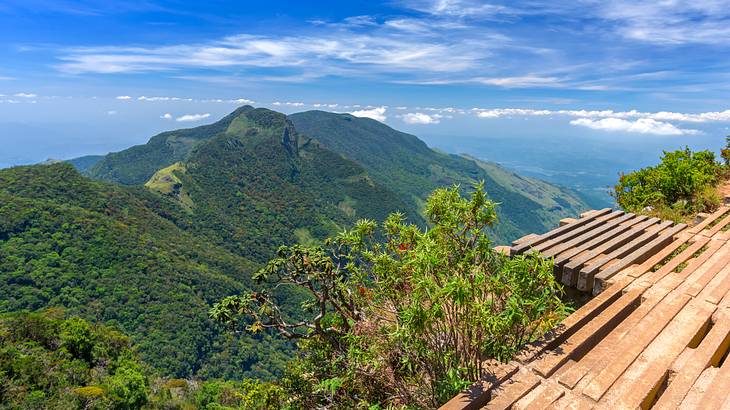 Horton Plains National Park
If you're looking for challenging nature-bound places to see in Nuwara Eliya, Sri Lanka, Horton Plains National Park is for you.
This is the only national park where you have the opportunity to discover diverse flora and fauna by foot as opposed to hiring a jeep. Sambar Deer, leopards, Spotted Chevrotain, and Red Slender Loris are some of the animal species you can find here. The vast area of mountain grassland is also an excellent site for pictures.
You can hike to World's End as well - a 1200 meter cliff drop - to get jaw-dropping views of the surrounding lush greenery. It's best to come here as early as possible in the morning. Just beware that the weather conditions can change drastically within a short period, and sometimes the walking path can be obscured by mist.
Thotupola Kanda
Thotupola Kanda is the third-largest summit in Sri Lanka, with a soaring height of 2357 meters. It is situated within Horton Plains National Park, but many overlook it as a worthy place to visit in Nuwara Eliya.
There's a long trail leading to the top of the mountain that's ideal for moderate to beginner hikers. It is a great experience for children as well!
The trek takes around 40 minutes to complete, and you get a nice view of Horton Plains from the top. If the view is clear, you might even be able to spot Adam's Peak - one of the best places to visit in Ella!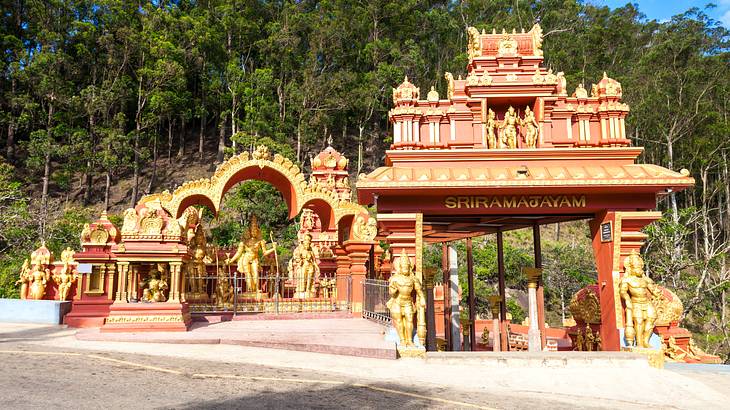 Seetha Amman Temple
Seetha Amman Temple, or the Sita Temple, is one of the popular points of interest in Nuwara Eliya that you shouldn't miss. Situated at the top of a hill, 1 km away from the Hakgala Gardens, is a temple dedicated to Lord Rama's's wife, Sita. Hindu devotees believe this is where Sita was held captive by King Ravana.
The sacred temple is beautifully decorated with intricate carvings and painted in bright colours. The Nuwara Eliya River flows by the temple, and you will notice some distinct footprints that are believed to be Hanuman's - the rescuer of Sita.
Nuwara Eliya Golf Club
For golf lovers, this is a place not to be missed. Nuwara Eliya Golf Club is considered one of the oldest golf clubs in Asia, founded in 1889 by the genteel British who ruled the island back then. Even today, it's a mix of colonial and modern ambience, with a vast expanse of lush greenery complementing its charm perfectly.
The ground is harsh for an experiential golfer and the perfect playground for the expert with many natural obstacles challenging their abilities. Even if you don't fancy golf, visiting this place can still be a fun place to visit in Nuwara Eliya.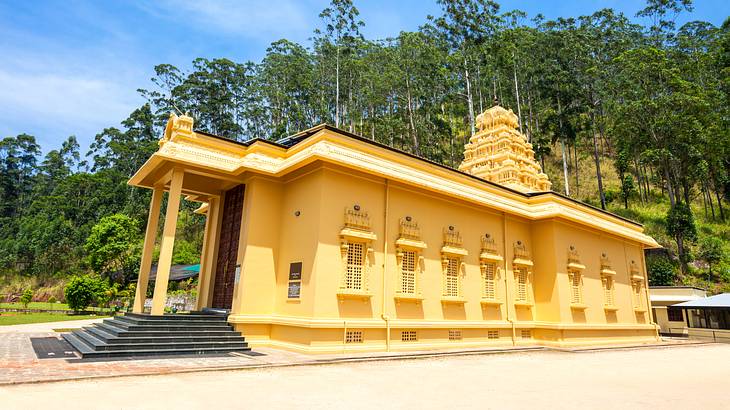 Shri Bhakta Hanuman Temple
Shri Bhakta Hanuman Temple is considered a very sacred site among Hindu devotees and attracts a significant crowd throughout the year. It is also regarded as unique for bearing the tallest statue of Hanuman in Sri Lanka.
The temple hosts a series of colourful celebrations starting ten days before the birthday of the God Hanuman. In addition to the 16 feet granite structure of Hanuman, you will notice many other shrines outside the temple premises.
A long flight of stairs leads to the temple, but the picturesque view you get from the top makes up for the tedious climb. There is also a restaurant on-site where you can enjoy traditional Indian food.
Bale Bazaar
The Bale Bazaar in Nuwara Eliya town is a market that sells all kinds of winter clothes throughout the year. If you aren't geared up adequately for your stay in Nuwara Eliya, then head here to purchase what you need at very reasonable prices.
Sometimes, you will even be able to get your hands on some branded clothing. In addition to winter wear, some vendors also sell a limited range of accessories and jewellery items.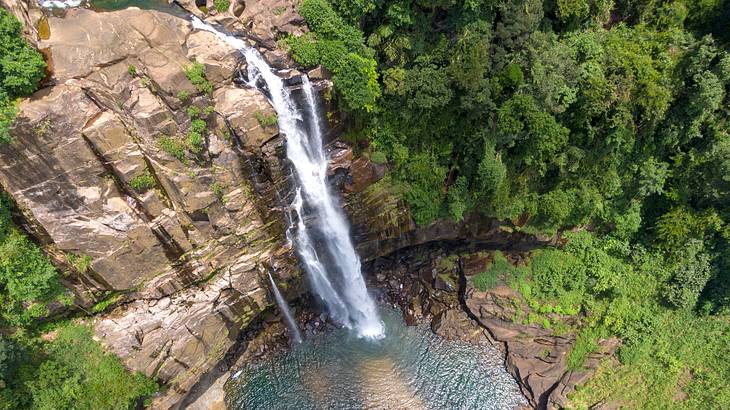 Aberdeen Falls
If you're looking for a place surrounded by lush greenery to spend a day at and a fantastic waterfall to keep your ears entertained, then head to Aberdeen Falls in Ginigathhena. It's not ideal for swimming, and I would say, don't take the risk unless you are very experienced.
Aberdeen Falls has a 98-meter high drop that eventually forms into a natural pool at the bottom. The scenery at the falls is simply breathtaking. It's perfect for taking beautiful photographs, and you won't find a better escape to relax and unwind than this.
Mount Pidurutalagala
Mount Pidurutalagala, or Mount Pedro, is the tallest mountain on the island, rising 2524 meters tall. It is surrounded by a forest reserve that's home to an array of flora and fauna, including many endemic species.
The entire area is heavily protected and patrolled by the military because the mountain's peak functions as a base for the country's radar system.
Trekking the mountain is not permitted, but you can go on a jeep ride after obtaining permission from the authorities. The best time to visit Piduruthalagala is during the morning hours when it's not too foggy.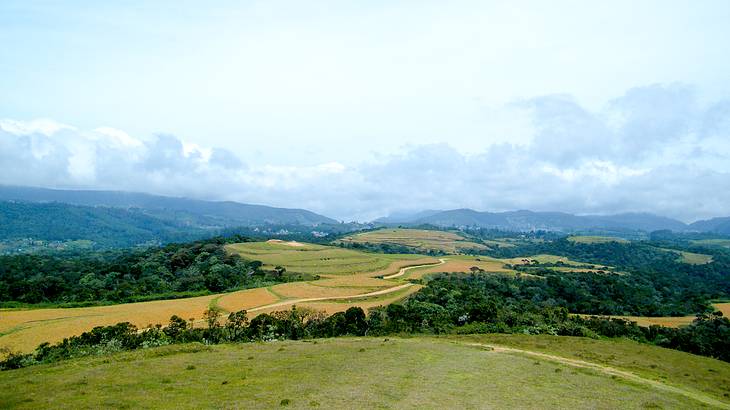 Moon Plains
The Moon Plains, also known as Sandathenna, is a newer attraction opened to visitors only in 2010. The vast greenish slopes that you see today were used as a dumpsite in the past until the authorities decided to restore the place as a tourist site.
You will come across exciting animal and bird species here, including buffaloes, deer, wild boars, and occasionally, leopards. The Moon Plains is perfect as a sightseeing destination, but you have to book a jeep ride from the entrance office to tour the area. If you are travelling alone, don't worry. You can share the ride with 5-6 other people.
The star attraction here is the "Mini World's End," a cliff that gives you panoramic views of the environment. If it's a clear day, you will spot the island's nine major mountains from the viewpoint.
Bomburu Ella Falls
Looking for more places to visit in Nuwara Eliya, Sri Lanka? Then, pay a visit to Bomburu Ella Falls, also known as Perawella Falls, a cluster of small waterfalls. It is situated in the Sita Eliya Kandapola Forest Reserve, within the border of the Nuwara Eliya and Badulla districts.
Bomburu Ella Waterfall is known to be the widest waterfall in Sri Lanka. It's not advised to swim or bathe in the main pool as it's very deep, and camping is prohibited on the premises.
To reach the waterfall, you have to embark on a 2 km trek from the Bomburu Ella village. You can use public transport or hire a private vehicle to get to the town.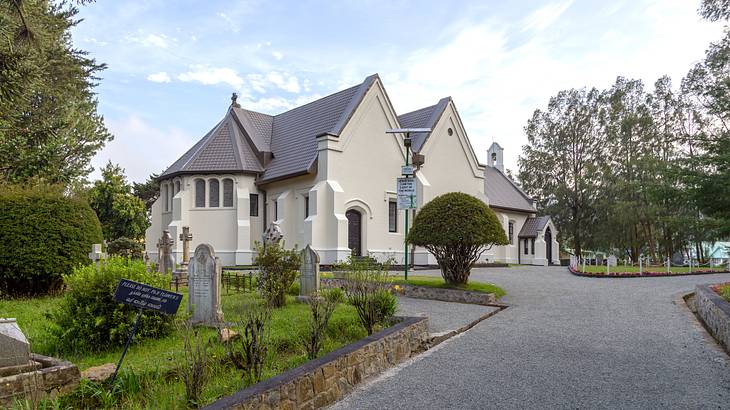 Holy Trinity Church
This Anglican church's construction is believed to have begun in 1845, and it took seven years to be completed. It was then further enlarged in 1889 with more public support.
The Holy Trinity Church was built to represent the Canterbury Church of England and still contains the stained-glass window gifted by Queen Elizabeth II.
You can take a walk in the churchyard and observe the tombstones of noteworthy figures from the time. It is located on Church Road - 10 minutes from the main town.
Ambewela Farms
Ambewela Farms consists of 2 farms known as the Ambewela Farm and the New Zealand Farm, only the latter being open to visitors. It takes nearly 45 minutes to reach the farm from Nuwara Eliya town, and the drive is refreshing.
The farms span over 1500 acres, and you will notice cattle grazing in the grasslands during the drive. Inside the farm, you will spot many farm animals, learn how milk is processed into various products, and admire cottage-style buildings dotted throughout the area.
There's also a shop located at the entrance to purchase dairy products manufactured on the farm. It's always a good idea to ensure the farm is open to visitors as it can be closed for numerous reasons.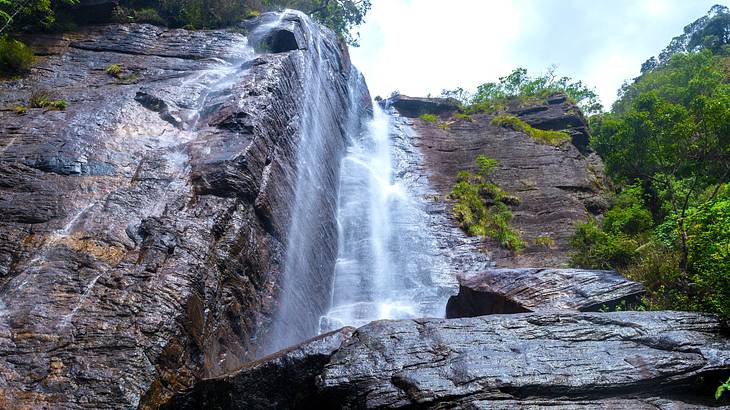 Lover's Leap Waterfall
This waterfall that cascades from the tallest mountain in Sri Lanka, Piduruthalagala, bears a tragic legend. The folklore marks it as the place where a prince and his lover, supposedly a laywoman, committed suicide after the prince's family opposed their relationship.
The route to Lover's Leap Waterfall starts from the Pedro Tea Estate entrance, and if you choose to go on foot, you can enjoy the surroundings. If you are quite an experienced climber, I recommend you head to the top of the waterfall to enjoy the scenic view. As it's one of the less crowded waterfalls, you can even take a dip and enjoy your time there.
Pedro Tea Factory
The high altitude of Nuwara Eliya makes it ideal for tea plantations, and some of the best varieties of the world-famous Ceylon Tea are made here.
The Pedro Tea Factory does not only give you a chance to look at how tea leaves are processed and packaged, but they also provide a mini-tour around the tea plantation. You will get the opportunity to pluck tea leaves and chat with the local women who work here as well.
Afterwards, enjoy a fine cup of tea of your choosing in the café outside, overlooking the beautiful surroundings. There are many other tea estates in the area offering similar tours too, so ask your travel guide or the locals if you want more options.
In Summary
If you have more time to spare, you can expand your city tour by adding more beautiful places to visit in Nuwara Eliya to your list, like the Blue Field Tea Factory and Kolapathana Falls.
When visiting places in Nuwara Eliya, you can also stroll on the roads less travelled and explore different areas and sites in the city and beyond. Maybe on your way back, you can stop at The Grand Hotel for high tea. Whatever way or attractions you choose to visit, have a great time!
Give us feedback about this article
More articles about Central:
Read more articles about Sri Lanka:
More articles about places to visit:
---
---
Want to keep exploring?
Subscribe for discounts on tickets and hotels and our latest guides.
Thank you for subscribing
We will be in touch soon with discounts on tickets and hotels and our latest guides.
Want to keep exploring?
Subscribe for discounts on tickets and hotels and our latest guides.
Thank you for subscribing
We will be in touch soon with discounts on tickets and hotels and our latest guides.
Related Articles