12 Best Places to Visit in Polonnaruwa
Destguides may receive commissions from purchases made through affiliate links in this article.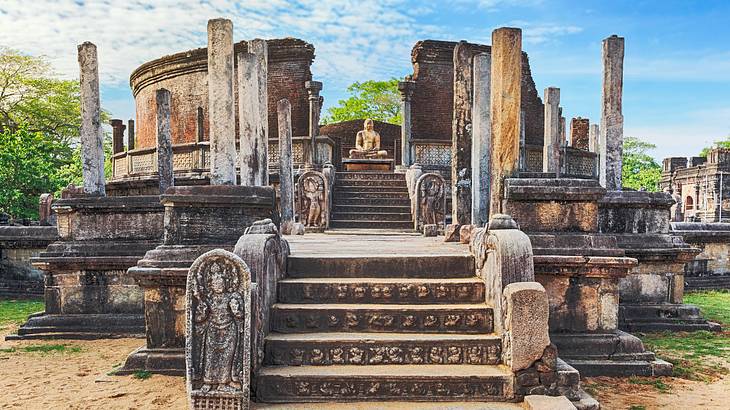 Most travellers like to wander on beaches and indulge in luxuries because who doesn't love a bit of pampering? But the other half of you probably wants to throw away the comfort and seek the true essence of a country. Its people. Its culture. Its history.
If you enjoy exploring ancient sites, diving beyond the remnants, going deep into the roots, and uncovering the exciting tales behind them, then travel to the ancient city of Polonnaruwa.
Located just over 3 hours northeast of Kandy, Polonnaruwa boasts of immense historical, cultural, and architectural value and is a place you shouldn't miss!
This list of the best places to visit in Polonnaruwa, Sri Lanka, will surely spark your interest and keep you wanting more. Luckily for budget-conscious travellers, Sri Lanka is also one of the cheapest countries to visit in Asia. So keep on reading to learn more!
12 Best Things to Do in Polonnaruwa
Polonnaruwa Places to Visit Video
Check out our highlights video of Polonnaruwa places to visit.
Polonnaruwa Places to Visit Map
A map of Polonnaruwa. Use the map to explore all the places to visit.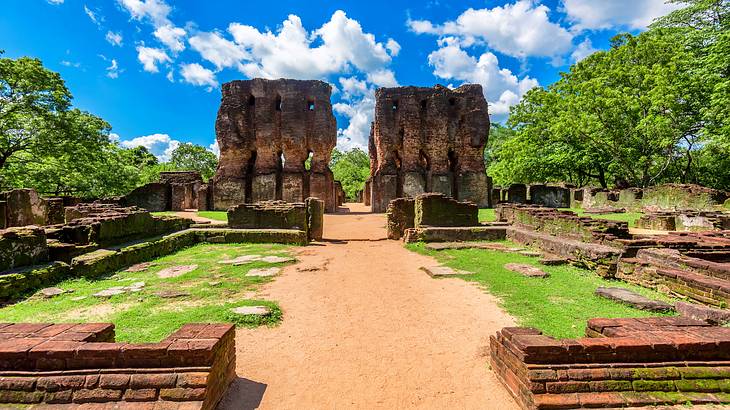 The Royal Palace
When you enter the premises of the Royal Palace group, you will see the ruins of what was once a magnificent palace containing important structures.
Primarily the residence of King Parakramabahu I, the palace also served as a home for many other kings. It has been subjected to several foreign invasions, and you can still see the burnt traces on the wooden bricks.
Historical scriptures state that this palace used to be a massive structure with around 1,000 chambers in it, but only a fragment of that remains today. You will have to use your imagination to envision how it looked like originally.
King Parakramabahu I is viewed as the central ruler of the Polonnaruwa Kingdom. He contributed immensely to the revival of the agricultural sector in Polonnaruwa and built many tanks to preserve the local water.
He was titled King Parakramabahu the Great as he was revered as a brave king, a great warrior, and a true Buddhist.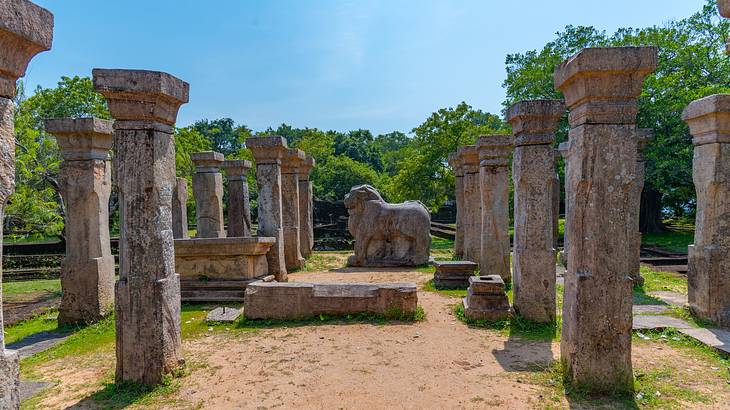 The Audience Hall at the King's Council Chamber
Also known as the King's Council Chamber, or 'Raja Sabwa' in Sinhala, is another intriguing site located close to the Royal Palace. King Parakrambahu I used this chamber to hold appointments and conduct meetings with others.
There's a staircase leading to the audience hall where you will notice two richly decorated moonstones - one at the beginning and one in the middle of the stairs.
Every structure in the Chamber Hall is beautifully decorated with carvings, and they bear elements considered sacred or essential at the time. You will see two lion statues and an inscription stating the functional importance of this structure at the entrance as well.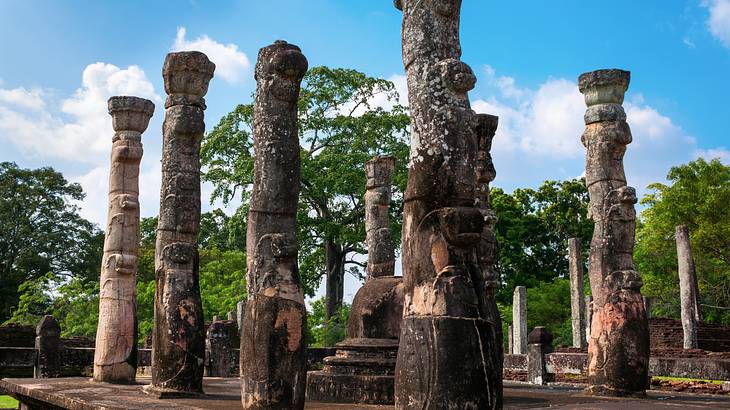 Nissanka Latha Mandapaya
The Nissanka Latha Mandapaya is one of the interesting historical places in Polonnaruwa, Sri Lanka, to visit. It was built by King Nissanka Malla in the 1100s.
As you walk around the place, take your time. Pay attention to the shape of the architecture and the carvings on the lotus-shaped stone pillars that make up the structure's exterior. Despite being an open-air building, it once had a roof that protected whoever was under it.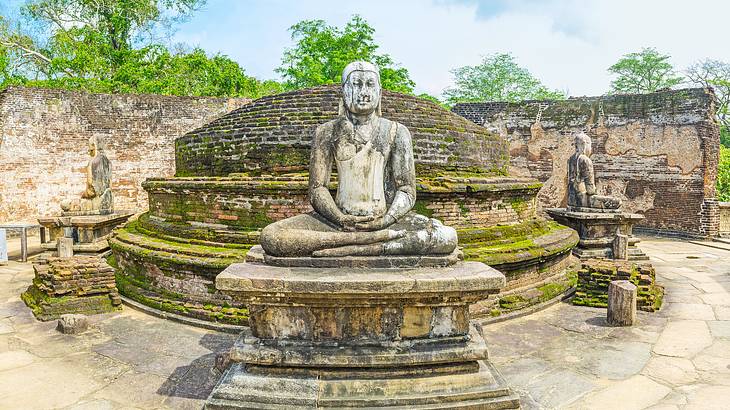 The Stupa House - The Vatadage
Known as the Stupa House, the Polonnaruwa Vatadage is another major architectural site to visit in the area. There's a stupa in the middle of the Vatadage, and four Buddha statues surround it. A circular-shaped wall, and the pillars around the wall, were built to protect the stupa.
Near the entrance, you will see a moonstone decorated with patterned elements. A short flight of stairs will lead you to the stupa, and if you look close enough, you will notice intricate patterns carved on them, too. There are also two guard stones on either side of the staircase with carvings of a traditional Sinhalese woman.
Even though many temple houses exist in the country's different regions, this is considered one of the best ones to date and is a must for your Sri Lanka itinerary.
Shiva Devala No 2
Sri Lanka was subject to Chola invasions in the latter part of the 9th century, and this is a structure that bears evidence of it. Shiva Devalaya is one of the most ancient places in Polonnaruwa. It also shows the influence of Hinduism on the cultural and architectural details of the monuments built afterwards.
Shiva Devalaya was constructed entirely out of stone, and due to its sturdiness, it remains similar to its original condition to this day. It's fascinating to observe the intricate patterns carved on the stone and its resemblance to Hindu culture.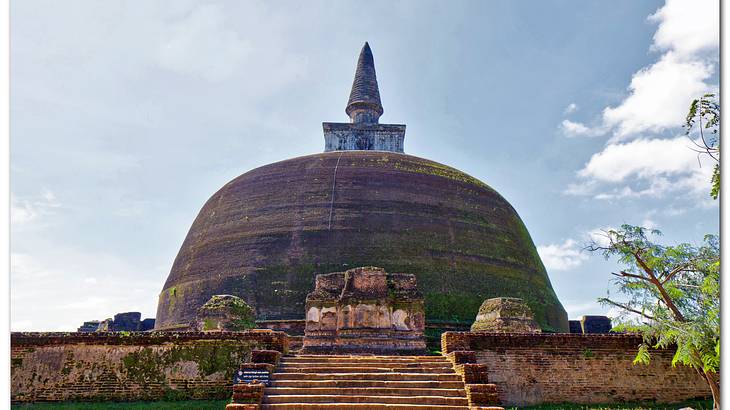 Rankoth Vehera
As the largest stupa in Polonnaruwa, Rankoth Vehera gets a fair share of visitors every day. The name of the stupa was derived from its golden pinnacle. It's a massive structure built with a close resemblance to another famous stupa known as Ruwanweli Maha Seya in Anuradhapura.
Initially, four gateways allowed you to enter the stupa from all sides, but only the ruins of them remain today. You should see a stone seat near the stupa, which is assumed the king who supervised it sat there to observe its ongoing construction.
There is also an ancient Buddha statue in one of the shrine rooms around the stupa. You can easily reach this stupa by tuk-tuk as it is only seven minutes away from the Shiva Devala.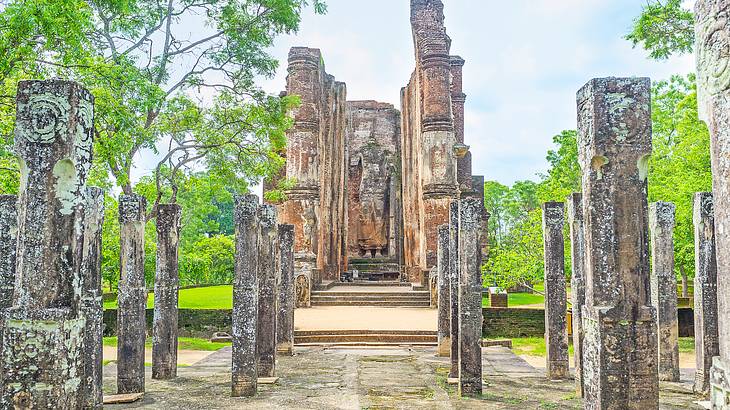 Lankathilaka Image House
If you head towards the south of Kiri Vehara, you will come across Lankathilaka, an image house of Buddha built by King Parakramabahu I. Even though the statue of Buddha is not in good condition, it is still worth admiring for its massive size and ornate carvings.
The building is made entirely out of bricks. It is believed to have been twice the size of what's left of it today. There are also carvings of different images on the walls of the structure.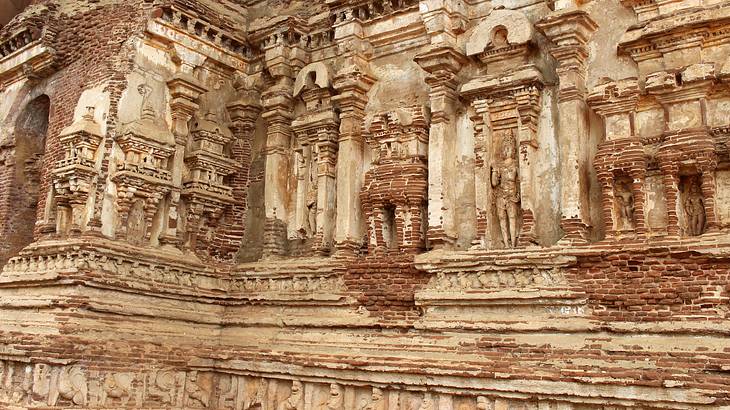 Thivanka Image House
The Thivanka Image House is yet another piece of architecture that King Parakramabahu built. It was constructed in the 12th century and served as a temple for Lord Buddha.
On the outside of the structure, you can find some wonderful intricate details, and on the inside, there are some beautiful paintings. Inside, you will also find three large Buddha statues here.
You are not allowed to take photos inside to preserve the artworks. As it is a serene place, you should be quiet and respectful. This is a must-visit attraction for any history buff!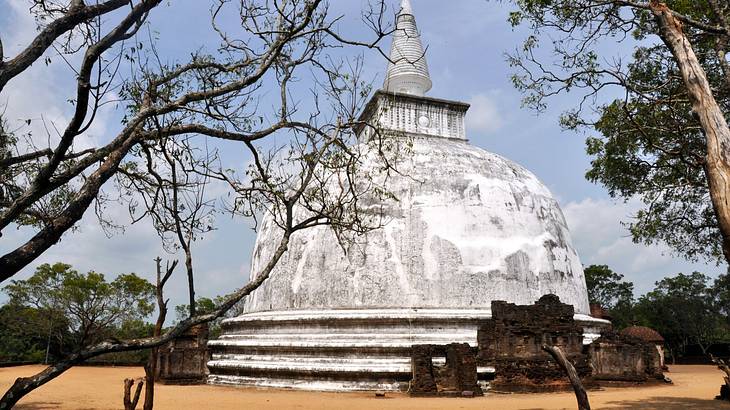 Kiri Vehara
Even though what you see today is the bare brick surface of the stupa, Kiri Vehara was initially painted white. As it resembles the colour of milk (Kiri in Sinhala), it was named dagaba Kiri Vihara. A dagaba, or a dagoba, is a mound that contains a sacred person's relics.
Kiri Vehara is the second-largest stupa in Polonnaruwa and the only one to have survived 900 years in its original condition. Many believe this stupa housed valuable treasures in the past, but looters have now stolen them.
You might find this stupa to be rather plain compared to the other decorated stupas in the region. But, this could be because it was built as a learning centre for monks; therefore, little attention was paid to its details.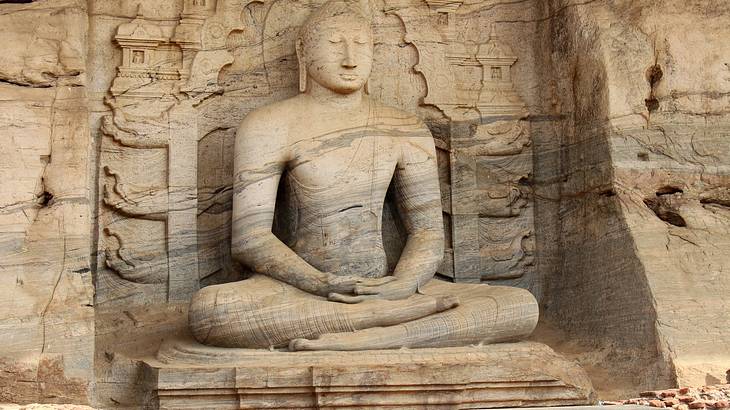 Gal Vihara
Gal Vihara is famous for its significant Buddha statues carved out of granite rocks by renowned sculptors at the time. It has four caves that house each statue - Cave Vijjadhara, Cave of the Reclining Image, Cave of the Standing Image, and the Excavated Cave.
Gal Vihara was declared a UNESCO World Heritage Site as it portrays the sophisticated craftsmanship that existed back then. Due to the sturdiness of these statues, they are in good condition even today.
Building Gal Vihara as a place of worship for Buddhist devotees goes to King Parakramabahu I. It's exciting to observe the intricate details of these statues while enjoying the scenic surroundings.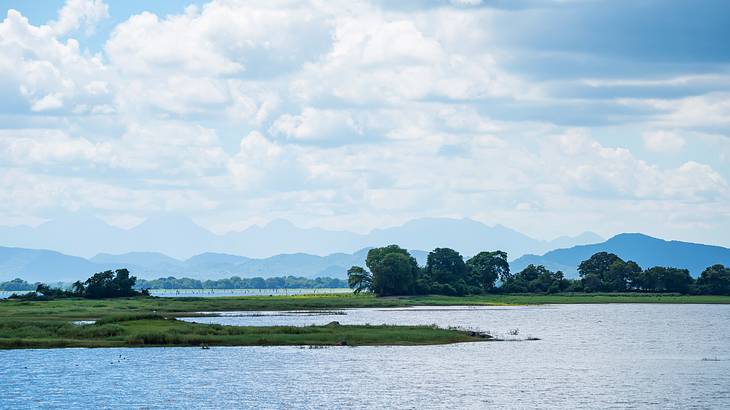 Parakrama Samudra
Visiting this reservoir is one of the popular things to do in Polonnaruwa. Parakrama Samudra was the largest reservoir built for irrigation activities during the time under the patronage of King Parakramabahu I. It is a collection of five reservoirs, and only a part of the entire construction remains today.
Even to date, this reservoir nourishes vast acres of paddy fields, helping Sri Lankan farmers sustain their livelihood. You can go cycling around the reservoir, admiring its beautiful views while enjoying the fresh breeze.
There are many hotels around, so consider stopping at one if you're looking for a place to stay or need a short break before resuming your travel. You will also come across a statue of Parakramabahu the Great, along with other ruins believed to be from the palace built near the reservoir.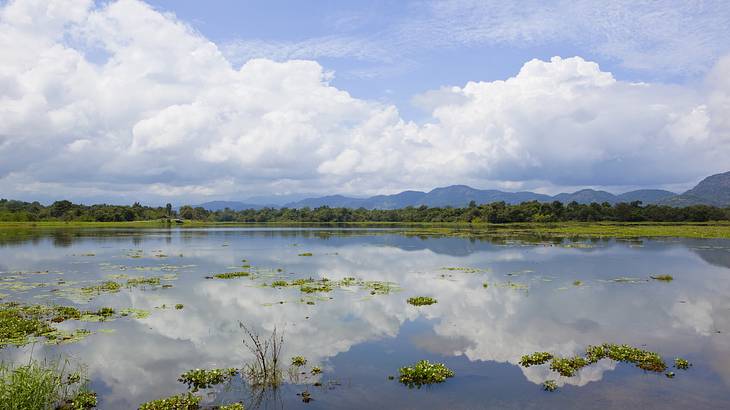 Wasgamuwa National Park
If you are wondering about what to do in Polonnaruwa, in addition to visiting temples, you can take a trip to one of the many beautiful national parks in the area. Wasgamuwa National Park is located 1 hour and 30 minutes away from Polonnaruwa city, and a cab or tuk-tuk can take you there.
This nature-bound place features an array of interesting wildlife, unique plant and tree varieties, and rarely-spotted birds. Gatherings of large herds of elephants are the specialty in the park, and the ideal time to spot them is between November to May.
You will also encounter other exotic animals, like the[purple-faced leaf monkey, leopards, and sloth bears. To get around the park, you will have to book a safari ride at the entrance. Wasgamuwa National Park is a great place to capture good photographs.
Conclusion
In addition to the above suggestions, Pabalu Vehera and Potgul Vihara are some other important places to go to when you visit Polonnaruwa, Sri Lanka. You will also come across large paddy fields in Polonnaruwa because it's a major agricultural area in the country.
Even though historical sites are the major attractions in Polonnaruwa, and is why the city tops things to do in Sri Lanka' lists, you can make your tour more enjoyable by chatting with the locals and shopping for souvenirs at the stores nearby.
Make sure to pay a visit to the historic and beautiful towns of Nuwara Eliya and Ella, too, which are both about a four-hour drive south of Polonnaruwa. There are many things to do in the coastal town of Mirissa as well.
As Polonnaruwa is situated in the dry zone of Sri Lanka, you might find it to be a bit warm. The soft breeze near the reservoir can help you cool off, though. It is also best to wear comfortable, light clothes to allow you to travel with ease.
---
---
Want to keep exploring?
Subscribe for discounts on tickets and hotels and our latest guides.
Thank you for subscribing
We will be in touch soon with discounts on tickets and hotels and our latest guides.
Want to keep exploring?
Subscribe for discounts on tickets and hotels and our latest guides.
Thank you for subscribing
We will be in touch soon with discounts on tickets and hotels and our latest guides.
Related Articles