Best 11 Things to Do in Mirissa, Sri Lanka
Destguides may receive commissions from purchases made through affiliate links in this article.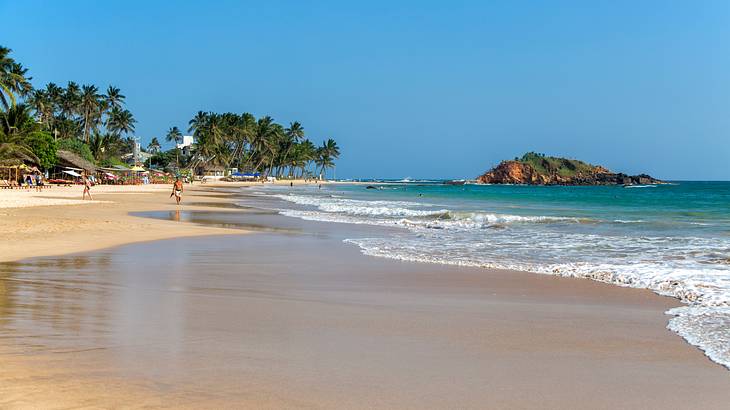 Mirissa is a small, vibrant town located on the south coast of Sri Lanka in the Matara District of the Southern Province. It is one of the best places to enjoy the coastal side of the country with its pristine beaches and laidback lifestyle. It is also only about a 2-3 hour drive from both Colombo and Ella (in different directions, though)!
As a top destination filled with several natural wonders, you'll have many things to do in Mirissa while you're here. From spending time with ocean animals to immersing yourself in water sports, Mirissa will keep you busy throughout your stay.
I recommend spending at least three days in Mirissa to experience the area thoroughly. But of course, you might also be exploring other parts of Sri Lanka during your visit, like Nuwara Eliya, Polonnaruwa and Kandy, so no pressure if you have less time!
The best way to get to Mirissa is by train, but you can hire a private cab as well if you need a convenient way to carry your luggage.
Heading to Mirissa and planning last-minute?
Book your entrance tickets and tours for your trip to Mirissa early! Below are some top recommendations to get you started.
Top Tours and Experiences in Mirissa
11 Places to Visit in Mirissa
Mirissa Things to Do Map
A map of Mirissa. Use the map to explore all the things to do.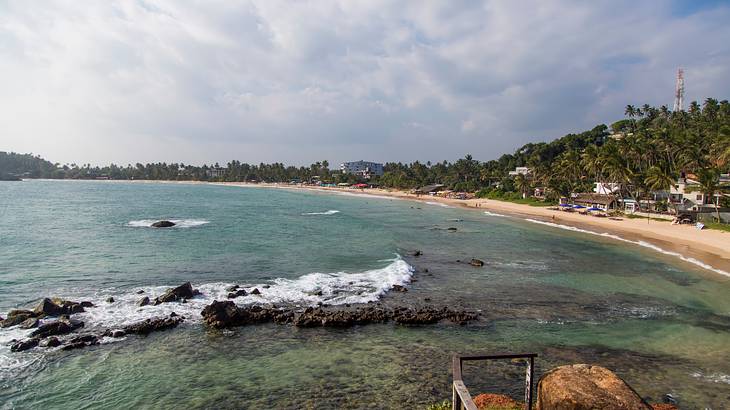 Mirissa Beach
Imagine yourself idly relaxing on a pristine beach with golden sandy shores lined with coconut palm trees while admiring a blue-hued sky blanketing the vast ocean.
Well, Mirissa Beach can make that happen for you! You can spend time swimming here, or choose a sunbed and just lie down in the shade as you watch the waves.
There are many bars available near the beach, so you can head to one of them and grab your favourite drink. You will also find plenty of restaurants to try great food at, especially Sri Lankan cuisine.
If you prefer to stay in a place overlooking the beach, check out the great boutique hotels nearby as well!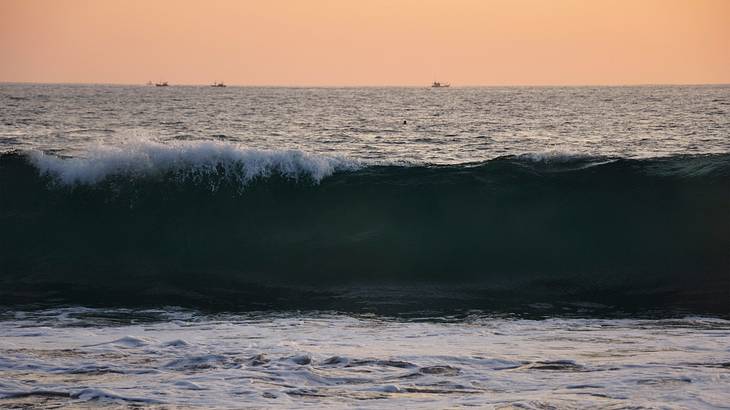 Surfing
Some tourists visit Sri Lanka to enjoy the surfing experience it has to offer.
As a playground for surfing, the beaches in Mirissa offer plenty of opportunities for both beginner and advanced level surfers.
The best time for surfing is between November and March. Choose sometime in the morning or evening to avoid the scorching sun and to enjoy the warmth of the waves as they hit you.
If you haven't surfed before, there are Sri Lankan surf schools around offering short courses to get the hang of the basic techniques. Also, don't worry if you haven't come prepared because you can easily hire surfboards here.
Snorkeling
Snorkelling, along with scuba diving, is one of the fun things to do in Mirissa as it gives you a glimpse into the extraordinary marine life not too far from Mirissa's beaches.
While snorkelling, you will come across beautiful coral reefs, aquatic plants, and different fish species.
Depending on the time you visit, and of course luck, you might also get a chance to snorkel with turtles, whales, and dolphins! It would be an unforgettable experience, so if you are interested, make sure to get in touch with a tour operator who specialises in these experiences!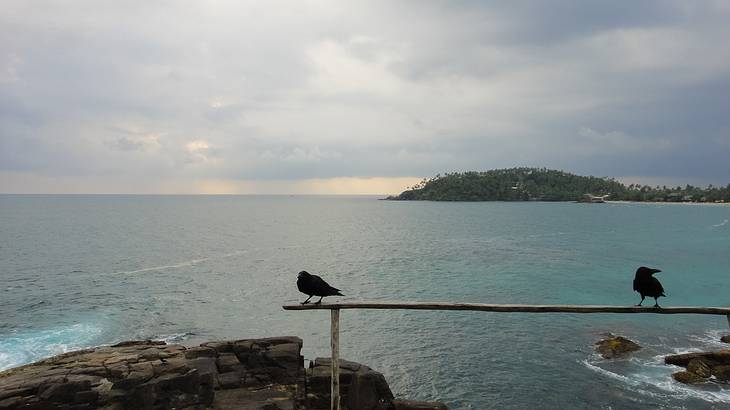 Parrot Rock Bridge
Located 50 feet from the shore, this island-shaped rock formation is the perfect place to get a stunning view of Mirissa Beach.
It is effortless to climb, so you don't have to allocate a lot of time for that. To get to the base of the rock, you'll have to walk through water, which depending on the tide, can come up to your knees. There's a flight of stairs leading to the top, but be careful as the railings on either side are not very strong.
The view from the top is indescribably beautiful, especially in the morning and evening. The Parrot Rock Bridge is also a great place to spend some time idling and taking photos.
If you take a walk to the other end of the rock and climb down, you will find some natural pools perfect for a dip. A lot of people don't go there as it's quite tricky to get down, but if you're up for a challenge, you'll have your very own private pool!
Secret Beach
If you find Mirissa Beach to be too crowded and prefer somewhere more quiet, tiptoe over to this secret haven. I can't guarantee that it will be very secluded though as the secret is somewhat out, but it will still be less crowded!
The easiest way to reach this beach is by tuk tuk, but you also have the option of walking along Mirissa Beach until you arrive here. However, this can be quite exhausting on a hot, humid day!
The Secret Beach consists of two main areas: the palm cove and the blue lagoon. The palm cove dotted with beautiful coconut palm trees is ideal for snorkelling while the blue lagoon with its still waters is perfect for a quiet swim. There's also a bar nearby to grab drinks at to cool down.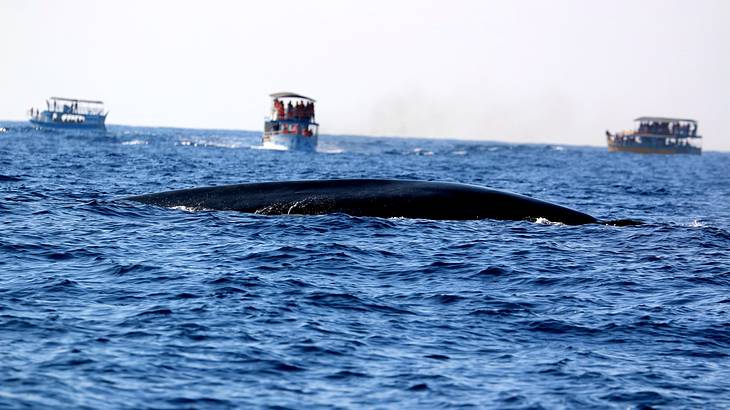 Whale Watching Tours
Between November and April, Mirissa gets crowded with visitors who are keen to watch magnificent whales and dolphins roaming in the Indian Ocean. It is one of the best places to spot the rare and endangered Blue Whale - the largest mammal in the world!
The Sperm Whale, Fin Whale, and Killer Whale are some other giants you will see around here. Along with them, playful dolphins jumping in and out of the water will also leave you fascinated by the marine life in this area.
There are several companies offering dolphin and whale watching tours in Mirissa, and the prices are quite similar.
You will need to be an early bird to catch the whales in action though by being at the viewing spot by at least 7 am.
Coconut Tree Hill
In some ways, Coconut Tree Hill (aka Palm Tree Forest), is a place that defines the exotic beauty of Mirissa, which is why it is often featured in magazines, blogs, and articles about Mirissa. A lot of people head to this cliff-like hill perched on the east side of Mirissa Beach to take stunning photographs and enjoy the scenic view.
The hill is fenced by a large number of coconut palm trees. It is magnificent during sunrise or sunset, and you will be left wanting to spend more time enjoying the tranquillity of the area.
It's a romantic spot for couples to wander together in private. It takes around 15-20 minutes to reach here from the beach on foot.
Ayurvedic Spa Treatment
If you are wondering what to do in Mirissa beyond exploring Sri Lankan beaches, consider a spa!
An Ayurvedic spa treatment uses herbal-infused aromatic oils and unique massage techniques to provide you with a deep sense of relaxation while promoting overall wellbeing.
If you are interested, it is better to go to a spa centre known for their expertise and care, like Secret Root Spa. It's a great way to pamper yourself and unwind!
There are many other local spas offering massages at different prices, so you can select one according to your budget. Sri Lanka can be a cheap Asia vacation, depending on how you travel!
Ratnagiri Hilltop Temple
Even though Mirissa is more famous for its natural scenic beauty, there are some cultural places to see in Mirissa as well.
Ratnagiri Hilltop Temple is located atop a small hill facing the ocean covered by trees. It is adorned with beautiful paintings and houses some interesting statues to observe.
The temple premise is quite large, and the surrounding area is very peaceful. There's also a yoga centre close to the temple where you can learn the art of meditation and yoga exercises.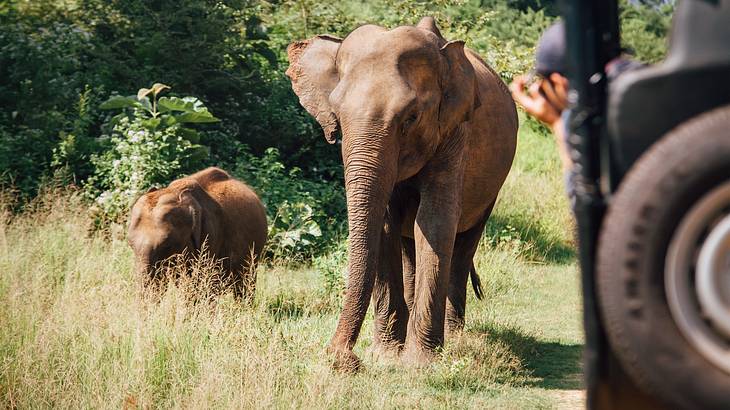 Udawalawe National Park
If you are planning to spend 2 to 3 days in Mirissa, I highly recommend taking a day trip to Udawalawe National Park.
Udawalawe National Park is located on the boundary of Sabaragamuwa and Uva Provinces, and it takes around 2 hours to get here from Mirissa.
It is the best place to spot large herds of wild elephants wandering about in their natural habitat. The park is also home to much other wildlife, birdlife, butterflies and reptile species. Some exciting animals you will come across during a safari include sambar deer, water buffalo, golden jackals, foxes, and tufted grey langurs.
The park also houses an elephant sanctuary, the Elephant Transit Home, where orphaned baby elephants are raised with care until they are fit to be released back into the wild.
Galle Fort
A trip to the charming Galle Fort only takes an hour from Mirissa, and you can go by bus or taxi. You should keep visiting Galle towards the end of your time in Mirissa, especially if you're heading back to Colombo after you're done touring around the town as it's on the way.
Galle Fort, with its colonial ambience, will take you back in time. There are so many things to admire in this historical city!
You can pay a visit to the famous Galle Lighthouse and explore the Dutch colonial structure of the Fort. Then, head to Pedlar Street to shop for souvenirs, clothes, artwork, and accessory items. There are also many mini restaurants along the street, ready to tempt you to walk in!
In conclusion
You will surely love the laid-back vibe of Mirissa and find it to be more slow-paced than other busy towns in Sri Lanka.
While the above list is a roundup of some of the top things to do in Mirissa, you can enjoy your stay in many other ways too, like by joining beachfront parties at night to socialize with fellow tourists and locals.
Give us feedback about this article
For more interesting articles about Sri Lanka, read:
For some great articles about things to do, check out:
---
---
Want to keep exploring?
Subscribe for discounts on tickets and hotels and our latest guides.
Thank you for subscribing
We will be in touch soon with discounts on tickets and hotels and our latest guides.
Want to keep exploring?
Subscribe for discounts on tickets and hotels and our latest guides.
Thank you for subscribing
We will be in touch soon with discounts on tickets and hotels and our latest guides.
Related articles