28 Famous Landmarks in Thailand to Visit
Destguides may receive commissions from purchases made through affiliate links in this article.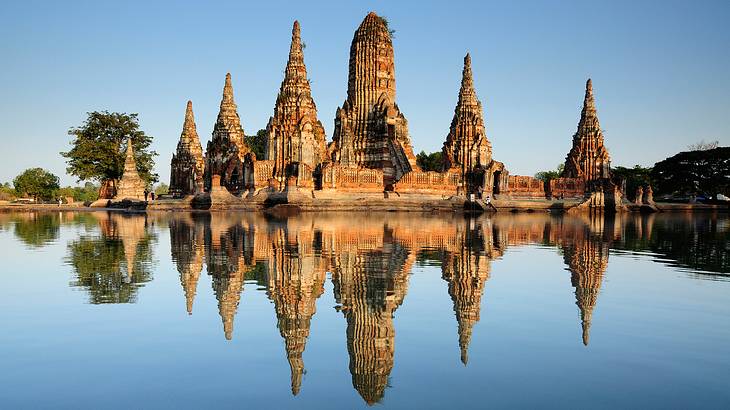 Thailand is one of the most popular countries in Asia, attracting millions of tourists each year. This is due to its serene environment and several cultural and historical attractions. It is also one of the cheapest countries to visit in Asia.
The country is home to stunning islands and beaches, bustling cities, and a vast range of sights as well, from temples and museums to national parks. It can be difficult to plan what to see when here due to the many famous landmarks in Thailand to visit.
This list covers 28 of the top landmarks in Thailand, in no particular order, so hopefully, it will make planning an unforgettable Thai vacation much easier. Continue reading to learn more!
28 Famous Thailand Landmarks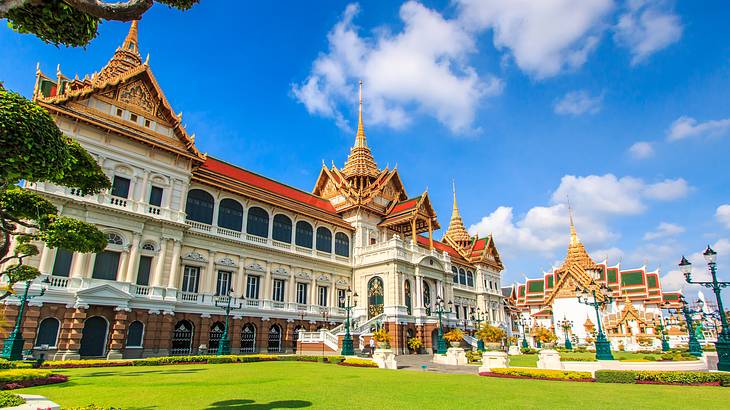 The Grand Palace
The Grand Palace is one of the most visited landmarks in Asia and Bangkok. The palace was built in 1782 and served as the home of the Thai King for 150 years. It also housed the Royal Court and the administrative seat of government.
Along with its historical significance, the palace is a very impressive piece of architecture. The Grand Palace consists of three separate courts: the outer court, the inner court, and the central court.
The central court is where you can find the main palace and temple complex. The inner court includes the royal residences, court hall, and annexes for the king's royal duties. You are allowed to take a full tour of the palace, but you must be dressed modestly to be allowed to enter.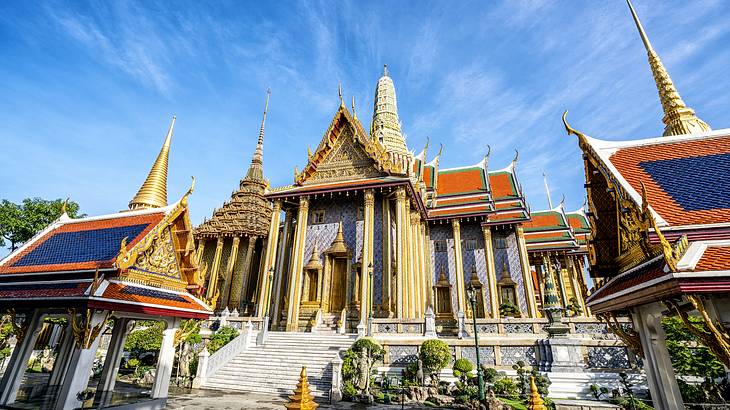 The Temple of the Emerald Buddha
Wat Phra Kaew, also known as Wat Phra Si Rattana Satsadaram or the Temple of the Emerald Buddha, was built in 1784. It is home to the Emerald Buddha, who is considered to be one of the most important deities in Thailand.
This historic attraction has hundreds of visitors stop by each day, and it is believed to bring prosperity to the country. The temple is one of the best places to visit in Bangkok, and it is in the same complex as the Royal Palace.
Along with housing the 14th-century Emerald Buddha, there are other artefacts on display. You can also enjoy the stunning architecture featuring colourful designs and intricate carvings.
Erawan National Park
Erawan National Park is a large park located in Kanchanaburi Province. It is one of the most famous natural landmarks in Thailand due to its attractions and stunning natural beauty. The park notably features a seven-tiered waterfall, Erawan Falls, and a nearby cave waiting for you to explore, Phra That Cave.
A trip to Erawan National Park is especially recommended if you love nature and hiking. There are many hiking trails to follow, and you are sure to spot various wildlife while surrounded by incredible scenery.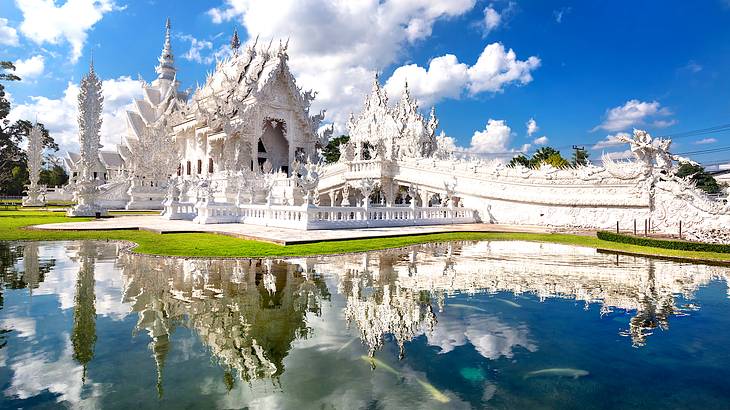 Wat Rong Khun
This landmark is one of the most famous temples in Thailand. Wat Rong Khun, also known as the White Temple, is a Buddhist temple renowned for its incredible architecture.
The temple is located in Chiang Rai and is one of the top things to do when here. Wat Rong Khun opened in 1997, and it is the project of Thai artist Chalermchai Kositpipat, who funded the construction by selling his paintings.
The main hall of Wat Rong Khun is entirely white to symbolize purity. The hall's exterior is additionally decorated with mirrors to reflect one's ability to self reflect. Aside from being an architectural masterpiece, the temple also serves as an art exhibition.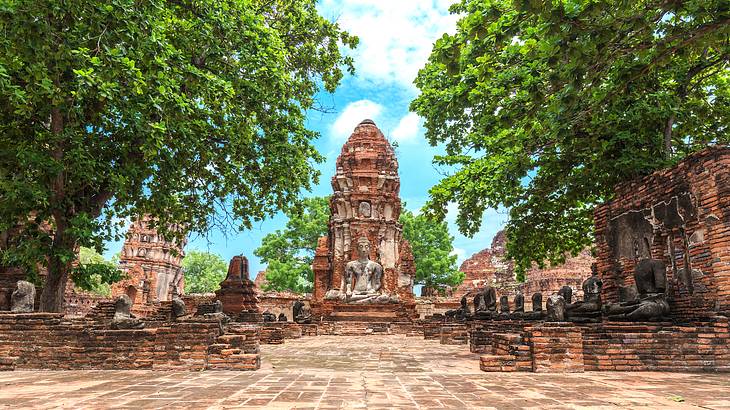 Wat Mahathat
Wat Mahathat, also known as the Temple of the Great Relic, is a royal temple located in Ayutthaya that was built in 1374. The royal temple served as the residence of the Supreme Patriarch of Buddhism. Royal ceremonies were also frequently hosted in the temple.
The historic temple has several highlights for you to see, as it is one of the most famous monuments in Thailand. One of these is a sandstone Buddha head that is tangled within the roots of a Bodhi tree. The Buddha's head is linked with many stories that guides at the temple can explain.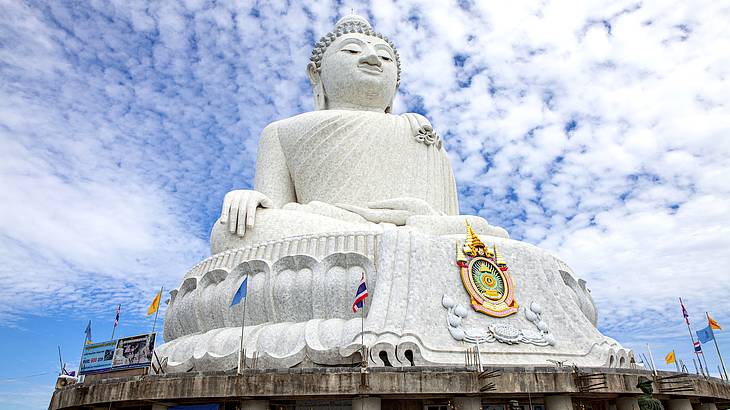 Big Buddha Phuket
Many consider Phuket a top place to stay in Thailand due to its many landmarks and cultural sites. The most famous of these is the Big Buddha Phuket, officially called Ming Mongkol Buddha. It is a majestic 148-foot-tall white marble statue that sits on top of Nakkerd Hill, which offers beautiful views of the surroundings.
The Big Buddha was constructed in 2004, along with a smaller Buddha statue next to Big Buddha. The larger statue was dedicated to the King of Thailand, His Majesty Bhumibol Adulyadeandith, and the smaller statue was dedicated to his wife, Her Majesty Queen Sirikit.
Lumphini Park
Lumphini Park, founded in 1925, was the first public park built in Thailand. It is located in the heart of Thailand's capital, and it is another popular attraction you can add to a Bangkok itinerary.
The park is one of the largest green spaces in Bangkok, at over 550,000 square metres. It is home to many varieties of flora and fauna, tranquil lakes, and other water features.
The park is a common gathering place for both tourists and locals. It is the perfect place to escape the bustle of the city without having to travel far.
Along with just relaxing and taking in its beauty, some popular activities to try in the park include jogging, cycling, and aerobics. Lumphini Park also has playgrounds and an artificial lake where you can rent boats, making it family-friendly.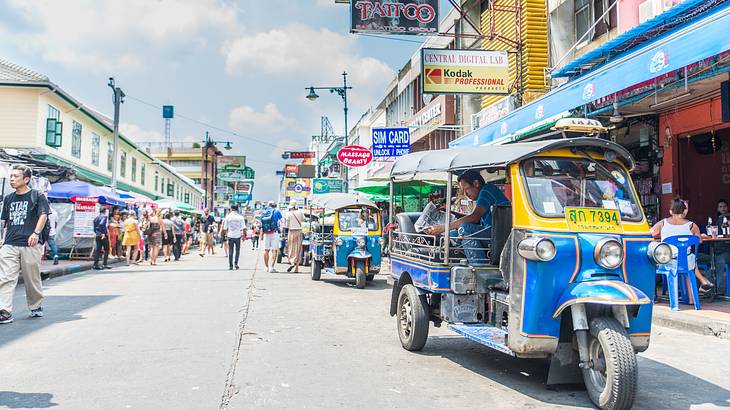 Khaosan Road
Khaosan Road got its name from the translation of Khaosan, which is "milled rice." This is because the area was once a big rice market in Bangkok.
For the past few decades, however, Khaosan Road has been transformed into a famous spot for tourists and backpackers, often making a top appearance on Southeast Asia itineraries. The area features market stalls and a vast range of affordable bars and restaurants.
The market is close to the Grand Palace, so it is an excellent stop after your time there. It is also close to Bangkok's National Gallery. The National Gallery is one of the few museums in the country, making it well worth a visit!
Koh Phi Phi Islands
The Koh Phi Phi Islands, located in the Andaman Sea, is a stunning archipelago comprising six islands in Thailand. They are known for their natural beauty and vibrant marine life.
Phi Phi Don and Phi Phi Leh are the largest islands in the chain. The limestone formations boast crystal-clear waters, vibrant coral reefs, and picturesque beaches. Popular activities include snorkeling, diving, and exploring Maya Bay, which was featured in the famous film, "The Beach."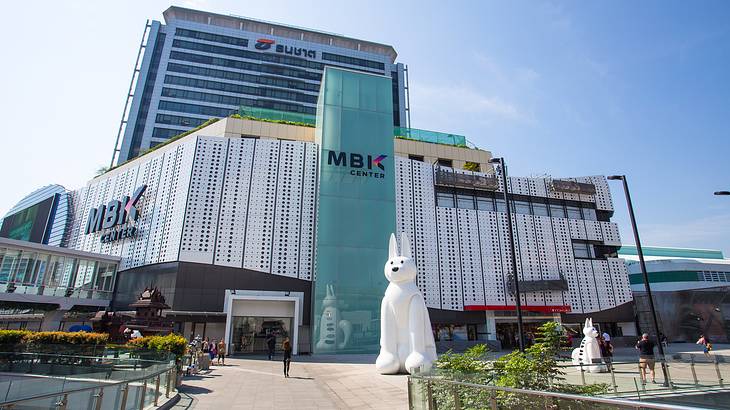 The MBK Center
The MBK Center, which stands for the Ma Boon Khrong Center, is an eight-story shopping mall in central Bangkok. The mall is a modern Thai landmark that attracts many tourists and locals every day, and it can get very busy on weekends.
The Ma Boon Khrong Center has more than 2,000 stores, as well as restaurants and a food court. You will find a range of shops selling all types of products, from fashion to tech and decor items, at low prices.
Sukhothai Historical Park
Sukhothai Historical Park is a UNESCO World Heritage Site located in northern Thailand. It was the capital of the Sukhothai Kingdom, which is considered the cradle of Thai civilization, dating back to the 13th century.
Notable structures include Wat Mahathat, Wat Si Sawai, and Wat Sri Chum, each showcasing unique architectural styles of the Sukhothai period. The park is home to the iconic seated Buddha image at Wat Si Chum, known as "Phra Achana." This colossal statue is 15 meters high.
Sukhothai Historical Park also hosts events and festivals, such as the Loy Krathong Festival, where the park is illuminated by candlelight and traditional floating lanterns. Adjacent to the historical park is the Sukhothai Kingdom Museum.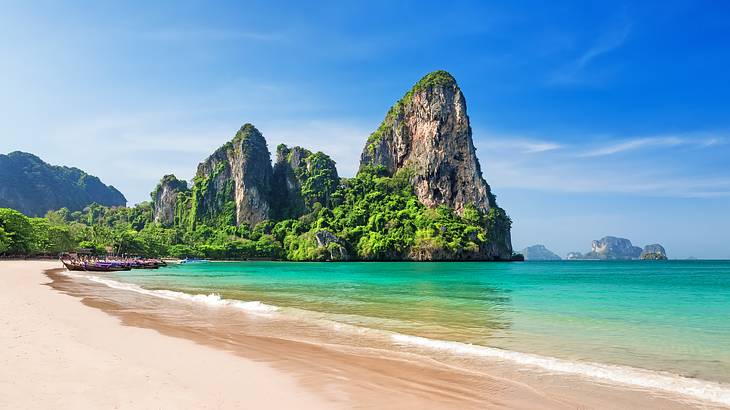 Railay Beach
Railay Beach is found between Ao Nang and Krabi. Due to its location between tall limestone cliffs, visitors must take a boat to access the beach.
This tranquil beach is the perfect place to relax. You can hang out on the sandy beaches or swim and kayak. There is also a selection of beach cafes to stop at for a drink and snack.
Other activities to try here include visiting the area's caves and going rock climbing. Be sure to keep an eye out for Railay Beach's resident monkeys, too! If you can stay late, watching the sunset from the beach is highly recommended as well.
Doi Suthep
Doi Suthep is a mountain located near Chiang Mai, Thailand. It is part of the Thanon Thong Chai mountain range. At the summit of Doi Suthep is the famous Wat Phra That Doi Suthep, a highly revered Buddhist temple.
The mountain is often referred to as the guardian mountain of Chiang Mai. It is a place of spiritual significance for locals and attracts both religious pilgrims and tourists seeking cultural experiences.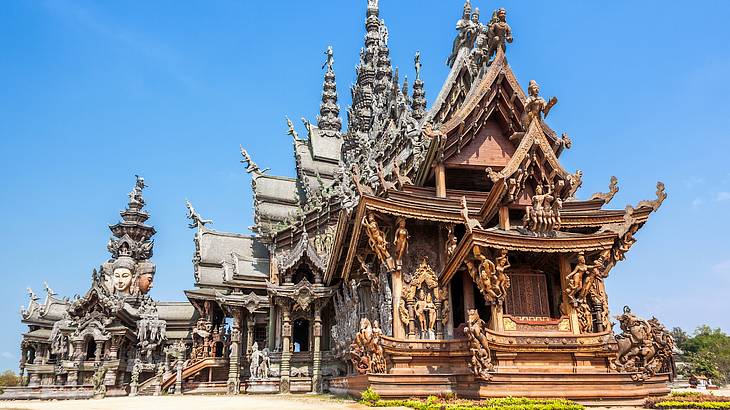 The Sanctuary of Truth
The Sanctuary of Truth is a temple and museum and one of the main Thai landmarks to visit in Pattaya City. This beautifully designed building is made completely of wood, including the many detailed carvings that cover it. The museum's height is another impressive feature; it stands about 105 metres tall.
Construction began in 1981; however, it is not yet complete! It is predicted that the structure will not be fully completed until at least 2025. Even though the museum has not yet been completed, it is open to the public and is an interesting place to see if you're in the area.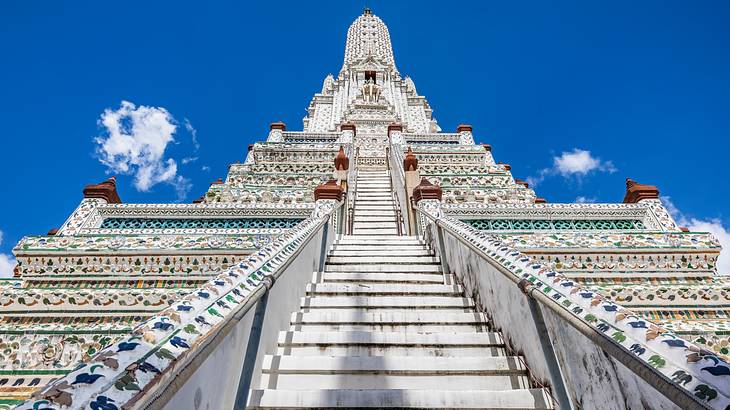 Wat Arun
Wat Arun, also known as the "Temple of Dawn" or Wat Chaeng, is a stunning major landmark in Thailand. The temple can be found in Bangkok on the banks of the Chao Phraya River.
The temple was constructed in the 17th century and is dedicated to Aruna, the god of dawn. Wat Arun is covered in beautiful carvings, and you will find many statues of the Buddha. There is the option to leave offerings and light incense around these statues as well.
It is highly recommended to visit around sunset as well. Even though the temple is called the Temple of Dawn, viewing the temple with the sun setting around provides for a fantastic view!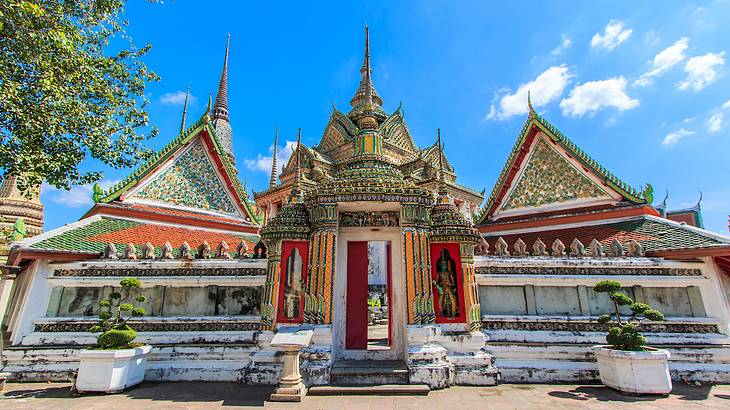 Wat Phra Chetuphon
Wat Phra Chetuphon, also known as Wat Pho or the Temple of the Reclining Buddha, can be found behind the Temple of the Emerald Buddha. Wat Pho is one of the oldest temples in Bangkok, dating back to the 16th century. The temple's highlight is the Reclining Buddha statue, a 150-foot-long gold statue.
The temple additionally features Thailand's first public university and is renowned for its traditional Thai massage school. It has been a center for the teaching and preservation of Thai traditional medicine and massage since the reign of King Rama III.
Bangkok Art and Culture Centre
Bangkok Art and Culture Centre (BACC) is a museum that houses exhibits on contemporary art. This includes exhibits displaying artworks such as paintings and sculptures as well as cinematic exhibits, among others. Whether you love artistic design, film, music, or theatre, the Bangkok Art and Culture Centre is a must-visit!
Along with a range of permanent and temporary exhibits, there are events and performances held across the year. See their website before your trip to see what is being hosted when you are there. The centre additionally has cafes, craft shops, commercial art galleries, and an art library for you to check out during your visit.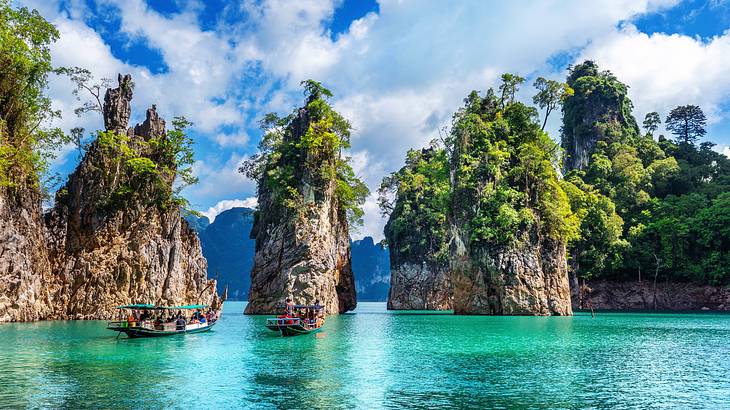 Khao Sok National Park
Khao Sok is home to one of the world's oldest rainforests, even older than the Amazon Rainforest. The park's lush greenery and towering limestone cliffs date back millions of years, creating a unique and ecologically rich environment.
The park features the spectacular Cheow Lan Lake, a large reservoir surrounded by limestone cliffs and dense rainforest. The lake is a result of the construction of the Rajjaprabha Dam in the 1980s.
Additionally, this UNESCO World Heritage Site is home to a diverse array of wildlife. Creatures you may spot include Asian black bears, marbled cats, and elephants.
Dream World Amusement Park
Dream World is a popular amusement park found in Bangkok. The park has over 40 rides, with several of them being fun rollercoasters. You will also have access to various shows and other fun things to do, like go-karts and bicycle boats.
The park also has a range of restaurants and souvenir shops. Dream World is an excellent place to visit for all types of travellers, from families to groups of friends and couples.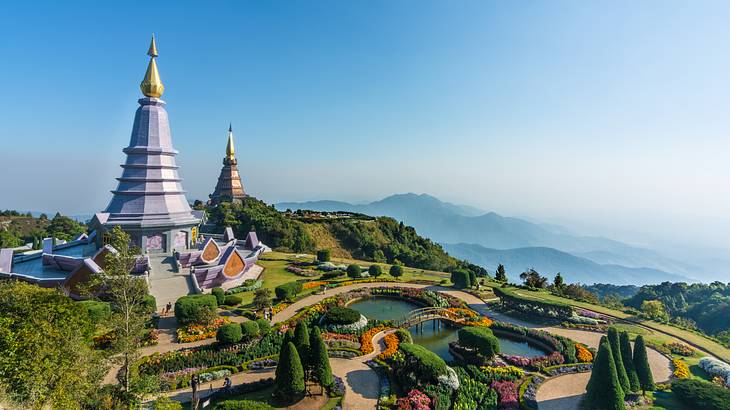 Doi Inthanon National Park
Doi Inthanon is one of the most cherished national parks in Thailand. It is found on Thailand's tallest mountain in the north of the country, Mount Doi Inthanon, and it is well known for its incredible viewpoints, waterfalls and gardens, and surrounding remote villages. The peak stands at 2,565 meters (8,415 feet) above sea level.
The park was previously known as Doi Luang but was renamed to Doi Inthanon to honour King Inthawichayanon after he passed away. The park was also used as the burial ground for the late king.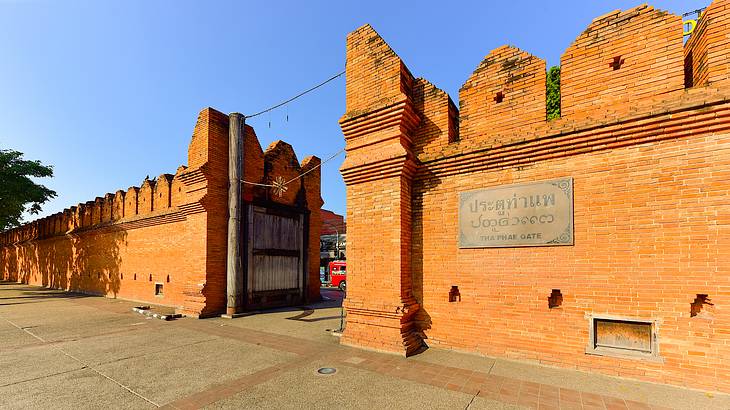 Tha Phae Gate
Tha Phae Gate is one of the most well-known and most visited landmarks in Chiang Mai. If in the area, this is definitely an attraction to add to your Chiang Mai itinerary.
The historic gate was built during the 13th century as a form of protection from Burmese invasion. Between 1985 and 1986, it was reconstructed slightly but still maintains its historical look.
The Old City wall originally surrounded the gate. However, the wall is mostly in ruins today, with the gate being the primary reminder of the city's past.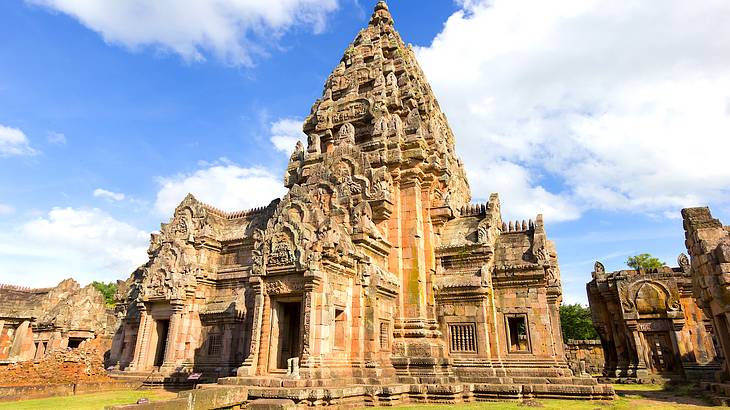 Phanom Rung Historical Park
Phanom Rung Historical Park, or Prasat Hin Phanom Rung, is a historic public park constructed between the 10th and 13th centuries. It is one of the most impressive Khmer-style temples in the country.
The historical park can be located in the northeastern part of Thailand, in Buriram province. The temple's foundation, upper sections, and carvings were built with laterite and pink sandstone. While the temple had been almost reduced to ruins, restorations have returned the ruins to their former impressive state over the years.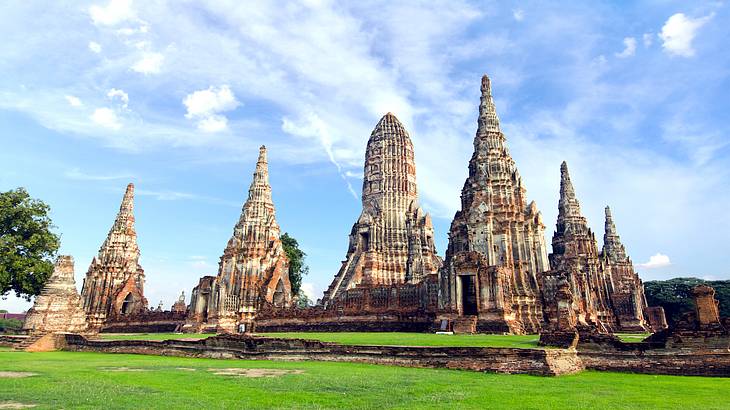 Wat Chaiwatthanaram
Wat Chaiwatthanaram was built during the reign of King Prasat Thong in 1630 A.D., making it one of the most impressive temples and historical landmarks in Thailand.
King Prasat Thong primarily constructed the building, located on the bank of Mae Nam Chao Phraya in Ayutthaya, to commemorate his mother. It is thought to have been inspired by the Angkor Wat Temple in Cambodia.
Wat Chaiwatthanaram was not only once a royal temple, but it was also used to cremate royalty figures. Today, it is a top tourist attraction that became a UNESCO World Heritage Site in 1991.
A prominent feature of Wat Chaiwatthanaram is the temple's 35-metre-tall spire. The interior and exterior design is also exquisite. When you enter the temple, you will also notice that the walls are decorated with a range of paintings that tell of Buddha's life.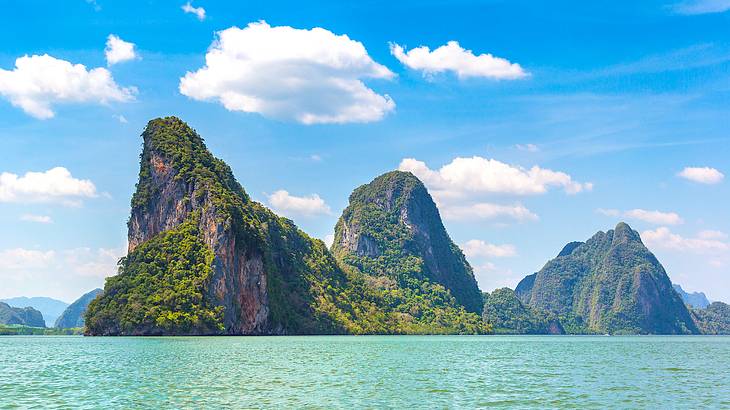 Ao Phang Nga National Park
Ao Phang Nga National Park is one of the most popular attractions in Thailand. Notably, the park was featured in the 1974 James Bond movie The Man with the Golden Gun thanks to Ko Tapu island in the chain, aka "James Bond Island."
Along with its history as a film location, tourists are attracted to the national park for its beautiful scenery filled with the clear ocean, beaches, and greenery. The park features 40 islands surrounded by stunning azure waters.
While visiting, there are many activities for you to try. For example, caving and canoeing are well-liked activities here. You can also go snorkelling, scuba diving, and rock climbing.
Cicada Market
Cicada Market is an art night market that connects creators, tourists, and art lovers to contemporary art pieces. Everything in the market is related to art, and there are many affordable handmade crafts for sale here.
The market is located in Hua Hin District, about a three-hour drive from Bangkok. Cicada Market is divided into four sections:
Art a la Mode - has stalls with local goods and trinkets
The Amphitheatre - is a half-circle outdoor stage where performances are held
The Art Factory - is an area where art items are sold at reasonable prices
Cuisine - is where you can find local and international food options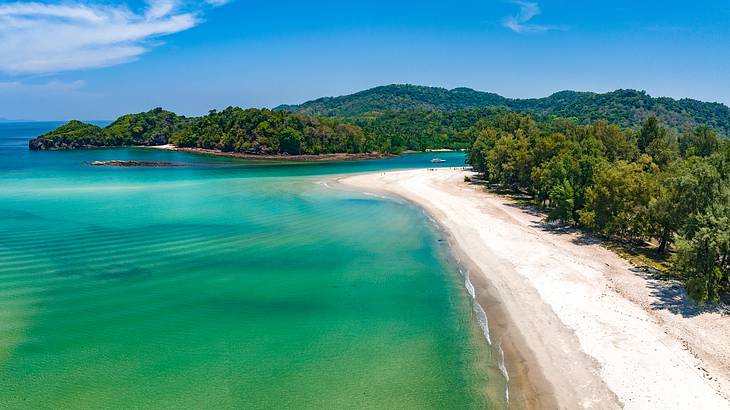 Tarutao National Park
Tarutao National Park is a marine park that was established in 1974. The park covers 1,490 square kilometres and consists of 51 islands that have been grouped into two regions named Muko Tarutao and Muko Adang–Rawi.
The marine park is home to an array of diverse animals, including sea otters, crab-eating macaques, and kingfishers. The park is surrounded by clear oceans and features white beaches, unspoiled rainforests, and coral reefs.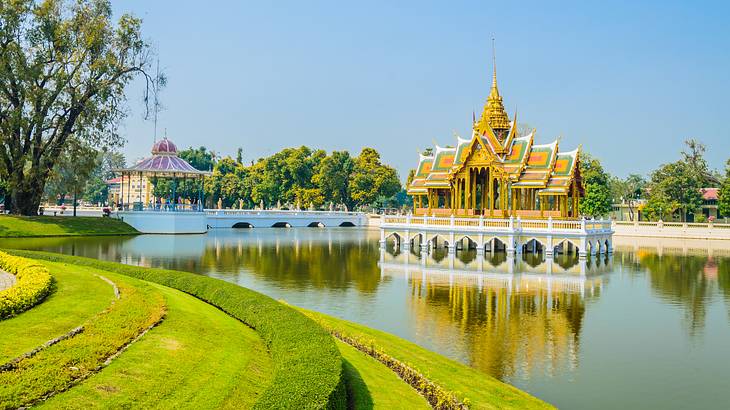 Bang Pa-In Palace
Bang Pa-In Palace complex dates back to the 17th century, having been built in 1632 for use by Thai kings. Today, the palace is open to tourists and is also used for state occasions.
The palace has European design elements, making it slightly different from other palaces in the country. Bang Pa-In Palace and the surrounding buildings are located around an ornamental artificial pond.
One highlight is the ornate Thai Pavillion that houses the bronze statue of King Chulalongkorn. It appears even more majestic as it seemingly floats in the middle of the pond found on the premises. You are also likely to see fun topiary designs around the grounds. This includes trees clipped to resemble elephants and rabbits!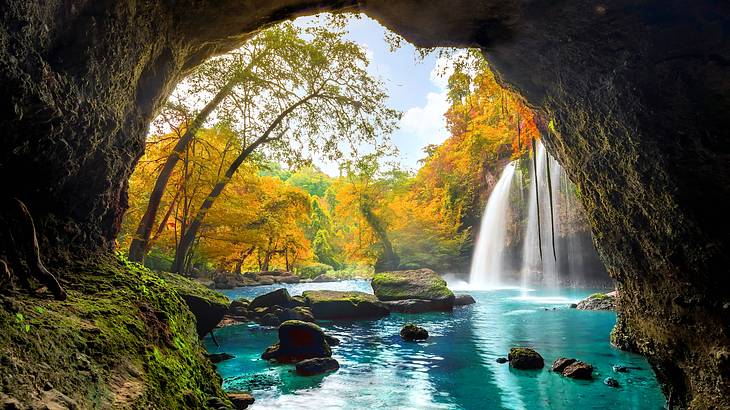 Khao Yai National Park
Khao Yai National Park is a large jungle park outside of Bangkok. The park covers approximately 2,100 square kilometres and is the oldest national park in the country, having been opened in 1962.
Visiting the park is a must if you have spent a lot of time in the city and are after a more relaxing day. The park is especially perfect for those who enjoy hiking.
You will find a range of trails to follow that take you through the stunning green jungle. As some park animals are dangerous, be careful when hiking and ideally go with a guide.
In Conclusion
Hopefully, this list helped show you how unique and diverse a country Thailand is, and you're now well on your way to creating your ultimate Thailand bucket list.
Whether you want to visit a UNESCO World Heritage Site, island hop, or silently meditate in a serene Thai temple, there is so much to do in this beautiful country - you'll have the best time!
Want to keep exploring?
Subscribe for discounts on tickets and hotels and our latest guides.
Thank you for subscribing
We will be in touch soon with discounts on tickets and hotels and our latest guides.
Want to keep exploring?
Subscribe for discounts on tickets and hotels and our latest guides.
Thank you for subscribing
We will be in touch soon with discounts on tickets and hotels and our latest guides.