25 Famous Landmarks in Alabama You Must Visit
Destguides may receive commissions from purchases made through affiliate links in this article.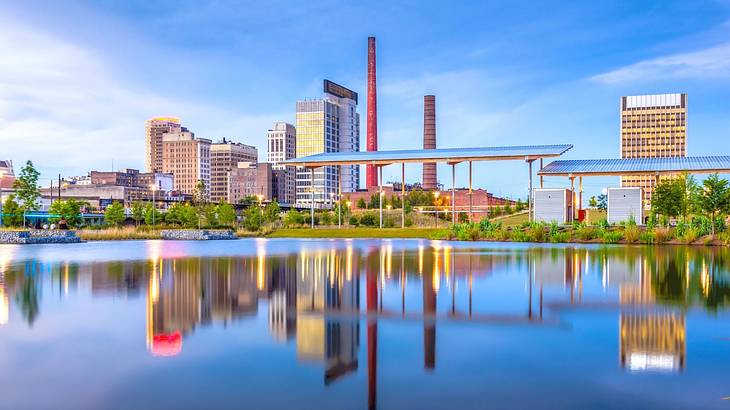 Alabama is a beautiful state with a complex and at often times, dark past. If you are wondering what Alabama is famous for, Alabama is famous for being the birthplace of the Civil Rights Movement.
Many iconic moments in civil rights history took place in Alabama. From the Montgomery Bus Boycott to "Bloody Sunday" on the Edmund Pettus Bridge, Alabama has been at the center of the fight for civil rights. The famous Civil Rights Trail runs through Birmingham, Montgomery, and Selma.
Alabama was also a key state in the American Civil War. Several historical sites, battlefields, and museums pertaining to the Civil War reside in Alabama.
This state is also home to many caves. Due to their subterranean nature, these caves maintain cool temperatures year-round, making them very popular during hot Alabama summers. Continue reading to learn more about all the famous landmarks in Alabama!
25 Famous Alabama Landmarks
Cathedral Caverns State Park
Cathedral Caverns State Park is one of the largest and most famous natural landmarks in Alabama. The 126-foot wide entrance to Cathedral Caverns is known to potentially be the largest cave opening in the world.
Once inside, the cave has several impressive geological features to explore. The most prominent include a stalagmite forest, a "frozen" waterfall, and one of the largest stalagmites in the world, aptly named "Goliath".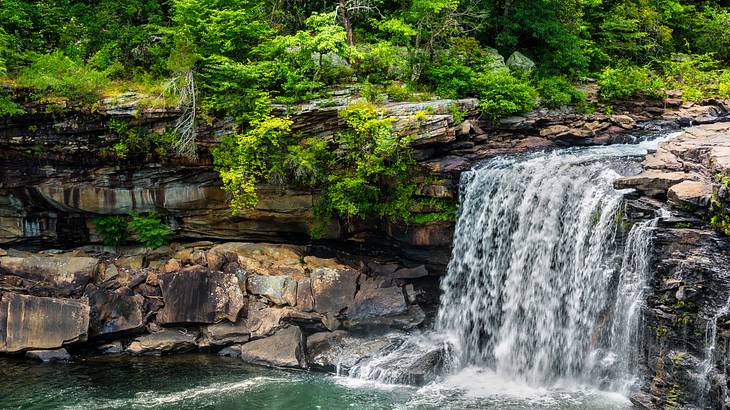 Little River Canyon National Preserve
Lush green forests, waterfalls, and an abundance of outdoor adventure awaits at Little River Canyon National Preserve. This 15,000-acre natural preserve sits at the bottom of the Cumberland Plateau. It is a haven for wildlife including deer, bears, otters, and several species of birds.
Hiking, rock climbing, and kayaking are all popular activities within the park. The Little River Canyon Rim Parkway is a must-do! This scenic drive offers spectacular canyon and waterfall viewing points.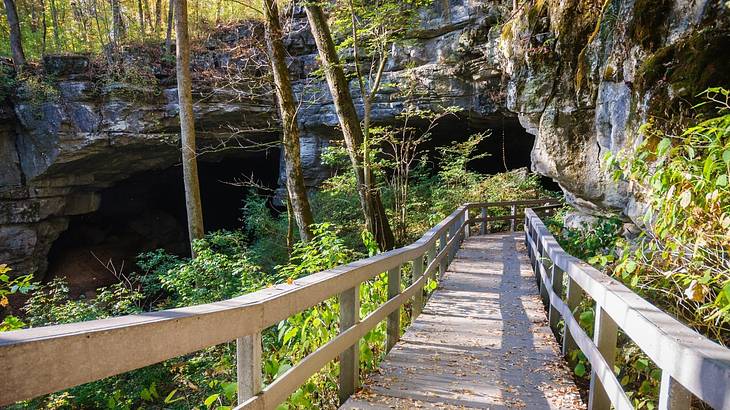 Russell Cave National Monument
Russell Cave National Monument is one of the oldest and largest caves in Alabama. The inside of the cave is closed to preserve and protect the delicate archeological features and native bat species. The outside of the cave does have a boardwalk for touring the surrounding cave areas.
The Russell Cave museum, run by the National Park Service, has prehistoric artifacts on display. Presentations detailing the cave's earliest inhabitants are also available.
Stephens Gap
Of all the caves in Alabama, Stephens Gap is one of the most extraordinary. Although the views are worth it, visitors should be forewarned that entering this cave is not easy. You must either climb down a steep, rocky path or rappel 150 feet into a sinkhole. Both options require a permit in advance.
Inside the cave, you will find unique rock formations and waterfalls. Stephens Gap is one of the most interesting natural landmarks in Alabama.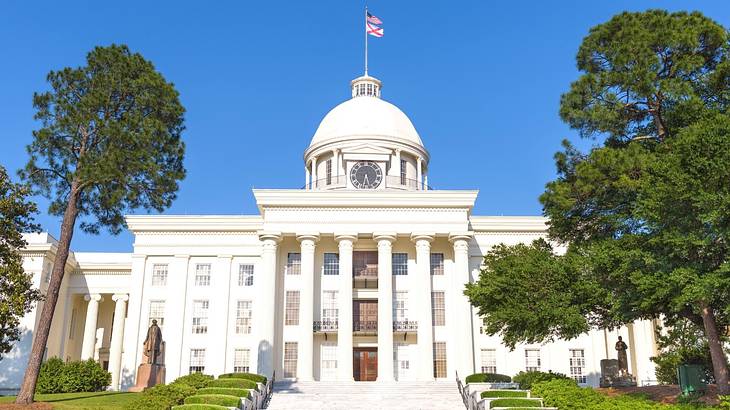 Alabama State Capitol
Built in 1851, the Alabama State Capitol has been the site of many pivotal events in the state's history. From serving as the first Confederate Capital to the fall of the Confederacy and important moments in the Civil Rights Movement.
In 1965, 250,000 civil rights protestors, including Dr. Martin Luther King Jr., marched to the Alabama State Capitol for voting rights. You can tour the Capitol and museum to see artifacts, monuments, and art outlining these historical moments.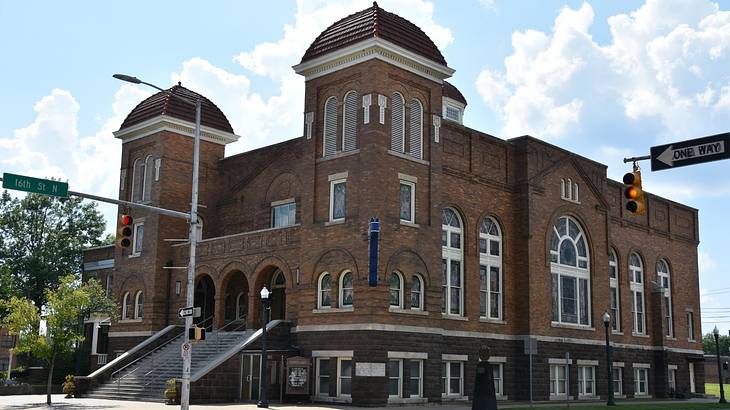 16th Street Baptist Church
The historic 16th Street Baptist Church has been an icon of resilience in the face of racial injustice since 1873. It is one of the most famous historical places in Alabama and part of the Civil Rights Trail.
During the 1960s, it served as a meeting place for civil rights activists and became a target for violence by the Ku Klux Klan. They endured heinous attacks, including a bombing. The church was rebuilt and is still an active place of worship to this day.
Bethel Baptist Church
Another historic church on the Civil Rights Trail is Bethel Baptist Church. The church was originally built in 1926 but had to be partially reconstructed after a series of bombings in the 1950s and 1960s. Bethel Baptist Church and its founder, Reverend Fred Shuttlesworth, were targeted by hate groups for their role in the Civil Rights Movement.
Today, the church is on the National Register of Historic Places. They offer tours and educational programs highlighting their historical events.
Sixth Avenue Baptist Church
Built in 1881, the Sixth Avenue Baptist Church is another landmark church central to the Civil Rights Movement in Alabama. Dr. Martin Luther King Jr. spoke and organized rallies here several times. Today, the church still serves its local community and many people admire the history and architecture of the building.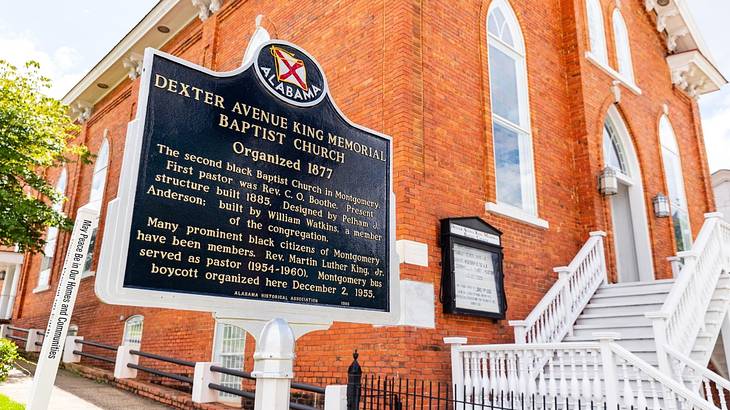 Dexter Avenue King Memorial Baptist Church
Founded in 1877, Dexter Avenue King Memorial Baptist Church is another historic church that was prominent in the Civil Rights Movement.
In the 1950s, Dr. Martin Luther King Jr. pastored here and led the congregation on civil rights affairs. The church was famously the site where the Montgomery Bus Boycott was first organized.
Now a famous Alabama landmark, visitors come to tour the legendary church, learn history, and see iconic painted murals of Dr. King.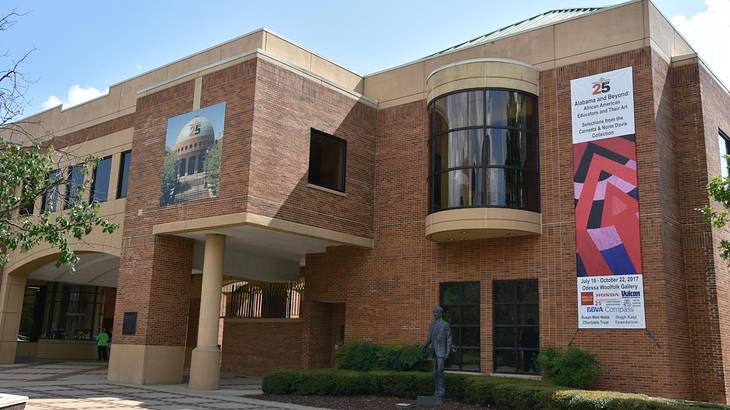 Birmingham Civil Rights Institute
The Birmingham Civil Rights Institute is a museum and cultural center dedicated to "Preserving and telling the Birmingham story".
Exhibits detailing Birmingham's civil rights history are featured including the jail cell where Dr. King wrote his famous "letter from Birmingham". The institute is part of the Birmingham Civil Rights National Monument. It is one of the most famous monuments in Alabama.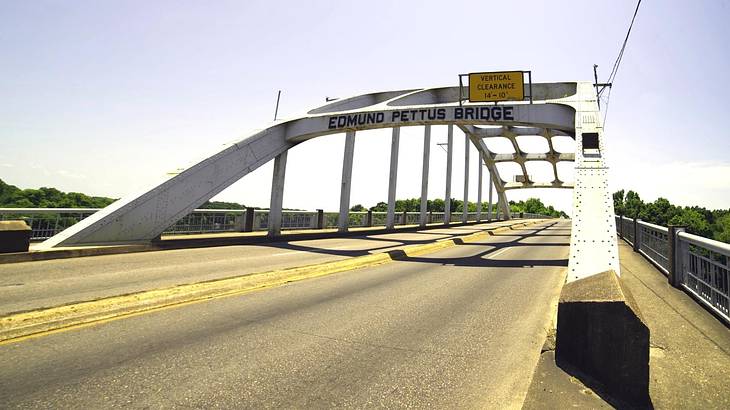 Edmund Pettus Bridge
One of the most harrowing historical landmarks of Alabama, the Edmund Pettus Bridge was a significant turning point in the Selma to Montgomery Marches. On March 7th, 1965, a day now infamously known as "Bloody Sunday", civil rights protestors were met with extreme violence by state troopers.
Images of beaten and bloodied protestors on the bridge drove public outcry and support for the Voting Rights Act. The bridge is now a National Historic Landmark. People come to remember and honor those injured and killed fighting for equal rights.
Government Street Presbyterian Church
Government Street Presbyterian Church was built in 1839 and is one of the oldest and least reconstructed churches in Alabama. It is a registered National Historic Landmark and featured on historic walking tours in Mobile.
The church is most notable for its striking Greek revival-style architecture and unique accents. It has large sculpted pillars, coffered ceilings, a curved stairway, and gold embellishments.
Montgomery Union Station
Built in 1898, the Montgomery Union Station served as an important transportation hub connecting major cities in the Southeast. Multiple rail lines transported passengers to and from Union Station including Amtrak until the station's closure in 1979.
Now a historical Alabama landmark, the station has been transformed into a visitor center and museum. It is a popular stop on historical walking tours of Montgomery.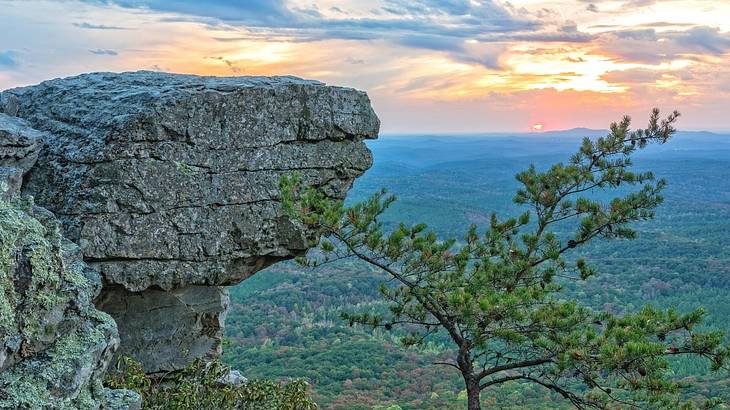 Cheaha State Park
Cheaha State Park is an outdoor recreational paradise! Home to the highest point in Alabama, Cheaha Mountain, this park has hiking, rock climbing, and endless scenic views.
Throughout the park, you can hike or mountain bike to various landmarks including waterfalls and rocky bluffs. On Cheaha Lake, you can go for a swim or rent a kayak. Cabins and campsites are available for rent for overnight stays.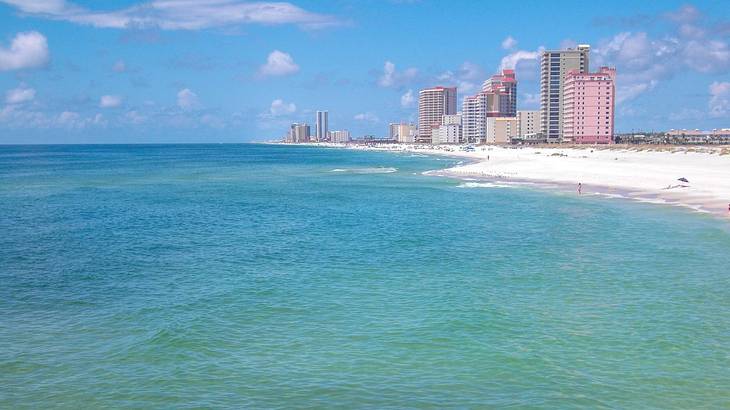 Gulf State Park
Situated on the Gulf Shores, Gulf State Park is home to the most pristine beaches in Alabama. Known for sugar sand and turquoise waters, Gulf State Park's beaches rival any tropical destination.
The park also has hiking and biking trails, camping, and a freshwater lake for kayaking and canoeing. Gulf State Park has a diverse wildlife population including alligators, bobcats, foxes, and different species of birds.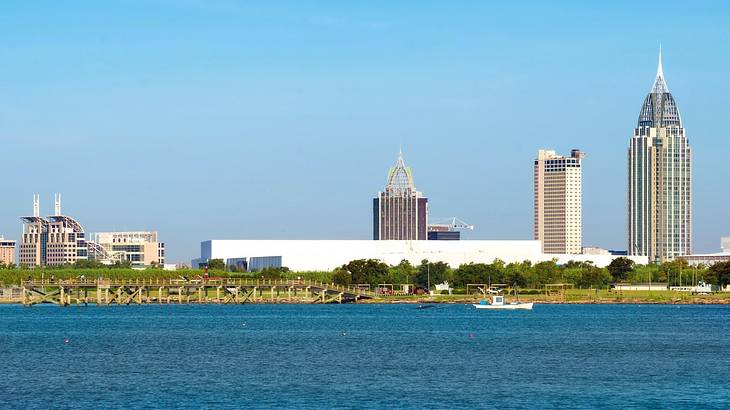 Mobile Bay
Mobile Bay is a large inlet just outside of Mobile, Alabama on the Gulf of Mexico. Throughout history, the bay was an important shipping channel for the Gulf Coast and the site of many conflicts.
The Battle of Mobile Bay took out one of the last major Confederate ports during the Civil War. Several shipwrecks rest on the bay floor and have become popular dive sites. Boating and ecotours are also popular on the bay.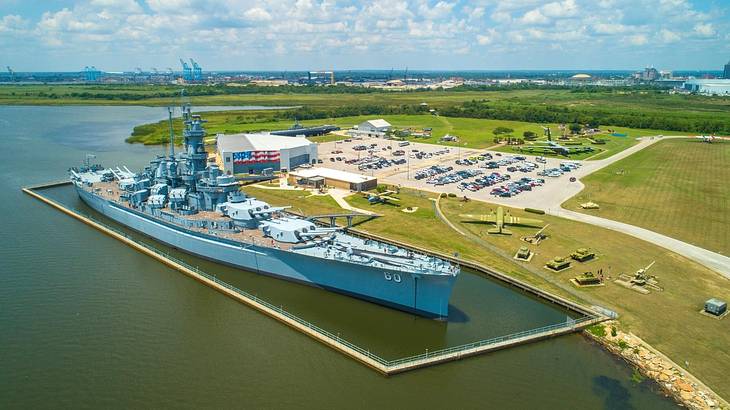 USS Alabama Battleship Memorial Park
Just off Mobile Bay, sits the USS Alabama Battleship park. The park is home to the iconic Battleship USS Alabama, one of the most famous historical sites in Alabama. The USS Alabama is now a floating museum and memorial.
Visitors can tour this historic World War II Battleship as well as other military equipment and memorabilia on site. There are World War II-era planes, tanks, and memorials in the park.
History Museum of Mobile
The History Museum of Mobile is in a historic complex known as "Old City Hall" as it held the town's municipal offices from the 1850s to the 1970s. This historic complex was damaged by hurricanes multiple times but was later restored to become the museum it is today.
The museum holds artifacts showcasing Mobile's 300-year history. Exhibits include the eras of the Civil War, World War II, and the Civil Rights Movement.
Museum of Alabama
The Museum of Alabama is located across from the Capitol in the Department of Archives. Originally built in 1901, it is now considered a historical Alabama landmark.
The museum has over 800 artifacts on display showcasing Alabama history from prehistoric times to the 21st century. Exhibits include Native Americans and Natural History as well as the Civil War, World Wars, and the Civil Rights Movement.
Tuskegee Airmen National Historic Site
The Tuskegee Airmen National Historic Site was created to document and commemorate the plight of the Tuskegee Airmen. The Tuskegee Airmen were the first black military pilots in United States history. Tuskegee pilots overcame many obstacles during their military service including racism and segregation.
The museum at the Tuskegee Airmen National Historic Site exhibits the aircraft, memorabilia, and memorials that tell the stories of the Tuskegee Airmen.
Tuskegee Institute
The Tuskegee Institute is part of Tuskegee University, Alabama's Historic Black Ivy League School. The School was founded in 1881 by educator and activist, Booker T. Washington. In 1896, prominent inventor, George Washington Carver came to teach at Tuskegee. The two made many historical advancements together.
The George Washington Carver Museum and the home of Booker T. Washington are on Tuskegee grounds and open for tours. You can learn about the founders as well as famous Tuskegee alumni.
Oak Mountain State Park
Oak Mountain State Park is a large outdoor recreational area and wildlife refuge at the top of Double Oak Mountain. The Alabama Wildlife Center is located inside the park. Visitors can learn about native Alabama wildlife and see some of the animals they are rehabilitating.
There are over 50 miles of trails for hiking and mountain biking in Oak Mountain State Park. Some of the trails lead to waterfalls, scenic overlooks, and wildlife viewing points.
Black Warrior River
The Black Warrior River flows through 178 miles in Western Alabama from Tuscaloosa to Marengo County. Along the river, there are several famous Alabama State Landmarks.
A great way to see these landmarks is by taking a scenic drive down the Black Warrior River Scenic Byway. Here you will pass the river's historic railway trestle, the Sipsey River Swamp, and Moundville Archaeological Park.
Fort Mitchell Historic Site
Built in 1813, Fort Mitchell is one of Alabama's National Historic Landmarks. The Fort served as a post for historical events from the Creek War to the Civil War. Fort Mitchell was part of the Alabama Trail of Tears (forced removal of the Native Cherokee people).
Today the site has been reimagined to educate on some of the atrocities committed there. In addition to the Fort's museum, there is a Native American Heritage Center and Trail of Tears Monument.
Helen Keller Birthplace
The Helen Keller Birthplace is the original home of the famous Helen Keller. Keller was born in 1880 and became blind and deaf at 19 months from illness. She learned how to communicate through tactile sign language and went on to become the first deaf and blind person to earn a bachelor's degree.
Helen also became a writer, lecturer, and disability rights advocate. You can tour her home and learn her story at the historic Helen Keller Birthplace.
In Summary
With so much to see and learn at all the famous sites in Alabama, history buffs are sure to keep busy! There are over 100 museums and 39 National Historic Landmarks in the state to explore.
For those looking to get away in nature, Alabama has a wide range of options. There are many trails to hike, lakes to paddle, beaches to relax on, and caves to explore. You'll have a great time whatever you do!
Give us feedback about this article
More articles about Alabama:
Read more articles about the United States:
More articles about landmarks:
More visual stories related to this article:
---
---
Want to keep exploring?
Subscribe for discounts on tickets and hotels and our latest guides.
Thank you for subscribing
We will be in touch soon with discounts on tickets and hotels and our latest guides.
Want to keep exploring?
Subscribe for discounts on tickets and hotels and our latest guides.
Thank you for subscribing
We will be in touch soon with discounts on tickets and hotels and our latest guides.
Related Articles